Here's the hard truth: there's no point in investing in a quality pillow if it's going to leave a person feeling hot, sweaty, and uncomfortable. At the same time, finding the best cooling pillow isn't always easy. So instead of making you spend way too much time searching online, we've put together a list of 10 of our favorites! Each of our selections bring a little something special to the table. If you're still looking for more options after checking out the best cooling pillows, check out our overall best pillows guide.
The 10 Best Cooling Pillows of 2022
Here are our top picks for the best cooling pillows:
Video Review: Best Cooling Pillows of 2022
Best Cooling Gel Foam Pillow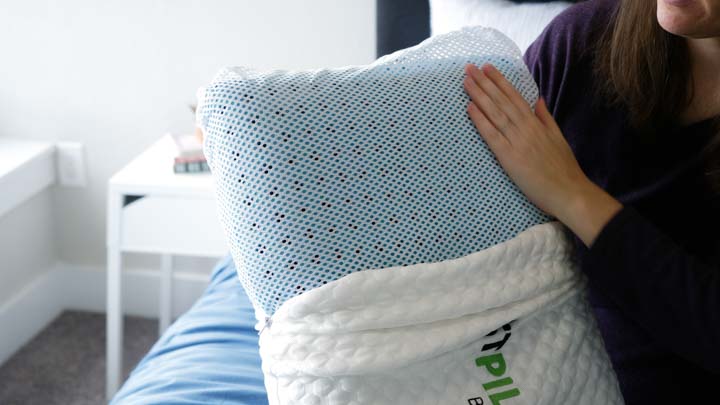 GhostPillow
With GhostIce material woven into the fabric and gel memory foam layered in the core via Phase Change Material (PCM), the Gel Memory Foam GhostPillow from GhostBed is covered in cooling technology. Sleepers can unzip the cover and feel the ventilated gel memory foam core, half of which is covered in a layer of PCM that absorbs body heat for temperature regulation.
Pillow Details:
The cover is removable and washable (line dry only).
This pillow is great for average-sized back and stomach sleepers.
Without discounts or sales, this pillow costs $95.
Check out our full review of this GhostPillow (and the Faux Down option).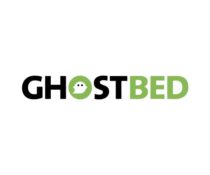 The GhostPillow has coolness woven into its fabric, literally. Get the coolest deal on this pillow by clicking the CHECK PRICE button!
Best Cooling Pillow For Stomach Sleepers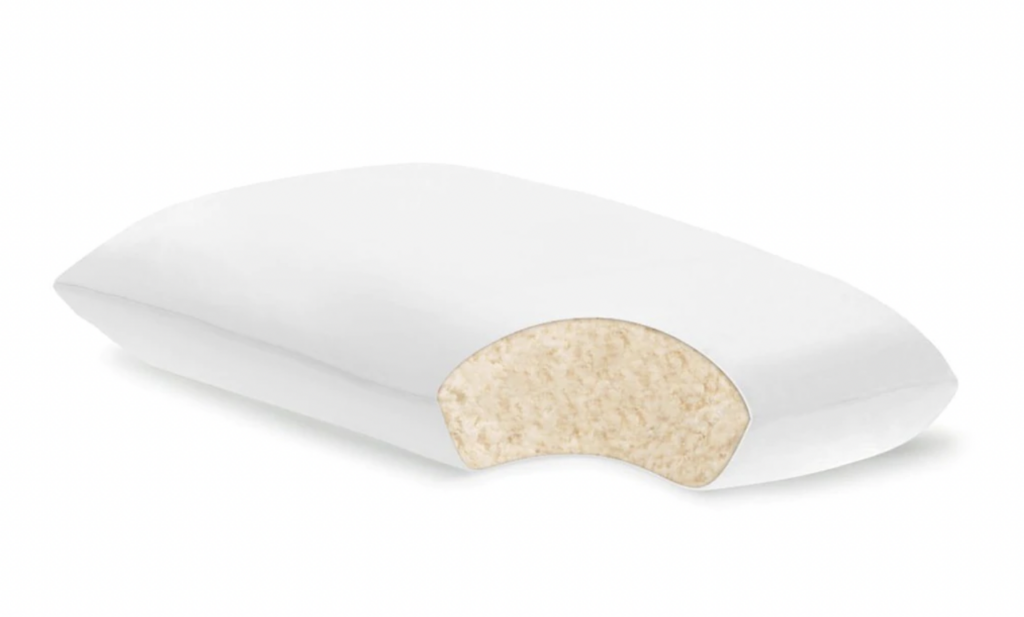 PlushBeds Organic Shredded Latex Pillow
As the name suggests, the PlushBeds Organic Shredded Latex pillow is made from latex, a naturally cooling material that is also hypoallergenic and antimicrobial. We think it's a great option for stomach sleepers. The shredded latex allows the pillow to be adjusted to your liking. This is especially important for stomach sleepers who often struggle to find proper spinal alignment while sleeping.
Pillow Details:
With natural latex and an organic cotton cover, this non-toxic, chemical-free pillow is great for the eco-conscious.
It comes with a three-year warranty and free shipping.
Prices between $99 and $124 before sales and discounts.
Full review coming soon!
PlushBeds Organic Shredded Latex Pillow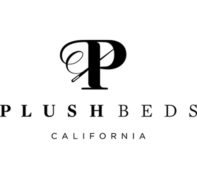 PlushBeds Organic Shredded Latex Pillow
The PlushBeds Organic Shredded Latex Pillow is a great option for hot sleepers and stomach sleepers.
Best Cooling Pillow For Side Sleepers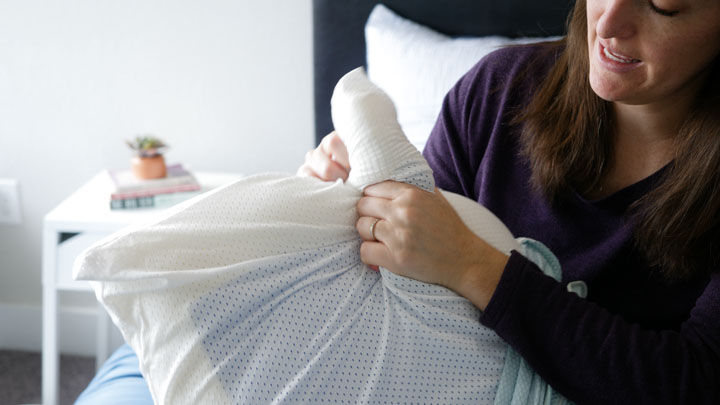 TEMPUR-Cloud Cooling Pro
Side sleepers who sleep hot should find a lot to love about the TEMPUR-Cloud Cooling Pro pillow. With height options of 5.75″ or 6.5″, its loft fits the needs of those who sleep primarily on their sides. Based on our experiences, we recommend side sleepers and heavier sleepers go for the taller height and back sleepers and larger stomach sleepers check out the low-profile option. This pillow also maintains breathability through the night; dual side gel panels underneath its knit cover keep the pillow cool to the touch.
Pillow Details:
This pillow has a five-year warranty and free shipping. 
It has a removable stretch performance panel cover that's made up of 90% polyester and 10% elastane.
This pillow prices between $189 (Queen) and $239 (King) before sales and discounts.
Learn more about this TEMPUR-Pedic pillow and others in our ultimate list.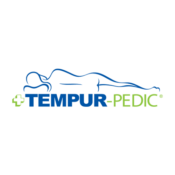 The TEMPUR-Cloud Cooling Pro encompasses height, support, and coolness and is excellent for larger body types with its two height profiles.
Best Cooling Pillow For Neck Pain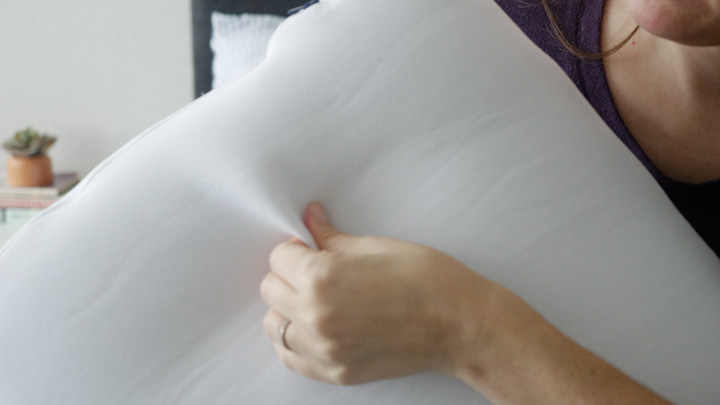 Casper Memory Foam
The Casper Foam pillow is no ordinary memory foam pillow. While other pillows have one layer, the Casper boasts three layers. These layers give the pillow its plush feel, overall support, and cooling capabilities. Speaking of comfort and support, that's exactly what those with neck pain should look for in a pillow, and we believe the Casper pillow delivers. The plush outer foam should let your head sink in just the right amount, and the AirScape foam should make sure your head and neck are properly supported. 
Pillow Details:
Being on this list, this pillow is a great option for hot sleepers! It has a breathable cover and the AirScape foam is designed to promote airflow throughout.
The pillow fill is made of 77% polyurethane foam and 23% viscoelastic polyurethane foam (AirScape foam).
The Casper Foam Pillow can be comfortable for back sleepers as well.
Learn more about this Casper Memory Foam pillow in our full review. 
Casper's Foam Pillow has a polyester/spandex knit cover and a three-layer foam core that's made with plush outer layers and a firmer center layer. 
Best Cooling Pillow For Back Sleepers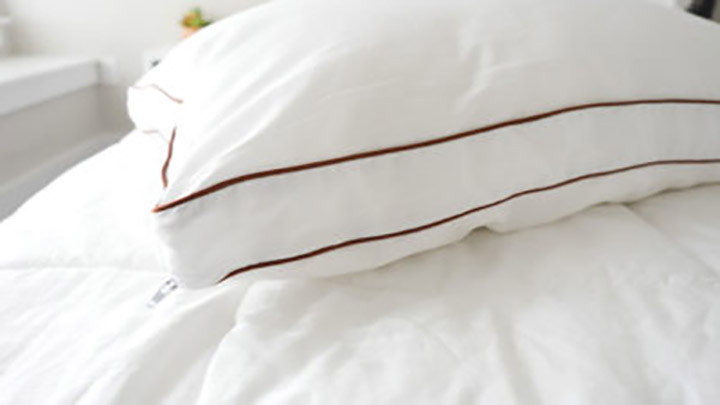 Saatva Latex
The Saatva company is known for offering some of the most renowned mattresses in the bed-in-a-box market, and their pillows are no exception in quality. The Saatva Latex pillow features shredded Talalay latex at its durable core and plush microfiber around this core. This creates a unique balance of comfort and support that is ideal for back-sleeping. And because Talalay latex doesn't trap heat the way that memory foam often does, you shouldn't be sleeping hot! 
Pillow Details:
The Saatva Latex pillow has eco-friendly and hypoallergenic materials.
Saatva offers 45-day free returns and one-year limited warranty.
Without sales and discounts, this pillows is priced at $165 for a Queen and $185 for a King.
Learn more in our Saatva pillow review.
The Saatva Pillow has an organic cotton cover that is removable. Underneath is an outer pillow made up of hypoallergenic microfibers. You can unzip that pillow and reach a pouch filled with shredded Talalay latex pieces. 
Best Cooling Pillow For Athletes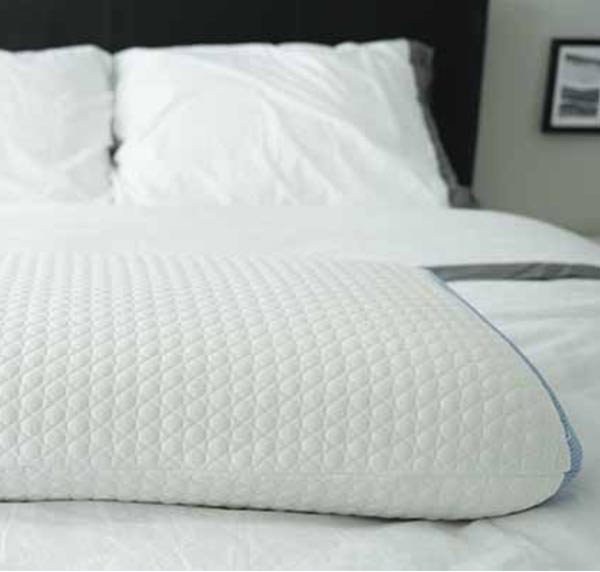 Bear
After a long workout, a good sleep could be just what you need. The Bear brand provides a number of great products for athletes, and the Bear pillow is no exception. It features a large piece of Loft-X Foam that is designed to be a hybrid of memory foam and latex. It should contour to the head and neck without making you feel stuck in the pillow, something back and side sleepers should really enjoy. The cooling comes in with the cover's Double Ice Fabric and two mesh panels designed to promote airflow. 
Pillow Details:
The pillow's cover is removable and can be washed at home.
The Bear pillow has free shipping and returns, and also includes a two-year limited warranty.
Standard ($125) and King ($145) sizes are available for this pillow.
Read the full Bear Pillow review.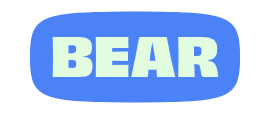 Bear has created a breathable pillow that's a great match for side sleepers, back sleepers, and athletes.
Best Cooling Latex Pillow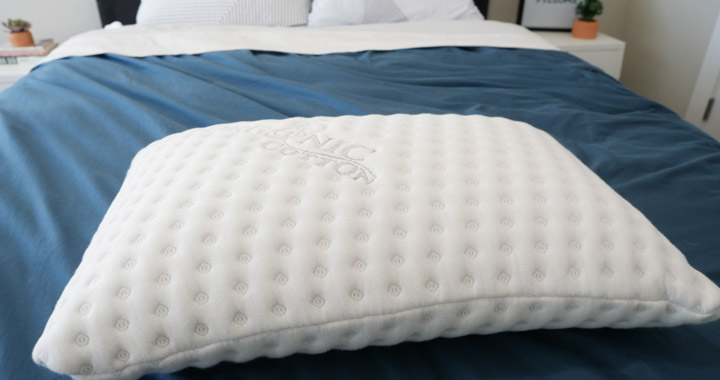 Brooklyn Bedding Talalay Latex
When it comes to sleeping cool, latex pillows are always a good choice. Unlike memory foam, latex foam won't trap an extreme amount of heat and have you waking up hot and sweaty. Out of the many pillows we've tried, the Brooklyn Bedding Talalay Latex is one of our favorites for hot sleepers. Taking a closer look, this pillow's piece of Talalay latex foam is ventilated for additional airflow. With the inclusion of a breathable cover, this should be one cool-sleeping pillow. 
Being a latex pillow, the Brooklyn Bedding is also a good eco-friendly and hypoallergenic option. If you want something better for the environment that doesn't contain too many chemicals, this could work well for you! 
Pillow Details:
The High loft and Low loft models give you firmness and height options.
Latex foam is bouncy and makes it easy to move around, so this pillow is ideal for combination sleepers.
This pillow is originally priced at $89 for Queen and $99 for King.
Read the Brooklyn Bedding Talalay Latex pillow review.
Brooklyn Bedding Talalay Latex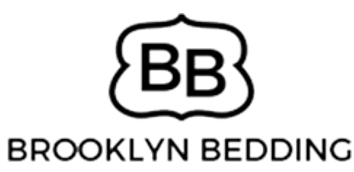 Brooklyn Bedding Talalay Latex
Brooklyn Bedding's Talalay Latex Pillow is a supportive and pressure-relieving blended latex foam pillow. It has a ventilated core and removable soft knit cover. It comes in two loft options, making it a good choice for any sleep position.
Best Cooling Organic Pillow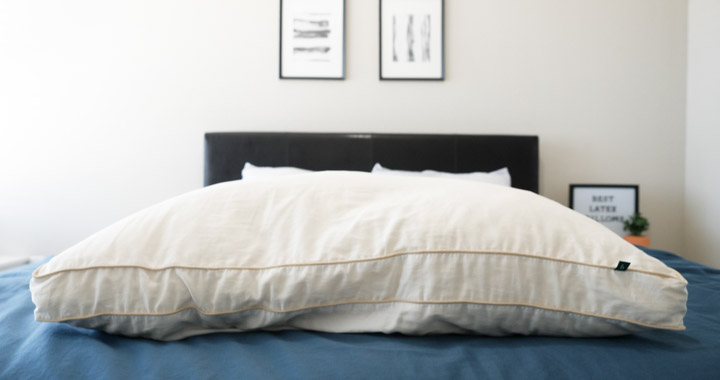 Birch Pillow
When shopping for a pillow, it's always a good idea to take a look at exactly what's inside. If you're an eco-conscious shopper and want something organic, the Birch pillow could be just what you are looking for. The Birch pillow features an organic cotton cover that promotes breathability. Inside the pillow, there's a mix of shredded Talalay latex (a great material for cooling) and New Zealand Birch wool. 
Pillow Details:
Birch offers a 100-night sleep trial, a one-year warranty, and free shipping for their pillow.
At full price, the pillow is $99 for a Standard size and $119 for King size.
The materials are all USA-made, naturally sourced, and adhere to the highest sustainability standards. 
Check out our Birch pillow review.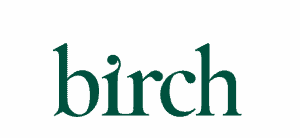 The Birch pillow is an eco-friendly and sustainably made pillow that has an organic cotton cover and fill made with Birch Wool and Talalay Latex shreds. It will work for all sleep positions and needs to be spot cleaned only.
Best Cooling Memory Foam Pillow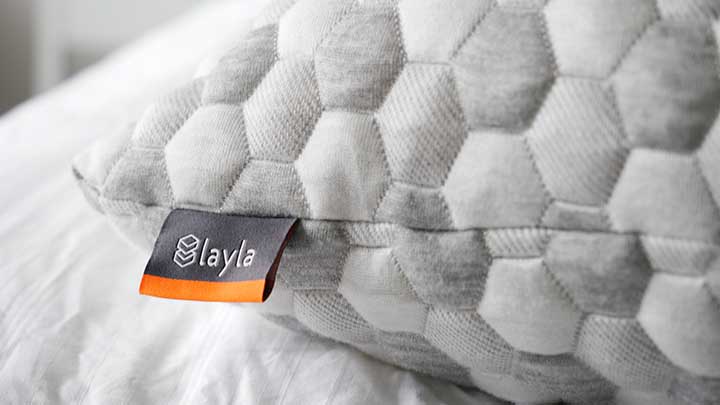 Layla Kapok
When it comes to sleeping cool, memory foam pillows are not always the best bet because they can trap heat easily. However, if you want a memory foam feel and don't want to overheat, you have to check out the Layla Kapok. This pillow's cover contains copper fibers. Copper is a conductive material and has been shown to help promote a cooler sleep. While there is memory foam in the pillow, it is shredded and shouldn't trap heat like a solid piece of memory foam might. 
Pillow Details:
With a balance of comfort and support, its loft and construction makes it a great fit for back and side sleepers.
Without sales and discounts, a Queen is $109 and a King is $129.
Layla offers a five-year prorated warranty and a 120-night trial.
Read our full Layla pillow review.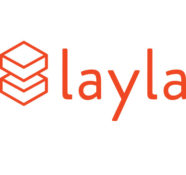 The Layla Pillow features a zipper on the side that lets you access the Kapok fiber and shredded memory foam mixed filling. It has a soft knit cover that includes copper-infused yarn and a pattern that matches the mattress cover. 
Best Affordable Pillow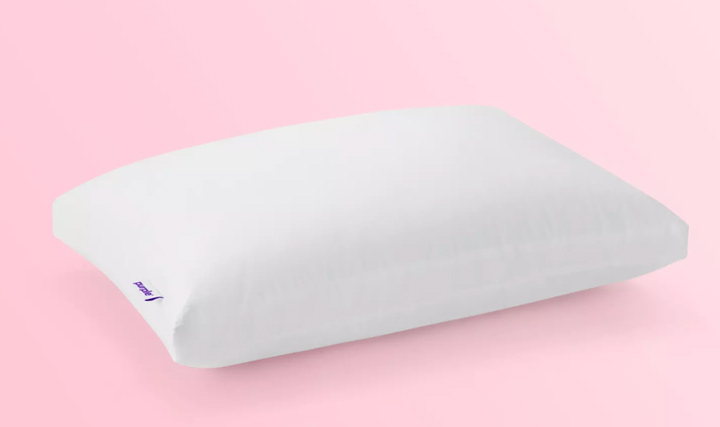 Purple Cloud
If you're a hot sleeper on a budget, the Purple Cloud is an excellent place to start. Without sales or discounts, a Standard size costs $59, and a King size costs $79. We think that this is a great deal for such a high-quality cooling pillow. In terms of keeping cool at night, the Purple Cloud features a cotton cover that promotes breathability. Also, the gel fiber fill allows for air to pass through the pillow. In our experience, the Purple Cloud doesn't trap too much heat! 
Pillow Details:
Purple offers a 100-night trial and one-year warranty.
The entire pillow can be washed and dried at home.
The Purple Cloud features crimped gel fibers, which help the pillow keep its shape over time.
A review for the Purple Cloud pillow is coming soon.

The Purple Cloud is a plush, cooling pillow that is sold for a very affordable price.
Marten's Take
In the process of selecting the best pillow, one's body type and primary sleeping position are incredibly important. The whole team at Mattress Clarity always recommends that people think about that before making a decision. For this reason, I love incorporating my colleague Marten's experience with the pillows into my review. I am 5'7" and about a medium weight.
Marten is 6'7" and weighs 250 lb, so he can offer a different opinion and share his personal experience with these pillows in a way that helps to determine which would be best for heavier sleepers: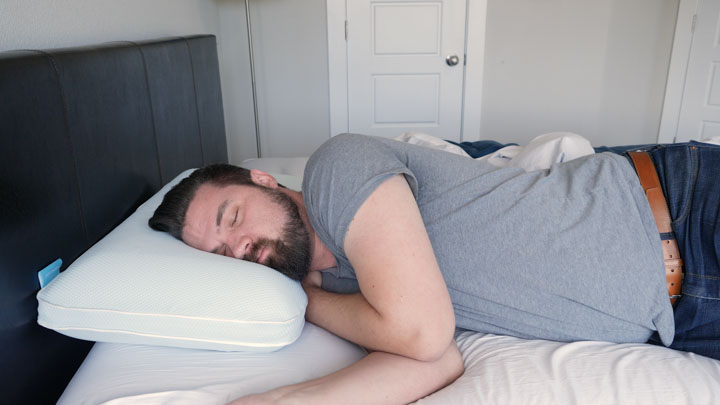 "Of the four pillows on Katie's list, the one I like the most is the TEMPUR-Cloud Cooling Pro. I'm naturally a hot sleeper and I loved the soft and contouring feel of the memory foam in the Hi profile when I'm on my back, but I loved the cooling nature of the pillow when I moved onto my side. The height from the Hi profile version provides good support in both of these sleeping positions for me."
How to Choose the Best Cooling Pillow
We all want our pillows to be comfortable, but when selecting the best cooling pillow there are a number of other factors to consider! It all comes down to your sleeping position, how hot you sleep, and your budget. 
Sleeping Positions, Loft, and Firmness
The proper firmness and loft is dependent on your sleeping position. If you have the wrong height for the way you sleep, it can affect your spinal alignment and cause discomfort. If you're unsure about what pillow best matches your sleeping position, then we highly recommend an adjustable pillow. That way, you can customize the loft to whatever feels the most comfortable.
Side sleeping: To keep the neck aligned with the rest of the spine, we definitely recommend a pillow with a higher loft. These pillows will often seem fluffier and have a firmer feel. 
Stomach sleeping: On the other end of the pillow firmness scale, opposite from side-sleeping pillows, are pillows for stomach sleepers. These sleepers should want a softer pillow and a lower loft. Unlike side sleepers, stomach sleepers do not want their neck craned upwards at night.
Back sleeping: These sleepers are likely going to want something in between the lower loft of stomach sleepers and the higher loft of side sleepers. Back sleepers are often most comfortable with a balanced feel, and because of this, they have some room to lean a bit one way or the other in terms of loft and firmness.
Combination sleeping: If you're a combination sleeper and switch positions throughout the night, we highly recommend the adjustable pillows mentioned above.
One last thing to note is that the higher the loft, the more material in the pillow. This can create a denser construction and may trap heat more than pillows with a lower loft. Of course, we still recommend higher-lofted pillows to side sleepers and some back sleepers, but this is something to keep in mind.
Related: Best Mattresses of 2022
Cooling Materials
With so many options on the market, which material is truly the best for cooling? While there's no one-size-fits-all choice, we do want to give you a guide for all of the most common cooling materials you'll find in pillows. 
Cooling Foams: In general, foam pillows are known to trap heat easily. However, companies have figured out ways to overcome this while still keeping the plush, comfy feel that so many people love. A cooling effect is often achieved by infusing another substance into the foam, such as graphite or even copper. Perhaps the most common cooling foam you'll see out there is gel-infused foam. With infused cooling material, the pillow is able to maintain a cooler surface. So, your head, neck, and shoulder areas should remain cool as well. In turn, your body temperature lowers, and you shouldn't find yourself overheating at night. 
Phase Change Material (PCM): A pillow with Phase Change Material uses modern technology to not just make the pillow cool, but keep it cool throughout the night. That's right, PCM is unique in that it works to stabilize the temperature of the pillow, and consequently, your body temperature as well. PCM achieves this by dissipating your body heat after absorption.  
Latex: Eco-conscious shoppers and those with allergies should love the option of natural latex because it's typically non-toxic, chemical-free, antimicrobial, and hypoallergenic. Hot sleepers should appreciate this material primarily because latex itself is naturally cooling and breathable. It should be noted that latex pillows often have a totally different feel than foam pillows; with latex pillows, you should get a bouncier feel that's great for combination sleepers who like to change positions at night.
Down and Down Alternatives: Despite the fact that they are breathable, authentic down pillows are known to trap quite a bit of heat. That's why down alternatives are a great material for cooling pillows; they tend to be far less insulating while still maintaining a similar feel to true down pillows.
Price
Cooling pillows are definitely going to be more expensive than your average pillow because of the technology and quality of materials used. You should expect to pay somewhere around $100 for a pillow that will keep you cool throughout the night.
Other Ways to Sleep Cool
If the cooling pillow isn't quite enough to keep you from overheating, or if it's a little out of your price range, there are many other products that should help you stay cool.
Accessories
Cooling Pads: Pads infused with gel or other substances are a fantastic option for those who don't want to spend money on yet another pillow. Just slip the pad into a regular pillow (it goes on the side where you'll lay your head), and the pad should help cool down the surface and consequently keep you cool as well. 
Cooling Sheets: Cotton, bamboo, and Tencel are our favorite materials for cooling sheets because they're naturally breathable. These materials are far better than other materials such as flannel, silk, and linen, which are prone to insulation and might make you overheat at night. For some incredible options, check out our roundup for the best cooling sheets.
Cooling Toppers: Foam toppers, though comfortable and cozy, can trap quite a bit of heat. That's where cooling technology comes into play! Head on over to our article for the best cooling toppers for some of our favorite options.
Mattresses
If you're willing to spend the money and need a major game-changer, then we recommend investing in a cooling mattress. Like pillows, mattresses are often made with cooling technology or have a very breathable construction. When used in tandem with other cooling accessories, we can almost guarantee that you shouldn't have any problems overheating at night. Check out our roundup for the best cooling mattresses for our top picks!
Bedroom Setup
Using a fan effectively is another way to create a cooler environment to sleep in. Turn ceiling fans counter-clockwise during hotter months, or face a fan out of an open window. It can also make a huge difference if you keep curtains closed during the day and turn off lights when you aren't using them.
Lifestyle
Your lifestyle can impact your body temperature, and this can affect how hot or cold you sleep. We recommend working out in the mornings if you can and limiting physical activity in the evening to keep that body temperature low. Additionally, staying away from warm and spicy foods at the end of the day can help you from overheating.
Who Should Buy a Cooling Pillow
Truthfully, cooling pillows are great for almost anyone. There are a number of brands and models for every preference and sleeping position. Of course, a strictly hot sleeper should buy a cooling pillow for obvious reasons. Additionally, those who experience hot flashes or even those who just need something a little extra during warm summer months can benefit.
Who Shouldn't Buy a Cooling Pillow
If you find yourself truly uncomfortable at night, we think a cooling pillow will be worth the investment. However, if you're on a budget, you might want to consider a gel pad as a cheaper alternative, or perhaps some cooling sheets with more breathable materials.
Those looking for easy maintenance might want to check out other options as well. Not all cooling pillows have convenient washing and drying methods, and if this is important to you, then it could be worth sticking to a regular pillow or trying other cooling accessories.
Summary
The best pillow for hot sleepers is going to look different for everyone, but individuals who keep an eye out for ones that offer technology like gel infusions and cores with airflow promotion stand a good chance at sleeping cool all night long.
Comment in the YouTube video if any questions pop up or a personal recommendation is needed. I'm always checking back!
FAQs
What is the best pillow that stays cool?
There are some features in a pillow to look for that will help individuals assess whether or not it'll say cool.
Breathable materials - those looking for a cotton cover, choose a percale weave over sateen because that will allow for more airflow. Moisture-wicking material or material designed for athletes are also great options.
Cores that promote airflow - Usually solid foams will sleep hotter than shredded foam or other material that can be broken up or moved around like fibers; solid foam that is ventilated or contains gel, gel pads or Phase change Material can really help make a solid foam pillow cooler.
Do cooling pillows lose their cool?
Unfortunately, some do lose their cool, and it's all about what materials and technology are used and the quality of them. This is where trial periods come in handy - it allows sleepers to give the pillow or pillows a chance to stay cool and to discover if it fails after a few hours or a few days. I've personally had the best luck with pillows that are made with Phase Change Material and have core fillings that promote airflow, like the aerated core of the Gel Memory Foam GhostPillow.
Are gel pillows good?
The pillow world seems to be somewhat divided on whether or not gel infused into pillows helps keep it cool. I've had some gel pad pillows work really well, including the TEMPUR-Cloud Breeze Dual Cooling pillow that offers the same gel panels at the TEMPUR-Cloud Cooling Pro pillow that made my list. I've also slept on plenty of foam pillows that are infused with gel and haven't really noticed a big difference with those. Therefore, I am hesitant to say definitively that gel is always a good idea with a pillow, it truly depends on the quality of the brand, the gel they're using and how they're using it!
Are cooling pillows safe?
Yes! Pillows made with down are typically responsibly and humanely sourced. Companies that use down alternatives such as polyester or gel infused memory foam get certifications, like an OEKO-Tex certification, to ensure that no harmful chemicals or toxins went into the production of the pillows.
Can you wash a cooling pillow?
Truthfully, the answer is: it depends! Some pillows are fully machine washable, while others might be recommended to be spot cleaned only. Some companies might even suggest just tumble drying them. Regardless, always check the care instructions that the manufacturer provides you for the most accurate information on how to clean your pillow.
Katie Golde
Katie manages the day to day operations of the Mattress Clarity news site and reviews sleep products in addition to writing and editing sleep news. She hails from Austin, where she lives with her growing family. She is a Certified Sleep Science Coach and has a master's degree in Journalism from Northwestern University and has a background in health and science content. Her work can be found in print and online publications like Discover Magazine, USA Today and The Huffington Post.