Who's ready to jump into the world of cozy TEMPUR-Pedic pillows? I know I am. There's a lot to cover here!
This post is all about TEMPUR-Pedic pillow reviews, including details on all six of the most popular options and how to find the best match based on sleeping positions. We'll also get Marten's take on the best TEMPUR-Pedic pillow options for a heavier sleeper and we'll check out a few top picks and answer some questions at the end.
How to Care for TEMPUR-Pedic Pillows
Before we kick it off, I want to note a couple of things that are applicable to all of these pillows. First, there is no trial period or return-policy available with any of these, so they are an investment and a commitment. Second, all of these pillows contain TEMPUR material. It's essentially TEMPUR-Pedic's proprietary take on memory foam — adaptable, pressure-relieving, and with a classic foam feel.
Finally, each pillow is going to have different care instructions. Follow those guidelines carefully in order to keep the pillow in good shape for years to come.
Okay, now that we've gone over that, let's dive into this list of amazing pillows.
TEMPUR-Pedic Pillows Video Overview
Best Neck Pillow: TEMPUR-Neck Pillow
TEMPUR-Neck Pillow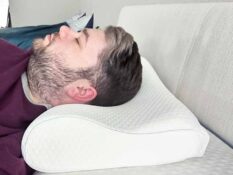 The ergonomic shape to the TEMPUR-Neck pillow makes it an ideal pillow for anyone dealing with neck pain. This solid slab of memory foam will contour to your head and neck, giving you good support and will alleviate neck pain.
Mattress Clarity Score
3.90 / 5
Read Full Review
The TEMPUR-Neck pillow is an extra-firm pillow made with a single piece of TEMPUR material (their proprietary memory foam) and contoured to help provide proper neck and spinal alignment. The polyester knit cover is soft, hypoallergenic, and machine washable.
Laying on the pillow, you may feel unsure where to place your head at first, but the pillow is designed for the highest part to fit underneath your neck. This design feels perfect for back sleeping and side sleeping since it allows your neck to feel elevated and supported which helps to prevent pain while you sleep.
The pillow comes in three height profiles — small, medium, and large. To know which is best for you, TEMPUR-Pedic suggests measuring the distance between your neck and shoulders. If the distance is between 4-6" and you're a back sleeper, you should opt for a small, and if you're a side-sleeper, opt for a medium. If the distance is larger than 6", you should size up respectively. 
Dimensions (Medium): 20″ x 12.5″ x 4″
Removable Cover: 100% hypoallergenic polyester knit cover
Core: Lightweight TEMPUR® material
Comes in small, medium, and large sizes
Feel: Extra firm
Full price: $129 and (Medium)
Check out our full review on the TEMPUR-Neck pillow!
Plush Feel: TEMPUR-Cloud
The TEMPUR-Cloud pillow is one of the highest-rated and highest-reviewed TEMPUR-Pedic pillows available. It's got plenty of comfort-inducing features and is an overall crowd-pleaser. The polyester knit cover is thick and soft, and – perhaps best of all – can be removed for easy cleaning.
The solid piece of TEMPUR material has a plusher feel compared to the TEMPUR-Neck and it's got more height. This makes this pillow best for sleeping on your back and stomach. However, more petite individuals – our tester is 5′ 7″ for reference – could side sleep comfortably, as well. Be prepared for the head to sink significantly further down into this pillow and for some excellent contouring and pressure relief in general.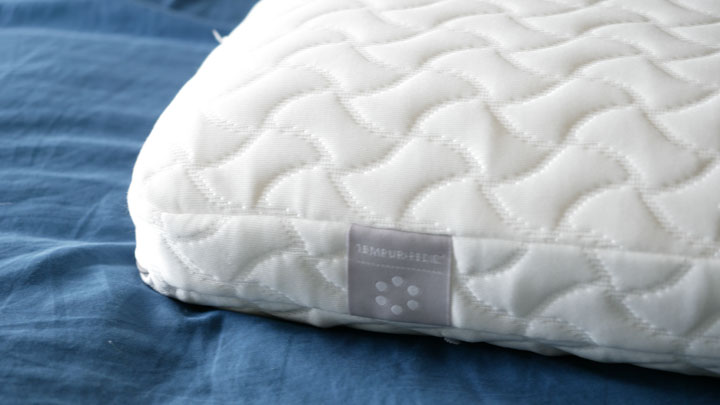 Pillow Details
Dimensions: 24″ x 15.75″ x 5″
Removable Cover: 100% hypoallergenic polyester knit cover
Core: Plusher TEMPUR® material
Feel: Extra-Soft
Full price: $89
For those interested, we've got an even more in-depth review of the TEMPUR-Cloud.
Dual-Sided: TEMPUR-Symphony
The TEMPUR-Symphony is a pillow that's designed to be a "symphony" for all sleep positions. TEMPUR-Pedic created this pillow with a unique design – a flat side that's recommended for stomach and side sleepers and a side with a raised edge for supporting back sleepers. However, our testers found it difficult to achieve any level of comfort on the raised side and slept exclusively on the flatter side.
The polyester knit cover is removable and soft but nothing to write home about. The pillow is 5″ in height and the foam is about a medium firmness, which makes the flat side of the pillow best for average-sized sleepers who sleep on their back and side. Fortunately, though, with two different sides, you have plenty of options to choose from when it comes to sleeping on this pillow.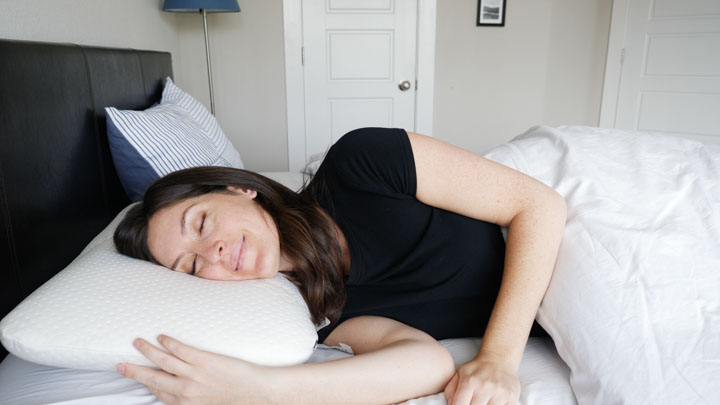 Pillow Details
Dimensions: 24″ x 17″ x 5″
Removable Cover: 100% polyester knit
Fill: Contoured TEMPUR® material
Feel: Soft
Designed for: back sleepers on raised edge and stomach and side sleepers on a flat edge
Removable/washable cover
Hypoallergenic
Full price: $129
Want to learn more, check out our full review of the TEMPUR-Symphony!
Down Filling: TEMPUR-Down Precise Support
This beauty may be the most luxurious pillow that TEMPUR-Pedic currently offers! The TEMPUR-Precise Down Support pillow is a gem that's geared towards those that love the feel of fluffy down but fear losing support overnight.
Here's how it works – the outer cover is a clean crisp 100% cotton over white duck down filling. This gives the entire pillow a thick, classic down feel. Unzip the cover and there's a separate section of shredded TEMPUR material in the core for support.
The pillow feels mostly like down but that firmer filling is helping to maintain support and stops the pillow from going flat overnight – genius! Remove the foam core before handing it over to the dry cleaner for cleaning, of course.
This pillow is more likely to be enjoyed best by back and stomach sleepers. Side sleepers with a smaller frame will probably enjoy this as well.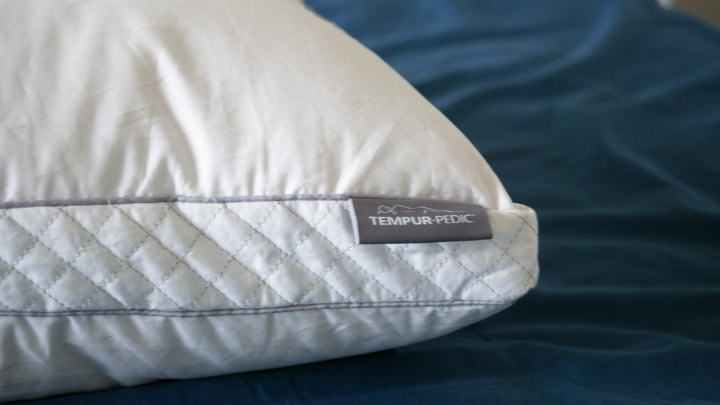 Pillow Details
Dimensions (Queen): 25.25″ x 17″ x 7.88″
Removable Cover: Premium 500 thread count 100% cotton and filled with authentic, premium down filling, 51% white duck down
Core: The core is made with medium TEMPUR-Material (shredded)
Comes in Queen and King sizes
Full price: $179
Full review coming soon!
Cooling: TEMPUR-Cloud Breeze Dual Cooling
Our writer Katie has personally had this pillow at her house for more than two years and can testify that it is cool to the touch! The pillow is large and in charge – we're talking 7 lbs and 6.4″ tall. One of the nice things about this design is that the outer cover is a thin cotton layer, allowing the gel pads to really shine through and do their job for hot sleepers.
Katie's husband (who is 6'5″) absolutely loves this pillow for back and side sleeping and this pillow will likely work for most people who sleep in those positions but will be too much for stomach sleepers.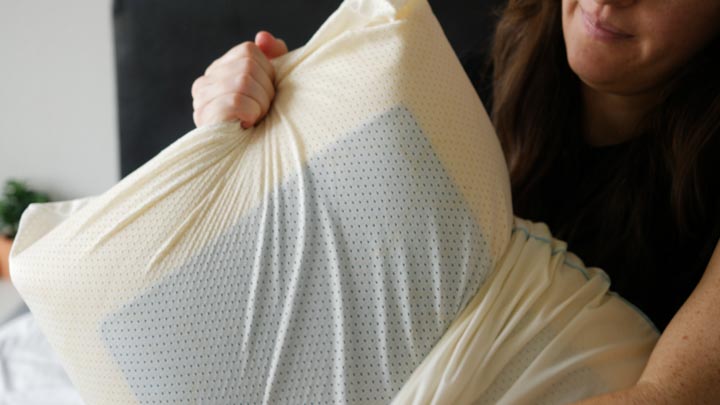 Pillow Details
Dimensions (Queen): 27″ x 19″ x 6.4″
Removable Cover: 100% cotton, removable, washable cover
Core: TEMPUR® material and TEMPUR-Breeze® Gel Layer on both sides
Plusher feel
Available in Queen and King sizes
Full price: $199
A more detailed look at this pillow can be found in our full review.
Optional Height Profiles: TEMPUR-Cloud Cooling Pro
The TEMPUR-Cloud Cooling Pro is another significant pillow that will work for side sleepers and heavier sleepers more than it will for smaller stomach sleepers. The pillow comes in Queen and King sizes but also has two distinct height profiles: Hi and Lo. The Queen ProHi d was 6.6″ tall and made with a firmer solid foam piece of TEMPUR material.
The thicker polyester/elastane fabric is aesthetically pleasing to look at but does create a more subtle "cooling" effect compared to the TEMPUR-Cloud Breeze Dual Cooling, which also features gel pads in the core (but it still kept me cool). Back and side sleepers should opt for the Hi profile and stomach sleepers or smaller body types should aim for the lower profile.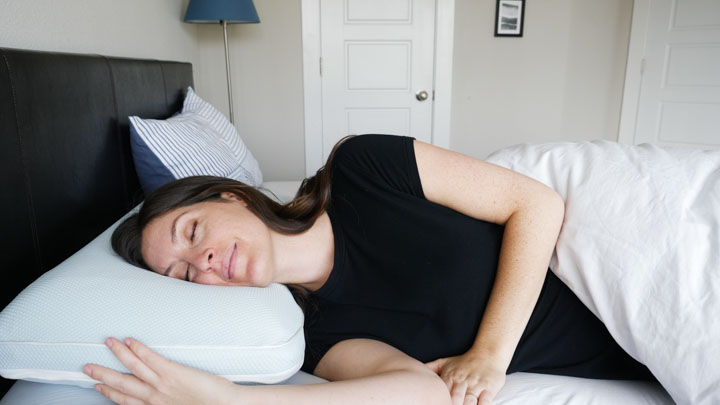 Pillow Details
Dimensions (Queen ProHi): 25″ x 16″ x 6.6″
Removable Cover: High stretch performance panel cover that's made up of 90% polyester and 10% elastane
Core: A solid piece of medium TEMPUR material sandwiched between dual-sided cooling gel pads
Available in Queen and King sizes and Hi and Lo profile (6.6″ vs. 5″)
Full price: $199
Full review coming soon!
Marten's Take on TEMPUR-Pedic Pillows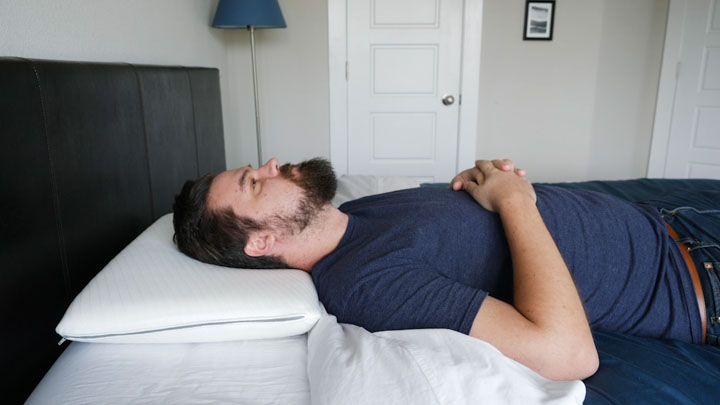 Marten here! I'm going to give you another perspective on this collection of TEMPUR-Pedic pillows.  I'm 6′ 7″ and about 250 lbs. so I wanted to share which pillows I thought  would be a good fit for heavier sleepers. Larger body types tend to put more pressure on a pillow and experience it differently, so I want to explain how they felt on my stomach, my back, and my side, in addition to providing my recommendations.
TEMPUR-Cloud Cooling Pro (Hi Profile): Good match for heavier back and side sleepers
TEMPUR-Cloud Breeze Dual Cooling: Good match for heavier back and side sleepers
TEMPUR-Cloud: Good match for those looking for the best value
Best Pillow for Heavier Sleepers: TEMPUR-Cloud Cooling Pro (Hi Profile)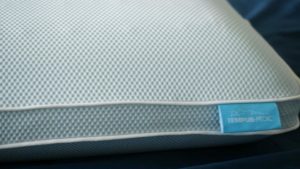 Marten and I both agree that the TEMPUR-Cloud Cooling Pro pillow in the Hi Profile style is going to be the best match for heavier sleepers for several particular reasons. At 6.6″ in height, it's the tallest option and it also offers one of the firmest and most dense cores, ensuring it will give enough support no matter how much pressure is on the pillow.
Not to mention, it's fantastic for back- and side-sleeping for heavier individuals, and is also made from high-quality durable materials, so it should last for years.
Best Pillow for Hot Sleepers: TEMPUR-Cloud Breeze Dual Cooling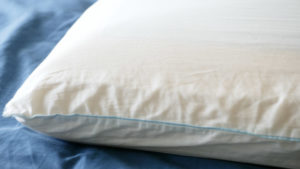 The best choice for hot sleepers is going to be the TEMPUR-Cloud Breeze Dual Cooling pillow! There are two main but important reasons for this choice – the biggest one is the delightful cooling gel pads on both sides of the solid foam core.
These are seriously cold to the touch and after consistently using this pillow on a near-nightly basis for two years, I can still feel the cooling gel against my face when I sleep. I also love the simple cotton cover; it provides a nice barrier from the core but allows me to feel that gorgeous coolness.
Best Value: TEMPUR-Cloud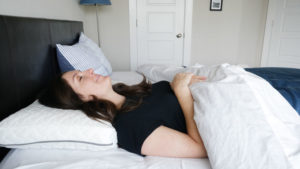 Last but not least, my choice for the best value within the collection of pillows I've covered is the TEMPUR-Cloud! This is one of the highest-rated and most popular TEMPUR-Pedic pillows because it's got a classic soft memory foam feel, and it will work for most sleeping positions (depending on body type!).
It's also priced reasonably well – at $89 – and is one of the most affordable options in the group of pillows. The cover is soft, removable, and easy to clean, and the foam core with the proprietary memory foam called TEMPUR material is the perfect combination of support and pressure relief.
Summary
One last time, here are the top TEMPUR-Pedic pillows:
FAQs
Which TEMPUR-Pedic pillow is best?
There is no "best" pillow for anyone because we all come with our own set of distinctive sleep needs! The best pillow for each person will have to do with his or her primary sleep position and personal preference on materials and support levels. Use this round-up as a guide to help narrow down pillow options.
How long do TEMPUR-Pedic pillows last?
TEMPUR-Pedic pillows are very durable and should perform well for 3-5 years with consistent use.
How much does a TEMPUR-Pedic pillow cost?
Of the six pillows I talked about today, the prices range from $79 to $189 for a Standard/Queen. Here's the breakdown:
TEMPUR-Essential: $79
TEMPUR-Cloud:$89
TEMPUR-Symphony: $119
TEMPUR-Down Precise Support: $149
TEMPUR-Cloud Breeze Dual Cooling: $189
TEMPUR-Cloud Cooling Pro (Hi Profile): $169
Can TEMPUR-Pedic pillows be washed?
Yes.. and no. The actual Tempur material, the foam, can only be spot cleaned. Most of the pillows I've shown today have removable covers (look for a zipper on the side) that can be washed separately. Keep an eye out for detailed care instructions for each type of pillow.
Katie Golde
Katie previously managed the day to day operations of the Mattress Clarity news site and reviews sleep products in addition to writing and editing sleep news. She hails from Austin, where she lives with her growing family. She is a Certified Sleep Science Coach and has a master's degree in Journalism from Northwestern University and has a background in health and science content. Her work can be found in print and online publications like Discover Magazine, USA Today and The Huffington Post.