TEMPUR-Pedic has a wide range of pillows that are designed to meet many sleep needs and the TEMPUR-Cloud Breeze Dual Cooling pillow is all about keeping sleepers cool all night. Find out if it lives up to expectations by checking out my video review below or reading on for my full review.
TEMPUR-Cloud Breeze Dual Cooling Pillow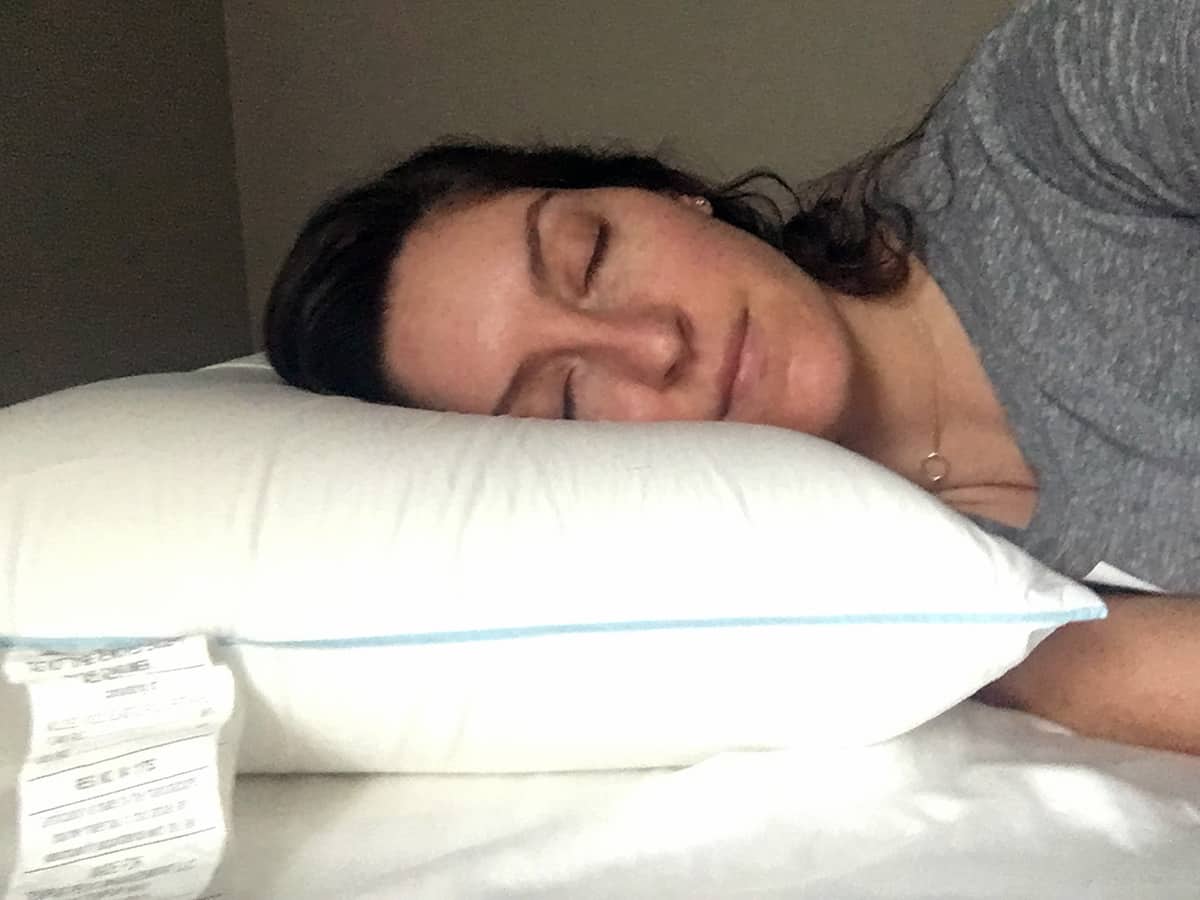 The Tempur-Cloud Dual Breeze Cooling is one of the heaviest, least responsive, but best cooling pillows I've had a chance to review.
Mattress Clarity Score
4.30 / 5
Read Full Review
Key Features
Filling: 96% Molded Visco Elastic Polyurethane Foam Pad (molded memory foam) 4% Gel Pad
Tempur-Breeze Gel Layer on both sides of the pillow
Weight: 7 lbs
Cover: 100% Cotton
Netting: 100% Polyester
Removable/washable cover
Designed for back, stomach and side sleepers
5-year limited warranty
No returns
Dimensions:

Queen: 27″ x 19″ x 6.4″ (about 7 pounds)
King: 35″ x 19″ x 6.4″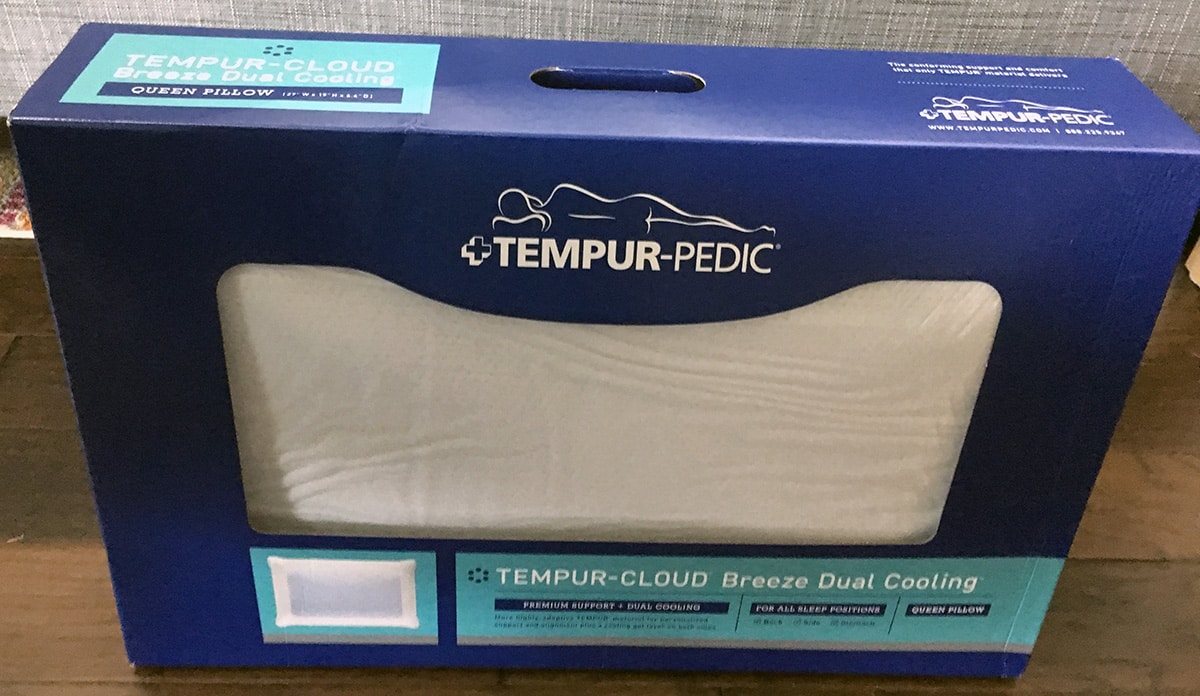 Who Makes It?
The Tempur-Cloud pillow is made by Tempur-Pedic, a popular mattress, and bedding company that merged with Sealy in 2012 to become Tempur-Sealy International.
Tempur-Pedic – the brand – is well known for being the first to take memory foam mattresses mainstream. For more information about Tempur-Pedic and their mattresses, check out our review, here.
Pillow Construction
The Tempur-Cloud pillow comes in two sizes:
Queen: 27″ x 19″ x 6.4″
King: 35″ x 19″ x 6.4″
The filling of the pillow is a solid piece of molded viscoelastic polyurethane foam (memory foam) with a gel pad on either side of the pillow.
Sleepers will immediately sense the coolness of this pillow when they hold the pillow that the foam filling is dense because the pillow is heavy (around seven pounds in weight).
Placed in the middle of each pillow is a rectangular cooling gel pad. This is on either side of the pillow so even if it's over at night, sleepers should get the cooling benefits.
There is a layer of netting over the foam layer that's made of 100% polyester.
The removable cover is a thin layer of 100% cotton; a zipper at one end of the pillow allows it to be removed and separately machine washed and dried when necessary. There are also care instructions on a tag on the pillow – do not wash or dry the foam filling.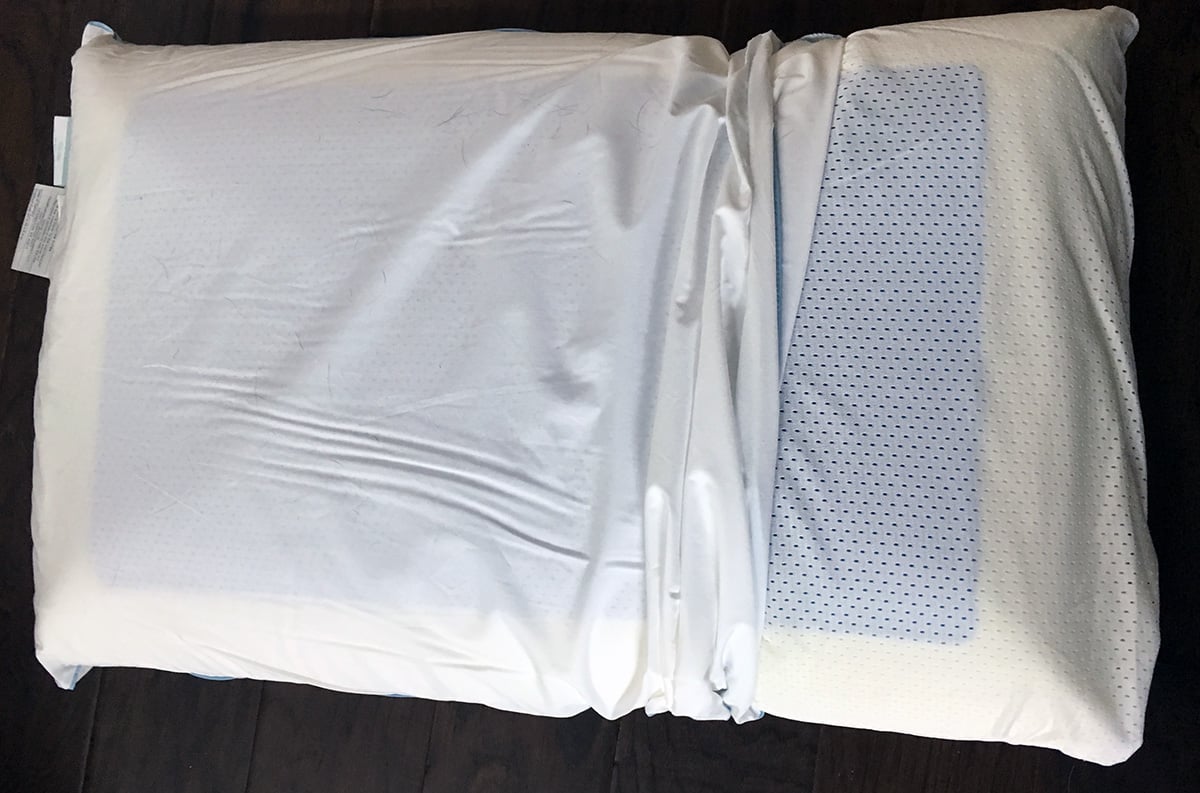 Pros
Cooling features are good for hot sleepers
Firm and supportive
Removable cover that's easy to wash and dry
Good for those who like their head and neck to sink into the pillow
Cons
Some Initial Off-gassing (needs to breathe)
Pricey ($149 for a Queen)
Heavy – Queen is around seven pounds
Some reviews say cooling does not last overnight
6.4" profile might be too high for some back and stomach sleepers
TEMPUR-Cloud Breeze Dual Cooling Pillow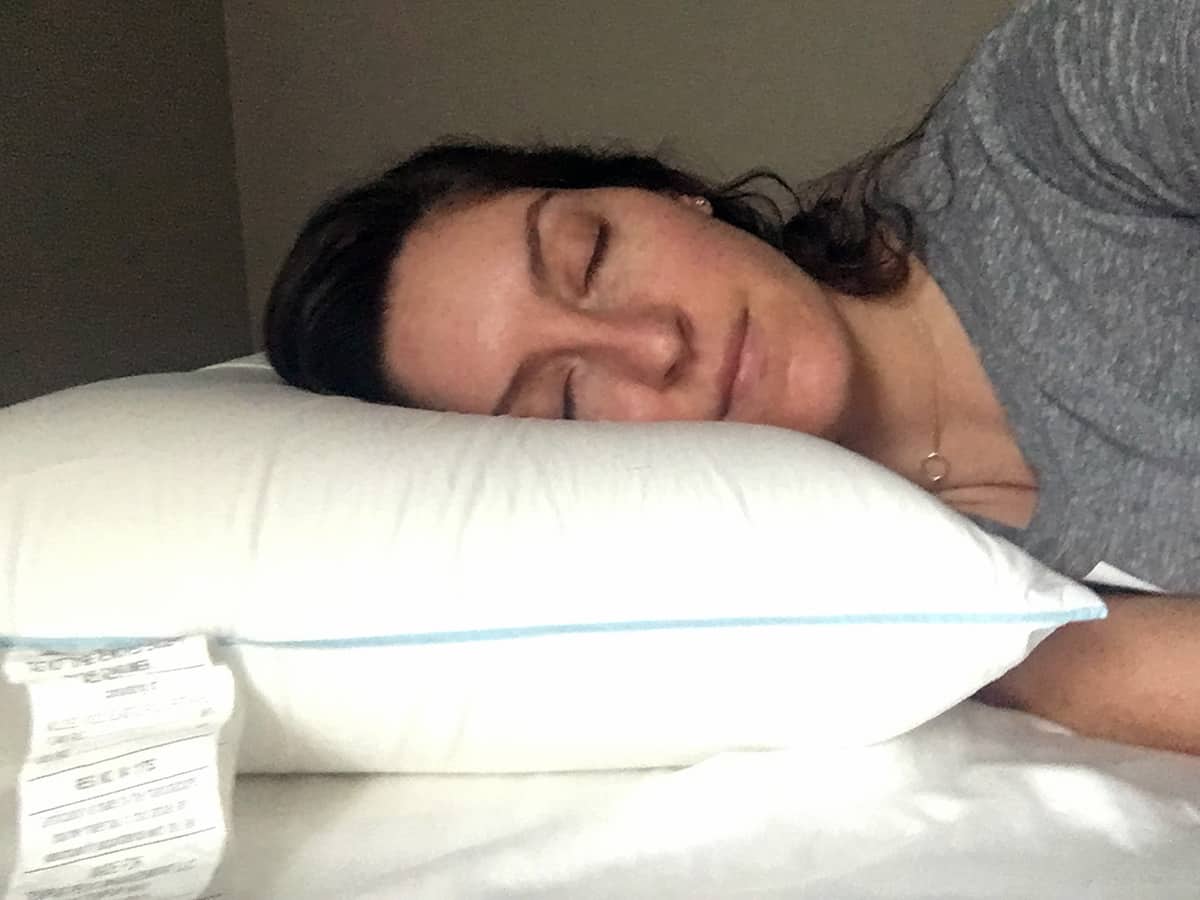 The Tempur-Cloud Dual Breeze Cooling is one of the heaviest, least responsive, but best cooling pillows I've had a chance to review.
Mattress Clarity Score
4.30 / 5
Read Full Review
My Experience
In case its name didn't give it away, the Tempur-Cloud Dual Breeze Cooling pillow is all about helping hot sleepers (who presumably like foam pillows) sleep cool. It has a traditional rectangular pillow shape and Tempur-Pedic says it's a good match for all sleep positions.
The first thing I noticed when I unboxed the pillow was its significant weight. The solid piece of memory foam used to fill the pillow is dense and heavy (around seven pounds), which gives it an interesting feel.
I did experience a little bit of off-gassing since the pillow was wrapped in plastic for shipping. After 24 hours in a ventilated area, the smell dissipated and there was no issue for me.
The light cotton cover is easy to remove via a zipper at one end of the pillow, care instructions are clearly marked on a tag and the cover was easy to wash and a dry on a gentle cold cycle with some of my clothes.
RELATED: Best Pillow for Side Sleepers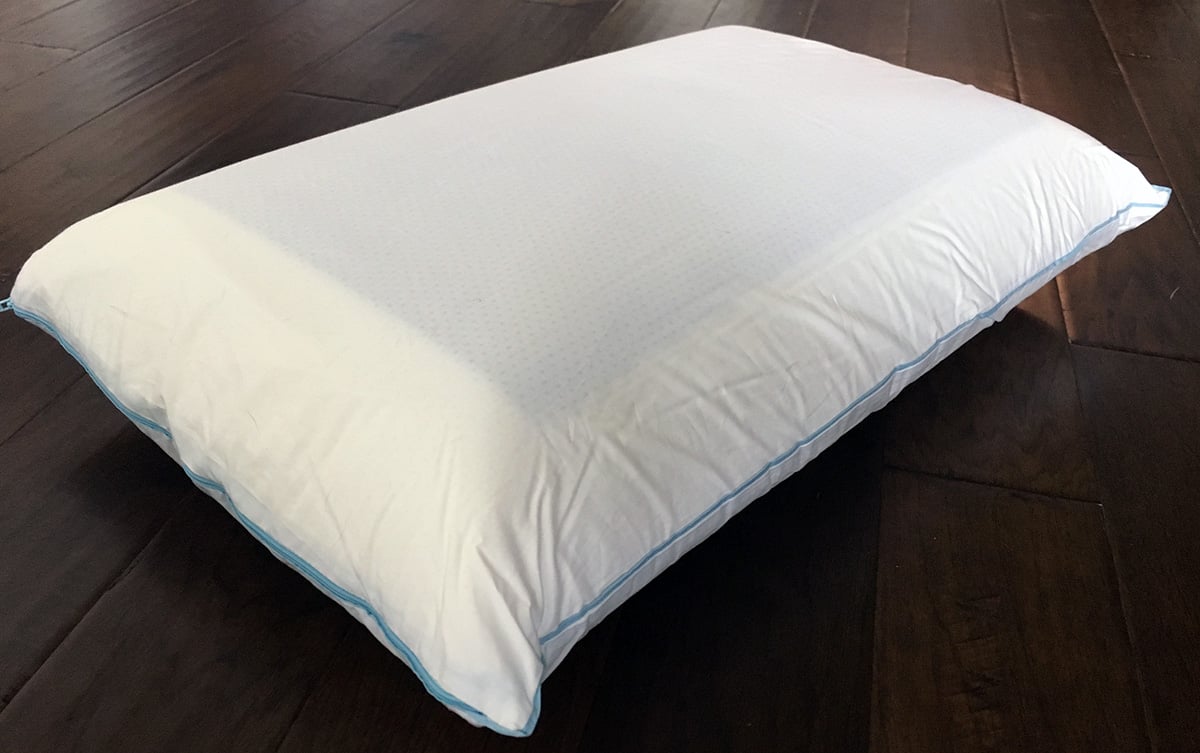 I had no issues with the dryer either and the cover went back on. It has a snug fit to begin with but I liked that I could see the blue rectangle of the gel cooling pad through the white cotton cover. It gave the pillow a unique look.
I couldn't feel the coolness of the gel pad when I laid on my back but as soon as I turned to my side I immediately felt a cooling touch on my cheek and side of my face. Since a big complaint with foam is that it doesn't breathe well, I can see this cooling gel pad providing great relief overnight.
When my head first hit the pillow, I had that "quicksand" feeling, and my head slowly sunk further and further into the foam. The pillow has a true memory foam feel and does not respond quickly when a sleeper applies pressure; the slow response is visible when a person presses down on the pillow, lifts the hand (or head) up and it will take a few seconds to resume its original shape.
Even though the pillow has a 6.4" profile, the head will sink further down, which makes the height a little less of an issue for some sleep positions.
That being said, I still had a hard time reaching a neutral neck alignment and feeling comfortable with this pillow on my back and stomach. My head just didn't sink down far enough and it felt too firm for me.
I was able to get comfortable on my side after a few minutes, but even from the photo, one can see that my neck isn't completely aligned with my head, which isn't ideal.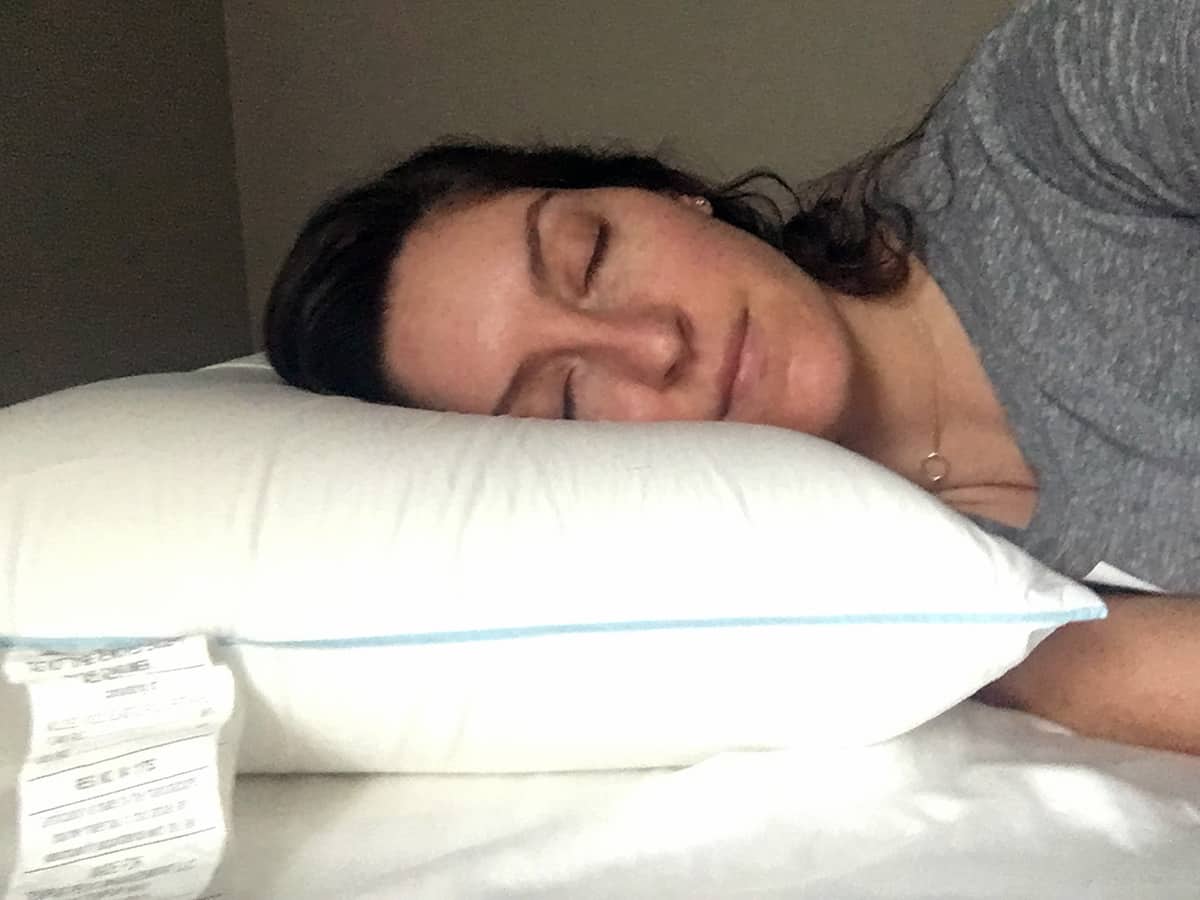 In other reviews that I read, some people said the pillow fell flat throughout the night and others commented that the cooling relief was only temporary. I didn't have that experience myself but I wanted to note it because it popped up a few times when I was reading other reviews.
So based on my experience, I think this pillow is best suited for people who prefer the slow response and contouring feel of memory foam, want a firmer and supportive pillow and maybe even have a larger frame so they can put more weight on the pillow and find a good fit for all sleep positions.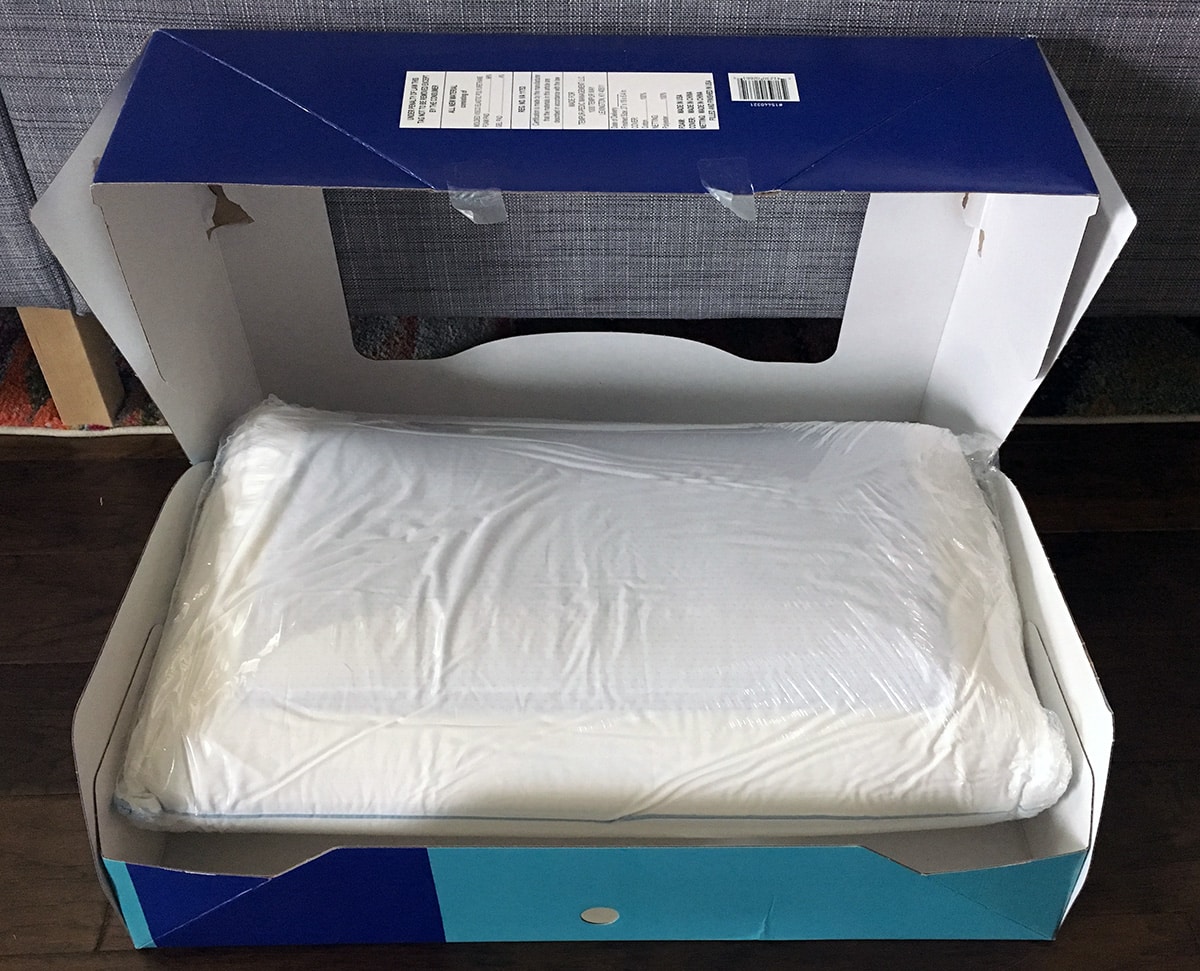 Overall
The Tempur-Cloud Dual Breeze Cooling is one of the heaviest, least responsive, but best cooling pillows I've had a chance to review. Based on my experience, here is the type of person I think it could be the best fit for.
People who love memory foam and want to slowly sink into their pillow
People who sleep hot but love the feel of foam or memory foam
People with larger frames – more pressure on the pillow allows the head to sink further in
People who tend to sleep on their sides
This Tempur-Pedic pillow may not be a universally good fit (my thoughts, at least) but people who know what works for them and are looking for a cooling pillow may find a great match with this one.
Those who are interested in other Tempur-Pedic pillows, check out my review of the Tempur-Symphony pillow, here. 
Katie Golde
Katie manages the day to day operations of the Mattress Clarity news site and reviews sleep products in addition to writing and editing sleep news. She hails from Austin, where she lives with her growing family. She is a Certified Sleep Science Coach and has a master's degree in Journalism from Northwestern University and has a background in health and science content. Her work can be found in print and online publications like Discover Magazine, USA Today and The Huffington Post.