key to a good night's sleep.
We tested the top mattress protectors to make sure they delivered not only on mattress protection but comfort as well. We are pleased to say that the Bear mattress protector is our pick for the best protector.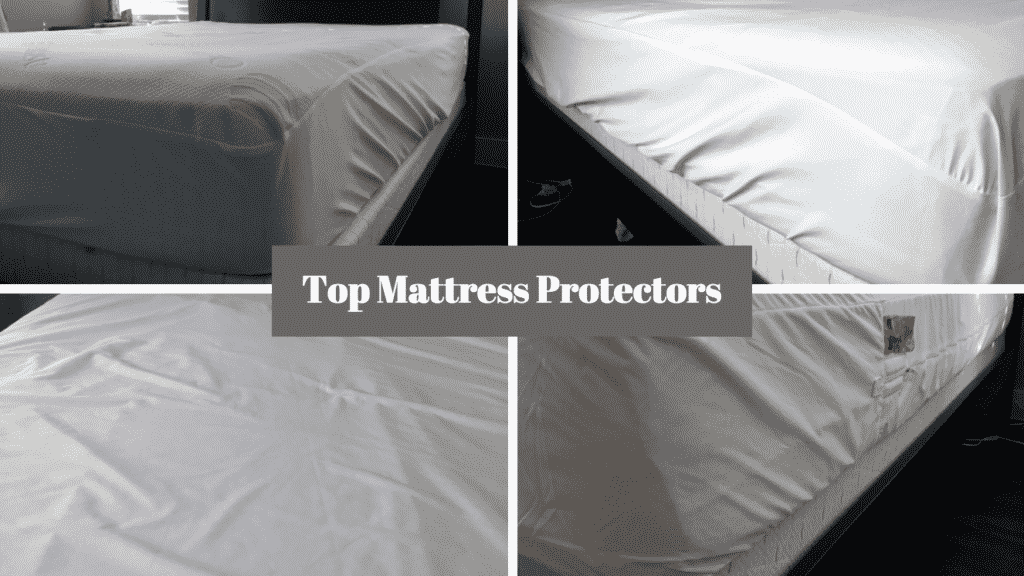 Top Picks
Bear Mattress Protector
HeiQ Adaptive Fabric technology

designed with athletes in mind will help move heat away from your body and keep you cool and comfortable at night

Soft quilted material is 100% waterproof but fits your bed snugly for a noiseless experience
Protection from dust mites, bacteria, and allergens
Fits mattresses up to 20-inches thick
Breathable fabric and easy machine wash and dry
Get the full scoop on the Bear protector review here.
Things To Know
Type:
Protectors typically come in three different styles:
Encasement (or zippered): The protector covers 100% of your mattress from the top to the bottom. The protector is often closed with a zipper.
Fitted: A popular type of protector, this fits your mattress in the same way a fitted sheet would (tucked under your mattress with pocketed corners.
Elastic strap: This protector lays on the top of your mattress while elastic straps wrap around the four corners. This anchors the protector to the mattress.
Size: Mattress protectors come in sizes for every type of mattress – including RV's, sofas and cribs (and mini cribs!).  See also our article on the common mattress sizes.
Some mattress protectors (like the Sleep Defense System protector) also offer different depth options so you can find a snug fit without a lot of extra material.
Fabric: Mattress protectors are made with several softer and more comfortable types of materials (in addition to a waterproof layer). You may see protectors made with:
Cotton
Polyester
Down
Spandex
Most mattress protectors come with some sort of waterproof material. This is typically Polyurethane but, in some cases, they're made with vinyl.
There has been some discussion over the safely using products that contain vinyl (and any toxic gas they may release). Many brands are choosing to make waterproof mattress protectors that are vinyl-free. You can read more about vinyl mattress protectors here.
Encasement mattress protectors tend to be 100% the same material on all sides while fitted sheet style protectors tend to be one type of material on the surface (with waterproof backing) and a thinner, non-waterproof polyester on the sides.
Care: Your mattress protector will most likely come with its own specific set of care instructions.
Usually, protectors can be machine washed and dried. In some cases, the company may tell you that it's preferable to let your protector air dry.
Since heat can disrupt the waterproof membrane in your protector, always dry your mattress protector on low heat.
Since spills and leaks can ruin your mattress (and your mattress warranty), you want to make sure your protector is in good shape and will keep any liquids or accidents from getting through.
Protectors often come with their own warranty, which will become void if you do not follow the care instructions that are meant for your protector.
Price: Mattress protectors come in a wide range of prices. You can find some for $20 (or less if on sale).
The more services your mattress protector provides, the higher the price. Mattress protectors that offer temperature regulation (like the Bear mattress protector) tend to cost more than a simple waterproof cotton terry protector like Luna or Linenspa.
Read more about what to look for in a mattress protector here.
The Best Mattress Protector For…
Waterproof Protection
Purple's mattress protector
is
100% water resistant and water absorbent.
The entire protector has a 100% TPU Polyurethane layer so if spills or accidents occur on the side of the mattress, it won't run down the sides and ruin the mattress.
In addition to its lovely waterproof nature, the Purple protector is really comfortable. It fits all types of mattresses and its 85% Polyester, 15% Spandex material makes it virtually undetectable under your sheets.
To read the full Purple protector review, click here.
Bed Bug Protection
Your dreams – and mattress – will be free of bed bugs with the
Sleep Defense System
. This encasement mattress is
lab tested to be 100% bed bug proof.
The protector comes with a bug flap and zipper lock, which essentially seals your mattress close. This is not only excellent bed bug protection but also protects your mattress from dust and allergens (making it a great protector for those with asthma, as well).
Check out the complete Sleep Defense System protector review, click here.
Allergies & Dust Mite Protection
The
Protect-A-Bed AllerZip
mattress protector takes its allergy (and bed bug) protection seriously. It's
Certified Asthma and Allergy Friendly™ by the Asthma And Allergy Foundation of America (AAFA)
and it's also an
FDA Class 1 Medical Devic
e and
certified bed bug proof.
It's also a comfortable waterproof protector that comes in two depth options so you can find the perfect fit for your mattress.
Read the complete Protect-A-Bed AllerZip protector review, here.
Hot Sleepers
Athletes, hot sleepers, and anyone who just wants to stay comfortable all night long will love all the benefits packed into Bear's mattress protector. The protector is made with their HeiQ Adaptive Fabric technology that transports moisture and heat away from the body while you sleep.
While it complements Bear mattresses, it can fit on any bed up to 20 inches deep. It's also easy to take on/off your bed and throw in the washer and dryer.
To read the full Bear mattress protector review, click here.
Under $50
While the
Defend-A-Bed protector
is regularly priced at $49.95 it is
often deeply discounted and sold at several retailers.
You may be able to find a Queen size protector on sale for under $20.
The cotton terry waterproof surface is breathable and can fit mattresses up to 22-inches. If you're looking for a simple but dependable protector that will keep your mattress surface free from stains and allergens, the Defend-A-Bed protector is hard to beat.
Check out the complete Defend-A-Bed protector review, click, here.