Nest Bedding's new Cooling Mattress Protector will certainly keep sleepers cool – it even feels cold to the touch. The fitted sheet style protector is waterproof and machine washable and dryer friendly.
There seems to be limited information about the new cooling protector I had to dig for some answers. People may wonder if it is really worth the $100+ price tag. For hot sleepers, it might be, but people should read on for my full review and personal experience.
Nest Bedding Cooling Mattress Protector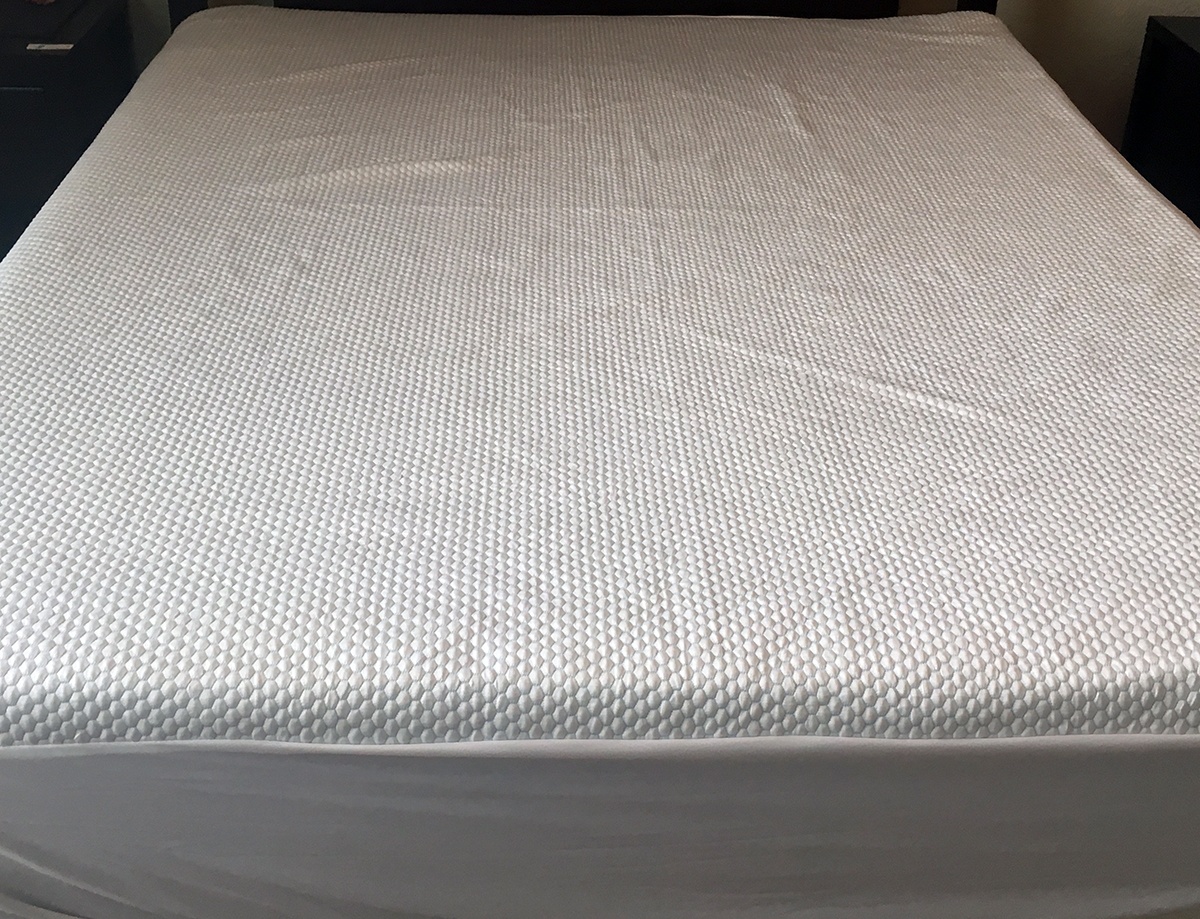 The Cooling Mattress Protector from Nest Bedding is a good fit for those who are struggling with sleeping hot. The soft hexagonal surface is comfortable but may be felt under thinner sheets. Fits mattresses up to 18" and costs more than $100 for a Twin size which makes it pricey.
Read Full Review
Key Features
Five sided fitted-sheet style protection
Hypoallergenic
Dust mite resistant
Soft top fabric: 88% polyester/12% nylon
Laminate (waterproof material): 100% Thermoplastic Polyurethane
Bottom and sidewall fabric: 100% polyester
Film: 100% polyethylene
Care: Machine washable on cool settings and cool to no heat in the dryer
Made in China
Sizes: Twin, Twin XL, Full, Queen, King, Cal King
Fits mattresses up to 18" deep
Pros
Cool to the touch
Fits mattresses up to 18" thick
Minimal noise
Waterproof
Easy to machine wash and dry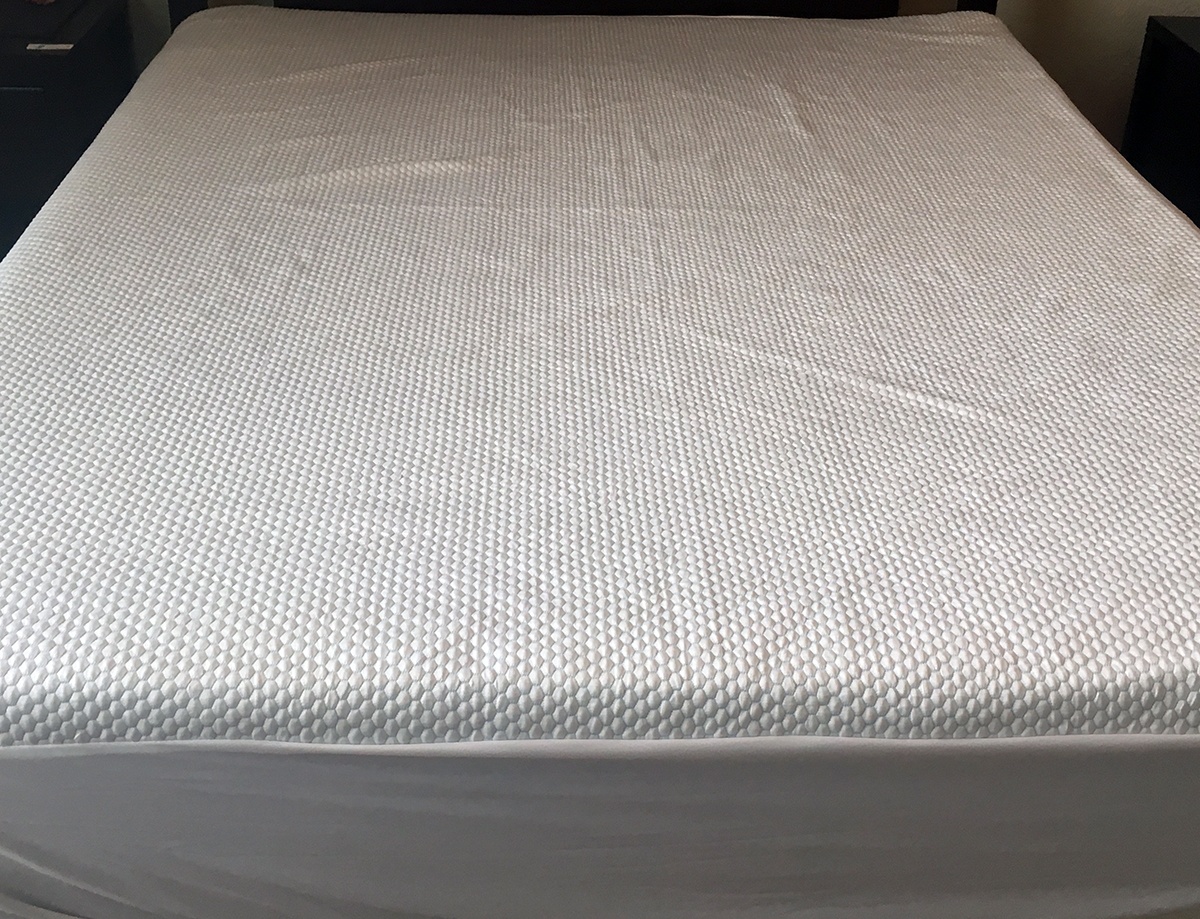 Cons
Pricey (starts at $100)
Limited information about the product on Nest Bedding's site
Minimal reviews since it's a new product
Not an encasement mattress (just surface is waterproof)
Chemical-like smell when first opened
Who This Protector Is Ideal For
The mattress protector is all about cooling people off and, at least in my experience, it really worked. This protector may be a great fit for anyone who consistently struggles to stay cool at night.
I called the folks at Nest Bedding to ask for more information about the technology they use in their protector and how it keeps people cool. The person I talked to told me that the fabric contains phase change materials (PCM). In a basic sense, PCM – which people can learn more about here – essentially absorbs body heat and keeps people cool. Then it will release the heat back to the person if they cool off too much.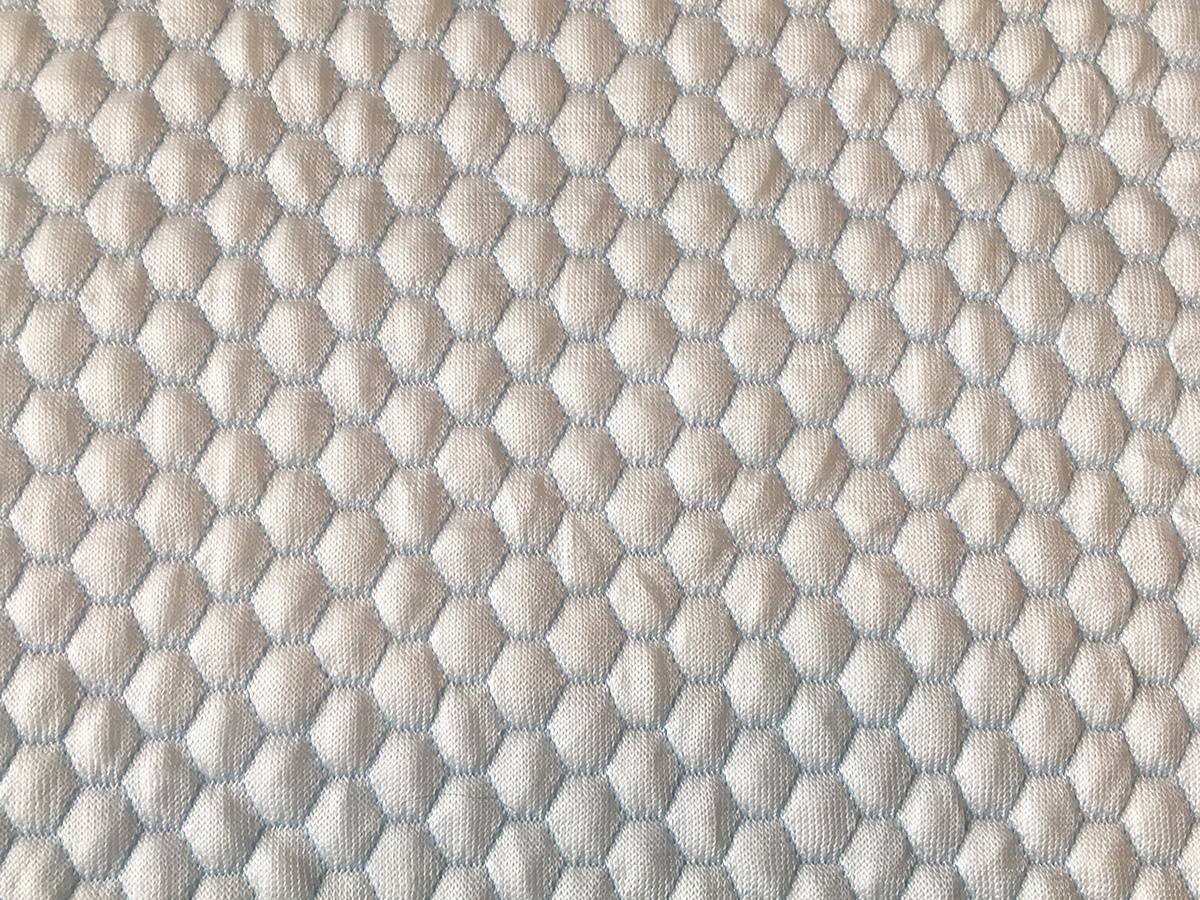 Although it offers a waterproof barrier and general protection for the mattress, it's really all about temperature regulation more than anything else.
Waterproof Test
Many mattress protectors will say they are waterproof but I always like to put it to the test and make sure they meet or exceed expectations.
I poured 10 ounces of water onto the surface of the mattress protector as an initial test. This is a lot of water but it mimics a big accident or a very large spill.
I let the water soak into the protector for a couple hours and came back to check for any leaks/dampness/moisture.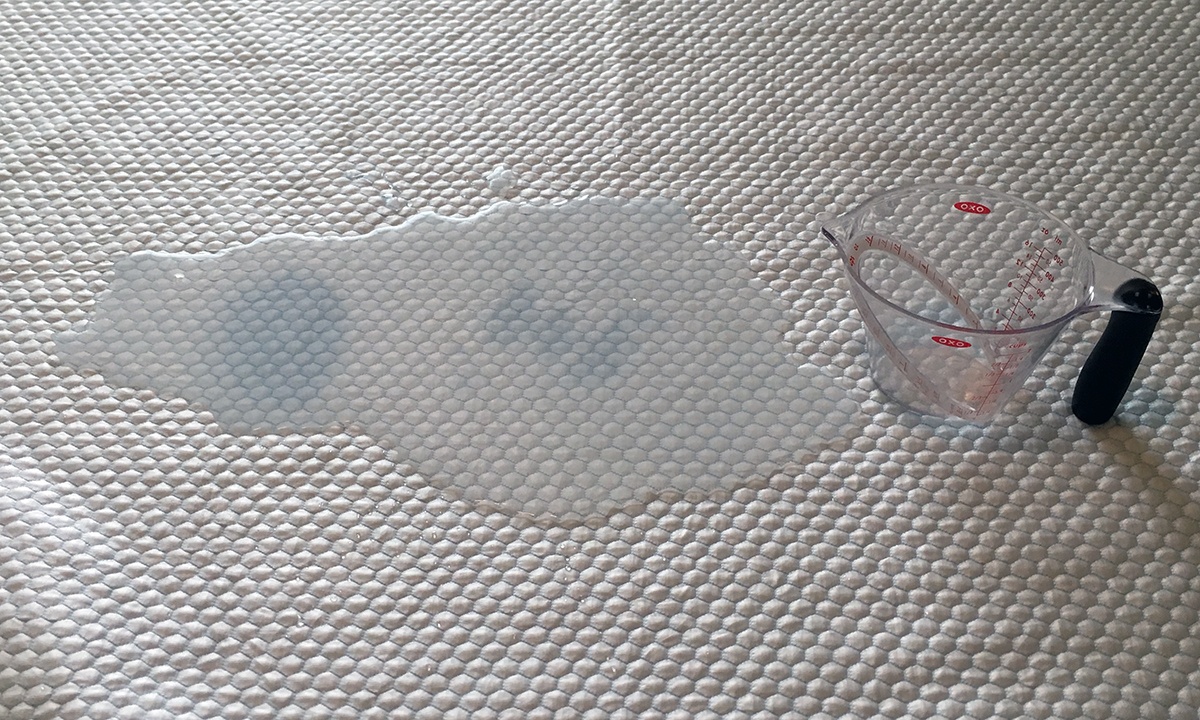 After coming back to check on the Nest Bedding Cooling protector, I was surprised to see that the surface fabric had turned from white to a blue color where the water had been absorbed. There is no information about this on the website available.
The protector did pass my waterproofing test, and there was no dampness, moisture or leaks of any type of the mattress underneath.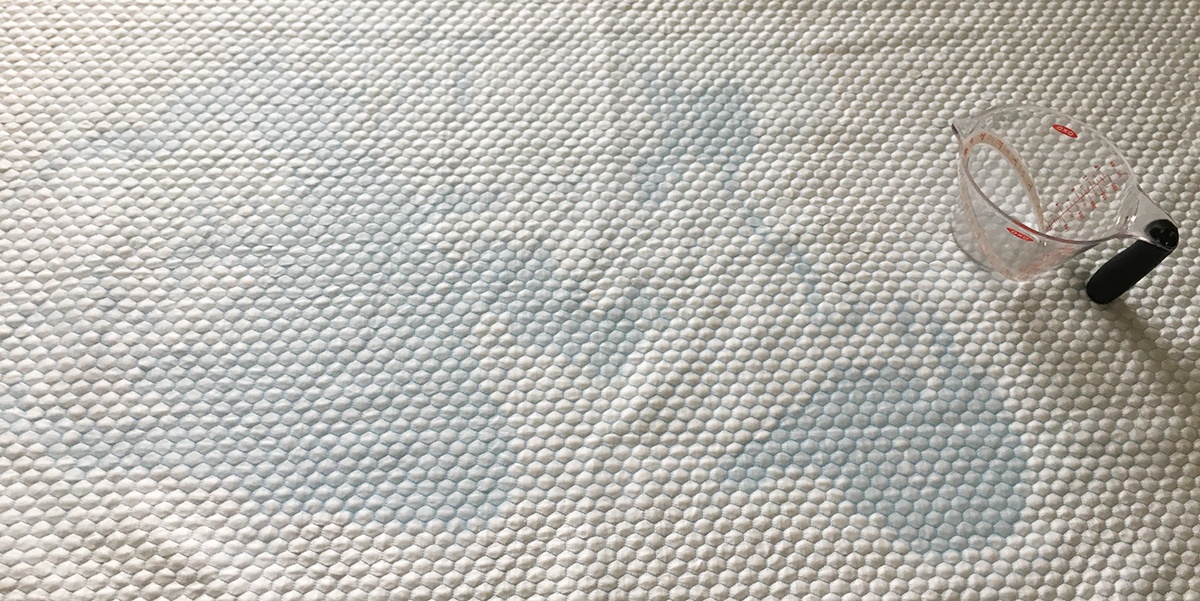 According to Customer Service, the color change is in order to notify people that the surface is wet, and should go back to white once it dries completely.
Additional Considerations
Size and Sound: This protector fits mattresses up to 18" deep. This means that the sidewall fabric is fairly lengthy in order to accommodate such a large mattress.
Sometimes this excess material can lead to a poor fit and/or a rustling "noise" if it is put on a mattress that is closer to 10"-14".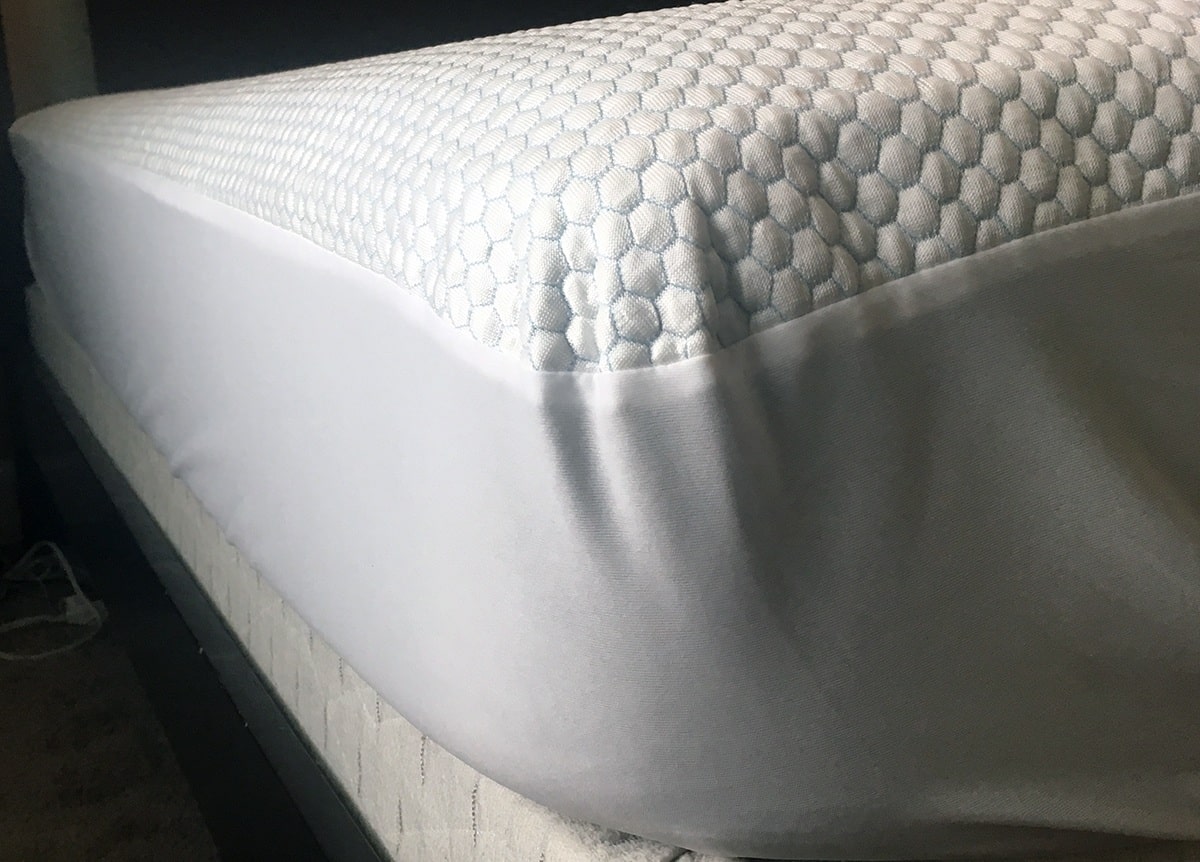 This review tested the protector on a 10" Casper mattress. Even though there was extra fabric, the elastic grip around the edging was strong enough to hold the protector firmly to my mattress. There was not a lot of loose material or movement, which is generally ideal.
Smell: After opening the Nest Bedding box with the protector, there was a wave of a chemical-like smell. A Customer Service representative mentioned there shouldn't be any concern related to off-gassing. They said that is most likely from the packaging and shipment- it should dissipate within a day or so. It did go away after a few hours.
Feel: This protector has a raised hexagonal pattern in its surface fabric that is soft and cool to the touch thanks to their temperature regulating technology.
This protector was reviewed under Casper's cotton bed sheets. The review team wasn't able to feel the pattern underneath the sheets but there's a chance people might if they go with a thinner or more lightweight sheet-like bamboo sheets.
Nest Bedding Cooling Mattress Protector Review
Summary
The Cooling Mattress Protector from Nest Bedding is a good fit for those who are struggling with sleeping hot. The soft hexagonal surface is comfortable but may be felt under thinner sheets. Fits mattresses up to 18" and costs more than $100 for a Twin size which makes it pricey.
Price and Value
Overall, the Cooling Mattress Protector from Nest Bedding will offer solid mattress protection and relief for hot sleepers. Its surface is soft and it fits the mattress snugly so there is no extra room or noise.
There is a slight odor upon opening the package and it is on the more expensive side, $129 for a Queen size mattress protector.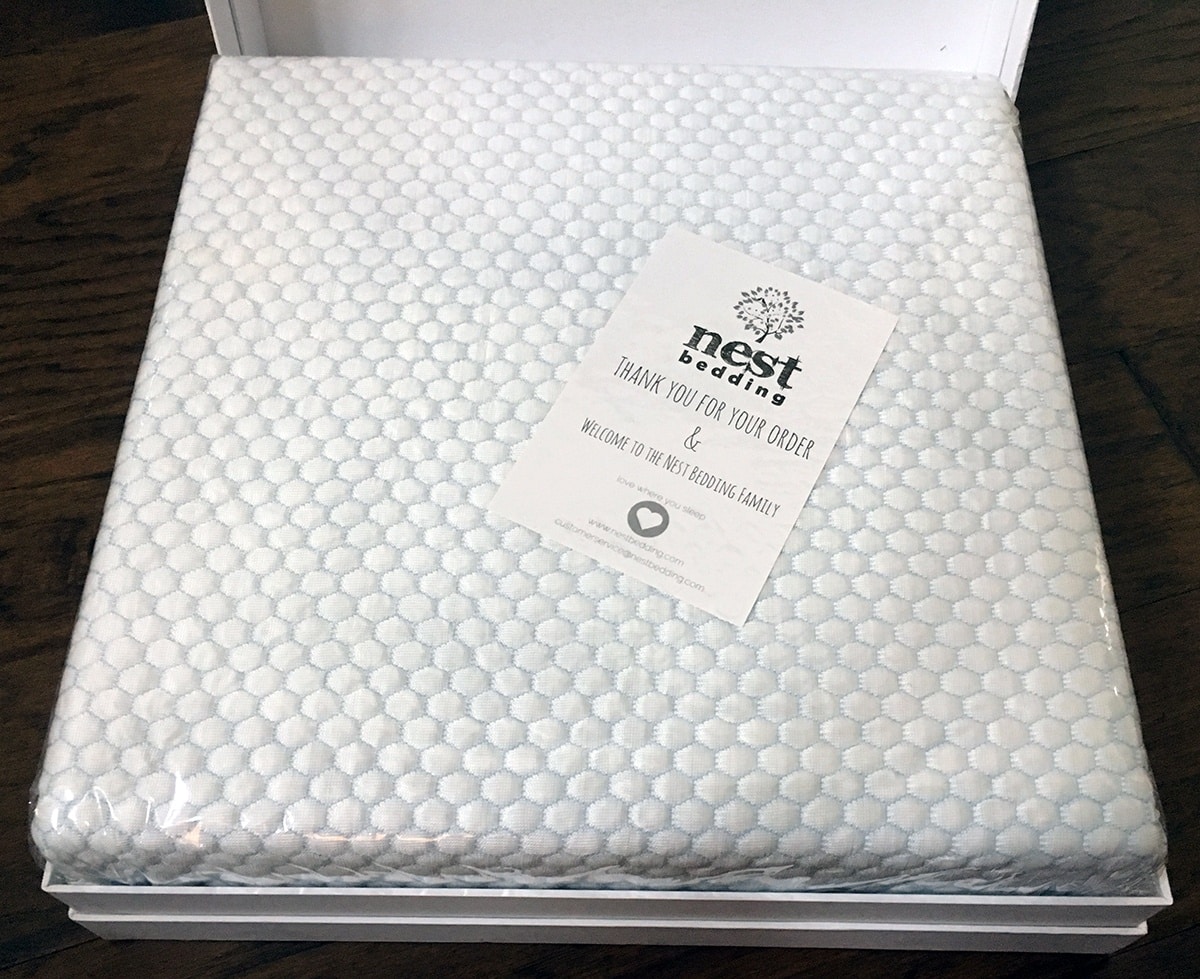 However, after reviewing the protector I feel that it really did help keep me cool and comfortable overnight, so I would recommend it for people who are in the market for a mattress protector that is both cooling and comfortable.
Katie Golde
Katie manages the day to day operations of the Mattress Clarity news site and reviews sleep products in addition to writing and editing sleep news. She hails from Austin, where she lives with her growing family. She is a Certified Sleep Science Coach and has a master's degree in Journalism from Northwestern University and has a background in health and science content. Her work can be found in print and online publications like Discover Magazine, USA Today and The Huffington Post.