I wrote about the best mattress for couples, but that was really focused on sleeping, not sex.  People asked me about the best mattress for sex after foam mattresses became more popular – which can end up being really bad for sex (though good for sleeping).
Of course, consumers don't want to pick a mattress solely based on how it is during sex, but it is an important factor for some.  Below, I recommend six mattresses that are great for sex and are amongst my top reviewed mattresses overall (weight other factors like comfort, support, durability, value, etc).  Again, this isn't the most important factor for a lot of people, but if people are buying a mattress as a couple, I'd recommend at least giving this a read.
Our Top Picks
The best mattresses for sex are:
These are all high-quality mattresses that also have good bounce, lack of noise, ease of movement, edge support, and comfort.  Keep reading to learn more about my top picks.
Editor's Pick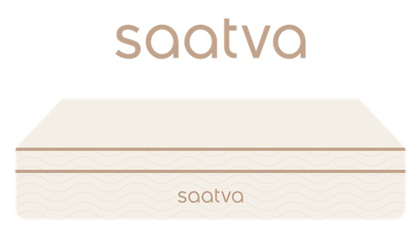 Saatva
Personally I think innerspring mattresses are best for sex (most bounce, best edge support, thighs and knees don't sink in really far), and Saatva is my top innerspring mattress recommendation.
Saatva is one of the few online-only coil mattress options, so they are one of the best values (in terms of quality vs price) on the market.  They have three firmness options as well (soft, luxury firm, and firm), all which should be good options for sex.  
What Makes The Saatva Mattress Stand Out?
It's built with high-quality materials, making it very durable and supportive. 
With three firmness options, you can choose which is most comfortable to you.
It's a bouncy innerspring mattress, so it will be a great mattress for sex.
Read the full Saatva mattress review
$200 Off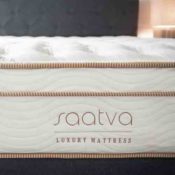 Saatva is a great value that happens to be both comfortable and supportive at the same time.  You can save $200 on a Saatva mattress simply by clicking the link below.
Best Mattress For Side Sleepers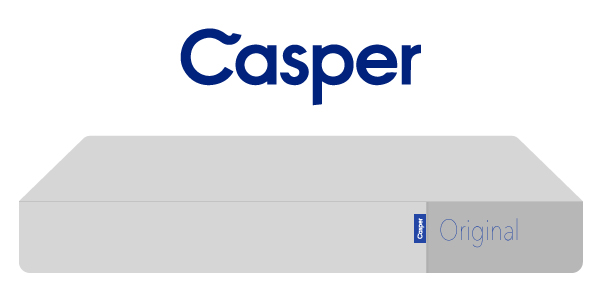 Casper
The Casper mattress is a great value and has a lot of characteristics that make it a great choice for sex.  It has a balanced foam feel that mixes in latex and memory foam qualities, and it is breathable, so people won't overheat during sex.  It has some bounce to it, but not so much that people will fly off the mattress, and the mattress won't make any noise either, which is always great.
The mattress has an innovative zoned construction, which means it will be firmer and more supportive when people are on their back or stomach.  Plus, it's the best mattress for side sleepers because it will be softer and have great pressure relief when people are on their side.
What Makes The Casper Mattress Stand Out?
The Casper balances support and comfort very well.
It offers targeted, zoned support, meaning it should be great for people who have pain and need extra support.
It's a quiet mattress that will be good for sex.
Read the full Casper mattress review
$100 Off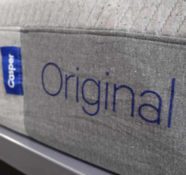 Casper is a great value that is also a great fit for all three sleeping positions.  You can save $100 on a Casper mattress by clicking the link below and using code MATTRESSCLARITY. 
Best Mattress For Combination Sleepers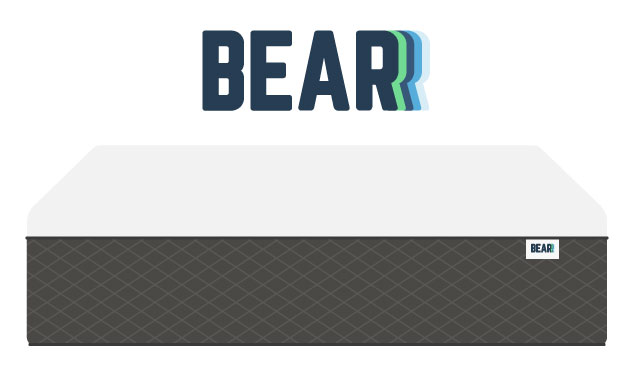 Bear Hybrid
Bear Hybrid features premium foams in the comfort layers and pocketed coils in the support layers.  The foams are responsive, meaning that the mattress is easy to move around, and they also don't make very much noise.  Lastly, they are breathable foams, so people won't overheat during sex.  Overall, there are a lot of reasons why this mattress is a good fit for sexual activity.
There is a lot to like about the Bear Hybrid mattress in general.  It is both comfortable and supportive, which make it a great fit for multiple sleeping positions and people of really any weight.  If people switch positions at night, then I think they will really like this mattress.  It also has a celliant cover, which can potentially bring people certain health benefits.
What Makes The Bear Hybrid Mattress Stand Out?
It sleeps super cool, which is important for couples who share the bed.
The Bear Hybrid matches comfort and support very well.
It's responsive, bouncy, and quiet, making it all around a good choice for sex.
Read the full Bear Hybrid mattress review
25% Off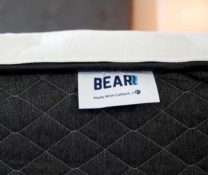 The Bear Hybrid has a great balance of comfort and support. It is a great match for back and side sleepers. Mattress customers can get 25% off the Bear Hybrid and a free gift set with the promo code 'CLARITY25'
Best Hybrid Mattress For Sex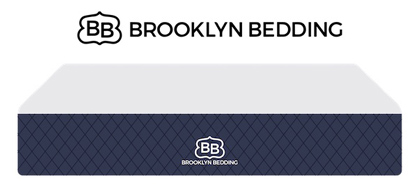 Brooklyn Bedding Signature
The Brooklyn Bedding Signature is a hybrid mattress comprised of pocketed coils and proprietary TitanFlex foam. This foam has some qualities similar latex so people get a good amount of bounce, and people also get some bounce from the pocketed coils. As I have discussed in regard to these other mattresses, bounce is a good feature to look for when choosing a mattress for sex. It makes it easy for people and their partner to move around and allows them to get into a rhythm.
In addition, while the mattress has coils, it shouldn't be a noisy mattress, so if people have roommates or neighbors, they shouldn't hear the squeak of the mattress.
The Signature comes from Brooklyn Bedding, a producer of mattresses with great value. The company owns its own factory so they can price their mattresses very competitively. Also, people can choose from three firmness options: Soft, Medium, and Firm. Whichever version people get, they should feel a nice balance of comfort and support.
If people want a good deal on a comfortable mattress for sex, the Signature should be a good choice.
What Makes The Brooklyn Bedding Signature Stand Out?
It's a great mattress for the money. 
It's a quiet, responsive mattress, making it a good choice for sex.
The Brooklyn Bedding Signature has a very comfortable, balanced feel.
Read the full Brooklyn Bedding Signature mattress review
Get 20% Off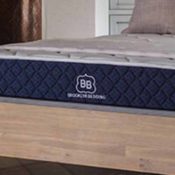 Brooklyn Bedding has amazing products that are sold at very affordable prices. Click the button and use code SUMMER20 to save 20% on your purchase.
Best Customizable Mattress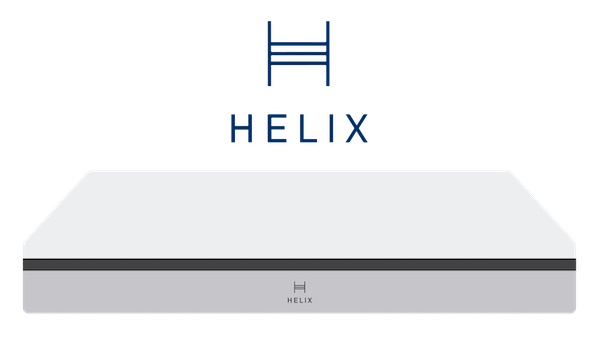 Helix Midnight
Helix is a mattress producer that prizes customization and flexibility above all else – customers can take the Helix sleep quiz in which they answer questions regarding their sleeping position, weight, and feel preferences. They can also select from one of Helix's nine mattress options.
Now, this is great for couples because they can find the exact firmness they are looking for. For ease of movement during sex, it is smart to find a mattress that is not too soft, and Helix offers a few medium-firm and firm mattresses. Also, the Helix Dynamic Foam found in all their mattresses is soft but also responsive, making it easy to move around.
The Helix mattresses feature coils that provide the mattress with excellent edge support so that both partners can utilize the full surface of the mattress. They also add some bounce to the mattress, again making it quite easy to reposition on the Helix. We recommend the Helix Midnight mattress as a great Helix mattress for sex because it's bouncy, responsive, and quiet.
What Makes The Helix Midnight Mattress Stand Out?
Helix offers many options so you can choose which mattress is best for you!
The Helix Midnight mattress is a great option–it has a balanced foam feel, bounce, responsiveness, and good cooling factor. 
The Helix Midnight also offers great support, particularly for back sleepers. 
Read the full Helix Midnight mattress review
Save Up To $200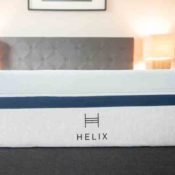 The Helix Midnight is a memory foam hybrid mattress that offers a great balance of comfort and support. Click the button for the save up to $200 and get 2 free pillows.
Best Foam Mattress For Sex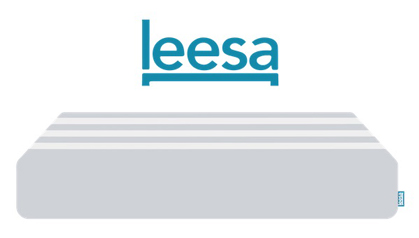 Leesa
Leesa is neither spring nor memory foam; rather it's a polyurethane foam mattress that is designed to have more bounce.
Leesa would not be my first choice if the mattress is only going to be used for sex, but it is an overall great option that is better-than-average for sex compared to other online mattresses. If people like the memory foam comfort/support tradeoff, but also want more responsive foam, Leesa is perhaps the best compromise.  It's not quite the support level of an innerspring, but it doesn't sink in as far (and stay that way) compared to memory foam.
Leesa is also one of the few mattresses I recommend for all sleeping positions, including side and stomach sleepers.  
What Makes The Leesa Mattress Stand Out?
It offers nice bounce for a foam mattress. 
The Leesa suits many different sleeping styles. 
It has responsive foam so you won't get trapped in the mattress. 
Read the full Leesa mattress review
Up To $200 Off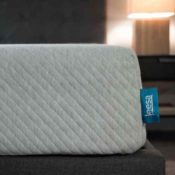 Leesa is a very comfortable mattress that I think a lot of people are going to really like.  You can get up to $200 off the Leesa mattress and get 2 free pillows simply by clicking the link below.
Best Memory Foam Mattress For Sex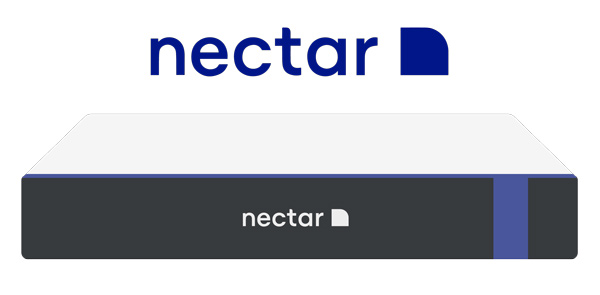 Nectar
The Nectar mattress is an all-foam mattress made with gel foam and high-density foam. One of the main concerns while looking for a memory foam mattress that's well-suited for sex should be durability, and the Nectar mattress is very durable for an all-foam mattress. With its high-resiliency foam, we expect this mattress to last a long time. 
The Nectar is a super comfortable mattress that many couples will enjoy. Its foam provides a comfortable contouring feeling on the surface, but the mattress is back with a lot of support so you won't sink in too far and get trapped. Plus, the Nectar comes at a great value price. 
As we mentioned earlier, memory foam mattresses aren't always the best mattresses for sex, but if you really want a memory foam mattress for all the comfort it can provide while you sleep, we strongly recommend the Nectar mattress.
What Makes The Nectar Mattress Stand Out?
It's a great mattress for the money. 
It has gel-infused foam, meaning it will sleep cooler than most memory foam mattresses.
Built with high-quality materials, the Nectar mattress is very durable.
Read the full Nectar mattress review
Free Accessories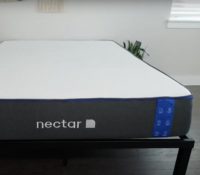 Nectar is a very comfortable memory foam mattress that happens to also be an amazing value, and customers can get the best deal on the Nectar plus $399 of free accessories by using our coupon.
Best Firm Mattress For Sex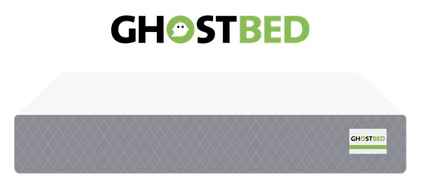 GhostBed
If you're looking for a very supportive and firmer mattress, the GhostBed mattress is a great choice. This latex mattress is firmer than average–we rated it an 8 out of 10 on the mattress firmness scale–so it should be very durable, long-lasting, and supportive. 
The GhostBed mattress suits many sleeper types well. With aerated latex foam, gel-infused memory foam, and a thin, breathable cover, the GhostBed mattress sleeps incredibly cool, making it a great choice for hot sleepers. Because of its firmness and the support it offers, the GhostBed is also a good fit for stomach sleepers, back sleepers, and heavier people. 
Perhaps the best part about the GhostBed is its reasonable price point. For all you get with this mattress, it comes at a very affordable cost. (Pro Tip: You can get an even better value when you purchase the GhostBed Head-to-Toe Adjustable Bundle.)
What Makes The GhostBed Mattress Stand Out?
The latex foam has a bouncy, responsive feel that's great for sex. 
It's a firmer mattress that offers a ton of support. 
With a cool-to-the-touch cover and more cooling materials built into the mattress, the GhostBed is a good fit for people who tend to sleep hot at night. 
Read the full GhostBed mattress review
30% Off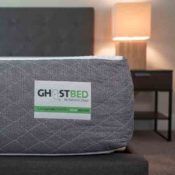 Ghostbed is a very supportive mattress that is ideal for back and stomach sleepers, and it is also a great value - right now, customers can get 30% off the GhostBed and 2 free pillows. 
Best Cooling Mattress For Sex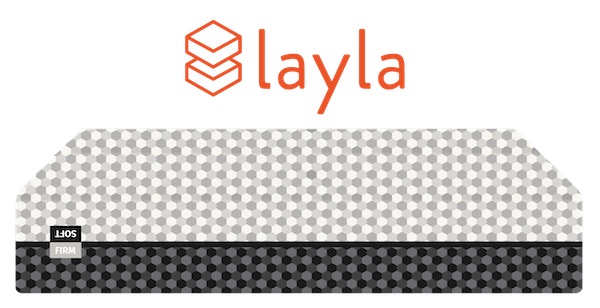 Layla
Foam mattresses tend to trap heat easily, causing sleepers to wake up feeling hot and clammy. But thanks to Layla's unique technology, this mattress feels cool-to-the-touch. 
The Layla mattress has Thermogel in the cover, a material that helps dissipate heat. To make things even cooler, this mattress has a layer of copper-infused memory foam. Copper helps pull heat away from the body, and it's antimicrobial! But that's not all – the Layla mattress also has a layer of convoluted support foam, which creates airflow. 
And let's not forget about Layla's most notable feature! This mattress is flippable, so you can choose between its soft or firm side. 
What Makes The Layla Mattress Stand Out?
This mattress is flippable, so you can choose which firmness option works best for you.  
It has many cooling features, so sleepers shouldn't feel hot at night. 
It has a comfy, slow-moving memory foam feel. 
Read the full Layla mattress review. 
Up To $200 Off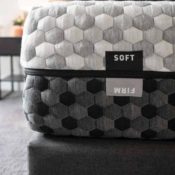 Layla is an innovative mattress that happens to be one of the most comfortable mattresses I've ever slept on.  You can get up to $200 off a Layla mattress plus free accessories by clicking the link below.
Best Value Mattress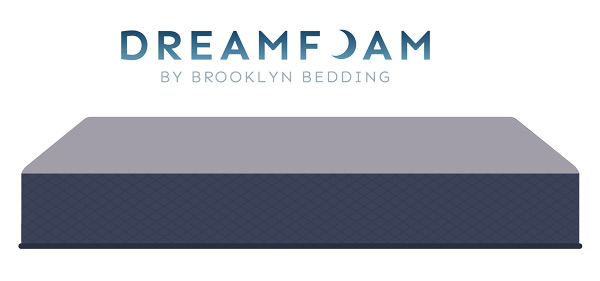 Dreamfoam Chill
The Dreamfoam Chill mattress by Brooklyn Bedding is a great choice for those looking to truly score a great value purchase. This affordable memory foam mattress keeps things simple with a top layer of gel swirl memory foam, a transition foam layer, and a base layer of high-density foam. All together, this creates a nice balanced foam feel that many sleepers will find comfortable.
For an all-foam mattress, the Dreamfoam Chill has a quite bouncy feel, making it a good choice for those seeking a mattress that's good for more than just sleeping. This is due to the bouncier transition foam layer that adds that responsiveness factor to the bed.
Finally, the mattress comes in multiple height options. The higher up in height you go, the softer the mattress will be, so you can choose the right firmness level for you.
What Makes The Dreamfoam Chill Mattress Stand Out?
It's super affordable!
It's got great bounce, even for an all-foam mattress.
You'll sleep cool on this mattress.
Read the full Dreamfoam Chill mattress review
20% Off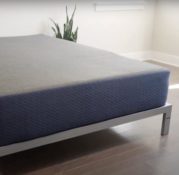 The Dreamfoam Chill is a cooling, affordable memory foam mattress that comes in multiple thicknesses. Click the button and use code SUMMER20 to save 20% on your purchase. 
What Makes A Mattress Good For Sex?
Bounce– Most people agree that a bouncier mattress is better for sex.  It can help people get into a rhythm that makes sex more enjoyable, and it's fair to say that generally, the bouncier the better.
Lack Of Noise– Depending on someone's home situation, this may be a very big criteria or it might not be a big deal at all.  If people live with just their partner in an isolated house, they probably don't care too much if the mattress makes noise.  If people live with a couple of roommates, they probably care a lot about the noise the mattress makes.
Ease Of Movement– Having a mattress that is easy to move around in is preferable.  This will allow people to quickly change positions and it overall makes for a much better experience.
Edge Support– A mattress with poor edge support can be limiting and can mean certain parts of the bed are off limits in order to have an enjoyable experience.  Good edge support is a good thing in general, but it is especially so in terms of sexual activity.
Comfort– This is a fairly obvious one.  No matter what position people are in, they are going to want their mattress to be as comfortable as possible.  An uncomfortable mattress can really get in the way of having a good experience.
Now that you know what to look for to find a great mattress for sexual activity, how do the three major types (latex, memory foam, and innerspring) stack up?  Let's go through them here.
What's The Best Type Of Mattress For Sex?
Memory Foam– Memory foam is not very bouncy.  Some memory foam is constructed to be bouncier than other memory foam, but generally this type of mattress performs worse than other types in this category.  Memory foam, however, is not noisy at all, which is a huge plus.  Depending on the brand, it's a bit harder to move around a memory foam mattress because it tends not to be very responsive.  Edge support can also be spotty depending on the density and other factors. Nectar is the mattress we recommended that is in this category.
Latex– Latex is very bouncy, and that's one of the main things people love about it.  It also doesn't make much noise.  Because it is very responsive, it's fairly easy to move around. Edge support can be good, but it really depends on the brand and model in question. Latex is also very comfortable. GhostBed is the mattress we recommend that is in this category.
Innerspring– Innerspring mattresses do have great bounce, and that's a big reason why people like them. However, they are very noisy, as they make that creaking sound people are very familiar with. It is fairly easy to move around an innerspring bed, so there are no concerns there really. Edge support is generally strong as well. We recommend Saatva from this category for sex.
Final Thoughts
Here's an overview of our top picks for the best mattresses for sex:
I've made some recommendations based on the assumption that your mattress will not be used only for sex.  I picked a mattress from the three major categories (innerspring, latex, and memory foam) so that you can choose a mattress that is both great for sex and aligns with your sleeping preferences.
If you're still looking for more recommendations, try taking out mattress quiz next.
Joe Auer
Joe Auer is the editor of Mattress Clarity. He mainly focuses on mattress reviews and oversees the content across the site.
He likes things simple and take a straightforward, objective approach to his reviews. Joe has personally tested nearly 250 mattresses and always recommends people do their research before buying a new bed. He has been testing mattresses for over 5 years now, so he knows a thing or two when it comes to mattress selection. He has been cited as an authority in the industry by a number of large publications.
Joe has an undergraduate degree from Wake Forest University and an MBA from Columbia University.