If you want a cooling, affordable bed in a box mattress, the original GhostBed is worth a look. As we will discuss below, the GhostBed is a latex mattress that is supportive but also easy on the pocketbook.
The question is, is it a good fit for your body type, budget, and sleeping position? Read our GhostBed mattress review to find out if it's right for you.
30% Off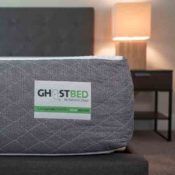 Ghostbed is a very supportive mattress that is ideal for back and stomach sleepers, and it is also a great value - right now, customers can get 30% off the GhostBed and 2 free pillows. 
GhostBed Mattress Overview
Today, GhostBed is one of the most recognized names in the online mattress space. The company offers multiple mattress models, including the GhostBed original, GhostBed Luxe, GhostBed Flex, and GhostBed 3D Matrix.
However, it all began with their flagship model, the GhostBed original mattress. It boasts synthetic latex, gel memory foam, and some other great cooling components. While it is a high-quality, budget-friendly mattress, it is going to work better for certain types of sleepers:
Who Might Like the GhostBed?
Hot sleepers who need a more cooling mattress
Back sleepers who need more support
Stomach sleepers
Those who want one of the best firm mattresses
Those who want a latex mattress at a reasonable price point
Who Might Not Like the GhostBed?
Those who prefer a soft mattress
Side sleepers
Those who prefer something slower-moving
GhostBed Mattress Video Review
Curious to get a feel for what the GhostBed is made of, and how it performs? Take a minute to check out our complete video review of the original GhostBed mattress.
GhostBed Mattress Firmness and Feel
When we review a mattress, we usually look at its firmness and feel first. This gives us a good initial idea of who the mattress will be a good fit for. Keep reading to find out how firm the GhostBed mattress is and exactly what it feels like.
How Firm Is The GhostBed?
We give the GhostBed an 8 out of 10 on the firmness scale, which means it's firmer-than-average. Much of this firmness can be chalked up to the high-density support foam, which is designed to provide a stable sleeping surface that's well-suited to back sleepers and stomach sleepers, in particular.
Sleeping On The GhostBed
For most back sleepers, the GhostBed will deliver just the right level of support, allowing hips to sink into the mattress without feeling like you're bottoming out. Some lightweight back sleepers may find the mattress a little too firm, but by and large, the GhostBed is one of the best mattresses for back sleepers. Stomach sleepers should also find the support they require under the hips.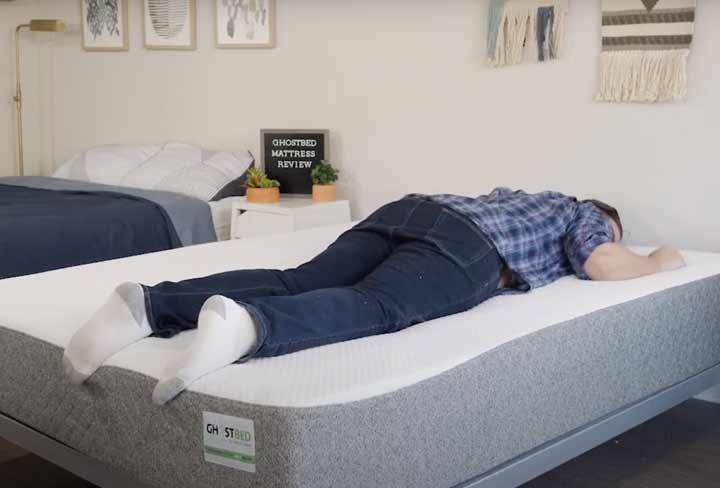 For side sleepers, the GhostBed isn't as easy to recommend. It's too firm, and you may feel like there's too much pressure bunching up at your shoulder and hip. Most side sleepers will want to look for a mattress with a little more give.
What Does The GhostBed Feel Like?
Sleepers who favor the balanced feel of traditional foam mattresses will find much to love about the GhostBed. The mattress is responsive and accommodates movement well, which means it's a good, comfortable option for those who tend to shift positions during the night.
Average Weight Sleepers – 130 lbs to 230 lbs
For back sleepers who are closer to the low end of this weight range, it's possible that the GhostBed will feel a little bit too firm. Those closer to 230 lbs will likely find that it's just the right balance of comfort and support.
Stomach sleepers in this weight range should similarly find the GhostBed to be comfortable and supportive. However, for average weight side sleepers, the GhostBed isn't going to be the best match; it simply doesn't have enough give to relieve pressure points.
Heavyweight Sleepers – Over 230 lbs
Most heavyweight back sleepers should find the GhostBed to be just about perfect, though we'll warn that those who surpass the 300 lbs range may want to consider a mattress that's made with coils for additional durability and support.
Similarly, for stomach sleepers who are around 230 lbs, the GhostBed should offer just the right level of firmness. Those closer to 300 lbs, however, may want to look for a sturdier mattress. And for side sleepers in the heavyweight category, the GhostBed is likely to feel too firm to be truly comfortable.
Lightweight Sleepers – Under 130 lbs
Lightweight back sleepers and side sleepers alike are cautioned that the GhostBed may feel too firm; there may be some real discomfort at the shoulders and hips, especially for those who prefer side sleeping. However, lightweight stomach sleepers should feel right at home on the GhostBed.
30% Off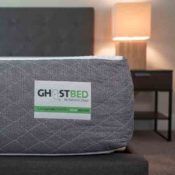 Ghostbed is a very supportive mattress that is ideal for back and stomach sleepers, and it is also a great value - right now, customers can get 30% off the GhostBed and 2 free pillows. 
RELATED: GhostBed Luxe Mattress Review
GhostBed Mattress Construction
Now, let's look under the cover of the GhostBed mattress and see exactly what is inside. We'll look at each layer one by one and see what it does for the overall performance of the GhostBed.
Cover
The cover of the GhostBed is made with a stretchy polyester material, which is very thin and breathable. It does a more than satisfactory job of keeping the mattress cool.
Comfort Layers
Under the cover, the GhostBed offers 1.5" of aerated latex foam. It's important to note that this is synthetic latex, so those looking for an all-natural or organic option may want to look elsewhere. From a performance perspective, though, this latex does the trick: It's responsive and it's ventilated to keep you cool throughout the night.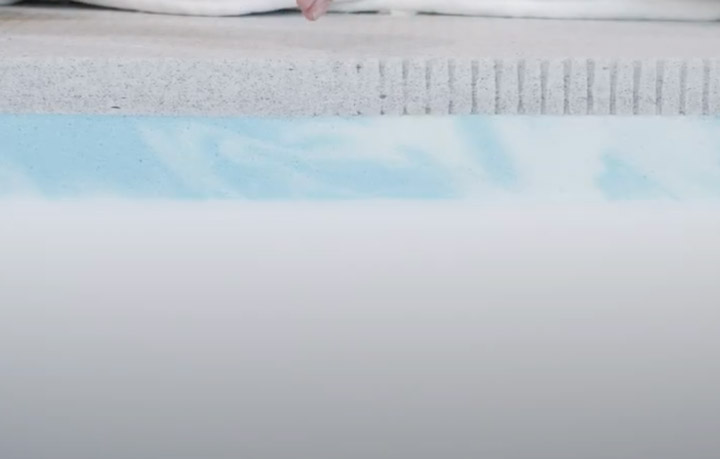 Under that, you'll find another 2" of gel memory foam, further defense against night sweats and stickiness. It also adds a bit more pressure relief to the top of the mattress.
Support Layer
The GhostBed has 7.5" of high-density foam at its base, helping keep the mattress firm, steady, and stable.
Mattress Height
In total, the GhostBed mattress is 11" tall.
RELATED: Best Mattress
GhostBed Size Options and Price
For up-to-date information about the GhostBed's size availability, as well as its price range, take a look at our chart.
| | | |
| --- | --- | --- |
| Size | Dimensions | Price |
| Twin | 38″ x 75″ x 11″ | $645 |
| Twin XL | 38″ x 80″ x 11″ | $845 |
| Full | 54″ x 75″ x 11″ | $1045 |
| Queen | 60″ x 80″ x 11″ | $1140 |
| King | 76″ x 80″ x 11″ | $1385 |
| California King | 72″ x 84″ x 11″ | $1410 |
| Split King | 72″ x 84″ x 11″ | $1690 |
To get the best deal on all the GhostBed mattresses, make sure to check out our GhostBed coupons page.
GhostBed Mattress Performance
We've explained what the GhostBed is made of, and what it feels like… but for many shoppers, the real test is how the mattress performs. Let's see how the GhostBed did!
Sleeping Hot or Cold
The GhostBed team makes a big deal about how cool their mattress runs… and by and large, it lives up to the hype. GhostBed uses materials that are well-known for their cooling potential, including latex and gel. And, added ventilation ensures plenty of air can move through the mattress, preventing too much body heat retention – this mattress is easy to recommend to hot sleepers.
Motion Transfer
The GhostBed has some bounce to it, which is welcome news for combination sleepers but not so much for couples. The mattress doesn't isolate motion very well, and partners who share the bed are likely to disrupt one another during the night. It might not be the best mattress for couples.
Edge Support
The sturdy foam construction of the GhostBed ensures excellent edge support. You'll feel perfectly steady and well-supported as you sit at the corner or sleep at the edge of your mattress.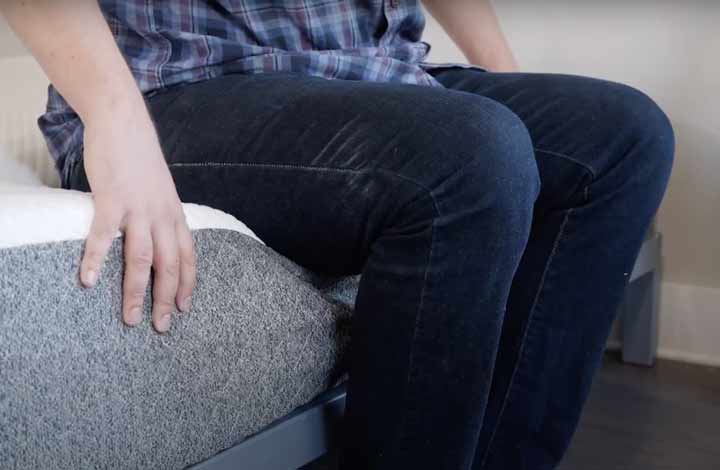 Durability
This is a well-constructed mattress that uses high-quality materials. We consider it to be highly durable, and it should hold up well for seven to 10 years.
Off-Gassing
When you first unbox your GhostBed, you may notice a faint chemical smell. This may be slightly off-putting, but we found that it completely dissipated in under 48 hours. This is to be expected from a bed in a box mattress.
Noise
When we moved around on the GhostBed, we didn't hear it make any noise at all.
Sex
It's really easy to move around and change positions on the GhostBed. We'd rate it as an excellent mattress for sex, as partners should have no trouble moving around.
Warranty
The GhostBed comes with a 101-night sleep trial and a 20-year warranty, both of which should offer some confidence as you think about buying the product.
RELATED: Amerisleep vs. GhostBed
Overall Rating
Ghostbed Mattress
Summary
The GhostBed is a bed-in-a-box that comes with higher quality materials and is lower priced. This may be one of the best values on the market and, if you are a stomach sleeper or hot sleeper, it could be a good choice for you.
GhostBed Company Policies
In addition to learning all about the mattress, it's important to understand a company's policies before making a final decision.
Warranty
The GhostBed mattress is covered by a 20-year limited warranty. However, certain regulations and fees may apply after 10 years have passed.
Learn more about understanding a mattress warranty.
Sleep Trial
GhostBed offers a 101-night sleep trial and suggests taking 30 to 60 nights to make your decision. This gives you time to privately try the mattress and ensure that it meets all of your sleep needs.
Return Policy
If you ultimately decide that you don't love the GhostBed mattress after a minimum of 30 nights, you can visit the company's Return Request page for a free and easy return process.
Common GhostBed Mattress Complaints
Although the GhostBed is advertised as a cooler mattress, heavyweight sleepers and couples have claimed that the GhostBed sleeps too hot. If you fall into this category, you may want to consider the GhostBed 3D Matrix instead which can offer an even cooler night's sleep.
Another common complaint we see is about the return policy. Many customers don't realize that GhostBed requires you to keep your mattress for the first 30 days of your sleep trial period to give yourself time to adjust to the mattress and break it in. Be sure you read the fine print before buying to fully understand!
How Does The GhostBed Compare To Other Mattresses?
Before making your final decision about the GhostBed, it may be helpful to compare it with some of its top competitors. Here's a quick evaluation of the original GhostBed versus the Purple and the Casper, two other popular online mattresses. Don't forget to also look at our mattress comparisons page for other GhostBed comparisons like GhostBed vs Leesa and GhostBed vs Nectar.
GhostBed vs. Original Purple Mattress Comparison
The Purple and the GhostBed are different in a number of ways, starting with their construction. The Purple has a comfort layer made with a gel grid, which adapts its firmness to the level of pressure placed on it. The GhostBed, meanwhile, offers a more traditional memory foam blended with aerated latex.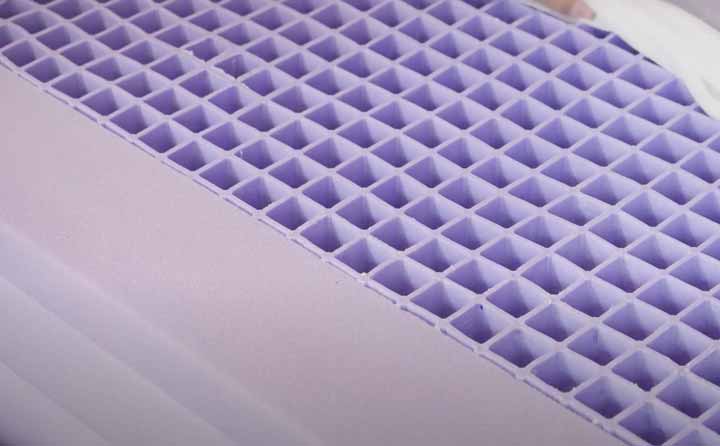 These different comfort layers mean the mattresses are dissimilar in their firmness level, too: The GhostBed is an 8.0 out of 10 (firmer-than-average) while the Purple is 6.5 out of 10 (a little softer-than-average).
The two mattresses also feel very different. The Purple mattress is known for a feeling that's simultaneously squishy and supportive. The GhostBed, on the other hand, is firmer and sturdier, but still offers some cushioning.
Price-wise, they're both pretty close.
Who Should Get The GhostBed?
Those who prefer their mattress to be firm
Those who like a more balanced foam feel
Stomach sleepers
Who Should Get The Purple?
Side and combination sleepers
Hot sleepers
RELATED: Purple Mattress Review
GhostBed vs. Casper Mattress Comparison
And how about the GhostBed vs. the best-selling Casper original mattress? In some ways, these mattresses are pretty similar; specifically, they're both made entirely of foam.
One important difference is that the Casper is zoned for more targeted pressure relief and lumbar support, something the GhostBed doesn't offer. When it comes to firmness, they're somewhat similar: We rate GhostBed as an 8.0 out of 10, and the Casper as a 7.5 out of 10.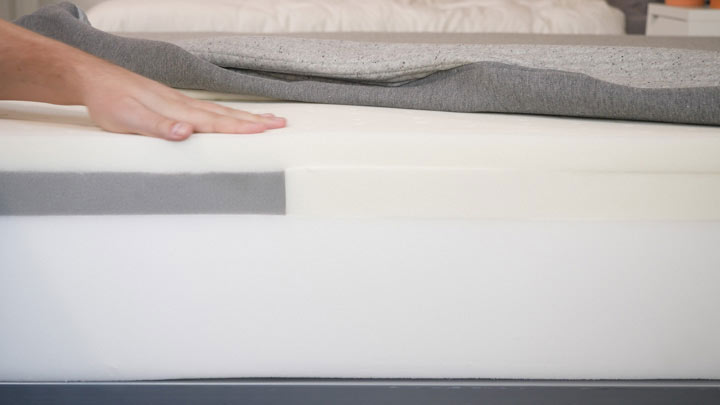 In terms of feel, both offer a lot of balance, though the GhostBed has a little more of a bounce. And in terms of price, these are, once again, pretty comparable.
Who Should Get The GhostBed?
Those who like a slightly firmer mattress
Hot sleepers
Stomach sleepers
Who Should Get The Casper?
Side sleepers
Back sleepers
Lighter people
RELATED: GhostBed vs. Casper
GhostBed Mattress FAQs
Now, we would like to answer some of the most frequently asked questions about the GhostBed mattress.
Is GhostBed a good mattress?
The GhostBed is indeed a good mattress, but it is going to be a better fit for some people and not the best fit for others.
For example, it should be a good match for stomach sleepers, hot sleepers, and those who want a more affordable latex mattress.
It might not work well for side sleepers and those who want something with a slower-moving feel.
Is GhostBed good for side sleepers?
In our experience, the GhostBed mattress is not good for side sleepers. It is a firmer-than-average mattress and might not provide enough pressure relief for the shoulders and hips.
How long do GhostBed mattresses last?
Considering the construction and materials of the GhostBed mattress, it should last for at least seven years, if not more. This will depend greatly on your size and how often you use the mattress.
Do you need a box spring with a GhostBed mattress?
The GhostBed fits on multiple bases including box springs, slotted frames, and adjustable frames.
Marten Carlson
Marten is Senior Editor at Mattress Clarity. He covers the mattress industry as well as sleep science news. He is specifically interested in the connection between sleep and overall health. Marten has written for media publications like Consequence of Sound and received a master's degree in Film Studies from Emory University. He comes from Franklin, Indiana, and spends all the time he can writing, directing, and acting in films. He has directed genre short films and features. His newest film, Starlets, recently premiered at the River Town Film Festival in Clinton, NJ. He also stars in the upcoming thriller, Sour Bear. His next film, At The Hop, is a hot rod actioner with a horror twist.