The GhostBed Luxe mattress from Nature's Sleep is a 13″ foam mattress that is all about keeping you cool at night. Using their proprietary "Ghost Ice" materials in their fabric and in their foams, the team at GhostBed and Nature's Sleep have created a bed that not only sleeps cool but is comfortable as well. This review will cover everything people should know about this mattress, including a full breakdown of the construction, the pros and cons, breathability, durability, comfort, support, motion isolation, edge support, and much more.
Click To Get The Best Current Deal On The Ghostbed Luxe
Key Features
13" height profile
7 layers – all foam
Dual cooling stages: surface and core cooling (see more on that HERE)
Firmness is 5.5-6 out of 10
Sizes range from Twin to California King
101-Night Sleep Trial
25-Year Warranty
Price: $1,475 for a Queen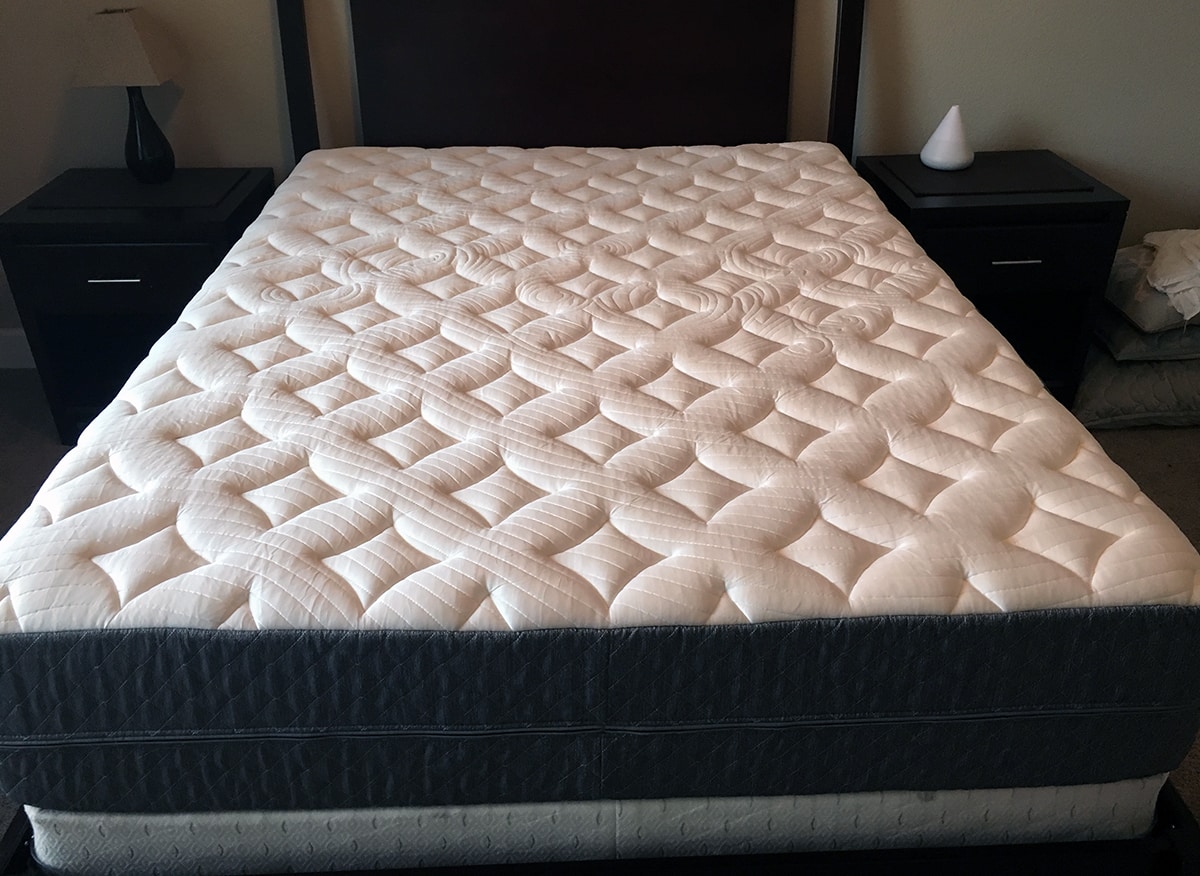 Mattress Construction
In all, the mattress is 13" in height. Below is a breakdown of the layers within the bed:
Ghost Ice Fabric – Cooling from the first touch
½" Cool Fiber Layer – Provides air flow and breathability
1" Gel Memory Foam – Gives the "Ghost Hug feel" according to GhostBed and great body contouring
Ghost Ice Layer – Phase Change technology (PCM) provides all night cooling and breathability
2" Gel Memory Foam – Pressure relief and heat absorption, as well as body contouring
2" Ghost Bounce Foam – Resilient foam: responsive like latex and contouring like memory foam
7.5" Support Core – High– density for durability, longevity, and great support

I like this image on GhostBed's website because it not only shows you where the mattress lands in terms of firmness (which I agree with based on my experience) but it also shows you the firmness of each layer.
You can see that the plushest layers are on the top. This is noticeable when you lay on the mattress as you will initially feel the coolness of the Ghost Ice fabric and the relative plushness of the initial 1″ Gel Memory Foam layer.
Click To Get The Best Current Deal On The Ghostbed Luxe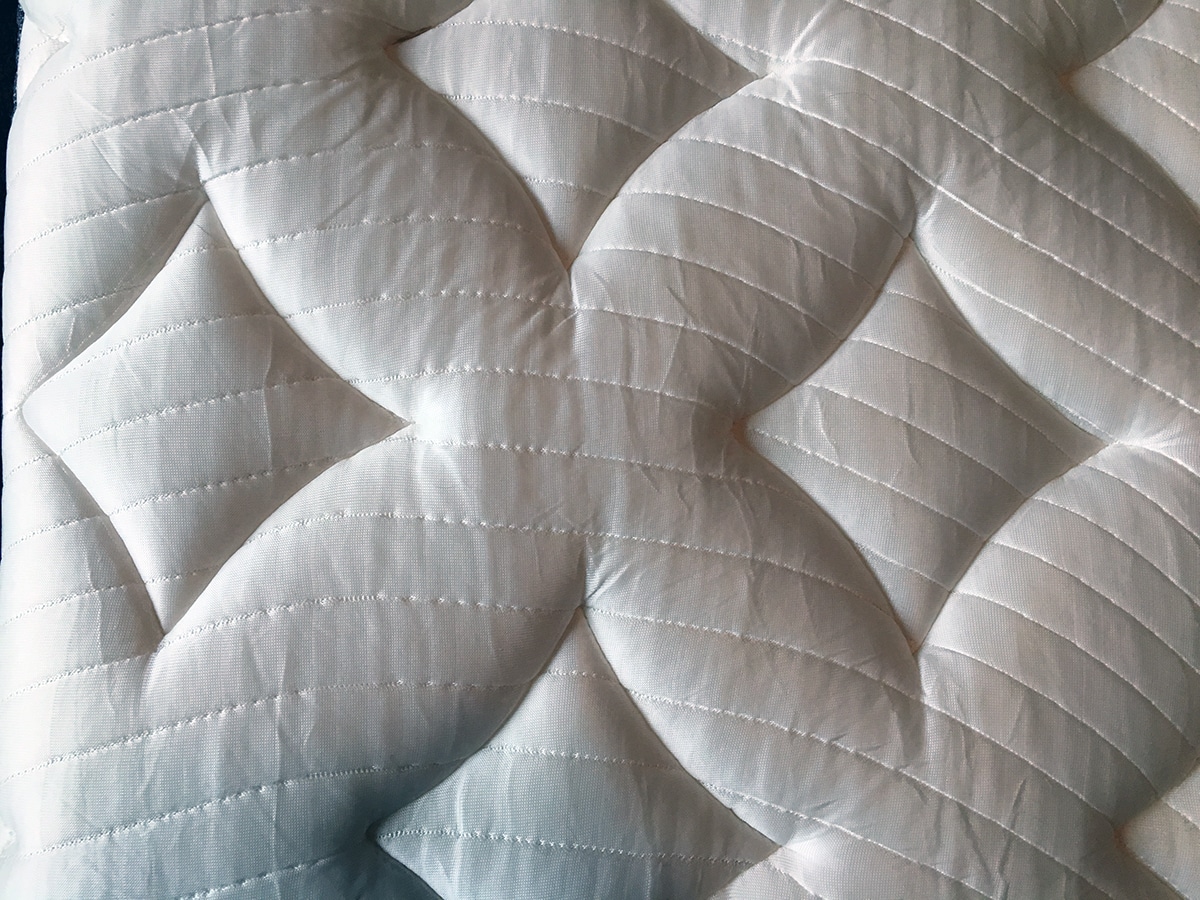 Who Makes It?
The GhostBed Luxe mattress and all GhostBed products including their original mattress are made by Nature's Sleep.
Nature's Sleep manufacturers a lot of different foam mattresses and bedding products. The original GhostBed came out in 2015. You can check out our review of it, here.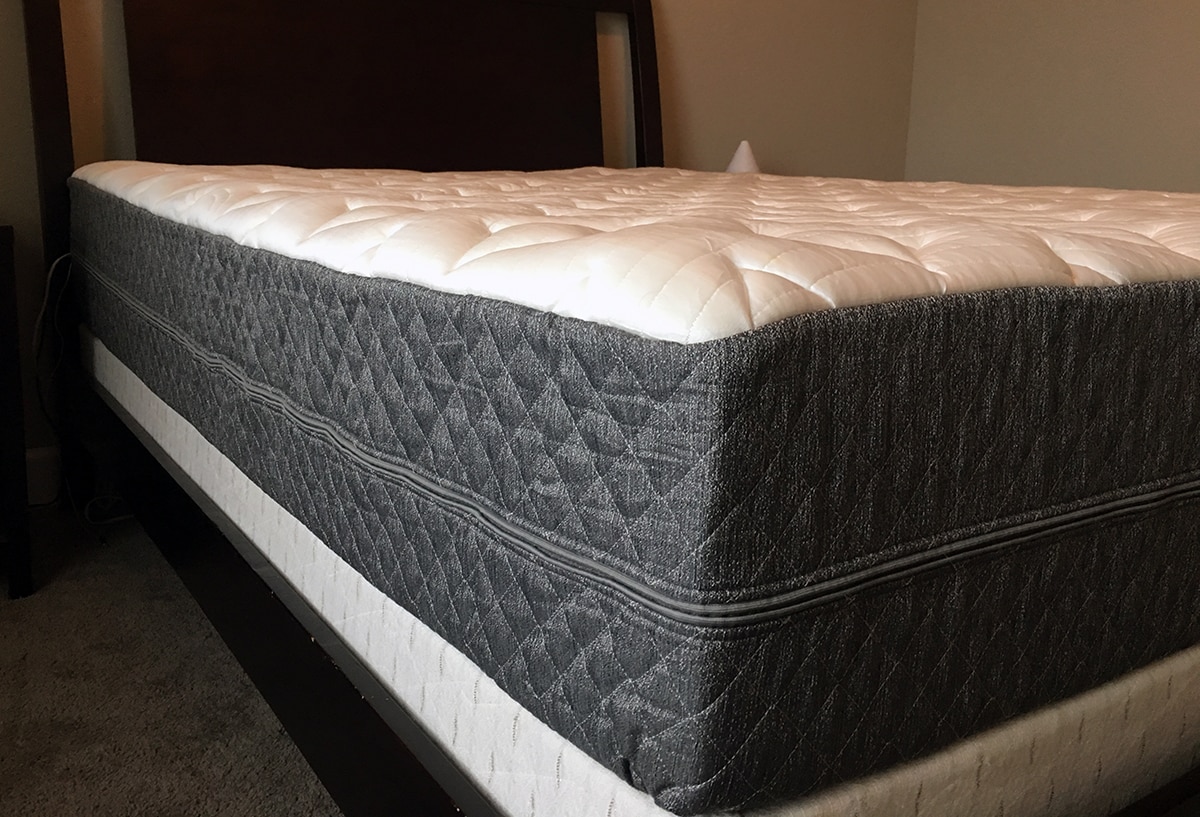 related: Best Cooling Mattresses
Who Might Like The GhostBed Luxe
Those who sleep hot but want a foam bed. All-foam mattresses can sleep hot because there is no room within the mattress for air to flow. The GhostBed Luxe tries to combat this by adding gel to their memory foam layers and including Phase Change Materials (PCMs) in their fabric that pulls excess heat away from the body during the night (read more on this HERE).
Those who sleep on their sides. The GhostBed Luxe mattress is around a 5.5-6 on the firmness scale, which puts it right below average in terms of firmness. The plushest layers on the mattress are at the top as well. The bed may not feel overly plush but side sleepers may enjoy this firmness level more than back or stomach sleepers, who tend to need something firmer.
Someone who is looking for a long time investment. – There is no doubt that the GhostBed Luxe is made with high quality and durable materials. It is at a higher price point than the original GhostBed mattress, but the materials used means that the bed should last a long time and could be a good fit for those looking to invest in a mattress they will have for many years.
Who Might Not Like The GhostBed Luxe
Those who are used to innerspring or latex. The GhostBed feels like a true memory foam mattress. You won't have the bounce of the innerspring or the super responsiveness of the latex foam. The plushest layers are at the top of the bed, which means you will sink in a little when you first lay on it.
Those who want an extra firm bed. The mattress is slightly less firm than average (about 5.5-6 out of 10) and may not be the best fit for those looking for a firm bed.
Those on a budget. The GhostBed Luxe is on the pricier side for an all-foam mattress, a Queen costs $1,475. While you won't get the dual cooling features, if you are looking to save money you may want to consider the less expensive original GhostBed.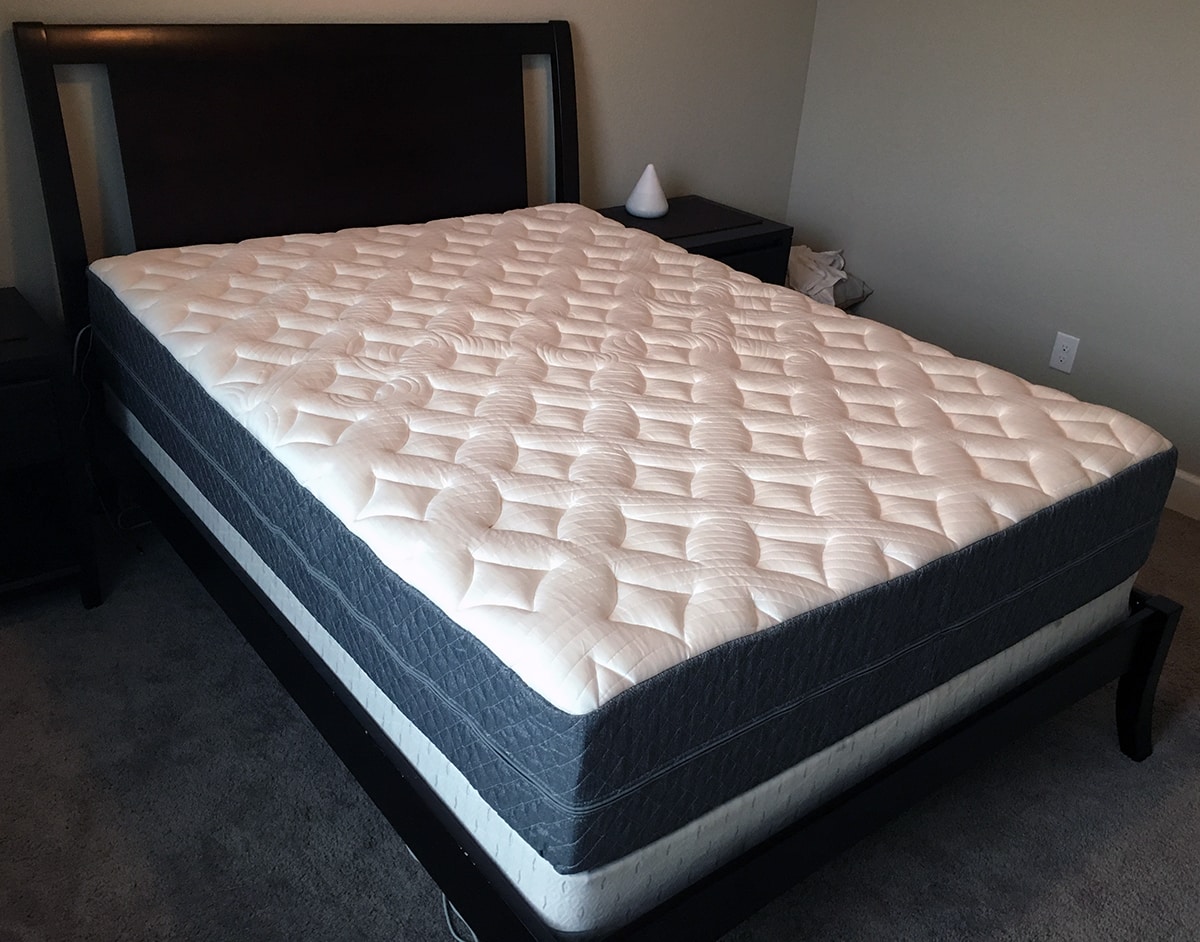 Firmness & Feel
The mattress is a 5.5-6 out of 10 on the firmness scale. With 6.5-7 out of 10 considered average, this puts the mattress as slightly below average firmness. There are 5.5″ of comfort layers on the mattress and the top layers are the plushest. People can see from the video that the foam is fairly responsive and has some bounce.
Motion Transfer
The mattress is made up of several layers of gel memory foam (including other foams), which is known for good motion isolation. You can see from the video that although the motion transfer is not perfect, it is pretty good overall.  This makes the mattress a pretty good option for couples who don't want to be disturbed by their partner's movements.
Edge Support
The edge support on the GhostBed Luxe mattress is decent, but not exceptional. The plushest foam layers are on the top of the bed, which allow people to sink on the sides, but lying down towards the edge people shouldn't really get any sort of rolling off the bed feeling.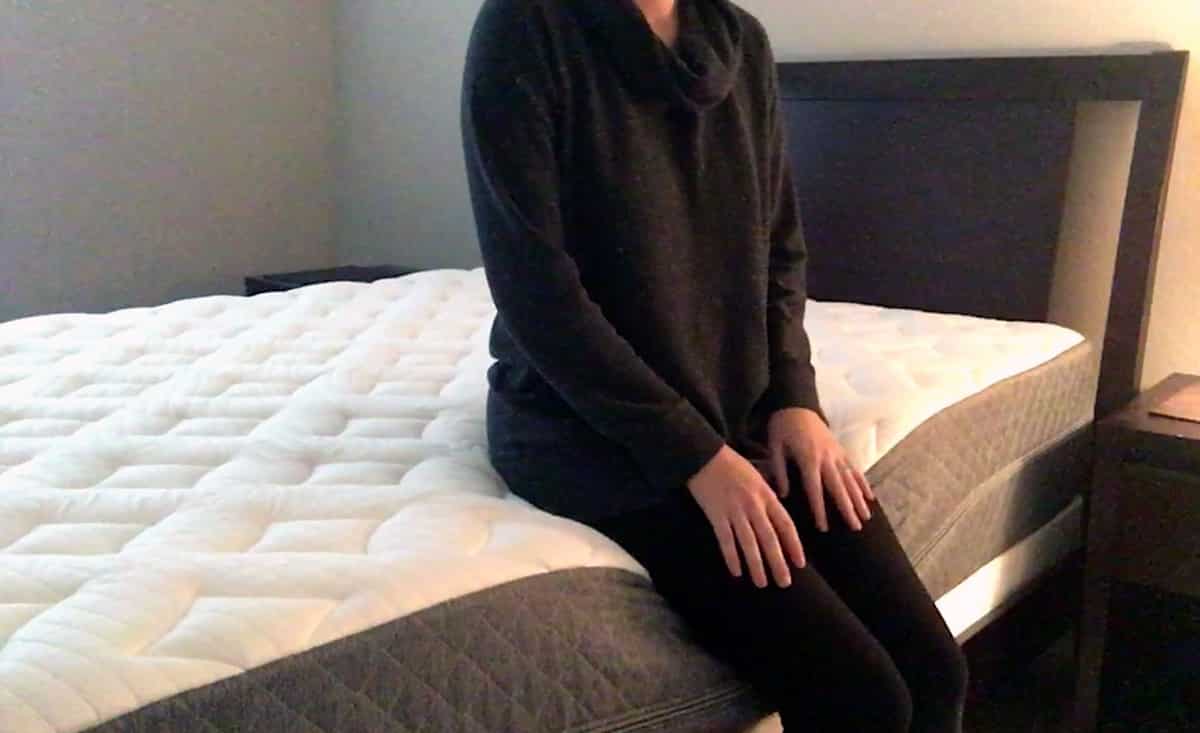 What Makes It Stand Out?
The main thing that makes this mattress stand out from the original GhostBed is the dual cooling stages and technology used.
Stage 1: Surface Cooling – The bed contains Ghost Ice Fabric, a proprietary fabric from Japan that is woven directly into the fibers in the yarn. It is cool to the touch and will absorb and trap heat that's been expelled from the body during the night.
Stage 2: Core Cooling – The gel memory foam layers in the bed contain Phase Change Materials (Ghost Ice) in them. This helps dissipate the heat that has been pulled away from the body and moved to the mattress. This will help stop the mattress from heating up overnight.
Prices & Specs
| Size | Dimensions | Weight | Price |
| --- | --- | --- | --- |
| Twin | 38" x 75" x 13" | 76 lbs. | $995 |
| Twin XL | 38" x 80" x 13" | 81 lbs. | $1175 |
| Full | 54" x 75" x 13" | 100 lbs. | $1350 |
| Queen | 60" x 80" x 13" | 122 lbs. | $1475 |
| King | 76" x 80" x 13" | 150 lbs. | $1785 |
| Cal King | 72" x 84" x 13" | 149 lbs. | $1825 |
GhostBed Luxe Mattress Review
Summary
The GhostBed Luxe is a solid all-foam mattress that could be a good fit for side sleepers looking for a cooling sleep experience.
Return Policy/Warranty
4.4
Overall Sleep Experience
4.2
Check for GhostBed mattress coupons.
Final Recommendation
The GhostBed Luxe mattress is, without a doubt, a solid all-foam mattress. It's right below average in terms of firmness so it will probably be a better fit for side sleepers over back and stomach sleepers.  It also combats heat retention with its proprietary Ghost Ice technology woven into the fabric and the gel within the memory foam.
The GhostBed Luxe is made of high-quality materials and will last you a long time, but I do think that the original GhostBed may be the better deal based on the value. That being said, people who like the original GhostBed but want a cooler experience(literally) may want to consider the GhostBed Luxe.  Consumers should take a look through this article multiple times, assess their own needs and preferences, and then make a more informed decision.
The following two tabs change content below.
Katie Golde
Katie manages the day to day operations of the Mattress Clarity news site and reviews sleep products in addition to writing and editing sleep news.She hails from Austin, where she lives with her growing family. She is a Certified Sleep Science Coach and has a master's degree in Journalism from Northwestern University and has a background in health and science content. Her work can be found in print and online publications like Discover Magazine, USA Today and The Huffington Post.
Latest posts by Katie Golde (see all)