The Layla mattress is an all foam, flippable mattress that gives you two firmness options in one mattress.  The mattress was also the first to use copper-infused memory foam, which can potentially have some cool benefits.
The concept was interesting and I was excited to see how the Layla performed. Read on for my full Layla mattress review.
You Might Want To Pick The Layla If:
You Are A Side Sleeper– While the mattress was quite comfortable when I was on my back and stomach, the Layla is ideal for side sleepers. Lying on my side, I felt no pressure on my shoulders and hips.  Probably the #1 thing you will notice about the mattress is just how comfortable it is overall.
You Are A Hot Sleeper Who Wants Memory Foam– Even though it is a memory foam mattress, the Layla is designed to keep you cool while you sleep.  The Thermogel cover is cool to the touch, in addition to the airflow channels and copper infusion into the memory foam make for an overall cool sleeping surface.
You Want A Premium Memory Foam Mattress For A Value Price– This feels like a high-end Tempurpedic, but for a much lower price. You can get a Queen, with discounts, for less than $800.  To me, it is one of the better values out there.
Get $110 Off Layla With Coupon Code "MCLARITY"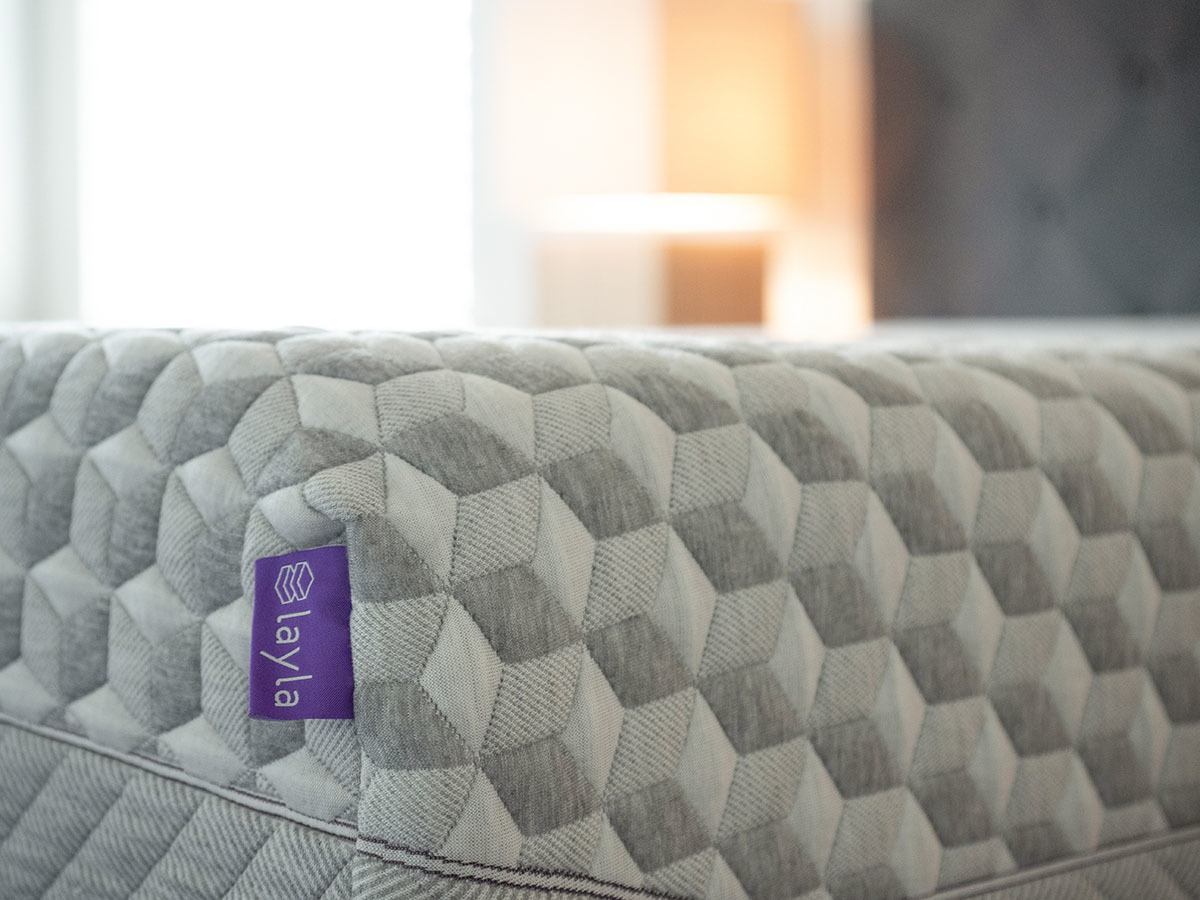 You Might Not Want To Pick The Layla If:
You Don't Want That Classic Memory Foam Feel– If you don't like that memory foam, sinking feeling, this might not be the best choice for you.  You will definitely feel like you are sleeping more "in" the mattress rather than feeling like you are sleeping on top of the mattress.  This is a personal preference type of thing and there is no right answer to whether you will like/dislike this feel.
You Are An Overly Heavy Person– This is a full foam mattress that is 10 inches thick.  I think if you are 250 lbs. or over, you will potentially want a thicker mattress or one with coils as the support system.
You Want An Easily Flippable Mattress– It is a chore to take off the cover and flip the mattress. It takes two people to do and, while the end result it nice, it is somewhat of a pain.  This is a minor nitpick but just something to note.
Get $110 Off Layla With Coupon Code "MCLARITY"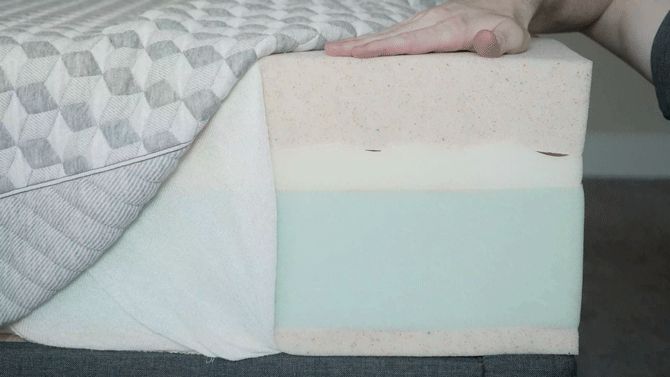 Construction Overview
The soft cover is infused with Thermogel. It is designed to help with cooling.  From my experience, I can say that the cover is cool to the touch.
Moving from the soft side down, you first have 3" of a copper infused memory foam. Copper is antimicrobial and can potentially help with blood circulation and cooling.
Then you have a 2" of a convoluted support foam. This is a polyfoam transition layer with pockets to help with airflow.
The core support layer is 4.5" of a 2 lb. base foam.
Then, on the firm side, there is 1" of that same copper infused memory foam.
Layla is made in the USA.
RELATED: Most Comfortable Mattresses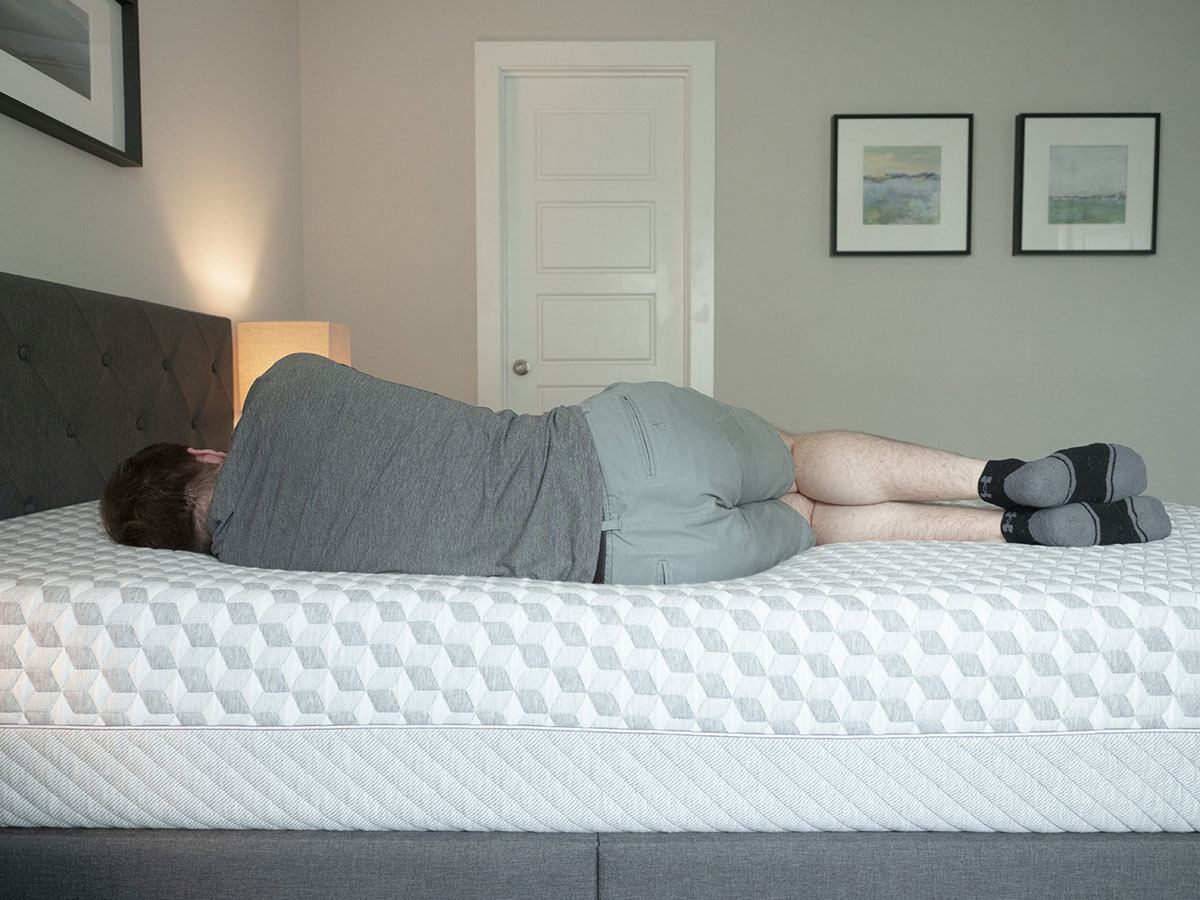 Construction Takeaways
The mattress is flippable, so you have two different firmnesses in one.  I think most people will want the soft side, but if you just sleep on your stomach/back you might want to take a look at the firm side.
The memory foam, transition layer, and cover both promote cooling, so you won't be sleeping hot.  There are probably other types of mattresses out there where the sleeping surface will be cooler, but within the memory foam category, this mattress stands out as being one of the best as far as sleeping cool is concerned.
With its thicker memory foam, the soft side will be very nice for side sleepers and possibly back sleepers.
With its thinner memory foam and no transition layer, the firmer side will be better for stomach sleepers or heavier back sleepers. Those who are worried about back pain should consider the firm side.
The durability of this mattress should be above average for mattresses in this price range.  Durability will be more of an issue for heavier sleepers.
Related: Best Memory Foam Mattresses
Firmness/Feel
On the soft side, there is a lot of give. The 3" of memory foam is very soft and cushiony. However, the foam recovers fairly quickly, so I sunk into it without feeling stuck.
On the soft side, the mattress was softer than average, about a 5.5/10 (with 10 being the firmest).  Lying on my side, I felt great pressure relief on my hips, shoulders, and hips. This side of the Layla is definitely ideal for side sleepers.
On my back, I felt that the memory foam conformed well to my body, giving me proper support on my hips.
On the firm side, you only have 1" of the memory foam, so it is significantly firmer. I felt it was an 8/10, firmer than average. If you are a stomach sleeper, this could be a better choice for you.
Motion Isolation
Whatever side you choose, the top layer is memory foam. Because of this, I expected the Layla to perform well with motion isolation.
As you can see in the video, there was a little bit of motion transfer with my tests, but I thought that Layla's motion isolation was good overall. This makes it a good choice for couples.
Edge Support
On the softer side, the edge support is fairly average. The memory foam collapses as I sit near the edge. However, if I lie near the edge, I don't feel like I am going to be thrown off.
On the firmer side, the edge support is definitely better. Whatever side you choose, this could be an nice option for couples.
You can see the edge support in the photo below.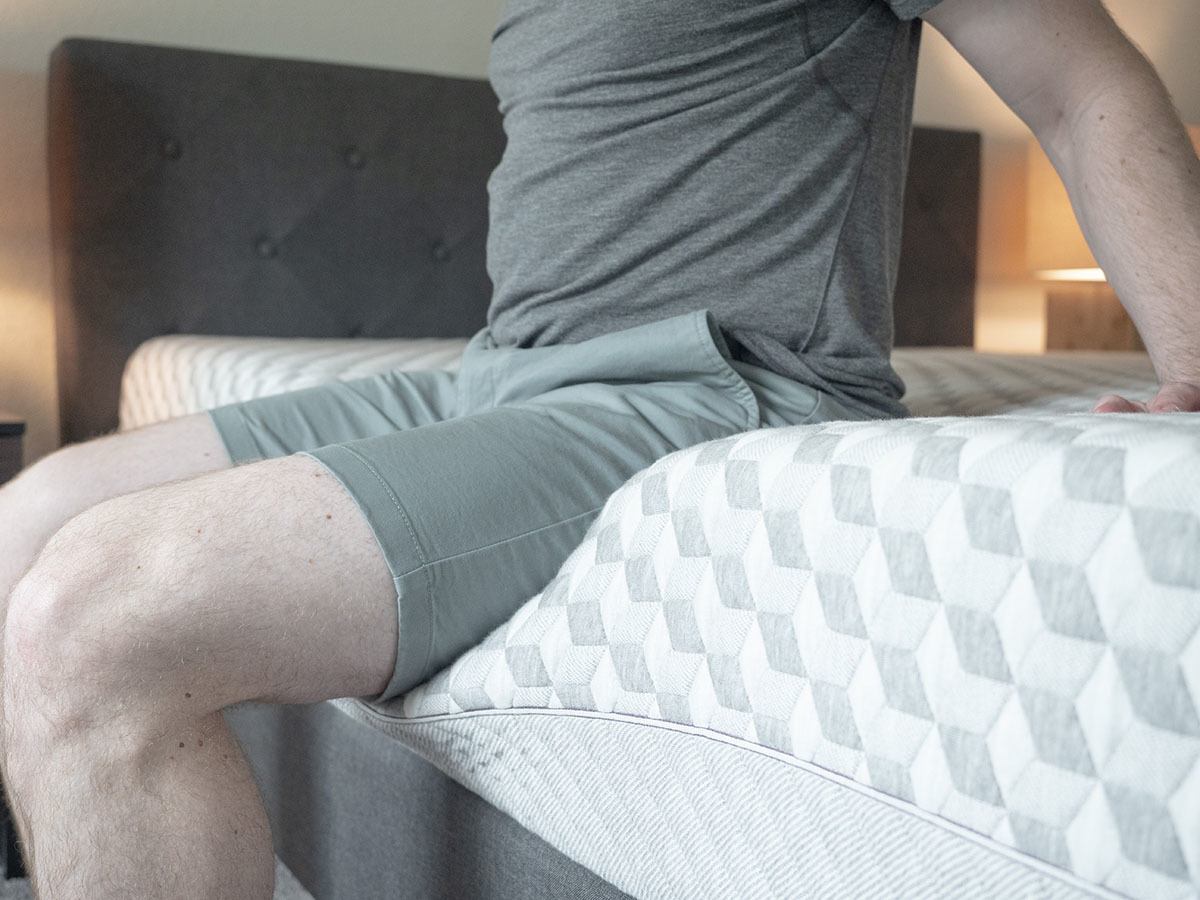 Marten's Take
Marten is a staff writer for us. He has a much different body type from me. He is 6'7″ and weighs about 230 lbs (I am 5'9″ and 160 lbs.). Here is what he thought about the mattress.
"On the softer side of the mattress, I felt it was about a 6/10, which was pretty close to what Joe experienced.
I'm a side sleeper and I felt nice pressure relief on my hips and my shoulders. However, on my stomach and my back, I definitely felt my hips sinking in a good bit.
There is the firmer side, and if you are my body type and sleep on your back or stomach, I would go for that. I felt an 8/10 for that side."
Considering Marten's experience, the soft side of the Layla is a great option for side sleepers of many sizes. If you are heavier, like Marten, you should consider the firmer side if you are a back or stomach sleeper.
What Makes This Mattress Stand Out
The memory foam is very comfortable, giving great pressure relief without you feeling stuck.
The top, copper infused memory foam layers are potentially beneficial to your health. They are antimicrobial and can help with blood circulation.
The cover and foam layers are cooling and help with airflow, so you won't be sleeping hot.
The mattress is a great value. The Layla offers higher-end, Tempurpedic-like comfort, but for a much lower price.
Layla Mattress
Summary
The Layla is a really unique offering due to the copper-infused memory foam and flippable option. I enjoyed sleeping on the mattress, and think it is definitely the best option out there for some sleepers.
Return Policy/Warranty
4.7
Overall Sleep Experience
4.6
How To Unbox This Mattress
The Layla is a bed in a box mattress, which means it will come compressed and shipped straight to you. You will want to begin by removing the rolled up Layla mattress from its box. Then, preferably with another person's assistance, position the roll on your bed.
Carefully cut the away the first layers of plastic until the still-compact mattress can be laid down flat.  Then, pierce through the final layer of plastic and the Layla will expand. Simply clear away the excess plastic and allow your mattress to breathe and fully expand.
Overall
While I think 80-90 percent of sleepers will opt for the softer side, it is great to have two firmness options.
On this softer side, I can say this is one of the most comfortable mattresses I have slept on. However, if you are heavier and want something more supportive, I would try the firmer side or seek a firmer mattress altogether.
Layla offers a 120 Night Trial period and a Lifetime Warranty.
Get $110 Off Layla With Coupon Code "MCLARITY"
The following two tabs change content below.
Joe Auer
Joe Auer is the editor of Mattress Clarity. He mainly focuses on mattress reviews and oversees the content across the site. He likes things simple and take a straightforward, objective approach to his reviews. Joe has personally tested nearly 100 mattresses and always recommends people do their research before buying a new bed. He has been testing mattresses for over 4 years now, so he knows a thing or two when it comes to mattress selection. He has been cited as an authority in the industry by a number of large publications. When he isn't testing sleep products, he enjoys working out, reading both fiction and non-fiction, and playing classical piano. He enjoys traveling as well, and not just to test out hotel mattresses! Joe has an undergraduate degree from Wake Forest University and an MBA from Columbia University.