We all know that sleep is important – and not always that easy to get – which is why it's super frustrating to wake up with neck pain each morning and not understand why.
While there could be a number of reasons for nagging neck pain, one common culprit is a bad sleep position brought on by poor alignment between a person's body and their pillow.
There are ways to minimize the chances of experiencing neck pain – namely sleeping in a few recommended positions with a pillow that supports the neck and allows it to lay in a neutral alignment with one's spine.
I've put together my top picks for the 5 best pillows for neck pain and shared why they're so helpful and supportive; these choices are designed to cover different types of sleepers and preferred filling ranges. Many of the pillows are adjustable in some way, which will get sleepers a step closer to finding the perfect alignment for their head and neck.
5 Best Pillows for Neck Pain
Editor's Choice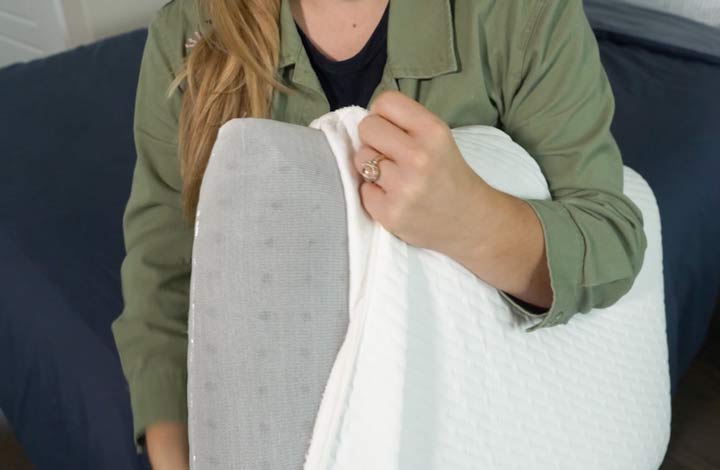 Tuft & Needle Pillow
It won't sag. It's durable. And it doesn't cost an arm and a leg. That's why the Tuft & Needle pillow is our Editor's Pick. 
When you first rest your head on this pillow, you'll notice is breathable and soft cover. Then, as your neck rests along the foam, you'll feel its supportive loft. For me, an average-weight person, this pillow is the perfect size. Side and back sleepers should feel their necks staying in the proper alignment all night long. 
Plus, unlike other foam pillows, this one doesn't trap heat. Tuft & Needle custom cuts each piece of proprietary foam, and they ventilate it for extra airflow. To make things even cooler, Tuft & Needle infuses their foam with graphite and gel beads. 
What Makes The Tuft & Needle Pillow Stand Out?
It doesn't sag as the night goes on, so it provides plenty of neck support.
The foam is infused with graphite and gel, so it should sleep cool all night long.
It's an affordable pick, and it should last a long time. 
Read our Tuft & Needle pillow review.
10% Off
Tuft & Needle Foam Pillow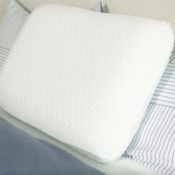 Tuft & Needle Foam Pillow
Made with special responsive foam, the Tuft & Needle pillow feels both soft and supportive. It has many cooling features, and it's super durable. It's a great match for back and side sleepers. Click the link below to save 10% on your purchase!
Best Orthopedic Pillow For Neck Pain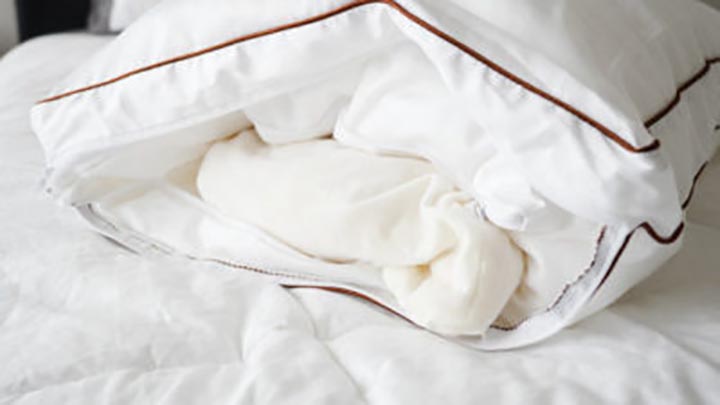 Saatva Latex
'Orthopedic' is a fancy way of saying that something helps promote the proper spinal alignment, which is exactly what you need if you suffer from neck pain! Luckily, the Saatva Latex pillow has you covered in this department. 
Surrounded by an organic cotton cover and filled with shredded Talalay latex, this pillow contains some high-quality and eco-friendly materials.
But its most notable feature is its pillow-within-a-pillow design. On the outside, you'll find fluffy pieces of microdenier fiber. Inside sits pieces of shredded latex foam. The result? A well balanced pillow that creates pressure relief and support. 
We recommend the Saatva Latex Pillow for back sleepers, especially if they tend to sleep hot at night. The breathable materials allow plenty of room for airflow, so it shouldn't trap heat easily. 
What Makes The Saatva Pillow Stand Out?
The Saatva Latex contains durable and eco-friendly materials.
It works especially well for back sleepers who sleep hot at night.
It's one of the best orthopedic pillows. 
Learn more in our Saatva pillow review.
Saatva Deals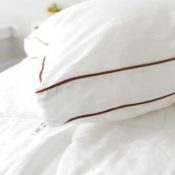 The Saatva Pillow has an organic cotton cover that is removable. Underneath is an outer pillow made up of hypoallergenic microfibers. You can unzip that pillow and reach a pouch filled with shredded Talalay latex pieces. 
Best Foam Pillow For Neck Pain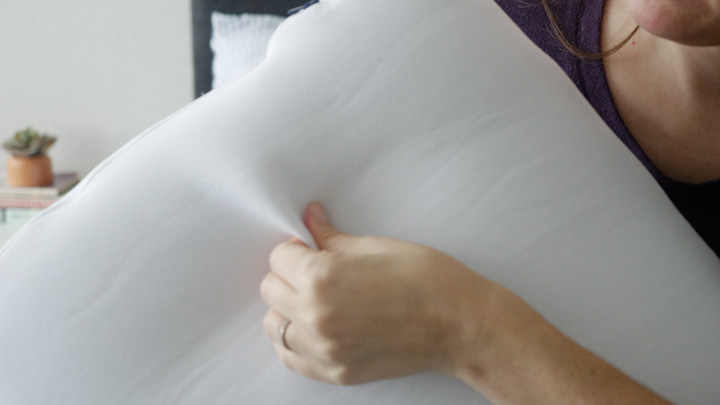 Casper
The Casper foam pillow contains not one, not two, but three layers of foam. Each one has a different density level, and they combine to create optimal comfort and support. This, alone, makes the Casper pillow stand out. But there's so much more to love about this comfy product.
Available in two loft sizes, the Casper foam pillow works well for many different types of sleepers. If you rest on your back or side, opt for the mid loft. Stomach sleepers will feel the most comfy on the low loft pillow. 
Can't decide which one to get? Not to worry. Casper has a 30-night trial period, so you have several weeks to determine whether the pillow is right for you. 
What Makes The Casper Pillow Stand Out?
It contains three layers of foam, which helps sleepers get the proper comfort and support.
The pillow comes in two loft sizes. 
It's backed by a 30-day trial period.
Read the complete Casper pillow review.
10% Off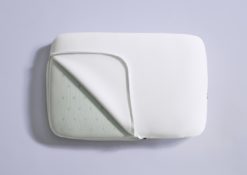 Casper's Foam Pillow has a polyester/spandex knit cover and a 3-layer foam core that's made with plush outer layers and a firmer center layer. Click the button below to save 10% on your purchase!
Best Soft Pillow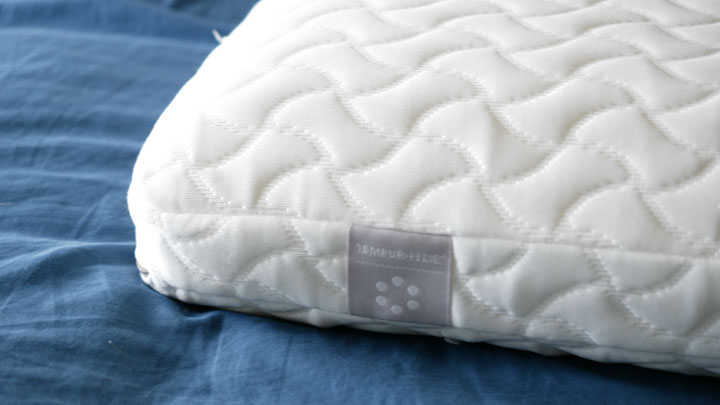 TEMPUR-Cloud
The TEMPUR-Cloud is such a classic TEMPUR-Pedic pillow. For those who are familiar, the brand is all about including their proprietary TEMPUR-material in their products – a foam that is similar to memory foam and is very contouring and pressure-relieving. The head sinks into this pillow and it's truly cradled and supported lovingly.
Not to mention, the cover is also super soft and easy to remove and clean – what's not to love? The pillow is an investment because it can't be returned, but they are truly durable and will last 3-5 years. Based on my experience, I think the TEMPUR-Cloud is the best pillow for stomach sleepers on this list.
What Makes The TEMPUR-Cloud Pillow Stand Out?
It feels especially soft and luxurious. 
This pillow works really well for stomach sleepers.
Made of high-quality materials, this pillow should have a long lifespan.
Read the full TEMPUR-Cloud pillow review to learn more.
TEMPUR-Pedic Pillow Deals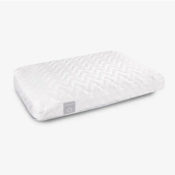 The TEMPUR-Cloud pillow is a traditional memory foam-like pillow made with a solid piece of TEMPUR material. It has a soft knit polyester cover that's removable and can be washed. The pillow is a good fit for most back sleepers.
Best Firm Pillow For Neck Pain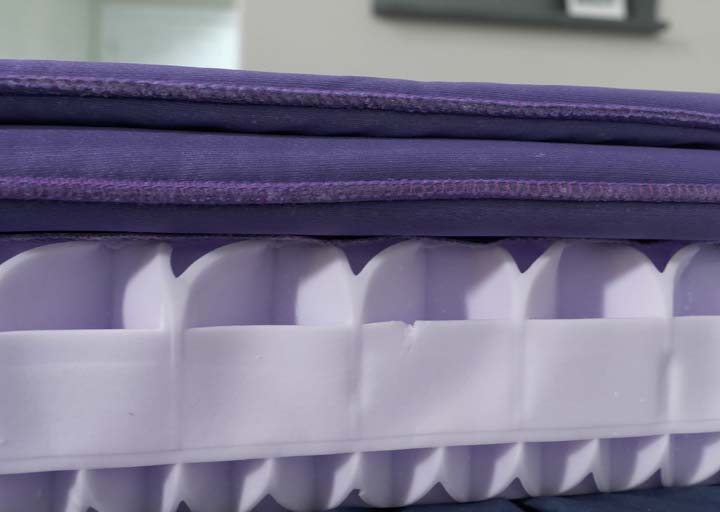 Purple Pillow
The Original Purple pillow is unlike any other on the market. First of all, it's made with a thick piece of their proprietary gel grid. Not only does this hyperelastic polymer create plenty of airflow, it has a unique feel! Squishy at first, this grid feels firm once you apply pressure. 
To make things even better, this versatile pillow is customizable. Because it comes with two cloth boosters, you can easily adjust its loft. 
We especially recommend this pillow for larger people, but it's tall enough to keep the neck in line with the spine. Folks with neck pain especially need to pay attention to their alignment. Otherwise, the muscle tension may continue. 
What Makes The Purple Pillow Stand Out?
It's especially firm, thanks to its gel grid.
The pillow comes with cloth boosters so you can adjust the loft. 
The Original Purple pillow works especially well for larger people. 
Read the complete Purple pillow review. 
10% Off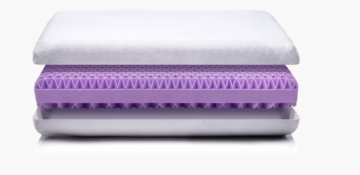 Purple's original pillow is made with their signature Smart Comfort Grid polymer material that gives the pillow a plusher feel but without losing the support. Click the link to save 10% on your purchase!
How to Choose the Best Pillow for Neck Pain
We've detailed our top picks. Now we'll get into the other factors you should consider when looking for your next pillow.
Loft
As we've mentioned, loft is a very important factor for sleepers with neck pain to consider when looking for a pillow. The loft of a pillow is simply how high or thick it is.
A pillow with a loft that is too low will make your head sink down too far to the bed, and a pillow with a loft that is too high will force your head to incline higher than it should. All of this matters because of the importance of your spine alignment. If your head isn't resting right in line with your shoulders, this will put undue strain on your neck.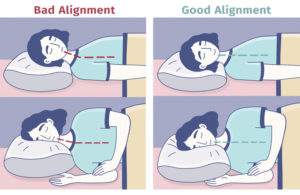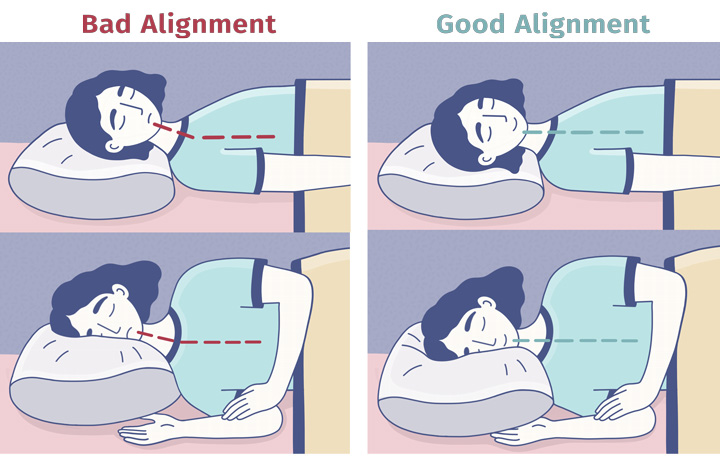 The best loft for sleepers with neck pain will vary by sleeping position and body weight. For instance, stomach and back sleepers will be most comfortable on a pillow with a lower loft, whereas side sleepers will need a pillow with a higher loft to fill the space between the shoulders and the head.
Body weight also comes into play. Heavier weight sleepers will naturally sink further into their mattress and will not need a pillow with as high of a loft, whereas lightweight sleepers will have the opposite situation and need a pillow with a lower loft.
Because of all these factors, there is no perfect number of inches of loft that everyone needs in a pillow, but using this information you should be able to use your judgement as to whether or not a pillow has the right amount of loft for you.
Firmness
Similar to loft, the ideal firmness is also a factor that varies by person. Generally, if you have neck pain you won't want a pillow that's extremely soft or extremely firm. Instead, you'll want something medium-soft that contours to your head shape.
Pressure Relief
It's also good to look out for a pillow with pressure-relieving qualities. Materials like memory foam do a nice job of offering pressure relief because it's good at evenly distributing weight across the surface. Latex also does a nice job of offering pressure relief. Options like down and feather pillows won't offer much pressure relief.
Durability
Finding a durable pillow is a good sign that it will offer you long-lasting comfort. You don't want to purchase a pillow that will flatten out after a couple months and no longer offer support. The most durable pillows for neck pain are memory foam, latex, and buckwheat pillows. Feather and down pillows won't be as durable.
Price
Price also comes into play for durability. A cheap pillow likely won't last you as long as a more expensive one that was crafted with high-quality materials. You may want to consider spending more than you expected when it comes to purchasing a pillow specifically for pain relief.
Best Pillow Types for Neck Pain Relief
As with all products you purchase for your sleep, there are many nuances to finding that pillow that will be just right for you. But when it comes to the materials and the type of pillow to look out for to help alleviate neck pain, the answer is a little more straightforward.
We'll go over the best types of pillows for neck pain and which types to avoid.
Memory Foam Pillows
Memory foam pillows are excellent for neck pain relief. These pillows are designed to cushion and contour your head, so they do a great job of supporting neutral spine alignment. Memory foam contour pillows are also durable and last for a long time. Unlike feather or down pillows, they won't require frequent fluffing to maintain their shape.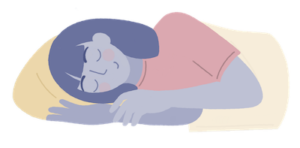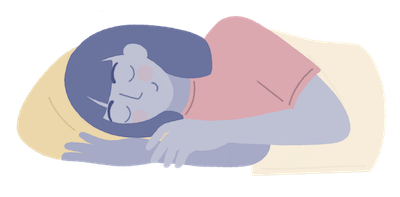 Memory foam pillows come in many forms; some may even come with shredded foam, allowing you to adjust the pillow to your preferences. Shredded memory foam pillows are great for sleepers with neck pain because you can adjust the pillow over time to find the right loft for you.
Latex Pillows
Latex pillows offer similar benefits to memory foam pillows – they are pressure relieving and can be good for sleepers with neck pain. The one major difference between latex and memory foam pillows is the responsiveness.
Latex has a buoyant feel, so these pillows will quickly adapt to your movements. You also won't feel that sinking and contouring feeling that you feel with memory foam, but these pillows are still good for keeping your spine aligned and reducing neck pain. If you're interested in latex pillows, be sure to check out our list of the best latex pillows we've tested.
Buckwheat Pillows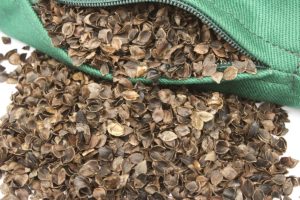 Buckwheat pillows are more unique, but they are a good choice for people who have neck pain. These pillows are made with buckwheat hulls that can shift around and then lock into place. This material is naturally very breathable and makes for a supportive pillow.
Types of Pillows to Avoid when Suffering from Neck Pain
Neck Pillows: These work well in a pinch, like when you're napping on public transportation. Generally, though, we don't recommend them for everyday use. Despite their name, these portable U-shape pillows don't help alleviate neck pain. You might be wondering, "Can your pillow cause neck pain?" And the answer is: yes, sometimes they can.
Feather: Feather pillows do not have great loft and need frequent fluffing. They are not very supportive for sleepers with neck pain.
Down: Down pillows are very soft and have similar problems to feather pillows. They are not a great fit for people with neck pain.
Down alternative: Down alternative pillows are very similar to down pillows, except they use a polyester microfiber material instead of all-natural duck and geese feathers. These pillows are also very soft and do not hold their shape well, so they are not a good fit for people with neck pain.
Sleepers with neck pain don't necessarily have to avoid feather, down, and down alternative pillows all together. You may just need to double up with two pillows under your head for the loft and support you need since these pillows are more thin and soft.
Although, we would probably recommend just choosing one of the many other types of pillows that are designed to help alleviate pain in the neck instead.
What Causes Neck Pain While Sleeping?
You might be wondering how this pain all got started. Here are few of the most common reasons for neck pain.
Poor Mattress
If your mattress doesn't help you maintain the correct spinal alignment, you could wake up with aches and pains. After all, you spend 7-9 hours on your mattress each night, so you want to make sure you have one of the best mattresses for neck pain relief.
The Wrong Loft Pillow
Flat pillows often cause necks to crane out of alignment, creating knots and muscle tension. Remember, always make sure your pillow promotes a neutral alignment. When resting on your side, your ears should line up with your shoulders and your chin should align with your sternum. Back and stomach sleepers, you'll want to ensure your necks line up with your sternums as well.

Sleeping Position
We've explained how important your sleeping position and spine alignment is for reducing neck pain. Avoid stomach sleeping, and make sure your head is in straight alignment with your spine.
Stress
When anxiety levels rise, people often tense their muscles and grind their teeth at night. If your neck pain becomes chronic, try some gentle neck stretches to release the tension. It may even help to meditate and soothe the mind before bed.
Summary
As a reminder, here's a list of our recommendations for the best pillows for neck pain:
FAQs
How do I choose a pillow for neck pain?
Those experiencing chronic neck pain should always seek the advice of a medical professional to rule out anything serious. If it's determined that the culprit is the pillow - it's an easy fix! First, pick a pillow that suits the primary sleep position (the position one typically wakes up in). Generally speaking, stomach sleepers need the softest/flattest pillows while side sleepers need the most loft and support. Aim to get the body into neutral head, neck and spine alignment, allowing the natural curves of the body to lay as they should with support but no additional strain. This may take a few tries with different pillows and even some conversations about the right mattress but, over time, finding the best sleeping position and the best pillow to match will be worth it.
Are contour pillows good for neck pain?
Contour pillows can be a wonderful choice for those trying to alleviate neck pain. These pillows specialize in supporting a key area prone to strain and resulting pain - the natural curvature (often referred to as the cervical curvature) of one's neck. Placing the right amount of support in this area takes pressure off the many muscles and nerves in the neck and may help the pain subside.
What is the best pillow for side sleepers with neck pain?
Side sleepers make up more than half of the American population, so we're not surprised to see this question so frequently! Side sleepers with neck pain really need to focus on finding a pillow that has enough loft and height to support the 4" to 6" gap that resides between the top of the shoulder and the side of one's head and neck. When the head and neck are properly supported and the shoulder does not have increased pressure on it, the neck can stay free from tensions and stress and neck pain should go away. The goal is to look at oneself in a side sleeping position and see a straight line from the forehead, nose, chin down to the neck and sternum - this means neutral alignment is achieved.
Elisa Regulski
Elisa is the Editor of Mattress Clarity, where she analyzes sleep products and appears in review videos. A certified sleep science coach, Elisa's sleep tips have appeared in Readers Digest, Homes and Gardens, and 21 Oak. She earned a M.A in Mass Communication from Texas State University and a B.F.A in acting from Oklahoma City University.