There's nothing that's going to ruin your day more than waking up with a crick in your neck. Neck pillows can provide great support to avoid waking up with neck pain in the morning.
TEMPUR-Pedic's TEMPUR-Neck pillow is a fantastic option for shoppers looking to amplify their neck support. In my TEMPUR-Neck pillow review, I'll give you an unbiased look at everything you need to know, including firmness, feel, price, and performance.
Let's dive in!
TEMPUR-Neck Pillow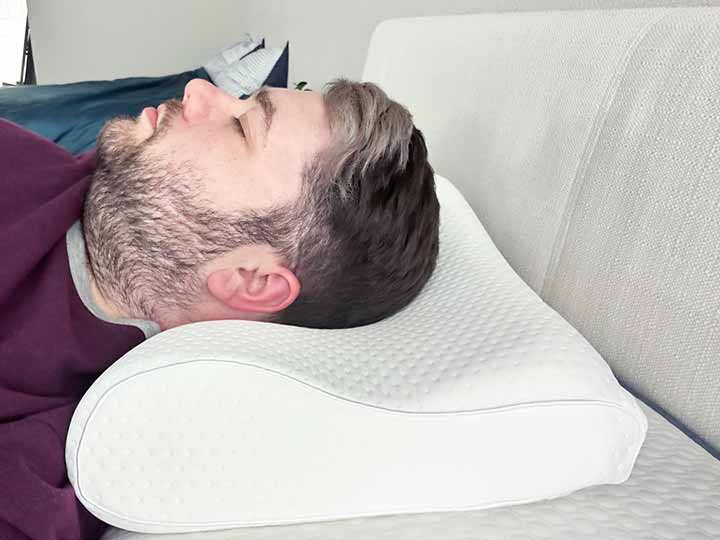 The ergonomic shape to the TEMPUR-Neck pillow makes it an ideal pillow for anyone dealing with neck pain. This solid slab of memory foam will contour to your head and neck, giving you good support and will alleviate neck pain.
Mattress Clarity Score
3.90 / 5
Read Full Review
TEMPUR-Neck Pillow Overview
TEMPUR-Pedic is a huge name in the mattress industry, and they have tons of pillow options too. We've reviewed many of the TEMPUR-Pedic products in the past, such as the TEMPUR-Cloud mattress, and have a full round up of the most popular TEMPUR pillows.
But a standout amongst all of TEMPUR-Pedic's pillows is the TEMPUR-Neck as the brand's best pillow for neck pain. Here's a quick overview on who will enjoy the TEMPUR-Neck, and who needs to consider something else:
Who Might Like the TEMPUR-Neck Pillow?
Sleepers dealing with neck pain
Fans of slow-moving memory foam
Back and side sleepers
Who Might Not Like the TEMPUR-Neck Pillow?
Stomach sleepers
Shoppers on a budget
Hot sleepers
TEMPUR-Neck Pillow Video Review
TEMPUR-Neck Pillow Firmness and Feel
Firmness and feel are important factors when choosing a new pillow. Do you want something extra-soft? Or do you prefer something firmer? Let's see where the TEMPUR-Neck falls.
How Firm is the TEMPUR-Neck Pillow?
TEMPUR-Pedic offers a wide variety of pillows that all feel very different. When it comes to the TEMPUR-Neck, it is hands down the firmest option TEMPUR offers. Because of this, it does a good job of offering great neck support, which is what it was designed for.
RELATED: Best Firm Pillows
Sleeping with the TEMPUR-Neck Pillow
The TEMPUR-Neck pillow is one of the best pillows for neck pain. And that's due to its ergonomic shape. Sleeping on the TEMPUR-Neck can take an adjustment period because of this. But overall sleeping on it felt very comfortable.
When I tested it, I'll admit, I wasn't sure where to place my head. But for reference, the contoured pillow design will have you place the highest part of this pillow underneath your neck. I started out on my back, and this pillow felt very comfortable for back sleeping. You don't want your chin to go too far forward with back sleeping, and that's not a problem with the Neck.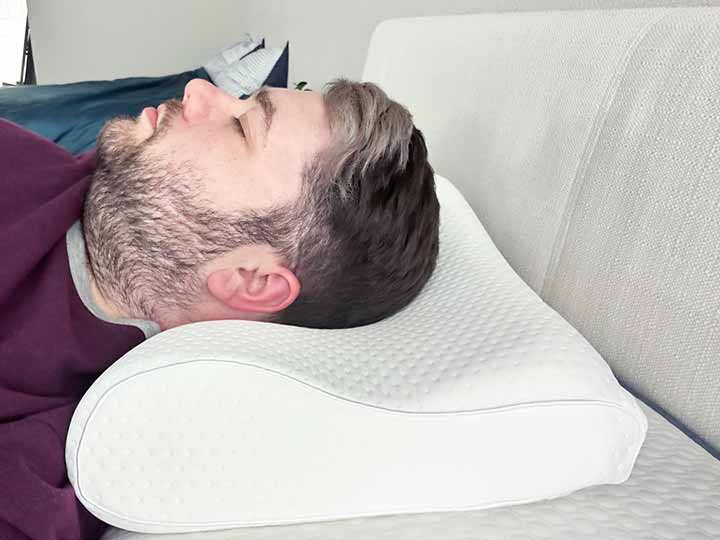 Switching over to my side, this pillow also felt very comfortable. The Neck does a great job keeping your neck elevated and supported. While side sleepers do need tall pillows, the tall portion of the contour fits right into the space between your shoulder and neck, so you don't have to worry about your head dipping too far down.
For stomach sleepers, however, I don't recommend this pillow. When you're stomach sleeping, your head is usually already turned to the side. And with the unique shape of this pillow, it just felt very uncomfortable. Typically, stomach sleepers need a flat and low pillow to avoid developing neck pain while they sleep.
30-60 Min Nap
When I test products, I start by handling them awake. But these are pillows after all! So, to get the full experience, I took a quick nap with the TEMPUR-Neck. As I mentioned above, the Neck's unique shape definitely takes some getting used to.
As a side sleeper, once I settled in, it felt comfortable. I wouldn't go so far to say that I loved using it, but for what it is, it got the job done. However, I don't tend to deal with frequent neck pain while I sleep. So if you're not dealing with neck pain, you may need to get used to this pillow. The Neck is rather short in length, and I'm the type of sleeper that is constantly changing sides while I sleep.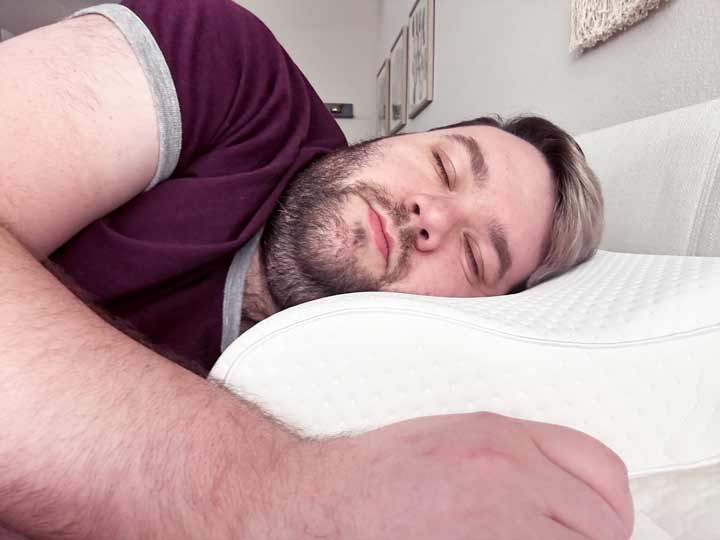 So, unfortunately, I either had to make some extra effort to stay on the side of the bed while I changed positions, or I had to switch to the other side of the bed and risk not using the Neck. And while the pillow fits inside a pillow case, because of its shorter length, there's a lot of extra fabric from the pillow case which was a little uncomfortable as it tended to bunch up.
What Does the TEMPUR-Neck Pillow Feel Like?
The TEMPUR-Neck pillow is full of that slow-moving TEMPUR memory foam. Though it has a firm feel to it, you can squish this pillow and it'll take a second to spring back into shape.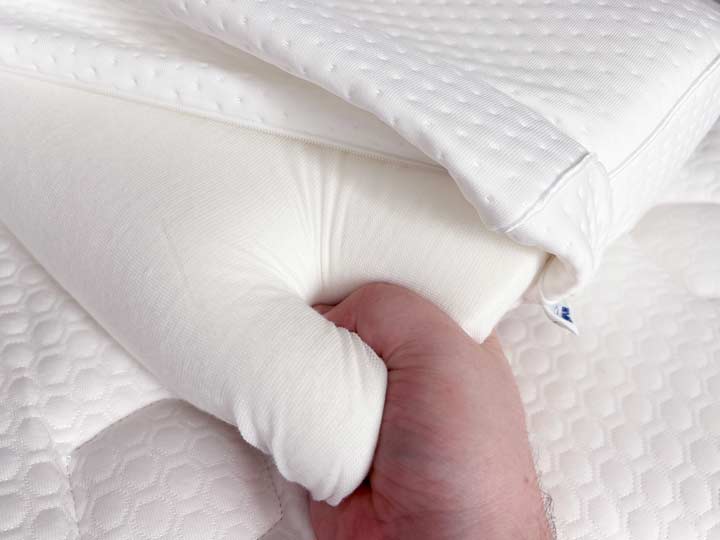 Average Weight Sleepers – 130 lb – 230 lb
The TEMPUR-Neck comes in different sizes to fit all body types. If you're more average in build, then the medium pillow is a great option for you. Side and back sleepers alike will be able to get proper neck support with this pillow. However, if you have broader shoulders, opt for the large version.
TEMPUR suggests measuring the distance from your neck to your shoulder to determine the right size. If you're anywhere from 4"-6", the medium is for you. If your shoulders measure 6"-10"+, get the large.
Overall, stomach sleepers really won't find what they need in this pillow, no matter your body type.
Heavyweight Sleepers – Over 230 lb
The TEMPUR-Neck is also a win for heavyweight back and side sleepers. Because this is a firm pillow, you might compress the foam a bit more than others, but you'll still get ample neck support.
I'd recommend the large in general for heavyweight sleepers, just because it will also have the highest loft. However, if you've got a very large frame and sleep on your side, be sure to check out our best pillows for side sleepers to find a taller pillow to accommodate your shoulders.
Lightweight Sleepers – Under 130 lb
Lightweight back and side sleepers should also enjoy the TEMPUR-Neck. And as is the case with average and heavyweight, your frame is more important to consider than your body type. If you have relatively short shoulders, opt for the small or medium pillow. If they're more broad, go for the medium or large.
TEMPUR-Neck Pillow Construction
Let's take a look at the materials that make up the TEMPUR-Neck pillow.
Cover
Like most TEMPUR-Pedic pillows, the TEMPUR-Neck features a soft, polyester knit cover on the outside. This cover is removable and machine-washable!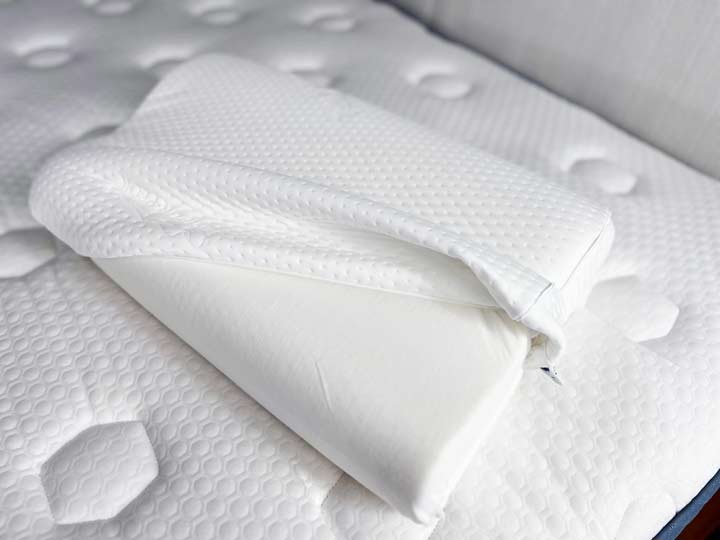 Core
The pillow is made from a single piece of TEMPUR material, which is TEMPUR-Pedic's proprietary memory foam. It has a unique, ergonomic design to it, being flat on one side and curved on the other to fit into the natural curve of your head, neck, and shoulder.
Height/Loft
When we talk about loft, we're referring to how tall the pillow is. Because the TEMPUR-Neck has such a unique shape to it, the loft will refer to the highest point of this pillow.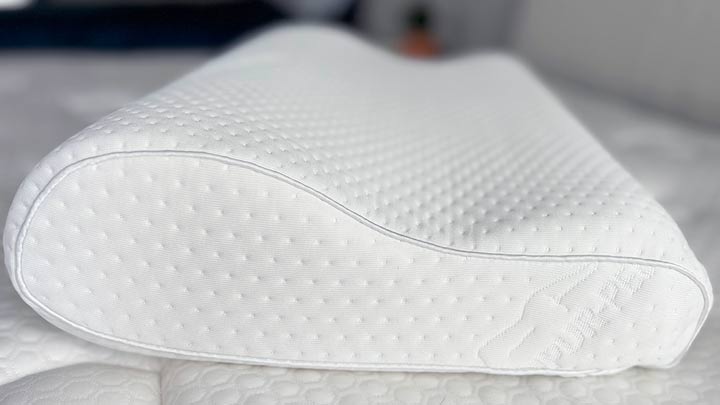 The loft changes depending on the size you're buying. For the small, the highest point is 3.5" tall, the medium is 4" tall, and the large is 4.75" tall.
TEMPUR-Neck Pillow Size Options and Price
Take a look at our handy chart below for up-to-date pricing information the TEMPUR-Pedic Neck Pillow.
| | |
| --- | --- |
| Size | Price |
| Small | $199 |
| Medium | $129 |
| Large | $159 |
TEMPUR-Neck Pillow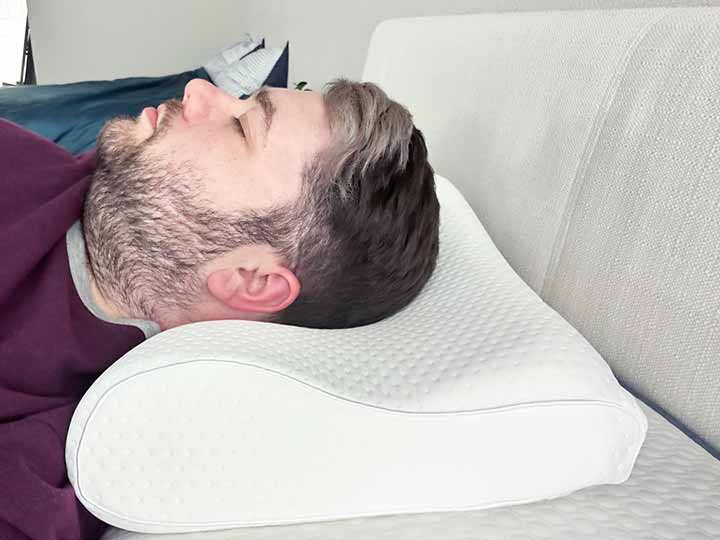 The ergonomic shape to the TEMPUR-Neck pillow makes it an ideal pillow for anyone dealing with neck pain. This solid slab of memory foam will contour to your head and neck, giving you good support and will alleviate neck pain.
Mattress Clarity Score
3.90 / 5
Read Full Review
TEMPUR-Neck Pillow Performance
Let's talk about how the TEMPUR-Neck performs in a few key categories.
Sleeping Hot or Cold
Generally speaking, memory foam is known to trap heat. Though the cover on the outside is designed to be breathable, the TEMPUR-Neck might not be the best choice for people who get hot quickly, or people who run extremely hot.
However, for a little extra money, you can opt for the cooling version of this pillow, which has a cooling gel infusion and a breathable cover.
Off-Gassing
The TEMPUR-Neck pillow is not compressed in a box when it arrives on your doorstep. Simply remove the packaging and it'll be good to go! You won't have to worry about an off-gassing, or any chemical smell.
Care Instructions
Because the TEMPUR-Neck is a memory foam pillow, the entire pillow cannot be washed. However, the outer polyester case can be removed and machine-washed.
Allergies
The polyester pillowcase that surrounds the pillow is listed as hypoallergenic. If you have allergies or sensitive skin, this should be a safe choice to use!
Company Policies
Here's what you can expect when you make a purchase with TEMPUR-Pedic.
Warranty Info
TEMPUR offers a substantial 5-year warranty on all its pillows. This doesn't include general wear and tear, but does cover physical flaws from production and if the pillow cannot return to its original shape.
Sleep Trial
Unfortunately, there is no sleep trial with the TEMPUR-Neck pillow.
Return Policy
TEMPUR considers the Neck pillow a personal item, so it does not offer returns or exchanges.
Common TEMPUR-Neck Pillow Complaints
No product is perfect. After poring over customer reviews, there seemed to be two stand out complaints.
The first was that the pillow was too firm, and it seems that there was a softer version that existed in the past. In my experience, the TEMPUR-Neck is the firmest TEMPUR pillow that the brand offers. If you've had a Neck pillow for a long time, and are used to something softer, note that this is a firm pillow.
The other complaint was that the pillow was too small in terms of length. Many customers reported that they are more used to, at the very least, a standard-sized pillow. Truthfully, this is a complaint I agree with. As someone who tends to switch sides frequently during the night, this pillow forced me to stay on one side. It didn't leave a lot of room for changing positions.
How Does the TEMPUR-Neck Pillow Compare to Other Pillows?
This is a pillow with a unique shape to it. So, let's see how the TEMPUR-Neck stands up to some more traditionally shaped pillows.
TEMPUR-Pedic vs Purple
When looking at mattress industry giants, if TEMPUR-Pedic doesn't first come to mind, chances are Purple does in its place. Purple is known for its unique gel grid, but the Purple Cloud pillow is fairly traditional.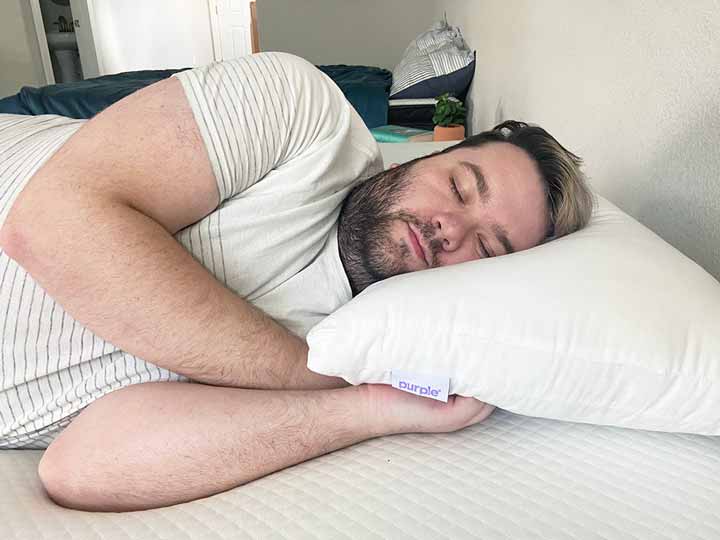 The Cloud is a down alternative pillow that feels very soft and plush, unlike the TEMPUR-Neck which is full of dense, firm memory foam. In terms of support, both do a good job. The Neck, thanks to its conforming shape, is a great support pillow. And the Cloud has a very tall loft to keep you sleeping more comfortably.
The TEMPUR-Neck has a washable cover, but the entire Purple Cloud is machine-washable for easy care. And when it comes to price, the Purple Cloud is considerably more affordable.
Who Should Get the TEMPUR-Neck Pillow?
Fans of slow-moving memory foam
Anyone looking for a firm pillow for neck support
Who Should Get the Purple Cloud Pillow?
Fans of fluffy down alternative pillows
Shoppers on a budget
Read our full Purple Cloud pillow review.
TEMPUR-Pedic vs Brooklyn Bedding
Memory foam can trap heat, so if you're a hot sleeper, but want a foam pillow, try looking at high-quality latex foam. One of my favorite latex pillows is the Brooklyn Bedding Talalay latex pillow.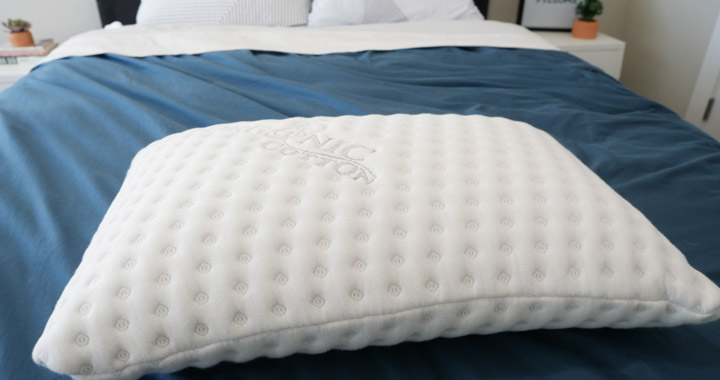 Unlike the TEMPUR material found in the Neck pillow, the latex foam in the Brooklyn Bedding pillow feels very springy and responsive. It's going to be much easier to move around on, and it is more traditionally shaped, unlike the Neck pillow.
But what makes latex great for hot sleepers is that on its own, it's a breathable material. But Brooklyn Bedding went a step further and perforated the latex foam in this pillow to make airflow a guarantee.
Who Should Get the TEMPUR-Neck Pillow?
Fans of extra firm pillows
Anyone looking for slow-moving memory foam pillows
Who Should Get the Brooklyn Bedding Talalay Latex Pillow?
Hot sleepers
People looking for responsive pillows that are easy to move around on
Read our full Brooklyn Bedding Talalay latex pillow review.
Our TEMPUR-Neck Pillow Ratings
Take a look at our Mattress Clarity score for the TEMPUR-Neck pillow!

TEMPUR-Neck Pillow Review
FAQs
Let's answer some frequently asked questions about the TEMPUR-Neck pillow, and other TEMPUR pillows in general!
How do you sleep with a TEMPUR-Neck Pillow?
The unique shape to this pillow can be a bit confusing as to where you place your head. There's an S-shaped curve to this pillow, with one side being higher, and one side being lower. To sleep comfortably on the TEMPUR-Neck, rest your neck on the higher part of this pillow, and let your head, neck, and shoulder follow the contour to find that comfortable sleeping position.
How long will the TEMPUR-Neck pillow last?
TEMPUR-Pedic uses high-quality materials in all of its products. When it comes to the TEMPUR-Neck, with good care, this pillow should last you around 4-5 years. This lines up with the 5-year limited warranty TEMPUR offers on this pillow
Does the TEMPUR-Neck pillow stop snoring?
For back sleepers, the Neck pillow could be a good option to help with snoring. Because the pillow will keep you sleeping in a more neutral position on your back, your airways should be able to stay open. Many customers mentioned that their partners stopped snoring once they started using the Neck pillow.
Tony Klespis
Tony is a staff writer at Mattress Clarity where he analyzes sleep products and appears in review videos. He earned a B.A in English from Sam Houston State University and a M.A in Mass Communication from Texas State University.
When he isn't writing about sleep products, Tony loves to unwind with a good book or can be found playing Pokemon Go outside with his friends, or cuddling with his cat, Penguin. He's always down to try a new, local restaurant and try new foods.