A big fluffy comforter can be a fantastic addition to any bedroom. The only downside is that the comfy thickness causes many of them to sleep hot. But fear not — we've put together a list of the best cooling comforters, all of which have a variety of designs, feels, and cooling materials in their construction. We know that there's no single best cooling comforter for everyone, so hopefully the breadth of options will help you find something that's the right fit for you!
Video Review: Best Cooling Comforters of 2023
Best Moisture-Wicking – Casper Humidity Fighting Duvet
The Casper Humidity Fighting Duvet can be used as a comforter and is a great luxury pick for hot sleepers. The comforter features high-end materials such as duck down and merino wool. Additionally, merino wool material is naturally moisture-wicking and is often found in products like hiking socks. The wool helps draw sweat away from sleepers, allowing them to cool down.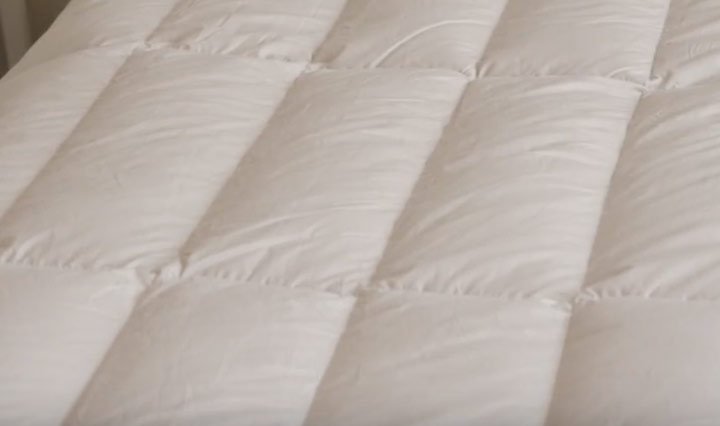 What Makes the Casper Stand Out?
The Casper features a shell made from 100% cotton that's more breathable than microfiber shells found in other types of comforters.
The duck down keeps the comforter lightweight and should allow for plenty of air to pass through.
It features duvet tabs on all four corners so it can be tied into a duvet cover.
Read our full Casper comforter review.
Best Hypoallergenic Comforter – ClimaBalance Down Alternative Comforter
Just based on the name alone, it's clear that ClimaBalance is designed with temperature regulation in mind. It has multiple mesh squares called "Climate Zones" that, on colder nights, allow air to pass through and warm to the temperature of the body. And on warmer nights, these zones let body heat escape and keep the sleeper cool. In addition, the ClimaBalance is a down alternative comforter, meaning that it's hypoallergenic and should be comfortable for anyone who struggles with allergies.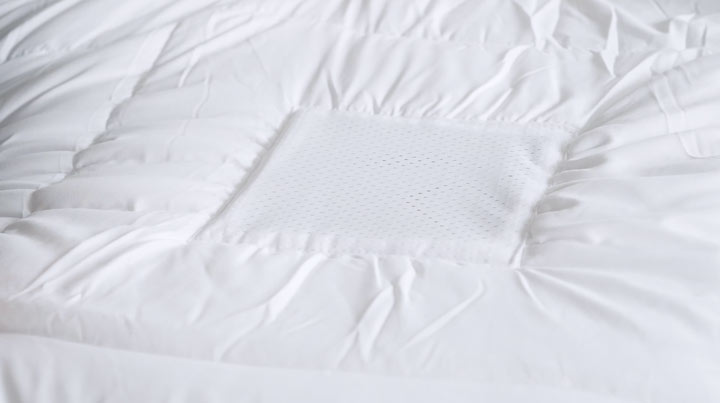 What Makes the ClimaBalance Stand Out?
The ClimaBalance is a thinner, lighter comforter, making it a good choice for summertime or hotter climates.
The company performed numerous tests and trials with the comforter and foun subjects fell asleep more quickly, moved around less, and spent more time in REM.
In my experience, I slept well underneath the ClimaBalance and didn't wake up hot and sweaty.
Read our full Climabalance comforter review.
Most Breathable Down Fill – Brooklinen Down Comforter
In general, down is more breathable than down alternative fills such as polyester. However, a down comforter with too much fill might still sleep hot. Those who love the feel of a classic down comforter but still want to sleep cool should take a look at the Brooklinen Down Comforter. We reviewed the All-Season model, which is filled with 700 fill power down clusters. While it isn't a heavy down comforter, there's still a nice amount of loft.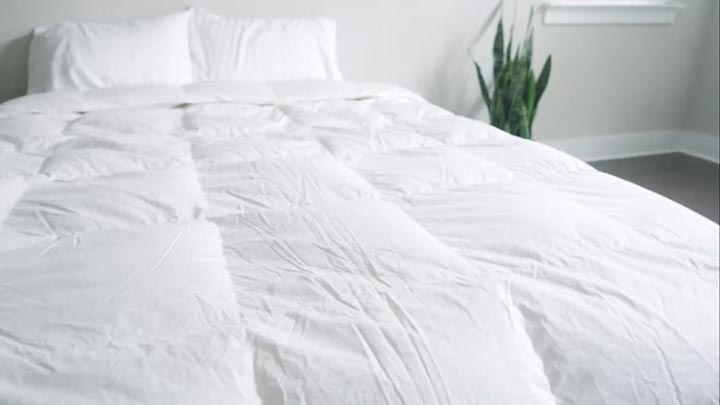 What Makes the Brooklinen Stand Out?
In its shell, the Brooklinen features 100% cotton with a sateen weave that's breathable and soft to the touch.
Those who sleep particularly hot can also opt for Brooklinen's Lightweight model which features less fill than the All-Season model.
The Brooklinen's down fill comes from Canadian Hutterite farms that don't participate in live-plucking.
Read our full Brooklinen comforter review.
Best Washable – Buffy Cloud Comforter
Looking for a comforter that's easy to maintain and incredibly cooling? Check out the Buffy! While you do need to hang this product to dry, it's fully machine washable. But let's not forget its cooling capabilities. Its plush Tencel cover is breathable and moisture-wicking, and its thread count of 300 allows for airflow. We'd consider this comforter a great option for year-round use. Even with its cooling components, it should keep you warm enough in the winter as well.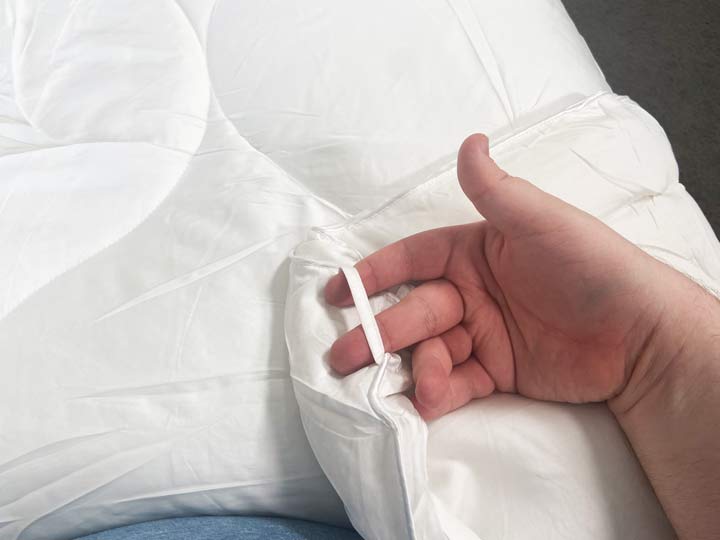 What Makes the Buffy Cloud Stand Out?
It's a great hypoallergenic comforter since it's filled with down alternative.
This comforter is incredibly soft and its quilted stitching should keep the filling well-distributed.
The Buffy Cloud includes free shipping and returns.
If you want to learn more, check out our full Buffy Cloud review.
Best Value – Linenspa Down Alternative Comforter
When shopping for a cooling comforter, the prices can be shocking to some. That's why I added the Linenspa to this list. Less than $40 for a Queen, it's the best value option. While the Linenspa doesn't include the specific cooling features of the Climabalance or Comfort Spaces, it should still be a good match for hot sleepers. After all, it's a thin down alternative comforter, so you shouldn't overheat.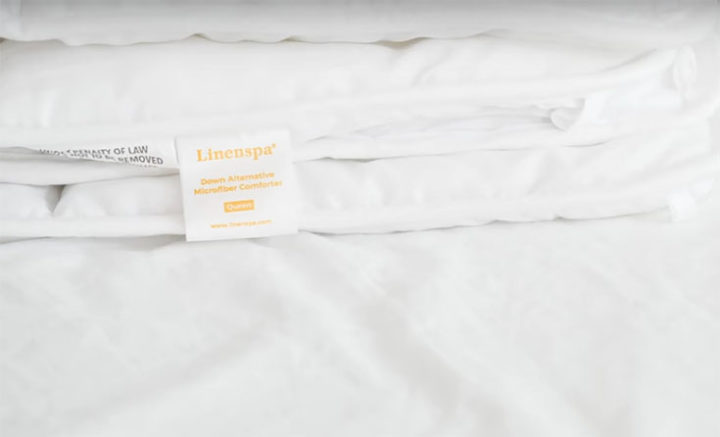 What Makes the Linenspa Stand Out?
The Linenspa's microfiber shell isn't the smoothest, but it should be excellent for a duvet cover.
It features eight duvet tabs, which make it easy to secure the Linenspa within a cover.
It's designed to work for all seasons.
Read our full Linenspa comforter review.
Best Cooling Comforter Considerations
Whether people decide to select one of the five comforters listed above or not, there are some factors to keep in mind when selecting a cooling comforter:
Shell Material
A breathable outer shell is a very important feature of any cooling comforter. Materials like cotton are going to be more breathable than some type of microfiber. At the same time, a cotton shell with a high thread count is going to be less breathable than one with a lower thread count; while a high thread count is usually better, it does not make the material the most breathable.
Fill Type
In general, natural down is more breathable than a down alternative such as polyester. It's a fluffier material tha's not as dense as down alternative materials. This allows for more airflow, so a down comforter should sleep cooler than a down alternative comforter.
Fill Weight
At the same time, an extremely heavy down comforter can sleep hotter than a down alternative comforter, so it is important to know how much fill is actually in the comforter. Generally, a lighter comforter with less fill is going to sleep cooler than something with a higher fill weight.
Additional Cooling Features
Many comforters feature additional materials to ensure that they don't sleep too hot. For instance, some comforters feature eucalyptus and bamboo, which can both help with heat dissipation. In addition, keep an eye out for comforters with some sort of proprietary technology like moisture-wicking MicaX.
Other Ways to Sleep Cool
There are plenty of comforters out there that have high-quality materials and great cooling abilities, much like the ones on this list. However, sometimes, just a comforter isn't enough. Here are some other products and tricks you can use to make sure you don't overheat at night.
Cooling Accessories
There are tons and tons of cooling accessories on the market. Our personal favorites are cooling pillows, cooling mattress toppers, and cooling sheets. So many innovations have gone into crafting accessories that not only help you get cool but keep you cool. They can even use some of the same materials as comforters: down, down alternatives, wool, polyester, cotton, and so on. Cooling accessories can complement each other well; for instance, you use a cooling comforter alongside cooling sheets for extra airflow in bed. Perhaps the best part is that buying cooling accessories is a lot cheaper than buying a cooling mattress, so this is ideal for those whose mattress isn't old enough to switch out yet.
Cooling Mattresses
While it isn't cheap by any means, a cooling mattress can make a fantastic long-term investment. After all, the wrong mattress can trap a lot of heat, and purchasing one with great cooling technology or naturally cooling materials can be a game changer.
Changing Your Lifestyle
It is recommended that in order to keep your body temperature cooler for bed, you avoid physical activity in the evening. Working out late in the day can create a lot of body heat that you carry with you to bed. Additionally, avoiding warm or spicy foods before bed might help you feel a bit cooler.
Final Thoughts
There is no reason that people should have to sleep hot at night, and finding the right comforter can go a long way in preventing this experience. Consider one of the five comforters listed above or just use them as a good jumping-off point!
RELATED: How to Wash a Comforter
FAQs
What type of comforter keeps you cool?

A lighter comforter with not too much fill is going to be a better choice for those hot sleepers out there; while down alternative fill is not as breathable as down, a light down alternative comforter can be extremely good for cooling. Hot sleepers should consider a comforter that features breathable materials such as organic cotton or bamboo or proprietary materials like MicaX.
What is the best cooling comforter?

One of our five best cooling comforters should be a great option for the majority of hot sleepers; however, our top pick would have to be the Casper Humidity Fighting Duvet. It is a luxury, high-end comforter that wicks moisture away from sweaty sleepers; people should be sleeping quite cooler under the Casper.
Can a comforter keep you cool in the summer?

While a comforter won't necessarily make sleepers cool in the summer, some comforters will sleep cooler than others. A lightweight down or down alternative comforter will be more breathable than a heavier comforter and will make for a cooler night of sleep; materials like bamboo or eucalyptus will also assist with heat dissipation.
What is the most breathable comforter?

The most breathable comforter we have reviewed would have to be the ClimaBalance; it features mesh squares that allow for an enormous amount of airflow.