Brooklinen is a producer of some very fine linens and bedding. I have personally reviewed a few of their items, so I was excited to try out their down comforter.
The Brooklinen comes in two models: Lightweight and All-Season, and I received the All-Season Down Comforter, which is designed to be fluffier and warmer than the Lightweight model.
Brooklinen is known for their luxurious bedding so, to find out if this is true luxury, read on for my full Brooklyn Down Comforter review.
10% Off
Brooklinen Down Comforter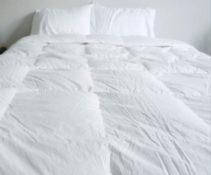 Brooklinen Down Comforter
The Brooklinen Down Comforter is a great luxury pick for hot sleepers. Click the button for 10% off Brooklinen. 
The Brooklinen Might Work For …
Those who want a durable, luxury down comforter. The Brooklinen contains some very luxurious materials like 400 thread count cotton and Canadian down clusters. These materials give the comforter a luxury look and feel, and they are also durable materials, making this a solid long-term investment.
Those who want something that can be used as a comforter or a duvet insert. When the Brooklinen arrives, one can throw it on the bed immediately and use it as a comforter. However, if someone wants to place it inside a duvet cover, the Brooklinen features corner tabs that allow it to be secured within a duvet cover.
Hot sleepers. For those who want a down comforter that won't make them wake up feeling sweaty, it is worth taking a look at the Brooklinen. The cotton shell is breathable and the down fill promotes airflow through the comforter, so most people shouldn't be sleeping too hot under the Brooklinen.
The Brooklinen Might Not Work For …
Those who want an extra fluffy comforter. While the Brooklinen does contain down clusters with 700 fill power, it is not the fluffiest down comforter I have come across. Those who want a comforter with more loft and fluff might have to look elsewhere.
Those who want a comforter for the colder months. Even though this is the All-Season model, it is not very insulating so , if someone is looking for a comforter that will add serious warmth to the bed, the Brooklinen might not be the best choice.
Those who are looking for an affordable comforter. The Brooklinen is a luxurious down comforter and contains a number of premium materials, and this luxury is reflected in its price. It is close to $300 for a Full/Queen size down comforter, so those who want to spend less money upfront might need to consider something without such fine components.
RELATED: Best Comforters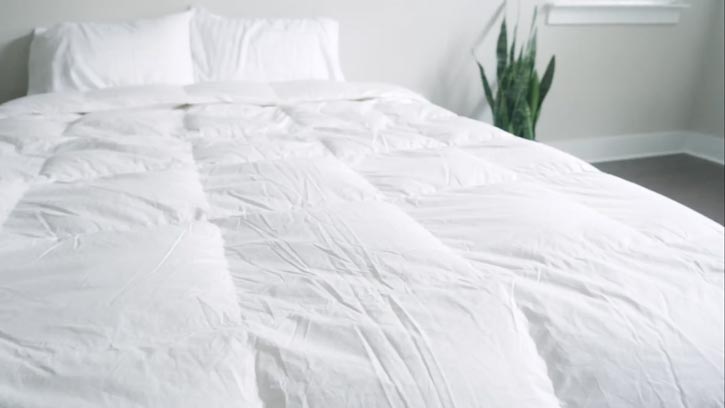 Construction
The outer shell of the Brooklinen is made of 100% cotton, and it is put together with a sateen weave with a 400 thread count.
The comforter features a baffle box design which allows the fill to expand more than it might in a sewn-through comforter.
The fill consists of 700 fill power, Canadian down clusters, sourced from Hutterite farms that never engage in live-plucking.
The Brooklinen features corner tabs which will let one secure the Brooklinen within a duvet cover.
Customers have three size options: Twin/Twin XL, Full/Queen, and King/California King.
10% Off
Brooklinen Down Comforter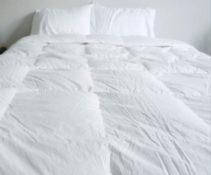 Brooklinen Down Comforter
The Brooklinen Down Comforter is a great luxury pick for hot sleepers. Click the button for 10% off Brooklinen. 
Feel And Loft
The Brooklinen's sateen shell is very soft and smooth and, running my hand top of the comforter, it is very smooth. Lying underneath the comforter, I can say that it feels nice against my skin, so I did not need to place the Brooklinen in a duvet cover.
However, I was surprised by the Brooklinen's lack of loft. Considering it contains down clusters with a 700 fill power, I thought it would be much fluffier. I believe this might have to do with the fill weight, not the fill power. Fill weight refers to how much fill one is actually getting in a comforter. The down can have a very high fill power but, if there isn't much of it, it won't be a very fluffy comforter.
While this is the All-Season comforter, it is not very heavy and, even with its 700 fill power, it is not a lofty comforter. Fluffier comforters usually exhibit a combination of high fill power and high fill weight.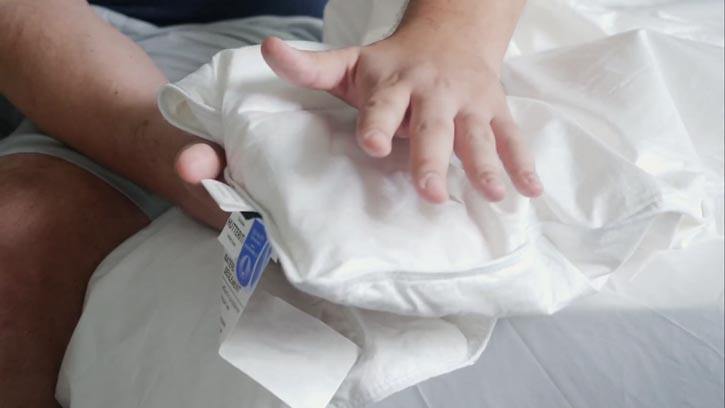 Warmth And Breathability
The All-Season Down Comforter is very breathable because the cotton shell and down clusters allow for quite a bit of air to flow through the comforter. Pairing the Brooklinen with some lighter sheets, I am not sleeping hot or waking up sweaty and clammy. The Lightweight model is even airier than the All-Season so I can imagine it sleeps even cooler!
However, when I set my thermostat to make my room even colder, the Brooklinen was not insulating me enough, and I had to pair it with another blanket. The Brooklinen could work as a duvet insert for a flannel duvet, which might provide more warmth during the colder months.
Cleaning
As is the case with most down comforters, the Brooklinen can only be cleaned at a dry cleaner or professional cleaner. However, the Brooklinen can be spot cleaned to handle minor stains.
People who are worried about making a mess should invest in a duvet cover because this will protect the Brooklinen, and a duvet cover is much easier to clean than a comforter!
Overall
All in all, the Brooklinen All-Season Down Comforter is a great luxury option for hot sleepers. I personally enjoyed my experience with the Brooklinen, but those who need a comforter for the colder months should look elsewhere.
The Brooklinen comes with free shipping and a Lifetime Warranty. Brooklinen also offers a number of items like sheets and duvet covers.
Marten Carlson
Marten is Senior Editor at Mattress Clarity. He covers the mattress industry as well as sleep science news. He is specifically interested in the connection between sleep and overall health. Marten has written for media publications like Consequence of Sound and received a master's degree in Film Studies from Emory University. He comes from Franklin, Indiana, and spends all the time he can writing, directing, and acting in films. He has directed genre short films and features. His newest film, Starlets, recently premiered at the River Town Film Festival in Clinton, NJ. He also stars in the upcoming thriller, Sour Bear. His next film, At The Hop, is a hot rod actioner with a horror twist.