There's a reason comforters are named as such – they just make you feel comfortable. For comforter lovers who are on a mission to be kinder to the earth, the Buffy Cloud comforter is a great option to look into.
In this Buffy comforter review, I'll cover everything you need to know about the company's Cloud model, from its construction, to how I felt using it, and more.
Who will Like the Buffy Cloud Comforter?
Hot sleepers
Fans of down alternative comforters
Anyone looking for eco-friendly bedding
Who won't like the Buffy Cloud Comforter?
Fans of down comforters
People looking for color options
Comforter shoppers on a budget
Buffy Cloud Comforter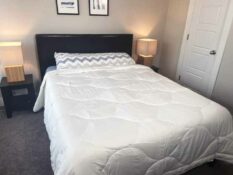 The Buffy is an eco-friendly comforter that features technology to fight overheating.
Mattress Clarity Score
4.80 / 5
Read Full Review
Buffy Comforter Materials
This is a great comforter for temperature regulation, so let's see what all went into the Buffy Cloud.
Cover
The outer shell of the Buffy Cloud comforter is made from a material called Tencel lyocell. This is a fabric derived from wood pulp from eucalyptus trees. It has been woven to feel rather soft and has a thread count of 300.
RELATED: The Best Thread Count for Sheets
Tencel lyocell is naturally breathable and it has some moisture-wicking properties to it. This is great news for hot sleepers because it means you shouldn't feel hot and sweaty under this comforter.
The cover has a quilted stitching pattern to keep the fill evenly distributed.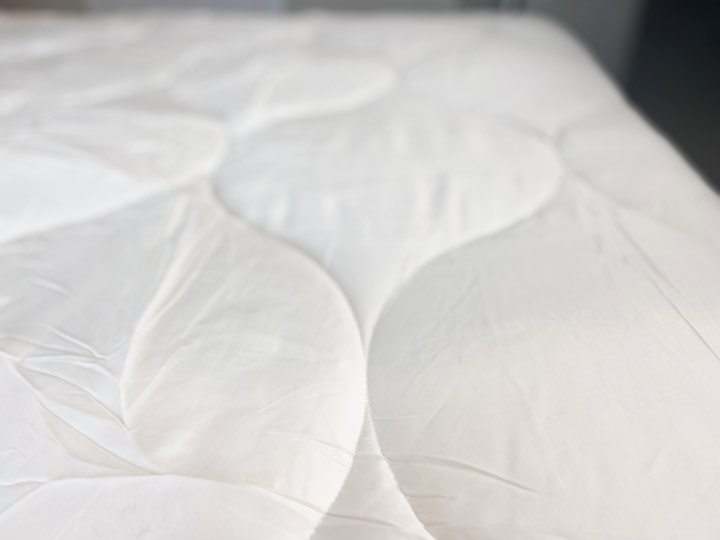 Fill
The Buffy Cloud is a down alternative comforter. On the inside you'll find a rather unique down alternative. Buffy sources recycled plastic bottles from landfills that have been shredded to make the fill for its comforters.
It feels very fluffy and soft through the cover. And for all of the earth-friendly shoppers out there, the recycled materials are a huge plus!
Warmth
The Buffy Cloud is more of a cooling comforter. However, it still does provide some warmth. When I was resting under this comforter, I was at a comfortable temperature.
I think this comforter should be great for year round use. It's got some cooling components to make it great for summer months, but can provide good warmth for the winter months.
Allergies/Allergens?
Down alternative comforters are known to be hypoallergenic. These fills don't tend to trap allergens in your sleep environment the way down clusters would.
Sleeping With the Buffy Comforter
As a hot sleeper, I tend to only use comforters in the middle of winter, when the temperature at night gets really low.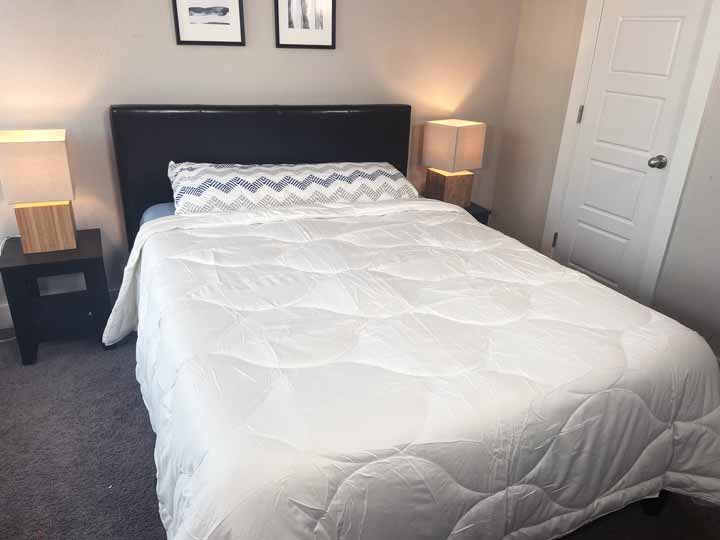 However, using the Buffy Cloud, I felt like I was at a constant comfortable temperature. Because this comforter has a cover made from Tencel, it's got a good amount of temperature regulation. It's breathable and moisture-wicking.
If you're the type of person who gets cold quickly, this is still a great comforter to keep the constant chill away!
Buffy Comforter Size & Price Chart
You can find this comforter through Buffy's website, or on Amazon! Either way, knowing the price is important. Check out our handy chart below for up-to-date pricing!
| | |
| --- | --- |
| Size | Price |
| Twin/Twin XL 90" x 70") | $129 |
| Full/Queen (90" x 90") | $169 |
| King/Cal King (105" x 90") | $209 |
Buffy Cloud Comforter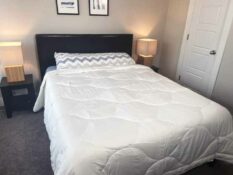 The Buffy is an eco-friendly comforter that features technology to fight overheating.
Mattress Clarity Score
4.80 / 5
Read Full Review
Caring for the Buffy Comforter
Here's how you care for your Buffy Comforter:
It is fully machine washable! Start in the washing machine with cold water and detergent of your choice. When done, you will need to hang dry.
If you'd like to keep the comforter clean, you can always add a duvet cover and machine wash that.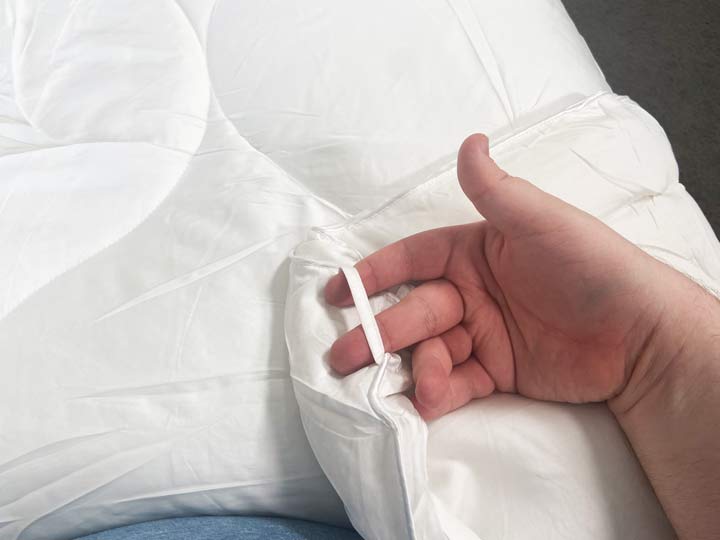 How does the Buffy Cloud Compare to Other Comforters?
It's always a good idea to keep your options open. Let's see how the Buffy Cloud compares to other comforters on the market.
Buffy vs Casper
Down comforters don't always perform the same way down alternative comforters do. If you're a fan of down comforters, Casper's Humidity Fighting Duvet is one of our favorites.
RELATED: Best Comforters
The biggest difference between the Casper duvet and the Buffy comforter is that you'll find down clusters from cruelty-free farms inside the Casper duvet. The Buffy Cloud uses recycled materials to make the fluff found inside its comforter.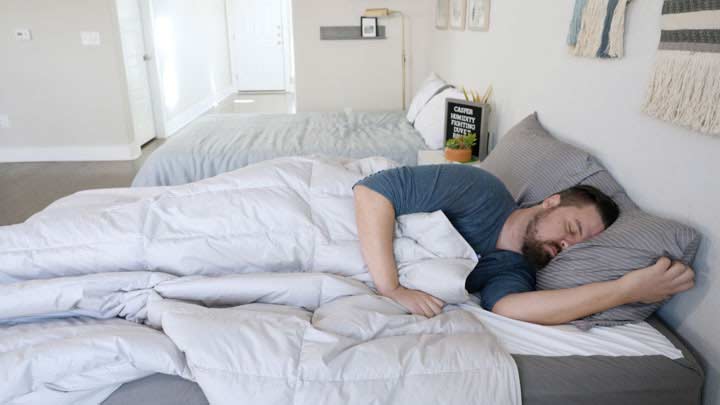 Both comforters should be good for hot sleepers, but they use different materials to do so. The Buffy Cloud is full of Tencel, which is made from eucalyptus fibers. The Casper duvet features merino wool, which is breathable and moisture-wicking, just like Tencel.
Despite "duvet" being in its name, the Casper duvet is more akin to a comforter with its sewn through pattern. Both the Casper duvet and the Buffy Cloud can be used as duvet inserts.
Both comforters are machine washable! No need for dry cleaning here. And finally, the Casper Duvet comes in two warmth options, while Buffy's only has one.
Who Should Get a Buffy Comforter?
Fans of down alternative comforters
Eco-conscious shoppers
Who Should Get the Casper?
People who prefer down comforters
Fans of cotton comforters
Read our Casper Humidity Fighting Duvet review.
Buffy vs Layla
Another down alternative comforter I've encountered is the Layla comforter. However, that's where the similarities stop between these two comforters.
Layla's features a cotton outer shell, while Buffy's is made from eucalyptus fabric. It can take less water to grow eucalyptus, and with the recycled water bottles inside of the Buffy Cloud, this is a much more eco-friendly option.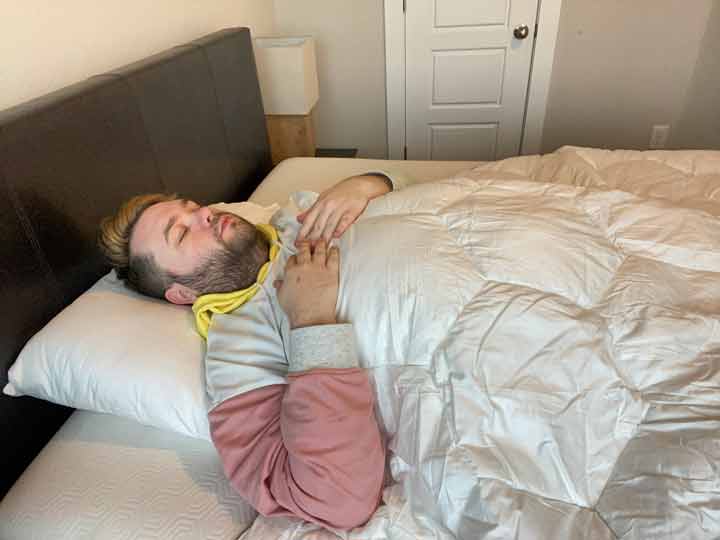 Inside of Layla's comforter you'll find their Cluster Loft material. This is a microfiber material that provides a good amount of fluff and warmth. If you get cold quickly, or are looking for something to retain heat well, Layla's comforter could be a better choice.
Layla does mention that the comforter is intended for year round use, but if you're a hot sleeper, I would recommend the Buffy.
Who Should Get a Buffy Comforter?
Hot sleepers
Eco-conscious shoppers
Who Should Get a Layla Comforter?
Fans of cotton comforters
People who get cold quickly
Read Our Layla Comforter review.
Buffy Comforter Review Rating
Take a look at our Mattress Clarity review score for the Buffy comforter!
Buffy Comforter Review
Summary
If you're looking for a year round comforter that can keep you cool but also feel cozy at the same time, then the Buffy Cloud is what you need. It's soft to the touch because of the Tencel cover, but the unique down alternative fill made from recycled water bottles will keep you cozy!
Company Policies for the Buffy Comforter
I've read the fine print so you don't have to. Here's what you can expect when you buy from Buffy.
Warranty
Buffy will accept returns 30 days after purchases, and will also accept manufacturing defects after those 30 days on a case-by-case basis.
Shipping Information
Buffy offers free shipping and free returns on your order!
Trial Period
Before you make a purchase, Buff will offer a seven day trial for free!
I should note, however, that Buffy will ask for payment information and place a hold or a temporary transaction before you keep or return the comforter during those seven days.
FAQs
I've gathered some of the most frequently asked questions about the Buffy Cloud, and other Buffy products to give you the most information!
How long do Buffy comforters last?
Buffy sells two comforters: the Buffy Cloud, which is what this review was about, and the Buffy Breeze, which is a thinner comforter intended for hotter climates, warmer months, and extremely hot sleepers.

Both comforters are made with eucalyptus and recycled materials that are long lasting. With good care, Buffy says your comforter can last you at least 15 years.
Does the Buffy comforter need a cover?
No! Buffy sells its comforters to be used as is. However, if you're looking for color options, or want to expand the life of your comforter, you can attach a duvet cover to the corner loops.
What if I don't like my Buffy comforter?
Buffy will let you test out one of its comforters for free with a seven-day trial period! After that, if you keep it, you have 30 days to make returns or exchanges.
Tony Klespis
Tony is a staff writer at Mattress Clarity where he analyzes sleep products and appears in review videos. He earned a B.A in English from Sam Houston State University and a M.A in Mass Communication from Texas State University. When he isn't writing about sleep products, Tony loves to unwind with a good book or can be found playing Pokemon Go outside with his friends, or cuddling with his cat, Penguin. He's always down to try a new, local restaurant and try new foods.