The Buffy is a down alternative comforter that just recently hit the market and, in a short amount of time, it has become very popular. Personally, I was interested in its eco-friendly components and temperature-regulating properties.
To find out if the Buffy is a green option that will keep sleepers' bodies at the perfect temperature, read on for my full review!
Buffy Comforter Deals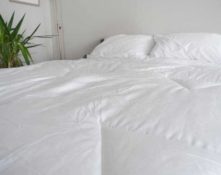 The Buffy is an eco-friendly comforter that features technology to fight overheating. 
The Buffy Might Work For …
Those who are looking for a green product. For people who want a piece of bedding that is made with consideration for the environment, the Buffy comforter should be a good choice because the cover contains eucalyptus that is responsibly sourced, and the fill is made from recycled plastic bottles.
Those who struggle with allergies. While down is naturally fluffy, it can also trap allergens and dust mites, so some allergic sleepers may complain of watery eyes or a runny nose when they use a down comforter. The Buffy should be a good choice for people who deal with allergies because the recycled fill is hypoallergenic, so it shouldn't trap those allergens.
Those want a comforter for fall or winter. The Buffy comforter is on the thinner side, but it had no problems keeping me warm on colder nights. (Granted, I live in Austin, where it never gets terribly cold.) I felt great insulation, and it was decently breathable. For those who want something light to warm them during the colder months, the Buffy should work.
RELATED: Best Comforters Reviews
The Buffy Might Not Work For …
Those who want a lofty comforter. Those who like their comforter to give them the feeling that they are sleeping under a cloud might not love the Buffy. It is a thinner comforter overall, and while it does keep me warm, it doesn't have that fluffy loft one gets with a down comforter.
Hot sleepers.  For those who often overheat at night, the Buffy might not be the best choice.  It features 37.5 technology and a breathable cover, which are both meant to regulate temperature, however, in my experience, the Buffy felt somewhat stuffy when it was warmer in my bedroom. I did have to move out from beneath the comforter because I was getting too hot. I am a naturally hot sleeper, so those who are like me might overheat under the Buffy.
Those want a value down alternative comforter. One of the upsides of down alternative comforters is their relatively lower price compared to down. The Buffy is currently priced at $150 for a Queen size, which may or may not seem affordable to some. The Buffy does come with some interesting features, namely the 37.5 temperature regulating technology, but those who want a more affordable down comforter might want to look elsewhere.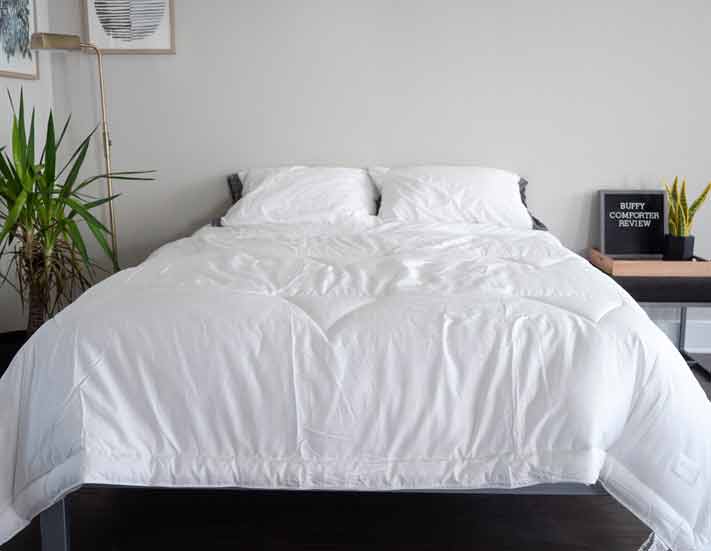 Buffy Construction
The outer shell is made of 100 percent eucalyptus fabric with a 300 thread count.
The fill is a hypoallergenic down alternative made from recycled plastic bottles.
The shell fabric and fill contain 37.5 technology which are active particles designed to regulate body temperature and keep sleepers from getting too cold or hot.
The comforter features sewn-through triangles to hold part of the fill, while the rest of the fill is more loosely held throughout the rest of the comforter.
The Queen-size dimensions are 90″ X 94″
Buffy Feel
While lying under the Buffy, I can really feel the eucalyptus in the shell. First off, it feels very soft — softer than many cotton and microfiber comforter shells we have reviewed. In addition, it is worth noting that eucalyptus has anti-inflammatory properties and could theoretically help keep one's skin smooth.
In addition, the eucalyptus in the shell can also help with cooling, and the cover also contains the 37.5 particles which can further cool sleepers when they are feeling hot. The comforter is cool to the touch and feels nice against the skin.
RELATED: Duvets vs Comforters
Buffy Comforter Deals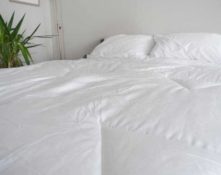 The Buffy is an eco-friendly comforter that features technology to fight overheating. 
Buffy Loft
I expected the Buffy to be fluffier based on the advertising and product notes. When I took it out of the box, it did seem like it was going to be a very lofty comforter, however, once I unfolded the comforter, shook it out, and placed it on the bed, it appeared quite thin.
The Buffy comforter has a very low profile and lies almost flat on the bed, but this is a down alternative comforter, and these are rarely as fluffy as a down comforter. For those who want a thinner comforter, it could be a good match but, those who like a lofty comforter that really rises off the bed should look at a down comforter.
Warmth And Breathability
For a thinner comforter, the Buffy is surprisingly warm and, on colder nights, the comforter was very insulating and another layer of bedding was not necessary.
However, when it was warmer outside, I did overheat somewhat. For a down alternative comforter, the Buffy has decent breathability but, considering the eucalyptus fabric and 37.5 technology, it does not sleep extremely cool.
It is possible that some people could find this to be a good fit even on warmer nights. However, most hot sleepers should consider a cooler, more breathable comforter.
Washing
One of the upsides of down alternative comforters is that they are machine washable. This means the Buffy comforter can be cleaned in an industrial-sized washer and dryer. However, the company says:
"We recommend that you dry clean the Buffy to keep it in tip-top shape. Buffy is only machine washable in a large industrial washing machine. Smaller washing machines may damage the Buffy. The Buffy is made from ingredients to love and care for, and dry cleaning will ensure it lasts a lifetime."
In addition, they recommend putting the comforter in a duvet cover, so that one can simply take the cover off and wash it at home.
Overall
In the end, I was impressed by the green, eco-friendly nature of the Buffy comforter, and the responsibly sourced eucalyptus and recycled fill made me feel comfortable knowing this was a more environmentally sustainable product. The comforter was also warm and insulating, and I did not need another layer on colder nights.
However, I did find the comforter to be thin. I prefer a fluffier comforter, especially when I plan on using it on colder nights. In addition, as a hot sleeper, the Buffy did cause me to overheat somewhat.
For those who want to try the Buffy, they have a very unique sleep trial available. Customers can try the Buffy for 30 days for free and, if they don't enjoy the Buffy, they can simply send it back before the 30 days are up.
Marten Carlson
Marten is Senior Editor at Mattress Clarity. He covers the mattress industry as well as sleep science news. He is specifically interested in the connection between sleep and overall health. Marten has written for media publications like Consequence of Sound and received a master's degree in Film Studies from Emory University. He comes from Franklin, Indiana, and spends all the time he can writing, directing, and acting in films. He has directed genre short films and features. His newest film, Starlets, recently premiered at the River Town Film Festival in Clinton, NJ. He also stars in the upcoming thriller, Sour Bear. His next film, At The Hop, is a hot rod actioner with a horror twist.