At Mattress Clarity, we take sleep seriously and that's why we scoured the web to find the best – and in some cases the weirdest, most eccentric – travel pillows out there. After hours of research, rigorous testing and plenty of resting in our car, we've put together our five favorite travel pillows!
Each pillow was handpicked for a specific reason – geared towards those who are on a budget, genuine fans of the window seat or those who are merely beginning to travel and need guidance – we've got everyone covered.
Check out our top picks below and scroll down to the bottom to find our detailed and significant tips for selecting the best travel pillows of 2023. Safe travels!
Our Top Picks for the Best Travel Pillows
Editor's Pick- Ostrichpillow Go Neck Pillow
Who is it For?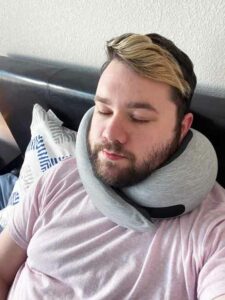 A standout among travel pillows comes from Ostrichpillow. The company makes a variety of travel items, but the Go Neck pillow is one of the best travel pillows we've encountered.
This pillow has an ergonomic design and offers 360 degrees of both comfort and support for your neck. It's made of a soft, slow-moving memory foam core that provides good support. And it features a removable, outer cover made from viscose that is machine-washable.
Ostrichpillow designed this pillow for travel, but even if you're looking to use this at home to relax with, it goes above and beyond the typical U-shaped travel pillow.
Plus, this pillow can be compressed into the bag that it comes with, so it won't take up too much space in your suitcase or carry-on bag!
What Makes the Ostrichpillow Go Neck Pillow Stand Out?
It's made of supportive, but soft memory foam.
The Go Neck pillow has an ergonomic design to give 360 support for both your neck and your chin.
It's perfect for both travel and relaxing around the house.
Best for Chin Support – BCozzy Neck Pillow
Who is it For?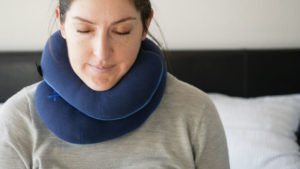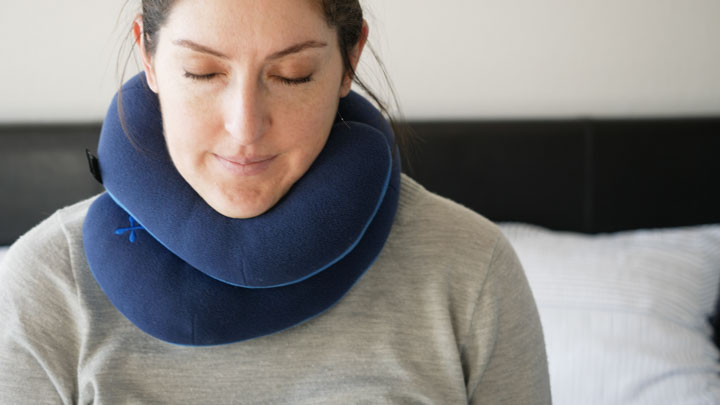 Traditional U-shaped travel pillows are great if you want to lean your head back on the plane. But for those who find their head falling forward, chin support is a must.
The BCozzy Neck pillow surrounds your neck, and can fit necks up to 16" thick. It connects in the middle, giving your chin something to rest on, meaning you don't have to worry about your head dipping forward and waking you from your slumber.
This isn't a compressible travel pillow, but it has a snap attachment that makes it easy to hook on to your luggage.
This pillow has easy, machine-washable care and comes in a variety of sizes, including a child size!
What Makes the BCozzy Neck Pillow Stand Out?
This pillow surrounds your neck, giving you exceptional chin support.
It's an affordable travel pillow.
It comes in a variety of sizes and colors for just about any preference.
Best for Neck Support – trtl
Who is it for?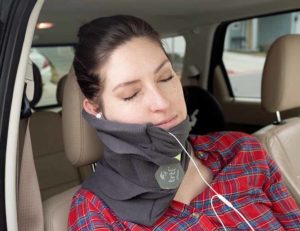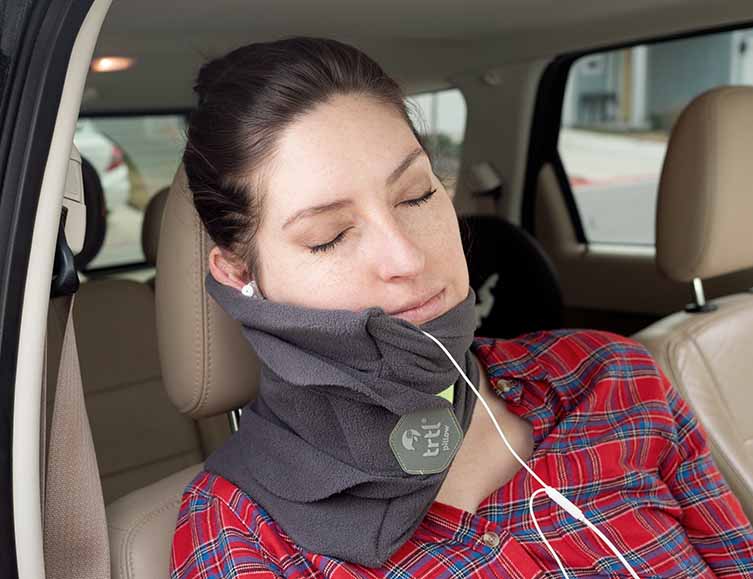 The trtl (pronounced turtle) pillow is another innovation on the traditional U-shaped travel pillow. This travel pillow looks more like a scarf or a neck wrap than it does a pillow, but it still works to give your neck some of the best support while you're traveling.
Trtl combines soft polyester fleece and an inner, plastic support to give your neck total 360 support. The inner plastic support is curved to fit the shape of your jaw, neck, and shoulder and is sturdy enough to rest your head's weight on. And because it's wrapped in that soft fleece, it still feels incredibly soft.
Trtl also sells the trtl Junior, which is the company's travel pillow specifically for children. Whichever option you choose, you can remove the plastic support and throw the fleece cover into the washing machine for easy care.
What Makes the trtl Stand Out?
The trtl pillow comes in a variety of colors.
It's designed to wrap around your neck to provide exceptional neck support.
It has easy care and is relatively affordable!
Best Organic – Avocado Mini Molded Latex Pillow
Who is it For?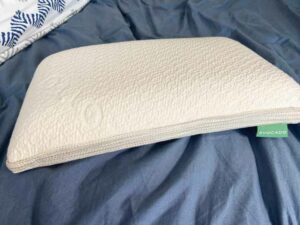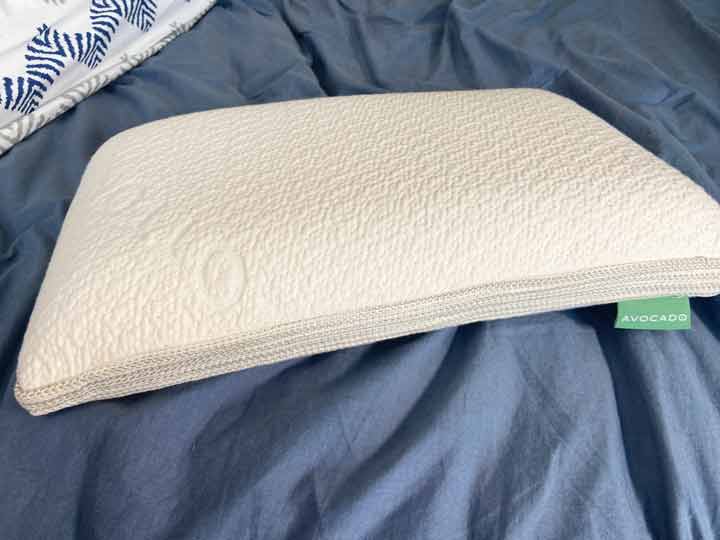 For those looking to travel with an organic, eco-friendly pillow, Look no further than Avocado. The company makes organic products through and through, and recently have introduced a mini pillow that's perfect for travel.
The mini molded latex pillow is the company's standard molded latex pillow, but just mini! It features a single slab of latex foam that has been perforated which will allow for air to flow through this pillow very easily.
This pillow isn't designed to fit your head or neck in any way, but the smaller size makes it easy to fit in any of your travel luggage.
The materials used to make this pillow are Forest Stewardship Council (FSC) and Global Organic Textile Standard (GOTS) certified. These certifications mean that the latex and cotton are grown and produced in environmentally safe and responsibly managed ways.
What Makes the Avocado Mini Molded Latex Pillow Stand Out?
The Mini latex pillow is a great option for eco-conscious shoppers.
It won't trap heat thanks to its breathable materials.
It's shaped like a regular pillow, but small enough to fit in your luggage.
Best Memory Foam – Brentwood Homes Crystal Cove Mini Charcoal Pillow
Who is it for?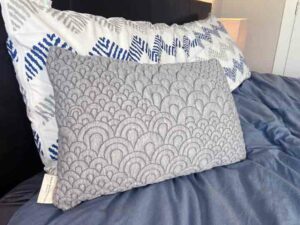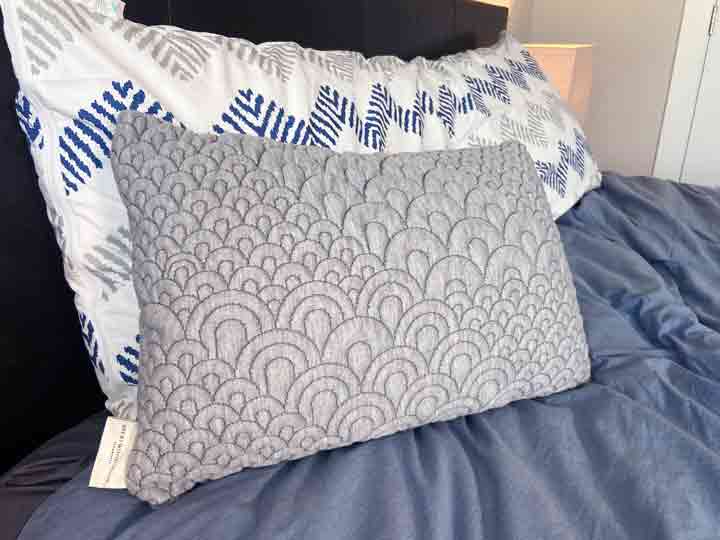 If you love memory foam in your pillows at home, then you're in luck! You can have it in your travel pillow, too. The Brentwood Homes mini charcoal pillow is the perfect memory foam pillow that is perfect for travel situations.
This pillow features shredded, charcoal-infused memory foam. This material has that classic slow-moving quality to it, but the presence of charcoal means it won't trap heat and will be odor-resistant! Foam can trap heat, but this pillow maximizes breathability with shredded foam, and a breathable outer cover.
If you take off the outer, removable cover, you'll find the inner pouch of foam. This also has a zipper on it, which means you can take out the fill to make it flatter, or make it easier to fit into your luggage.
What Makes the Brentwood Homes Mini Charcoal Pillow Stand Out?
It features shredded, charcoal-infused foam so it won't trap heat.
It has an outer, removable cover that can be machine-washed.
You can take out fill from the inner pouch to accommodate your sleeping position.
Best for Side Sleepers -Pillow Cube
Who is it for?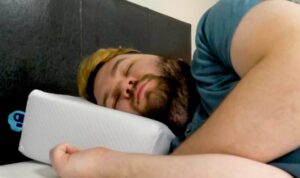 The makers of the Pillow Cube designed its pillow specifically for side sleepers. But the good news is, the original pillow – now called the Sidekick – is the perfect travel pillow for my fellow side sleepers out there.
This pillow is a solid piece of memory foam that fits your "shoulder gap," or the space between your head, neck, and shoulder.
This makes the pillow really easy to prop your head up against the airplane, train, or car window, all while getting plush comfort from the thick memory foam.
Because of its cube shape, it's nice and compact and will fit into your luggage fairly easily. And if you're an especially hot sleeper, you can opt for this pillow with a cooling cover!
What Makes the Pillow Cube Stand Out?
Its cube shape makes it easy to prop your head up against a flat surface without craning your neck.
It is made of a thick, solid piece of memory foam that feels very soft, but supportive.
Pillow Cube offers a cooling cover for all you hot sleepers out there.
Read our full Pillow Cube review.
Best Cooling- Huzi Infinity
Who is it for?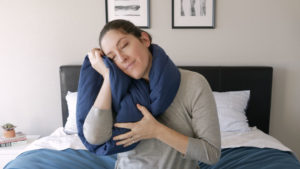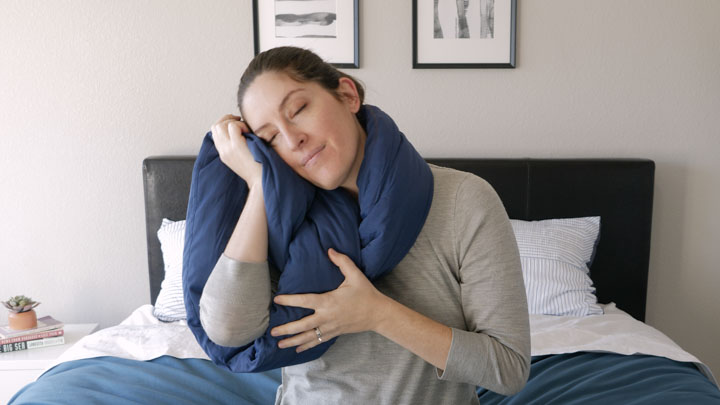 Sleep while traveling is already difficult, and you don't need to add overheating or sweating into the mix. The Infinity travel pillow is an incredibly versatile pillow that will keep you from feeling hot and sweaty while you're traveling.
It's made of breathable and moisture-wicking bamboo viscose. This material is great for hot sleepers! You won't feel hot and sweaty with this pillow around your neck.
Speaking of, this is another travel pillow that surrounds your neck entirely, giving you 360 support so both your neck and your chin will feel supported while you sleep. Better yet, the whole pillow is machine-washable for easy care!
What Makes the Huzi Infinity Stand Out?
It's made from breathable and moisture-wicking bamboo viscose, so you won't feel hot and sweaty.
This pillow has easy care instructions: throw the whole thing into the washing machine!
It comes in six different colors, is affordable, and a truly versatile pillow!
How to Pick the Best Travel Pillow
With a variety of travel pillows out on the market, each featuring different designs and materials, it can be hard to know what's right for you. Let's discuss some of the most important factors to keep in mind before hitting "check out."
RELATED: Can You Bring a Pillow on a Plane?
Size
Truth be told, size matters when it comes to your travel pillow. Not all bodies are made the same, and the same can be said for pillows.
No one wants their travel pillow to take up precious luggage space, and no one wants to lug around a massive pillow, either. And some necks are thicker than others.
Before hitting "check out" be sure to look at the dimensions provided!
Travel Distance
Many travel long distances often while others take quick trips once or twice a year. For long-haul flights, it's crucial to find a pillow that can keep the head supported and the neck relaxed long enough to fall asleep for several hours.
Type of Travel
Gone are the days of neck pillows molded solely into an expected (and somewhat severe) U-shape. Now, travel pillows come in a plethora of shapes and sizes – with some styles better suited for planes and trains than for automobiles.
Selecting a seat on the plane in advance can be beneficial; passengers sequestered in middle seats can find a pillow that fits precisely on that airplane tray table.
RELATED: How to Sleep on a Plane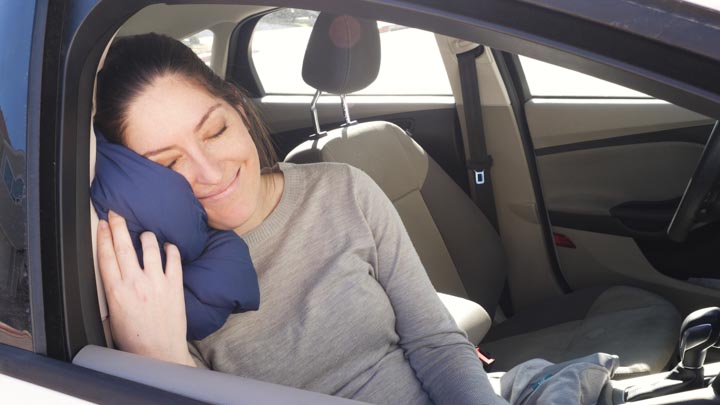 Surface Material
If there's one thing we're certain of, it's that planes and other modes of public transportation are germ magnets.
Consider investing in a pillow that can be easily sterilized; travelers will welcome the myriad of options with removable covers, too.
RELATED: How to Clean Your Pillow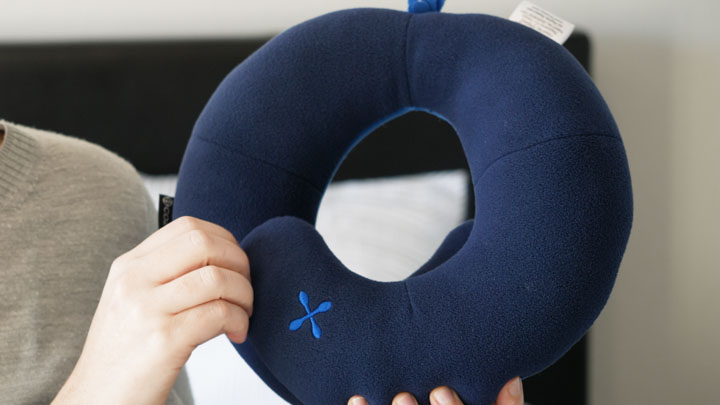 Filling
Travel pillows come stuffed with a diverse array of materials – from cotton and polyester to memory foam and inflatable options.
We always encourage travelers to think about their priorities and preferences when it comes to a travel pillow, things like the ability to compact the pillow in size for easy packing, the support level or added features like adjustability. These are all impacted by the type of filling in the travel pillow, and some are easier to manipulate than others.
Functionality
These days, travel pillows can provide more than just a comfy place to rest one's head. We've reviewed pillows with pockets for media players and some that will help block out light and sound if desired. Fancy, right?
RELATED: Best Sleep Masks
Price
Some of us just barely have enough cash to pay for the plane ticket or tank of gas, let alone the budget for a travel pillow. The good news is that people don't have to break the piggy bank to find a great pillow – travel pillows can range from under $10 to nearly $100.
Final Thoughts
There are a plethora of terrific travel pillows out there just waiting to be scooped up for the next adventure! Check out our list and use our guide above to help narrow down the choices.
Leave a comment in the YouTube video for a personal recommendation as well!
FAQs
How do I choose a travel pillow?
There are a lot of factors to consider when choosing a travel pillow. It's worth considering one's own body size, the size of the space that a person is traveling in and the size of the travel pillow itself. Consider if this trip counts as a long-haul, and are there plans to sleep? Does the pillow need to serve a certain purpose, and does it work against a plane window or stay anchored to the neck? Additionally, you'll want to think about the type of travel (plane, bus, train or car, or something else, perhaps?). You'll also want to think about the material you want your travel pillow to be made of, including the surface material and the filling. And, of course, you'll want to consider your price range (there are some affordable options out there!).
What is the best travel pillow for long flights?
Because travelers are more likely to sleep for extended periods on longer flights, the best travel pillows for long haul flights are ones that cover a couple of important factors. One, they need to complement the space one is seated in and they also need to support the person's primary sleeping position. It also doesn't hurt if the travel pillow has the ability to stay anchored to one's seat or body. The pillows on my list that I like the best for these flights are the Infinity pillow, the trtl Pillow Plus, and the Candy Cane Pillow. They're versatile, stay anchored (for the most part) and are affordable options.
Are travel pillows worth it?
Yes, travel pillows are absolutely worth checking out. This is because travel pillows can help one sleep while traveling and sleep is so important! Sleep impacts every facet of our lives, our physical health, mental health, all that good stuff. So, yes, if the traveler desires to sleep on a trip we'd highly recommend picking up a travel pillow.