Do you sleep on a plane or stay awake? Many of us who travel frequently have simply become accustomed to sleeping poorly (or not at all) during flights. We've grown used to the mediocre movies showing and the deep envy we feel as we look around the cabin and see our fellow passengers in a deep REM state.
However, most people don't fully explore their options, even after many sleepless journeys, and leave good rest on the table (the tray table, in this case).
Read on for our latest advice on how to sleep on a plane!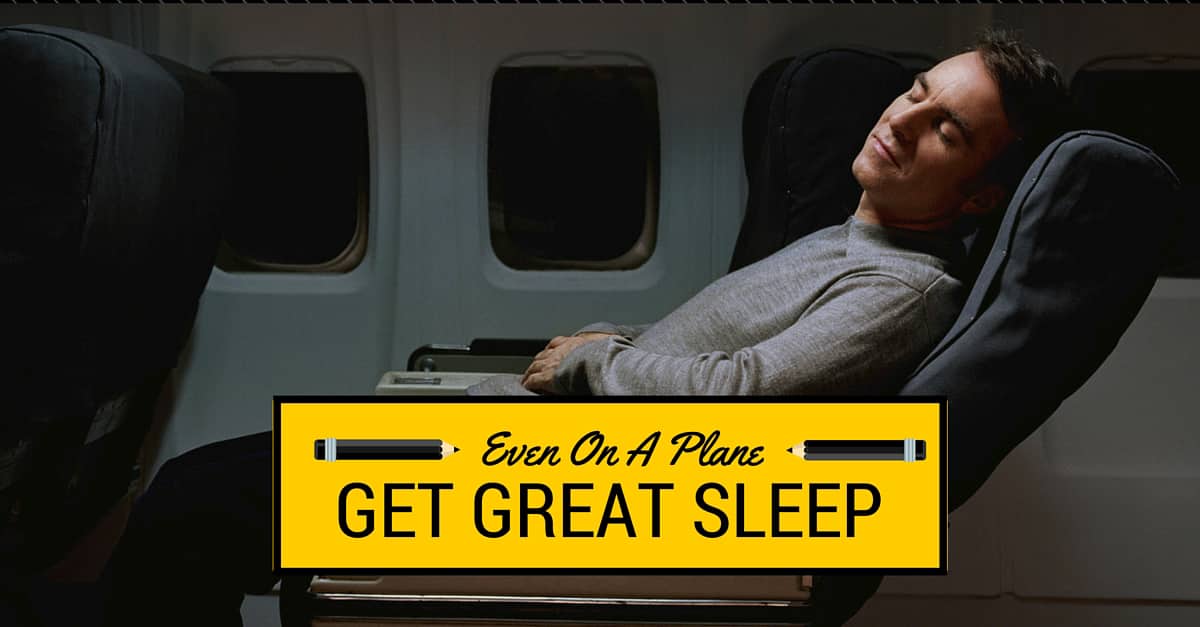 How to Sleep on a Plane: 3 Pre-Flight Tips
Choose Your Side
When people buy a mattress online, they should start by understanding what type of sleeper they are. Do they sleep on their side, back, stomach, or combination?
Know on a plane you are restricted to back and side, so make sure you pick your seat based on this knowledge. Know which seats will recline, and make sure you get one if you're a pure back sleeper. If you're a side sleeper, know your side and choose a window seat on the side of the plane that lets you get to your comfortable position.
Dress Comfortably
I'm guessing that people don't go home and sleep in a suit. So don't wear one on the plane!
People should find some clothes that make them feel comfortable and relaxed, put the suit in the carry-on. Footwear is a big concern for some as well, don't be afraid to kick off your shoes and be wearing just socks for the flight.
Exercise
Not right before the flight, but it definitely helps to get a little activity in the day of your flight. Don't overdo it, or else you run the risk of cramping up, but it definitely helps you fall asleep if you are itching to get in that chair and rest a little bit.
RELATED: What's the Link Between Sleep and Exercise?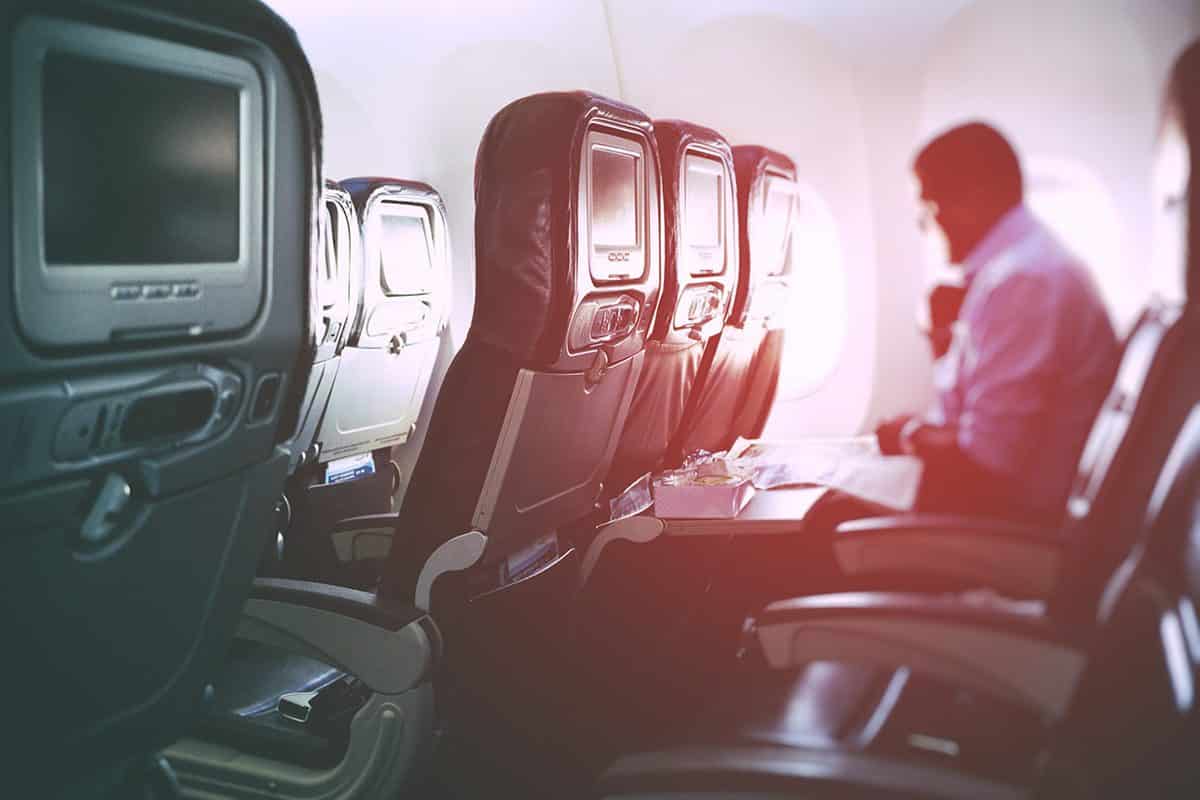 3 Tips for Sleeping on a Plane During the Flight
Get a Travel Pillow
You know, the super touristy ones that you really dread (in a U shape). The thing is, travel pillows are incredibly useful for sleeping well, but are often used wrong.
Instead of making the bottom of the "U" behind your neck, put it in front of your neck so that it holds your head upright. This will make it so that your head can rest and give your neck some time off during the flight.
RELATED: Can You Bring a Pillow on a Plane?
Dull the Senses
Invest in a quality sleep mask and earplugs. Again not the most stylish choice, but after all the hard work people did to fall asleep, the worst thing that could happen is that they're disturbed by some random noise or light.
And the sense that they always regret not tending to? Smell.
There's a good chance that someone is going to ruin the flight with their takeout food or smelly feet, so we suggest a slight scent on the previously mentioned pillow to keep the nose happy as long as possible.
RELATED: Aromatherapy for Sleep
Be Prepared for All Climates
Every airplane temperature is a little different, so dress in layers and be prepared for whatever comes one's way. A sweatshirt can be a good option since it can be removed, and when on can regulate the temperature of both the head and upper body.
There's no guarantee that people are going to get a great night of sleep when they're traveling, but people should do what they can to move the odds in their favor.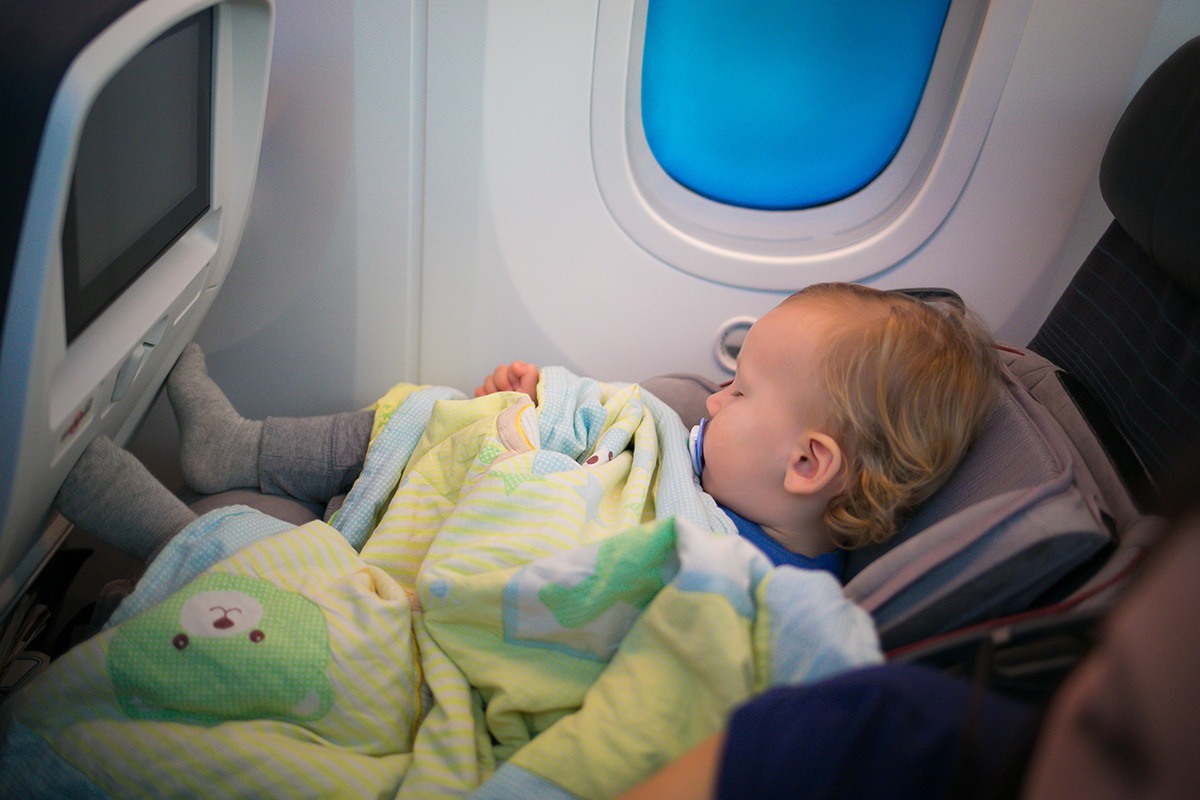 5 Tips for Sleeping on a Red-Eye Flight
Sleeping on a red-eye flight can be very difficult. You're in a small seat, surrounded by strangers, and breathing in stale airplane air—not exactly the setup for an ideal night's rest.
Nevertheless, sleeping on a red-eye is crucial if you want to prevent jet lag from ruining your vacation or business trip.
Luckily, there are a few strategies to make resting on the plane a little bit easier. Here's how to make it happen.
Pick the Seat Strategically
Window seats are great because people can lean against them for a bit of support while they sleep. If possible, avoid sitting near the front of the cabin, where parents with infants and young kids often sit for the extra space.
Also, steer clear of the back of the cabin, where people may line up for the bathrooms or flight attendants may be moving around the galley as they prepare meals and drinks.
Don't Overdo It on Drinks or Caffeine
Even though a few glasses of wine might make people feel pleasantly sleepy, alcohol is known to interfere with sleep quality. It also has a dehydrating effect, which is bad news when people consider that it's important to stay hydrated in-flight. When people are properly hydrated, they're less likely to wake up feeling thirsty.
Finally, stay away from stimulating caffeine (at least until breakfast is served).
RELATED: How Caffeine Affects Sleep
Make the Most of an Eye Mask and Earplugs
Many airlines will provide these accessories, or people can bring their own. The illusion of a dark, quiet space will make it much easier for someone to fall asleep.
Bring a Blanket
If people have space, they should pack a light blanket or shawl of their own, especially when traveling with children. They'll feel better wrapping themselves up in something familiar from home—plus, they won't lie awake wondering whether or not they really wash those blankets between flights.
If You're Desperate, Splurge on a Lie-Flat Seat
Yes, those incredible lie-flat seats that come with the really expensive tickets really do make it easier to sleep on a plane.
As Telegraph travel expert Dr. Richard Dawood says, "Unfortunately, airlines recognize the high premium passengers place on being able to sleep in comfort while they travel."
If it's absolutely critical that you arrive at your destination well-rested, consider upgrading with miles or paying cash to get a lie-flat of your own.
RELATED: 5 Sleep Tips for Holiday Travel
Joe Auer
Joe Auer is the editor of Mattress Clarity. He mainly focuses on mattress reviews and oversees the content across the site. He likes things simple and takes a straightforward, objective approach to his reviews. Joe has personally tested nearly 250 mattresses and always recommends people do their research before buying a new bed. He has been testing mattresses for over 5 years now, so he knows a thing or two when it comes to mattress selection. He has been cited as an authority in the industry by a number of large publications. When he isn't testing sleep products, he enjoys working out, reading both fiction and non-fiction, and playing classical piano. He enjoys traveling as well, and not just to test out hotel mattresses! Joe has an undergraduate degree from Wake Forest University and an MBA from Columbia University.