Sometimes a cushy, fluffy pillow can't offer enough support to keep you comfortable at night. And having the wrong pillow can cause a number of problems. So whether you're looking for a new pillow, or are just the type of person who prefers a firm pillow, this is the list for you!
Below you'll find my picks for the best firm pillows of the year. There are a number of categories so there's something for everyone.
Our Top Picks for the Best Firm Pillows
Best Overall
Lagoon Hippo Pillow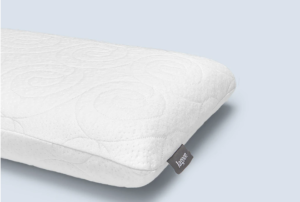 Lagoon is one of our favorite companies for pillows because they design a model for almost any sleeper. They even provide a pillow quiz on their website, where you can answer questions and find a pillow that's best for your needs.
The Lagoon Hippo Pillow is the ideal pillow for those in need of firm support. The memory foam in this pillow is specially molded to achieve this feel.
You can choose between queen and king pillows. Either way, you'll receive a 100-night trial and a five-year warranty.
What Makes the Lagoon Hippo Pillow Stand Out?
Because of its firmer nature, combination sleepers should be able to switch positions without feeling stuck in the material.
The memory foam fill is ventilated for cooling.
It boasts a washable cover made from bamboo and polyester.
Read about the most popular Lagoon pillows!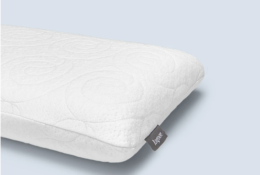 The Lagoon Hippo Pillow is Lagoon's firm pillow option, made for those who value additional support. It's made with CertiPUR-US certified memory foam and boasts a cover made from bamboo and polyester.
Best Latex
Avocado Molded Latex Pillow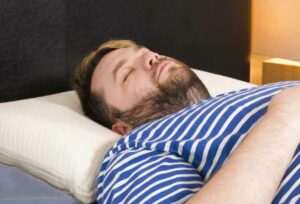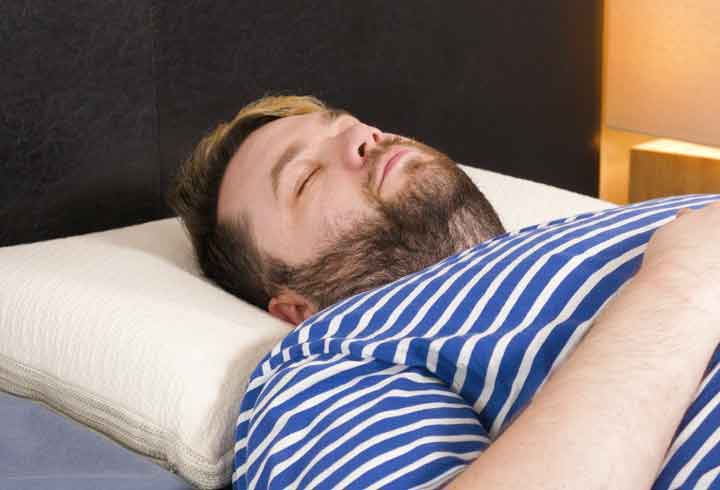 When it comes to latex pillows, the Avocado Molded Latex pillow is a stand out amongst them all. Avocado is known for eco-friendly mattresses, and its pillow is a great choice for eco-conscious shoppers who love firm pillows.
This pillow is made from a single slab of molded, perforated latex that has been infused with charcoal. The perforations in this pillow allow for airflow, while the charcoal infusion can help eliminate odors in your sleep environment.
Latex is a great material for all sleeping positions because it's very bouncy and responsive, which means you won't feel like the pillow is trapping you, like traditional memory foam pillows sometimes do. It's ideal for back sleeping, but this pillow can work for all three sleeping positions!
What Makes the Avocado Molded Latex Pillow Stand Out?
It has many certifications by organizations dedicated to clean production and verified organic products.
It won't trap heat thanks to the perforations within the pillow and latex's natural cooling ability.
Latex is responsive and easy to move around on, making it a good match for many sleeping positions.
Read our full Avocado Molded Latex pillow review.
Avocado Molded Latex Pillow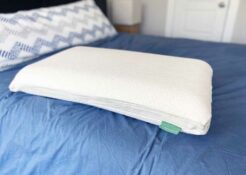 Avocado Molded Latex Pillow
Avocado makes great eco-friendly, 100% organic products, and the Molded Latex pillow is no different. Springy and responsive, this pillow firmer pillow feels comfortable while back and side sleeping. And it won't trap heat!
Best for Neck Pain
TEMPUR-Neck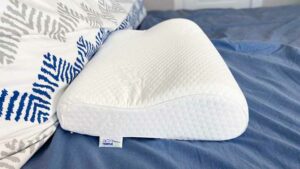 With "neck" in the name, the TEMPUR-Neck pillow was designed to give you full neck support while you sleep. TEMPUR-Pedic makes a variety of pillows, and the Neck pillow is its firmest. It is made of a single piece of dense TEMPUR material, which is the company's proprietary memory foam.
This pillow has an ergonomic design to contour to your head, neck, and shoulder, and feels very comfortable and natural for both back and side sleepers alike. Because it helps support your neck, this pillow should alleviate neck pain over time.
It comes with a polyester cover that is machine-washable and is hypoallergenic. And if you're an especially hot sleeper, the Neck pillow comes in a cooling model that's full of gel memory foam and won't trap body heat.
What Makes the TEMPUR-Neck Pillow Stand Out?
The unique shape is designed for neck support to help you fight off neck pain.
The foam used is dense and firm to keep you sleeping in a neutral position.
If you're a hot sleeper you can opt for the cooling version of this pillow.
Read about the most popular TEMPUR pillows!
Save $33.81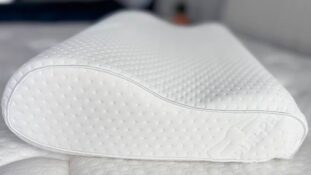 The ergonomic shape to the TEMPUR-Neck pillow makes it an ideal pillow for anyone dealing with neck pain. This solid slab of memory foam will contour to your head and neck, giving you good support and will alleviate neck pain.
Best Cooling
Coop Sleep Goods Eden Pillow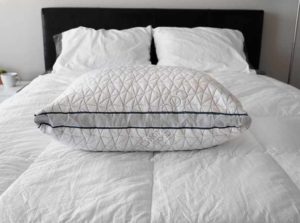 Hot sleepers can have a cool night of sleep on the Coop Home Goods Eden Pillow. What gives this pillow its firmness is the sheer volume of shredded memory foam. Then, on the outside there is a breathable bamboo and polyester outer cover.
Pillows made with shredded foam or foam clusters tend to perform better than solid memory foam pillows due to the fact that they have room for air to flow through, meaning the pillow is fairly breathable.
With the addition of naturally cooling bamboo, hot sleepers should be able to rest easily on this pillow. It works well for all sleeping positions because this is an adjustable pillow, meaning you can take out or add in the foam fill to get the loft and firmness level that you prefer.
What Makes the Eden Pillow Stand Out?
This is a cooling pillow — it has a breathable cover and gel-infused, shredded memory foam for airflow.
This pillow has an adjustable loft, making it work for all three sleeping positions.
You can test this pillow out for 100 nights.
Read our full Coop Sleep Goods Eden Pillow review!
Coop Home Goods Deals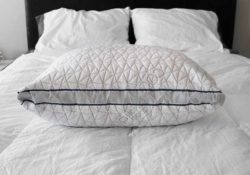 The Coop Home Goods Eden is an adjustable pillow that should be a great fit for back sleepers. Click the button to get the best deal on the Eden. 
Best for Side Sleepers
Marlow Pillow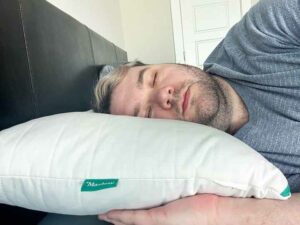 The Marlow pillow is made from shredded memory foam, which is traditionally associated with a slow-moving feel, But this pillow includes poly foam, which is a denser foam that helps give the pillow its firmness.
Side sleepers generally prefer a higher lofted pillow for proper spinal alignment, and the Marlow does this wonderfully. You can even pinpoint your comfort by using the zippers to adjust the loft of the pillow.
Side sleepers who love firm pillows can get exactly what they want from Marlow!
What Makes the Marlow Pillow Stand Out?
This pillow is designed for cooling, equipped with a breathable cover and mesh gussets on the sides.
The Marlow is antimicrobial, so it prevents the collection of dust mites and bacteria.
Marlow offers a generous 365-night trial and a two-year warranty.
Read our full Marlow pillow review!
Save $20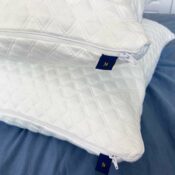 If you love that squishy, slow-moving feel of memory foam in your pillows, then the Nolah Squishy Pillows are for you. These cooling foam pillows come in a double pack and are super comfortable but equally supportive.
Best Medium Firm
Tuft & Needle Memory Foam Pillow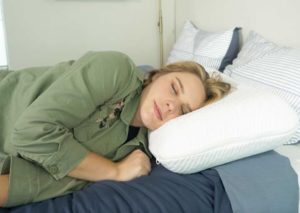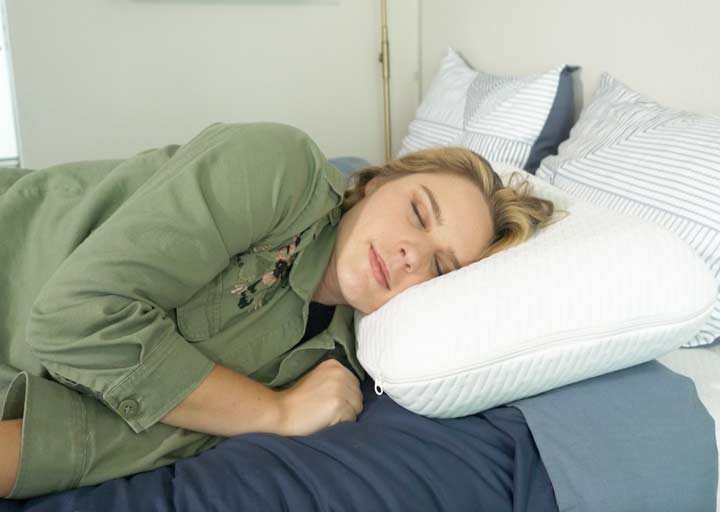 If you prefer a pillow to be a perfect blend of comfort and support, then medium-firm pillows are for you. Tuft & Needle's foam pillow is a stand out in this category because it performs a bit differently than what you'd expect.
This pillow is made from a single piece of T&N Adaptive Foam and it has a very responsive feel. This is different from traditional memory foam, which typically has that slow-moving, sinking feel to it.
This pillow won't sag, and it's very supportive and works for most sleeping positions, too. And it shouldn't trap heat! It has graphite and cooling gel worked into the foam to pull away body heat.
What Makes the Tuft & Needle PIllow Stand Out?
This pillow works best for people who love something supportive, but aren't looking for something super firm.
It works best for back and side sleepers.
This pillow won't trap heat thanks to cooling infusions and a breathable microfiber cover.
Read our full Tuft & Needle pillow review.
Get the best price
Tuft & Needle Foam Pillow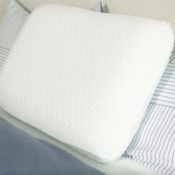 Tuft & Needle Foam Pillow
Made with special responsive foam, the Tuft & Needle pillow feels both soft and supportive. It has many cooling features, and it's super durable. It's a great match for back and side sleepers. Click the link below to save 10% on your purchase!
Best Extra Firm
Purple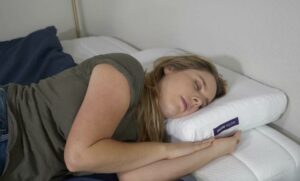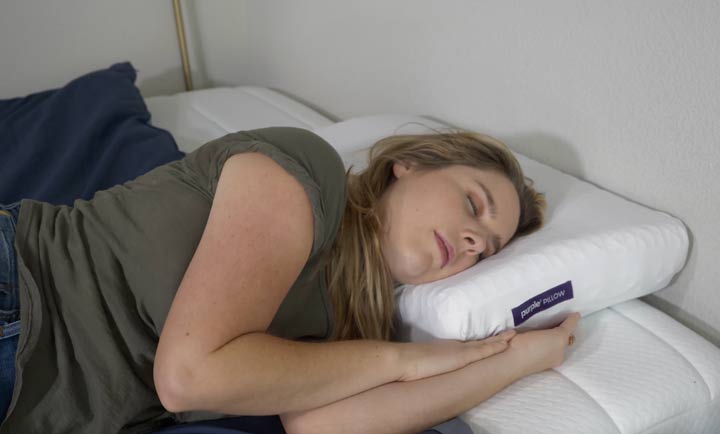 Sometimes an extra firm pillow can be the remedy for multiple concerns, like making sure you're sleeping in a neutral position, or maybe you just don't love a soft and fluffy pillow. Purple's original pillow takes the gel grid in its mattresses and shrinks it down into a pillow form!
While the gel grid in this pillow has some give to it, when you compress the grid, it gets a firm, but supportive, feel to it. The grid doesn't necessarily contour to your head, but it still feels comfortable to rest on.
The Purple pillow works well for all three sleeping positions because it comes with two foam booster pads, each a different height. This means that you can make the Purple pillow a loft that fits best with your sleeping position.
What Makes the Purple Pillow Stand Out?
The Purple grid is used in this pillow which, when compressed, has a very firm feel.
The foam boosters allow you to adjust the loft of this pillow.
Because it's made entirely of the gel grid, and surrounded by a breathable polyester cover, this pillow will not trap heat.
Read our full Purple pillow review.
20% Off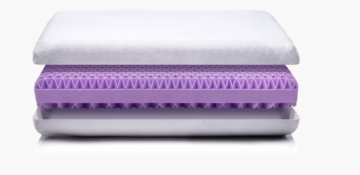 Purple's original pillow is made with their signature Smart Comfort Grid polymer material that gives the pillow a plusher feel but without losing the support. Click the link to save 10% on your purchase!
What to Consider Before Buying a Firm Pillow
Here are a few things you need to keep in mind when shopping for a new bed pillow or a new firm mattress.
How to Determine Pillow Firmness
The biggest question when shopping for the right pillow is knowing how firm it is. While you can't get a true sense of firmness from online product descriptions, reviews can help you get a great idea of overall firmness. We've personally handled the pillows on this list, so looking up reviews can be helpful, too!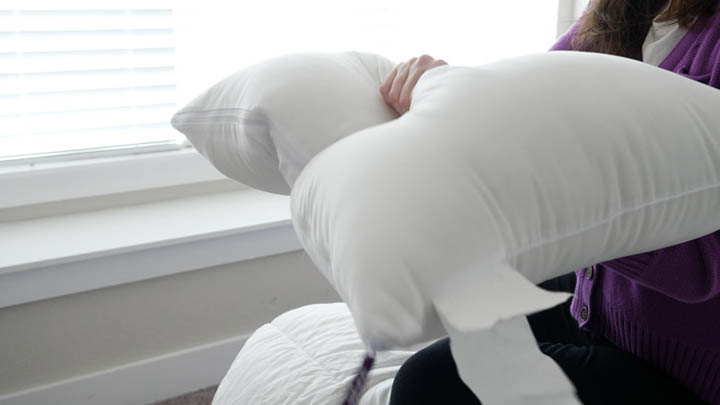 If you do purchase a pillow without being sure of its firmness, many online retailers will offer trial windows, no less than 30 days, for you to test the pillows out. If the pillow isn't right for you, you can return the pillow within that 30-day window, and often for a full refund.
How to Make a Pillow Less Firm
Adjustability is key when it comes to changing how a pillow feels. There are a few adjustable loft pillows on this list. This type of pillow means you can take out or remove fill. This can change a high loft to a low loft pillow, and vice versa.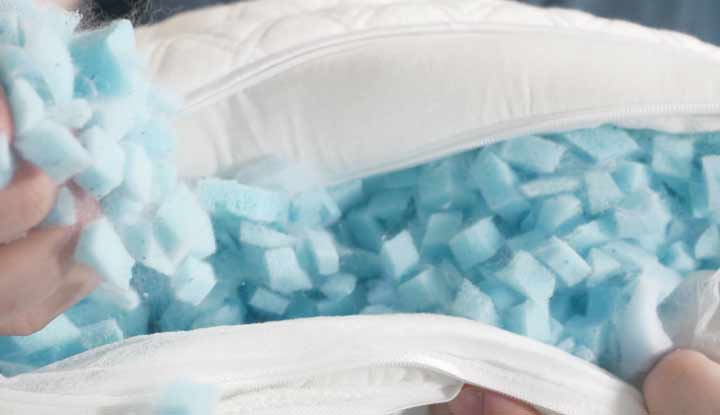 But how much fill you have can determine how firm or soft a pillow feels. If you tend to love soft pillows, taking out fill can make that happen. But if you love firm pillows, keeping the pillow stuffed full is the way to go. Shredded memory foam pillows often come to you overstuffed, and can feel very firm right out of the box.
However, this isn't the case with all pillows, as down and down alternative pillows often come to you as is, with no way to adjust the firmness.
FAQs
Are firm pillows good for back sleepers?
When it comes to what firmness you need in your pillow, you need to consider your sleeping position. While firm support can help keep you in a neutral position, when it comes to back sleepers, having a medium-firm pillow is the best option for you.

Back sleepers need a perfect blend of comfort and support, and a medium firmness can achieve that better than a firm pillow. However, it should be noted that firmness is very subjective, and what some might consider firm can change from person to person.

But rest assured, we've also compiled a list of the best pillows for back sleepers to help out!
Does my pillow come in different firmness options?
As preferences are so widely spread, many companies will offer pillows in a variety of firmnesses. Brands such as Parachute, Brooklinen, and Pluto offer pillows that come in a variety of firmness options. This may come in the form of having three standard choices, or making a customized pillow.

Not all companies offer multiple firmness options, so be sure to read product reviews or thoroughly read through the product listing on the company's website!

Alternatively, some pillows come with the option to adjust the firmness by taking out or removing some of the fill. Brands that offer this are: Coop Home Goods, Layla, and Beautyrest to name a few.
Are firm or soft pillows better?
Ultimately this boils down to personal preference. But let's discuss some of the benefits and drawbacks of both soft and firm pillows.

Soft pillows are often better for stomach sleepers, as they can be compressed much easier than a firm pillow, and keep a stomach sleeper's neck in a neutral position. But if you're a side or back sleeper, soft pillows might cause some discomfort and neck pain if they don't provide enough support.

Meanwhile it's the opposite for firm pillows. Stomach sleepers may not be able to compress a firm pillow enough to achieve a comfortable position. Back sleepers will want to stick with a medium-firm pillow, while side sleepers can get plenty of support from a firm pillow, which will keep their head from craning too far down.