Mattress retailer Tuft & Needle has created a pillow that utilizes their proprietary T&N Adaptive Foam — a type of foam that is designed to work with each person's individual body. It's also the same foam found in the top layer of Tuft and Needle mattresses. The solid-foam-core pillow has a soft, removable cover that can be machine washed.
Who is the best fit for this unique foam pillow? Read on for our full Tuft & Needle Pillow review.
RELATED: Best Pillows 2020 – Our Top 10 Favorites!
Tuft & Needle Pillow Overview
The Tuft & Needle Pillow comes in two different sizes, a solid foam core and a blended knit cover. Let's dive into the main details and features of this pillow.
Dimensions: 16″ x 25″ x 5″ for Standard and 6″ x 34″ x 5″ for King
The pillow's core is a solid piece of ventilated T&N Adaptive Foam (a proprietary foam also used in their signature mattress)
The cover is a soft blend of 67.5% polyester, 30% Tencel, and 2.5% Elastane
The cover is removable and washable (air-dry only); the foam core should not be washed
Certified by CertiPUR-US® and Standard 100 by OKEO-TEX®, two certifications that denote the use of more eco-friendly and non-harmful materials
Hypoallergenic
Made in the USA
100-night trial period
3- year warranty
No fluffing required; won't fall flat
Price: $75 for Standard and $100 for King on Tuft & Needle's website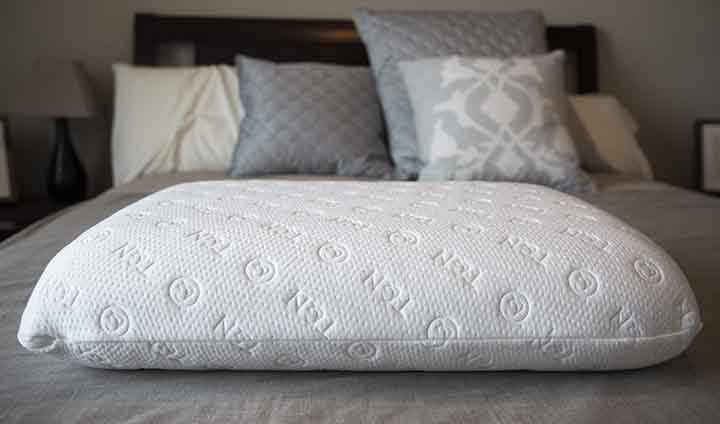 Who Makes the Tuft & Needle Pillow
The &Pillow is made by mattress retailer Tuft & Needle. They're a popular bed-in-a-box mattress brand and are well-known for being transparent about their materials and construction. They make an all-foam mattress at a very affordable price point ($575 for a Queen). Their products are designed and crafted in the USA.
In addition to the &Pillow, the company also sells sheets, a mattress protector, and a bed frame. Customers can purchase all products online via their website (and some are available on Amazon). They also have brick and mortar stores in Arizona and one in Seattle.
Check out our full review of the Tuft & Needle mattress. 
Tuft & Needle Pillow Construction
The pillow comes in two sizes: Standard and King. Both pillows feature a 5″ height profile. We reviewed the Standard size pillow.
The core of the pillow is a solid piece of ventilated T&N Adaptive Foam. Tuft & Needle says this is the same foam that is found in the top layer of Tuft & Needle's mattress, but it is formulated slightly differently because sleepers need "a little bit of different support in a pillow than you would a mattress."
Nevertheless, the T&N Adaptive Foam should still have the same benefits and properties as the foam in the top layer of the mattress.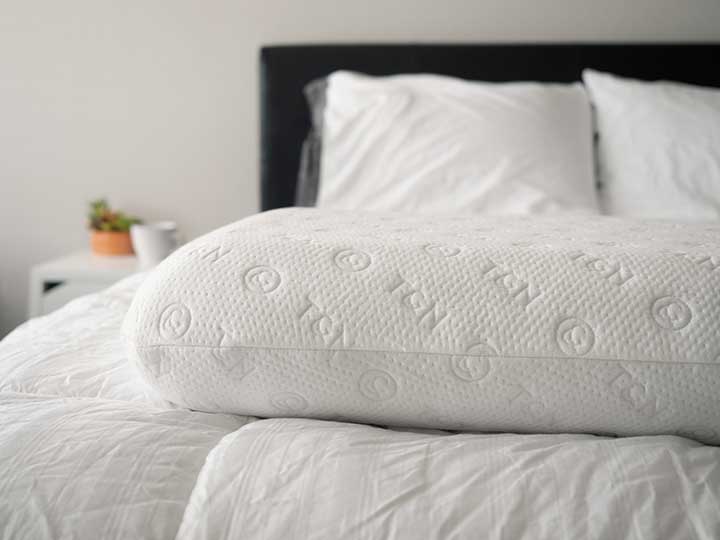 Tuft & Needle says they engineered their Adaptive Foam based on customer feedback and that it should contain the best attributes of memory foam and latex foam.
It definitely has a lightweight feel that is immediately responsive. The more pressure one applies to the pillow, the more it is designed to react and provide support.
The cover is a white knit with texture and pattern. It's made of a blend of materials (though more than half of it is polyester). It does include Tencel, a sustainable fiber that is regenerated from wood cellulose. It's got a similar feel to rayon or bamboo fibers but it's more environmentally friendly and is known for breathability.
Pros
Here are some of our favorite features of the Tuft & Needle Pillow.
Soft, removable, and washable outer cover
T&N Adaptive foam is unique and responsive but not too firm
Breathable thanks to ventilation and outer cover fabric
Won't go flat or need to be fluffed
5″ profile makes it a good fit for side sleepers and plusher feeling foam makes it work for back sleepers as well
Certified CertiPUR-US® and Standard 100 by OKEO-TEX® (for health and environmental standards)
A generous100-night sleep trial
Cons
There are a few factors to consider before purchasing the Tuft & Needle Pillow.
Not adjustable (pillow will stay as is)
Not affordable for every budget
Too much loft and support for stomach sleepers to be comfortable
May initially off-gas
The cover must be air-dried
Our Tuft & Needle Pillow Experience
As someone who has slept on many foam pillows, we were curious to see what the T&N Adaptive Foam core of the &Pillow had to offer.
To me, the light grey foam feels closer to a latex foam pillow than a memory foam pillow. It's lighter-weight than most memory foam, and one's head won't "sink" into the pillow. It's immediately responsive but has a supportive feel when pressing the head down – it relieves pressure quite well.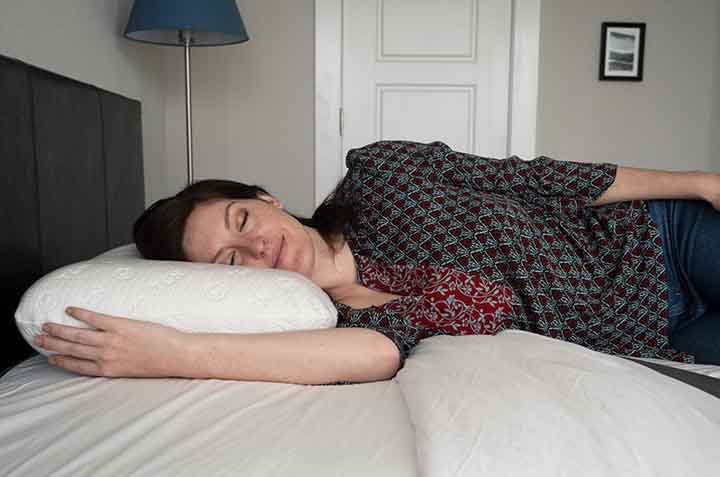 The outer cover is soft and feels like it's made of good quality materials. It does have a texture and a bit of a design or pattern on it, so sleepers will want to put their own pillowcase over it if they're sensitive to that.
Individuals can easily remove the cover with the zipper on the side and machine wash it on a gentle cycle. It is not recommended that sleepers put the cover in the dryer, so make sure there's enough time for it to air dry before using it.
The combination of the Tencel fibers woven into the fabric and the aerated foam core help keep the pillow breathable. Sometimes solid foam pillows suffer from lack of airflow, but there was no issue with this pillow.
Based on the 5″ height profile and the overall firmness and feel of the pillow, Katie, who personally tested and reviewed the pillow, thinks it's a good option for both side sleepers and back sleepers. This is probably because the foam does a good job of adapting to how much pressure one puts on it. She was able to roll from her side to her back and felt that her head and neck were being properly supported in each position.
Katie also thinks stomach sleepers might struggle to find a comfortable position with this pillow. Typically, people who sleep on their stomach need a pillow that's 3″ tall or shorter.
FAQs
Check out our answers to the most commonly asked questions about the Tuft & Needle Pillow.
Can you wash Tuft And Needle Pillow?
The Adaptive Foam core cannot be washed but the cover may be removed and cleaned separately. Make sure to follow the care instructions provided by Tuft And Needle.
Is the Tuft and Needle Pillow good for side sleepers?
With its 5″ height profile and solid foam core, the average-sized person will probably enjoy this pillow for back and/or side sleeping.
Does the Tuft and Needle Pillow sleep hot?
No, the pillow does not sleep exceptionally hot. This is due to the ventilated foam core that promotes airflow as well as the Tencel fibers woven into the cover that enhance both coolness and durability.
How do I return a Tuft and Needle pillow?
The Tuft and Needle pillow comes with a 100-night trial period. Should the sleeper decide it's not a good fit, they can follow the guidelines  from Tuft & Needle below to return the pillow:
1. Contact customer support to let us know what item(s) one would like to return.
2. We'll email the customer a FedEx return label to print out and tape it to the box.
3. Drop that box at one's local FedEx store.
Refunds will be credited back to the original purchasing card between 5-10 business days after the person drops the package off.
For items purchased through Amazon, please initiate the return of one's product through the individual's Amazon account or by reaching out to Amazon's customer service at 888-280-4331.
Overall
We had a very positive experience with the &Pillow from Tuft & Needle, and it's becoming one of Katie's favorite solid foam pillows. The ability of the foam core to adapt to different levels of pressure makes it a great option for people who sleep on both their side and their back.
In a perfect world, we would be able to throw the knit cover in the dryer after washing it, but it is still relatively easy to clean given that it's machine washable. We also really appreciate that not only is the foam CertiPUR-US® certified, but the whole pillow is also Standard 100 by OKEO-TEX® certified.
We would recommend giving the pillow a day or two to off-gas in a well-ventilated area before use. This should help the initial smell dissipate more quickly.
In addition to a three-year warranty, the pillow also comes with a 100-night trial, which mitigates the risk of the $75 or $100 investment in the pillow.
Katie Golde
Katie manages the day to day operations of the Mattress Clarity news site and reviews sleep products in addition to writing and editing sleep news. She hails from Austin, where she lives with her growing family. She is a Certified Sleep Science Coach and has a master's degree in Journalism from Northwestern University and has a background in health and science content. Her work can be found in print and online publications like Discover Magazine, USA Today and The Huffington Post.