If you are looking for a hotel-style mattress, you might want to consider the DreamCloud mattress. This mattress has a soft, tufted pillow top that is similar to what you might find when you are on vacation.
The DreamCloud is a hybrid mattress, designed to give you a balance of comfort and support. In addition, it features many components designed to help you sleep cool.
Is DreamCloud the cool night's getaway you have been looking for? Read on for my full review.
$200 Off
DreamCloud is a high-quality, luxury mattress that a lot of people are going to like.  You can get $200 off the DreamCloud mattress simply by clicking the link below.
You Might Want To Pick The DreamCloud If:
You want a luxury mattress. If you like the feeling of a luxury hotel mattress, this could be a good choice for you. The cover is tufted and woven with cashmere for a comfortable pillow top feel.
You are a side or back sleeper. The DreamCloud is a hybrid mattress and it does a good job of being pressure relieving and supportive. You should feel little pressure on your shoulders and hips if you are a side sleeper. In addition, you should get the support you need when you are on your back.
You are a heavier person. As a larger person, I usually have trouble "bottoming out" on mattresses, especially when I am on my side. The comfort layer is very thick on this mattress and it is also 15" tall. I did not feel like I sunk into too far and engaged the support layers.
You sleep hot. The cooling cover and gel-infused memory foam are designed to dissipate heat in this mattress. In addition, the coils should allow for some good airflow. You shouldn't be overheating on this mattress.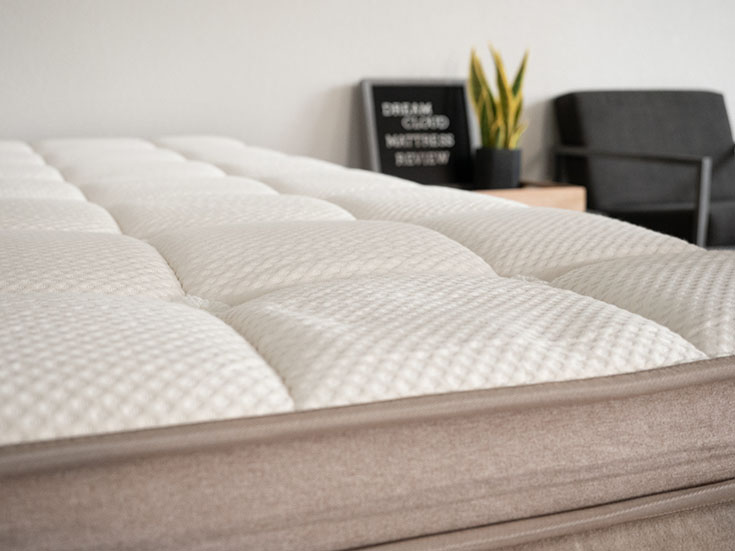 You Might Not Want To Pick The DreamCloud If:
You are a stomach sleeper. This mattress may be too soft for many stomach sleepers. I personally felt my hips bow in and my spine got out of alignment. If you sleep primarily on your stomach, you may want to consider a firmer mattress.
You want a firmer mattress. I felt that the DreamCloud had a medium firmness. If you prefer a firmer mattress or require extra support, this may not be the mattress for you.
You prefer a classic memory foam feel. While it does incorporate different types of foam in its construction, it doesn't have that slow-sinking memory foam feel. I sunk in just a bit, but if you like that quicksand feel, I would consider an all foam mattress.
RELATED: Best Mattresses For Stomach Sleepers
$200 Off
DreamCloud is a high-quality, luxury mattress that a lot of people are going to like.  You can get $200 off the DreamCloud mattress simply by clicking the link below.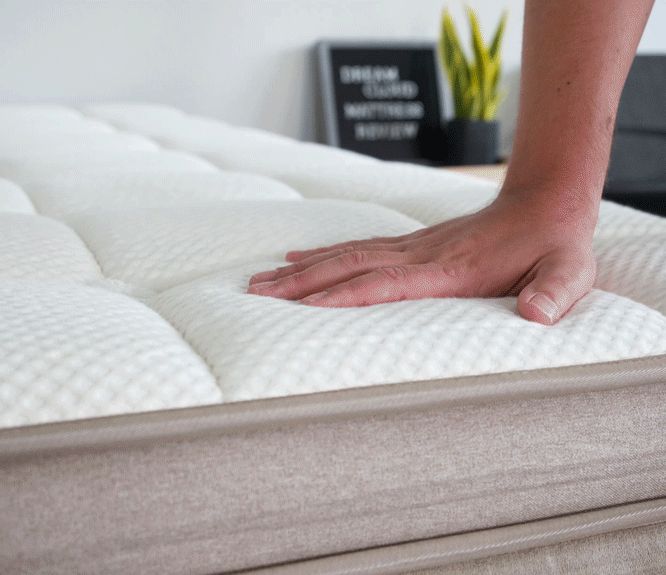 Construction Overview
The mattress is 15" tall.
The cover is tufted and woven with cashmere. It is 2" of a soft pillow-top.
Next, there is .5" of gel-infused memory foam.
This is followed by 1.75" of quilted memory foam.
Then, there is .5" of hypoallergenic natural latex.
Next, there is .25" of DreamPlush memory foam.
After this, is .5" of dense memory foam.
The support system is next. It is 8" of pocketed Best Rest micro coils with a foam encasement.
Finally, the base layer is 1.5" of high-density memory foam.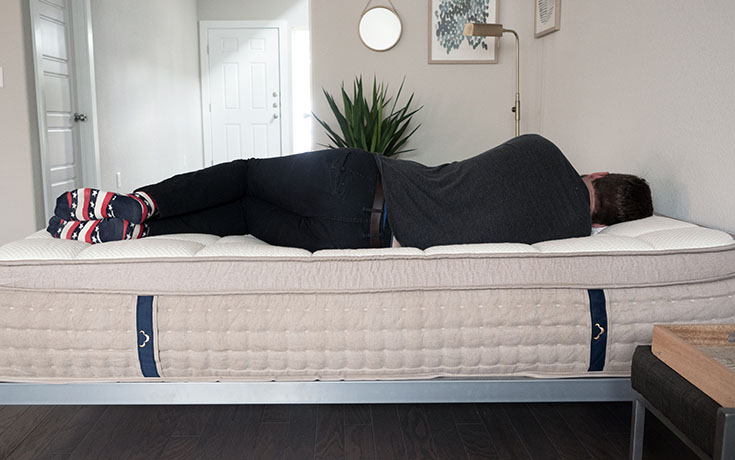 Construction Takeaways
The DreamCloud is available in Twin, Twin XL, Full, Queen, King, and California King.
The cover is made with cashmere and is designed to be more breathable. In addition, the gel-infused memory foam is meant to dissipate heat. Finally, the coils promote airflow through the mattress. All in all, this should be a cool sleeping mattress.
The mattress is designed to have a luxurious feel. The pillow top and the cashmere cover create an experience you might get in a hotel.
The DreamCloud is a hybrid and offers a balance of comfort and support. The foam layers should help with pressure relief, and the coils will give you the support you need, especially on your back.
This should be a long-lasting mattress. There are many layers of high-density foams and a pocketed coil system. Together, they should make this a durable mattress.
RELATED: Best Mattress Overall
How Does The DreamCloud Mattress Compare To The Purple 4 Mattress?
Looking at these mattresses, I believe they are both going to be a good choice for heavier people. They are also both taller mattresses which will cut down on your chance of "bottoming out."
In addition, they are both hybrid mattresses. They incorporate coils as well as a softer comfort layer in their construction.
The main difference between these two mattresses is going to be the design of those comfort layers. DreamCloud has five different layers of foam and the Purple has a proprietary hyper-elastic gel polymer. It is a very unique gel grid that is both supportive and pressure relieving at the same time.
Both mattresses are supportive when I am on my back. On my side, I felt good pressure relief with both mattresses. However, that gel grid was a bit more pressure relieving. I think the Purple 4 is a better choice for heavier side sleepers.
Also, on my stomach, the Purple 4 gave me better support. I did bow in slightly when I was on the DreamCloud.
In the end, the feels are very different on these two mattresses. The DreamCloud has a pillow-top hybrid feel. The Purple 4, on the other hand, has that unique squishy yet firm gel feel.
Read our full review for the Purple 4 mattress, HERE.
Firmness/Feel
For me, this mattress felt like a 6.5/10, a medium firmness. While the top layers are quite soft, you have the coils below. Together, this makes the mattress feel about right down the middle in terms of firmness.
On my back, I feel very nice support on this mattress. I feel the soft pillow top pressing into my lumbar area. It really does feel like I am on a soft cloud.
On my side, I get good pressure relief. The pillow top feels soft and then I start to engage the foam layers beneath that. I feel very little pressure on my shoulders and hips.
On my stomach, I am not getting the support I need. I bow in at my hips and my spine gets out alignment. I could use a firmer mattress if I want to sleep on my stomach.
In terms of feel, the mattress has a pillow top hybrid feel. There is some softness on the top, but you then feel the high-density foam layers and coils beneath that. There is also some nice bounce, and you shouldn't have trouble moving around on this mattress.
Motion Transfer
During my tests, I definitely saw some motion transfer on the DreamCloud mattress. When I pressed into the mattress around a glass of water, it was disturbed quite a bit. Also, when I rolled around near it, the glass moved.
I also asked Joe to get in and out of bed while I lay on the other side. I definitely felt his movements on my side of the bed. Overall, the motion transfer is not a highlight of this mattress.
Edge Support
I was surprised by how much the mattress compressed as I sat on the edge. Considering it is a hybrid mattress with a foam encasement, I thought it would have better edge support.
Also, lying down near the edge, I did feel like I was going to roll off the mattress. I think this is because the pillow top actually seems to push me toward the edge.
You can see the edge support in the photo below.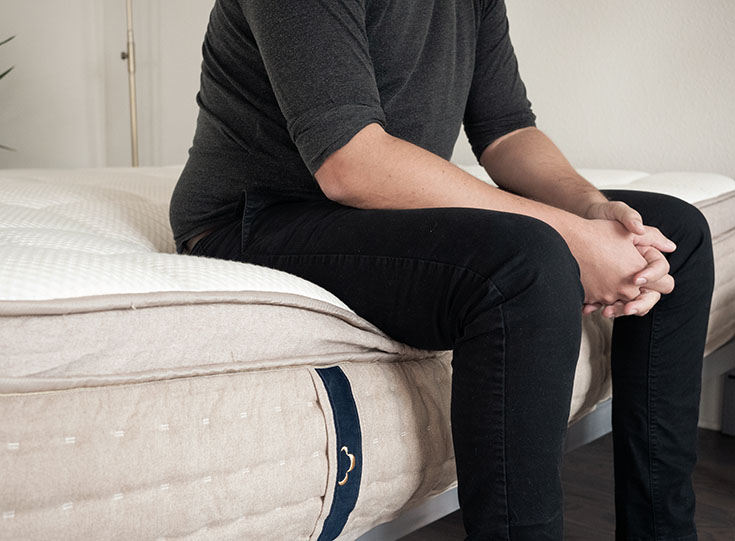 Joe's Take
To get a different opinion on this mattress, I asked Joe to talk about his experience. I am 6'7" 230 lbs., while Joe 5'9" 160 lbs." He has a different body type and here is what he thought of this mattress:While Marten and I often disagree about mattress firmnesses, Marten and I both thought the DreamCloud was a 6.5/10.
I feel like it has a good balance of comfort and support. When I am on my back, I feel supported. It's a good match for a back sleeper of my body type.
Switching onto my side, I also feel good pressure relief on my shoulders and hips. On my stomach, the mattress was too soft. I felt my hips sinking in a little too much.
If you are in the medium weight range like me, this could be a good match for side, back, and combination sleepers.
Joe and I seemed to have a very similar experience on this mattress. This lets me know that is should be a good fit for back and side sleepers of many sizes. Again, stomach sleepers, even someone of Joe's size, should consider a firmer mattress.
What Makes This Mattress Stand Out
It gives you that luxurious hotel feel. The cashmere cover and pillow top does create that feeling you get when staying on a hotel or resort mattress. If a luxury feel is important to you, the DreamCloud could work.
It handles the issue of sleeping hot quite well. The breathable cover, heat-dissipating foam, and airflow-promoting coils should make this a cool sleeping mattress.
The DreamCloud could be a good fit for people who want a long-term investment. The foams in this mattress are high-density and the coils should add a level of durability as well. If you want a mattress to last you for a while, this could be a good choice
This could be a good mattress for heavier people. The mattress is tall with a thick comfort layer. Heavier sleepers shouldn't have a problem "bottoming out" on this mattress.
Unboxing This Mattress
The DreamCloud is a bed-in-a-box mattress, which means it will come compressed and be shipped straight to you. You will want to begin by removing the rolled up DreamCloud mattress from its box. Then, preferably with another person's assistance, position the roll on your bed.
Carefully cut away the first layers of plastic until the still-compact mattress can be laid down flat. Then, pierce through the final layer of plastic and the DreamCloud will expand. Simply clear away the excess plastic and allow your mattress to breathe and fully expand.
Overall
In the end, I think the DreamCloud does have a luxury hotel. I also think that back sleepers, side sleepers of many sizes should get the support and comfort they need. However, stomach sleepers should think about a firmer, more supportive mattress.
The DreamCloud comes with a 365 Night Sleep Trial and an Everlong Warranty. Financing is available and the company also sells bed frames.
The following two tabs change content below.
Marten Carlson
Marten is a staff writer for Mattress Clarity News. He covers the mattress industry as well as sleep science news. He is specifically interested in the connection between sleep and overall health.Marten has written for media publications like Consequence of Sound and received a master's degree in Film Studies from Emory University.He comes from Franklin, Indiana, and spends all the time he can writing, directing, and acting in films. He has directed genre short films and features. His newest film, Starlets, recently premiered at the River Town Film Festival in Clinton, NJ. He also stars in the upcoming thriller, Sour Bear. His next film, At The Hop, is a hot rod actioner with a horror twist.
Latest posts by Marten Carlson (see all)