A timeless and classic staple in many homes, the best cotton sheets soft, durable, and lightweight. They're sold in a variety of differing thread counts, weaves, and colors suiting any bedroom. While bed sheets produced with 100% cotton face some more modern competition (namely from cotton/polyester blends and bamboo fabrics) they're still a significant player in the bed sheet market.
We've purchased and reviewed numerous sets of 100% cotton sheets and are pleased to announce the six best cotton sheet sets available today. They each feature important attributes: cooling, eco-friendliness, affordability, and opulent luxury. There should be something for everyone on this list.
Our Top Picks for the Best Cotton Sheets
Look below for further details on the six best cotton sheets, including details on thread counts, weaves, color options, and more.
Best Overall – Saatva Organic Sateen Sheets
My absolute favorite Saatva sheets has to be the Organic Sateen set. They provide a luxury feel like no other and include quality materials. The 100% organic cotton fabric is Fair Trade certified and GOTS certified, so you can rest assured that the material you're sleeping on is quality.
With a sateen weave, the Saatva Organic Sateen sheets have an extra softness to them. They should feel more buttery and soft rather than crisp like standard cotton.
A thread count of 300 and cotton's natural breathability should help hot sleepers stay cool at night.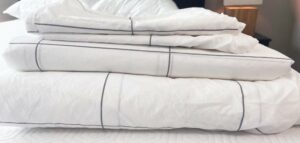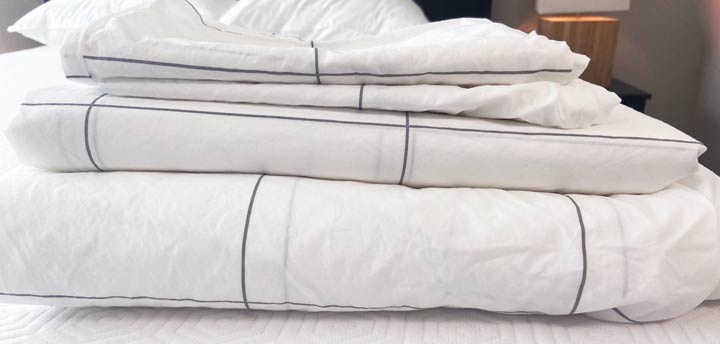 What makes the Saatva Organic Sateen Sheets stand out?
Hot sleepers will enjoy a lightweight set of sheets that won't make them overheat.
Eco-friendly shoppers should love the quality materials in this organic set.
Saatva offers a 45-night trial and a one-year limited warranty on these sheets.
Read our full Saatva Organic Sateen Sheets review.
Best Organic Cotton Sheets – Birch Organic Sheets
Knowing a company has gone the extra mile to make a certified organic product is a nice way to rest easy. Birch makes organic cotton sheets to dress the Birch organic mattress.
The Birch Organic Sheets are Global Organic Textile Standard (GOTS) certified. This means that the cotton used in Birch's sheets is sustainably grown and sourced, and is processed without harmful chemicals, pesticides, and toxins. If you're looking for an especially eco-friendly set of cotton sheets, look into this set.
Birch makes its sheets with the sateen weave, leaving these sheets feeling soft and buttery smooth. If you're a cotton lover but don't like that crisp feel to sheets, sateen is the way to go.
These sheets are light and breathable, which is great for hot sleepers. Birch sells these sheets in five color options.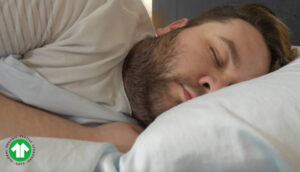 What makes the Birch Organic Sheets stand out?
A GOTS certification is the gold standard for organic products. If you're looking for an eco-friendly set of cotton sheets, these are the ones to look into.
They don't feel as crisp as other cotton sheets because of their weave style, so they'll feel buttery smooth and soft.
They're breathable and even have some moisture-wicking properties which is a winning combo for hot sleepers.
Read our full Birch Organic Sheets review.
Best Cotton Percale Sheets – Brooklinen Classic Core Set
Looking specifically at the weave style, our favorite set of sheets that feature the percale weave are the Brooklinen Classic Core sheet set.
As mentioned, the percale weave leaves sheets feeling crisp, and that is certainly the case here. If you love that pressed shirt feel to your cotton sheets, this set is for you.
Brooklinen has a variety of white and black plain and patterned options to pick from, but they often have limited edition sets that include more color and designs for you to choose from.
Personally, my favorite part about these sheets is in the fitted sheet. You'll find "long" and "short" side labels here! This is my favorite part because I don't always get the fitted sheet the right way on the first go. So if you're like me, these labels will help you get the fitted sheet the right way the first time!
RELATED: Best Percale Sheets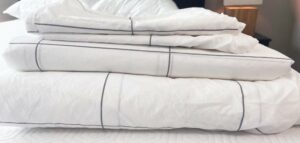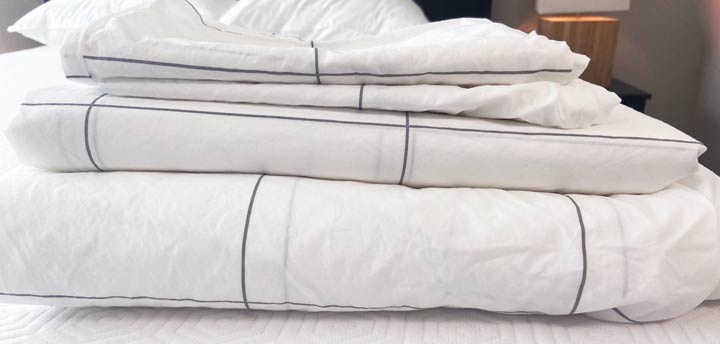 What makes the Brooklinen Classic Core Sheets stand out?
These sheets have that classic, fresh pressed shirt, crisp feeling to them, which is what cotton fans love.
They come in standard white and neutral colors, but Brooklinen will also sell limited edition sets that feature more color options and designs!
The fitted sheet comes with long and short side labels to take the guesswork out of dressing your bed.
Read our full Brooklinen Classic Core Sheet Set review!
Best Egyptian Cotton Sheets – Parachute Percale
One other popular type of cotton is Egyptian cotton. This type of cotton is able to produce longer fibers, helping make these fibers much stronger than traditional cotton. It's often said that Egyptian cotton feels much softer, too.
Parachute's Percale sheet set is made with 100% Egyptian cotton. They feel lightweight and soft to the touch. But because of the percale weave, they still have a crispness to them.
They have a thread count of 300, which is fairly standard for cotton sheets. You don't want to see Egyptian cotton go above about 700. This is because Egyptian cotton can be made to have extra-long staples, meaning they can be made much thinner than traditional cotton. This can allow for a higher thread count.
With a lower thread count and lightweight fabric, these sheets are breathable. They have nine neutral color options available and an impressive three year warranty if you decide to keep them. These should last you a long time!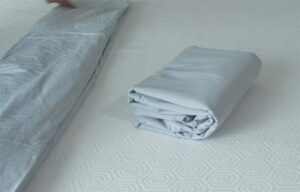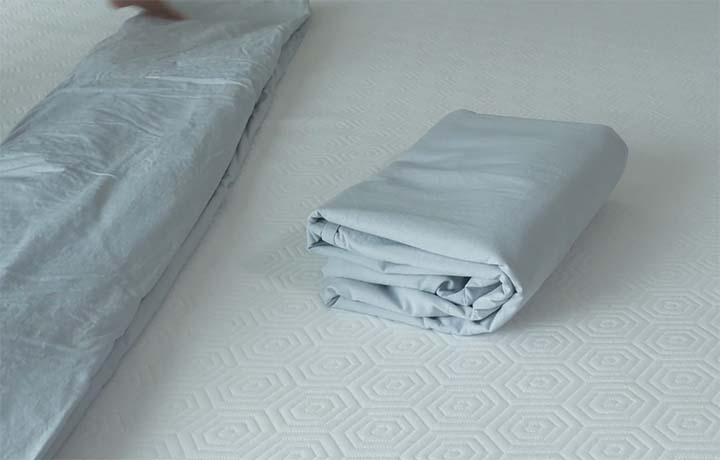 What makes the Parachute Percale Sheets stand out?
Those wanting sheets for the summer or fans of lightweight sheets should look into the Parachute sheets.
Egyptian cotton is often more durable and softer than traditional cotton.
With nine neutral color options to choose from, these sheets will be able to match your room's color scheme.
Read our full Parachute Percale Sheets review.
Best Cotton Sheets for Hot Sleepers – American Blossom Linens Sheets
Overheating and night sweats are the enemy of cool sleep. However, when sheets have a lower thread count, and breathable materials, air will be able to flow through sheets fairly easily.
American Blossom Linens is an US-based company that makes its sheets in America, too. These sheets feature 100% organic West Texas cotton. Mixed with a percale weave, they feel crisp but are designed to get softer with each wash.
This is another set of organic sheets. American Blossom doesn't treat its sheets with chemicals or dyes, giving you only two color options to pick from: white and natural.
What makes these sheets great for hot sleepers is their custom, lower thread count. American Blossom found some companies can artificially inflate thread counts, so the brand customized a thread count of 180 for its sheets.
With this lower thread count and a breathable material, hot sleepers won't sleep hot and sweaty underneath these sheets!
RELATED: Cotton vs. Linen Sheets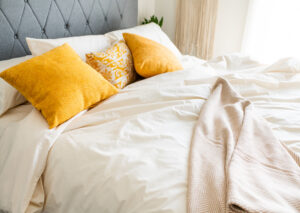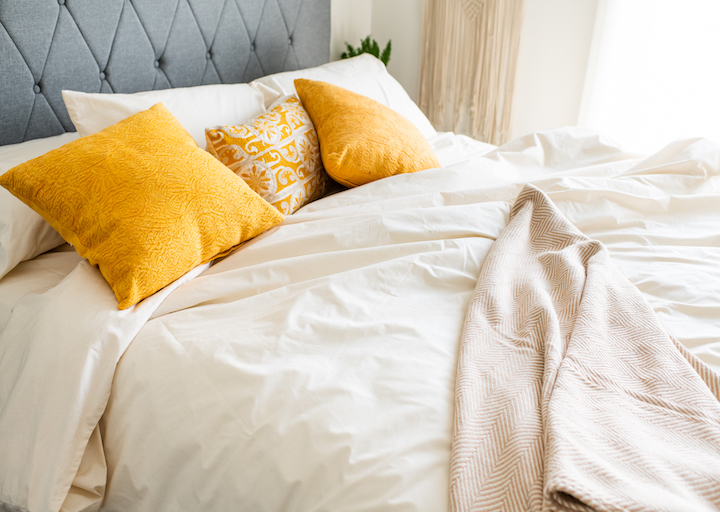 What makes the American Blossom Linens Sheets stand out?
These sheets are an American-made product with organic materials, making them an eco-friendly choice.
Hot sleepers will love the breathability of these sheets and with a lower thread count.
The best part about these sheets is that you can test them out for two years as part of American Blossom's Happiness Guarantee.
Read our full American Blossom Linens Sheets review.
Best Cotton Sateen Sheets – Boll & Branch Sheets
Rounding out our list, we have a presidential set of sheets with the sateen weave: the Boll & Branch sheets.
Both former Presidents Clinton and Bush have used and endorsed these sheets, and we had to find out why!
Because these sheets were made with the sateen weave, they feel soft and smooth to the touch. Made with 100% organic cotton, Boll & Branch also ethically sources the cotton for its sheets.
RELATED: Best Sateen Sheets
The fitted sheet can fit mattresses up to 17" tall, which is great if you toss and turn. You won't have to worry about the corners popping up or readjusting the fitted sheet in the morning.
For my color lovers out there, you have 10 neutral color options for you to choose from.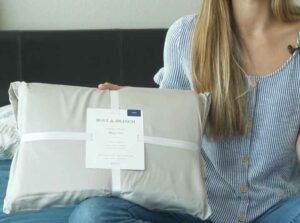 What makes the Boll & Branch Sheets stand out?
The sateen wave makes these sheets feel much softer and smoother over sheets with the percale weave.
While they don't feature anything specific for cooling, cotton is breathable so hot sleepers should enjoy these sheets.
They have a 300 thread count which is the sweet spot for traditional cotton sheets.
Read our full Boll & Branch Sheets review.
Pros and Cons of Cotton Sheets
| | |
| --- | --- |
| Pros | Cons |
| Naturally breathable | Can wrinkle easily |
| Hypoallergenic | Less durable than other materials (specifically standard cotton) |
| Wide range of options available | Can be expensive |
| Often softens with every wash cycle | |
| Typically easy to wash and dry | |
What to Consider Before Buying 100% Cotton Sheets
There is more to determining the quality of 100% cotton sheets outside of their thread count. Below I've listed exactly what to look for before handing over the credit card and making that purchase.
RELATED: Best Material for Bed Sheets
Fiber Length
The length of the fiber in a cotton sheet set is essential to revealing its overall quality and lifespan. Long-staple or extra-long-staple cotton fibers are preferable over regular lengths. The longer the fiber, the better the quality in terms of durability and feel. This translates to a softer feel, enhanced durability (less pilling), and a higher level of quality across the board.
Supima/Pima and Egyptian cotton are the two main types of long and extra-long staple fibers on the market today. 100% Supima Cotton or 100% Egyptian Cotton sheets are the labels to look for when shopping if fiber length is a priority.
Thread Count
Thread count refers to the number of threads per square inch of fabric. The thread count can vary within the world of cotton sheets. It's typically found in a range from 200 to 800. What matters most is the length of the fiber woven into the sheets themselves. For example, long-staple fibers in a 400 thread count will feel wonderful, even compared to a higher thread count with shorter fibers.
Those purchasing 100% Supima/Pima Cotton or 100% Egyptian Cotton sheets should be more than pleased with 400 thread count and don't need an excessively high thread count to reap the benefits of the higher quality thread.
Weave
There are two main weaves available with cotton sheets: percale and sateen. Percale is a simpler weave that offers a more crisp, lightweight and "starchier" feel that's reminiscent of hotel sheets. Meanwhile, sateen has a satin-like feel, is buttery and more luxurious looking, and is better for those who don't sleep hot.
Ready to learn more? Check out Katie's whole video on the differences between these weaves!
Final Thoughts
Those are the complete details and features of my four favorite 100% cotton sheets! All the sheets will securely fit mattresses up to 16″ deep – one as thick as 18″ – and can be found in a multitude of colors, weaves and a range of special features.
Whether it's a simple sheet set to throw on a guest bed or a dive into true luxury with some exquisite Egyptian Cotton sheets, there's a perfect sheet set for everyone on this list!
FAQs
What are the best quality sheets?
When it comes to 100% cotton sheets, the best quality sheets are ones that utilize the longest cotton fiber possible. Supima or Pima cotton or Egyptian cotton sheets are those certified to have longer fibers and are associated with higher quality and a softer feel. Keep an eye out for wording that says "long-staple fibers" over high thread count numbers.
What is the best thread count for 100% cotton sheets?
To reiterate what I said earlier, thread count isn't the single most important factor to consider when purchasing a new set of cotton sheets, but it's worth considering. Thread count is essentially the number of threads per square inch of fabric. A 400 thread count manufactured with long-staple cotton fibers will equate to excellent quality and perhaps a better durability than a shorter fiber with a higher thread count.
Is 100% cotton good for sheets?
I would recommend 100% cotton sheets to those who desire the feel of crisp and cool cotton and want something lightweight and breathable. Polyester/cotton blends have their own benefits - they're often less expensive and may feel a little softer thanks to their synthetic blend and may wrinkle less, but they're more likely to start pilling in a fewer number of washes.
Do cotton sheets keep you cool?
Yes, other sheet fabrics may feel cool but cotton has an excellent reputation for promoting airflow through the fabric, therefore breathing well and offering a cool set of sheets for hot sleepers. Polyester/cotton combination sheets or microfiber blends may feel soft but are more inclined to trap heat and prevent some from sleeping cool.