On the hunt for new bed sheets but not sure what fabric to choose? Then you're in the right place! Whether you're upgrading your bedding or furnishing a guest room, cotton or linen sheets can be a great choice. These breathable fabrics are both great options for warmer climates or the summer months, so pay close attention if you're looking for cooling new bedding. Shoppers looking for sheets made of natural fibers might also especially like cotton or linen sheets, so they should read on as well!
Take a look below to learn more about how each fabric is made, see some pros and cons of both sheets, and get some expert recommendations on which fabric might be best for you.
What are Linen Sheets?
Linen fabric is made from flax plant stalks. It has a thicker, looser weave than cotton fabric, so it will feel denser. Linen bedding is incredibly durable, extremely cooling, and gets softer each time you wash it. Linen bed sheets typically have a thread count of 80 to 150. This would be low for a cotton sheet, but because linen fibers are thicker than cotton fibers this is not an indicator of low quality. In fact, even low thread count linen tends to be very high quality.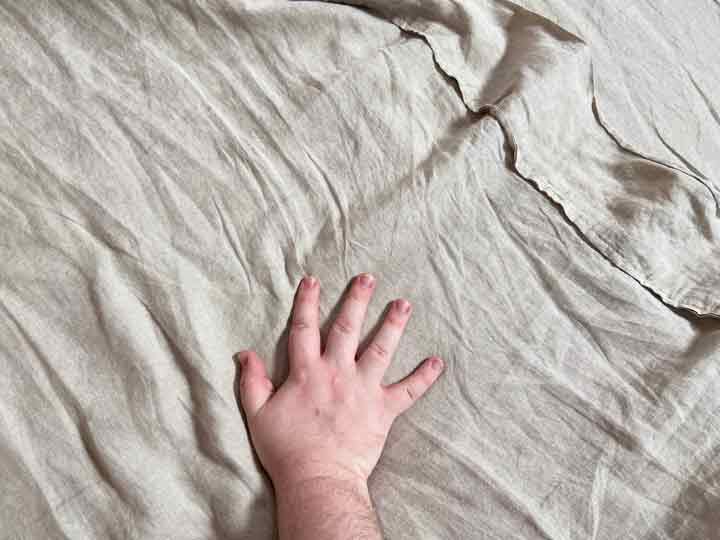 | | |
| --- | --- |
| Pros | Cons |
| Linen is naturally cooling. In fact, it is considered one of the most breathable bedding fabrics available. Linen is also naturally moisture-wicking, another great perk for hot sleepers. | Linen is a luxury fabric, so it can be very expensive. If you're not looking for luxury sheets, you may want to stick to cotton. If you're looking for something ultra-luxurious, check out Belgian linen sheets. |
| Linen is one of the most durable bedding fabrics available. It's actually three times stronger than cotton! This makes linen duvet covers a popular choice, as this bedding is very long lasting. | Linen wrinkles very easily. If you don't like the look of rumpled sheets, linen is not for you. You can try to combat this issue by using only a fitted sheet, which will wrinkle less than a top sheet. |
| Your linen sheet set will get softer with every wash. Most fans of linen sheets love that they become more comfortable over time. | Linen sheets may feel coarse at first. They will become much softer over time, but if you're looking for an ultra-smooth feel right away, you should check out sateen cotton bedding instead. |
What are Cotton Sheets?
Cotton fibers are made from the boll of cotton plants, and cotton fabric is an extremely popular and accessible bedding material. There are several different types of cotton, ranging from the softest extra long-staple Egyptian cotton to more budget-friendly Upland cotton. There are also several different cotton weaves available, including percale cotton, which feels like a crisp button-down shirt, and sateen cotton, which feels silky and smooth. Check out our best cotton sheets article to learn more about all the different types of cotton available!
Regardless of the type of cotton you choose, cotton bed sheets will feel soft and breathable. Most cotton sheets will have a thread count between 200-400.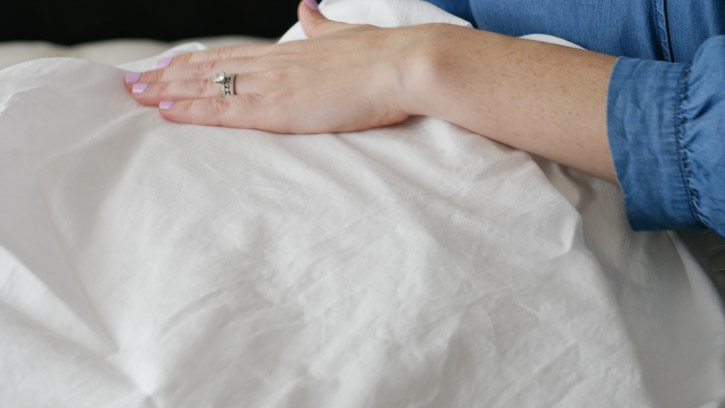 | | |
| --- | --- |
| Pros | Cons |
| Cotton sheets are naturally hypoallergenic, and great picks for anyone with sensitive skin. | Cotton sheets are less durable than linen sheets. This fabric is still fairly durable, but if you're looking for sheets with an ultra-long lifespan, you'll want to stick to linen. |
| Cotton sheets can work for every budget. You can choose luxury pima or Egyptian cotton sheets or opt for a standard set to save money. | Cotton sheets are cooling and absorbent. But, they are not as cooling as linen sheets. |
| Cotton sheets are easy to care for. You can throw them in the washing machine and dryer without worrying. | Cotton sheets also wrinkle easily. However, depending on the weave you choose, they wrinkle much less easily than linen sheets. |
Linen vs Cotton Sheets
Let's recap the main similarities and differences of linen and cotton sheets. Both fabrics are cooling, durable, eco-friendly, and low maintenance. But linen is more cooling and longer-lasting, while cotton is more budget-friendly and easier to care for. Read on below for more details.
Criteria

Linen

Cotton

Price (Queen Size)

$250-$400

$50-200

Durability

3-5 years before signs of wear.

But if you take proper care of your linen sheets they can last you several decades. (Flax fibers are seriously strong!)

2-5 years before they need to be replaced.

Breathability

Ultra-cooling

Moderately cooling

Comfort & Feel

May feel rough at first, but gets very soft over time

Soft and smooth from the get-go

Cleaning & Care

Wash in cold water and tumble-dry on low.

Wash and dry as preferred. Note that washing your cotton sheets in cold water may help them last longer.
Top Similarities
Cotton and linen are both easy to care for. You can machine wash and dry both fabrics.
Both sheets are made of natural fabrics.
Linen and cotton sheets are both hypoallergenic, and work well for sleepers with sensitive skin.
Both fabrics are cooling and moisture-wicking, making them great picks for hot sleepers looking for good airflow.
Key Differences
Linen is more durable than cotton.
Cotton is more affordable than linen.
Though both fabrics are breathable, linen is more cooling than cotton.
Cotton sheets come in a greater variety of weaves, thread counts, and even plant types than linen. This can make it a bit easier to find than linen.
How Do You Tell the Difference Between Linen and Cotton?
So, how can you tell the difference between linen and cotton at first touch? Linen will feel thicker and stiffer than cotton because it is made of a coarser thread. It will also feel more textured because it has a looser weave than cotton. Cotton will feel smoother and less textured than linen thanks to its tighter weave.
Should I Get Linen or Cotton Sheets?
So, which sheets are best for you? It depends on what you like! Take a look below to see who each fabric might be best for.
Choose Linen Sheets If…
You are a hot sleeper looking for ultra-cooling bedding, choose linen sheets. They are some of the most cooling sheets out there. Check out our

best cooling sheets of 2023

article for some linen recommendations.
If you're looking for sheets that will last for years, go for linen. One of the best benefits of linen is how durable it is.
If you want natural, eco-friendly sheets, consider linen. Linen sheets are biodegradable, which is a great feature for green shoppers.
Choose Cotton Sheets If…
If you want sheets that feel soft and smooth right out of the package, stick to cotton. This comfortable fabric does not need to be broken-in the way linen does.
If you are shopping on a budget, consider cotton sheets, which are available at a variety of price points.
If you like color and pattern options, stick to cotton. Cotton sheets are offered in many more colors and patterns than linen sheets.
FAQs
Is linen cooler than cotton?
Yes, linen sheets are more cooling than cotton sheets. This makes linen a great option for the summer months!
Are linen or cotton sheets better?
It depends on what you prefer! Linen sheets are more cooling and durable than cotton sheets. But cotton sheets can feel softer and are more affordable than linen sheets.
How long do linen sheets last?
Linen sheets will likely start to show some signs of wear at around 3-5 years. However, if you take good care of your linen sheets, they can last you for several decades. Linen fibers are incredibly strong, so these sheets will not pill or tear during normal use.
What's a good thread count for cotton sheets?
A thread count between 200-400 will ensure your cotton sheets are comfortable and high-quality.