If you've been dreaming of slipping into a sheet set that's soft, smooth, and luxurious, then sateen may be the best material for your bedding. Not only does sateen feel silky smooth against your skin, sheets and bedding made from this natural material look as good as they feel.
Ready to overhaul your bedding? Let's explore one of the more popular materials around to see if sateen is right for you.
What Is Sateen Made Of?
Sateen is made from fibers (usually cotton) that undergo a specific treatment process called mercerization to "seal" the fibers, resulting in a smoother, shinier finish.
During the mercerization process, cotton fibers are soaked in a sodium hydroxide bath and then rinsed in a neutralized acid bath. The treatment seals the fibers, allowing them to hold fabric dye extremely well, and adds to the lustrous look and feel the material is known for.
Sateen actually refers to the weave of the fibers. When you think of weaving, you probably think of a "one over, one under" repeating pattern. But with sateen fabric, the threads are weaved in a "four over, one under" pattern that maximizes the threads visible on the top side of the fabric.
This is what makes sateen fabrics appear so luxuriously soft and shiny.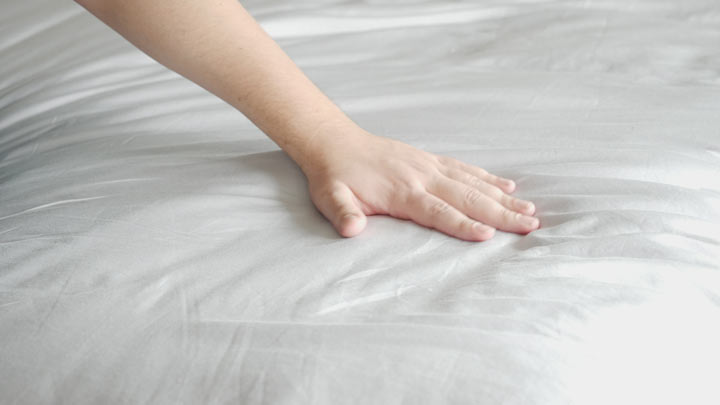 Is Sateen Natural?
Not all sateen is made from cotton, since the name refers to the pattern of weaving and not the fabric material. However, most sateen starts as cotton fibers. Occasionally you may run into a synthetic sateen made from rayon or other synthetic material. Look for "cotton sateen" on labels and website descriptions if you're seeking a more breathable, natural material.
Some companies produce certified organic sateen sheets made from 100% plant-based finishing processes, so yes, you can have all-natural, chemical-free sateen sheets and bedding.
Is Sateen Sustainable?
Sateen can be a very sustainable material. If you want to ensure your sateen bedding is made as sustainably and responsibly as possible, look for brands that have one or more of the following certifications:
GOTS Certification
GOTS is a textile production certification recognized as one of the toughest, most stringent organic textile standards. To earn a GOTS organic certification, a manufacturer must demonstrate organic farming practices, use at least 95% organic fibers and non-toxic dyes, and use no toxic chemical treatments. GOTS certification requires strict environmental and social standards for workers, as well.
OEKO-TEX
OEKO-TEX is a textile certification process that tests every component of a finished product, from zippers to buttons and linings, to ensure the product is free from harmful substances known to be harmful to humans and the environment. Manufacturers must re-test their products every 12 months to maintain their certification.
Fair Trade
Fair Trade certification is another rigorous certification process that ensures supply chain transparency, environmental protection, sustainable livelihoods, and safe working conditions. Fair Trade ensures farmers and workers are paid fairly and work safely.
MADE SAFE
MADE SAFE is a human-health and ecosystem-focused product certification program focused on removing harmful chemicals from products. MADE SAFE certification ensures products are free from over 6,500 banned/restricted chemicals known to be harmful to the ecosystem, animals, and humans.
If sustainable bedding materials are a priority for your home, seeking out brands that obtain one or more of these rigorous certification processes can give you peace of mind that your sateen bedding is non-toxic, good for the earth, and good for your body.
What Does Sateen Feel Like?
The biggest reason to choose sateen sheets and bedding is for the luxurious feel on your skin. The mercerization process and unique sateen weave result in a fabric that is silky smooth and buttery soft, similar to silk or satin.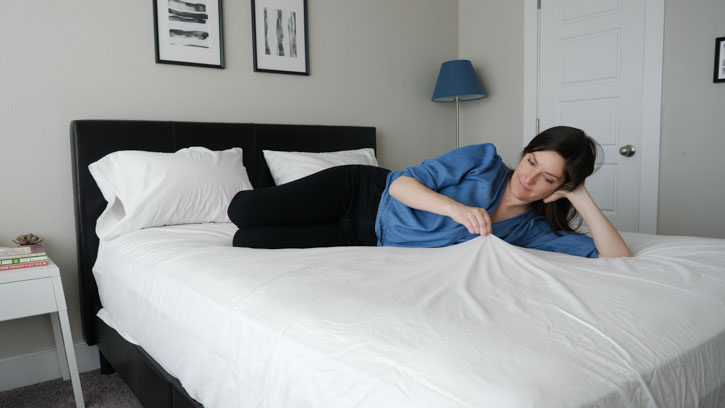 Sateen Benefits
What are the benefits of sateen? Many find this the ideal material for sheets, pillowcases, and duvet covers and are drawn to the natural material due to its many benefits.
Affordability
High-quality sheets can often come with a high price tag, but sateen sheets definitely make the list of best sheets for your money. Sateen sheets can come in a wide range of prices to meet your budget, depending on the brand and what qualities are important to you as a shopper. Luxury labels and sustainability certifications may increase the price point of sateen, but you can also find plenty of affordable, low-cost sateen bedding options, as well.
Smooth, Silky Feel
The feel of sateen is definitely one of its biggest benefits, especially once you consider the affordability factor. Sateen feels like a million bucks. Sateen is a step up above plain old cotton sheets when it comes to comfort, with its signature smooth, silky feel. Warning, sateen sheets feel so wonderful, you may be tempted to hit the alarm snooze button repeatedly as you attempt to eke out just a few more minutes in bed.
Look of Luxury
Sateen sheets look just as good as they feel. The unique pattern of a sateen weave results in a fabric that has a shinier top side and a more matte bottom side. The glossy sheen of sateen looks like a luxurious and high-priced material. Even better, sateen doesn't wrinkle as easily as other fabrics, such as linen or percale. Your bed will be Insta-worthy when you dress it in sateen.
Year Round Comfort
Unlike heavy-weight or light-weight fabrics that only work for one or two seasons out of the year, sateen is a great middle-weight fabric that can be used for year-round comfort. It is more tightly woven than percale, which is made with a traditional "basket weave" pattern (one thread over, one thread under) commonly used for sheets, pillowcases, and duvet covers. Sateen is middle-weight and breathable, so you can sleep comfortably on even the hottest and coldest nights.
Eco-Friendly Options
You may pay a bit more for an eco-friendly set of cotton sateen sheets than one without a strict certification process, but the payoff is worth it if sustainability is a priority in your household. Some bedding manufacturers obtain not one but multiple of the sustainability certifications listed above, ensuring their customers that their sateen sheets are free from hazardous chemicals and toxins that can be harmful to humans and the environment.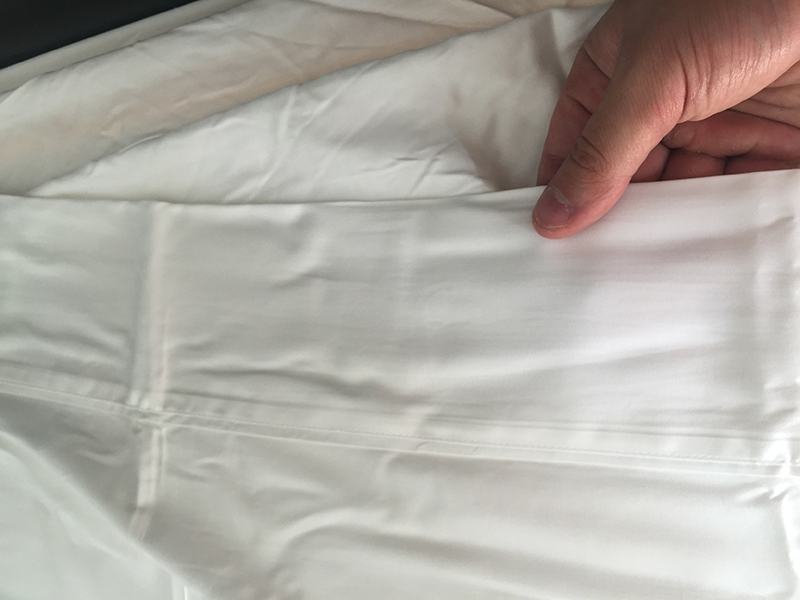 Sateen Drawbacks
Sateen is not for everybody, despite its desirable look and feel. Before you shop for sheets and bedding made from cotton sateen, you may want to consider the following drawbacks:
Breathability
Sateen is a medium-weight material made with a tighter weave than some other fabrics, so it may not be the best choice if you're looking for the best cooling sheets. If you tend to sleep hot at night and want a pair of sheets that will help you cool down, you may want to look at materials such as 100% bamboo viscose, Tencel lyocell (a natural material made from eucalyptus), or linen, which is a breathable, loose weave fabric made of fibers from the flax plant.
Durability
The luster and sheen of a sateen weave also doesn't lend itself to durability. The sateen weave pattern doesn't lend the same level of strength as a basketweave material, such as percale or Egyptian cotton. Sateen's smooth finish can also snag and pill, which can negatively impact its look over time. If you want a set of sheets to last you a long time, sateen may not be the best contender.
Sateen vs Cotton
Sateen refers to the weave of the threads, not the thread itself. Which means you don't have to choose between sateen vs cotton sheets. If you're looking for the best cotton sheets but like the look and feel of sateen, then cotton sateen is a great solution.
Many people think of Egyptian cotton when they think of cotton sheets. The primary difference between Egyptian cotton vs sateen is the way the threads are woven together. Egyptian cotton uses a basketweave pattern, resulting in a fabric that is more durable, yet less silky smooth, than sateen.
Sateen vs Percale
When you stay overnight at a hotel and the sheets feel crisp like a freshly ironed button-down shirt, there's a good chance you're sleeping on cotton percale. Percale is a common fabric used for sheets. It has a tight basketweave pattern and can be favored for its cooling properties and durability. Both percale and sateen can be made from cotton and both will soften over time the more they are laundered. Percale sheets can also be less "slippery" than sateen, helping them stay tightly in place no matter how much you toss and turn at night. When deciding between sateen vs percale, you may want to consider whether you need a cooler, more durable sheet.
Sateen vs Satin
The sateen weave and the satin weave are identical: four threads over and one thread under. This gives both satin and sateen the same signature gleam on one side of the fabric and a more matte finish on the other. Both materials are also less likely to wrinkle up.
The major difference between satin and sateen is the type of fibers used. Satin, which is commonly used in ribbons and ballet shoes, is typically made from synthetic material. Because it's not very breathable, satin can easily trap body heat, making for a hot night of sleep. Sateen, on the other hand, is often made from natural fibers such as cotton, which makes it more breathable and cooler than satin.
Sateen vs Silk
Much like sateen and satin, silk is another material with a lustrous, shiny appearance. Where the weave pattern of sateen and satin results in a material with one shiny side and one matte side, silk threads will result in a uniform sheen on both sides of the material.
Silk is a natural material made from the cocoon of the silkworm (Bombyx mori). Many strands are woven together to create a strong yarn, and the result is lightweight and extremely breathable material. Silk does come with its drawbacks, however. Silk is less absorbent than cotton sateen, which means nighttime sweating can quickly damage your investment. The price point of silk can also be a potential drawback; it can come at a pretty extravagant price tag.
How to Wash Sateen
Sateen sheets get softer with every wash. Washing your sateen sheets requires no more special care than knowing how to wash any sheets. The biggest thing you need to know before starting is whether your sheets are made of cotton sateen or synthetic sateen. (Synthetic materials should always be washed cold and dried low. Heat and harsh chemicals can damage synthetic fabrics.)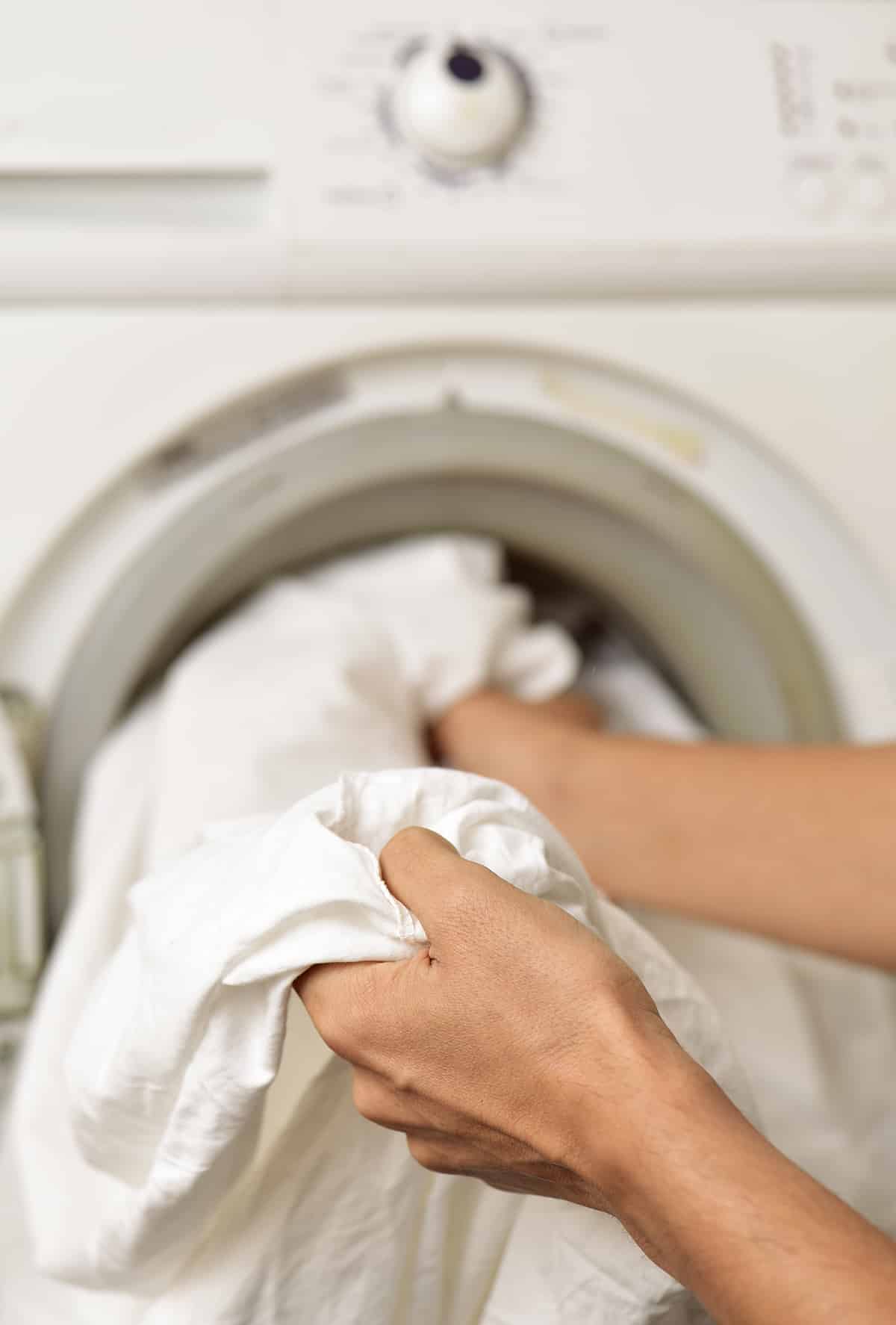 Take a look at the label. It will tell you exactly what materials your sheets are made from and should also offer you guidance for laundering.
Remove your sheets from the bed and check your tags. Note any special washing instructions.
Pre-treat any visible stains with a spot remover or a few drops of dish soap on a wet cloth.
Load your sheets into the washing machine, being careful not to overload and to follow the manufacturer's instructions for heat and detergent.
Dry your sheets on a clothesline in the sun or gently in your dryer on low heat. Dryer balls can help remove static and lint and help remove wrinkles.
Fold and store your clean dry sheets to avoid wrinkles. We love to store sheet sets inside a pillowcase that matches the set.
Should I Buy Products Made with Sateen?
Sateen is a wonderful material for sheets and bedding for most people. Sateen is prized for its silky smooth feel and lustrous look. Despite its luxurious look and feel, cotton sateen can be both affordable and eco-friendly.
The only reason not to buy sateen is if you're looking for a sheet set with a bit more durability or breathability. For everyone else, sateen is a great, middle-weight material that's easy to care for and can provide year-round comfort—and style—to any bed.
FAQs
Does sateen wrinkle?
Sateen is not considered a high-wrinkle fabric. Its tight sateen weave is naturally wrinkle-resistant. However, sateen can be a bit slippery, which can cause the edges of sheets to move around at night and could lead to a looser sheet that wrinkles more than a traditional cotton percale or Egyptian cotton sheet does. 
Does sateen shrink?
Cotton sateen sheets may shrink a bit the first time you launder them, just like any other sheet set made from cotton. To avoid unnecessary shrinkage, be sure to follow the manufacturer's care label on your sateen sheets, and wash and dry at the lowest recommended temperatures. 
Is sateen stretchy?
Cotton sateen sheets are not stretchy. However, there are some sateen materials that are made from a blend of cotton and synthetic materials, like spandex, which can then create a more stretchy sateen textile.
Is sateen breathable?
Cotton sateen is made from cotton, a natural fiber, and woven in a sateen pattern that creates a midweight material that is more breathable than synthetic fabrics, but not as breathable as bamboo or linen. Sateen is considered a year-round material that can be used in hot and cold weather. However, hot or sweaty sleepers may want to consider linen, bamboo, or other cooling sheets instead of sateen.
Is sateen worth it?
Sateen is an affordable fabric that looks and feels luxurious. It can be found at numerous price points, gets softer with each wash, and can be eco-friendly and sustainable. While it may not be the most durable or long-lasting material for sheets and bedding, the look and feel of sateen make it a worthwhile bedding investment for almost everyone.
Melissa Zimmerman
Melissa Zimmerman is a writer with a passion for sleep and wellness. When she's not researching and writing about health and wellness, you can find her reading books and spending time with her son and dogs in her Northern California home. Connect with Melissa at www.proseandpurpose.com