Those who travel often have probably seen a variety of sleep products hanging in airport shops. Neck pillows, earplugs, and sleep masks – these can all help people sleep better when they are taking a trip.
Looking specifically at sleep masks, shoppers might think they are all pretty much the same – nothing could be further from the truth and, while they might look similar on the surface, there are a few sleep masks that really stand out among the rest.
To help shoppers find the right sleep mask, I have compiled a list of my favorite sleep masks, so we'll talk about who should get which sleep mask and what a good sleep mask can really do.
Best Sleep Masks: Our Top Picks
Here is our list of the best sleep masks:
Best Sleep Masks Video Review
See how each sleep mask actually fits on the face and performs in a variety of sleep tests.
Top Picks Compared
If someone looks for sleep masks online, they are going to get hundreds, maybe thousands of results, so how do they know they are getting a sleep mask that will actually work for them?
Out of all the sleep masks I have tried, six really impressed me; these six masks have a number of interesting features and are very high quality so read on to find the right fit!
Best Silk Eye Mask – Brooklinen
Who's It For?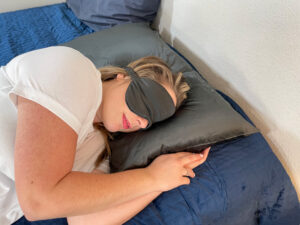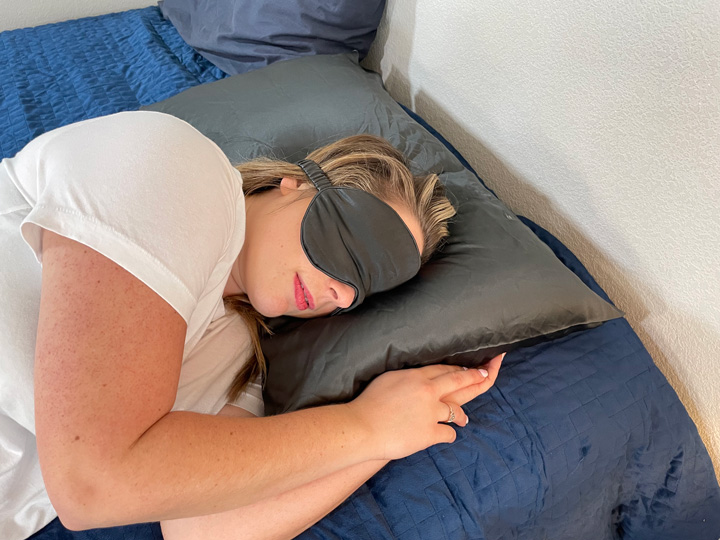 Made with high-quality Mulberry silk, Brooklinen's eye mask is both luxurious and comfy. This eye mask doesn't just block out sunlight — it can also help get rid of morning wrinkles!
This eye mask is available on its own or as part of Brooklinen's Mulberry Silk Bundle, which includes a soft pillowcase. In fact, there are many benefits to sleeping with a silk pillowcase!
What Makes The Brooklinen Eye Mask Stand Out?
It's made with high-quality Mulberry silk, so it's durable and luxurious.
It blocks out unwanted light and helps you sleep in longer.
It helps get rid of wrinkles, and it's hydrating.
Read our full Brooklinen loungewear review.
Classic Design – Alaska Bear Natural Silk
Who's It For?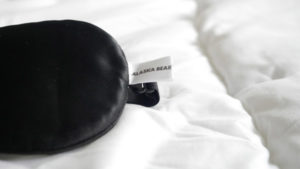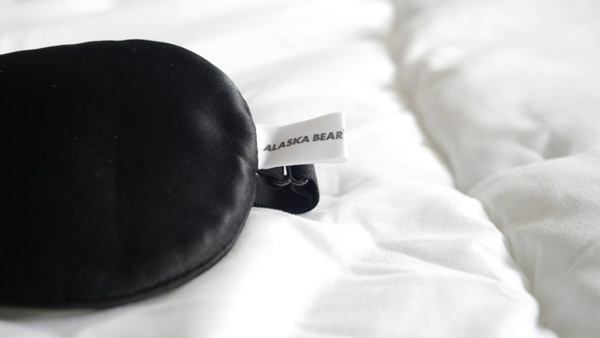 The Alaska Bear is one of the most popular sleep masks I have come across and, while at first glance, it appears to be a simple sleep mask thanks to its classic design, there is significantly more going on here.
First off, the outside of the mask is made from Mulberry silk, a particularly soft material that feels very smooth against the face, so most shouldn't feel like the mask is particularly irritating.
Second, a major consideration with sleep masks is light blockage – the Alaska Bear is black, so when I hold it up to my face and open my eyes, I cannot see through it, and the mask fits snugly against my face so that I don't see any significant light coming up near my nose.
Since the mask fits my face so well, it is also a good match for all three sleeping positions and, whether I lie on my back, side, or stomach, the mask stays firmly in place.
What Makes The Alaska Bear Stand Out?
It is made of a Mulberry silk, a soft smooth material that feels particularly nice against the skin.
The strap is adjustable, so the mask should be able to work for many different sizes of people.
The Alaska Bear is black, fits especially well, and blocks out almost all light coming through the front of the mask.
The sleep mask can be used in any sleeping position, and it should work especially well for travel.
The Alaska Bear can be easily washed at home using cool water and mild soap.
No Eye Pressure – Nidra Deep Rest Mask
Who's It For?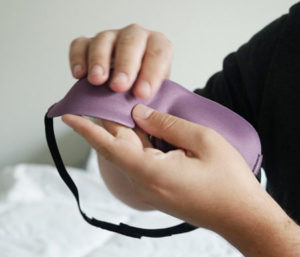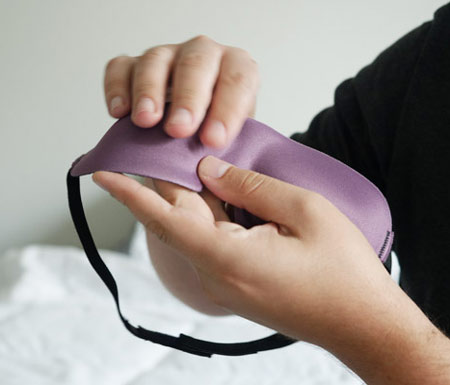 The Nidra is a unique sleep mask in that it features molded cups that keep the mask from pressing into the eyes, making the Nidra a good option for those who want a mask that won't smudge their makeup.
Also, the molded cups should interest people who struggle with eye pain; while wearing this sleep mask, I feel no pressure on my eyes, and I have a significant amount of room to open my eyes and blink without any obstruction.
While the Nidra stands out because of its eye cups, it also works well as a simple sleep mask – the thick Polyester mask does not let any light in from the front, and a small nose ridge keeps light from entering near the bottom of the mask.
The Nidra is also very lightweight and feels particularly secure no matter what position I sleep in, meaning it could also be a good travel companion.
What Makes The Nidra Stand Out?
The Nidra's molded cups keep pressure away from the eyes so that it feels quite comfortable, and it should also work for those who want to nap without smudging their makeup.
People with eye pain shouldn't feel too much pressure on their eyes while wearing the Nidra.
The Nidra can be cleaned at home, so it should be easy to keep the sleep mask free of oils and dirt.
Best Cosmetic Sleep Mask – Morihata
Who's It For?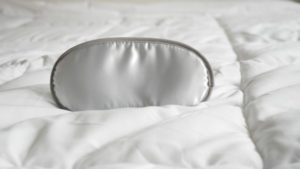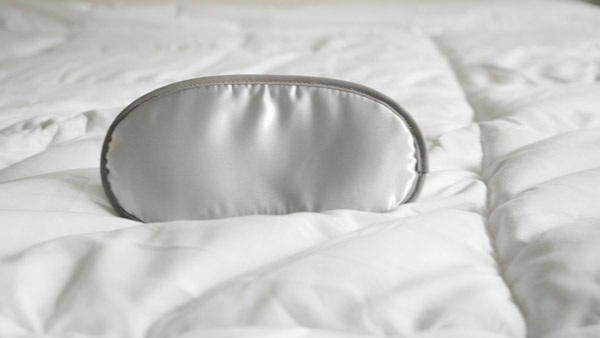 Light blockage is not the only reason to buy a sleep mask; some sleep masks have a more cosmetic function.
The Morihata is one such sleep mask, and it contains activated charcoal on the back of the mask. One finds activated charcoal in everything from toothpaste to face masks, and it has been found to draw out oil and dirt.
With the inclusion of charcoal, the Morihata is designed to reduce puffiness around the eyes and keep skin smooth, so those who wake up with bags under their eyes should definitely consider the Morihata.
This sleep mask does not cut out the most light and, when I open my eyes under the mask, I can see a significant amount of light. However, there is an extra strap of fabric that runs across the bottom of the backside, which does stop most light from leaking in near the nose.
As a pure sleep mask, the Morihata might not be the best at creating that dark experience, but it should be a great match for those who want a mask to help them wake up looking clean and refreshed.
What Makes The Morihata Stand Out?
It contains charcoal, which is meant to help cut down on extreme puffiness around the eyes.
The Morihata features a strip of fabric that should stop most light from entering near the nose.
Owners can wash the Morihata at home, so it is particularly easy to keep the eye mask clean.
The adjustable strap makes it easy to fit the Morihata to most anyone's head.
Best For Pain Relief – IMAK Eye Pillow
Who's It For?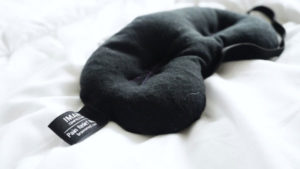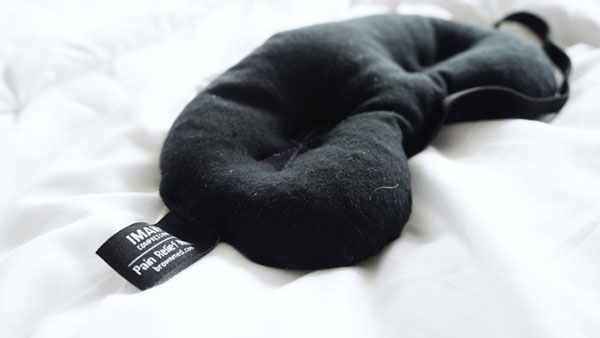 The IMAK is not just another sleep mask; it is an "eye pillow" and is heftier than the other masks on this list.
ErgoBeads give the IMAK its weight, and they also give the IMAK some real body and create a fantastic massaging effect around the eyes.
The IMAK was actually invented by an orthopedic surgeon, and the mask is designed to help reduce eye pain, sinus pain, headaches, and migraines. The website specifically mentions that office workers who stare at a screen all day will particularly like the soothing nature of the IMAK.
Because of its weight, the IMAK also provides deep tissue pressure, the therapeutic pressure one finds in weighted blankets. Deep tissue pressure has been shown to lower cortisol levels while raising serotonin and dopamine levels, so one's mood could significantly improve by wearing the IMAK overnight.
The mask blocks out the majority of light, but it is too heavy for side or stomach sleeping and, when I moved around at night, it did fall off my face.
However, for those who are looking for a mask to deal with eye and sinus pain, the IMAK should definitely work.
What Makes The IMAK Stand Out?
The ergoBeads help massage the area around the eyes, making for an extremely soothing experience.
The eye pillow could lessen eye pain, sinus pain, and headaches.
The IMAK cuts out a good amount of light and should work as a simple sleep mask.
The IMAK eye pillow can be placed in the freezer to add even more cooling relief during the night.
Best Light Blockage – Mavogel
Who's It For?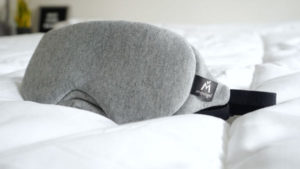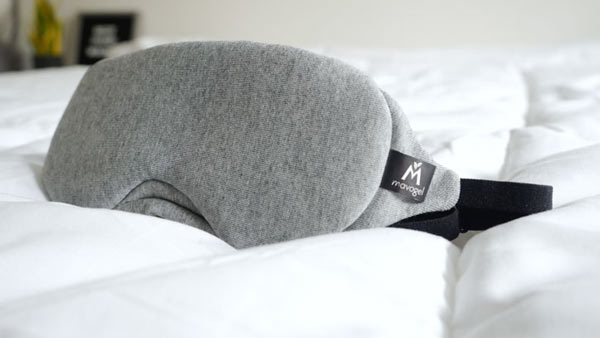 The Mavogel is a sleep mask with some very interesting features. It has wings on both sides of the mask that transfer pressure away from the center of the mask and lessens the pressure one will feel on the eyes.
The sleep mask has a bendable cartilage strip around the nose, and with two fingers, it is easy to bend this wire to fit the ridge of the nose. This keeps that light from coming in near the nose. Add this together with the thicker grey material, and there shouldn't be any light leakage. Even when opening my eyes under the mask, I was only seeing blackness.
The Mavogel has a somewhat plush feel – it contains many layers of softer fabric, and there is even a bit of sponginess to it. Those who want a comfortable sleep mask to keep the light out should take a look at the Mavogel.
What Makes The Mavogel Stand Out?
Wings toward the side of the mask keep the pressure away from the eyes.
Bendable cartilage ensures that no light leaks in from the nose area.
The Mavogel cuts out almost all light and should help most people sleep more deeply.
An adjustable strap makes the Mavogel a good fit for many sized heads.
What Can A Sleep Mask Do For Someone?
There are many reasons one should consider buying a sleep mask, and there are many hidden benefits to using these products, so read on to see if a sleep mask is a good choice.
They can keep the light out of sleepers' eyes. The first reason to get a sleep mask is that they can cut out the light; our circadian rhythms are greatly affected by light, and wearing a sleep mask can help one get more REM sleep and can even increase the body's production of the sleep hormone melatonin, allowing one to sleep more deeply. A sleep mask can be especially useful if someone has an unusual work schedule, so those who work nights and sleep during the day should definitely consider a sleep mask.
They can help people sleep while they travel. When someone goes on a trip, they rarely have much control over the lights in their surroundings and, whether they are on a plane or train, most travelers could find the lights particularly distracting. A light sleep mask could help them cut out that unwanted light and, if they are trying to reset their body clock after being in a different time zone, a sleep mask can be very useful.
They can help with pain relief. Some eye masks, such as the IMAK Eye Pillow above, have therapeutic properties; they can help cut down on eye pain and sinus pain, and they may also alleviate migraines and provide healthy compression around the eyes.
They can have cosmetic benefits. Sleep masks can also help with one's appearance – many people wake up with bags under their eyes, and some sleep masks contain materials like charcoal that can reduce this puffiness while other sleep masks may even prevent wrinkles!
What Should Someone Consider When Buying A Sleep Mask?
Like most mattresses and bedding, there is no one sleep mask for everyone, so those who think a sleep mask could work for them should consider the following criteria:
What environment will the sleep mask be used in? It is always important to think about where one will be utilizing the sleep mask; will the sleep mask be used at home and, if so, does the user live in an area with a good amount of light pollution or, if someone is going to be using it for travel, will it stay secure when they are moving around?
What position does the owner sleep in? As with any sleep product, it is important to think about sleeping positions. If someone sleeps on their back, most of these masks will work but, if they sleep on their side and opt for a heavier mask that doesn't fit their face too well, it could fall off while they sleep.
How well does the sleep mask fit? A sleep mask won't do someone much good if it does not fit correctly, so make sure the sleep mask either fits the head immediately or at least features an adjustable strap. Most sleep masks come with an adjustable strap but double-check just in case.
Is the sleep mask particularly easy to clean? After using a sleep mask for some time, one could start to see some buildup of oil and dirt, so try to find a mask that is easy to clean at home.
Overall
For those who think a sleep mask would be helpful, one of these six options should work, but those who want to keep looking should just keep these criteria in mind, and it should be easy to find the right fit!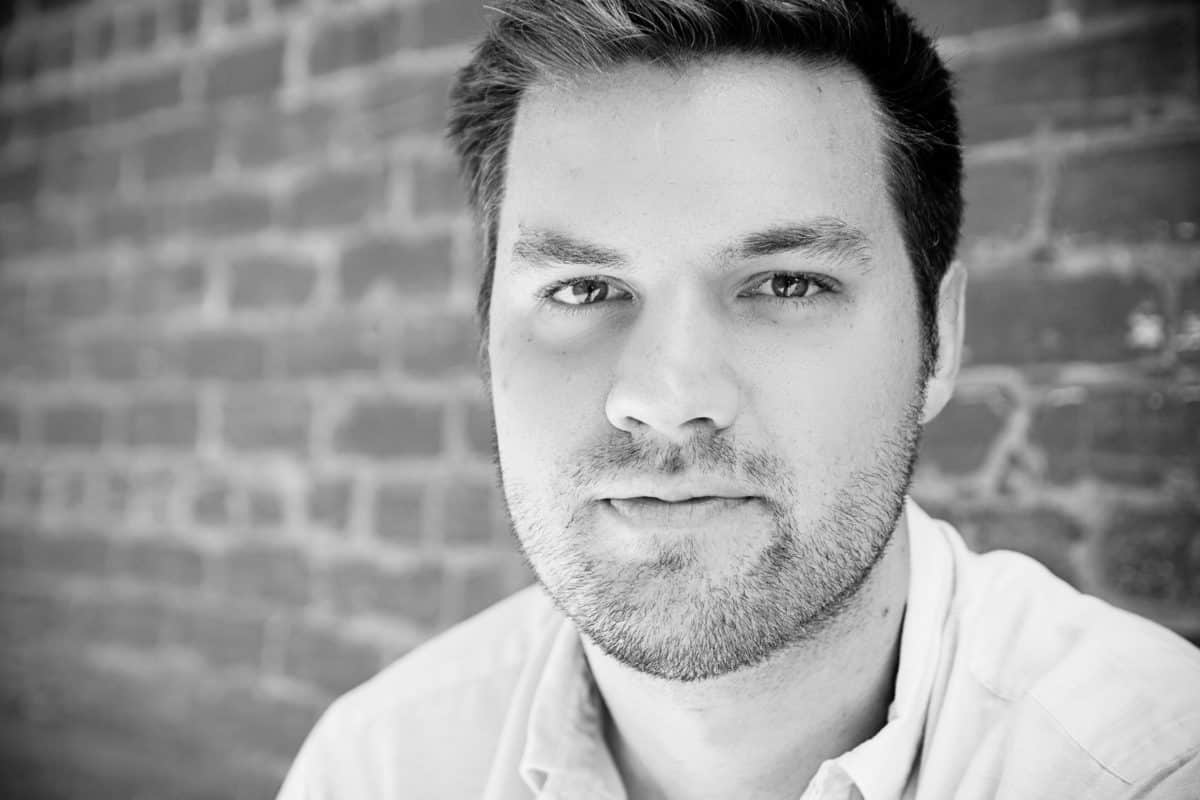 Marten Carlson
Marten is the Lead Reviewer at Mattress Clarity. He is a Certified Sleep Science Coach and covers the mattress industry as well as sleep science news. He is specifically interested in the connection between sleep and overall health. Marten has written for media publications like Consequence of Sound and received a master's degree in Film Studies from Emory University. He comes from Franklin, Indiana, and spends all the time he can writing, directing, and acting in films.