Pillows come and go, but let's be real…down is forever. Okay, so maybe it won't literally last forever, but it has stood the test of time as a classic pillow filling that people absolutely love. The best down pillows are often considered posh and luxurious — and therefore more expensive. While that's true in some cases, it's possible to select a lightweight, soft, and durable option without breaking the bank.
To find the best down pillow for you, swan-dive into the seven pillows below to learn more about what makes each so fantastic and who they're the best fit for in terms of primary sleeping position. And you can always check out our overall best pillows guide if you want different options!
Editor's Note: While most of these pillows do not have full reviews on Mattress Clarity, I have handled and tested them all specifically for this list!
Best Down Pillows – 2023
Best Down Pillow: Video Roundup
Editor's Pick- Brooklinen Down Pillow
Who is it for?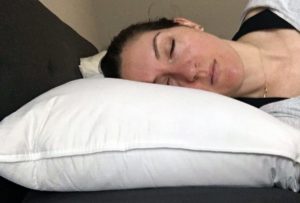 A standout among down pillows is Brooklinen's down pillow. It comes in many different firmness options, making it a match for just about anyone. And it's fairly affordable to boot!
The three firmness options will work for different sleeping positions; the plush is ideal for stomach sleeping, the mid-plush is great for back sleepers, and the firm will be ideal for side sleepers.
Down can be a natural insulator, but this pillow is fairly breathable, and it comes to you in a breathable cotton cover. All this to say – this pillow won't trap heat!
What Makes Brooklinen Down Pillow Stand Out?
Down pillows can be rather expensive, but this one is fairly affordable.
The down used is ethically sourced.
Three firmness options make it a match for just about anyone.
Read our full Brooklinen Down pillow review.
Best for Side Sleepers – Helix Down & Feather Pillow
Who is it for?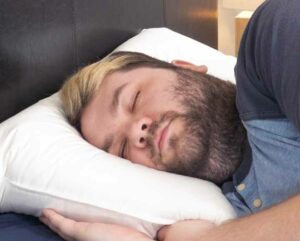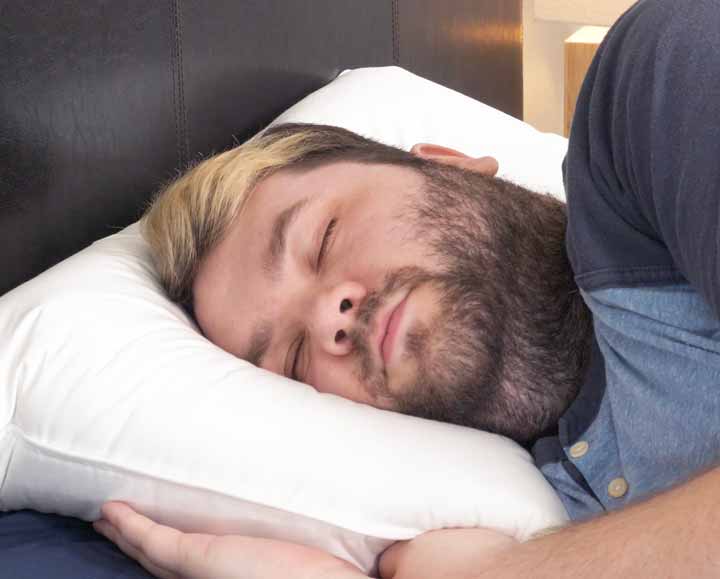 Down is not like other materials used to fill pillows. It's very moldable and can deflate when you rest on it. And side sleepers who love down pillows need something that's tall and won't bottom out.
Helix makes a down and feather pillow that works for all sleeping positions, but side sleepers will enjoy this pillow thanks to its reinforced design and three chamber construction.
Helix uses a combination of down and feathers in the core to provide a good amount of support, while the two outer chambers of down provide plush comfort. Plus, with a reinforced, double stitching on the perimeter of this pillow, it won't lose its shape.
This means if you sleep on your side, your head and neck will stay in a neutral alignment while you sleep.
What Makes the Helix Down & Feather Pillow Stand Out?
It can work for all sleeping positions, but side sleepers can rest easy knowing it won't lose its shape.
It has a supportive core of feathers and down.
Helix offers a 100-night trial period to test it out.
Read our full Helix Down & Feather Pillow review.
Best Goose Down- Plushbeds Sateen White Goose Down Pillow
Who is it for?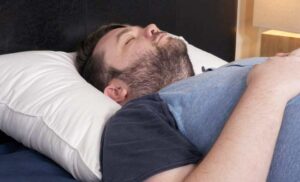 When it comes to down, there are two main types: duck and goose down. The difference here is that goose down tends to feel much more plush and lightweight than duck down.
The Plushbeds goose down pillow exudes luxury. The goose down feels extremely soft and plush. It provides a great amount of plush comfort. And it comes in two firmness options!
The medium firmness works best for back sleeping, while the firm option works well for side sleeping. All this is wrapped in a luxurious cotton sateen shell which feels like soft satin.
What Makes the Plushbeds Goose Down Pillow Stand Out?
If you're looking for a luxurious down pillow, this is the one for you!
The goose down feels extraordinarily soft and plush.
It has two firmnesses which should work well for back and side sleeping.
Read our full Plushbeds Goose Down pillow review.
Best Down Feathers- Pacific Coast Classic Down Pillow
Who is it for?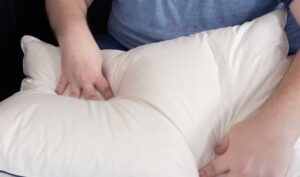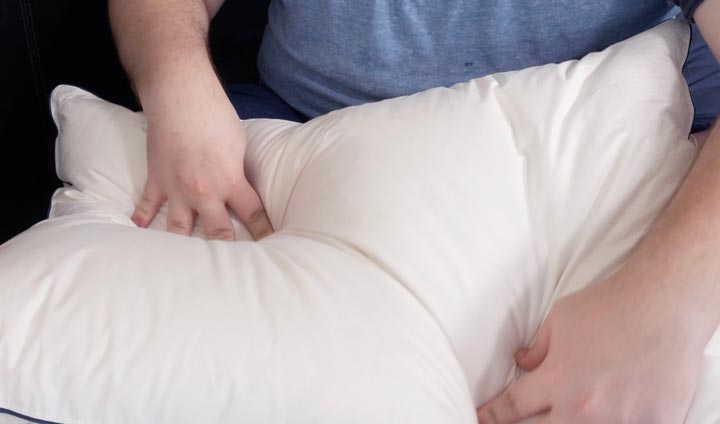 Pacific Coast uses something called Hyperclean down in its pillows, which is some of the best down out there! This particular down has been washed and cleaned up to eight times to ensure it is free of dirt and dust, and gives the down a fluffy feel.
This pillow is another that has multiple firmness options, which makes it ideal for many different body types and sleeping positions. Regardless of sleeping position, down pillow lovers can get that plush down experience and sleep comfortably at night.
What Makes the Pacific Coast Classic Down Pillow Stand Out?
The down used is of the highest quality, and has been certified by the American Down & Feather council as such.
It has multiple firmness options to accommodate all sleeping positions.
For easy care, the pillow can be fully machine-washed!
Full review to come!
Best on Amazon- Down Dreams
Who is it for?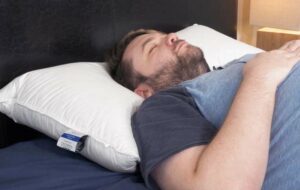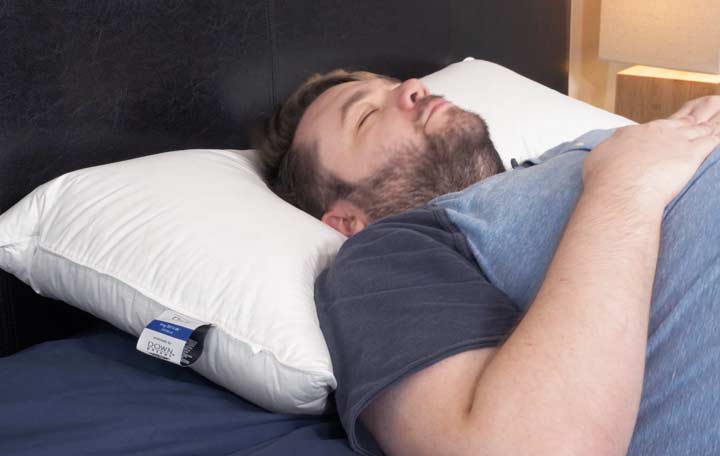 Amazon is the go-to for online shoppers these days. So if you happen to be checking out down pillows while perusing Amazon, look at the Down Dreams pillows!
The Down Dreams pillows are sold in a double pack, making them a good option for couples who love down pillows. These feel about medium in firmness, and work for back sleepers and some stomach sleepers.
These pillows caught my eye because they also have a high review rating, coming in at 4.2 out of 5 stars. And many customer reviews praised these pillows for being high-quality!
What Makes the Down Dreams Pillows Stand Out?
They can be found on Amazon, making ordering and shipping a breeze.
They come in a double pack.
They're highly rated on Amazon and are made of high-quality materials.
Full review to come!
Best Firm- Parachute Down Pillow
Who is it for?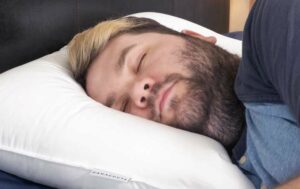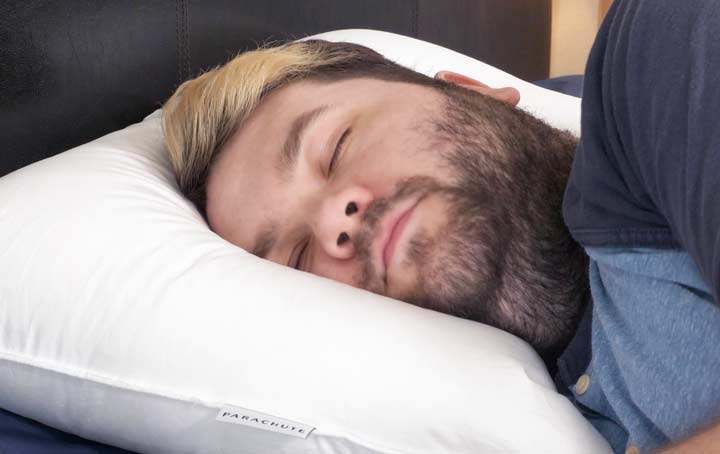 Many pillows on this list come with multiple firmness options. Parachute's down pillow is no exception, but if you love a firm down pillow, this is the one for you.
This pillow has been stuffed to the brim with European white down. It still has that down plushness and moldable quality, but because there's just so much fill, this pillow is very supportive.
Parachute mentions it works best for back sleepers, but because this pillow is so tall from being overstuffed, side sleepers can enjoy it, too.
What Makes the Parachute Down Pillow Stand Out?
Firm pillow fans who love down pillows will enjoy this option.
This pillow should last you a while, which Parachute recognizes and backs up with a 3-year warranty.
Dry cleaning is recommended, but if you're in a pinch you can machine-wash this pillow, too.
Full review to come!
Best for Back Sleepers- Tuft & Needle Luxury Down Pillow
Who is it for?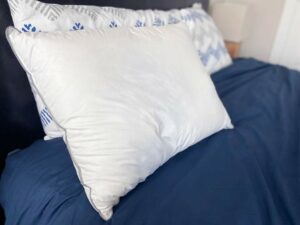 Back sleepers who love down pillows should look at the Tuft & Needle down pillow. This pillow features a combination of down and feathers that provides great comfort and support.
You can also rest easy knowing the down is cruelty-free, meaning it was sourced ethically. It's more of a medium-firm pillow, thanks to the presence of supportive feathers. This makes it a great option for back sleepers, but side sleepers may enjoy the support as well.
Finally, this pillow won't trap too much heat thanks to the 100% cotton cover that is both breathable and moisture-wicking.
What Makes the Tuft & Needle Luxury Down Pillow Stand Out?
The combination of down and feathers creates a perfect balance of comfort and support for back sleeping.
When this pillow gets dirty, you can machine-wash the whole thing.
You have 100 nights to test this pillow out.
Full review to come!
What are Down Pillows Made of?
Simply put, down is a type of feather that you find on birds, though typically sourced from ducks or geese. Down is sometimes found closer to the bird's skin, or found on the belly of the bird.
Down is much softer and fluffier than regular feathers and won't have pointy quills. Because of this, down makes for a fluffy, comfortable fill option in pillows.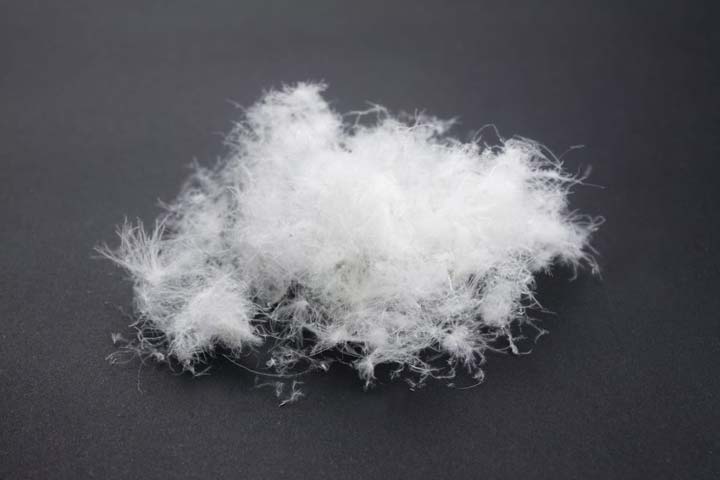 Often you'll find down pillows made with cotton covers. All the options on this list come to you in cotton covers. So while down can be a natural insulator, the breathable cotton covers should allow some breathability.
Types of Down
Down pillows are typically made from duck or goose down and can vary on exactly what type of duck or goose. For example, Canada white goose down is often considered excellent quality, as is Eider duck down.
Some down pillows, like Brooklinen's pillow, are made through ethically sourced programs. Some brands use down certified by the Responsible Down Standard (RDS), which means the brand's down filling comes from birds who, "have been treated with care." For those who love the feel and quality of down but are concerned about the ethics of the manufacturing process, check for labeling like this before making a purchase.
RELATED: Down vs. Feather Pillows – What's the Difference?
Clusters vs. Feathers
Down pillows can be filled with either all down clusters or — more rarely — all feathers, but more often than not, they're a combination of the two. Clusters of down are very soft and almost snowflake-like — far less identifiable than a standard bird feather, which most of us are familiar with.
The size of a down cluster is dependent on the bird that provided it. Duck down clusters will be smaller than goose down clusters. This matters because the larger the cluster, the more insulating, as it traps more air and makes the pillow lighter and fluffier in the end. For this reason, pillows made with plenty of down from geese tend to be more luxurious and more expensive than others. They're also more durable!
Feathers are flatter and more structured, thanks to their longer quills. Feathers are often used in the center of a pillow to add support and structure while down is filled around it to ensure the classic "down" feel. Feathers are less durable than clusters and not as lightweight. Therefore, pillows with more feathers tend to be more affordable.
Fill Power
Without getting too heavy into the science of it, fill power is the amount of space — measured in cubic inches — one ounce of down will take up to reach its maximum loft. This is basically a measurement of the loftiness of a pillow, and often equates to the durability and quality of a pillow. Higher fill power means larger down clusters and the corresponding amount of trapped air means the longer it'll retain its loft and firmness. However, fill power is not necessarily an indicator of overall firmness, so keep that in mind as well. A high fill power — around 800 — does not guarantee that the down pillow will be super firm.
How to Wash Down Pillows
Care instructions for down pillows will vary depending on what the manufacturer recommends. But for the most part, down can be machine-washed. But because down is a delicate material, you'll want to avoid using hot water cycles.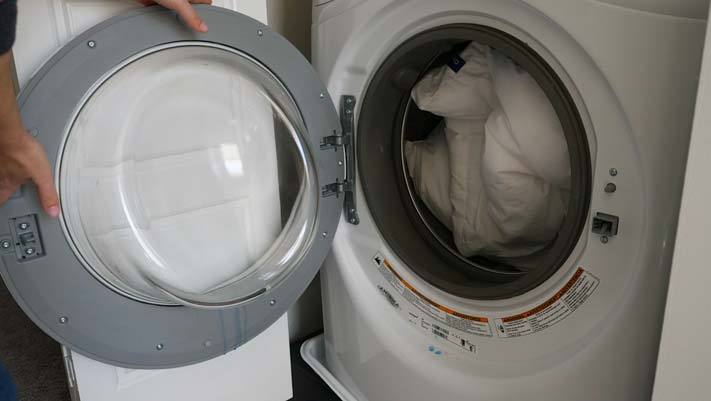 In terms of drying, some can be tumble dried, while others are air dry only. Like with the wash cycle, if you are able to dry your pillow in the dryer, use low heat. Other care instructions include spot cleaning only, or taking your pillow to the dry cleaner.
Final Thoughts
These are seven of the absolute best down pillows out on the market today, but they're certainly not the only ones to buy. As always, I suggest navigating the pillow purchasing process by starting with one's primary sleep position and narrowing down pillow options based on the appropriate loft and support for that position from there. Don't hesitate to comment on my YouTube video if a personal recommendation is needed!
FAQs
How do I choose a down pillow?
In many ways, choosing a down pillow is just like choosing any other pillow. Start with one's primary sleep position to gauge how much loft and general firmness is needed. Traditionally, stomach sleepers need soft and flatter pillows while side sleepers need the most height (or loft) and firmness.
What is the best down pillow for side sleepers?
The best pillow for side sleepers is going to offer the most firmness and the most height. One combination that I really like — and you can see this in the Brooklinen Mid-Plush — is a pillow with a core of feathers that provides support, but surrounded by down so that there's still plenty of softness and comfort.
What is better — goose or duck down pillows?
Goose down is larger in size than duck down, so on average, goose down pillows have a higher fill power than duck down. This means that goose down pillows won't need as much down to be loftier, lighter in weight, and more luxurious. That being said, they typically cost more. If you opt for duck down, but still want something with the plushness of goose down, look for a higher fill power.
How long do down pillows last?
This depends on the materials used, but typically down pillows can last you around 5 years or so with good care. I'd recommend cleaning or washing the pillow every six months, per the manufacturer's instructions, to ensure the pillow stays fresh and clean for as long as possible.