Brooklinen's Mid-Plush Down pillow has a creative design that gives you all the cozy comfort of a down-filled pillow but with enough support and loft so the pillow doesn't fall completely flat overnight. The Mid-Plush version is the most popular and also the most versatile. So what else do you need to know about it? Read on for my full review.
Key Features
Firm feather core chamber with soft down surround
400 thread count 100% cotton shell
Oeko-tex® certified to be free of harmful chemicals
Hypoallergenic with anti-microbial treatment
Made in Canada
60-night trial
Comes in Standard (20″ × 26″) and King sizes (20″ × 36″)
Care (from Brooklinen): We recommend washing our pillows as seldom as possible so as to not disturb the texture and fluffiness of the down fibers. If a product is stained, we recommend spot washing it with Woolite or Oxyclean around the stained area. Should a pillow need to be washed, we recommend washing on a low and gentle cycle and tumble dry on low.
Price: $69 for Standard and $89 for King
Canada Goose Down Certified
Comes in

Plush
Mid-Plush (My review)
Firm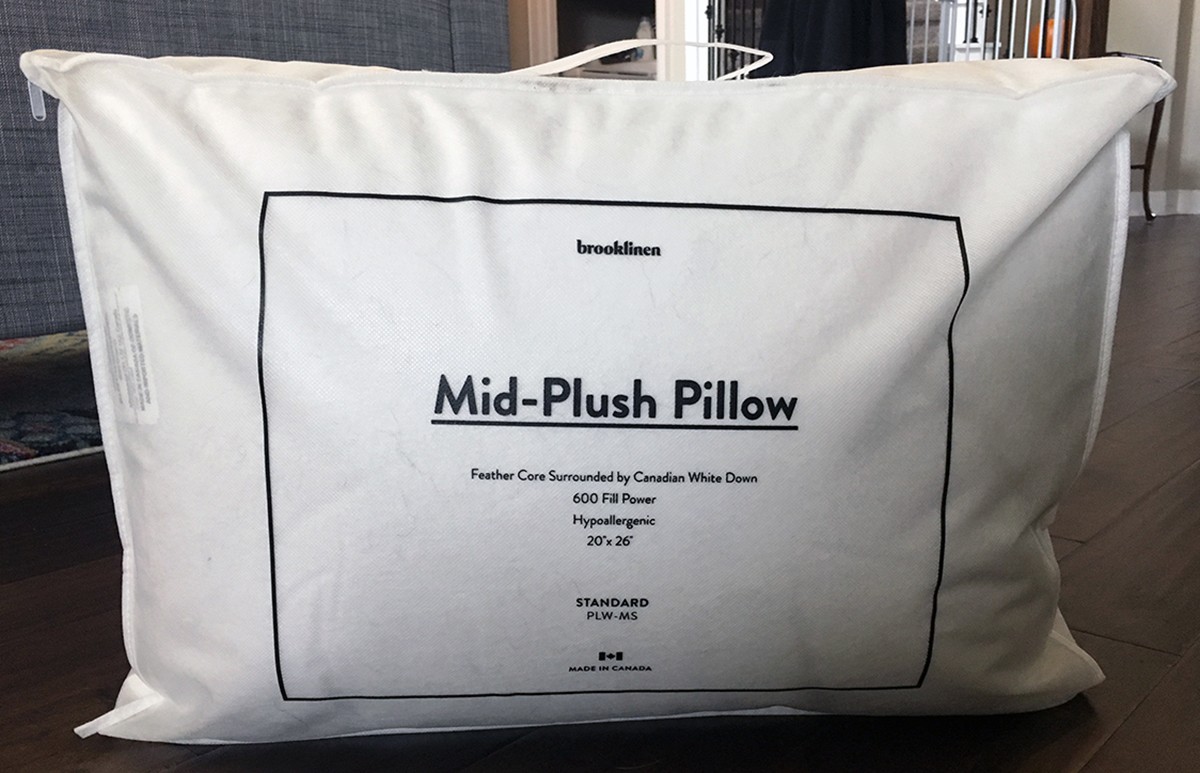 Firmness Options
I reviewed the Mid-Plush pillow but spoke to a customer service representative about each option: Firm, Mid-Plush and Plush and who they may be a good fit for. Here is how she described each:
Firm: The Firm Pillow has an 86/14 ratio of feathers to down-blend so it balances out firmness with fluffiness for great support through the night. We recommend our Firm Pillows for back sleepers.
Mid-Plush: Our Mid-Plush has a dual-core construction, meaning that it is a firm feather pillow inside of a plush pillow. It has a great balance of support and plushness, so you kind of get the best of both a firm and plush pillow in one. We recommend the Mid-Plush for side sleepers.
Plush: Our Plush Pillow is 100% Down fill and is super soft and plushy. We recommend it for stomach sleepers.
Who Makes It?
Brooklinen is an online bedding company that focuses on making simple products and are transparent about their manufacturing processes.
In addition to pillows, they also sell comforters, sheets, blankets, and candles. You can check out our review of their Classic Hardcore Sheet Bundle, here.
Pillow Construction
The Mid-Plush down pillow comes in Standard (20″ × 26″) and King sizes (20″ × 36″). I'm reviewing the Standard size.
Brooklinen says the Mid-Plush pillow is the most versatile and their best-seller. The pillow has something called  a "dual-core construction." This means that has a firm feather pillow built inside a plush down pillow. This is intended to balance out support and softness.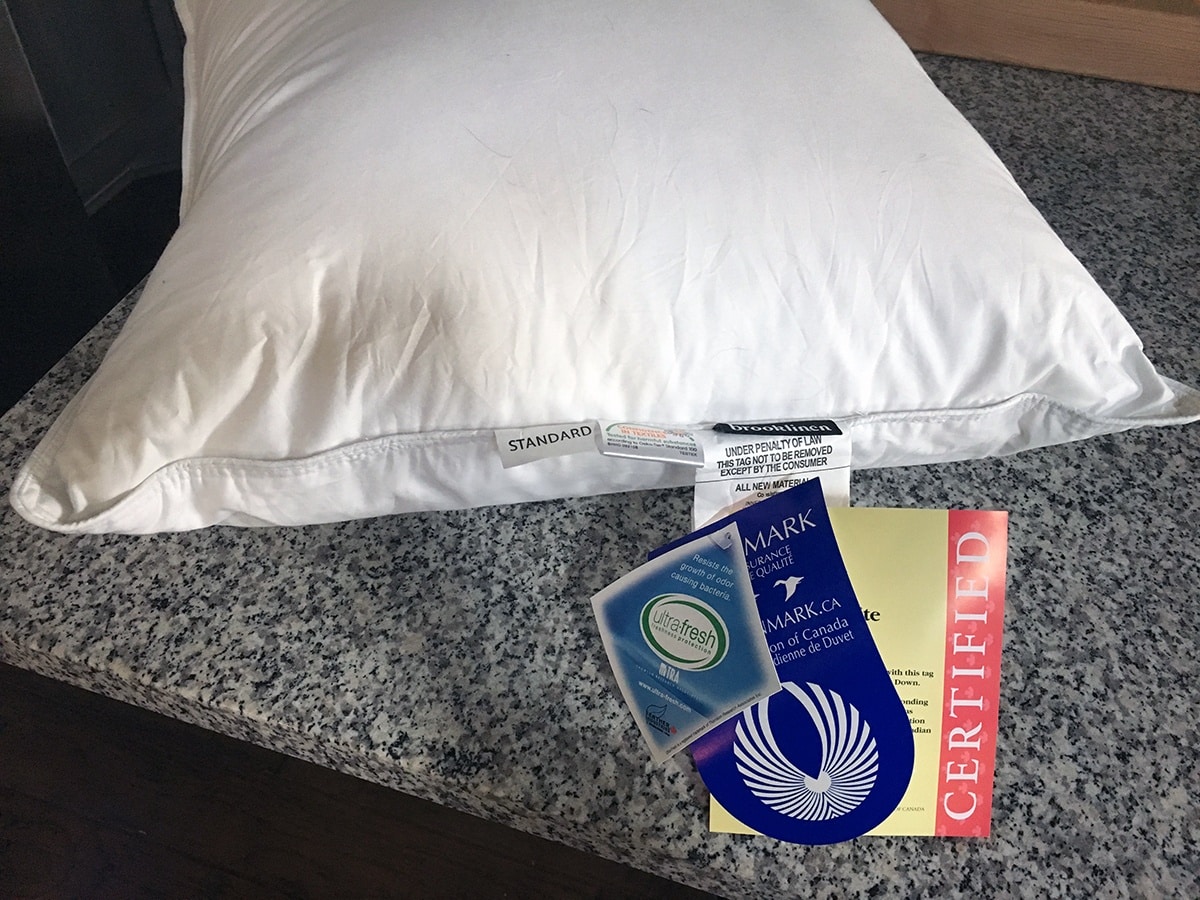 The manufacturer tag says that – in total – the pillow is made up of 85% waterfowl feathers in the inner chamber and 15% down in the outer chamber. This gives the pillow a firmer feel than most down pillows, which tend to fall on the plush side.
Pros
Soft and cozy down feel
Doesn't fall flat as much as a typical down pillow
Best fit for some side sleepers and those who sleep in multiple positions
Risk-free trial
Hypoallergenic and anti-microbial (according to Brooklinen!)
Cons
Pricier – but comparable to other higher end down pillows
May not be a good fit for stomach or back sleepers
May need to be fluffed regularly
animal-friendly friendly (uses real feathers and down)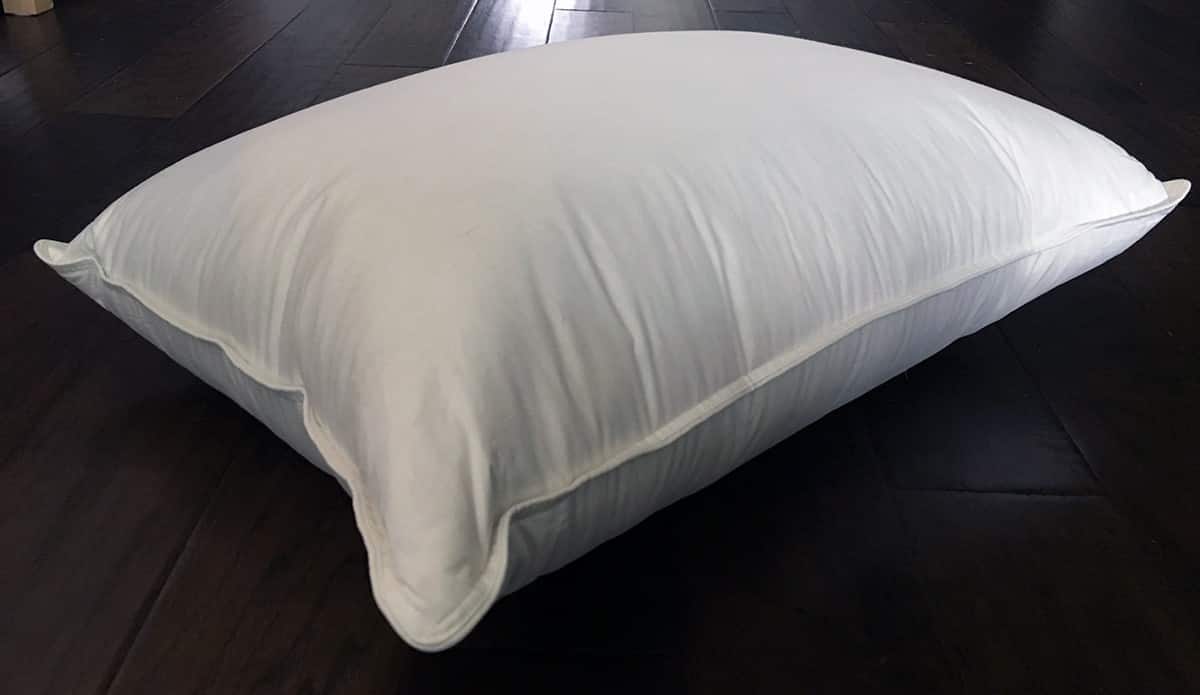 My Experience
The Brooklinen Mid-Plush down pillow is unique with its pillow-in-a-pillow construction. It reminded me of the Casper pillow (with a similar design) but the Brooklinen pillow features a center pillow filled with feathers surrounded by a down pillow. You cannot open it like the Casper pillow, but it does a good job of providing loft and support with this design.
I choose to review the Mid-Plush option (Firm and Plush are also available) because I sleep in multiple positions and thought this would be the most middle-of-the-road option. Luckily for me, the customer service team at Brooklinen confirmed my decision by telling me that the Mid-Plush pillow is the most versatile pillow and recommended mainly for side sleepers but will work for those who sleep in multiple positions as well.
Laying on this down pillow feels different from other down pillows I've reviewed because of the firmer feather pillow in the center. This inner pillow stops your head from going all the way through and really stops it from going completely flat after a few nights of use.
You still get all the benefits of the cozy down pillow feel from the surrounding pillow. To me, this pillow has a good amount of loft and was almost too thick for me when I slept on my side.
You can see from the photo that my neck is tilted upwards just slightly – which means my head, neck, and spine are not in neutral alignment (which is what you're aiming for). With time, the pillow does flatten a little bit and then it's a better loft/height for me.
Larger framed individuals or those with broader shoulders might prefer this pillow.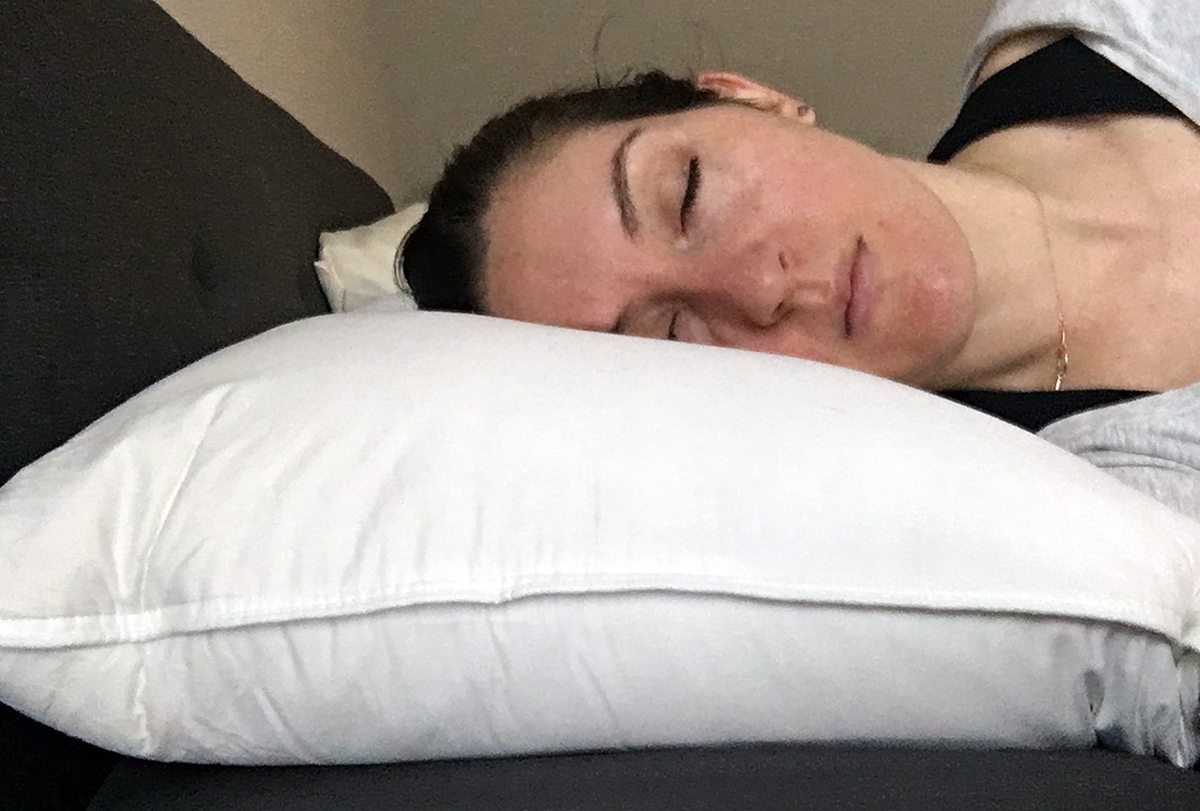 Brooklinen suggests you seldom wash your pillow – but that it is technically machine washable and dryer friendly. I decided to test it out and the pillow came out of the low gentle tumble dry in good shape. The loft and support were maintained but it did have a strange smell (maybe a burnt feather smell?). So I would highly recommend not washing it unless you absolutely have to!
Overall
Brooklinen's Mid-Plush Down pillow is a nice option for those who love the feel of down but want something with more than the typical amount of loft and support. Based on my experience, I think it's best for side sleepers or those who want a good amount of thickness – maybe larger body frames or broader shoulders.
Brooklinen says their pillow is hypoallergenic, which is great news for those with down allergies dying to try a down pillow. It also has a 60-night trial so you can decide which firmness option is the best fit for you.
The following two tabs change content below.
Katie Golde
Katie manages the day to day operations of the Mattress Clarity news site and reviews sleep products in addition to writing and editing sleep news.She hails from Austin, where she lives with her growing family. She is a Certified Sleep Science Coach and has a master's degree in Journalism from Northwestern University and has a background in health and science content. Her work can be found in print and online publications like Discover Magazine, USA Today and The Huffington Post.
Latest posts by Katie Golde (see all)