There are a few reasons people might be considering a duvet cover: they could want to make it much easier to keep their bedding clean or they might just like to switch up the look of their bedroom often.
Whatever the reason, we have tracked down the best duvet covers currently on the market; there are a lot of options out there, so it did take some serious effort!
We've got five duvet covers with a variety of feels, looks, designs, and prices – there is something for everyone – read on to find the best duvet cover!
Best Duvet Covers – Our Top Picks
Here is our list of the best duvet covers:
Cozy Earth Bamboo Duvet Cover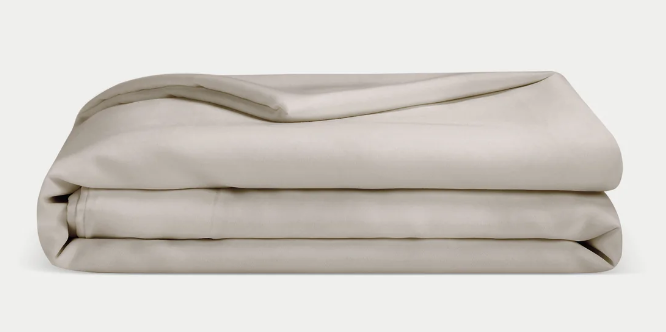 The Cozy Earth Bamboo duvet cover is an excellent luxury and cooling option.
Mattress Clarity Score
5.00 / 5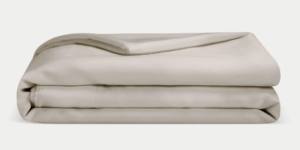 Bamboo is one of the best bedding materials out there because it's not only soft but incredibly cooling.
Cozy Earth makes an excellent luxury duvet cover, and it's made out of viscose that's derived from bamboo. The company as a whole places a huge emphasis on the way they manufacture their products. So, you can find confidence in how much thought was put into their bedding.
This cover comes in seven different colors, most of them neutral. They should bring an elegant, smooth look to any bed. Luckily, you have 100 nights to decide if it's the right bedding for you.
What Makes The Cozy Earth Bamboo Stand Out?
It should fit most bed sizes.
Cozy Earth's bedding is endorsed by Oprah Winfrey herself.
You can machine wash and dry this duvet cover.
Our full review is coming soon!
Parachute Sateen Duvet Cover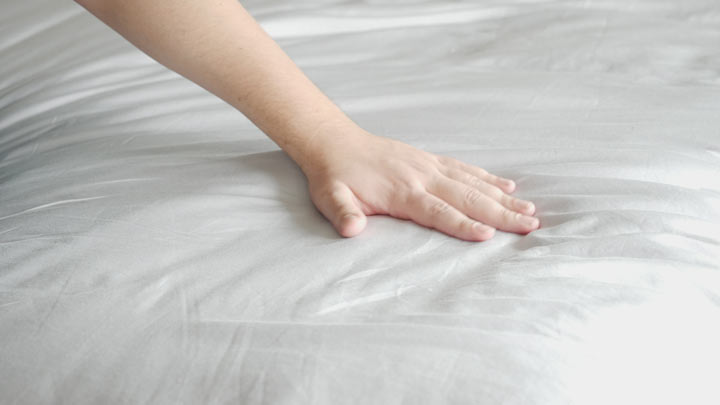 The Parachute sateen duvet cover has a soft and silky feel without the sheen one finds with other sateen duvet covers.
Mattress Clarity Score
4.60 / 5
Read Full Review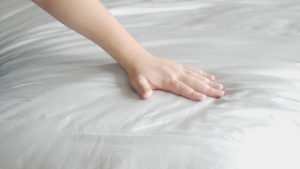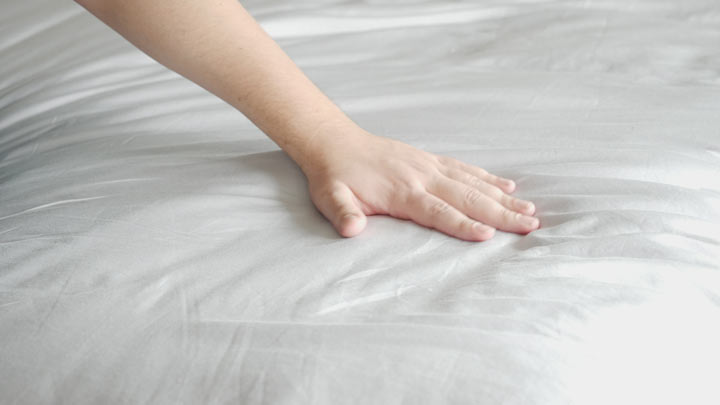 Sateen duvet covers are usually a fantastic option for those who like something soft and smooth; sateen is a thicker type of weave that gives the fabric a silkier feel. Those shoppers who are seeking this luxurious hand feel should consider the Parachute, my favorite sateen duvet cover; it is exceptionally sleek and satiny.
While a great deal of sateen duvet covers has a noticeable sheen to them, that is not the case with the Parachute; the company refers to it as a "matte sateen" that is not shiny.
The Parachute duvet cover contains 100% Egyptian Cotton, a material that is both soft and durable; this means that the Parachute should be a good long-term investment. In addition, the Parachute is made to get softer after each time it is washed and dried; having washed it a few times ourselves, we can report that this is indeed true!
Sateen duvet covers are classically thicker are more insulating than duvet covers with a percale weave; the Parachute is no different and adds snug warmth to any duvet insert or comforter.
What Makes the Parachute Stand Out?
Parachute does not use harmful materials when making their duvet covers
The cover comes in multiple sizes and four color options.
These sheets are great for someone looking for a luxury feel.
Read the full Parachute duvet cover review.
Best Percale Duvet Cover: Brooklinen
Brooklinen Classic Duvet Cover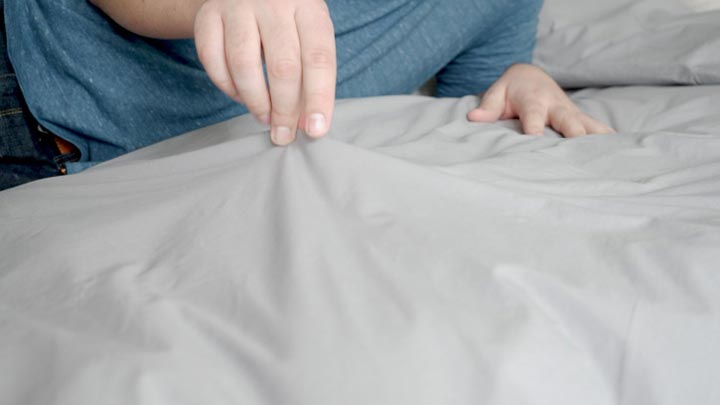 The Brooklinen Classic Duvet Cover is made with percale and should be a great option for hot sleepers.
Mattress Clarity Score
4.60 / 5
Read Full Review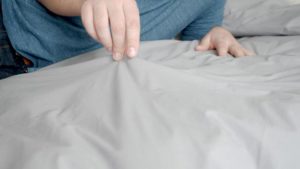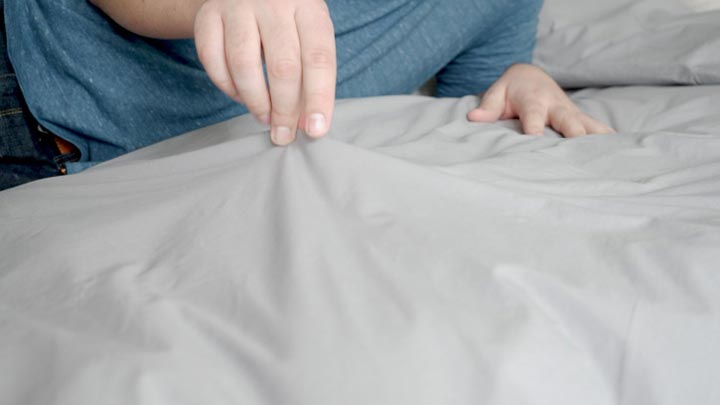 Percale is a fabric that feels and looks quite different from sateen; while sateen is silky, smooth, and thick, percale is crisp and thinner. Many people describe percale as having a "laundered shirt feel" – those who want a duvet cover with this particular feel are going to appreciate the Brooklinen.
Being thinner, percale duvet covers are more breathable than sateen duvet covers; this makes them a better option for hot sleepers who don't want to wake up hot and sweaty. Pairing the Brooklinen with a lighter duvet insert or comforter should make for a very cool night of sleep.
The Brooklinen also features 100% long-staple cotton, a very durable material; the Brooklinen isn't the most affordable duvet cover on this list, but it should last for a good amount of time.
What Makes the Brooklinen Stand Out?
It features a feel similar to what one would find with linens in a nice hotel.
The fabrics used in the Brooklinen duvet cover are OEKO-Tex certified.
The Brooklinen Classic is available in many sizes and colors.
Read the full Brooklinen duvet cover review.
West Elm European Flax Linen Duvet Cover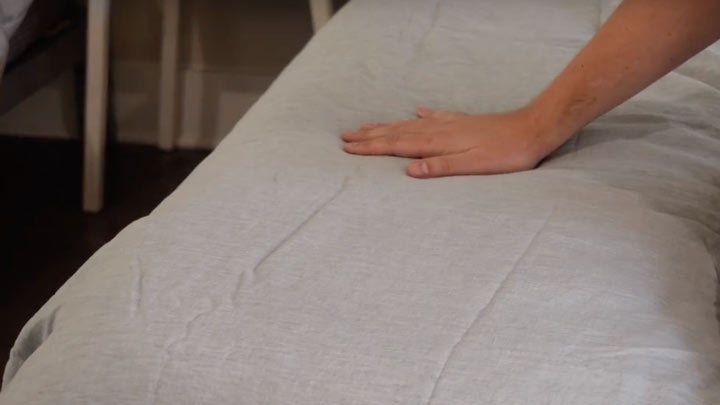 The West Elm is a versatile, linen duvet cover that should be a good match for both hotter nights and colder nights.
Mattress Clarity Score
3.00 / 5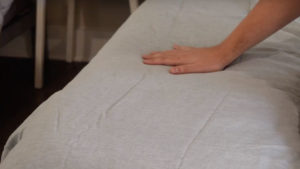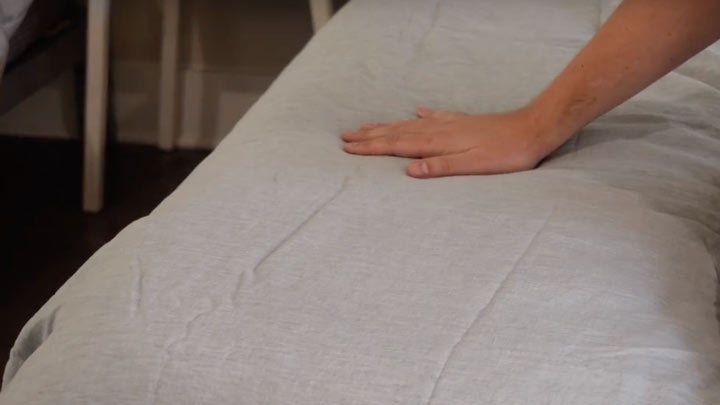 The previous two duvet covers are going to give one's bedroom more of a classic look and feel – what about those people who want something that appears more natural and rustic? That is why I have included the West Elm duvet cover on this list; as the name suggests, it features flax linen which has more of a natural feel.
The great thing about this type of linen is its versatility; it can be warm and insulating on those colder nights and more breathable and cooling on those warmer nights. This makes the West Elm a great all-season duvet cover that should work for both hot and cold sleepers.
The West Elm's linen fabric has a melange design where two yarn colors are woven together – this provides the duvet cover with a deep, multi-dimensional color scheme – customers can select from one of 13 of these melange color schemes.
What Makes The West Elm Stand Out?
The cover comes in six size options.
Due to the way the cover is made, each cover will be unique in color.
The West Elm is produced in Fair Trade facilities.
Our full review is coming soon!
10 Grove Hudson Duvet Cover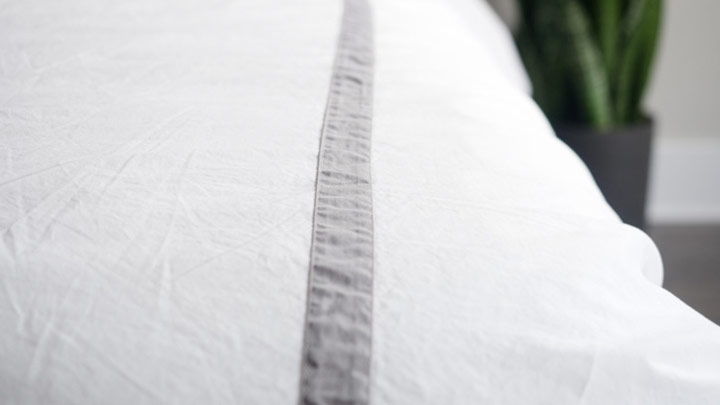 10 Grove offers four collections of luxury bedding; the duvet cover found in their Hudson collection features a modern, bordered style and is priced competitively.
Mattress Clarity Score
5.00 / 5
Read Full Review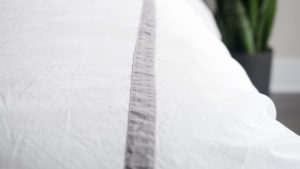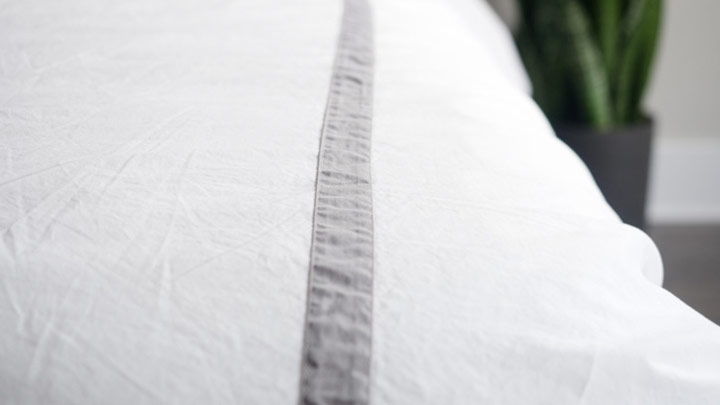 10 Grove offers four bedding collections – the Madison, Irving, Mercer, and Hudson – they all feature very modern, sleek designs. Our favorite collection is the Hudson; it has a double border that adds a very contemporary look to any bedroom. This is my top luxury and bordered duvet cover pick – the other duvet covers on this list all come in one solid color, so the 10 Grove offers something different.
With the 10 Grove, customers can select from all-white or four border colors: Blue, Beige, Gray, and Olive Martini. In addition, the company offers both percale and sateen versions of all their bedding – we reviewed the percale model and found it to have a crisp feel – it was also quite breathable and a good match for hot sleepers.
While this duvet cover is not the most affordable option on this list, it is still a particularly good deal if we consider the quality of the 10 Grove – the Hudson duvet cover is currently priced at $190 for a Full/Queen size.
Those who are seeking a luxurious, stylish duvet cover for a reasonable price should set their sights on the 10 Grove duvet cover.
What Makes The 10 Grove Stand Out?
The percale version of the Hudson duvet cover is light and breathable.
The 10 Grove Hudson duvet cover contains durable and soft long-staple Egyptian cotton.
The 10 Grove is priced competitively for such a high-quality duvet cover.
Read the full 10 Grove review.
What To Consider When Buying A Duvet Cover
Feel. As with any piece of bedding, it is important to think about what the duvet cover is going to feel like. Those who like a soft, silky feel might want to consider something with sateen; for those who want something with a crisp, linen feel, percale might be a better option. People who want something more natural should look at something with linen.
Look and options. Another thing to consider is what look is desirable; for those who want something with a sheen, sateen might be a good option. Also, if one wants a printed design or specific color, how many options are there to choose from? Some companies only have a few to choose from while others have a wide selection.
Breathability. If someone is going to add a duvet cover to their bed, they should think about if it will make them sleep hotter or cooler – they should consider how much air is going to move through the duvet cover. While some fabrics, like sateen, feel nice, they are not as breathable; other fabrics, like percale, are thinner and let more air pass through. It is true that the duvet insert plays a big part in how hot a sleeper will feel, but without a breathable duvet cover, they might be sleeping even hotter.
Cleaning and durability. A major benefit of using a duvet cover is the ease of cleaning; instead of having to wash a whole comforter or heavier blanket, one can peel off the duvet cover and wash it at home. While this is very nice, it is important to think about how well the duvet cover will stand up to many wash cycles – will it start to fray and fade or remain intact, and is it a durable piece of bedding or not? To know if a duvet cover is going to last for some time, consider the materials used. – if it has long-staple cotton, it should be more durable – materials like microfiber, while much more affordable, may not be as durable.
What's the Difference Between a Duvet and a Comforter?
A duvet is a loose, flat bag filled with natural or synthetic down or other material. Duvets are made to fit inside of a duvet cover, similarly to how a pillow is made to fit in a pillowcase.
Comforters are similar to duvets. They're bedspreads filled with natural or synthetic down or other material and typically feature a quilted pattern sewn across it to help keep the filling evenly distributed. Comforters are slept on as is and don't need to go inside a cover.
Still confused? Check out our article on duvets vs comforters!
Summary
Again, there are many duvet covers out there but, no matter what type of sleeper someone is, one of these five duvet covers should be a good match; if our readers want to keep looking, they should keep these criteria in mind, and it shouldn't be difficult to find the right duvet cover!
FAQs
What is a duvet cover used for?
A duvet cover can be used for a few things; first off, it can simplify the cleaning and maintenance of one's bedding. Cleaning a duvet cover is much easier than cleaning a fluffy comforter; the majority of duvet covers can be easily thrown in the washer and dryer at home, while many comforters require a dry cleaner. Second, duvet covers can be used to change the style and look of one's bed and bedroom; if someone wants to adjust the color scheme of their bedroom, it is a simple task to switch out one's current duvet cover.
What is the difference between a comforter and duvet cover?
While the terms "comforter" and "duvet" are often used interchangeably, they really are different. A comforter is one piece of bedding that can be used by itself, and a duvet requires two pieces - a duvet insert and duvet cover. A duvet cover can be taken off the insert and washed; being one piece, a comforter must be washed, and that is more difficult. It does get confusing because a comforter can be used as a duvet insert; it is just important that bedding shoppers know what they are getting.
Can a duvet cover be used on a comforter?
The short answer is yes! A comforter can be used as a duvet insert, and a duvet cover will easily slip over most comforters. What's more, many comforters feature duvet tabs at their corners so that they might be secured within a duvet cover.
Do you really need a duvet cover?
It really depends on what someone prefers in regard to bedding; those who want something easier to clean should consider a duvet cover. Also, those who like to constantly adjust the look of their bedroom might like a duvet cover. It is true that no one really needs a duvet cover, but it can be a great addition to any bedroom.