If you are a fan of soft, thicker bedding, it might be time to consider the Parachute Sateen Duvet Cover. Over the years, I have been impressed with the company's bedding and accessories, and I was very excited to try out this duvet cover. At $190, it is a bit on the pricier side, so I wanted to know if this was a good luxury choice.
Is this the luxury duvet cover you have been looking for? Read on for my full review.
You Might Like The Parachute If …
You want a cool-weather duvet. If you are looking for a duvet cover for the cooler months, this could be a good option for you. Sateen is a thicker weave, so it is quite insulating. If you add this duvet to a warmer comforter or duvet fill, it could be a great fit for those colder nights.
You like a soft, silky feel from your duvet cover. Another benefit of a sateen weave is its smooth feel. When you run your hand across the duvet cover, it is very soft to the touch. At the same time, while much sateen bedding has a shiny look, the Parachute features a matte sateen. This means you get the feel of sateen without any unwanted sheen.
You want something easy to clean. Having washed and dried the Parachute at home, I can say that it is very easy to clean and care for. I washed it by itself and, after a low tumble dry, the duvet cover came out with almost no wrinkles.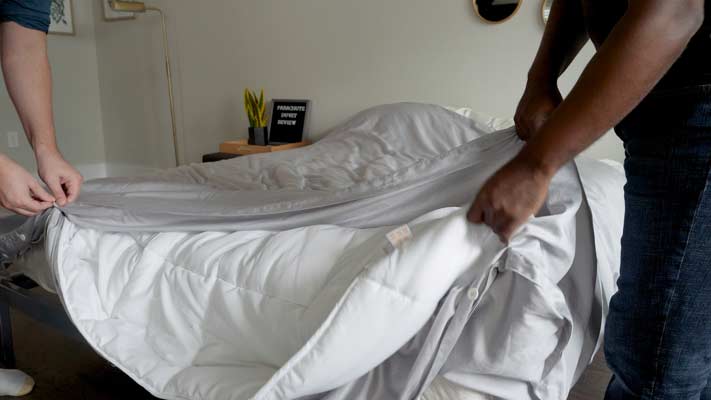 You Might Not Like Pick The Parachute If …
You are a hot sleeper. One of the downsides of sateen is its lack of breathability. If you overheat at night, the Parachute might not be the best choice for you. Even if you use a lighter fill, the duvet cover doesn't allow for much airflow. If you are prone to sleeping hot, I would consider a more breathable option.
You like a crisp, hotel feel. If you like the crisp, clean feel of hotel linens, you might want to look for a percale duvet cover. The Parachute has a thicker, silky feel; if you want that hotel experience, it might not be the best choice for you.
You want a value duvet cover. While the Parachute has a lot to offer, it might be outside of some people's budget. At $190, it is somewhat pricey for a duvet cover. You get a lot for your money, but if you want to save money, you might have to look elsewhere.
Construction, Size, And Color Options
This duvet cover is made from 100 percent long-staple Egyptian cotton. This is a very soft material that is also very durable. It should stand up to a fair amount of use.
In addition, the duvet cover features a sateen weave. This makes the duvet cover a little thicker than what you would find with percale. So it might be less breathable, but it should also be warm. Also, Parachute calls it a "matte sateen," so it is less shiny than most sateen out there.
Parachute does not use harmful chemicals in the production of its bedding. Some companies use chemicals to artificially soften their bedding, but Parachute says its bedding will get softer with every use.
The duvet cover is available in Twin/Twin XL, Full/Queen, and King/California King. The Twin/Twin XL size is only available in white. You can get the Full/Queen and King/California King in white, sand, light grey, and slate.
RELATED: How To Put On A Duvet Cover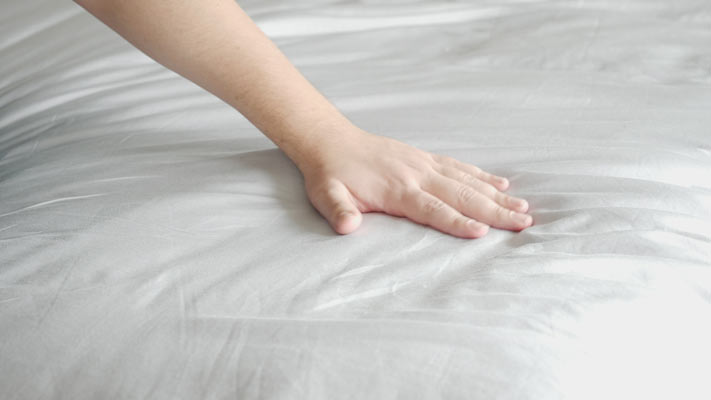 Feel And Breathability
The combination of long-staple cotton with a sateen weave makes for a very smooth, silky feeling duvet cover. It is very soft to the touch and it is still very soft even after washing and drying.
However, while lying underneath the Parachute Sateen Duvet Cover, it is not very breathable. As a hot sleeper, I am prone to overheating at night. I could have used some more airflow, and I did need to throw the duvet cover off at one point.
Cleaning And Care
One of the great things about a duvet cover is that you can take it right off your comforter or duvet insert and wash it at home. Having washed the Parachute at home, I can say it is an easy task. However, here are a few things to keep in mind when washing and drying the Parachute Sateen Duvet Cover:
Wash the duvet cover on a cold setting.
Use a mild, liquid laundry detergent and avoid bleach.
Wash the duvet cover by itself or with like-colored items. Do not wash with clothing that has zippers or buttons.
Dry on a low, tumble dry setting.
Take it out of the dryer immediately to avoid wrinkling.
If there are some wrinkles, you can iron the duvet cover on very low heat.
Overall
In the end, I think fans of soft, sateen duvet covers will enjoy this luxury option. However, if you sleep hot or are looking to save some money, this might not be the best choice for you.
The following two tabs change content below.
Marten Carlson
Marten is a staff writer for Mattress Clarity News. He covers the mattress industry as well as sleep science news. He is specifically interested in the connection between sleep and overall health.Marten has written for media publications like Consequence of Sound and received a master's degree in Film Studies from Emory University.He comes from Franklin, Indiana, and spends all the time he can writing, directing, and acting in films. He has directed genre short films and features. His newest film, Starlets, recently premiered at the River Town Film Festival in Clinton, NJ. He also stars in the upcoming thriller, Sour Bear. His next film, At The Hop, is a hot rod actioner with a horror twist.
Latest posts by Marten Carlson (see all)