Stomach sleepers may be harder to find than one might think. In fact, only about 7% of the adult population sleep on their stomachs, according to the National Sleep Foundation.
The rough news is that health professionals do not recommend stomach sleeping because it makes it difficult for the back to find a neutral spinal alignment and it's rough on the neck as well. However, there is one positive: it helps with snoring!
We've put together our four best pillows for stomach sleepers and dedicate it to those who are committed to sleeping on their stomachs. Keep scrolling and find more information on what exactly stomach sleepers should be looking for in their next pillow; plus we address some commonly asked questions.
Our Top Picks for the Best Pillows for Stomach Sleepers
Best Stomach Sleeper Pillows: Video Overview
Best Overall – TEMPUR-Symphony
Who's It For?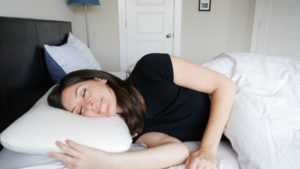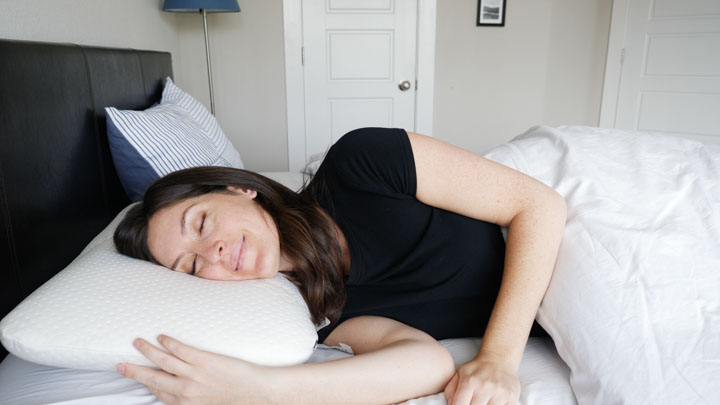 The TEMPUR-Symphony pillow is our top pick for stomach sleepers because it provides incredible comfort and a loft that keeps the spine well-aligned. This pillow has an arched, contour side, and a flat, traditional shaped side.
TEMPUR says that the flat side works well for side and stomach sleepers, so if you switch between these two sleeping positions, you can keep the pillow on the flat side. This is a unique feature, since it's difficult to find a product that suits both sleeping positions.
But if you have broader shoulders, you can always flip it over, too! It's made of a single piece of TEMPUR-material, which has that classic, slow-moving feel to it.
What Makes the TEMPUR-Symphony Pillow Stand Out?
This pillow takes the guesswork out of getting a height that would work for both stomach and side sleeping.
TEMPUR-Pedic offers a 5-year limited warranty on this pillow.
This pillow is great for fans of soft, but supportive pillows.
Read what we have to say about the most popular TEMPUR pillows.
Best Cooling Pillow for Stomach Sleepers – Brooklyn Bedding Talalay Latex
Who's It For?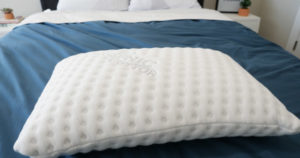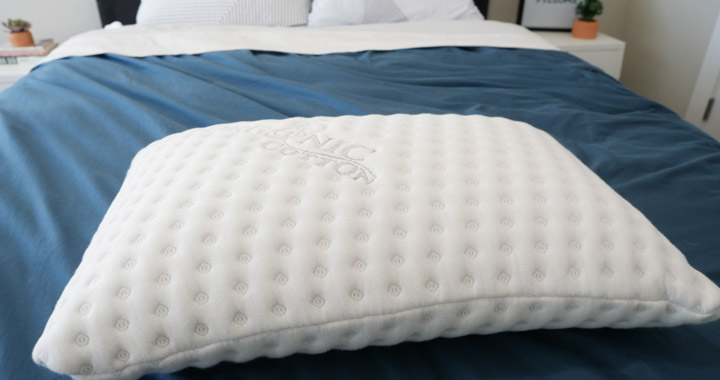 Latex is a great material for keeping you cool at night. It's very breathable and won't trap heat like traditional foam pillows will. Brooklyn Bedding's Talalay latex pillow comes in a low loft option that's perfect for stomach sleeping.
Talalay latex foam feels soft, bouncy, and responsive. You won't sink far into this pillow, which will keep your head and neck in a neutral alignment while you sleep.
Plus, the Talalay latex foam has been perforated, which further promotes airflow throughout this pillow. It's also encased in a breathable cotton cover!
What Makes the Brooklyn Bedding Talalay Latex Pillow Stand Out?
This pillow has been optimized for cooling and won't trap heat.
The low loft option of this pillow is ideal for stomach sleeping.
Like Brooklyn Bedding mattresses, this pillow is affordably priced.
Read our full Brooklyn Bedding Talalay Latex pillow review.
Best Soft Pillow for Stomach Sleepers – Lagoon Chinchilla
Who's It For?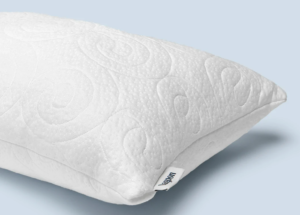 If you're a stomach sleeper wanting the softest, plushest pillow on the market, we can't recommend the Lagoon Chinchilla enough.
This microfiber pillow provides an incredibly comfortable feel and creates the ideal pillow firmness for stomach sleepers. Additionally, the fill is adjustable, so stomach sleepers can decide what loft works best.
The material is fairly eco-friendly, too. The microfiber fill serves as an alternative to down, or feathers. There's also bamboo within the pillow cover and liner.
What Makes the Lagoon Chinchilla Pillow Stand Out?
The bamboo and polyester cover is machine-washable.
Lagoon offers a 100-night trial and a five-year warranty.
This pillow is available in two sizes: queen and king.
Read our full Lagoon Pillows review.
Best Memory Foam Pillow for Stomach Sleepers – Nest Bedding Easy Breather
Who's It For?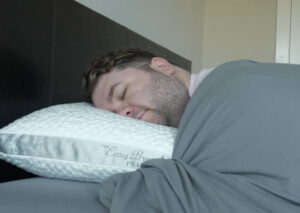 If you love that classic, slow-moving feel to memory foam and love it in your pillows, then the Nest Bedding Easy Breather is a great choice to consider.
This foam pillow is full of shredded foam, and you can remove the foam to make it low enough for stomach sleeping. You'll sink in a little bit, but will still get good support.
The foam is fairly eco-friendly, too! It has been Certi-PUR-US certified, meaning the foam is largely chemical free and won't have a strong chemical smell out of the box.
What Makes the Nest Bedding Easy Breather Pillow Stand Out?
With the foam being shredded, and with a cooling cover on the outside, this pillow is a good option for hot sleepers.
It has that classic, slow-moving feel that conforms to your head while being supportive.
This is an eco-friendly pillow, which is part of Nest Bedding's overall brand.
Read our full Nest Bedding Easy Breather pillow review.
Best Down Pillow for Stomach Sleepers – Brooklinen
Who's It For?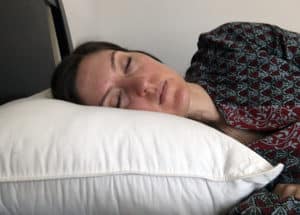 Down pillows have a tendency to deflate when you use them, thanks to their ability to be molded. Stomach sleepers who love the plush comfort of down clusters should look at the Brooklinen Down pillow.
This pillow comes in three different firmnesses, but the firmness I'd recommend for stomach sleeping is the plush version. This pillow will be soft enough that you'll be able to compress it enough to get a low loft, which will keep your head in a neutral position while stomach sleeping.
And while down can be an insulator, this pillow has a good amount of breathability to it, thanks to a breathable cotton cover on the outside.
What Makes the Brooklinen Down Pillow Stand Out?
The plush firmness will allow stomach sleepers to compress the pillow to get a low enough loft.
The down in this pillow has been ethically sourced.
It's a great option for people who love soft pillows.
Read our full Brooklinen Down pillow review.
Best Hypoallergenic Pillow for Stomach Sleepers – Birch Organic
Who's It For?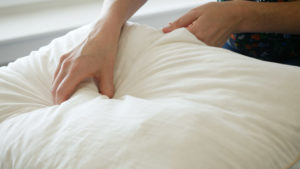 Stomach sleepers with sensitive skin or allergies need a hypoallergenic option. Birch's organic pillow is eco-friendly, organic, and hypoallergenic!
This pillow combines organic cotton, New Zealand wool, and shredded latex.
And it's this latex that helps make this a hypoallergenic pillow. It is naturally resistant to mold, doesn't attract microbes in your sleep environment, and is a natural barrier to dust mites and mildew.
While you can't adjust the height, this pillow should work for all sleeping positions, and stomach sleepers won't have to worry about their head and neck craning too far up.
What Makes Birch Organic Pillow Stand Out?
It's a certified organic pillow, having many certifications from organizations dedicated to clean production and responsibly sourced materials.
It won't trap heat — cotton, wool, and latex are very breathable.
You'll have 100 nights to test this pillow out!
Read our full Birch Organic pillow review.
Best Value Pillow for Stomach Sleepers – Coop Sleep Goods Original
Who's It For?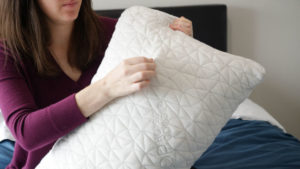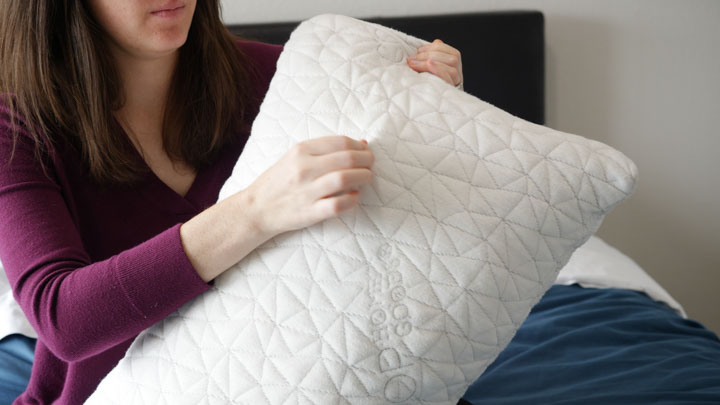 The Coop Sleep Goods Original pillow is a truly universal pillow, but what makes it our value pick is its combination of quality and and affordability! You can find this pillow priced at $72 for a queen before discounts.
While this pillow works for back and side sleepers, stomach sleepers can enjoy this pillow by removing a good chunk of the memory foam fill. This will get the pillow to an appropriate loft (about 3" tall). If a pillow is too tall or too low, your head won't be in a neutral position, which can cause neck pain later on.
Because it has a memory foam fill, it has that classic slow-moving feel, which provides plush comfort and great support.
What Makes the Coop Sleep Goods Original Pillow Stand Out?
The fill can be removed to make it an ideal height for stomach sleeping.
It has a removable cover that is machine-washable and hypoallergenic.
It's ideal for budget shoppers and can be found on both Coop Sleep Goods' website and Amazon.
Read our full Coop Sleep Goods Original pillow review.
Best Luxury Pillow for Stomach Sleepers – Luxome LAYR Pillow
Luxome LAYR Pillow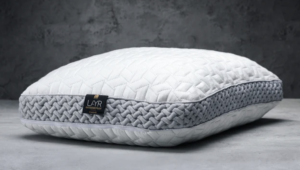 The Luxome LAYR Pillow is a high-quality adjustable option that allows you to create your own comfort.
Who's It For?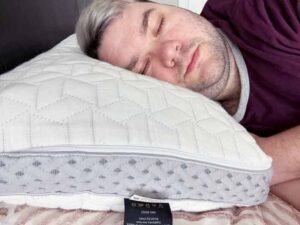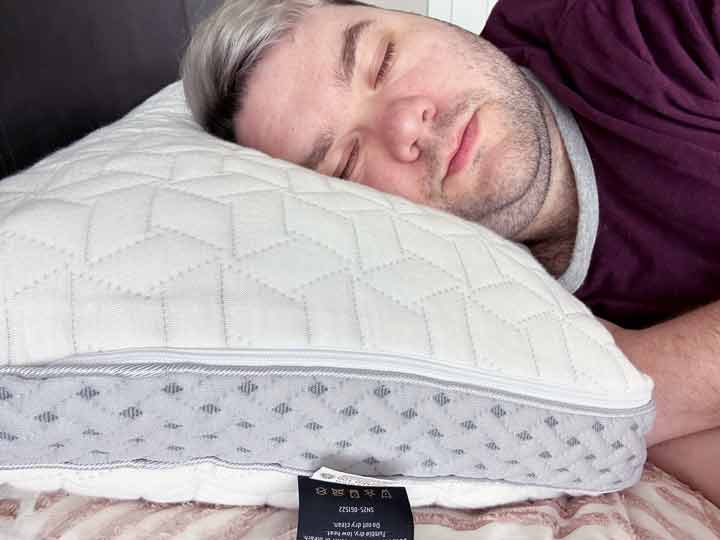 A great luxury pillow isn't just comfortable. It offers special features that not just any pillow can provide. The Luxome LAYR Pillow certainly fits the bill, and it wouldn't earn a spot on this roundup if it wasn't also ideal for stomach sleepers.
A luxurious feature of this pillow that makes it so great for those resting on their stomachs is the adjustability. Instead of using a fill one can add or remove, Luxome takes it a step further with special inserts that can be mixed and matched to change the pillow's firmness. This means that stomach sleepers can select their own comfort and determine what's best for their spinal alignment.
With a bamboo cover, CertiPUR-US certified memory foam, and a STANDARD 100 OEKO-TEX certification, the Luxome LAYR Pillow is a quality option for sleepers of most sleeping positions and body weights.
What Makes the Luxome LAYR Pillow Stand Out?
Gel-infused memory foam and a cooling bamboo cover make this pillow ideal for hot sleepers.

There's a 30-night trial that allows folks to test out this pillow before committing to it. 

Shoppers can buy a single pillow or a two-pack. 
Read our full Luxome LAYR pillow review.
How to Find the Best Pillow for Stomach Sleepers
Loft
When it comes to picking a pillow that aids in stomach sleeping, the key is to avoid anything too thick that will add stress to the neck, experts say.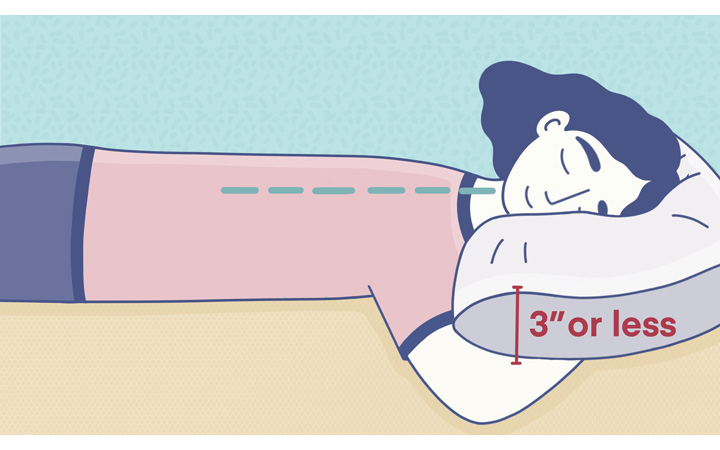 "Any pillow with high loft is going to push your neck back a little bit and give you neck pain or cause some discomfort in the lower back," says Rocco Monto, MD, an orthopedic surgeon in Nantucket, Mass to Health.com.
Monto recommends choosing a pillow that's about three inches thick; this ensures the spine stays aligned while snoozing.
Best Pillow Types and Materials for Stomach Sleepers
There are many different types of pillows that you can choose from, but certain types of pillows are better for stomach sleepers than others. We'll go over the main types of pillows available and let you know how they work for people who sleep on their stomach.
Memory foam – Memory foam pillows are more firm, dense, and generally thicker. Stomach sleepers should look for a shredded memory foam pillow or an adjustable foam pillow so they can adjust the loft to a more comfortable position. These pillows can offer great contouring and pressure relief.
Latex – Latex pillows are similar to memory foam pillows, but with a more bouncy feel and more resilience. Latex pillows aren't the best for stomach sleepers.
Feather – Feather pillows are soft, lightweight, and usually have a lower loft. These pillows can make a great fit for stomach sleepers, though if you have allergies you may be affected by feather pillows.
Down – Down pillows have a classic feel. Down pillows are a great fit for stomach sleepers since they are less dense than a memory foam or latex pillow.
Down alternative – Down alternative pillows are a cheaper alternative to down pillows. They use synthetic materials and are naturally hypoallergenic. Down alternative pillows are also a good choice for people who sleep on their stomach.
Buckwheat – Buckwheat pillows may be too firm for stomach sleepers, though some may enjoy the way these pillows conform to the shape of your head.
Kapok – Kapok pillows feel similar to down and down alternative pillows, so they are also a good choice for stomach sleepers.
Pillow Cover
Keep in mind that when stomach sleeping, one's face will be turned to the side and pressed against the pillow. Stomach sleepers, in particular, will want to think carefully about not only the filling and firmness of their pillows but the type of pillow cover as well. Here are some suggestions:
If choosing a foam-based pillow, look for ventilated holes in the filling and a breathable outer cover. Many come made with phase change materials that will help draw heat away from the body while sleeping at night.
If an individual's face is sensitive, look for a pillow that is hypoallergenic. Some pillow covers are also blended with bamboo (like the Snuggle-Pedic) or copper (like the Layla pillow) that have antibacterial and antimicrobial properties.
For those who are not big on texture, keep in mind that some pillows may have covers designed with a textured fabric that can be felt underneath a traditional pillow cover. Some also have cooling properties that make them feel cool to the touch. These can sometimes come through pillow covers as well, too.
Tips for Stomach Sleepers
Although stomach sleeping is the least common position, and the least recommended sleeping position, there are still many people who choose to sleep on their stomachs. On top of finding the right pillow, there are a few more things you can do to improve your alignment when you sleep on your stomach.
We'll share a few tips for stomach sleepers that make the position a little more comfortable.
Use More Pillows
In addition to choosing a flatter pillow, sleep professionals also recommend adding a second pillow to the mix – but leaving it under the stomach or pelvis.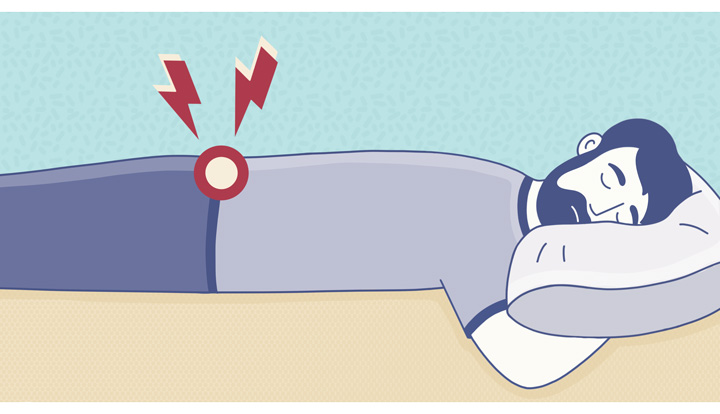 "Sleeping on your stomach can create stress on the back because the spine can be put out of position," say experts from the University of Rochester Medical Center in Rochester, New York. They suggest that placing a flat pillow under the stomach and pelvis area can help to keep the spine in better alignment.
Sleep on a Supportive Mattress
If you sleep on your stomach, it's important that your mattress offers great support to help you maintain neutral alignment while you sleep. The best mattresses for stomach sleepers are firmer and more supportive. Hybrid mattresses with a solid support core and a soft top layer typically make a good fit for stomach sleepers.
Summary
In general, sleep professionals don't recommend stomach sleeping because of the strain it can put on the back and the neck. That being said, if it's what feels right, it's worth picking a pillow that creates the most even spinal alignment possible.
Sleepers can do this by looking for a thinner or flatter pillow – preferably one with a profile no higher than three inches (this guideline may vary on personal preference). Adjustable pillows might be the best bet since sleepers can customize it to whatever feels good for them.
FAQs
What type of pillow is best for stomach sleepers?
I'll say it over and over again - the flatter and the softer the pillow, the better it will be for stomach sleepers. This pillow needs to support the head while providing the least amount of added strain to the neck.
Are down pillows good for stomach sleepers?
A soft and fluffy down pillow could be a good option for stomach sleepers who don't have allergies and love that luxurious feel that down provides. Keep in mind that other pillow fillings will work as well - the main factor to consider is how much filling is inside the pillow and how much support it provides - the softer and the flatter, the easier it will be on a stomach sleeper's neck.
Where do you put a pillow when sleeping on your stomach?
Experts believe that stomach sleepers should place a flat pillow under the head for support - and then in order to help alleviate strain on the lower back - the sleeper can place another flat pillow under the pelvis to give it a more neutral position.
Tony Klespis
Tony is a staff writer at Mattress Clarity where he analyzes sleep products and appears in review videos. He earned a B.A in English from Sam Houston State University and a M.A in Mass Communication from Texas State University. When he isn't writing about sleep products, Tony loves to unwind with a good book or can be found playing Pokemon Go outside with his friends, or cuddling with his cat, Penguin. He's always down to try a new, local restaurant and try new foods.