Brooklinen's Down Alternative pillow in the Mid-Plush comfort level is an effective hypoallergenic option for those love the feel of down but want enough support to sleep on their sides comfortably. Could it be a good fit match? To find out, watch my video review or read on for my full written review.
Brooklinen Down Alternative Pillow
The Brooklinen Down Alternative pillow is a great hypoallergenic option that's machine washable and dryer-friendly. This pillow is very full and fluffy, making a particularly great option for side sleepers.
Mattress Clarity Score
4.80 / 5
Read Full Review
Brooklinen Mid-Plush Down Alternative Pillow Video Review
Key Features
20" x 26" x (about) 6″
Filling: 100% microfiber
Cover: 400 thread count long-staple cotton shell
Plush, Mid-Plush and Firm
Sizes Available: Standard, King, Euro
Oeko-tex® certified to be free of harmful chemicals
Hypoallergenic
60-night trial
Price $59 (Standard), $79 (King), $32 (Euro)
Made in the USA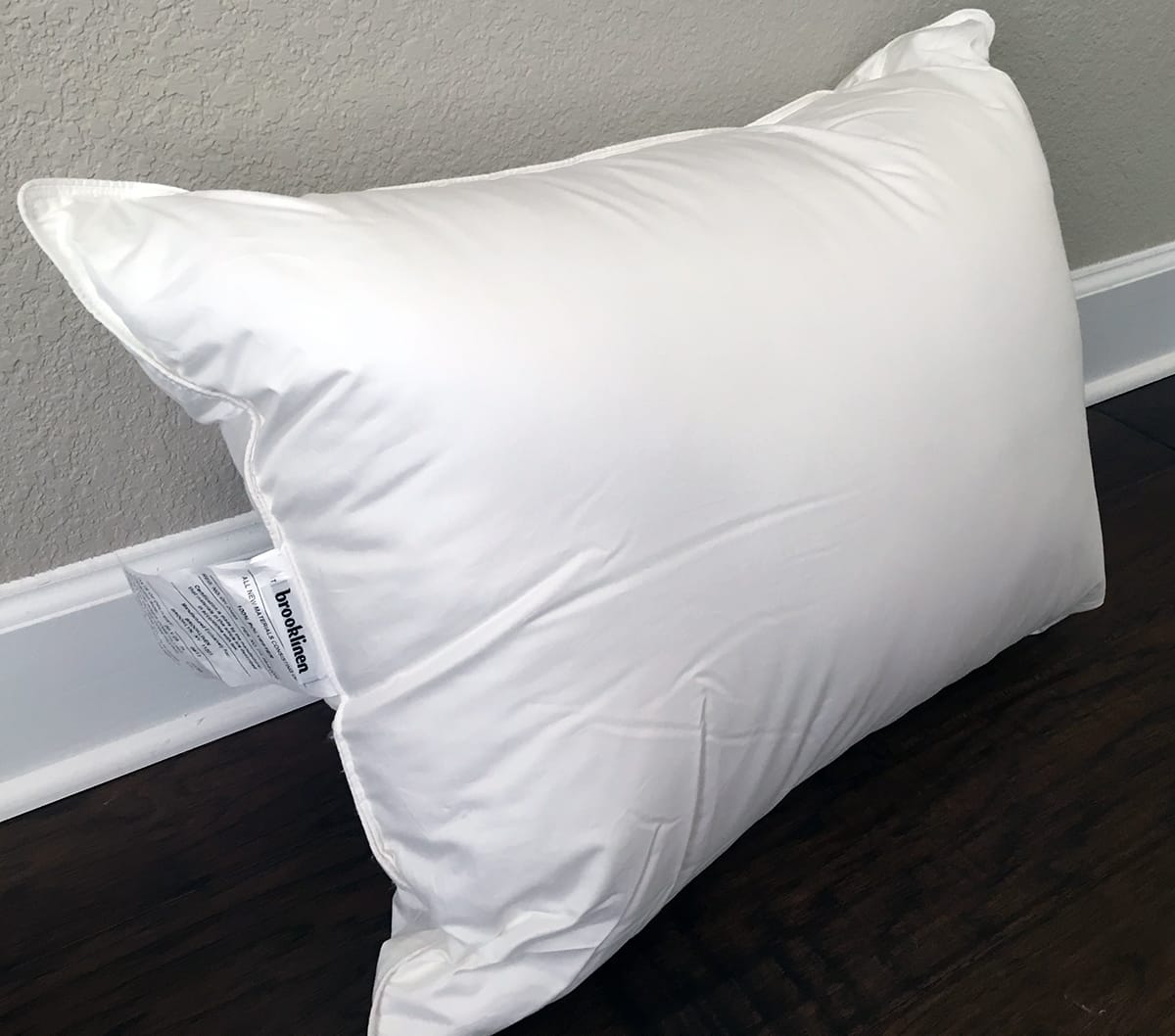 Firmness Options
I reviewed the Mid-Plush pillow but spoke to a customer service representative about each option: Firm, Mid-Plush and Plush and who they may be a good fit for. Here is how she described each:
Firm: The Firm pillow has a high-quality firmness, much recommended for back sleepers.
Mid-Plush: 

The Mid-Plush pillow is our best-seller and most versatile as it balances support and softness to give sleepers the best of both worlds in one pillow, and is recommended for side sleepers. – has the tallest height profile as well. 

Plush: The

 Plush pillow is extremely fluffy and soft, and is recommended for stomach sleepers.
Who Makes It?
Brooklinen is an online bedding company that says it focuses on making simple products and are transparent about their manufacturing processes. Brooklinen also makes down pillows that come in the same three comfort level options – read our review of the Mid-Plush down pillow, here.
In addition to pillows, they also sell comforters, sheets, blankets, and candles – check out our review of their Classic sheet bundle, here.
Pillow Construction
This review is specifically for the Mid-Plush Down Alternative pillow in the Standard size; the pillow is in a traditional pillow shape (a pillowcase should fit well). The dimensions are 20" x 26" x 6," which means it has a roughly 6" height profile.
Inside the pillow is filled with 100% microfiber; Brooklinen says the filling is made with  "next-generation hypoallergenic microfibers" and that they are shredded and shaved to mimic the texture of down, without the clumping of cheaper alternatives.
The pillow's outer cover is 400-thread out long-staple cotton, the cover is not removable but the entire pillow can be machine washed and is dryer friendly.
The care instructions indicate that customers can have the pillow dry cleaned professionally or they can machine wash it on a cold gentle cycle with mild detergent and a low tumble dry on the lowest heat setting.
Pros
Machine washable and dryer friendly
Won't fall flat easily
Overstuffed nature makes it good for side sleepers or larger framed individuals
Trial period
Cons
Its overstuffed nature may not make it a great fit for those who sleep on their stomach, back or even in multiple positions
May feel too large or overly supportive for petite individuals
May not fit every budget at $59 for a Standard, $79 for a King, or $32 for a Euro
Brooklinen Down Alternative Pillow
The Brooklinen Down Alternative pillow is a great hypoallergenic option that's machine washable and dryer-friendly. This pillow is very full and fluffy, making a particularly great option for side sleepers.
Mattress Clarity Score
4.80 / 5
Read Full Review
My Experience
The pillow came fully expanded and packaged in a convenient travel bag complete with handles – when I opened up the packaging, there was no chemical smell and the pillow looked and felt clean and crisp with the cotton cover.
Even though I received the Mid-Plush option and there is one that is even firmer, I noticed immediately that the pillow seemed full and overstuffed. For reference, the Mid-Plush has the most loft of all the pillow options – around 6″.
With some down or down alternative pillow cores, it's easy to push a hand through the pillow and temporarily flatten it out. There was no way to do this with the Brooklinen pillow, as it was particularly full and responsive.
Based on my personal experience, the only comfortable sleep position was on my side, where I could benefit from the enhanced support and full nature of the pillow. The Mid-Plush is designed for side sleepers, but the brand says is effective for multiple sleep positions. However, I struggled to get comfortable on my back, the angle it created on my head and neck was unnatural and uncomfortable over a long period of time.
Even on my side, I'm not completely able to achieve a neutral head, neck and spine alignment – individuals can see that my head and neck are still at a slight angle in the photo below. Over time the pillow compressed and it lost some loft, at that point the pillow became the more agreeable to me. For this reason, larger body type or heavier side sleepers who put more pressure on their pillow may find this to be a good match.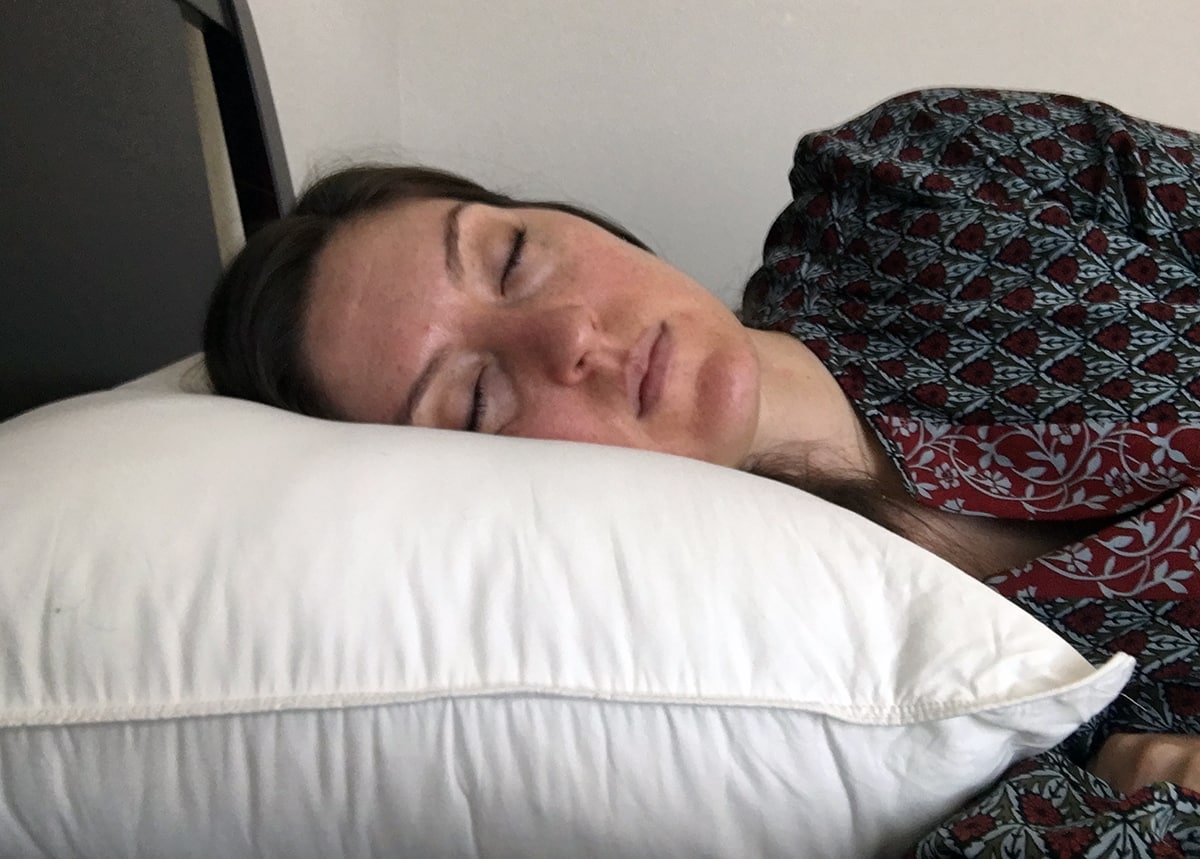 The pillow is uncomplicated and easy to care for – I put it in a balanced load in my washer on gentle and was surprised at how quickly and efficiently it dried on the lowest heat setting. Through my experience, I had no issues with the filling, whether it be losing any loft or support. Quick reminder: It can also be dry cleaned over machine washing if preferred.
Overall
I had a positive experience with the Brooklinen Mid-Plush Down Alternative pillow – it has several effective features that set it above other down alternatives. First, it won't fall flat and there is no need to fluff the filling after a few night's sleep. This, in particular, makes it a good fit for those with larger body types or broader shoulders who want a significant amount of support; I believe the microfibers inside helped keep the pillow lofted and supportive during my whole review.
It could easily work well for side sleepers and larger framed individuals. Even though it doesn't have a gusset, the pillow really feels nearly overstuffed while providing that comforting feeling of a down-like pillow.
Luckily, it also comes with a 60-night trial period and is affordably priced, so those who are not sure which comfort level to get may want to consider a couple of options in order to find the right one.