It's increasingly difficult to identify quality sheets and even harder to find quality sheets at a reasonable price. The first thing I noticed about Brooklinen is that the brand makes things simple and is very transparent with its products.
On top of that, the company's business model aims to deliver great value to its consumers. Brooklinen is doing a lot of the same things that all these mattress companies have done over the last couple of years in the mattress industry; cutting out the middleman allows Brooklinen to offer quality sheets at an affordable price.
But are the sheets any good? Let's talk about each one and figure out which set is the right one for you!
Save 10% off your FIRST order.
Brooklinen Classic Core Set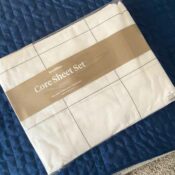 Brooklinen Classic Core Set
Brooklinen's high-quality set of percale sheets are the brand's classic sheet set. They feel soft and crisp at the same time, perfect for cotton lovers. You can SAVE 10% off any order if you're making a purchase for the first time. Check out these high-quality set of sheets now!
SAVE 10% on your first order.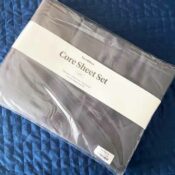 The Brooklinen Luxe Core set is a 100% cotton set of sheets made with a sateen weave. This makes them feel very soft and smooth, and will be a great option for hot and cold sleepers alike!
Get the Latest Deal!
Brooklinen Linen Core Sheet Set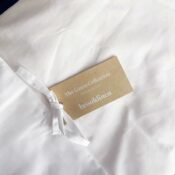 Brooklinen Linen Core Sheet Set
Linens are a fantastic style of sheet to use. They're durable, breathable, and have a unique feel to them. The Brooklinen Linen Core Sheet set is a great option for linen fans, hot sleepers, and people looking for tons of color options. Click our coupon to get the best deal!
Brooklinen Sheets Comparison Video
Watch our Brooklinen sheets comparison video review to get all the details in a virtual test drive!
Brooklinen Sheets Overview
Brooklinen is dedicated to providing high quality products at reasonable prices. The brand's tagline is the Internet's favorite sheets, after all! Launching on Kickstarter in 2014, Brooklinen exceeded its funding goal, making a name for themselves in the bedding industry. Today Brooklinen offers more than just bedding, including towels, loungewear, décor, furniture, and more.
We've reviewed three of Brooklinen's most popular sheet sets. Check out the overview below for a quick snapshot of each set:
Who Might Like the Luxe Sateen Sheets?
Fans of buttery smooth sheets
Cold sleepers
Who Might Like the Classic Percale Sheets?
Fans of crisp, cotton sheets
Hot sleepers
Who Might Like the Washed Linen Sheets?
Fans of sheets with texture
Hot sleepers
RELATED: Best Sheets of 2022
Brooklinen Sheets Bundle Overview
We've reviewed three of Brooklinen's sheet sets: the Luxe Core Sheet Set, Classic Core Sheet Set, and the Linen Core Sheet Set. Each Core Set comes with a fitted sheet, flat sheet, and two pillowcases, but Brooklinen offers five different sheet set options that you can choose from.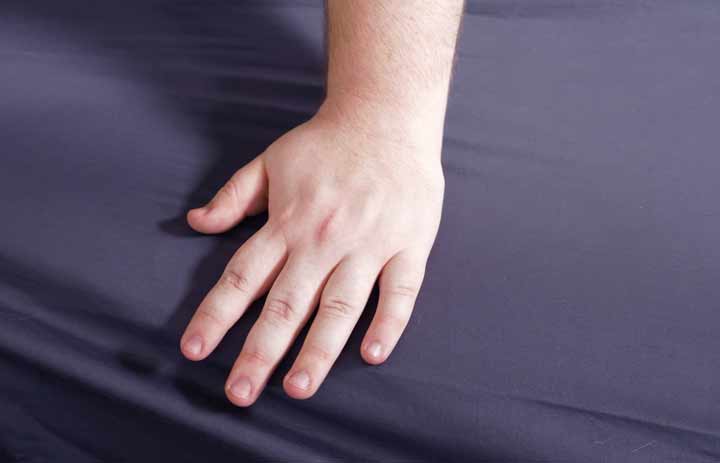 The Starter Set is the cheapest option and comes with just a fitted sheet and two pillowcases. The most expensive option is the Move-In Bundle, which comes with a fitted sheet, a flat sheet, four pillowcases, a duvet cover, two pillows, and a comforter. You can check out the chart below for a summary of the bundle options.
| | | | | | |
| --- | --- | --- | --- | --- | --- |
| Items Included | Starter Set | Split King Set | Core Set | Hardcore Bundle | Move In Bundle |
| Fitted Sheet | 1 | 2 | 1 | 1 | 1 |
| Flat Sheet | N/A | 1 | 1 | 1 | 1 |
| Pillowcases | 2 | 2 | 2 | 4 | 4 |
| Duvet Covers | N/A | N/A | N/A | 1 | 1 |
| Pillows | N/A | N/A | N/A | N/A | 2 |
| Comforters | N/A | N/A | N/A | N/A | 1 |
Brooklinen sets a great tone with the arrival of the sheets. They come in a nice box, tucked away in a tote bag (actually quite nice, and can be used it for groceries). Obviously the quality of the sheets matters most, but the box shows they are definitely aware of the importance of the small touches.
Brooklinen Sheets Comparison
| | | | |
| --- | --- | --- | --- |
| | Classic | Luxe | Linen |
| Material | 100% long staple cotton | 100% long staple cotton | 100% European flax linen |
| Weave | Percale | Sateen | Washed Linen |
| Thread Count | 270 | 480 | N/A |
| Price Range | $139-$209 | $169-$239 | $239-329 |
Overall
Finding high quality sheets without breaking the bank can be difficult. Brooklinen's variety of sheet options and bundle sets makes it easy for sleepers of all types to find a sheet set that fulfills their needs–without compromising on quality.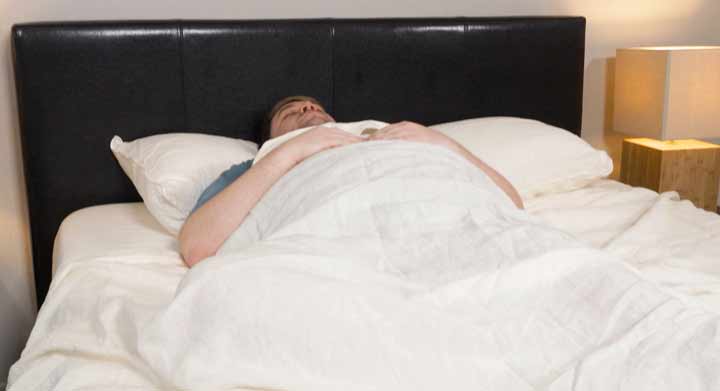 Several key similarities make all three types of Brooklinen sheets a good option for many different types of sleepers. All three sets are machine-washable and relatively durable due to their high quality materials. Supported by a generous year-long sleep trial and 1-year warranty, these sheets can, with good care, keep sleepers comfortable for years.
Deciding what sheet type is best for you, then, comes down to individual need. Hot sleepers may prefer the Brooklinen Classic or Linen Sheet sets, while others who prefer a softer, smoother feel should check out Brooklinen's Luxe Sateen Sheets. All three sets come in a wide selection of styles and designs.
Overall, Brooklinen offers good quality sheets in a variety of style and sizing options. Choosing the right set for you ultimately comes down to personal preference. But, with so many options to choose from, Brooklinen may have the right sheets for you!