Saatva's pillow features an organic cotton outer cover accompanied by a core made of microfibers for a plush feel that one's head will sink right into. But once it sinks in, there lies a surprise: a supportive core made from shredded latex pieces.
What is the overall feel of this pillow and who is it a good feel for? Read on for my full Saatva pillow review.
Saatva Deals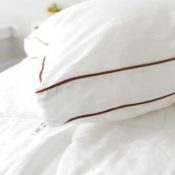 The Saatva Pillow has an organic cotton cover that is removable. Underneath is an outer pillow made up of hypoallergenic microfibers. You can unzip that pillow and reach a pouch filled with shredded Talalay latex pieces. 
Saatva Pillow Overview
The Saatva Pillow features several layers, starting with an outer cover made with 100% organic cotton cover that features a sateen weave. The cover is removable and can be machine cleaned. The next layer is a 100%cotton, micro-denier fiber outer pillow, and a shredded, 100% American Talalay latex core in the center.
The pillow also features gusseted sides and is hypoallergenic. Overall the pillow has a plusher overall feel, but sleepers will definitely reach the latex core and feel a level of support. It comes in two sizes, King and Queen and 45-day return policy. At full price, the pillow is $145 for a Queen and $165 for the King.
RELATED: Best Pillows 2022 – Our Top 10 Favorites!
Saatva Pillow Video Review
Want to see the pillow up close and personal? We dive into the ins and the outs of the Saatva Pillow in the video review below.
Saatva Pillow Firmness and Feel
Thanks to the layered construction in the Saatva Pillow, it has a unique firmness and overall feel to it. We break down exactly what is in the subcategories below.
How Firm is the Saatva Pillow?
The pillow is not overly firm; for the average sleeper, it's probably close to a 4.5 or 5 out of 10 just around the middle of the road or a little softer. The majority of the firmness comes from the latex core, which sleepers won't notice until their heads sink through the outer microfiber layer.
Sleeping On the Saatva Pillow (Sleeping Positions)
The Saatva Pillow does have a lot going for it, including a soft and breathable organic cover, downy-soft and hypoallergenic outer cover, and a supportive shredded foam center. After several nights into our review, we found the pillow's core turned became lumpy and almost like a hard knot as the polyester microfiber surrounding the core compressed and flattened out.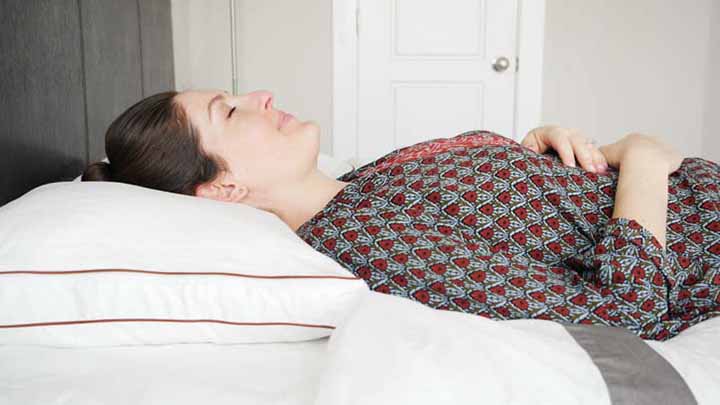 We would recommend the pillow for average-sized back sleepers who are looking for a general down alternative feel but with more support, who are willing to consistently throw the pillow in the dryer to be fluffed and maintain the softer plusher feel.
What Does the Saatva Pillow Feel Like?
We like to think of the Saatva Pillow as the "Tootsie Pop" of pillows because of its surprise center. The core of this pillow is a small bag of shredded, natural Talalay latex pieces. Because the outer pillow is filled with fluffy microfibers that give the pillow a general down alternative feel, the supportive core is a big of surprise once the head sinks down far enough to reach it.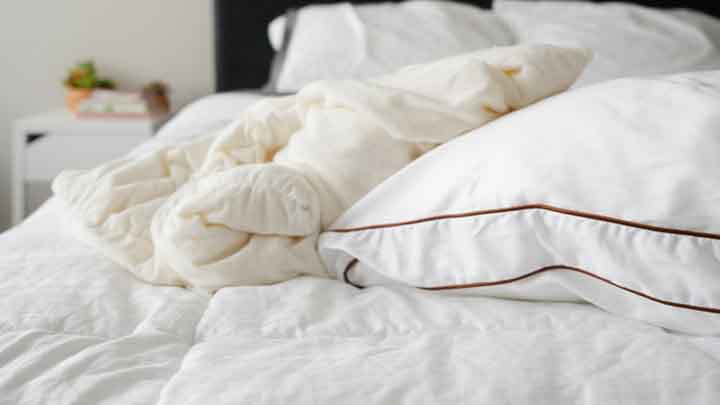 Average Weight Sleepers – 130lbs – 230lbs
Katie was the primary reviewer for the pillow and spent several nights sleeping on it. According to her, the overall height and feel make this pillow best suited for back sleepers. It is a tall pillow but the head will sink deeply into it, making the height less of a challenge for back sleepers than others.
It's also the position in which one is less likely to feel the lumpiness from the core. Katie thinks sleepers will need to plan to fluff the outer pillow/cover at least once a week to keep the plush feel going. Towards the end of her review, her head was going straight through the microfibers and hitting the firm latex foam shreds.
Heavyweight Sleepers – Over 230lbs
Mattress Clarity reviewer Marten also spent time with this pillow; he is a larger person than Katie and also more of a side sleeper. Because of this, he had a slightly different experience on the Saatva pillow than Katie did.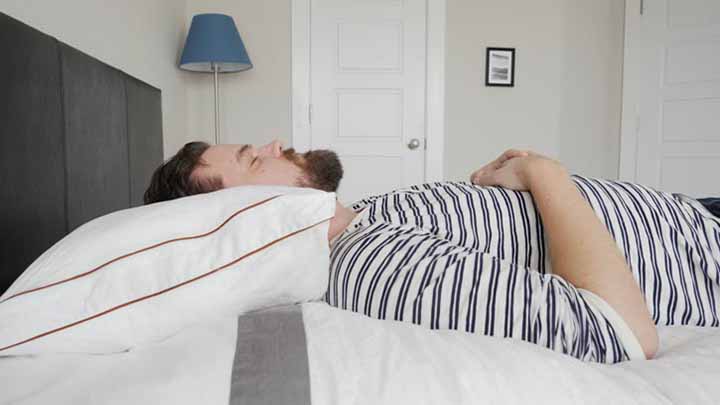 Katie and Marten agreed that the pillow could be a good match for back sleepers. Even someone of a larger size should get the support they need on the Saatva pillow. That being said, Marten did not feel comfortable when he was on his side and his stomach. On his side, he could feel the lumpy inner sack of shredded latex foam. It was a strange feeling, and the pillow smothered him somewhat in both a side sleeping and stomach sleeping positions.
Marten thinks the Saatva Pillow might work for larger back sleepers – however, this lumpy feel is worth noting. Also, make sure to see our list of the best mattresses for heavy people.
Lightweight Sleepers – Under 130lbs
More likely than not, lightweight individuals will not find the pillow comfortable as it comes. With the exception of side sleepers, who may find the height appropriate, most will probably want to remove the latex core and just utilize the down alternative outer layers of the pillow. To avoid the most lumpiness when using the pillow as a lightweight sleeper, individuals will want to reach into the core of the pillow and distribute the latex shreds as evenly as possible.
Saatva Pillow Construction
The Saatva Pillow is a traditional-shaped pillow, meaning it should work well with most pillowcases. It features a 100% organic cotton cover with a silky sateen weave and demure brown piping around the edges.
Sleepers will basically stuff the bag of latex shreds into a small space inside the outer microfiber pillow. This makes the core of the pillow noticeably firm and provides enhanced support, but individuals will have to make sure the actual latex shreds are distributed by hand.
| | |
| --- | --- |
| Dimensions | Queen: 18″ x 28″; King: 18″ x 34″ |
| Cover Material | 100% cotton |
| Core | Layers of microdenier fiber, and shredded 100% American Talalay latex |
| Loft/Height | 8″ total with an approx 2″ gusset on the side |
Dimensions
There are two size options with the Saatva Pillow: Queen and King. The dimensions to each pillow are pretty straightforward but slightly bigger than average, they're both 18″ wide and the Queen is 28″ in length and the King is 34″. In addition, the pillow has a gusset that's approximately 2″ in height, and the total height of the pillow when fully stuffed is 8″ tall.
Saatva says "Please note our pillows are extra luxurious, therefore slightly larger. We recommend using our Saatva pillowcases with your Saatva pillow." However, during our review process, we did not notice sizing issues with a standard-sized pillowcase for a Queen pillow.
Cover Material
The Saatva Pillow has a very classic outer feel to it, it's 100% cotton immediately followed by a layer of polyester fiber. It's reminiscent of a down alternative pillow and the outer cover can be unzipped and machine washed and dried.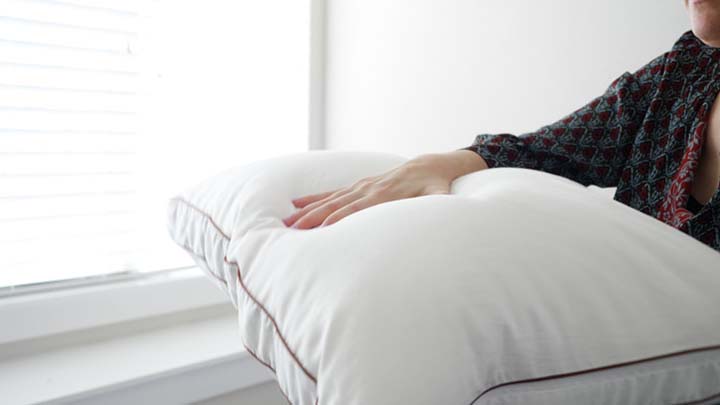 The cover also features a silky soft sateen weave; one that is known for being heavier and producing a luxurious feel that is reminiscent of high-end hotels and bedding used in the colder months.
Core
The inside of the pillow is made up of two parts; first, there is an outer pillow that is plush, fluffy and filled with polyester microdenier fibers (microfibers). There is a zipper that allows sleepers to open up the pillow, and locate a small inner core of shredded Talalay latex pieces inside. This core is the second part of the pillow that comes in a smaller bag with room for the filling to move around.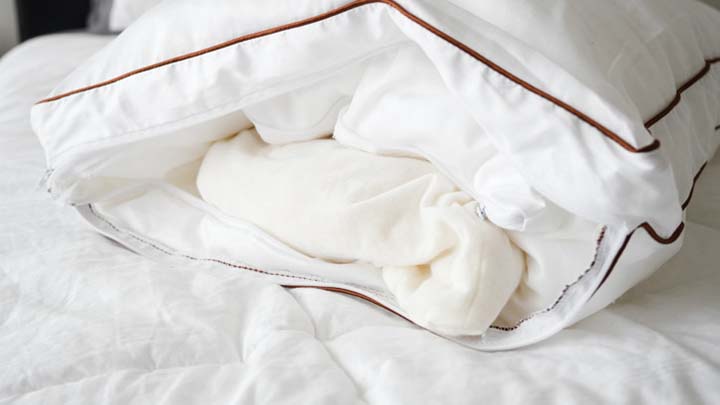 Loft/Height
The pillow is actually quite tall and stands at 8″ totally fluffed. This is a tall height for a standard pillow but the head will sink in significantly because the outer layer of the core is a polyester microfiber and will flatten out. I think the pillow is closer to 5″-6″ once in use.
Saatva Pillow Size Options, Price & Care
We like to cover everything about a pillow in our comprehensive reviews, so here's a look at the size options, pricing, and return policies of the Saatva Pillow. We'll also make sure to go over everything we know about caring for the pillow. We always recommend following a brand's care instructions closely to avoid accidentally voiding the warranty.
Size Options, Pricing & Trial Periods
The pillow comes in two sizes and offers different pricing. Instead of a technical "trial period," Saatva says people have 45 days to return the pillow if it doesn't meet their desired needs.
Here's some additional language from the company:
"Return your order within 45 days of the delivery date for a full refund to the original form of payment. We do not charge a restocking or penalty fee for used merchandise — but we humbly request that you wash your bedding before returning. To return, simply call 1-877-394-1075 or email [email protected] If you received our bedding as a gift, please call 1-877-394-1075 for assistance with your return."
| | | |
| --- | --- | --- |
| Size Options | Pricing | Trial Periods |
| Queen | $155 | 45-day return policy |
| King | $175 | 45-day return policy |
 Care Instructions
The majority of the Saatva Pillow can be machine washed and dried. Saatva has its own specific set of instructions. The brand says to "unzip and remove the core of shredded Talalay latex. The outer cover and pillow of microdenier fiber can be washed. Please do not wash the core of Talalay latex. We recommend washing your pillow twice a year and replacing it after 36 months of use."
Saatva Pillow Performance
How does the Saatva Pillow hold up after a few nights of continuous napping and sleeping? Is it good for hot sleepers and is there any issue with the smell that's associated with off-gassing? To find out, read below for all the details on the pillow's performance.
Sleeping Hot or Cold
The Saatva Pillow does not sleep hot and that's due in large part to the airflow promotion and the construction of the pillow. It has a breathable cotton cover, microfiber core that allows for air to blow through and the center of the pillow is shredded pieces of latex. There is no solid block of foam or other material that can trap heat. As a result, the pillow sleeps cooler than a solid memory foam pillow would.
Responsiveness
Microfiber pillows are not known for their responsiveness and unless it has been recently fluffed, the Saatva Pillow won't be particularly responsive either. That being said, latex is very responsive, almost bouncy, but its hidden so far down into the pillow that its responsiveness is not very noticeable in the overall feel of the pillow.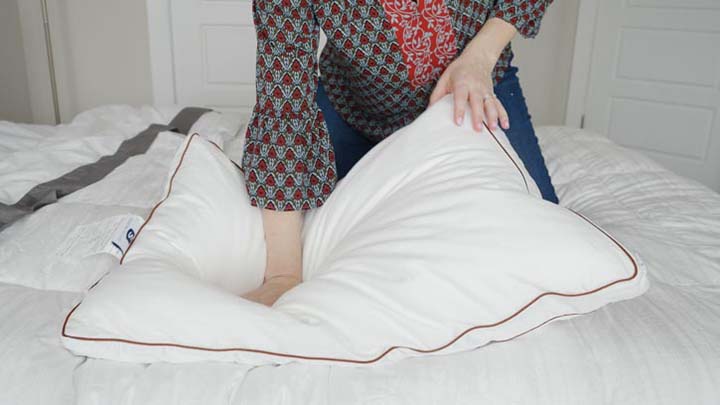 Durability
Saatva is known for using high-quality materials in their sleep products and their pillow will definitely last the length of its 2-year warranty, at the least. If used properly it should last I think a couple of years – make sure to clean it regularly and fluff the down alternative fibers regularly in the dryer.
Off-Gassing
There is very little off-gassing in the pillow; the American latex shreds will off-gas but it's not super noticeable. For those with sensitive noses, they can remove the inner core and allow it to air out in a well-ventilated area for about a day before use. This should help remove or dissipate any off-gassing smell.
Additional Features
The pillow is hypoallergenic, comes with free shipping and Saatva offers 24 hours a day, 7 days a week customer service availability.
How Does the Saatva Pillow Compare to Other Pillows?
We've gone over the ins and outs of the Saatva Pillow but how does it compare to some of the other most popular options out there? Let's take a look at how the pillow stacks up against well-known brands like Casper and Purple.
Saatva vs. Casper Pillow
The Saatva Pillow and the Casper Pillow definitely share a common thread or two. They both feature 100% cotton outer covers, with Saatva's as a sateen weave and Casper as a percale weave. The core of Casper's pillow is coated fibers, giving the pillow a down alternative and "fluffy" feel. This matches the outer layer of the Saatva Pillow but it also has that shredded Talalay latex center, as well.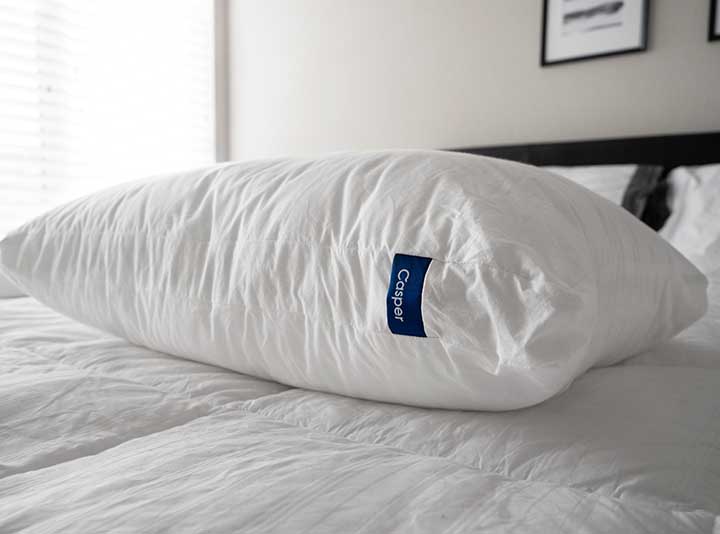 Saatva's latex core can be removed and Casper is all about its "pillow-in-a-pillow" design, which means that sleepers can remove the other pillow and use each separately if desired.
In terms of sizing, Casper's pillow comes in Standard and King; the pillow is $65 for a Standard and $85 for a King and the Saatva is a bit pricier at $145 for a Queen and $165 for a King at full price.
In terms of the ideal sleep position, Casper's pillow-in-a-pillow design gives it a level of customization and personalization and allows it to essentially work for all sleep positions. Meanwhile, average-sized back sleepers will probably like Saatva's pillow the most.
Saatva vs. Purple Pillow
Truth be told the Saatva Pillow and the Purple Pillow are like day and night – but to be fair – any pillow and the Purple Pillow would easily be described that way. That's because Purple has its unique Smart Comfort Grid made with their Hyper-elastic Gel Polymer and their pillow is essentially a big rectangle of that squishy but supportive material.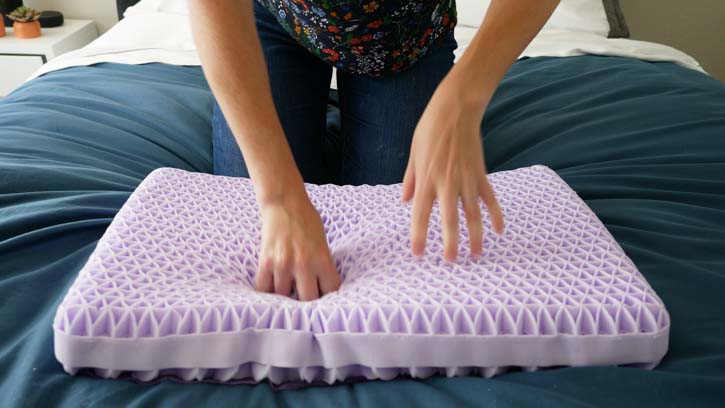 Meanwhile, the Saatva Pillow really maintains a much more traditional look and feel, with the microfiber and latex shredded core. It is more adjustable and can easily be cleaned.
In terms of pillow covers, the Saatva is 100% cotton with a sateen weave, while the Purple Pillow cover is labeled as their "Hyperstretch Mesh" fabric. The knit itself is made up of 88% Polyester, 3% Nylon, and 9% Spandex Mesh. Both covers can be removed and machine washed and dried.
When it comes to sleep positions, both should work well for the average-sized back sleeper but there's more room for adjustment with the Saatva pillow for other types of sleepers. The Saatva Pillow comes in a Queen and King for $145 and $165, respectively. Purple's signature pillow comes in one size for $99.
Our in-depth review of the Purple Pillow is available to check out as well.
Saatva Pillow FAQs
Let's tackle some of the most commonly asked questions about the Saatva Pillow!
Is the Saatva Pillow good?
Yes, the Saatva Pillow is a high-quality layered pillow that should work for most back sleepers who like the feel of a down alternative pillow but want something that won't fall flat with consistent use. The pillow does come with a 45-day return policy if the customer decides it's not a good match.
Does the Saatva Pillow sleep hot?
No, the pillow does not sleep hot. This is because it has a breathable cotton cover and the microfiber layer should promote airflow. Even the latex foam is shredded for enhanced breathability.
How do I clean the Saatva Pillow?
The cover and outer pillow (down alternative) can be machine washed and dried but the core of shredded latex should never be washed. Follow the care instructions provided by the company in the pillow's packaging.
How much does the Saatva Pillow cost?
The pillow comes in two sizes, Queen and King. At full price, the Queen should cost $145 and the King $165. Check back during major US holidays for potential sales or discounts.
Check out our list of best pillows for back sleepers. 
Saatva Deals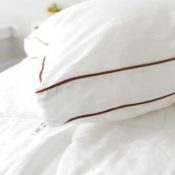 The Saatva Pillow has an organic cotton cover that is removable. Underneath is an outer pillow made up of hypoallergenic microfibers. You can unzip that pillow and reach a pouch filled with shredded Talalay latex pieces. 
Company Info
The Saatva Pillow is made by Saatva Dreams, one of several brands in a family that includes Saatva, Loom & Leaf, and Zenhaven mattress brands.
Saatva Dreams offers many bedding sleep products, including pillows, organic sheets, and mattress toppers. Learn more about Saatva mattresses and check out our Loom & Leaf review and Zenhaven review.
Katie Golde
Katie manages the day to day operations of the Mattress Clarity news site and reviews sleep products in addition to writing and editing sleep news. She hails from Austin, where she lives with her growing family. She is a Certified Sleep Science Coach and has a master's degree in Journalism from Northwestern University and has a background in health and science content. Her work can be found in print and online publications like Discover Magazine, USA Today and The Huffington Post.