At first glance, the Saatva Pillow seems like an ordinary–if high quality and comfortable–pillow: a soft cotton shell surrounds down-like microfiber filling. Once your head sinks into the plush microfiber, however, a surprise awaits: a supportive inner core of shredded Talalay latex.
How does this unique layered design perform, and is the Saatva Pillow the right pillow for you? In my Saatva Pillow review, I'll take you through the unique features of this luxury pillow, including feel, construction, and price. Let's go!
Saatva Latex Pillow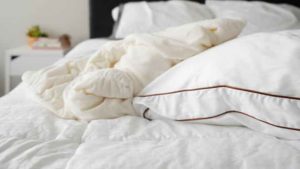 The Saatva Pillow has an organic cotton cover that is removable. Underneath is an outer pillow made up of hypoallergenic microfibers.
Mattress Clarity Score
4.80 / 5
Read Full Review
Saatva Pillow Overview
Saatva is a popular sleep brand within a family of mattress brands known for high-end mattresses and other luxury products. Here at Mattress Clarity, we're big fans of the Saatva Classic mattress, but the brand had other fantastic beds like the Loom and Leaf and Zenhaven.
The Saatva Latex Pillow is one of three pillows offered by the Saatva brand. Here's an overview of who might like the Saatva Pillow:
Who Might Like the Saatva Pillow
Back sleepers
Fans of down-alternative pillows looking for more support
People who want a luxury pillow with a hotel-quality feel
Who Might Not Like the Saatva Pillow
Stomach sleepers
Side sleepers
People who want a pillow that doesn't require frequent fluffing
Saatva Pillow Video Review
Want to see the Saatva Pillow up close and personal? Dive in with our video review.
Saatva Pillow Firmness and Feel
Thanks to its layered construction and high-quality materials, the Saatva Pillow has a unique firmness and overall feel. Let's break it down: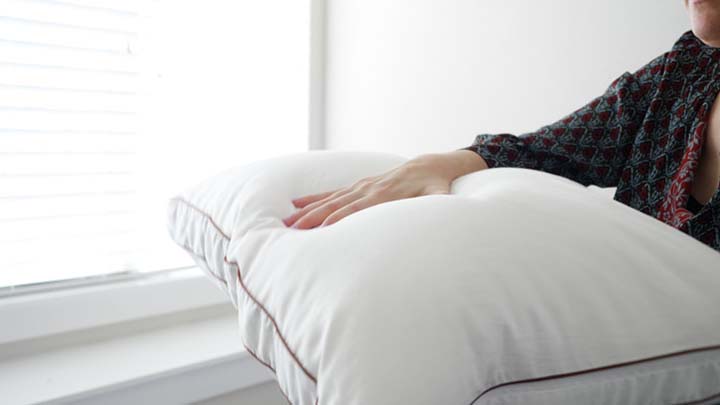 How Firm is the Saatva Pillow?
The Saatva Pillow is not overly firm. For the average sleeper, I'd give the pillow 4.5 or 5 out of 10 on our firmness scale, which is noticeably softer than 6.5 medium-firm rating. The majority of the firmness for this pillow comes from its latex core, which sleepers won't notice until their heads sink through the outer microfiber layer.
Sleeping on the Saatva Pillow
The Saatva Pillow has a lot going for it, including a soft and breathable organic cover, a downy-soft outer core, and a supportive shredded foam center. This pillow has a general, down-alternative feel but offers more support than a traditional down-alternative pillow through its latex core.
After several nights of sleeping, however, I found the microfiber outer core compressed and flattened out, leaving the pillow's inner core to feel lumpy and hard like a knot. What does this mean for the average sleeper?
I would recommend the pillow for average-sized back sleepers who are willing to consistently throw the pillow in the dryer to be fluffed and maintain that softer, plush feel. Otherwise, the inner core might become uncomfortable.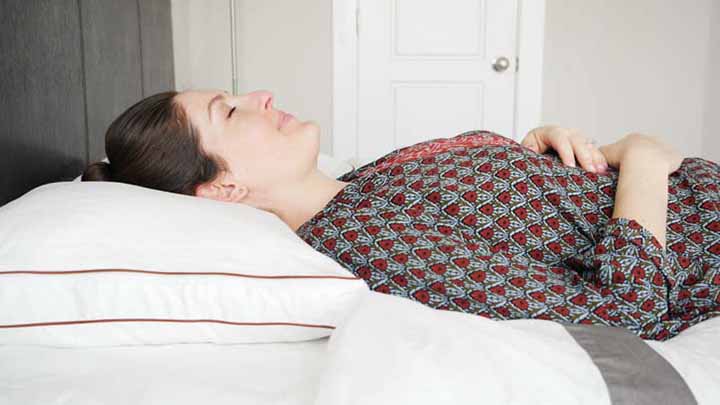 What does the Saatva Pillow Feel Like?
We like to think of the Saatva Pillow as the "Tootsie Pop" of pillows because of its surprise latex center. Because the outer pillow is filled with fluffy microfibers, the supportive core is a bit of a surprise once the head sinks down far enough to reach it.
Average Weight Sleepers – 130 lb – 230lb
Although Saatva recommends the Latex Pillow for all sleeping positions, the overall height and feel of this pillow are best suited for average weight back sleepers. Though the pillow is tall, the head will sink deeply into it, making the height less of a challenge for back sleepers than others.
Back sleepers are also less likely to feel the lumpiness from the core. The latex core can be removed to suit stomach sleepers, although sleepers of any position will need to plan to fluff the outer pillow/cover at least once a week to keep that plush feel.
Heavyweight Sleepers – Over 230lb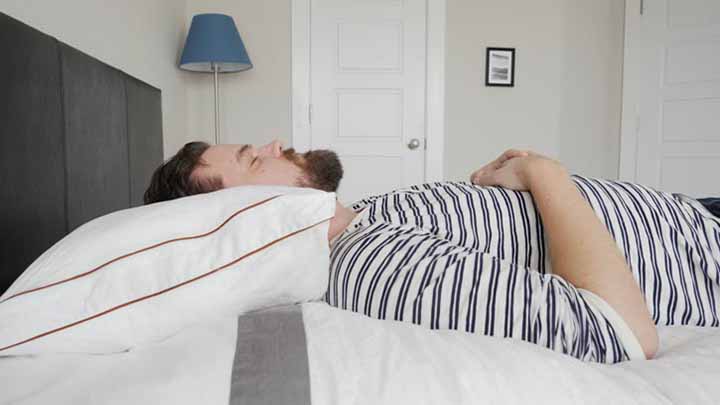 The same can be said for heavyweight sleepers. The firmness of the latex core should support heavier back sleepers, but stomach sleepers or side sleepers will feel the lumpy inner core more acutely.
Because the microfiber filling is so plush, heavyweight stomach and side sleepers may even begin to feel a little smothered as their head sinks into the pillow. This pillow is best suited for heavyweight back sleepers. Be sure to check out our list of the Best Pillows for Back Sleepers!
Lightweight Sleepers – Under 130lb
More likely than not, lightweight individuals will struggle to find a comfortable position on this pillow. With the exception of side sleepers, who may find the height appropriate, most will probably want to remove the latex core and just utilize the down alternative outer layers of the pillow.
To avoid the most lumpiness when using the pillow as a lightweight sleeper, individuals will want to reach into the core of the pillow and distribute the latex shreds as evenly as possible.
RELATED: Best Pillows of 2023
Saatva Pillow Construction
Cover
The Saatva Pillow features a 100% organic cotton cover with a silky sateen weave and demure brown piping around the edges. The sateen weave gives the pillow a luxurious feel that is reminiscent of high-end hotels.
This is also a traditionally shaped pillow, meaning it should work well with most pillowcases. Saatva gives shoppers the opportunity to add a Saatva pillowcase to their Saatva Pillow purchase for an additional charge.
Core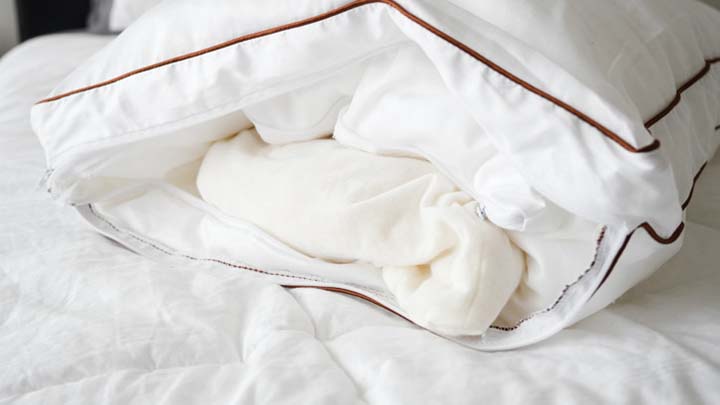 The core of the Saatva Pillow consists of two parts. The inner pillow is filled with plush microdenier fibers (polyester microfibers), which gives the pillow that initial, down-like feel. This chamber is accessible via a zipper, wherein you will find the pillow's inner core: a small sack filled with 100% American Talalay latex pieces. These pieces are shredded for breathability and can be distributed by hand for more uniform support across the pillow.
Weight
These are relatively dense, heavy pillows. The queen-size Saatva Pillow weighs 5 lb, and the king-size weighs 6 lb.
Height/Loft
The term "loft" refers to the height of the pillow. Folks shopping for a new pillow should pay special attention to the height, as the loft of a pillow is important in maintaining neutral spinal alignment and preventing neck pain or other discomforts during the night. The overall comfort of the pillow depends on it, in fact!
The Saatva pillow is quite tall and stands at 8″ totally fluffed. This is taller than a standard pillow, but the head will sink in significantly through the outer microfiber layer, making the height more manageable for average-sized sleepers. When in use, the pillow stands closer to 5″ or 6″ tall.
RELATED: Best Pillow for Neck Pain
Saatva Pillow Size Options and Price
Check out the table for the most up-to-date information about the Saatva Latex Pillow:
| | | |
| --- | --- | --- |
| Size | Dimensions | Price |
| Queen | 18" x 28" | $165.00 |
| King | 18" x 34" | $185.00 |
Saatva Latex Pillow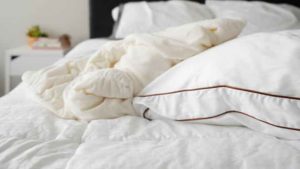 The Saatva Pillow has an organic cotton cover that is removable. Underneath is an outer pillow made up of hypoallergenic microfibers.
Mattress Clarity Score
4.80 / 5
Read Full Review
Saatva Pillow Performance
How does the Saatva Pillow perform in a few important categories? Let's find out.
Sleeping Hot or Cold
The Saatva Pillow sleeps relatively cool. Both the cotton cover and the microfiber core are relatively breathable and promote airflow through the pillow. There is no solid block of foam or other material that can trap heat. As a result, the pillow sleeps cooler than a solid memory foam pillow would.
Off-Gassing
Off-gassing refers to the slight chemical scent that can accompany new bedding products. Fortunately for the Saatva Pillow, there is very little off-gassing. The latex core may have a slight chemical smell upon arrival, but it's not super noticeable.
For those with sensitive noses, the inner core can be removed and aired out in a well-ventilated area for about a day before use. This should help remove or dissipate any off-gassing smell.
Care Instructions
Everything in the Saatva Pillow apart from the Talalay latex core is machine washable and can be dried. Saatva asks that the Talalay latex core be removed before washing. Otherwise, the brand recommends washing the pillow twice a year.
Saatva doesn't offer specific cleaning instructions, but for more information on how to wash and clean your pillow, we have a full article for you to check out!
Allergies
Saatva lists this pillow as hypoallergenic. It shouldn't aggravate allergies or asthma, although those with latex allergies should be aware the inner core is made from 100% shredded latex.
Company Policies
Interested in the Saatva Pillow? Here's what you can expect after purchase: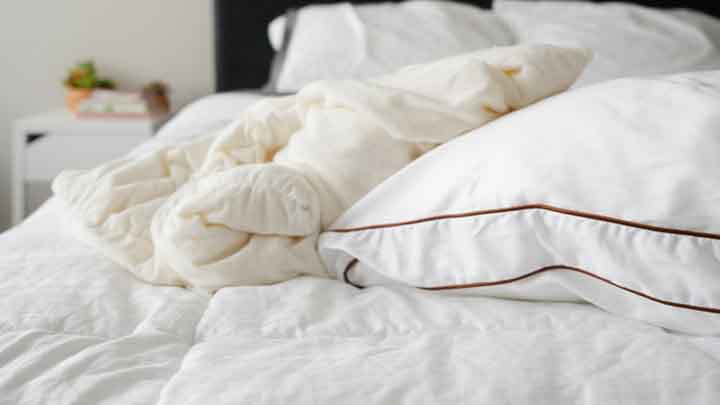 Warranty Info
Saatva has a one year warranty for their bedding products, including the Saatva Pillow. The company will repair or replace any items with quality issues within that year.
Sleep Trial
While Saatva doesn't offer an explicit sleep trial period, the company accepts returns up to 45 days after purchase. Sleepers can treat this period as a sleep trial for their Saatva Pillow.
Return Policy
Saatva offers free returns and exchanges within 45 days of purchase. The company humbly asks, however, that returned items are washed before being sent back.
Common Saatva Pillow Complaints
The majority of reviews on the Saatva website for the Latex pillow are positive. The few, less complimentary reviews generally fall into two categories: either the pillow is too firm or not firm enough. This seems to divide along sleeping position; some stomach sleepers found the Talalay latex core to be too firm, while some side sleepers wanted a firmer pillow to prevent neck pain.
The layered construction of the Saatva Pillow strikes a good balance between softness and support, particularly for back sleepers. However, those looking for a purely down-feeling pillow or a totally firm pillow should probably look elsewhere.
How Does Saatva Pillow Compare To Other Pillows?
The Saatva Pillow is great for back sleepers and those looking for a luxury, hotel-quality pillow. Let's see how it compares to other pillows on the market:
Saatva Vs. Purple
The Saatva Pillow and the Purple Pillow are like day and night – but, to be fair, any pillow and the Purple Pillow could be described that way. That's because Purple has its unique Smart Comfort Grid made with hyper-elastic Gel Polymer. This pillow is essentially a big rectangle of squishy but supportive material.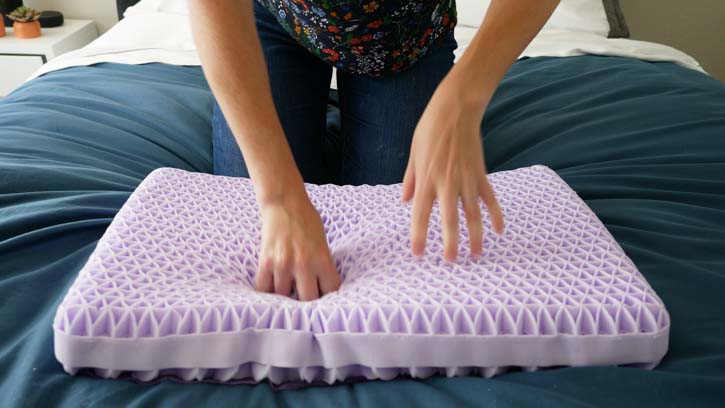 In comparison, the Saatva Pillow maintains a much more traditional look and feel. It is more adjustable and can be more easily cleaned. In terms of feel, the Saatva Pillow is much more plush than the firm and solid Purple Pillow. Both the Purple Pillow and the Saatva Pillow should sleep cool, and neither should attract dust mites and other allergens.
Who Should Get the Saatva Pillow:
Fans of down-alternative pillows
People looking for traditional, hotel-quality pillows
Who Should Get the Purple Pillow:
Hot sleepers
Side sleepers
Read our full Purple Pillow review here.
Saatva Vs. Brooklyn Bedding
Saatva is a very high-quality pillow, and with that comes a luxury price tag. For shoppers on more of a budget, check out the Brooklyn Bedding Talalay Latex Pillow, which incorporates the support of Talalay latex at a more affordable price.
The highly breathable Brooklyn Bedding Talalay Latex Pillow stands out for sleeping cool. Like the Saatva Pillow, it is best for back sleepers looking for enough support to keep their head and neck in neutral alignment. Unlike the Saatva Pillow, the Brooklyn Bedding Pillow's core is constructed entirely from Talalay Latex, which means it won't have that same downy softness as the Saatva Pillow's outer layer.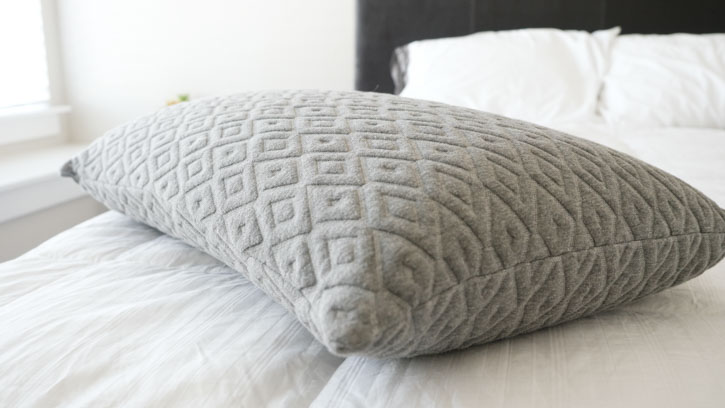 Who Should Get the Saatva Pillow:
People looking for a down-alternative pillow
Fans of washable pillows
Who Should Get the Brooklyn Bedding Talalay Latex Pillow:
People looking for a quality pillow on more of a budget
Hot sleepers
Read our full Brooklyn Bedding Talalay Latex Pillow review.
Our Saatva Pillow Ratings
Check out our Mattress Clarity score for the Saatva Pillow:

FAQs
Is the Saatva Pillow good?
Yes, the Saatva Pillow is a high-quality layered pillow that should work for most back sleepers who like the feel of a down alternative pillow but want something that won't fall flat with consistent use. The pillow does come with a 45-day return policy if the customer decides it's not a good match.
Does the Saatva Pillow sleep hot?
No, the pillow does not sleep hot. This is because it has a breathable cotton cover and the microfiber layer should promote airflow. Even the latex foam is shredded for enhanced breathability.
How long will the Saatva Pillow last?
The Saatva Pillow is made from durable, high-quality materials that should last for years with good care. Saatva recommends replacing the pillow every 36 months.
Katie Golde
Katie previously managed the day to day operations of the Mattress Clarity news site and reviews sleep products in addition to writing and editing sleep news. She hails from Austin, where she lives with her growing family. She is a Certified Sleep Science Coach and has a master's degree in Journalism from Northwestern University and has a background in health and science content. Her work can be found in print and online publications like Discover Magazine, USA Today and The Huffington Post.