The Adjustable Shredded Memory Foam Pillow from Coop Home Goods is distinct in more than one way. The memory foam shredded filling is responsive and guarantees your pillow will never go flat. You can remove as much filling as you like which makes it great for people who sleep in several positions. However, that adjustable filling may get a little messy.
Read on for my full review.
Key Features
Dimensions: 20″ x 30″ for Queen
Filling: 

crosscut proprietary blend of foam mix is  coated with our premium combed microfiber

CertiPUR-US® certified foam
The cover is 60% Polyester, 40% Bamboo-Derived Rayon – designed to keep you cool through the night
Made in the USA
Standard cut size: 20″x 26″ | Queen cut size: 20″ x 30″ King cut size: 20″ x 36″
5-year limited warranty and 100-night sleep trial
Shredded memory foam mix for comfort & shape-ability
Machine washable (whole pillow or just outer cover)
Hypoallergenic and dust mite resistant
Comes in Standard, Queen and King sizes
Who Makes It?
The pillow is made by Coop Home Goods. The business is family-owned by a brother and sister team. They are known for bringing high quality and innovative products directly to consumers, bypassing retailers and associates.
Their first product is the shredded memory foam pillow that they started selling in October 2013. They also sell a mattress protector and home-related products like a stainless steel spin mop and dish drying mat set.
Pillow Construction
The Shredded Memory Foam Adjustable pillow is a traditional pillow shape. The filling is made up of CertiPUR-US® certified foam and produced exclusively for Coop Home Goods.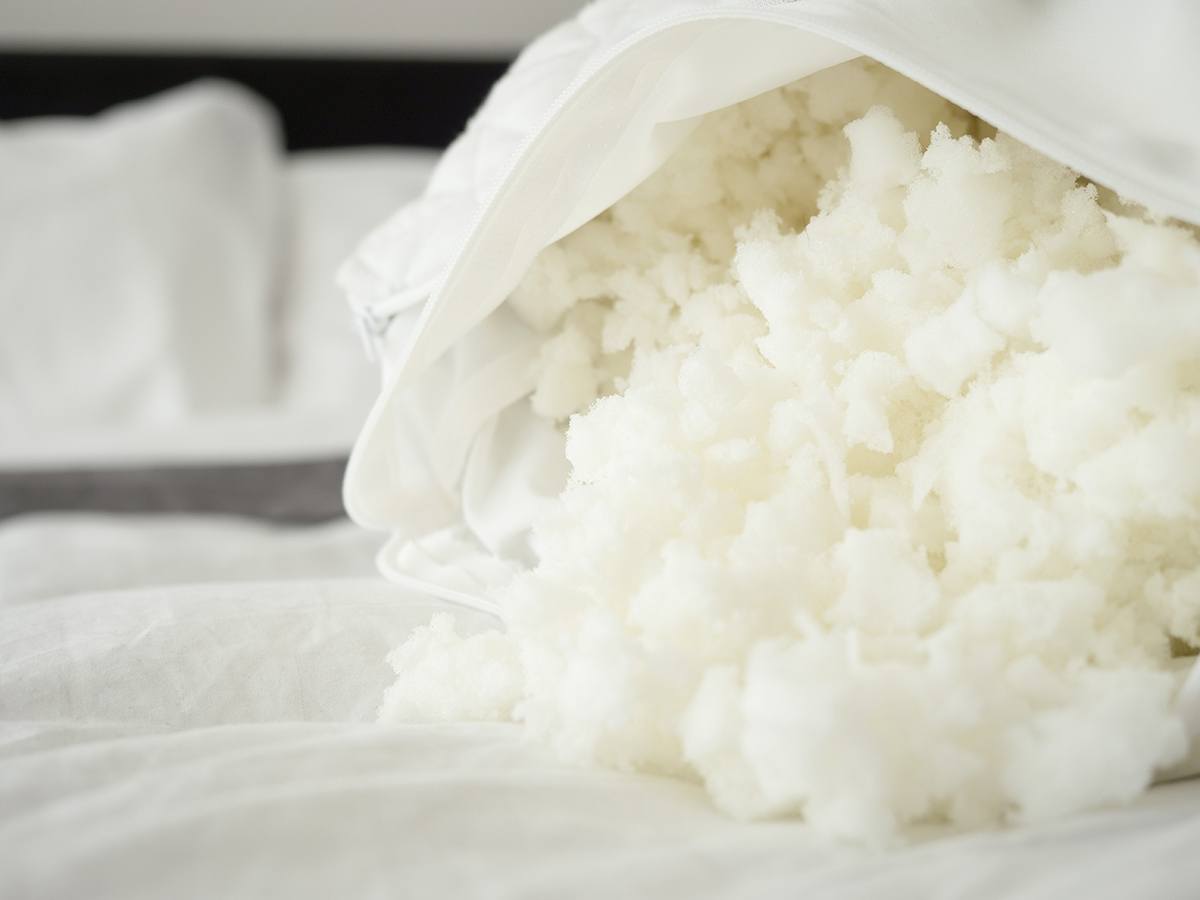 The pillow's outer cover fabric is made up of 60% Polyester, 40% Bamboo-Derived Rayon and engineered to keep you cool through the night.
Pros
Soft and breathable outer cover that is washable
The entire pillow can be washed and dried (follow directions carefully and make sure it's fully dried)
Adjustable filling
Pillow can be fluffed in the dryer
Cons
Come overstuffed and may be frustrating to find the right volume
The foam is messy when you open the pillow
You need to find an alternative storage place for unneeded shredded foam
May fall flat after frequent use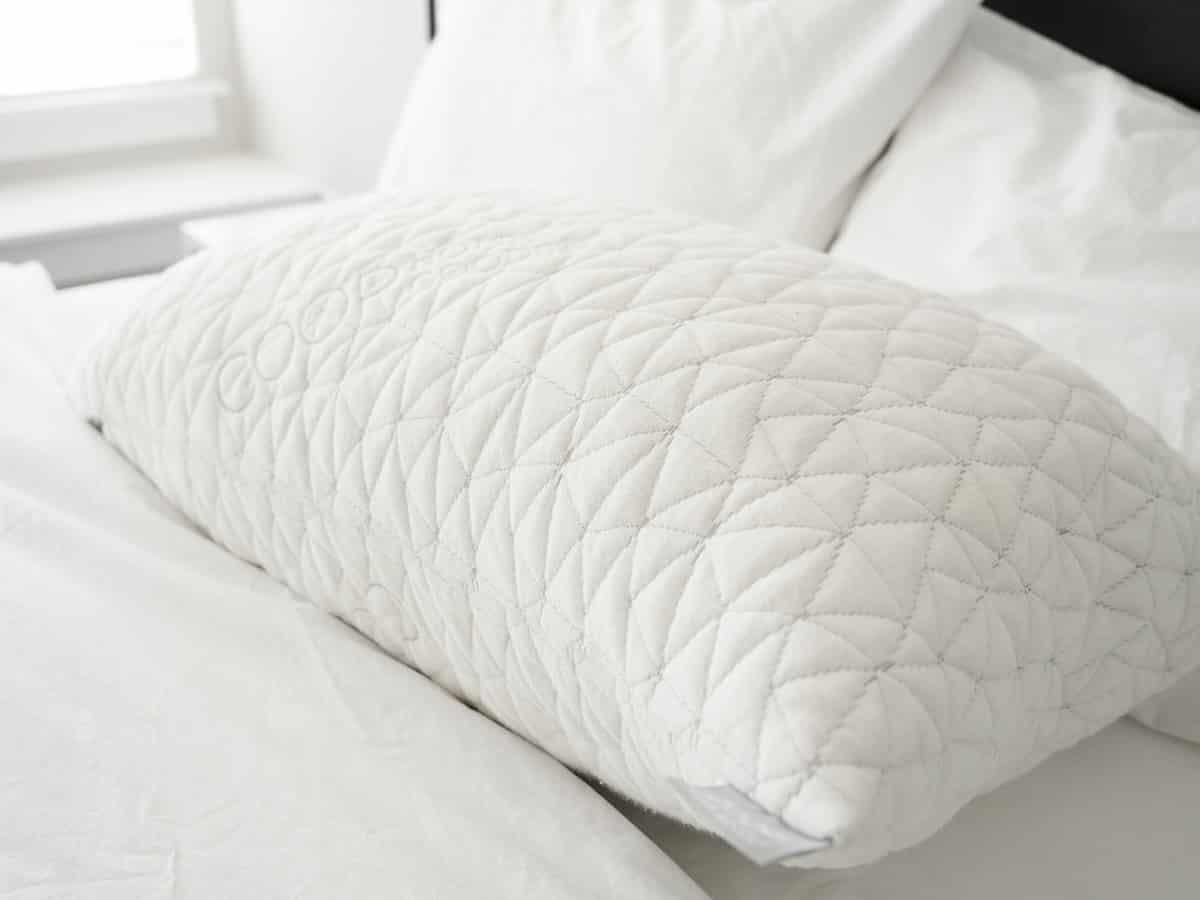 My Experience
Overall, my experience with the Adjustable Shredded Memory Foam Pillow was positive. There are a lot of thoughtful details that create a nice sleep experience for anyone.
The pillow comes vacuumed sealed in plastic, to save on shipping cost and size. Once you open the packaging you have two options: Let the pillow expand to its intended size on its own or toss the whole pillow in the dryer on a lower heat for around 10 minutes.
My dryer was broken at the time so I opted to let the pillow do its thing. Within an hour or so it had grown immensely and was the fullest pillow I've probably ever seen.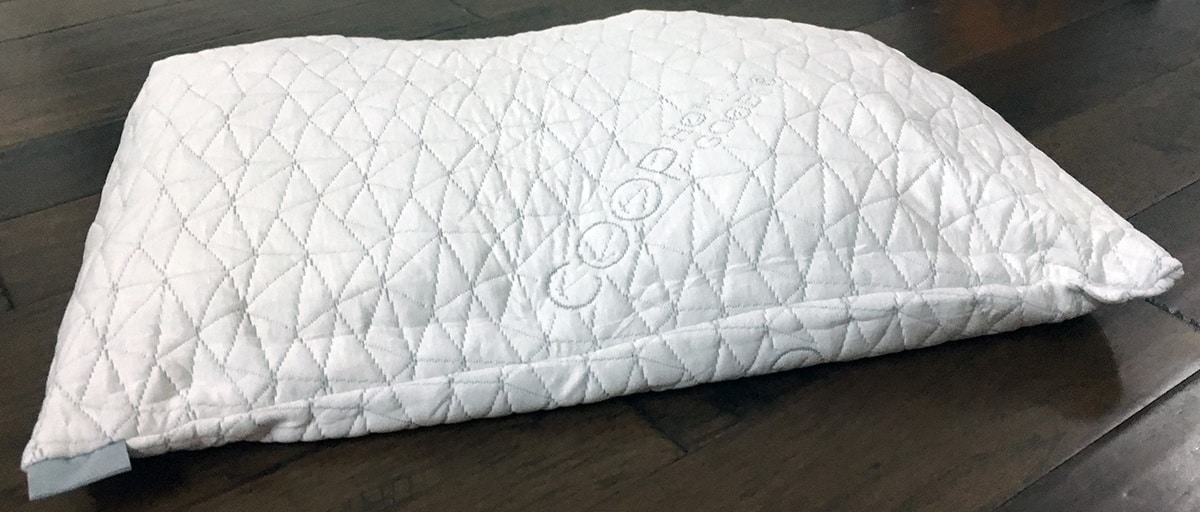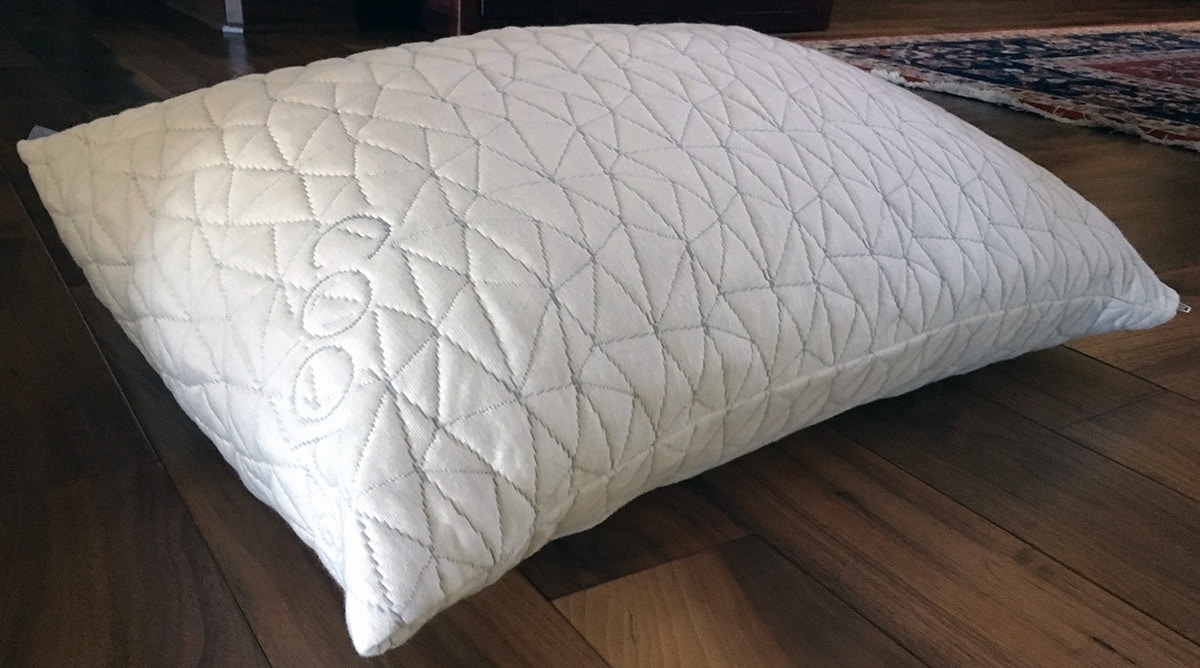 Coop Home Goods says there may be a scent, which is sometimes referred to as off-gassing. They say you can either throw it in the dryer or you can take off the removable outer cover and let it air out in direct sunlight for one to two days.
I had no issue with smells whatsoever and didn't need to take either action to reduce the unwanted smell.
The idea behind all of the loft in the pillow is that it's the right size for everyone, all you need to do is remove and rearrange the foam to suit your needs. The people at Coop Home Goods say they overfill it so that it can accommodate the largest person.
I'm a side sleeper and prefer a more lofted pillow than maybe a back or stomach sleeper. That being said, I needed to remove five or six handfuls of foam before I found a comfortable volume for myself.
The foam itself is all the same type of foam and while it is different shapes it's all relatively the same size – medium and some larger pieces overall.
The one thing I wish they did was to provide a bag or something to hold your extra foam. I opted for a large Ziploc bag but lost a bunch of foam in transit and it made a decent amount of mess.
There are several videos on the company's website showing you how to adjust your pillow. In one of the videos, the instructor shows you how to redistribute the shredded memory foam inside the pillow to create a little place for your head.
I played around with different distributions but ultimately found that an even distribution of memory foam was the best for me in the side sleeping position.
Some customers said their pillow fell flat after using it for a week. I felt that my pillow did lose a little of its original loft, especially after how full it is immediately out of the dryer, but it never fell completely flat.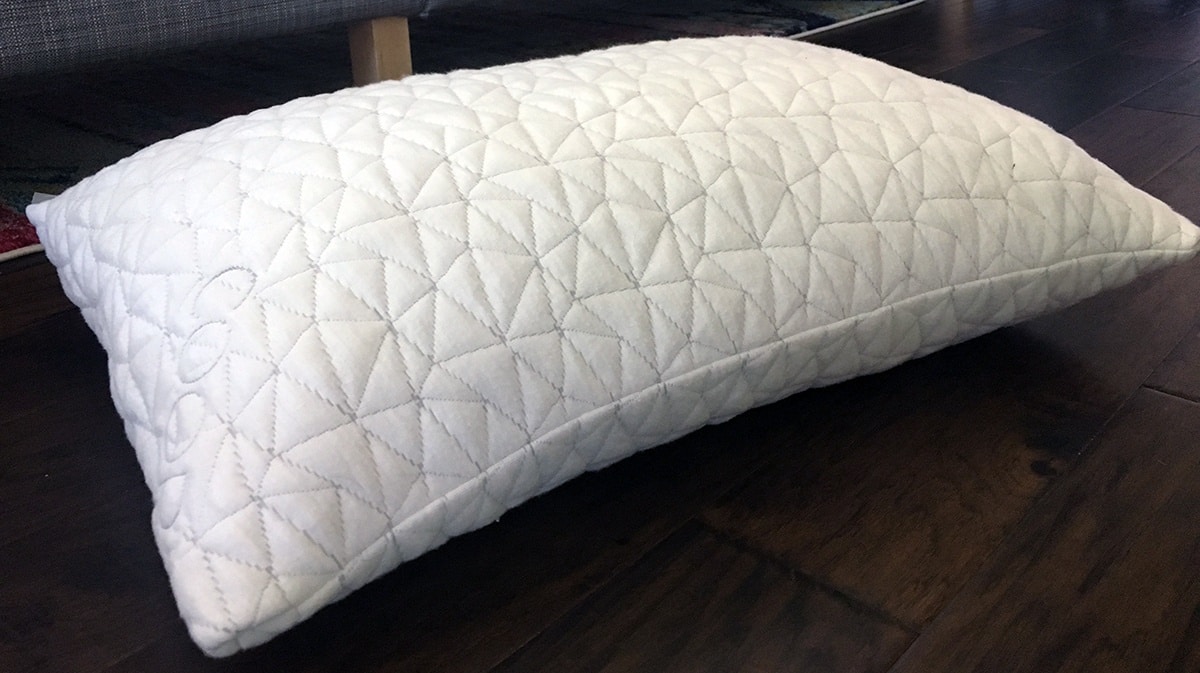 In my experience, the pillow remained firm and supportive and did not lose its shape (meaning the filling did not re-arrange itself inside the pillow).
I think on occasion I would need to re-fluff it to bring back the foam responsiveness but I do think the fact that the foam pieces are all the same and on the bigger side plays a factor in why it's able to maintain its shape and relative firmness after use.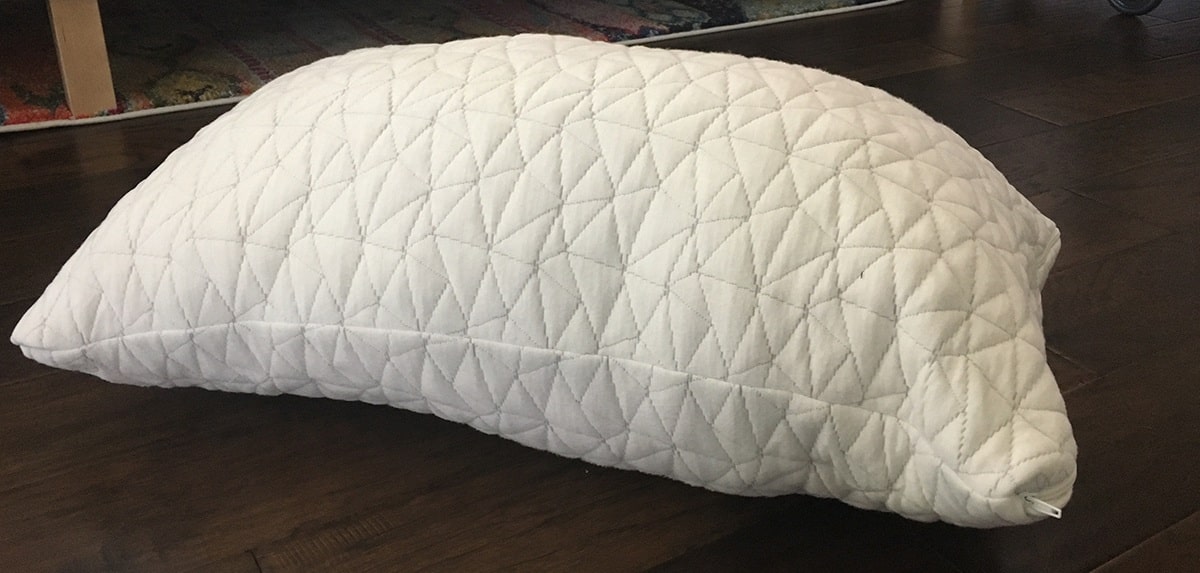 The cover is also super soft, most likely from the bamboo-derived rayon. It is also removable and washable. 
Final Recommendation
Although it's a more expensive pillow, I think the thoughtful design and adjustable comfort of the Coop Home Goods Adjustable Shredded Memory Foam Pillow make it worth the price.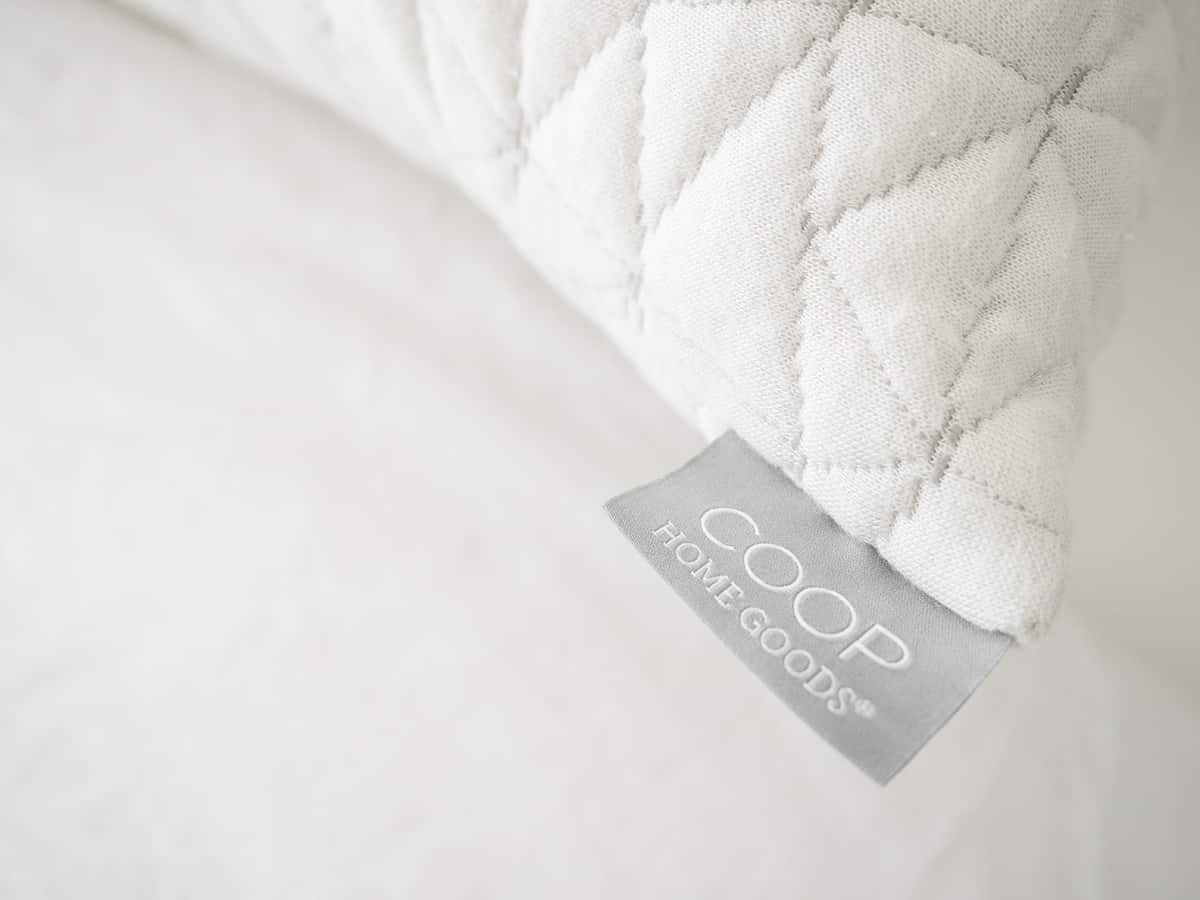 I really liked how comfortable it was as a side sleeper and I only needed to remove maybe 25 percent of the foam to find a comfortable fit. Yes, it was messy to remove the filling, but I slept well with the pillow so it made up for that.
Coop Home Goods has a few videos with suggestions on what to do with the pillow based on what kind of sleeping position you prefer. I recommend watching them if you are interested in the pillow to get an idea of whether or not it could be a good fit for you.
The following two tabs change content below.
Katie Golde
Katie manages the day to day operations of the Mattress Clarity news site and reviews sleep products in addition to writing and editing sleep news.She hails from Austin, where she lives with her growing family. She is a Certified Sleep Science Coach and has a master's degree in Journalism from Northwestern University and has a background in health and science content. Her work can be found in print and online publications like Discover Magazine, USA Today and The Huffington Post.
Latest posts by Katie Golde (see all)