The Tempur-Symphony pillow is uniquely designed so that it suits stomach, side, and back sleepers alike. Its memory foam filling keeps its shape and the removable cover is soft and easy to care for. So will it work for you? Read on for my full review.
Key Features
Design features a gently arched side for back sleepers, and a flatter side for stomach and side sleepers
Meant to work well for sleepers with a medium to large frame.
Medium-Soft Feel (softens up over time)
One Size: 24" x 17" x 5"
Cover: 100% Polyester (Made in Ukraine)
Netting: 100% Polyester (Made in the USA)
Filling: 100% Molded ViscoElastic Polyurethane foam pad (made in the USA)
Removable cover is machine washable and dryer friendly
5-year limited warranty
related: best pillow for side sleepers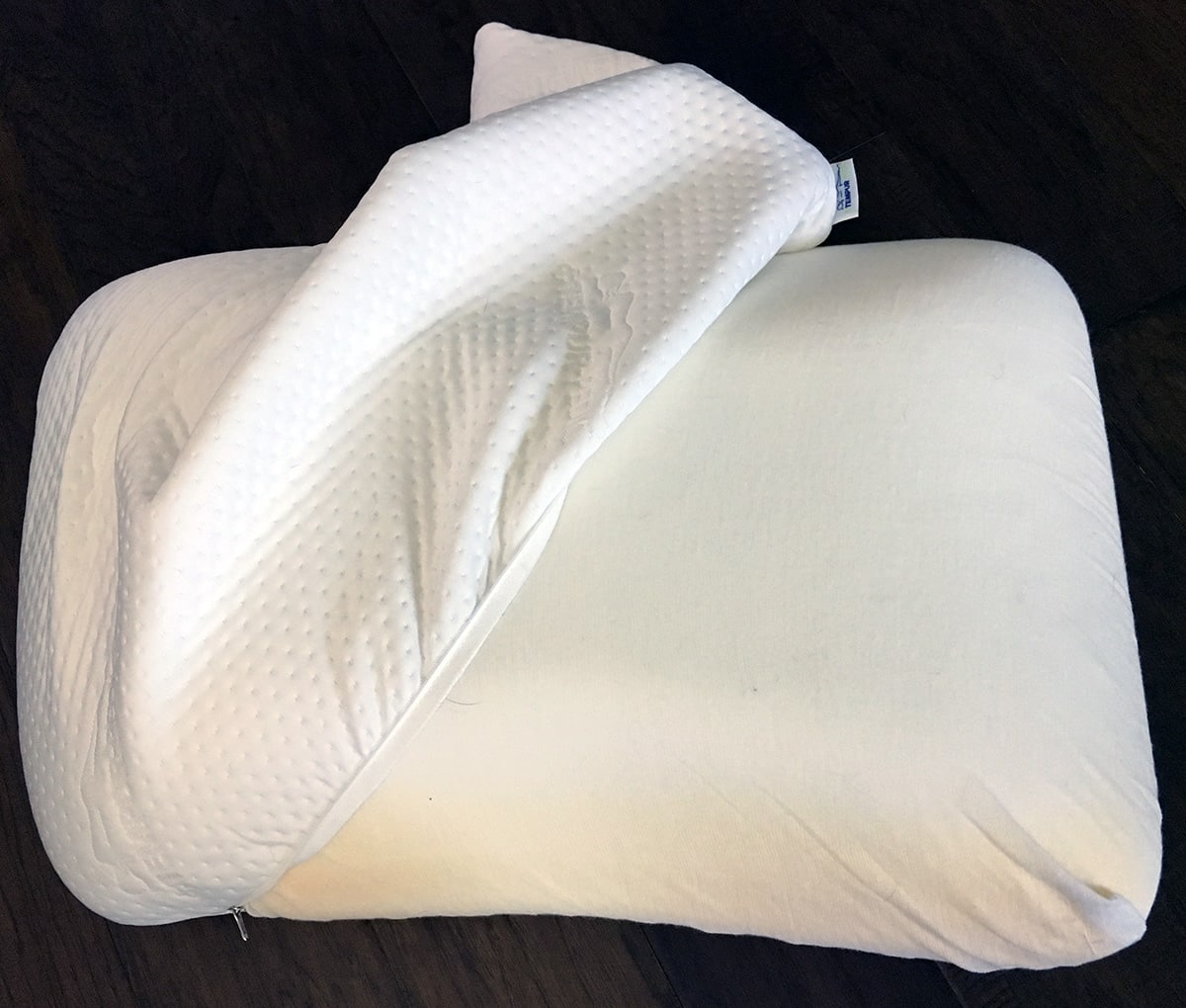 Who Makes It?
The Tempur-Symphony pillow is made by Tempur-Pedic, a popular mattress, and bedding company that merged with Sealy in 2012 to become Tempur-Sealy International.
Tempur-Pedic – the brand – is well known for being the first to take memory foam mattresses mainstream. For more information about Tempur-Pedic and their mattresses, you can check out our review, here.
Pillow Construction
The Tempur-Symphony Pillow has a 5" profile and is filled with a molded piece of Viscoelastic Polyurethane foam (also known as memory foam).
This piece of foam is dual sided. One side sort of looks like a hilltop (Tempur-Pedic calls it 'gently arched'). This is supposed to be ideal for back sleepers.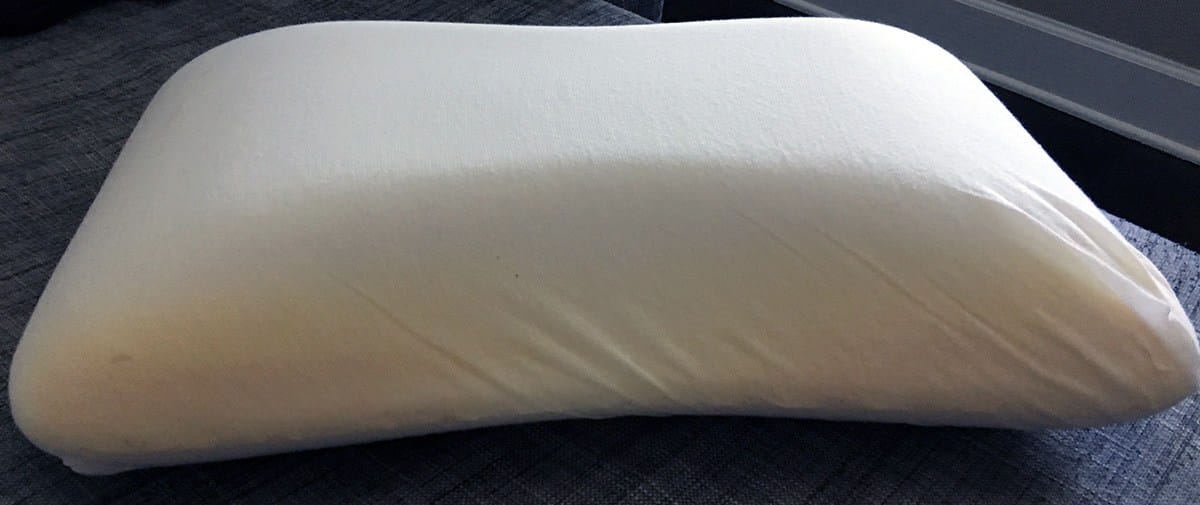 The other side is flat and intended for side and/or stomach sleepers.

The outside cover is white, textured and made from 100% polyester. It definitely has a soft and mesh-like feel to it that I believe is made to help with breathability.
This cover has a zipper and is easy to machine wash and dry, simply remove the filling from the cover follow the care instructions on the pillow cover tag.
Pros
Soft removable cover
Easy care
Dual sided to provide options
Thick foam
Won't go flat or lose shape
Good fit for people with a medium to large frame
Best for sleepers with a medium to larger body frame
Cons
Profile may be too high for stomach sleepers
May be too firm for petite or more slender people
Cannot wash/dry entire pillow (only cover)
No trial periods available
My Experience
The Tempur-Symphony pillow immediately intrigued me because it's designed to be a good fit for back, side and stomach sleepers – an ambitious goal.
The dual sided design is the key to making this a good fit for all types of sleepers. One side is flat and intended for side and stomach sleepers, and the other side has a raised section that sort of mimics a small hilltop or mountain top. This side is meant for back sleepers.
Tempur-Pedic is known for their memory foam bedding products, so naturally, this pillow is filled with a solid piece of memory foam with a 5" height.
I'm a natural back and side sleeper and every now and then I end up on my stomach overnight. During my review of the pillow, I tested both sides of the pillow but kept coming back to the raised side designed for back sleepers – even when I slept on my side.
My initial thought about the pillow is that (for me) it felt firmer than I thought it would. It's described as medium feel but, at least initially, the pillow felt even firmer to me.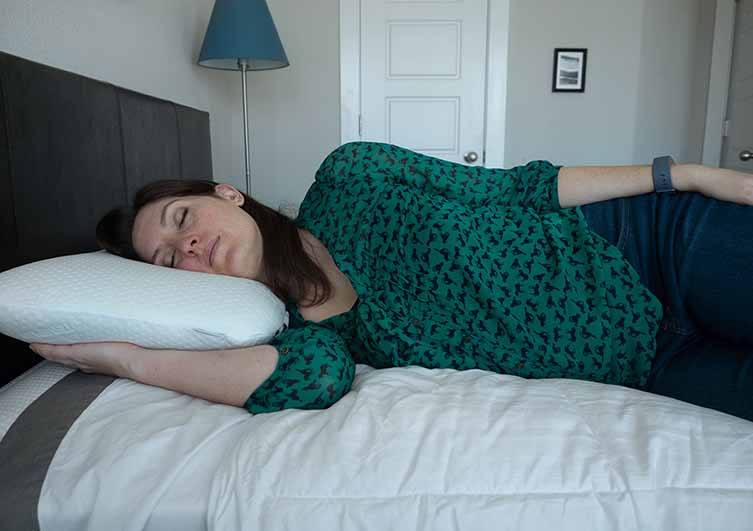 I had trouble getting comfortable with the flat side of the pillow. I think this is because the 5" profile was just a little too high to be comfortable on my neck when I laid on my back and my stomach.
When I did sleep on my side, I liked resting my head on the raised section of the pillow designed for back sleepers. This seemed to be the right height and thickness for my neck.
Tempur-Pedic says this is a great pillow for sleepers with a medium to large frame. I am 5′ 7″ with an average frame and based on my experience, I'm inclined to agree with this suggestion.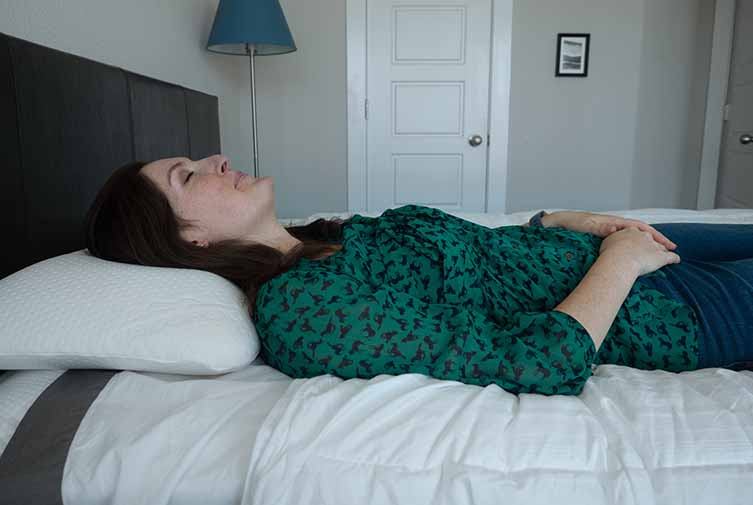 I think individuals with broader shoulders and/or larger body types would get the most out of this memory foam pillow by sinking deeper into it and getting the full supportive benefits it provides.
Overall
From my experience, I think the Tempur-Symphony pillow will be the best fit for sleepers (of any position) with a medium to large frame who are looking for a supportive memory foam pillow.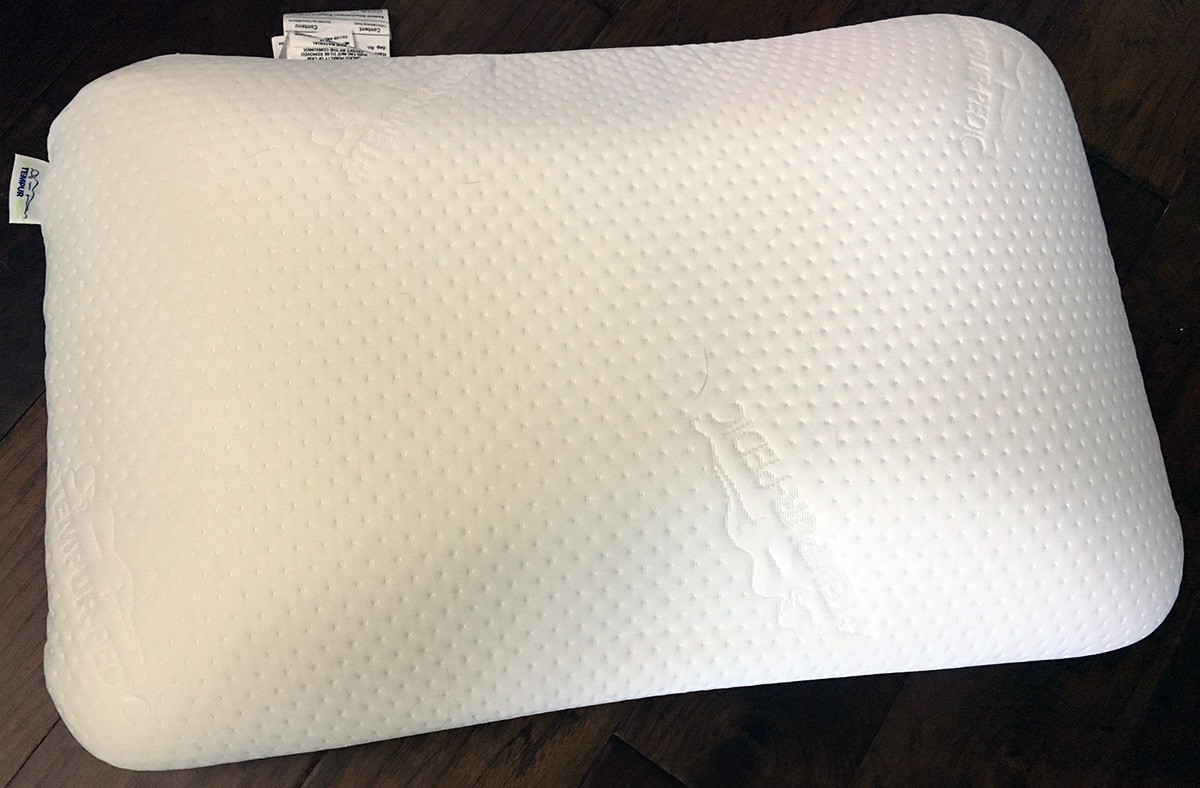 I personally had the most success with this pillow when I slept on my side because the 5" profile and firmness level was the best match for me in that position.
For those who are switching from a down, down alternative or even shredded memory foam pillow to a solid pillow like the Tempur-Symphony, I would recommend giving yourself time for your head and neck to adjust to the new type of pillow. While it may feel firm initially it will definitely soften up and contour to your head in no time.
The following two tabs change content below.
Katie Golde
Katie manages the day to day operations of the Mattress Clarity news site and reviews sleep products in addition to writing and editing sleep news.She hails from Austin, where she lives with her growing family. She is a Certified Sleep Science Coach and has a master's degree in Journalism from Northwestern University and has a background in health and science content. Her work can be found in print and online publications like Discover Magazine, USA Today and The Huffington Post.
Latest posts by Katie Golde (see all)