If you're looking for a great value mattress in the memory foam bed-in-a-box mattress market, you really don't need to look any further than the Nectar mattresses from Nectar Sleep.
Priced around $800 for a queen size mattress, the original Nectar mattress is truly a steal, and the upgraded Nectar Lush also comes at a great price for its high quality feel. Despite its reasonable pricing, shoppers may still be interested in looking for coupons, discounts, and additional ways to save money on a Nectar mattress.
We'll share the best sales on the Nectar and Nectar Lush mattresses in this Nectar Sleep coupons roundup. Keep reading to learn how to save on Nectar any time of the year.
Nectar Mattress Coupons
Free Accessories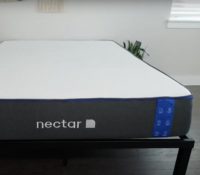 Nectar is a very comfortable memory foam mattress that happens to also be an amazing value, and customers can get the best deal on the Nectar plus $399 of free accessories by using our coupon.
Highlights Of The Nectar Mattress
The Nectar mattress is super comfortable with 4" of memory foam that relieves pressure. The mattress performed very well in my pressure map test, and there was no red on the pressure map at all, meaning no major pressure points when lying down on my side.
This mattress is about a 6 out of 10 on the firmness scale, meaning it is just a little bit softer than average.
It's a great fit for back sleepers but an especially good fit for side sleepers; it might be a little too soft for stomach sleepers.  Overall, it's a good fit for combination sleepers and those who switch positions often at night.
Read my full Nectar mattress review to learn more about what makes the Nectar great.
Nectar Lush Mattress Coupon Code
Free Accessories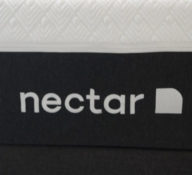 The Nectar Lush is a luxury memory foam mattress that should be a good match for side and back sleepers. You can get the best deal on the Nectar plus $399 of free accessories by using our coupon.
Highlights Of The Nectar Lush Mattress
A luxurious upgrade from the original Nectar mattress, the Nectar Lush has a great slow-moving memory foam feel with advanced materials.
The Nectar Lush has higher quality components compared to the original mattress like a cooling Phase Change Material technology that helps keep you cool while you sleep.
It's a good match for side and back sleepers with a medium-firm firmness level.
Compare the Nectar vs Nectar Lush to learn more about the differences.
Read my full Nectar Lush mattress review to learn more about the Nectar Lush mattress.
Do Nectar Mattresses Go On Sale?
Nectar mattresses are almost always on sale. Nectar offers their best discounts during holiday periods like Labor Day, Presidents' Day, and Black Friday and Cyber Monday weekend. You can save hundreds on your purchase by buying a Nectar then.
Right now, Nectar is offering their best deal ever by giving customers up to $399 worth of free accessories with a mattress purchase. You can get a free sheet set, 2 cooling pillows, and a mattress protector all included with the purchase of a Nectar mattress.
Why Shop with Nectar Sleep?
Nectar Sleep offers high quality memory foam mattresses at very reasonable prices. You can get a great quality foam mattress from Nectar at a cost 2-3x lower than retail prices. Even with an already great price, Nectar runs promotions and holiday deals often.
When you shop with Nectar, you also get a very generous 365-night sleep trial period with free returns if you decide your mattress isn't a good fit for you. Plus, Nectar offers a forever warranty. To use our coupons and check the best price for a Nectar mattress, click any of our coupon buttons above, add your mattress to your cart, and enjoy your savings.