Tempur-Pedic offers many high quality memory foam and hybrid mattresses that shoppers love, though they come at a higher price point than some of the best bed-in-a-box mattresses.
If you've got your eye on a Tempur-Pedic mattress but want to save some money on your purchase, there's no better time than now to start shopping! With Tempur-Pedic's mattress sales, you can save more on your purchase or get special offers.
Keep reading to learn about Tempur-Pedic's sales and find out what we think of the Tempur-Pedic mattresses we've tested out.
Tempur-Pedic Mattress Coupons
Save Up To $700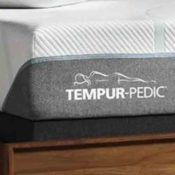 Tempur-Pedic is the king of memory foam and makes amazing mattresses that are both comfortable and supportive. Save up to $700 on Tempur-Pedic adjustable mattress sets simply by clicking the button below.
Highlights of the Tempur-Pedic Mattresses
The Tempur-Pedic mattresses have been popular for a long time for a good reason. They're extremely high-quality, comfortable, and supportive.
These mattresses are very durable so they should last you for a long time.
Tempur-Pedic has a line of different mattresses that can appeal to different types of sleepers, so you should be able to find something well-suited for you.
Read our full Tempur-Pedic review to learn more.
Do Tempur-Pedic Mattresses Go On Sale?
The Tempur-Pedic mattresses often go on sale around holiday periods like Memorial Day, Presidents' Day, the Fourth of July, Black Friday, and Cyber Monday. Tempur-Pedic offers great discounts across their site on mattresses, pillows, and other mattress accessories or bedding products. You could save hundreds of dollars by buying a Tempur-Pedic mattress at the right time!
How to Use Tempur-Pedic Mattress Coupons
Choose which Tempur-Pedic mattress you want to purchase.
Check for current offers and sales by clicking the button above or navigating to the Offers page on Tempur-Pedic's website.
Apply your promo code or add the discounted item to your cart.
Enjoy!
Marten Carlson
Marten is Senior Editor at Mattress Clarity. He covers the mattress industry as well as sleep science news. He is specifically interested in the connection between sleep and overall health. Marten has written for media publications like Consequence of Sound and received a master's degree in Film Studies from Emory University. He comes from Franklin, Indiana, and spends all the time he can writing, directing, and acting in films. He has directed genre short films and features. His newest film, Starlets, recently premiered at the River Town Film Festival in Clinton, NJ. He also stars in the upcoming thriller, Sour Bear. His next film, At The Hop, is a hot rod actioner with a horror twist.