Want to try a unique Purple mattress while saving some dough? Then check out our Purple mattress coupon codes and discounts!
Purple is a very popular online mattress brand that's known for creating mattresses with unique materials and feels. The brand's proprietary hyper-elastic gel polymer construction creates squishy-yet-firm mattresses that feel unlike anything else on the market.
In the following sections, we'll share some great sales and highlight two of the brand's most popular models: the original Purple mattress and the Purple Hybrid Premier. Then we'll detail why folks might want to shop with Purple in the first place. Read on!
Purple Mattress Coupon
Free Accessories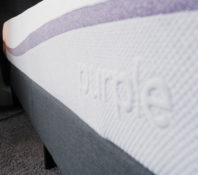 Purple is an innovative mattress that is a great fit for all three sleeping positions and doesn't sleep hot.  Use our coupon to get free sheets with your purchase. 
Highlights Of The Purple Mattress
The original Purple's gel grid construction collapses when sleepers apply sufficient pressure and stays upright everywhere else, creating a squishy-yet-firm feel
This supportive mattress could be a great match for back sleepers, stomach sleepers, and heavier-weight side sleepers who weigh enough to collapse the grid around the shoulder and hip, thereby creating pressure relief
The hyper-elastic gel polymer is very durable, which should make this a long-lasting mattress that doesn't sag 
The Purple should sleep temperature neutral thanks to the thin SoftFlex cover and breathable gel grid, which has nearly 2,500 air channels
The mattress has a 3" foam encasement that runs around its perimeter and helps shore up the edge support
Read our full Purple mattress review to learn more about what makes the original Purple a great mattress.
Purple Hybrid Premier Mattress Coupon Code
Free Accessories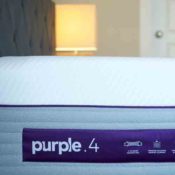 The Purple Hybrid Premier is a perfect choice if you are a side sleeper, are looking for a long-term investment, and are a hot sleeper. Get free sheets and 2 free pillows with your purchase of a Purple mattress. 
Highlights Of The Purple Hybrid Premier Mattress
This model comes in multiple thickness options that boast 3" or 4" of the hyper-elastic gel polymer grid, respectively
The Purple Hybrid Premier includes responsive coils underneath the gel grid, which adds more bounce, support, and durability 
The 4" option is especially well suited to side sleepers, because it creates a weightless feeling that helps relieve pressure
Like the original Purple, this is a very durable mattress that should last for a long time
This model is also well suited to hot sleepers thanks to open air channels and temperature-neutral materials
Read our full Purple Hybrid Premier mattress review to learn more about what makes the Purple Hybrid Premier a great mattress.
Do Purple Mattresses Go On Sale?
Purple offers great discounts and coupons year-round on their mattresses and bedding products. You can get the best deal on a Purple mattress around holiday periods like Labor Day, Presidents' Day, the Fourth of July, Black Friday, and Cyber Monday. Purple will offer sales on their mattresses, mattress accessories, and bedding products. You can usually get a good bundle deal to save hundreds of dollars on your purchase!
Why Shop with Purple?
Alongside Casper, Purple is one of the most popular bed-in-a-box mattress brands. Its unique mattresses and materials have earned a growing following, and its varied models offer comfortable sleep for many types of sleepers. All Purple mattresses feature the brand's proprietary hyper-elastic gel polymer grid and come with a 10-year warranty and 100-night trial.
Shoppers can save on a Purple mattress by clicking on any of our coupon buttons above or by visiting Purple.com. This is a great opportunity to try out one of these unique beds at a discounted price!