A latex foam pillow is an excellent middle ground, offering more support and firmness than down or down alternative, but without the slow-sinking feeling of memory foam. As a material, it's bouncy and resilient while still creating some soothing pressure relief.
But with all the options out there, which pillow is best for you? We've done the napping, testing and reviewing, and have come up with a list of the eight best latex pillows available today.
Our Top Picks for the Best Latex Pillows
Editor's Pick- Avocado Molded Latex Pillow
Who is it for?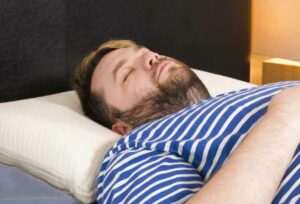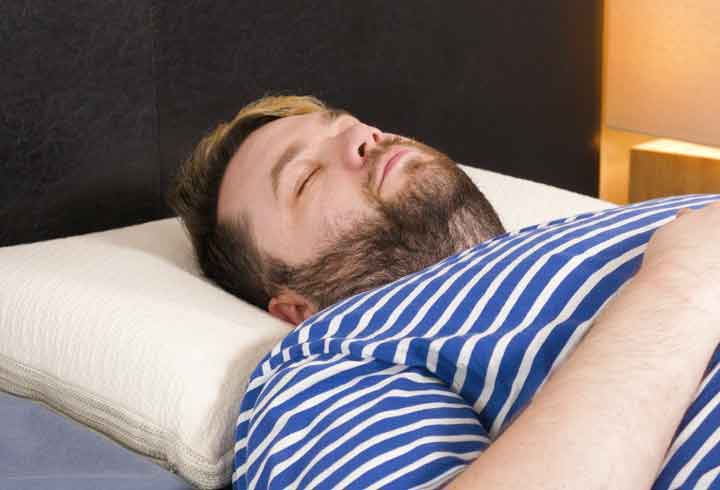 When it comes to our Editor's Pick, it doesn't get much more high-quality than the Avocado Molded Latex pillow. It's organic, sleeps cool, and a match for back, side, and even some stomach sleepers out there!
The Avocado Molded Latex pillow is made from a single slab of charcoal-infused latex foam. This makes it super responsive and bouncy, but it's firm enough to keep your head and neck in a neutral position while you sleep.
While it's ideal for back sleepers, side sleepers with narrow frames should also enjoy this pillow, and heavier stomach sleepers should be able to compress this pillow enough to sleep comfortably all night long.
What Makes the Avocado Molded Latex Pillow Stand Out?
It has multiple certifications that make it a truly organic pillow.
This pillow won't trap heat thanks to latex's natural breathability and perforations which allow for airflow.
It's firm, but bouncy and responsive and will keep you in a neutral alignment while you sleep.
Read our full Avocado Molded Latex pillow review.
Best for Back Sleepers- Saatva Natural Latex Pillow
Who is it for?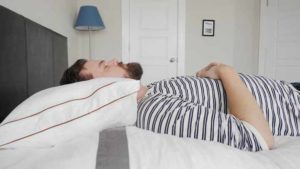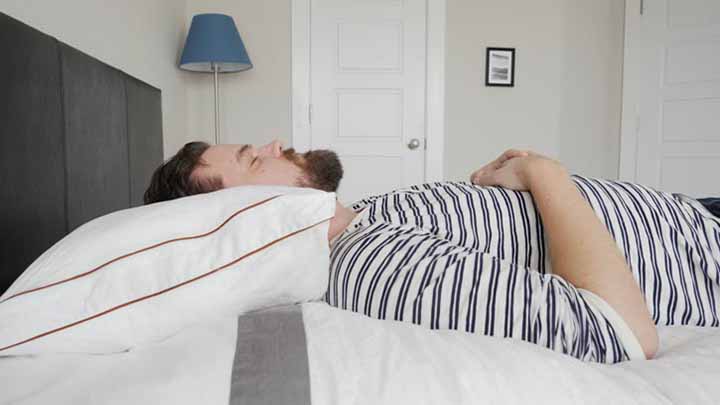 Back sleepers need a pillow that seamlessly blends comfort and support, and luckily there's a pillow that just does that: the Saatva Natural Latex pillow.
This soft pillow combines plush down alternative and shredded latex. The down alternative surrounds the latex core, which gives it a soft, yet supportive feel.
Because you're not going to sink too far into this pillow, it makes it ideal for back sleeping. A neutral position for back sleepers means your head doesn't go too far forward into your chest, nor too far back. Your chin is in alignment with your chest, which is what this pillow achieves.
What Makes the Saatva Latex Pillow Stand Out?
Saatva mentions that this pillow can alleviate neck pain by targeting pressure points in your head and neck, which I'm inclined to agree with!
It feels soft yet supportive, which is ideal for back sleeping.
This pillow won't trap heat thanks to a breathable cotton cover, and the shredded latex means air can flow through easily.
Read our full Saatva Latex pillow review.
Best Talalay Latex- Brooklyn Bedding Talalay Latex Pillow
Who is it for?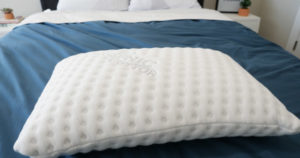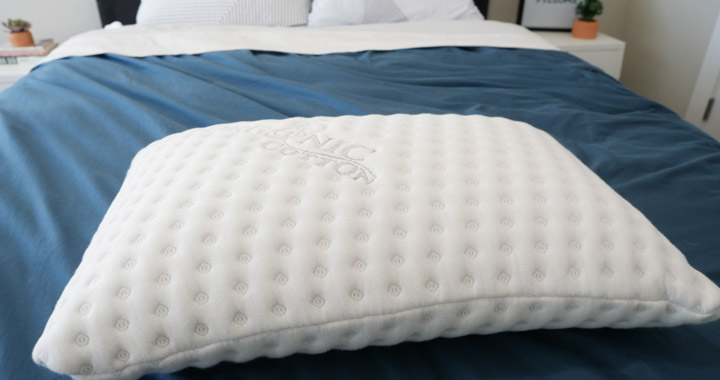 There are two main types of latex used in sleep products: Dunlop and Talalay. The latter we typically see in pillows because it feels much softer and plush than Dunlop.
Brooklyn Bedding's Talalay latex pillow is a great choice for just about anyone! It comes in two loft options, which means it can fit all three sleeping positions and body types.
Hot sleepers can stay cool on this pillow thanks to a breathable cover and perforated latex foam. And probably the best part? In comparison to some other pillows on this list, it's incredibly affordable!
What Makes the Brooklyn Bedding Talalay Latex Pillow Stand Out?
It comes in two loft options which will work for just about anyone.
This is already an affordable pillow, but Brooklyn Bedding will offer discounts year-round to help you save more.
Talalay latex feels very soft, plush, and responsive.
Read our full Brooklyn Bedding Talalay Latex pillow review.
Best Latex Pillow- Malouf Zoned Latex Pillow
Who is it for?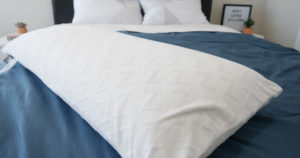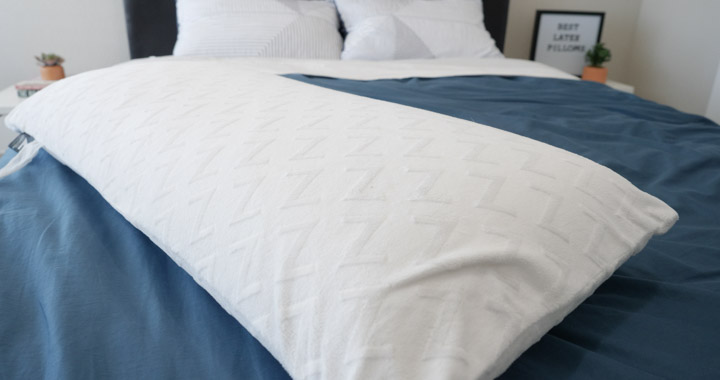 If you're looking for one of the best latex pillows based on features alone, the Z Malouf pillow is a good choice! This is another pillow that comes in multiple sizes, firmnesses, and lofts which make it a match for just about anyone, regardless of body type and sleeping position.
This pillow uses Talalay latex that has been "zoned" with perforations. The holes in this pillow are larger in the center, and smaller towards the sides. This will provide ideal support for your head in the center, and support for your neck towards the edges if you toss and turn.
What Makes the Malouf Zoned Latex Pillow Stand Out?
You can choose the firmness and loft to fit your needs based on sleeping position and body types.
It won't trap heat thanks to the perforations and a breathable cotton cover.
You can purchase this from Malouf's website or Amazon, making it a fairly accessible pillow.|
Read our full Z by Malouf pillow review.
Best for Side Sleepers- Eli & Elm Cotton Side Sleeper Pillow
Who is it for?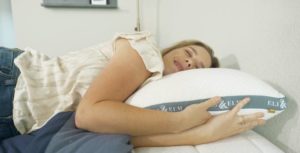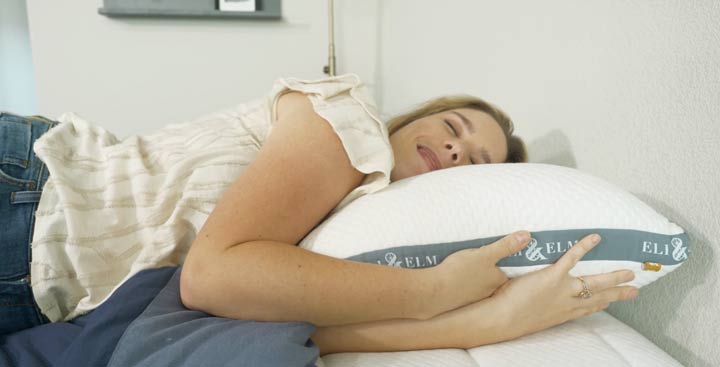 Side sleepers need tall pillows that can also accommodate your shoulder. Luckily Eli & Elm makes a latex pillow specifically for side sleepers.
On one side of this pillow, there's a U-shaped cut out which is what's going to accommodate your shoulder. This will make sleeping with this pillow feel very natural and comfortable.
On the inside of this pillow, you'll find shredded latex noodles and microfibers. This combination of materials makes this pillow feel soft and supportive at the same time. This fill can also be taken out to adjust the pillow's firmness and loft.
What Makes the Eli & Elm Side Sleeper Pillow Stand Out?
The U-shaped cut out will accommodate your shoulder.
You can adjust the loft of this pillow, so whether you have wide or narrow shoulders, this will work for you.
It won't trap heat thanks to the breathable cotton cover and shredded fill to allow for airflow.
Read our full Eli & Elm cotton side sleeper pillow review.
Best Shredded Latex- Nest Bedding Easy Breather Natural
Who is it for?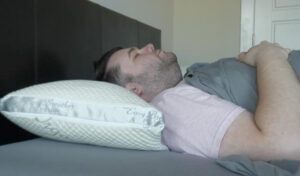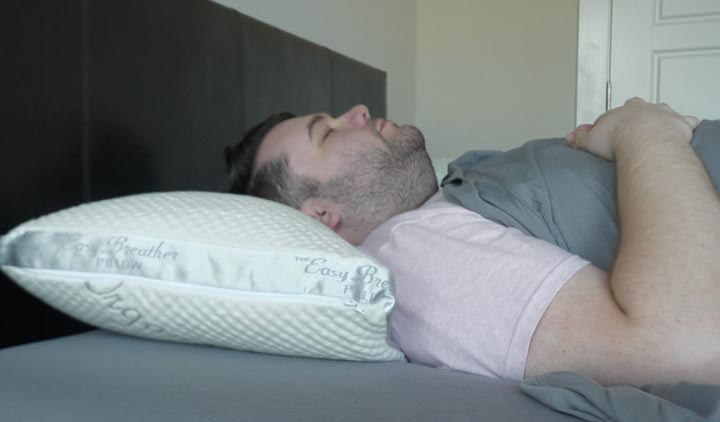 Many latex pillows come to you with shredded fills. These pillows are often a great match for everyone because they often also allow you to remove the fill. One of the best shredded latex pillows is the Nest Bedding Easy Breather Natural.
This pillow does have an adjustable fill, but what also makes it great is that it comes in four different sizes: standard, queen, king, and a side sleeper option. There's something for everyone!
What Makes the Nest Bedding Easy Breather Natural Pillow Stand Out?
This is an eco-friendly pillow. It's OEKO-Tex certified, meaning no harmful chemicals went into the production of this pillow.
Four different models and an adjustable fill make this a match for just about anyone.
For easy care, this pillow comes with a removable outer cover that can be machine-washed.
Read our double review on the two Nest Bedding Easy Breather pillows
Best Organic- Birch Organic Pillow
Who is it for?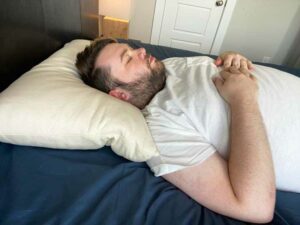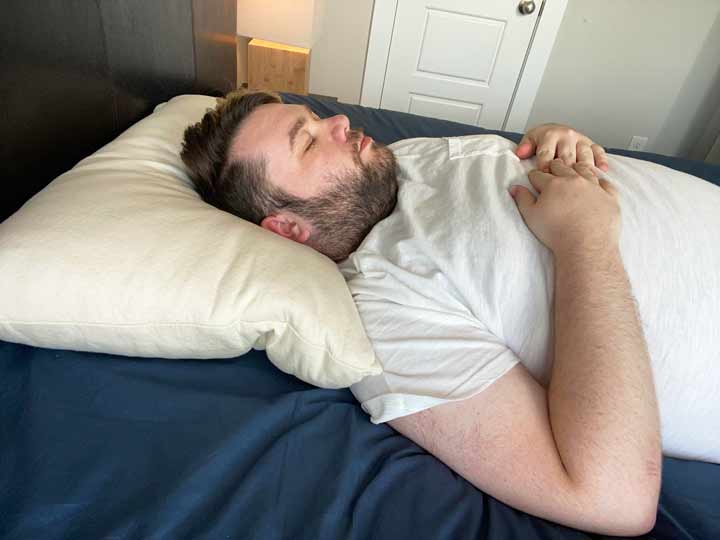 When it comes to organic products, none do it quite as well as Birch. The Birch Organic pillow combines organic cotton, organic New Zealand wool, and organic latex for a fully, well, organic pillow!
The New Zealand wool in this pillow helps give it a fluffy feel, while the shredded latex core helps give ample support to keep you sleeping in a neutral position. It's not too tall, it's not too low, and can work for multiple sleeping positions.
The cotton, wool, and latex all work together to keep you from overheating at night, so it's a great choice for hot sleepers!
What Makes the Birch Organic Pillow Stand Out?
This pillow combines many organic elements that work to keep you cool, and sleep in a neutral alignment.
You have 100 nights to test this pillow out, and get a 1-year warranty if you keep it.
This pillow has been certified organic by organizations that are dedicated to clean, ethical, and responsible production.
Read our full Birch organic pillow review.
Best for Combination Sleepers-Plushbeds Shredded Latex Pillow
Who is it for?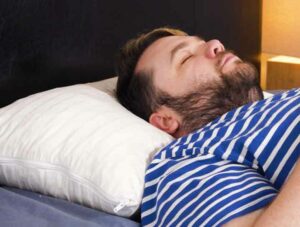 If you toss and turn at night, latex is a good material to have in your pillow because it's responsive and you don't sink too far into it. This means it's very easy to move around on.
Plushbeds' shredded latex pillow is a great option for all the combo sleepers out there who tend to change positions throughout the night. The Plushbeds pillow can also have its fill adjusted, which will change its firmness and loft. This allows combination sleepers to find that sweet spot that works for them before bed, and will help them sleep soundly all night long.
What Makes the Plushbeds Shredded Latex Pillow Stand Out?
It's full of shredded foam that is easy to move around on.
You can change the loft and firmness of this pillow based on how much fill you choose to have inside.
It's another eco-friendly and organic option for eco-conscious shoppers.
Full review to come!
The 3 Types of Latex Foam
Latex foam, like the kind found in pillows or mattresses, can be made through a natural or a synthetic process (or sometimes a blend of the two). While each process differs, they both result in a product that's considered 100% Latex. We've put together the details on the production process of each type below.
If you're worried about latex allergies, make sure to read our full article on the subject!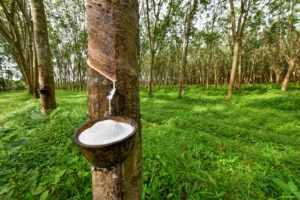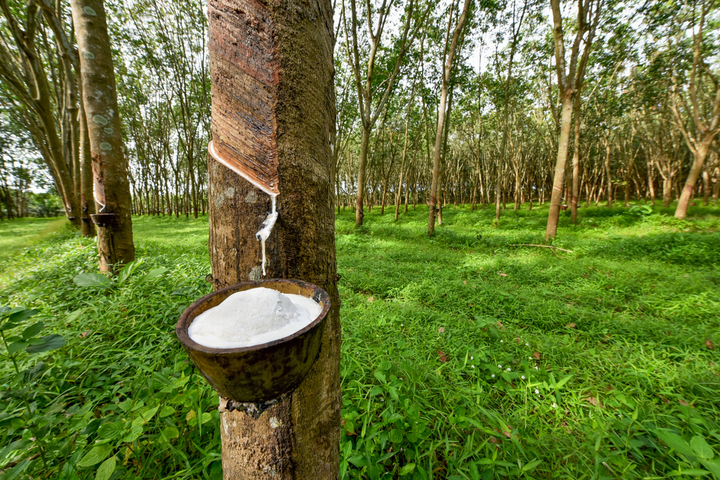 Natural Latex
Natural Latex is a milky sap that can be harvested from rubber trees (also known as Hevea brasiliensis). Much like how one collects maple syrup, harvesters will "tap" the tree. This means they carefully cut a wedge in the bark and let the latex ooze out into a container.
There are two different ways to process natural latex into foam: the Dunlop method and the Talalay method. These processes can get a little science-heavy, and individuals can learn more about the details here. But for the purpose of this article, we'll try to keep it simple. Essentially, both involve washing the latex and removing any impurities or additives. In the Dunlop process, the foam is heated and sulfur is added to help form it into a foam block. The Talalay method is similar, except there's a freeze/vacuum step in the process before it's turned into a block of foam (vulcanization).
In the end, the foam made with the Dunlop method is denser and more stable, offering a more solid feel. The Talalay latex foam is a softer-grade latex that feels cushier than it does springy.
Synthetic Latex
Synthetic Latex is produced chemically. "Several types of synthetic latex exist but SBR (styrene-butadiene rubber) is the most common type of synthetic latex used in the production of synthetic latex foam," says Sleep on Latex. Synthetic Latex also uses the Dunlop method or the Talalay method for production.
Blended Latex
Some companies will use a combination of natural and synthetic latex to create their bedding product. For example, the Brooklyn Bedding #BestPillowEver is a blended Talalay latex pillow. Both synthetic and blended latex pillows and bedding products tend to be cheaper to produce. They also usually cost less than natural latex products.
RELATED: Best Memory Foam Pillows

What to Look for in a Latex Pillow
New to latex foam in your pillows? Here are a couple key considerations you should think about when buying a latex foam pillow.
Latex Foam vs Memory Foam
One of the main differences between these two types of foam is how they feel. Memory foam feels much softer, and will have that slow-moving, sinking feeling to it when you rest on it.
Latex foam, on the other hand, is much more responsive, and tends to be firmer than polyurethane foam. But the differences don't stop there.
Memory foam will use your body heat to contour and adapt to your body, which, unless it has a cooling infusion, will trap heat. Latex is much more breathable and is often perforated so it won't trap heat.

Latex foam is much more durable than standard memory foam. It can retain its shape and isn't prone to sagging.
RELATED: Memory foam vs Latex Mattresses
Finally, when it comes to price, latex foam, being a natural material, tends to cost more than memory foam.
How Long Do Latex Pillows Last?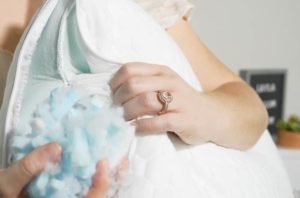 One of the biggest benefits to investing in latex foam products is that they can last a very long time! While latex pillows can cost more than foam or down alternative pillows, they're very durable. Latex mattresses are said to last anywhere between 10 and 20 years, so a latex pillow should last you at least 10 as well!
Overall
Whether it's a solid piece of molded latex foam or proprietary noodles, there are several different ways to utilize latex foam as a comfortable pillow. Those in the market for a latex foam pillow should look carefully at the type of foam and its manufacturing process to determine whether a natural or more synthetic pillow is right for an individual and his or her budget.
Just like with any pillow, one's primary sleep position should help determine the overall loft and support level needed. Latex foam pillows come in different firmness levels like other pillows, so one should be able to find the best one to keep the head, neck, and spine in neutral alignment.
FAQs
What is the best latex pillow to buy?
There's no universal or singular "best pillow" for anyone, regardless of the filling. However, the best way to find the right pillow for an individual is to determine the person's primary sleep position (i.e. the one they wake up in most often) and go from there. Generally speaking, side sleepers need the most loft (height) and firmness or support. Back sleepers need an average amount and stomach sleepers tend to need the softest and flattest pillows. These guidelines can be applied to latex foam pillows, which come in a range of lofts and support levels.
Are latex pillows good for side sleepers?
Yes, latex pillows can be wonderful for side sleepers. These sleepers, which make up more than half of the adult American population by the way, need latex foam pillows that offer taller profiles and good support. In my list above, I love the Eli & Elm pillow and the high profile on the Z by Malouf pillow (plush or firm filling, depending on body type) for most side sleepers.
What are the benefits of latex pillows?
There are many benefits of latex pillows because, unlike memory foam, latex foam pillows can be 100% naturally produced. While this drives up the price, it's a lovely non-toxic option for those who want the characteristics of foam, (such as support and pressure relief), but with no synthetic materials. Latex is naturally anti-fungal and mold-resistant. It's also lightweight and incredibly durable.
Tony Klespis
Tony is a staff writer at Mattress Clarity where he analyzes sleep products and appears in review videos. He earned a B.A in English from Sam Houston State University and a M.A in Mass Communication from Texas State University. When he isn't writing about sleep products, Tony loves to unwind with a good book or can be found playing Pokemon Go outside with his friends, or cuddling with his cat, Penguin. He's always down to try a new, local restaurant and try new foods.