Looking to replace your old, flat pillows with a brand new organic pillow but not sure what brand is best? We've got you covered! Our expert reviewers tested pillows from all the best eco-friendly bedding brands and chose our favorite six pillows for you. Read on below to find the best pillow for your sleep needs.
Best Organic Pillows: Our Top Picks
How We Chose Our Top Picks
When it comes to organic pillows, it's all about the materials. That's why our experts looked specifically at natural latex, organic cotton, and organic wool options. The pillows on the list all use organic materials, and many even have Global Organic Textile Standard (GOTS) certifications, which is how you know you're sleeping on high-quality organic bedding.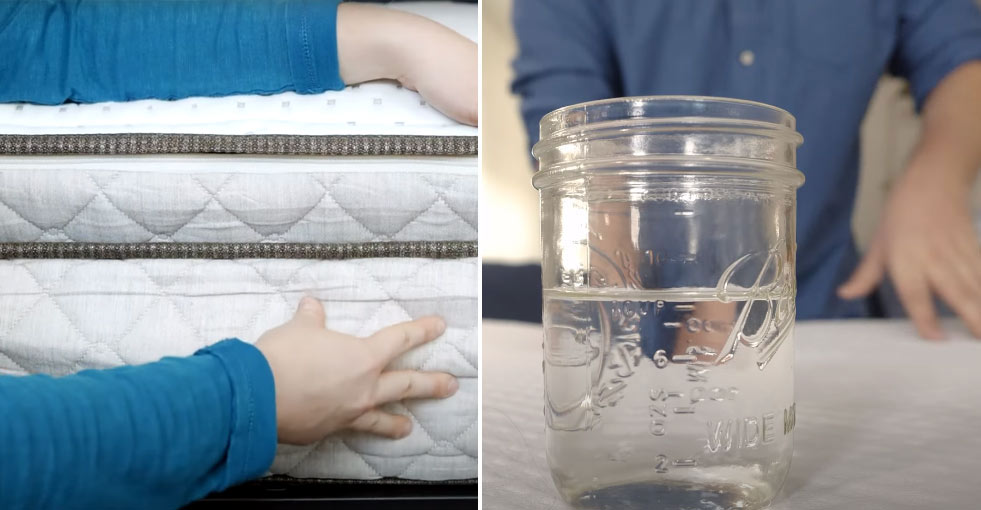 Aside from looking for the best materials, we looked at each pillow's support, durability, cooling and softness to find options that work for all sorts of different sleepers.
Best Overall – Saatva Latex
Our Expert's Take
The Saatva Pillow features an organic cotton cover with a luxurious sateen weave. It's made with a certified organic microdenier fiber outer layer that is more breathable than traditional down, but feels just as cushy. This layer gives the pillow a soft, fluffy feel that down is known for.
But, the inner core of the pillow is made of organic Talalay latex that doesn't compress under your head. That means side and back sleepers will get the support they need to avoid neck and shoulder pain at night, without sacrificing the fluffy feel of down. Stomach sleepers can remove the latex center for a softer feel.
The Saatva pillow is also hypoallergenic, and its outer layers are machine-washable. The inner layer is hypoallergenic and dust mite and mildew-resistant.
Pros of the Saatva Latex
Sleeps cool
Good for back sleepers
Machine-washable
Cons of the Saatva Latex
Costs more than others on the market
Requires frequent fluffing
Interested in the Saatva? Check out our full Saatva Pillow Review.
Birch Eco-Rest – Best Value
Our Expert's Take
The Birch Eco-Rest pillow is made with a fair trade cotton cover that is GOTS certified, so you know you're sleeping on the best organic cotton pillow you can get! It also features a 100% recycled polyester filling that has a soft, downy feel.
Stomach sleepers should love the soft, fluffy feel of this pillow. And budget shoppers looking for an organic pillow will really like the Birch. It's one of the most affordable pillows on the market that contain GOTS-certified organic cotton, so it's a great way to get a natural pillow without breaking the bank.
Pros of the Birch Eco-Rest
The cover has a thread count of 300
A cruelty-free alternative to down feathers
An affordable pick
Cons of the Birch Eco-Rest
Not supportive enough for side sleepers
Not great for hot sleepers
It's spot-clean only
Nest Easy Breather Natural – Best for Side Sleepers
Our Expert's Take
The Nest Easy Breather Natural Pillow has an option that features a unique C-shape that makes it a great pick for side sleepers or those with shoulder and neck pain. You'll be able to fit your pillow between your shoulder and your neck to get plenty of support without creating pressure in the shoulder area. This makes it a great option for side sleepers.
The Nest is filled with natural shredded latex and is OEKO-TEX® certified, meaning it's free of harmful chemicals. The pillow is also adjustable, you can open the organic cotton cover and remove extra stuffing if you find it too firm for your needs.
Pros of the Nest Easy Breather Natural
Doesn't trap heat
It's adjustable
Great for side sleepers with neck pain
Cons of the Nest Easy Breather Natural
It's spot-clean only
Costs more than other pillows
Read our review on both versions of the Nest Easy Breather pillows.
Avocado Molded Latex – Best for Combo Sleepers
Our Expert's Take
The Avocado Molded Latex pillow is made of a block of solid latex covered by organic cotton. The latex is perforated to create airflow, so the pillow feels breathable and cool. The Avocado pillow is also GREENGUARD Gold and GOTS certified, which means it is 100% organic and free of pesticides! It's also free of chemical flame retardants.
The Avocado Molded Latex pillow is charcoal-infused, meaning it's antimicrobial and odor-resistant. This pillow has a firm, supportive feel that makes it great for side sleepers, combination sleepers, and heavy people. If you enjoy a firm, springy feel this is a great pick for you.
Pros of the Avocado Molded Latex Pillow
Sleeps cool at night
Offers a lot of neck support
Made in the USA
Cons of the Avocado Molded Latex Pillow
Too firm for stomach sleepers
Not machine-washable
Check out our complete Avocado Molded Latex Pillow review.
Avocado Green – Best Cooling Organic Pillow
Our Expert's Take
If you sleep hot you'll definitely want to check out the Avocado Green pillow. It's made with natural shredded Dunlop latex and fluffy kapok fibers. Kapok is a silky natural fiber that comes from trees in the rainforest. Organic kapok fibers feel soft and downy. When combined with natural latex, this kapok pillow has a medium-firm feel.
The shredded pillow filling offers plenty of airflow, which means hot sleepers should have a good night on the Avocado Green. It also features an organic cotton and polyester blend pillow cover, which is nice and breathable. The pillow is also adjustable, so side, back, and stomach sleepers should all find this pillow comfortable (though stomach sleepers might need to remove a lot of filling).
Pros of the Avocado Green Pillow
Sleeps cool at night
It's adjustable
It's machine-washable
Cons of the Avocado Green Pillow
The outer layer is made of a synthetic material.
Too firm for some people
Read our complete Avocado Pillow Review.
Plushbeds Shredded Latex – Best for Neck Pain
Our Expert's Take
The Plushbeds shredded latex pillow feels fluffy and soft, but it's still springy and supportive. It's filled with certified organic latex and does not include any synthetic latex or fillers. In fact, unlike some of the other pillows on this list, the Plushbeds pillow contains GOLS-certified latex, so you know it's high-quality and eco-friendly.
This pillow is lofty and supportive, but still moldable and fluffy. This means it offers springy support that is great for people with neck pain.
Pros of the Plushbeds Shredded Latex Pillow
Great for people who have neck pain
It's hypoallergenic and dust mite-resistant
Comes with a three-year warranty
Cons of the Plushbeds Shredded Latex Pillow
Removing the interior filling can be messy
Costs more than other pillows on the market
What is an Organic Pillow?
An organic pillow is made with natural, organic materials like latex, organic cotton, organic kapok, and buckwheat hulls. Wool pillows are also often organic. If you want to be sure you're getting an organic pillow, look for GOLS, GOTS, OEKO-Tex®, and GREENGUARD Gold certifications on the manufacturer's website. Think of these labels like the USDA-certified seals on organic veggies at the grocery store.
Pros and Cons of Organic Pillows
There are many pros of sleeping on an organic pillow, but it's not without a few drawbacks.
| | |
| --- | --- |
| Pros | Cons |
| Great for people with sensitive skin | Have higher price points than non-organic pillows |
| Good for people with allergies | Don't offer a slow-moving, memory foam feel |
| Organic pillows tend to dissipate body heat and stay cool throughout the night. | Many stomach sleepers will find organic pillows are too lofty. If you rest in this sleeping position, you should consider getting an adjustable pillow. This way, you can easily remove the filling. |
| They're more eco-friendly than other pillows. | |
Who Should Use an Organic Pillow
Organic pillows are great picks for all sorts of sleepers! We especially recommend them to:
Sleepers with sensitive skin or allergies who are looking for gentle, antibacterial pillows.
Hot sleepers looking for temperature regulating materials like wool, latex, and cotton.
Environmentally-conscious shoppers who want to buy green, USA-made, or fair trade products.
Anyone looking for a durable pillow made of high-quality materials.
You can get many of the benefits of sleeping on an organic pillow from other bedding. If you want to shop for all-natural bedding, check out our best organic sheets and best organic mattress roundups.
How to Choose an Organic Pillow
Certain you want an organic pillow but not sure how to choose the right one for you? Check out the brief guide below for help.
Sleeping Position
The first thing to consider when buying a new pillow is what position you sleep in. If you're a side sleeper, you'll need a firm, lofty pillow that can help keep your ear aligned with your shoulder. Back sleepers need a medium-firm, medium-loft pillow that can keep the neck aligned with the sternum. And stomach sleepers need soft, low loft pillows that help keep their necks in the proper alignment.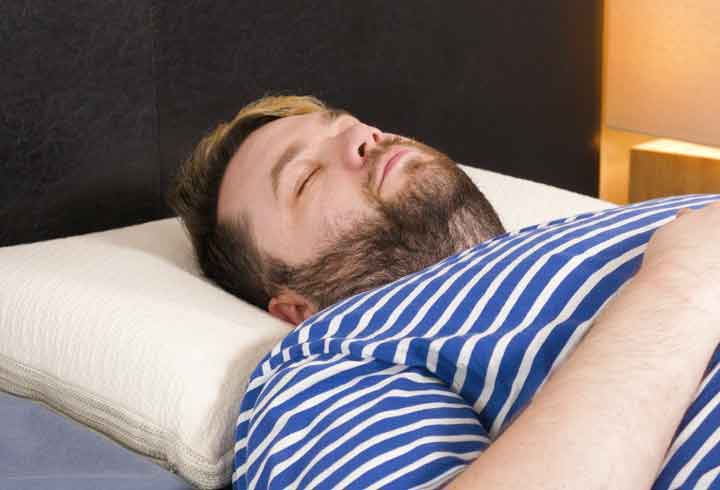 Loft
A pillow's loft is how tall it is. A lofty pillow made of springy latex will retain its shape and stay tall all night long. A lofty pillow made of soft down will compress under your head and become a medium or low loft pillow when you lie down. So pay attention to both height and materials when choosing your new pillow. Remember, side sleepers should stick to lofty pillows, stomach sleepers to flatter pillows, and back sleepers should find something in between.
Feel
You'll also want to consider whether your pillow feels comfortable to you! If you like squishy, moldable pillows you'll probably prefer something with a shredded kapok or latex filling. If you prefer springy support, an organic latex pillow might be for you. And if you like a traditional, fluffy feel, an organic down alternative pillow is a great pick.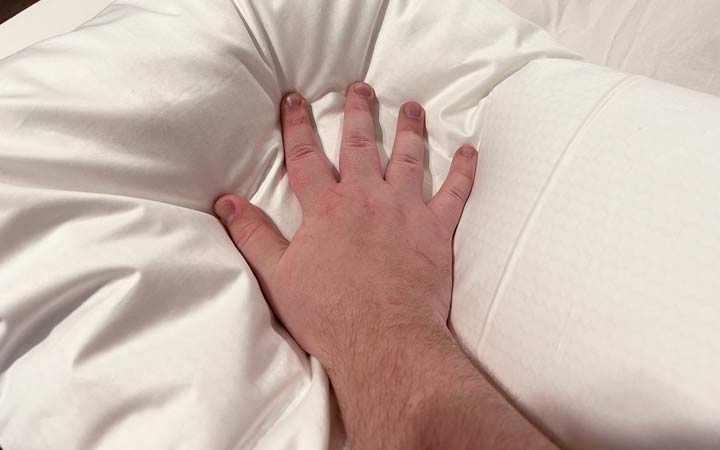 Price
Finally, make sure to consider the price when choosing your new pillow. Organic pillows tend to be on the more expensive side, so you might want to shop during a sale to save a little. Pillows with long warranties, like the Plushbeds Shredded Latex pillow, should also last a long time, which can make up for the price.
FAQs
What is the safest pillow material?

Pillows made with certified organic latex and cotton are very safe. Look for Global Organic Textile, Global Organic Latex, and GREENGUARD Gold certifications to ensure your pillow is 100% chemical-free.
Should you buy organic pillows?

If you normally shop for organic products, you might want to opt for an organic pillow. Natural latex pillows or pillows with covers made of natural fibers are also good picks if you have sensitive skin or allergies.
How long do organic pillows last?

Organic pillows made with latex are very durable and can last up to four years. Organic buckwheat pillows are so durable they can last up to twenty years. Organic pillows made with down alternative may only last one year.
How do I clean an organic pillow?

It depends what kind of pillow it is! Take a look at your pillow's care tag to find out. If your pillow is spot clean only (many are), check out our how to clean your pillow guide for step-by-step cleaning instructions.