Those who are particular about bedding and sleep products – and prefer a more natural option – may want to consider the Avocado Green pillow. Eco-friendly materials, like the kind found in this pillow from Avocado, are growing in popularity and bedding and sleep products like pillows are not excluded.
The Avocado pillow is made from natural latex shreds and Kapok fibers and wrapped in a certified organic cotton cover, and it's vegan and handmade in Los Angeles. Sound pretty good? Check out my full review below for all the details on who I think will like it most.
Avocado Pillow Deals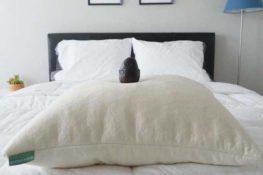 The Avocado pillow is a non-toxic and environmentally friendly pillow filled with a combination of Kapok fibers and natural shredded latex. It has a smooth and plush feel but the shredded latex brings in a lot of support. It is adjustable, making it a good fit for all sleep positions, but its firmness lends itself to side and back sleepers. 
Key Features
The outer cover is a soft, certified organic/polyester blend.
There is a zipper on the side because the pillow is adjustable.
It's filled with a mix of 100% natural Dunlop latex shreds and 100% natural Kapok fiber (seed pod fluff from a rainforest tree).
As it comes, the pillow offers a medium-plush feel (maybe even medium-firm to some).
The pillow is vegan, allergen-free, and handmade in Los Angeles.
It comes in Standard, Queen, and King sizes. (Standard is $79 at full price, Queen is $89, and King is $99.)
Optional pillow refill bags are sold separately.
The pillow comes with a 100-night trial and 1-year warranty.
Who Makes It?
The Avocado pillow is produced by Avocado Mattress,  a company started in 2015 and is best known for making the brand's signature green mattress (check out our review of the Avocado Mattress.)
The company is highly environmentally-focused; Avocado says all of its products are "handcrafted in the USA without petroleum-based polyurethane foam, without toxic flame retardants, without dangerous pesticides, and without risk from volatile chemicals and gases."
Pillow Construction
The outer cover of the pillow is described as a blend of GOTS certified organic cotton and polyester. When I asked Avocado what the breakdown was of each type of material, they said that info is proprietary, which means they're not going to tell us.
The pillow's components consist of a light texture on the organic cotton cover – but it's nothing that would stand out under a pillowcase. There is a zipper at one end of the pillow that allows sleepers to access the inner filling – this is what makes the pillow "adjustable" and the filling is a mix of Natural Dunlop latex shreds and Kapok fibers.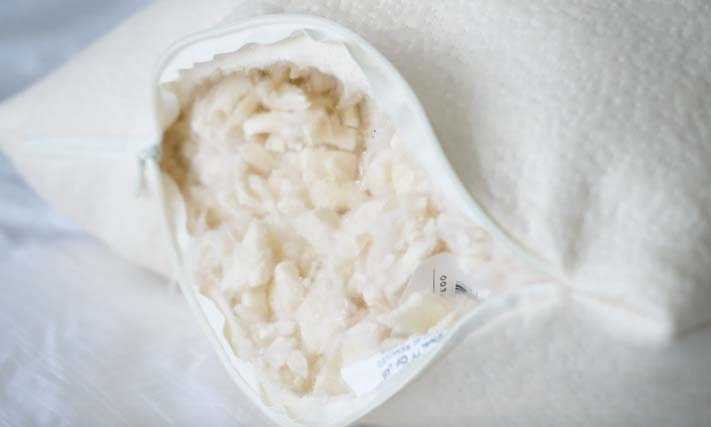 Kapok fibers are the seed pod fluff leftover from seeds in a rainforest tree. They're pesticide-free, non-toxic, and give a nice, downy feel that makes them a natural choice for pillow stuffing.
Avocado says its filling makes the pillow "Medium-Plush." I agree that there is a plush feel to it, but the natural latex shreds really do add a lot of firmness and I think it could even be described as "Medium to Firm/Plush".
Check out our top picks for Best Pillows.
Pros
Relatively eco-friendly and sustainable
The latex is upcycled from the same latex that is used in Avocado's green mattresses
It is adjustable, so it should work for any type of sleeper
The pillow does have a "best of both worlds" feel in that sleepers get smoothness and a plush feel from the Kapok fibers, but they won't miss that feeling of support and even a little bounce from the latex
Different cleaning options: Customers can spot-clean it and let it air dry, or they can machine wash it gently in cool water and low tumble dry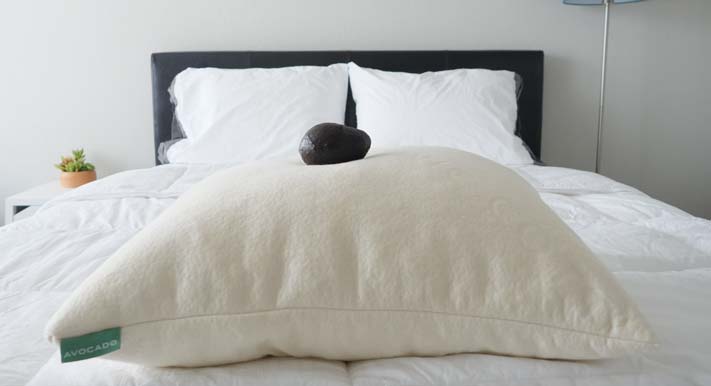 Cons
Adjusting the pillow makes a mess because the Kapok fibers have sort of a dusty component
I do wish there was an inner liner so it was easy just to clean the outer cover
Sleepers can add extra filling but must purchase it at an additional price
People who want just a down or a down alternative pillow might find this too supportive
It's on the pricier side and may not fit all budgets
Avocado Pillow Deals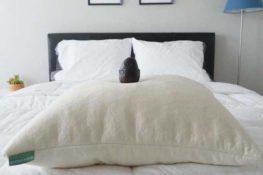 The Avocado pillow is a non-toxic and environmentally friendly pillow filled with a combination of Kapok fibers and natural shredded latex. It has a smooth and plush feel but the shredded latex brings in a lot of support. It is adjustable, making it a good fit for all sleep positions, but its firmness lends itself to side and back sleepers. 
My Experience
The Avocado pillow comes compressed and rolled into a cylinder that fits into a cotton twill bag. Customers will need to open it up and let the natural latex foam shreds expand. Once it's fully expanded, some may be surprised at how much loft and firmness the pillow has.
While testing the pillow, I was impressed by how little my head sank down into the pillow when I used it. The latex shreds have a lot of responsiveness and bounce to them, mixed with the smooth and plush feel of the Kapok fibers.
I think the pillow can be a great fit for those who want a shredded foam pillow but are tired of the slow sinking and flattening of shredded memory foam. This really won't lose its loft quickly, and in my opinion, it almost comes overstuffed. Fortunately, sleepers can remove some of the core filling to make it more comfortable.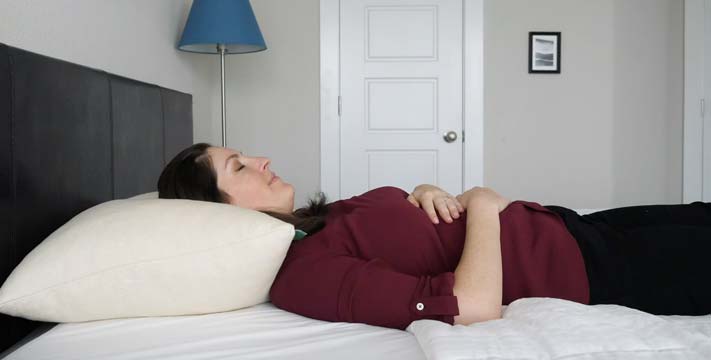 I'm 5'7″ and have a pretty average build but I had to remove plenty of the inner fill to be comfortable sleeping on my back; the original amount of filling was also significantly too much for me when sleeping on my side, as evident by the upward curve of my neck in the image below.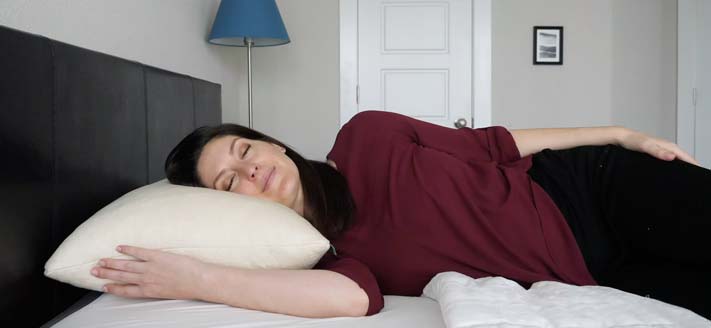 I do like that sleepers can clean the pillow in different ways and that it's easy to access the filling. It's a nice, eco-friendly option that doesn't skimp on support. It does get a little mark for being such a messy filling; the Kapok fibers get everywhere!
RELATED: Coop Home Goods Original Adjustable Shredded Foam Pillow
Marten's Take
As a heavier person, I often have issues with my head sinking too far into my pillow. With the firmer Avocado pillow, I do not have this problem. In fact, this pillow is too firm for me. On my back and side, my head doesn't sink in far enough, and I feel like my head is being pushed up at an awkward angle.
In my experience, the Avocado has a bouncy latex feel mixed with a somewhat lofty feel. While I do prefer more of a memory foam feel, I did like how responsive the pillow was. As I was moving around at night, the pillow bounced back, and it was easy to reposition myself.
Overall
For those who have gone pillow shopping lately and can attest, there are a lot of different types and different materials to choose from. Individuals with sensitive, or those who have allergies or are looking for a more natural and sustainable option, this could be a good one.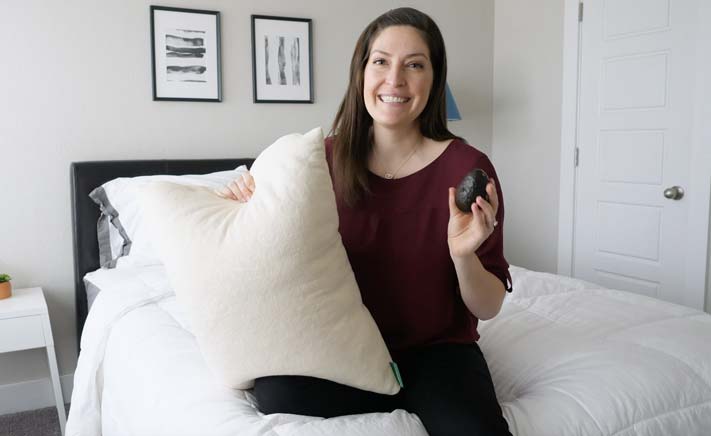 The adjustable nature makes it a good match for all sleep positions, although I think sleepers should at least like foam pillows because the latex is very apparent in this pillow. I think it's a good fit for side sleepers and people with broader shoulders who want a good amount of support.
It is on the pricier side, but for the quality of the materials, the ease of cleaning, and the versatility of the filling in this pillow make it worth considering – plus, a 100-night trial is a good length of time to try it out.
Katie Golde
Katie manages the day to day operations of the Mattress Clarity news site and reviews sleep products in addition to writing and editing sleep news. She hails from Austin, where she lives with her growing family. She is a Certified Sleep Science Coach and has a master's degree in Journalism from Northwestern University and has a background in health and science content. Her work can be found in print and online publications like Discover Magazine, USA Today and The Huffington Post.