The Z 100% Natural Talalay Latex Zoned Pillow is supportive, easy to care for, and comes with a super-soft removable cover that can be washed and dried.
Who is it going bouncy foam pillow to be a good fit for? Read on for my full Z 100% Natural Talalay Latex Zoned Pillow review!
Z 100% Natural Talalay Latex Zoned Pillow Video Review
Z 100% Natural Talalay Latex Zoned Pillow: Key Features
Pin-core design configured to cradle the head while providing the neck and shoulders with needed support
Firm density is optimal for back and side sleepers
100% pure natural Talalay Latex – No synthetic additives
Unique foam consistency and zoned technology provides zoned support and superior pressure relief
Naturally mildew proof, dust mite resistant and hypoallergenic
Soft, removable velour cover made from a rayon from a bamboo blend (75% polyester, 25% rayon from bamboo)
Comes in Standard, Queen and King sizes
Options: high and low profiles; and firm and plush densities
Malouf Zoned Talalay Latex Pillow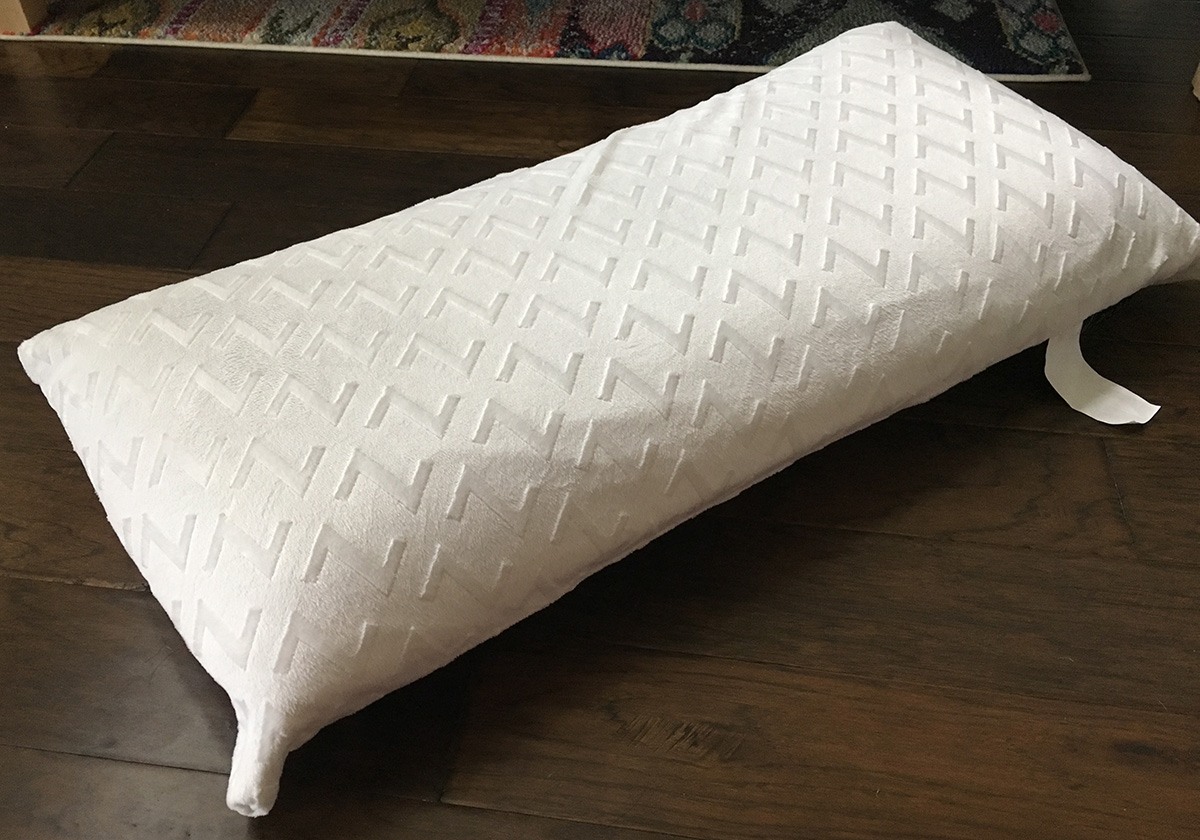 The Z 100% Natural Talalay Latex Zoned Pillow is supportive, easy to care for, and comes with a super-soft removable cover that can be washed and dried.
Mattress Clarity Score
4.00 / 5
Read Full Review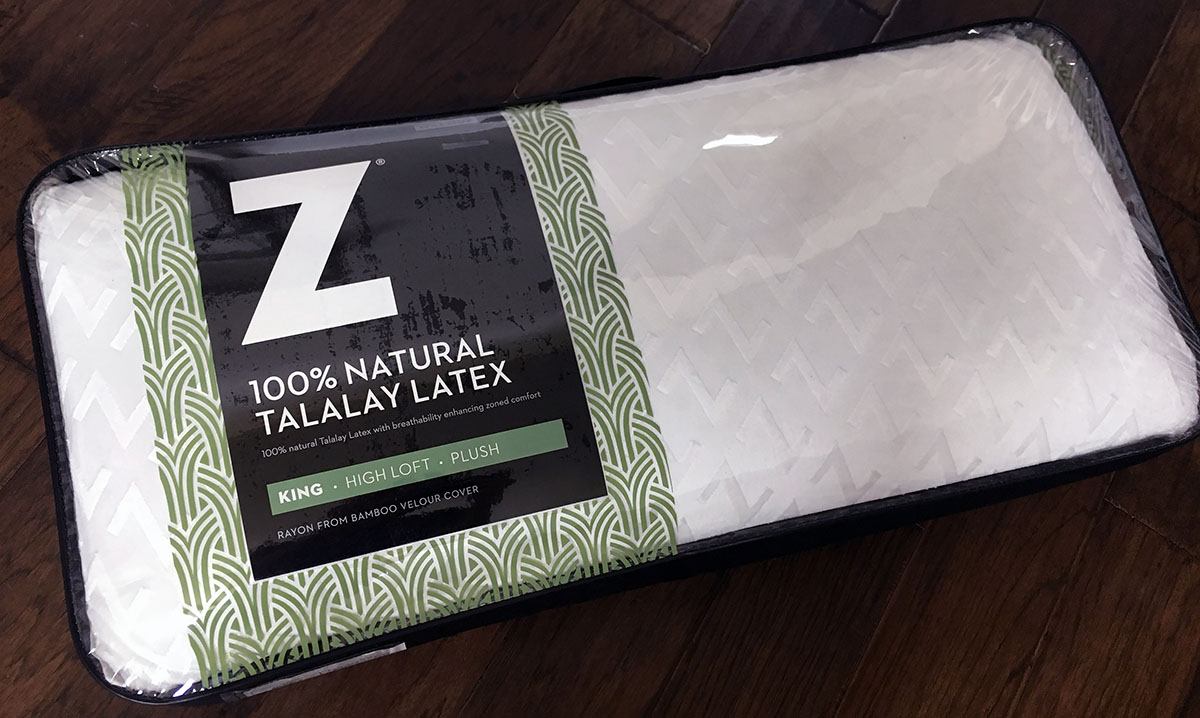 Who Makes It?
The Z 100% Natural Talalay Latex Zoned Pillow is made by Malouf, a bedding company, under their Z by Malouf pillow series.
Malouf makes pillows, linens, mattress protectors, bed frames and mattress toppers.
Those interested can check out my review of the Malouf Sleep Tite Pr1me mattress protector, here or my review of the Woven by Malouf bamboo sheets here.
Pillow Construction
There are several sizes, profile and density options with this pillow. I am reviewing a king-size pillow with a high profile and plush density.
The filling is 100% Natural Talalay Latex and "zoned" by different sized ventilated holes in the foam. The high loft pillow is 6-7" and the low loft is 4-5" – I choose a plush density as well but it can also be made with a firm density.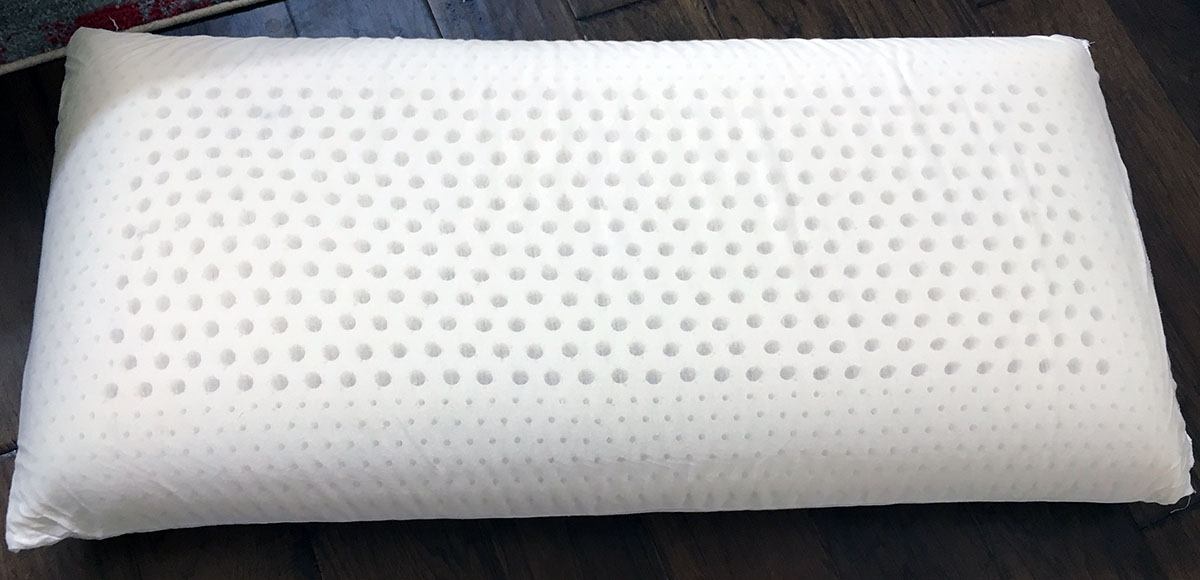 The outside cover is a super soft white patterned velour made from a combination of rayon from bamboo and polyester (75% polyester, 25% rayon from bamboo); the cover is also removable and washable.
Pros
Available in a variety of sizes, lofts, and densities
Naturally mildew proof, dust mite resistant and hypoallergenic
Super soft, removable and washable cover
Supportive but not overly firm (high loft, plush density)
Easy to care for
Cons
Significant off-gassing upon unpackaging
Ideal only for side and back sleepers
Pricey; may be out of some budgets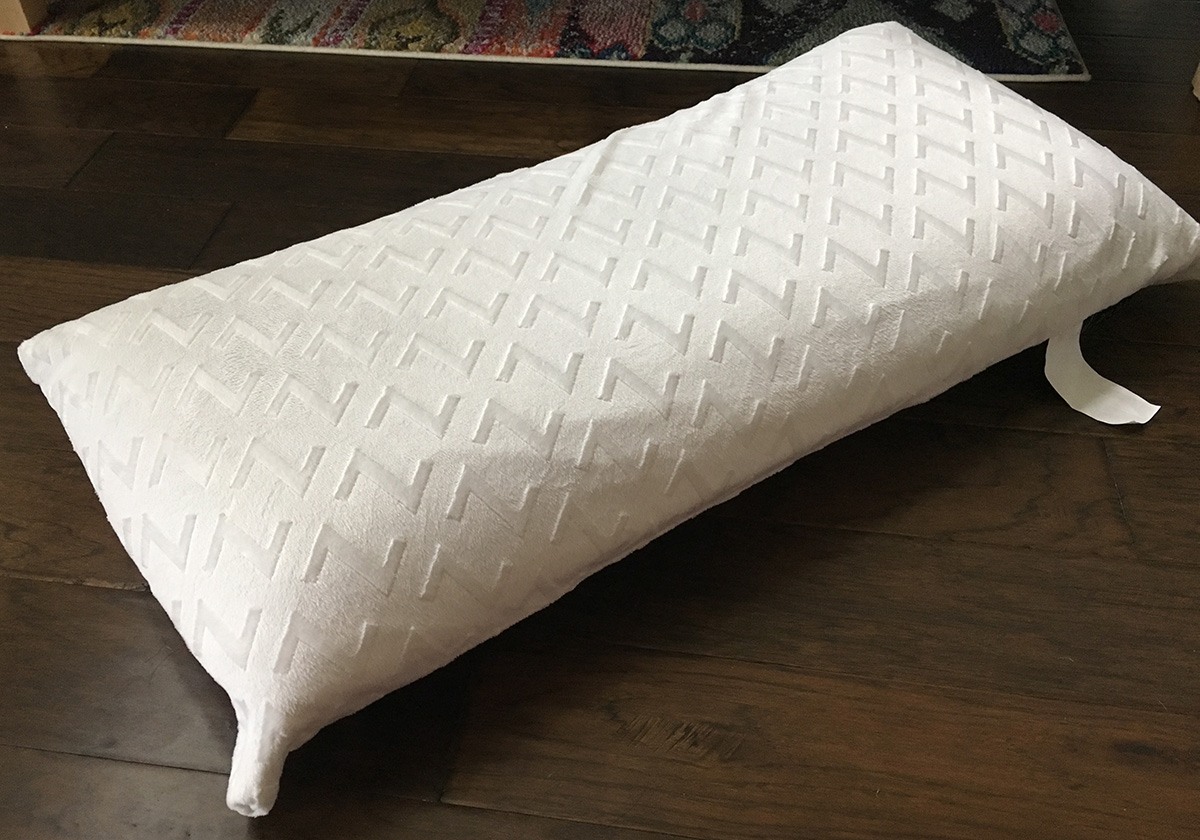 My Experience
After opening the container the pillow comes in, I smelled some significant off-gassing; this is not atypical for foam pillows. To help alleviate the smell, I removed the cover to be washed and dried and let the uncovered pillow off-gas on my back porch for several days.
The pillow is 100% natural latex foam with no synthetic additives– I wasn't worried about breathing in the off-gassing – but it wasn't an odor I preferred to inhale all night. Realistically, it took me a solid week for my head and neck to adjust to this bouncier and more resilient type of foam but now it's a pillow I sleep on every night that I'm not reviewing other options.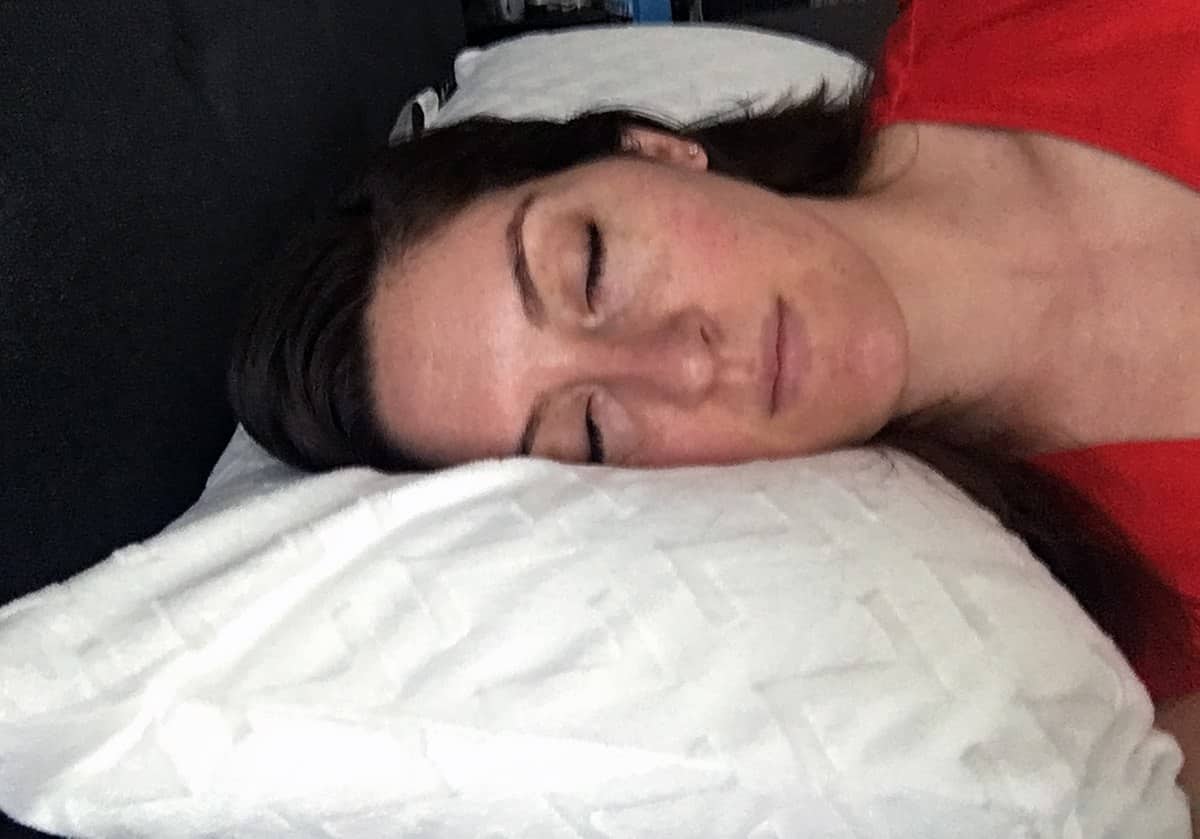 The cover was and simple to remove and to wash and dry -I added it to some other delicates in my wash and it held up really well. I like the soft feeling from the addition of rayon from bamboo and could totally use it as the only cover on the pillow.
As a natural side and back sleeper – who sometimes flips onto her stomach – I was interested to see if a pillow with high loft and a plush density would help align my head, neck, and spine. I did enjoy the feel overall; the latex foam is different from memory foam – sleepers do not slowly sink into it – the latex foam has more of a spring to it as compared to memory foam.
My head and neck felt cradled and supported but it was easy to lift my head off thanks to the spring in the latex. Overall, the pillow is really lightweight and still maintains the plush feeling thanks to the zoned ventilated holes
I think a latex pillow could be an excellent match for people who like the support and firmness of foam but don't necessarily love the slower responsiveness and denser feel of memory foam.
This particular pillow from Malouf comes in a variety of lofts and density combinations – I think that those who are primarily back and side sleepers will prefer the higher loft option and will probably benefit from either the plush or the firm densities.
Stomach sleepers may be drawn to a low loft/plush density option but I would caution that they might still find the 4-5" loft too high -even with the plush density – and I would recommend this pillow for those who want a decent amount of neck support.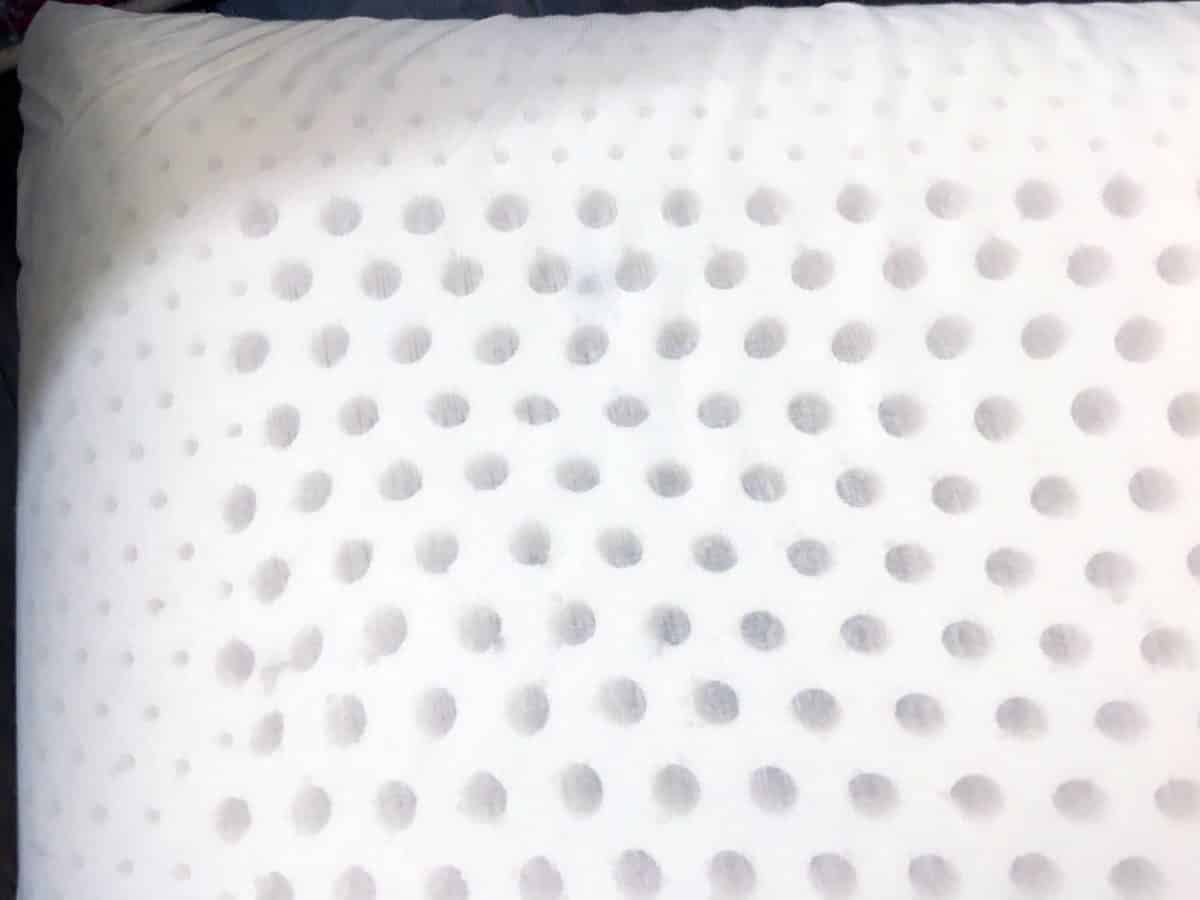 Overall
I really liked the high loft and plush density combination of my Z 100% Natural Talalay Latex Zoned pillow – my head and neck felt supported and comfortable. I also enjoyed the lightweight and springy feel of the ventilated latex foam filling.
While it is a little pricey, it is easy to care for, has a soft outer cover and is available in few combinations that let the sleepers choose not only their preferred height but also their ideal support level.
I feel like it could be a good fit for most back and side sleepers who are interested in trying something other than a memory foam pillow.
Katie Golde
Katie manages the day to day operations of the Mattress Clarity news site and reviews sleep products in addition to writing and editing sleep news. She hails from Austin, where she lives with her growing family. She is a Certified Sleep Science Coach and has a master's degree in Journalism from Northwestern University and has a background in health and science content. Her work can be found in print and online publications like Discover Magazine, USA Today and The Huffington Post.