Malouf's Sleep Tite Pr1me mattress protector may seem simple from the outside, but it can hold a lot of water (accidents happen!). It's also got a soft and breathable surface to help keep you comfortable. But is it affordable? Read on for the full review.
Key Features
100% waterproof – can hold up to one liter of liquid (33 ozs)
100% cotton terry surface is backed by a polyurethane membrane
Fitted sheet style design that fits mattresses up to 22″ 
Hypoallergenic cotton terry surface is noiseless, will not change the feel of the mattress and naturally absorbs moisture
Vinyl, PVC and Phthalate Free
Comes in sizes for beds ranging from Twin and Twin XL to Cal King and Split King
Also comes in sizes for RV mattresses, cribs and cots
15-year limited warranty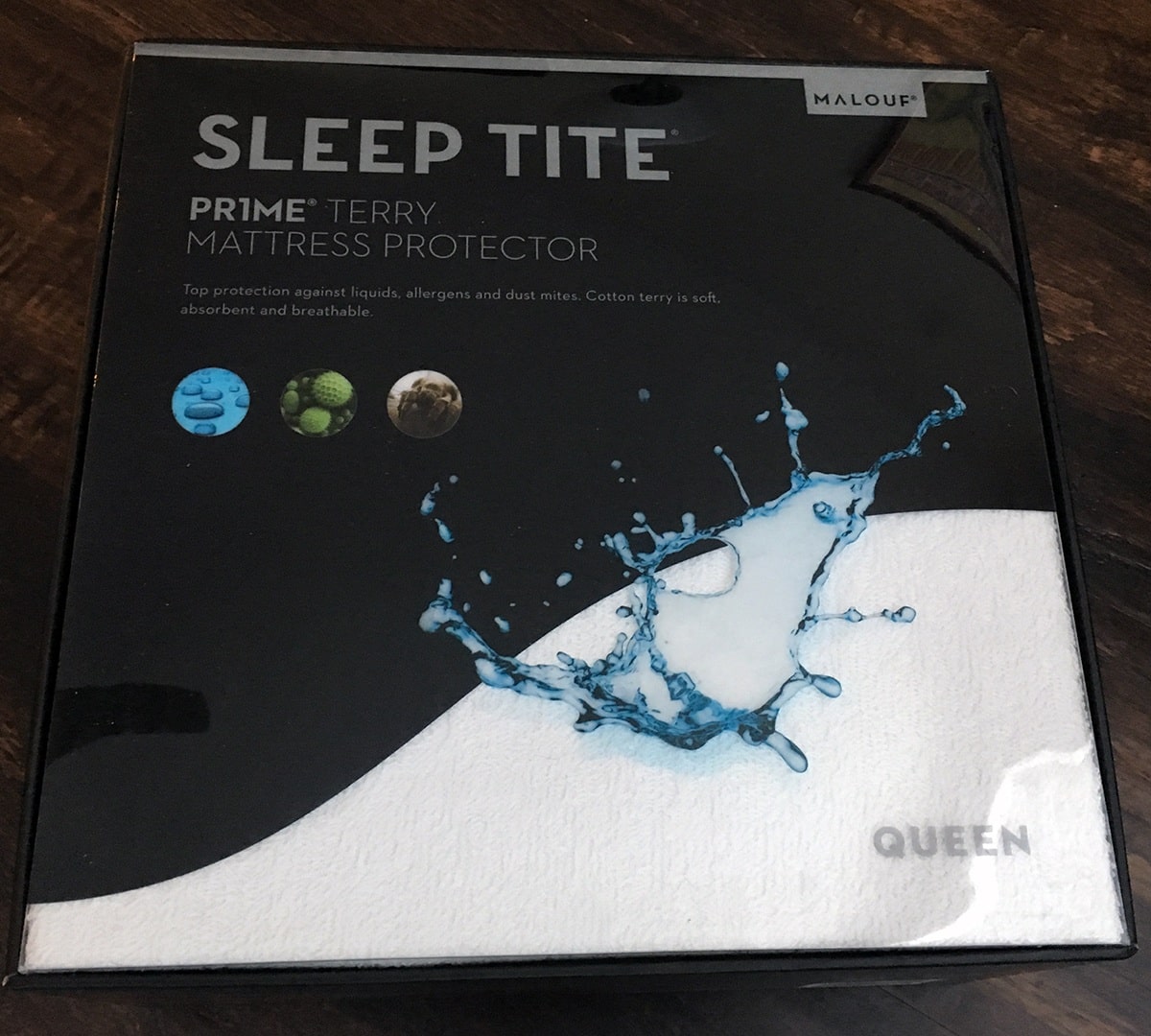 Pros
Waterproof
Machine washable and dryer friendly
Hypoallergenic
Vinyl-free
Soft terry cloth surface fabric
Can fit mattresses up to 22-inches
Can protect against large accidents (up to one liter of liquid)
Reasonable price (see price on Amazon)
Cons
Not an encasement mattress – only the surface is waterproof
Terry cloth texture may be felt under thinner sheets
Extra material/oversized feel on 10-inch thick mattress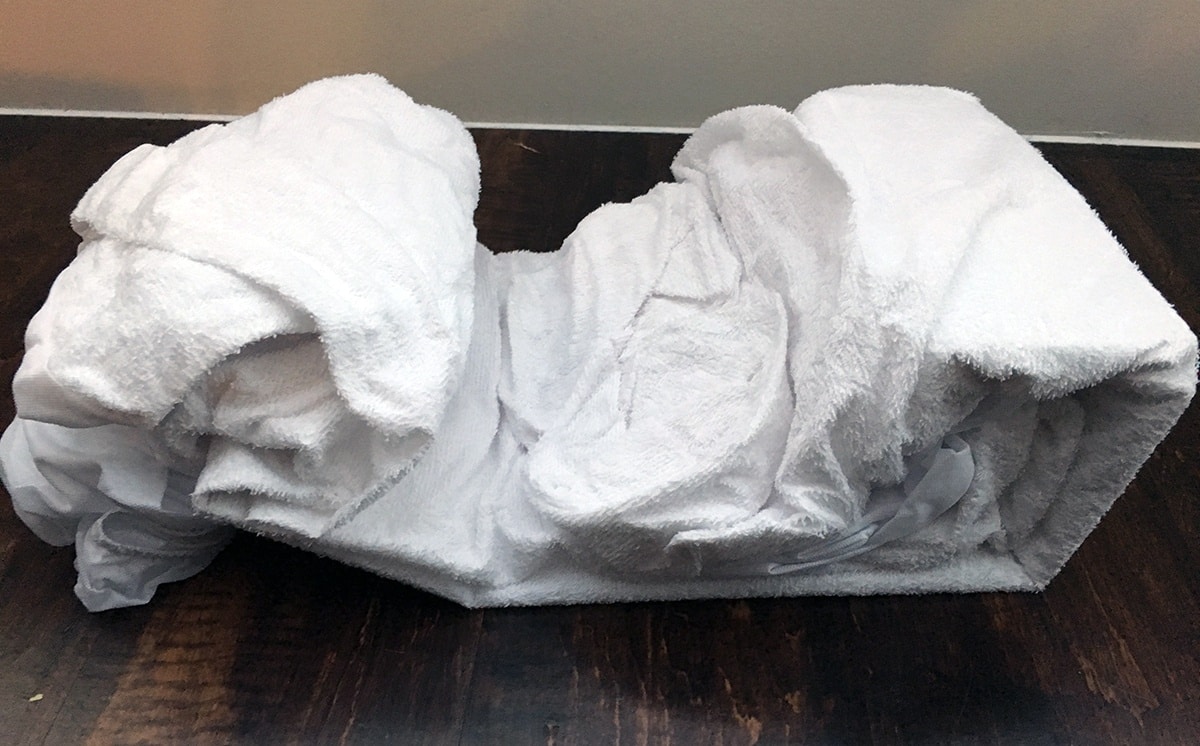 Care Instructions and Warranty
Care instructions can be very specific to the mattress protector, so make sure to read them carefully.
Here are the care instructions for the Sleep Tite Pr1me mattress protector: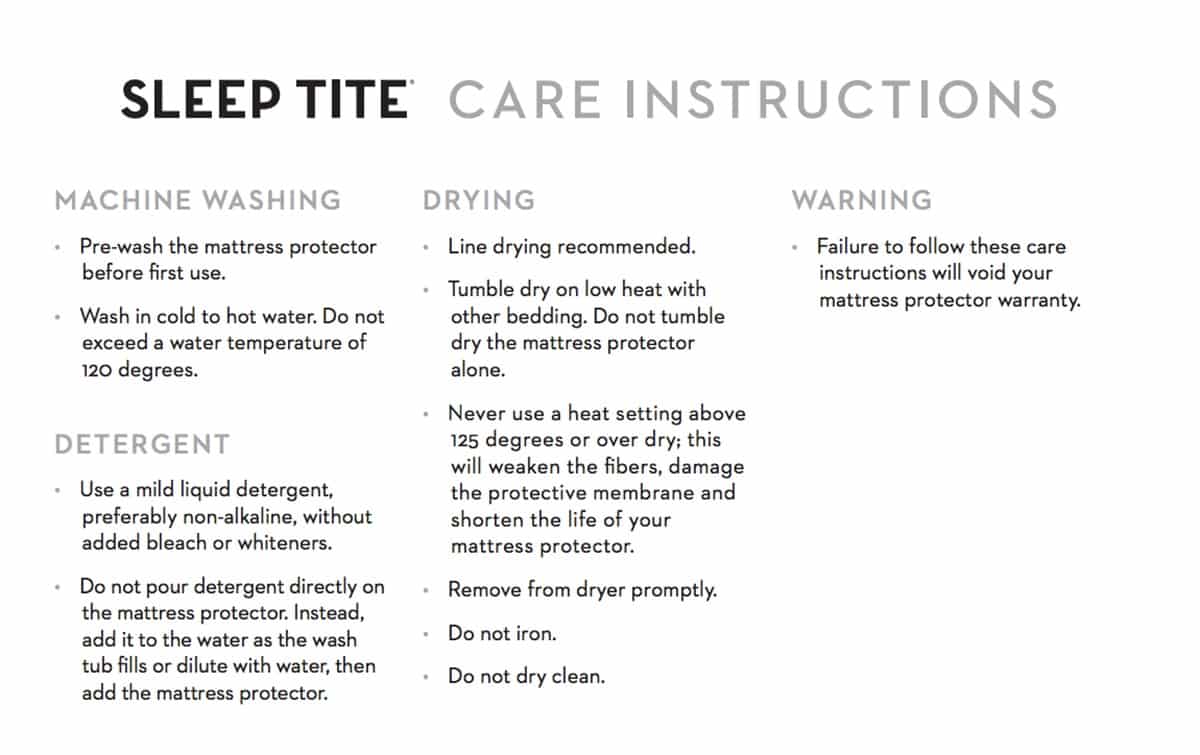 I machine washed the protector and then left it out to air dry overnight – per the recommended instructions.
It wasn't 100% dry in the morning, so I threw it in the dryer on a low tumble dry with some towels to let it finish drying.
I had no issues with wear or any damage from using the washer and dryer to clean my protector. It is recommended to wash it before the first use.
As with most waterproof mattress protectors, it's important to make sure to always dry on a low heat setting. Drying the protector on a high heat may damage the waterproof membrane of the protector and stop it from fully protecting the mattress.
Waterproof Test
The Sleep Tite Pr1me mattress protector says it can hold up to one liter of liquid and still prevent leaks to the mattress.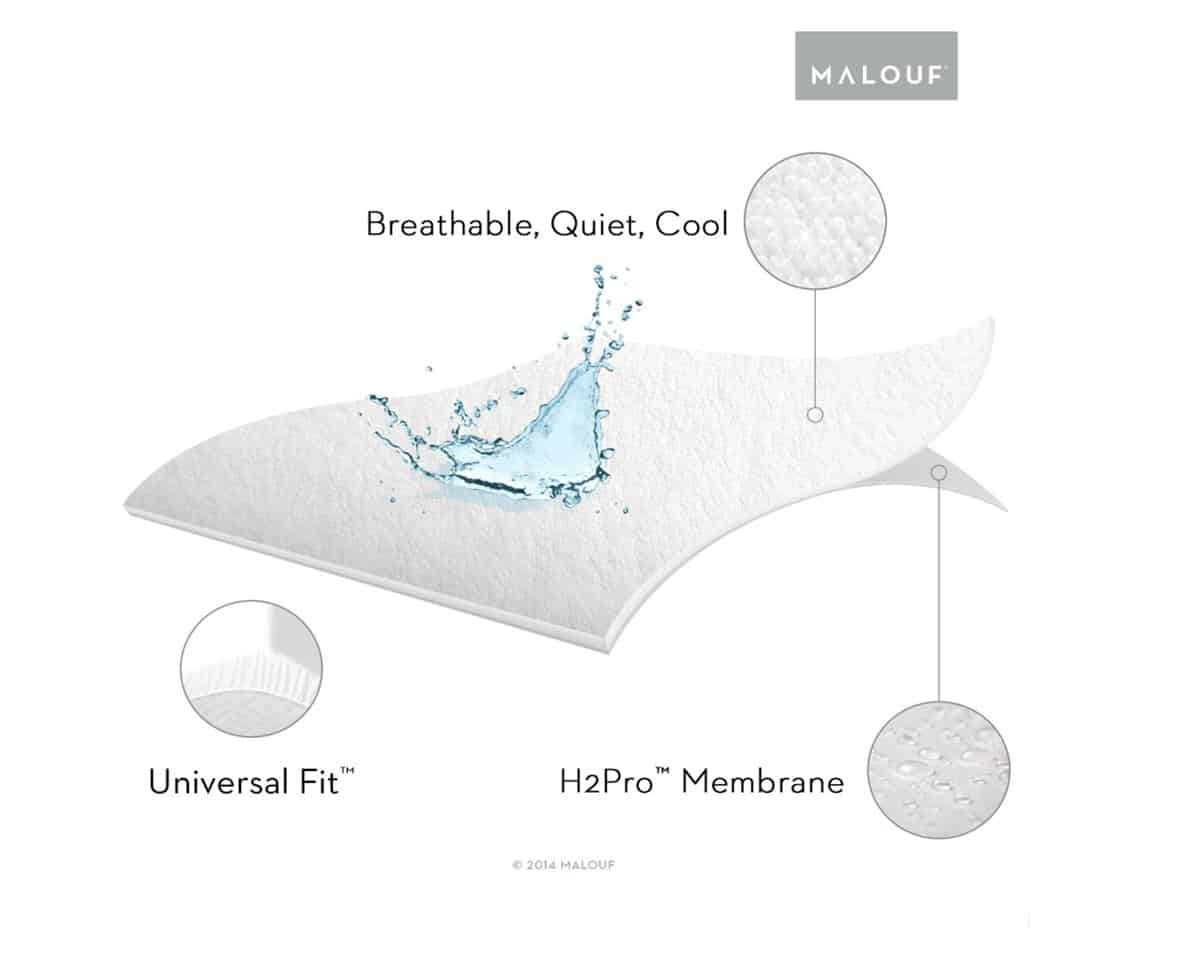 Unlike the Sleep Defense System mattress protector, which encourages people to address small accidents right away, the Sleep Tite Pr1me protector seems to anticipate larger accidents that may stay on the mattress for longer than anticipated.
To test the polyurethane waterproof barrier, I poured 12ozs of water into the middle of the protector to mimic a larger spill or accident. Since many accidents can happen in the middle of the night and may not be addressed immediately, I left the water on the protector for a couple of hours.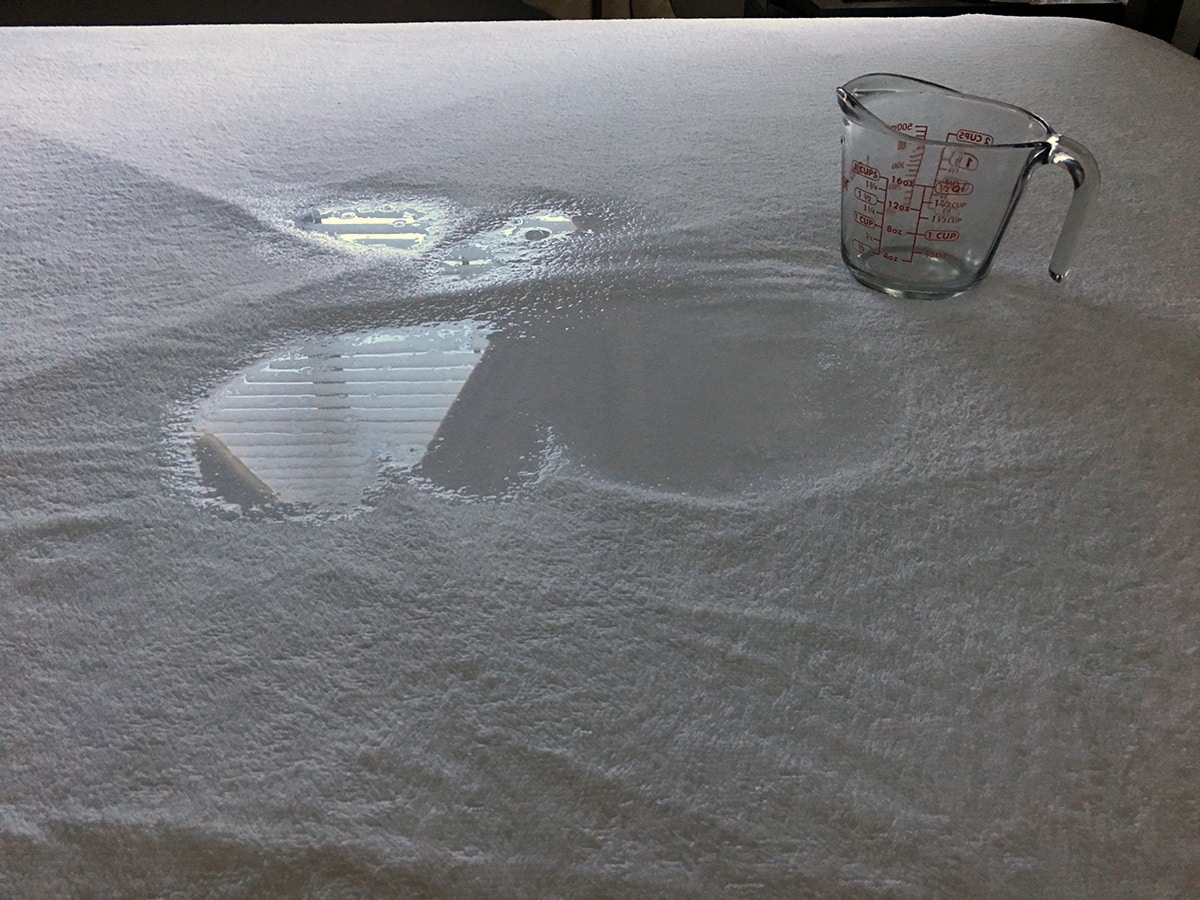 When I checked under the protector (I have a second waterproof protector underneath when I perform waterproof tests) I felt no moisture or dampness. The protector passed the waterproof test for me!
There were a few reviews from customers who experienced leaks and water damage to their own mattress. One of the reviewers mentioned that he/she had issues after several years of use.

Vinyl Free
People will see many mattress protectors labeled as "Vinyl-free". That is because there is some concern over the toxicity of plastics, including PVC (also known as polyvinyl chloride or vinyl), which can be found in mattress protectors and other waterproof products.
Products that contain vinyl or PVC – like mattress protectors and curtains – can release toxins into the air (often called off-gassing) that have negative health effects. This is especially concerning for babies or small children whose bodies are still developing.
It is best to avoid using products made of PVC or Vinyl – especially for people who have little ones.
The Sleep Tite Pr1me mattress protector uses a synthetic resin (plastic material) called Polyurethane as the waterproof barrier.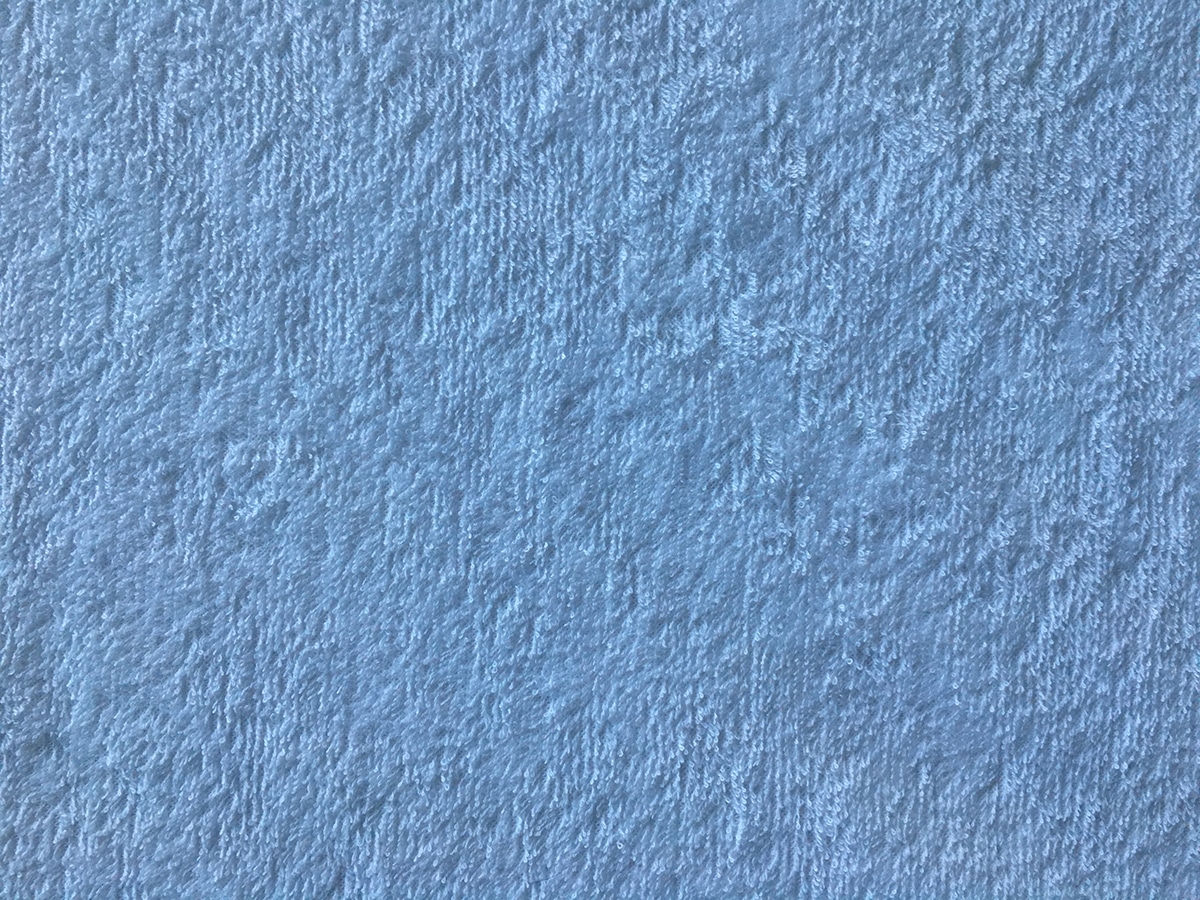 Other mattress protectors like Defend-A-Bed, Sleep Defense System, Luna, Linenspa, Saferest, SureGuard and Slumber Cloud all offer vinyl-free options as well.
Additional Considerations
Fit: This mattress protector can fit mattresses up to 22-inches thick. Malouf, the makers of the Sleep Tite Pr1me protector, offers something called the Universal Fit. This means the protector has strong elastic corners and extra deep pockets to hold onto thicker mattresses. This fit can also be found on Malouf's Woven bamboo sheets.
I have a 10-inch thick mattress and felt that there was almost too much material to tuck under my mattress.
I would almost prefer another size option for thinner mattresses like mine so I didn't have extra material that made the protector loose.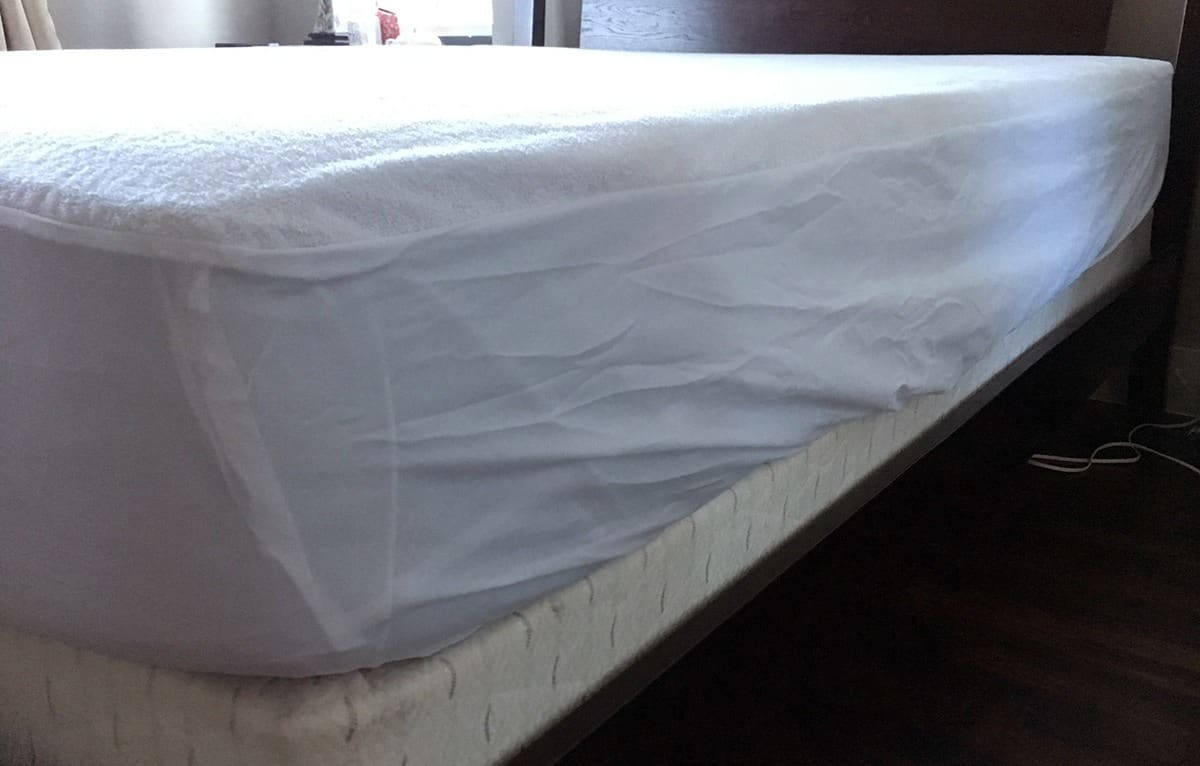 Noise: There was not a lot of noticeable noise from the mattress protector. If I had a thicker mattress and less extra material it may have been no issue at all.
Feel: The terry cloth/cotton terry surface fabric is soft and has the feel of a nice bath towel or bathrobe.
I could not feel the protector under my Brentwood Home Sonoma sheets. However, people may be able to feel some of that texture underneath bamboo sheets, which tend to be thin and lightweight.
Breathability: The terry cloth fabric is supposed to help with liquid absorption and breathability. While I had no issue feeling hot or cold with the protector, other reviewers did have issues feeling hot.

No review found! Insert a valid review ID.
Price and Value
The Sleep Tite Pr1me protector is a simple but solid mattress protector. It can help prevent water damage to the mattress and will keep dust mites and other allergens out.
One of the great things about this protector is that it comes in the widest variety of sizes of mattress protector that I've seen. They not only offer the traditional sizes, like Twin, Twin XL and Cal King but they offer split sizes as well as crib, cot and RV mattress protectors.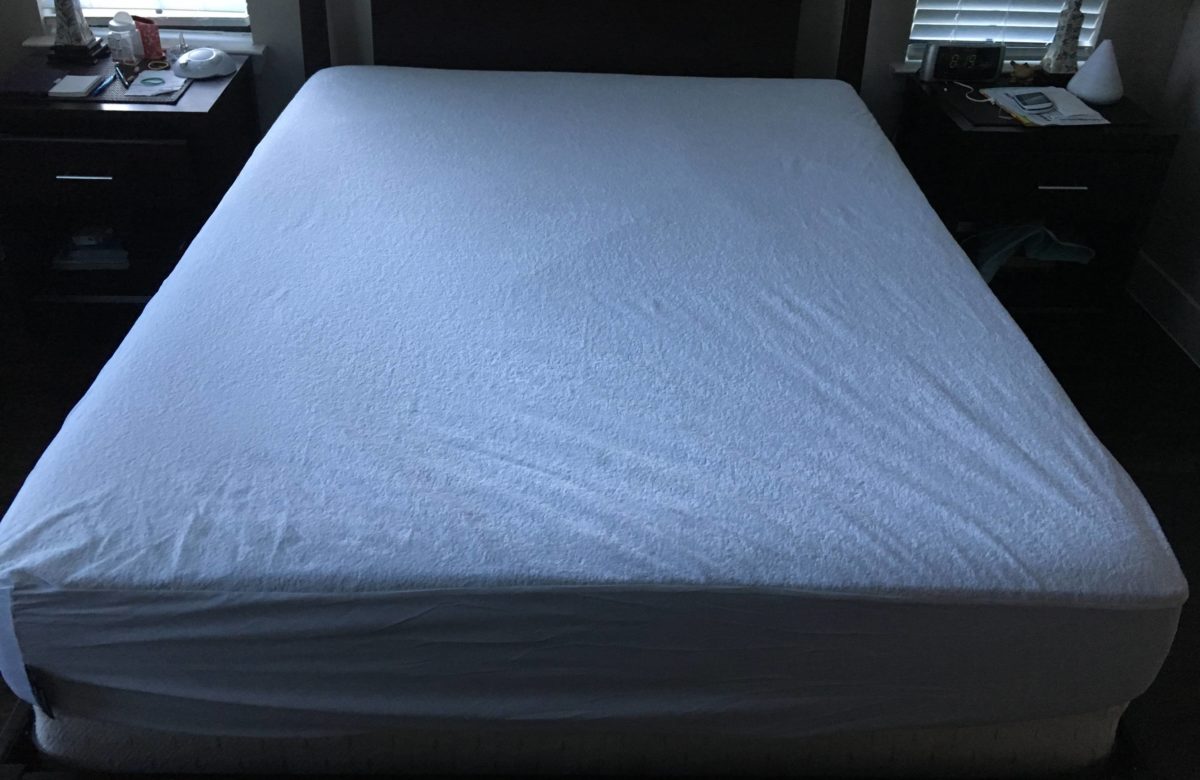 The standard Queen size protector can be found on Amazon for $39.99 and California King size ranges from $47 to nearly $65 (depending on the seller).
These prices seem close, if not slightly more expensive, than many terry cloth waterproof protectors I've seen.
If you are more concerned about allergies, bed bugs and dust mites, you may consider an encasement mattress protector like the Sleep Defense System protector.
If people have a thicker mattress and are looking for a protector that will provide a waterproof barrier over the surface of the mattress and help with allergies and breathability, the Sleep Tite Pr1me Mattress Protector from Malouf could be the right fit for them.
The protector does come with a 15-year limited warranty.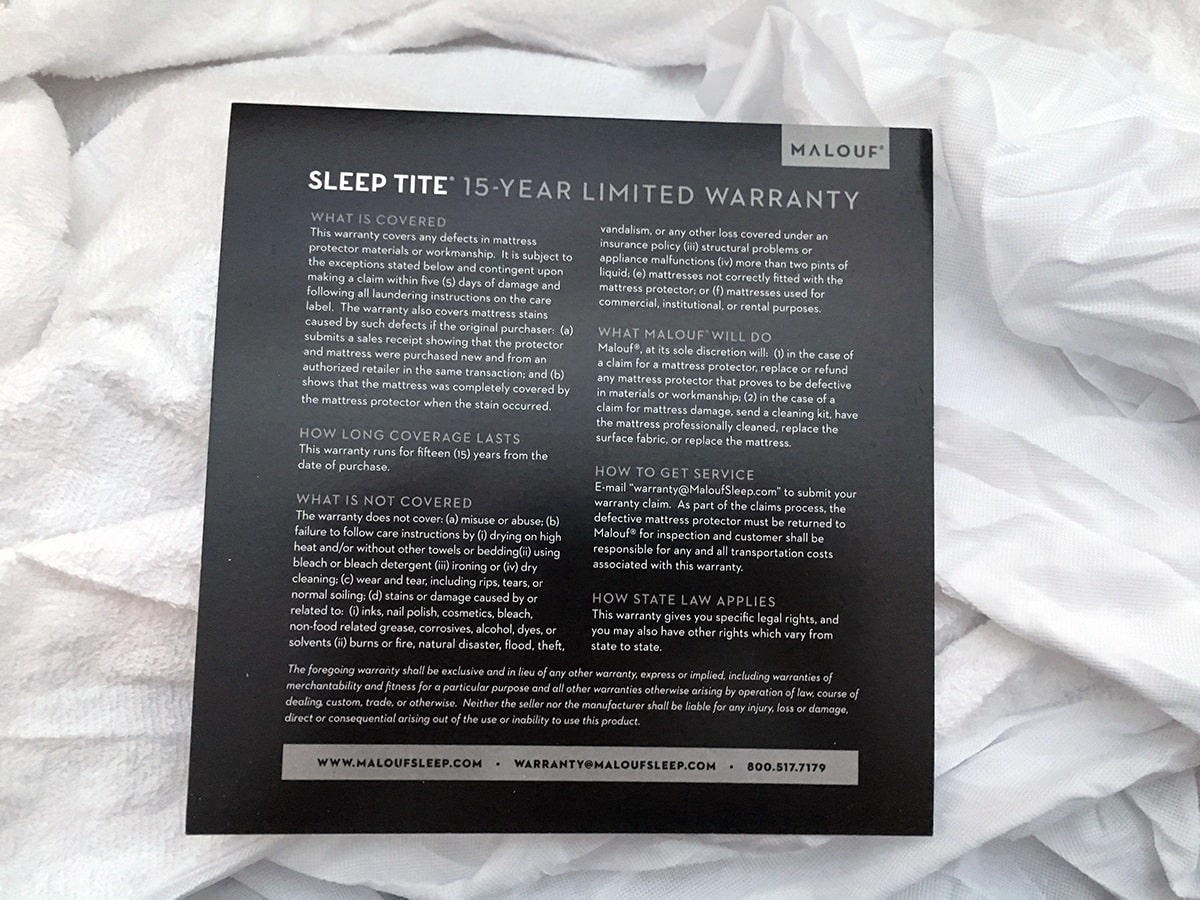 Katie Golde
Katie manages the day to day operations of the Mattress Clarity news site and reviews sleep products in addition to writing and editing sleep news. She hails from Austin, where she lives with her growing family. She is a Certified Sleep Science Coach and has a master's degree in Journalism from Northwestern University and has a background in health and science content. Her work can be found in print and online publications like Discover Magazine, USA Today and The Huffington Post.