The Sleep Defense System encasement mattress protector provides protection on all six sides of the mattress. The material feels smooth under the sheets and is virtually noiseless. This will go over the pros and cons of the protector, as well as provide my personal experience.
Key Features
Encasement mattress – protection on all 6 sides of mattress
100% waterproof barrier* (1ml thick polyurethane)
Independently lab tested to be 100% Bed Bug Proof
Fits mattresses up to 18-inches thick
100% Polyester knit fabric
Hypoallergenic
5-year Limited Manufacturer's Warranty
Care: Spot clean or machine wash; tumble dry on low or no heat
Contains no Vinyl, PVC, or phthalates, or fire retardant coatings
* According to Hospitology Products, the makers of the mattress protector. The encasement mattress may only prevent water damage in specific scenarios:
This Protector is meant to handle only small amounts of liquid that are addressed immediately. Larger amounts of liquid, and liquid that is allowed to sit for more than a few hours may eventually seep through Protector in the form of liquid vapor. Liquids with Strong Odors may transfer odor to the mattress.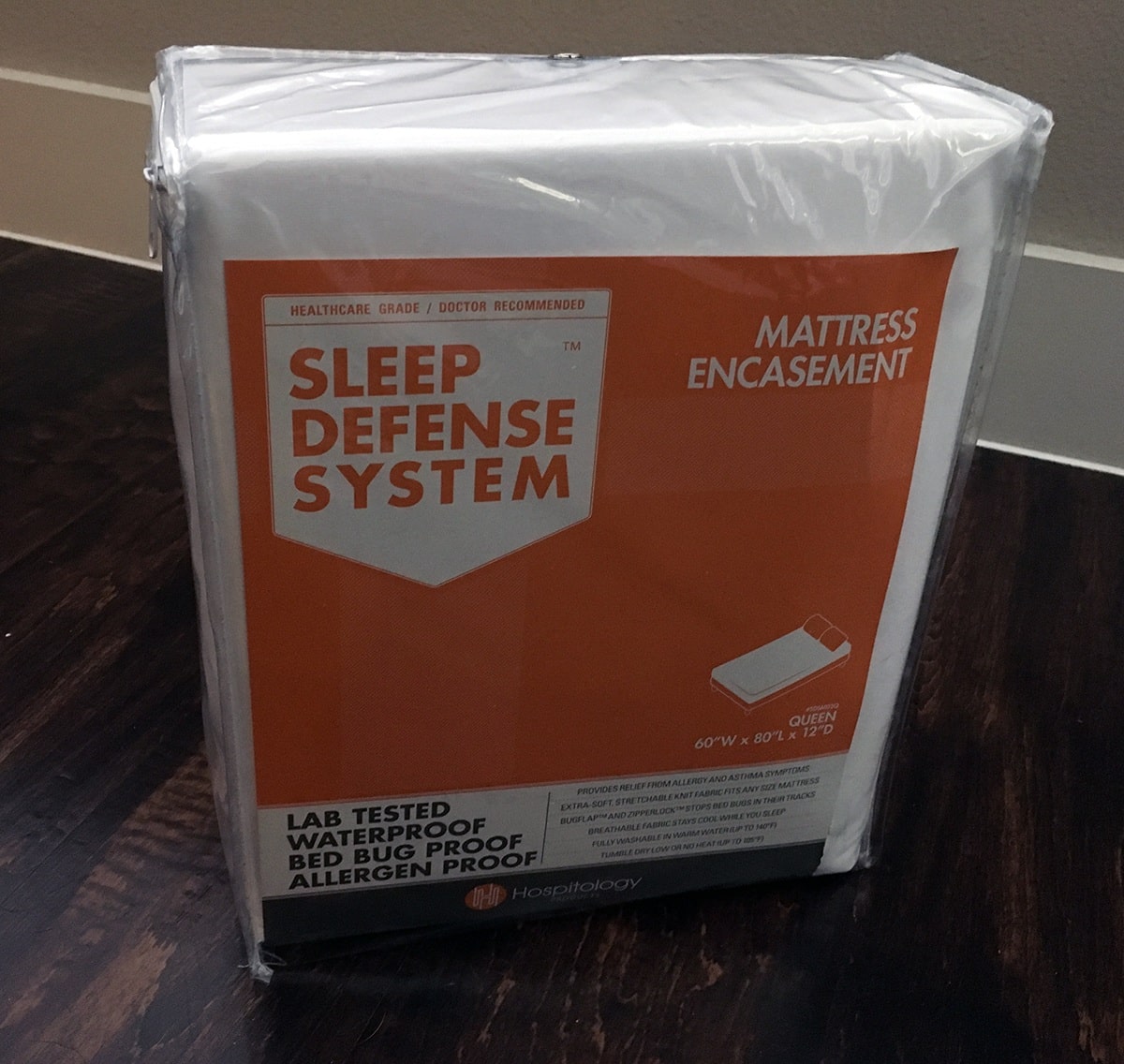 Pros
Encasement mattress – all six sides of the mattress are protected
Hypoallergenic
Soft and virtually noiseless material
Multiple sizes for all mattress thicknesses
Affordable (See price on Amazon)
Machine wash and dryer friendly
Cons
May not protect against large spills or accidents  (see Waterproof disclaimer in Care section)
May need more than one person to assemble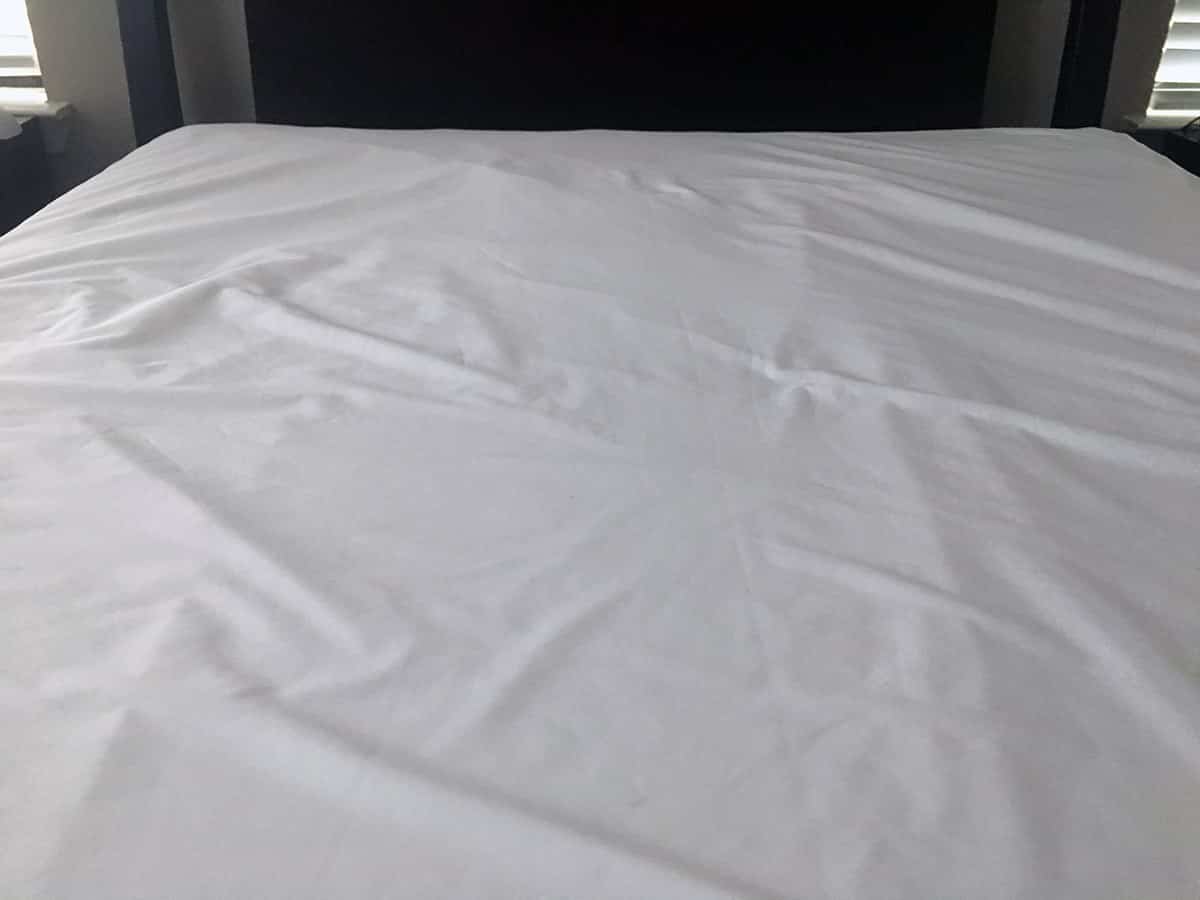 Care
As I say in all my mattress protector reviews, it is important to read the care instructions carefully.
This is especially important for waterproof mattresses because drying them on a high heat can mess with the waterproof membrane and allow leaks to happen.
The Sleep Defense System mattress protector can be spot cleaned or machine washed. They also encourage a low tumble dry setting or letting the protector air dry.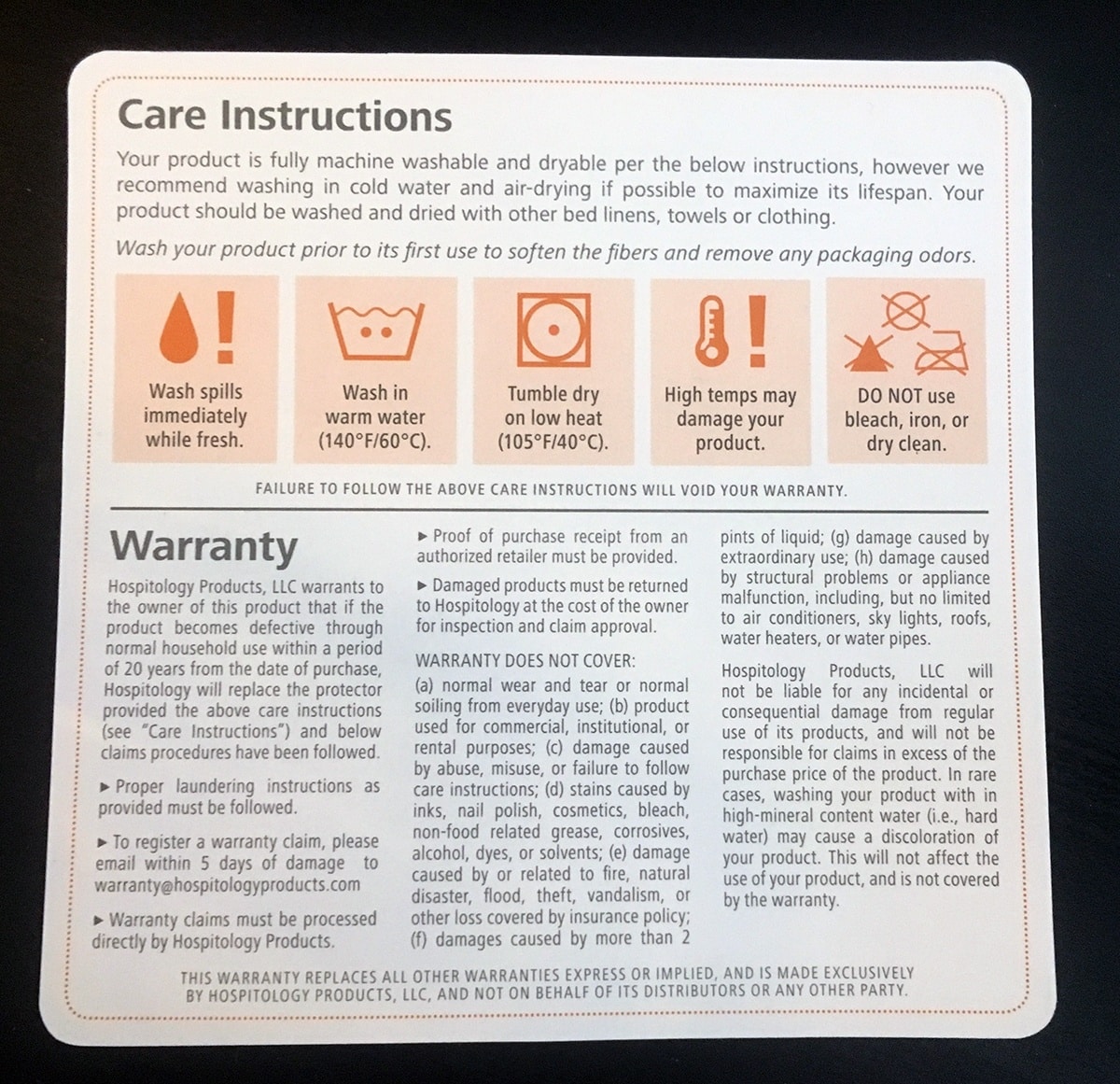 I went for the most convenient route and machine washed the protector with a small amount of detergent on a cold and gentle cycle. I put the protector in a low tumble dry and it came out great. No signs of wear or damage at all.
Waterproof Test
With all of my mattress protectors, I try to do a waterproof test. When liquid stains or damages a mattress it often voids the warranty. It makes the waterproof properties of a mattress protector very important – we can't have leaks!
Typically I pour 10ozs of water into the center of the protector and wait a couple hours to see if it leaks. I do this to mimic a large spill or accident (they happen!).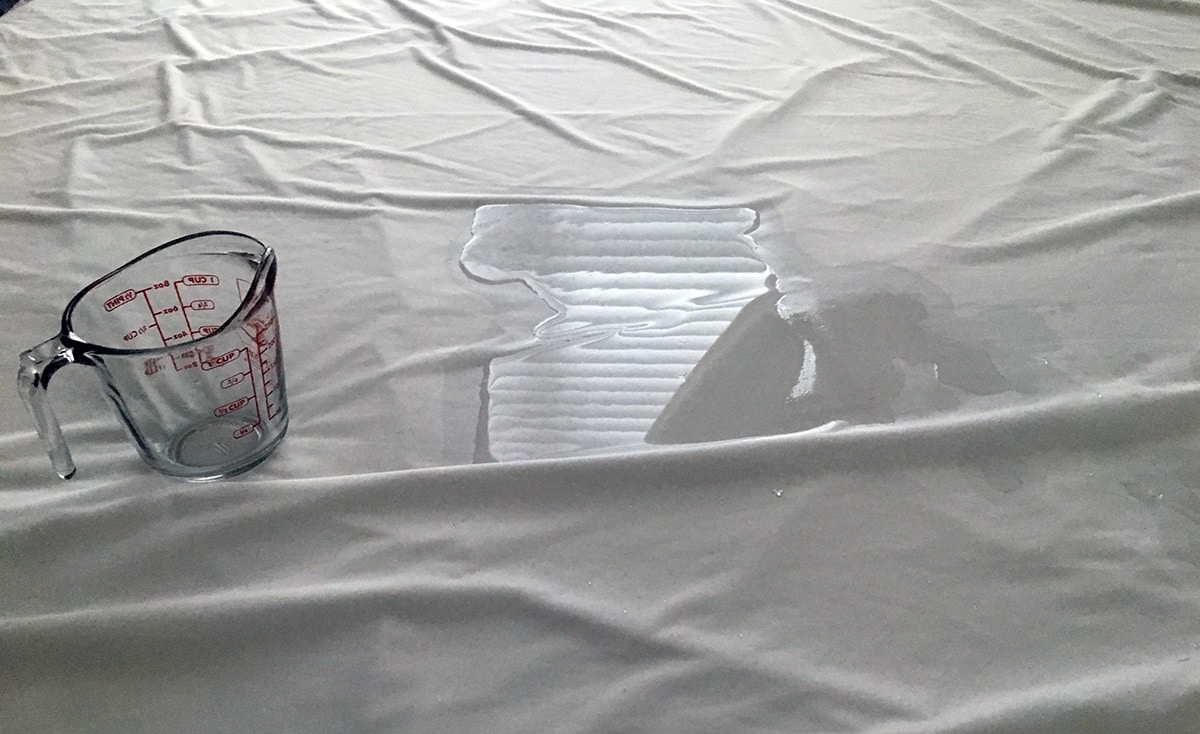 I'm glad I read the fine print carefully, because this mattress protector is technically waterproof, but not for large spills or anything that sits on the mattress.
The disclaimer mentioned earlier in the review is listed again below:
This Protector is meant to handle only small amounts of liquid that are addressed immediately. Larger amounts of liquid, and liquid that is allowed to sit for more than a few hours may eventually seep through Protector in the form of liquid vapor. Liquids with Strong Odors may transfer odor to the mattress.
While I take extra precaution to make sure no water damages my mattress during waterproof testing, I decided not to do my typical test, which involves pouring 10ozs of water and leaving it on the protector for two hours.
Instead, I poured 5ozs of water and wiped it off after five minutes. I did check underneath and felt no moisture or dampness, so it passed my modified waterproof test.
Some negative reviews were definitely centered around the waterproof barrier on the protector.

Vinyl Free
People may be curious as to why so many mattress protectors make sure to label their protectors as Vinyl-free. There has been some debate over the health safety of plastics, including PVC (also known as polyvinyl chloride or vinyl).
Products that contain vinyl or PVC – like mattress protectors and curtains – can release toxins into the air (often called off-gassing) that have negative health effects. This is especially concerning for babies or small children whose bodies are still developing.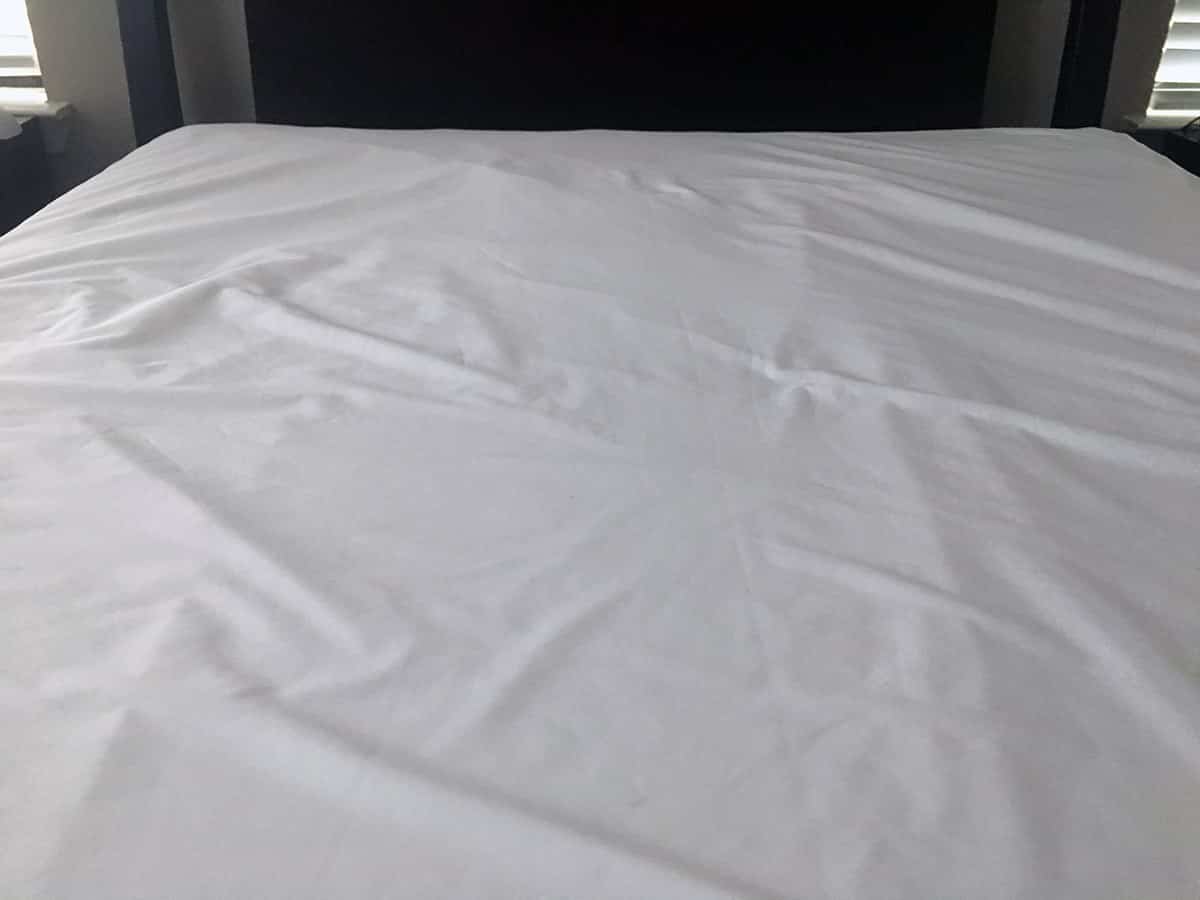 It is best to avoid using products made of PVC or Vinyl – especially for people with small children.
This protector uses a synthetic resin (plastic material) called Polyurethane as the waterproof barrier. Other vinyl-free mattress protectors include Luna, SafeRest, SureGuard and Linenspa
Additional Comments
I would recommend having an extra set of hands to get the mattress protector on since it can be a little tricky getting it over the entire mattress by alone (but it is possible to do it alone).
For those who are very concerned about bed bugs, the Sleep Defense Mattress Protector comes with a little packet of plastic zip ties/cable ties so it is easy to secure the zipper to the mattress protector, leaving virtually no openings for bed bugs to crawl in.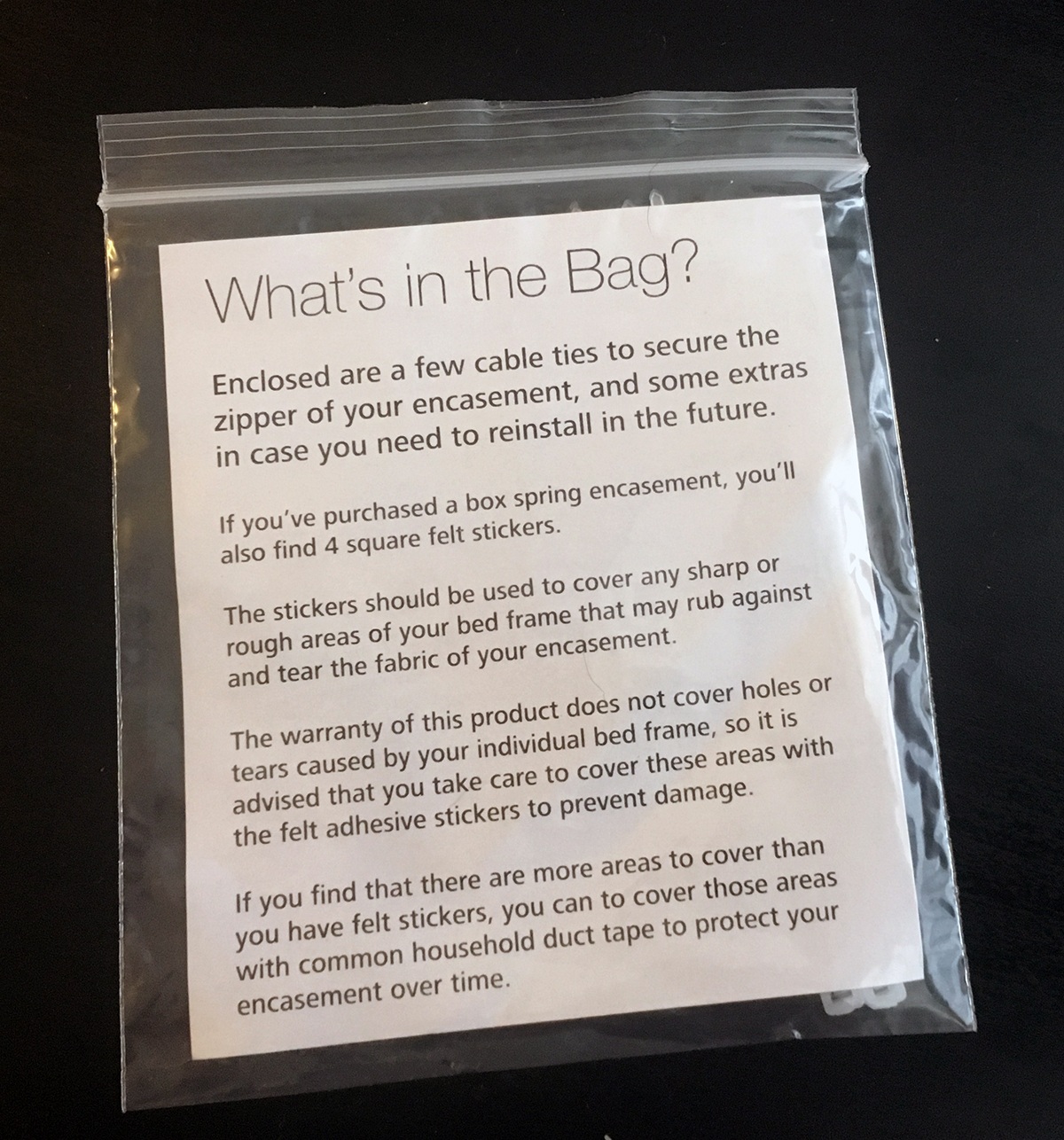 However, some customers still had issues with bed bugs, which I think is worth noting.

I really liked the polyester knit and overall feel of the mattress protector. There wasn'tany rusting or crinkling sound beneath my sheets and I also couldn't feel the protector underneath my sheets either.
The protector also comes in three sizes 1) Low Profile (9 to 11 inches deep), 2) Ultra Low Profile (6 to 8 inches deep) and 3) Standard (12 to 18 inches deep)
Although I have a 10-inch mattress, I went with the Standard size protector and it actually fit well. It wasn't super tight, had a little bit of extra room but there wasn't a bothersome amount of extra fabric and no extra noise.
Sleep Defense System Mattress Protector
Summary
Overall, the encasement protector is really nice and comes in some great sizes that take into consideration how thick your mattress is. It's a good protector for those with sensitive skin or allergies as it has a bug flap for the zipper and really completely encases your mattress. It is waterproof but only under certain circumstances and may not be ideal for those who have accidents.
Price and Value
The price of the protector depends on the size and material type. A Queen in the Standard sized depth was available on Amazon for $32.
I would recommend this encasement mattress for people who are more concerned about bed bugs than they are about preventing water damage to their mattress.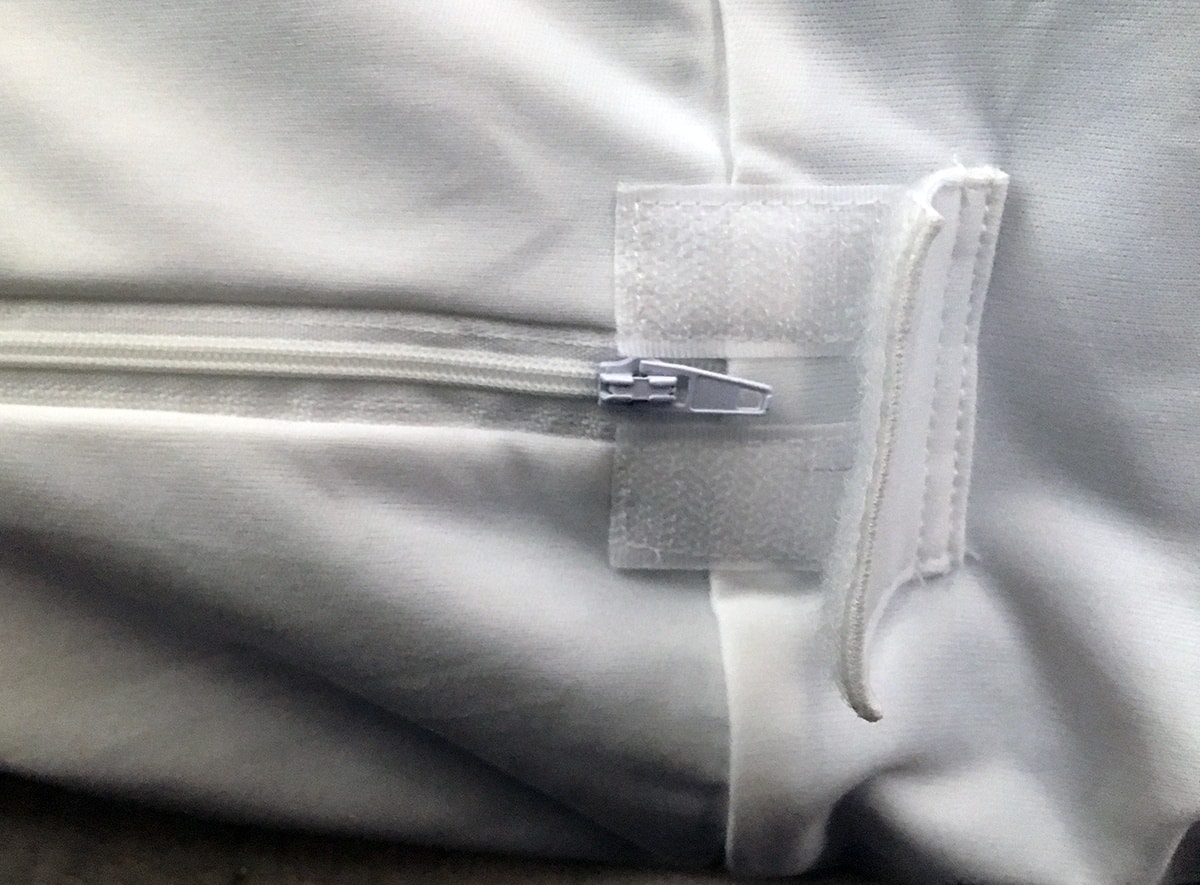 It appears to be great for those who are worried about dust mites, allergens and bed bugs and the encasement-style allows for protection of the entire mattress.
However, it says it is waterproof but it really only protects the mattress to a certain extent, and those who have children who have accidents in bed should be careful.
Katie Golde
Katie manages the day to day operations of the Mattress Clarity news site and reviews sleep products in addition to writing and editing sleep news. She hails from Austin, where she lives with her growing family. She is a Certified Sleep Science Coach and has a master's degree in Journalism from Northwestern University and has a background in health and science content. Her work can be found in print and online publications like Discover Magazine, USA Today and The Huffington Post.