Linenspa's premium mattress protector is simple, lightweight and best of all: waterproof. With virtually no crinkle sound and soft fabric, most people will never notice it's under the sheets.
Linenspa Premium Mattress Protector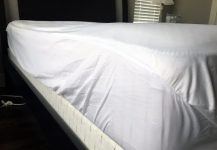 Linenspa's premium mattress protector is simple, lightweight and best of all: waterproof. With virtually no crinkle sound and soft fabric, most people will never notice it's under the sheets.
Mattress Clarity Score
4.60 / 5
Read Full Review
Key Features
100% waterproof surface
Hypoallergenic fabric
Fully elasticized fitted sheet
Secure fit on mattress depths up to 18 inches
Can be machine washed and dried on low heat (do not dry alone)
Queen size protector measures 60″ x 80″
10-year limited warranty
Crinkle-free/noiseless
100% polyester fabric top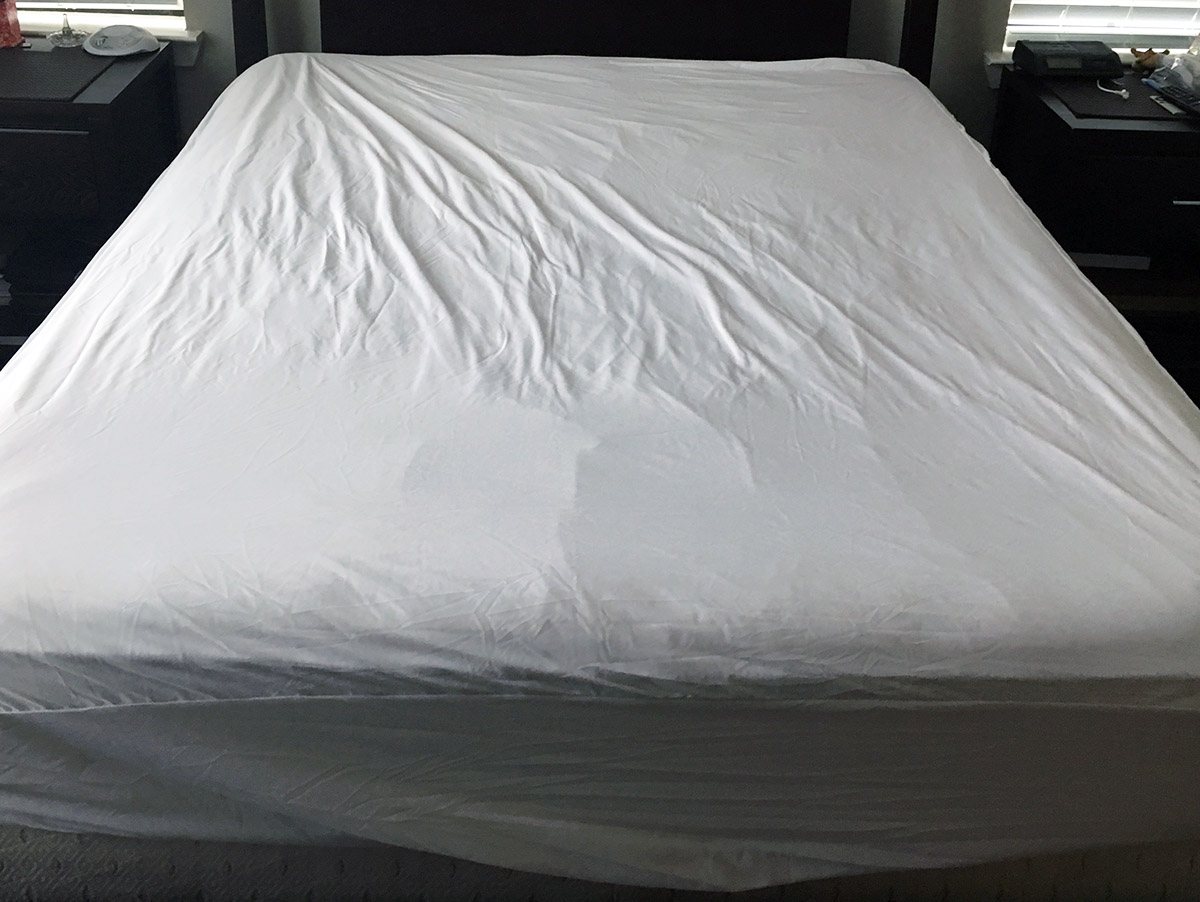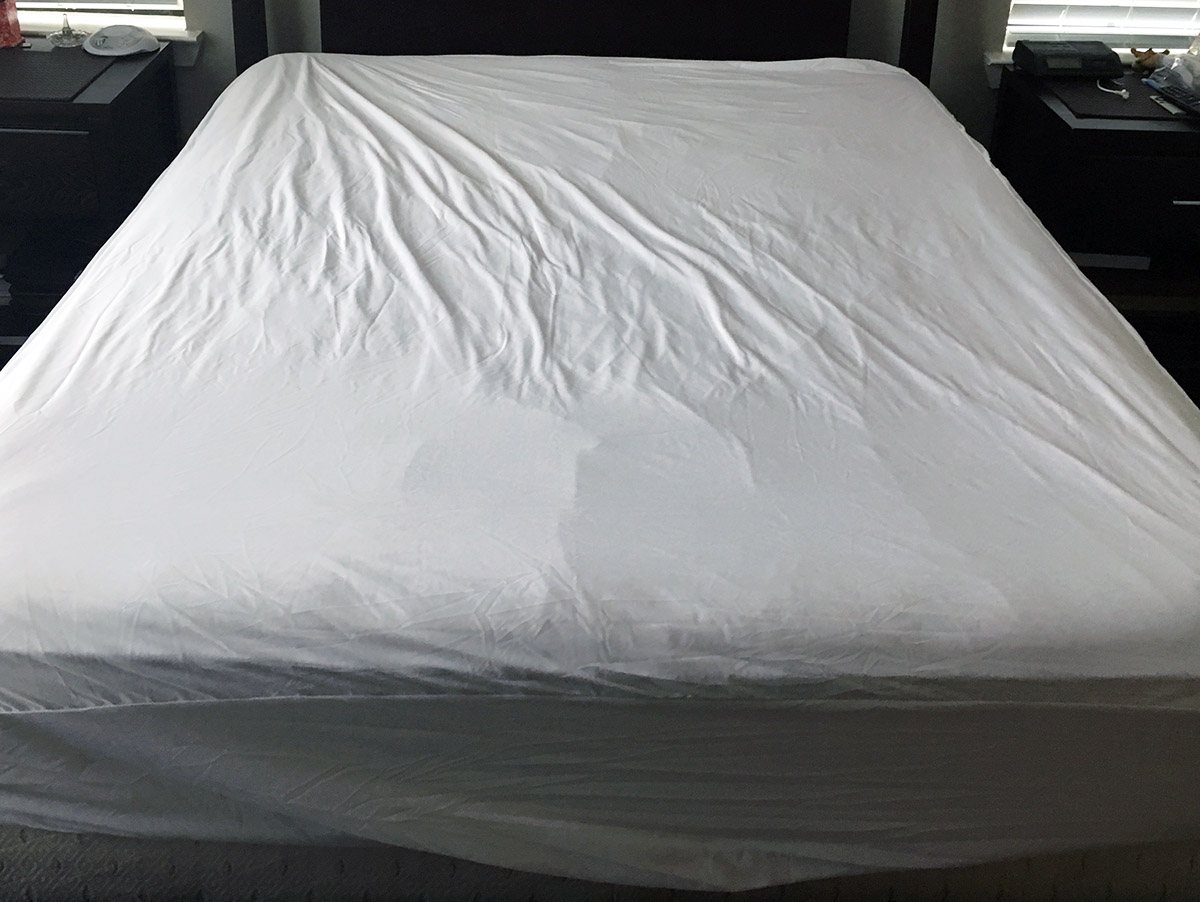 Pros
Thin material
Virtually noiseless
No crinkle feeling
Lightweight
Fits thick mattresses
Vinyl-free (safer for children)
Reasonable price (see current pricing on Amazon)
Cons
Must be washed/dried carefully to avoid voiding the warranty
Complaints about leaks
Not an encasement mattress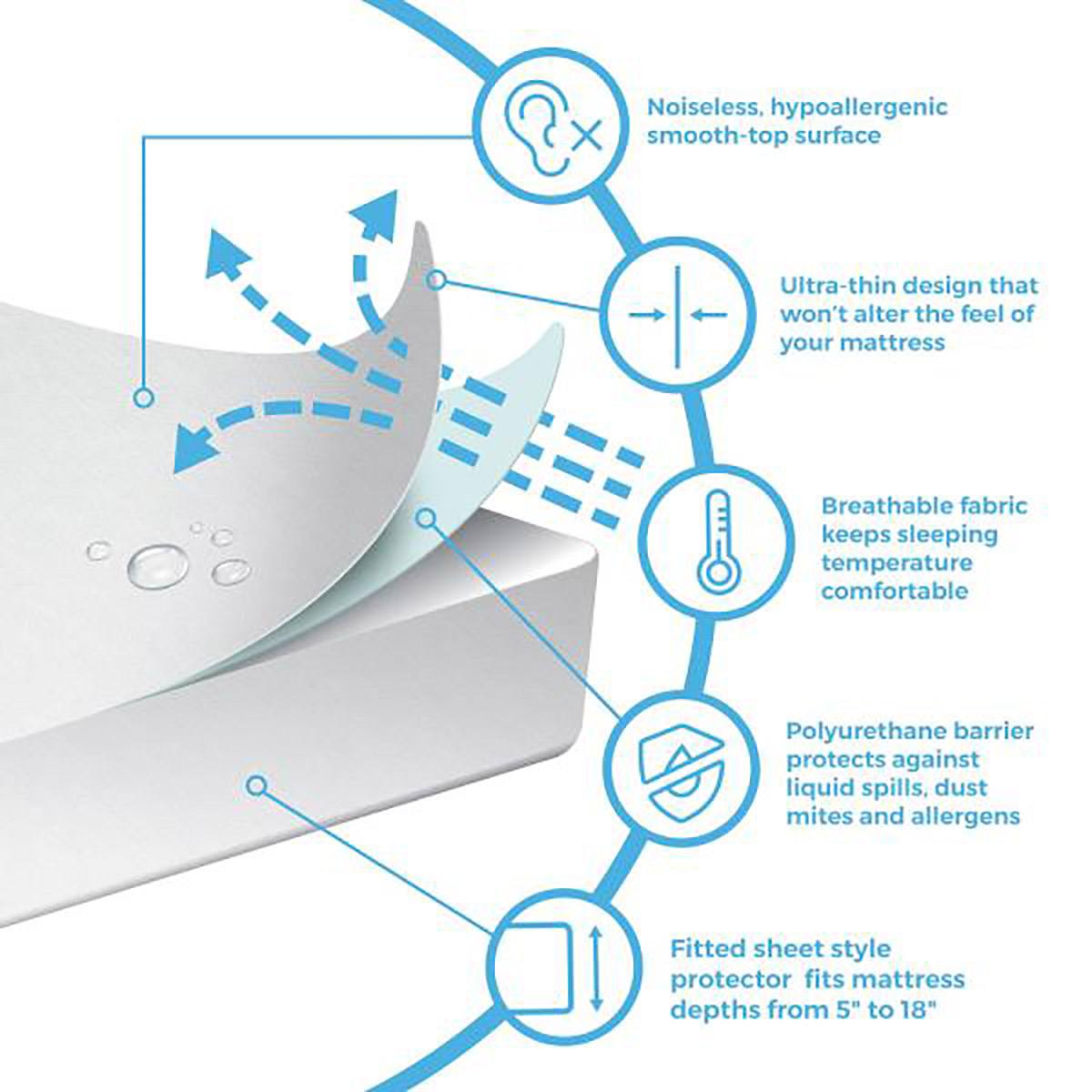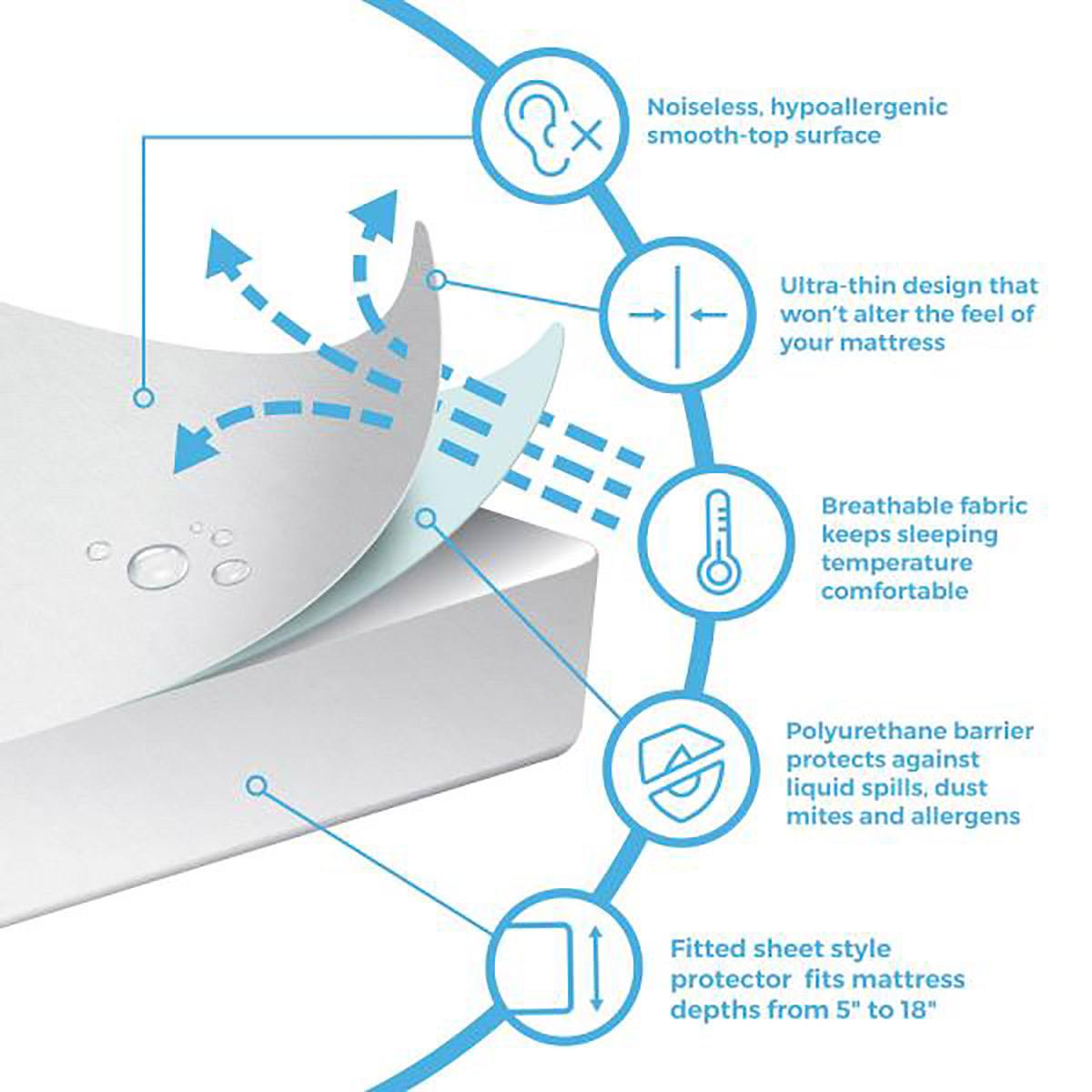 Waterproof Test
The mattress protector is supposed to be 100% waterproof on the surface but is not an encasement mattress. The material that covers the edges and narrow sides of the mattress is not the same as the top of the protector – only the surface of this protector is waterproof.
Many of the negative reviews online are from customers who experienced leaks in their protector that were caused by accidents (or spills) from children.


I decided to put the protector to the test. I poured 10 ozs of water in a concentrated area in the middle of my mattress. I thought this might mimic an accident or larger spill.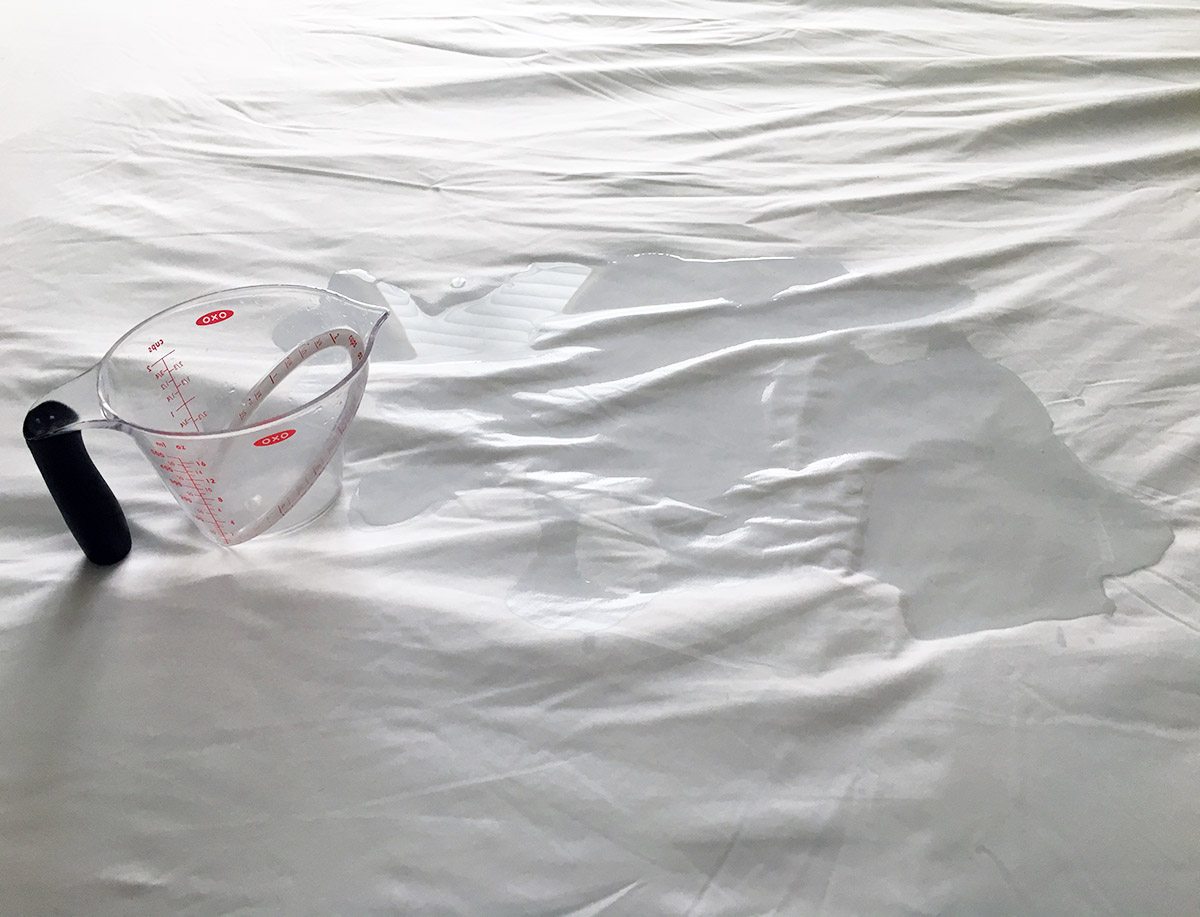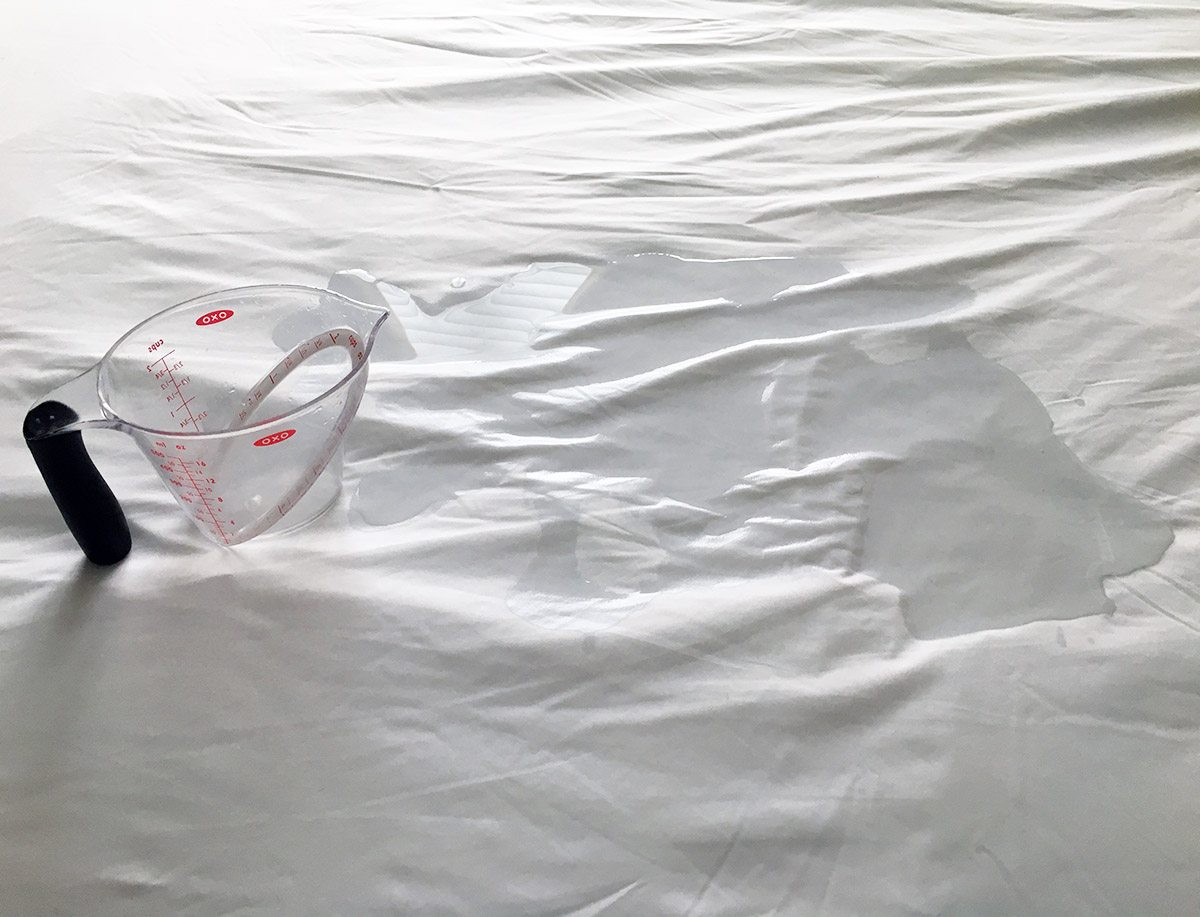 I let the mattress protector absorb the water for nearly two hours. I then ran my hand underneath the protector and felt no dampness, moisture or water.
As I mention later in my review, care for this protector is important to help the protector stay waterproof. Per Linenspa's instructions "heat settings above 125 degrees or over drying can impact the waterproof membrane." They also recommend not drying the protector alone.
Vinyl in Mattress Protectors: Unsafe for Children?
In the past few years, there has been a lot of attention around the toxicity of plastics, including PVC (aka: polyvinyl chloride or vinyl).
Products that contain vinyl or PVC – like mattress protectors and curtains – can release toxins into the air (often called off-gassing) that have negative health effects. This is especially concerning for babies or small children whose bodies are still developing.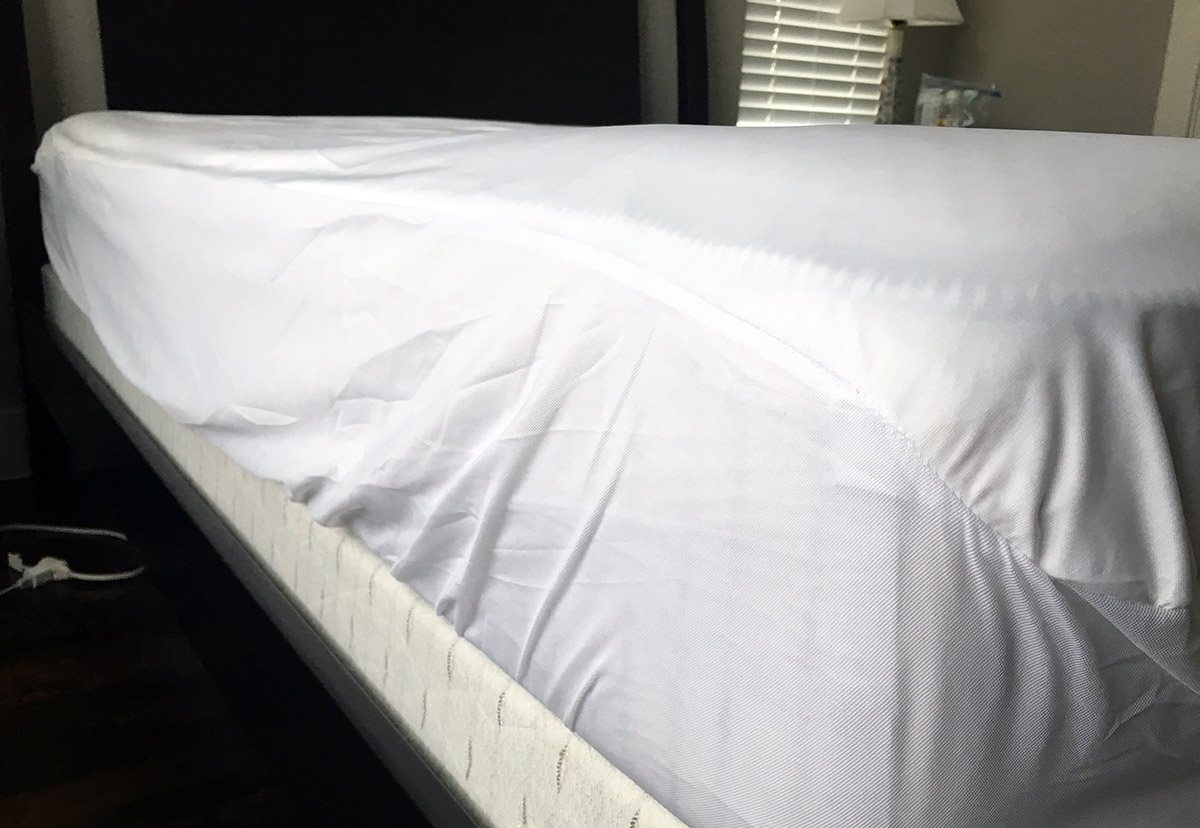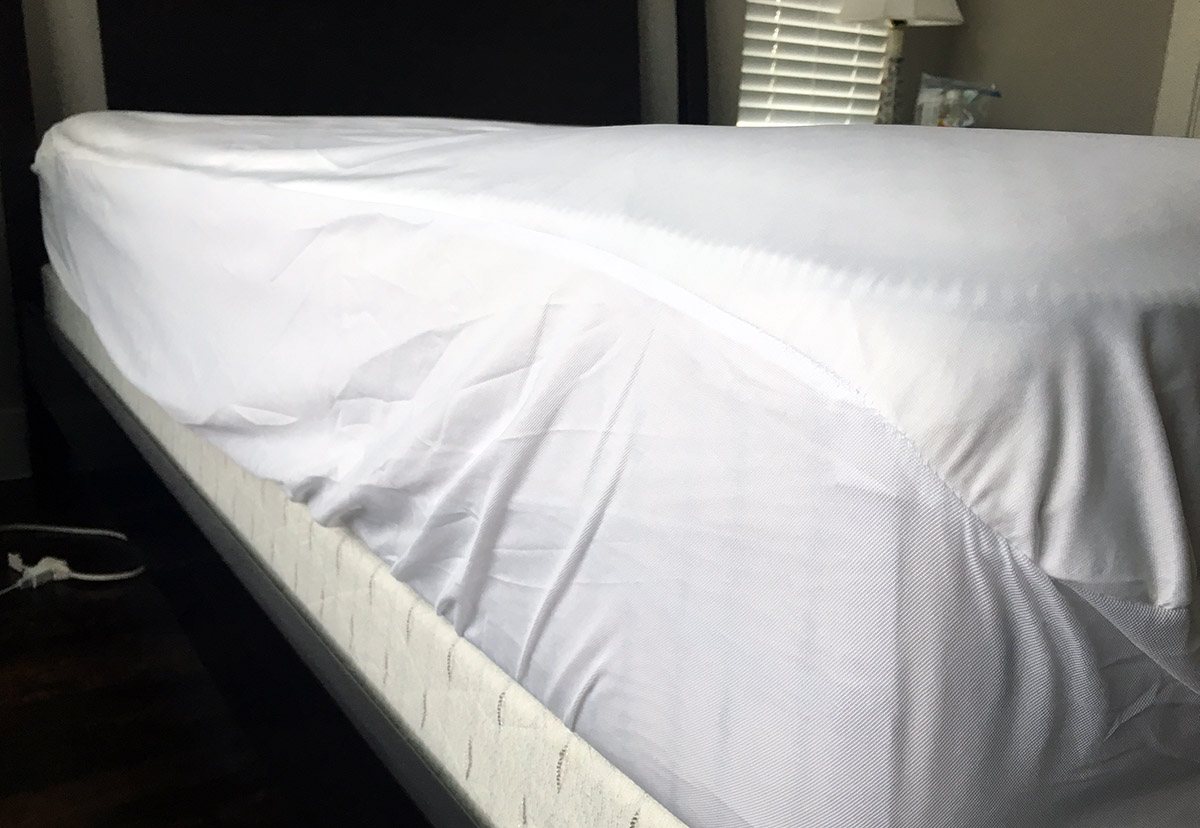 It is best to avoid using products made of PVC or Vinyl – especially for those with children. Linenspa's mattress protector is vinyl-free and is instead made waterproof by using polyurethane , which is considered relatively safe.
Care Instructions
The care for this mattress protector is important for a couple reasons. One, this protector comes with a 10-year limited warranty. The warranty will be voided for "misuse or improper maintenance."
Second, many mattress warranties will be void if the mattress is stained. One way to keep the mattress warranty intact is to use a mattress protector to stop stains or damage.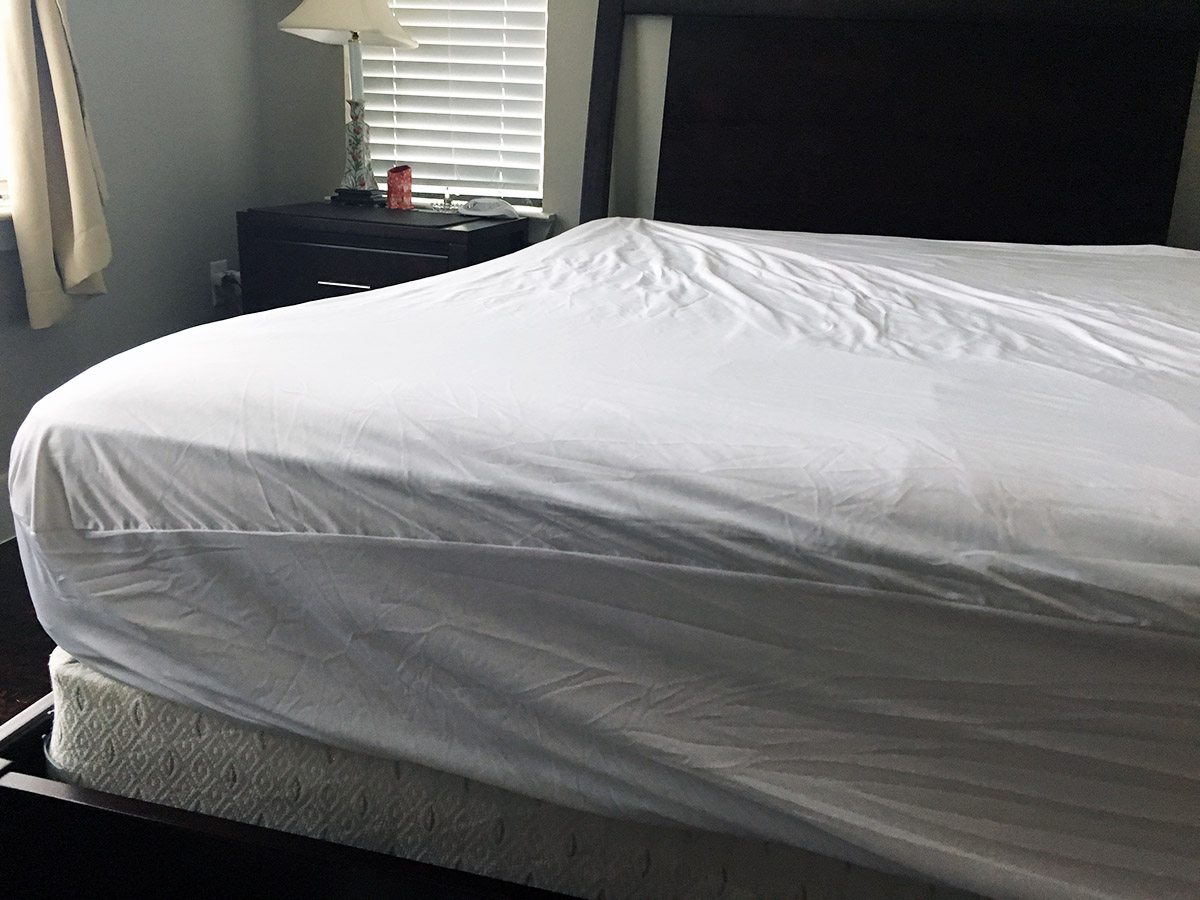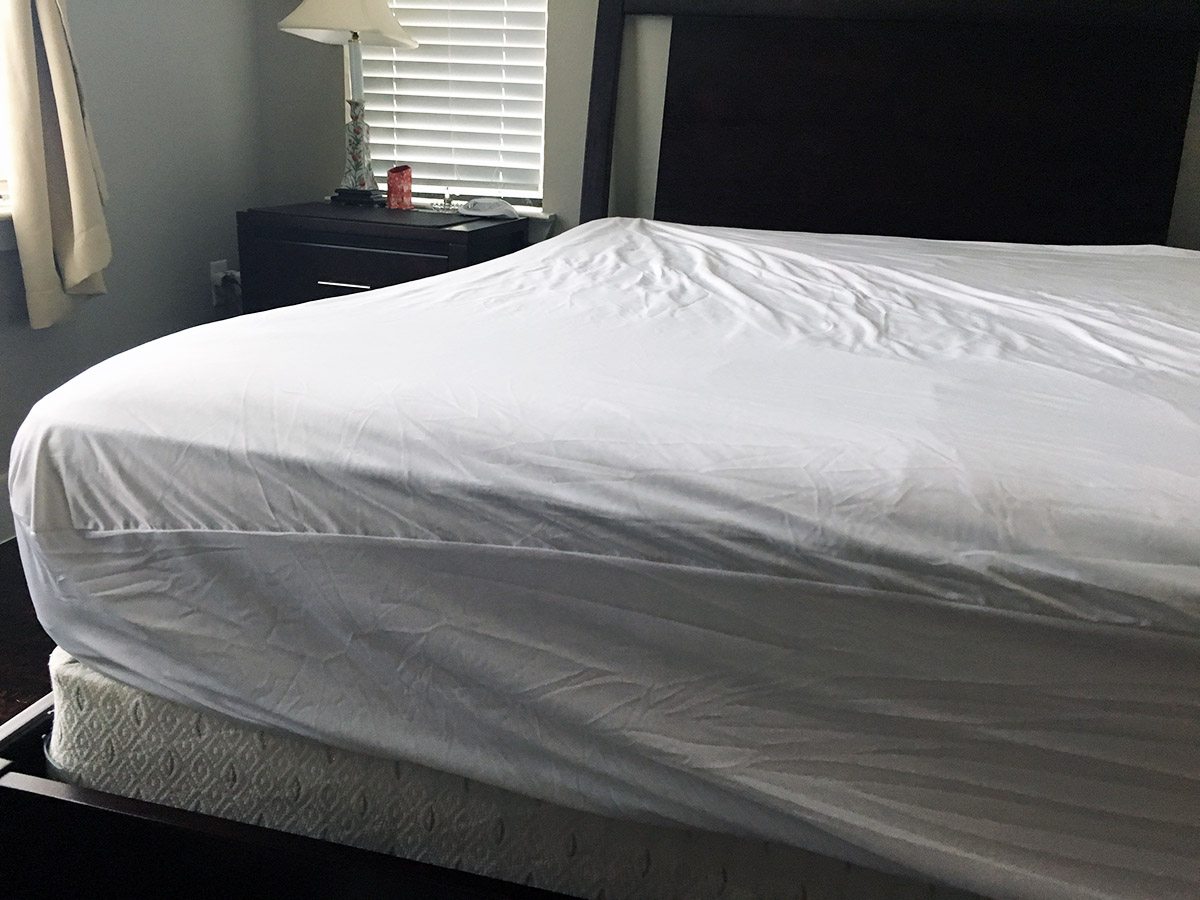 With that in mind, I'm just going to share the care instructions exactly as they're written. I got these from the Product Description section of the protector's Amazon retail page:
Please follow the protector care instructions to preserve the integrity of the waterproof barrier and the product warranty. Machine wash in cold to hot water. Use a mild detergent without bleach or whiteners. Do not bleach. Tumble dry on low heat with other bedding. Do not dry the protector alone. Dry on low or no heat and remove from dryer promptly. Heat settings above 125 degrees or over drying can impact the waterproof membrane. Do not iron or dry clean.
There are detailed written instructions provided in the packaging with the mattress protector.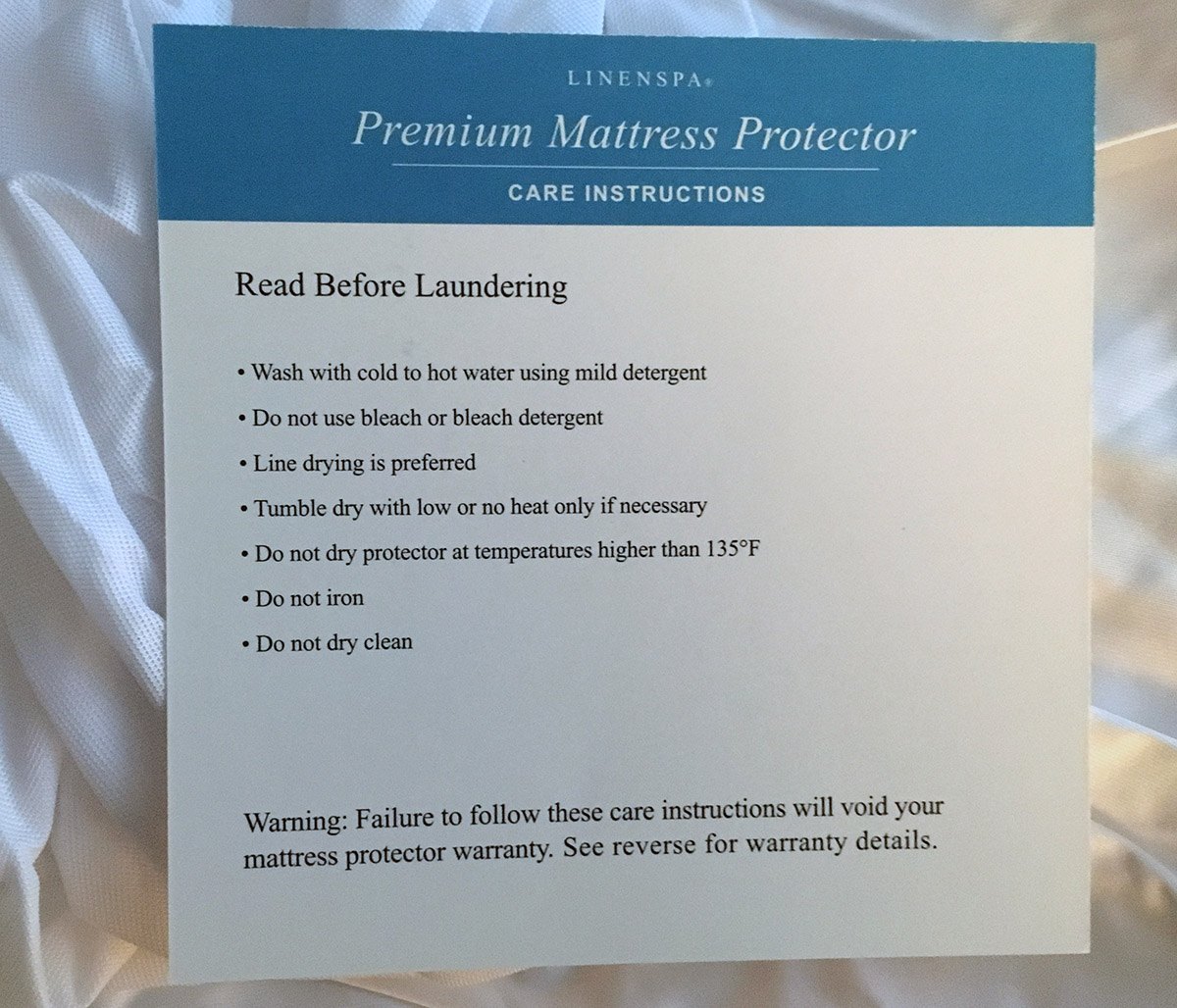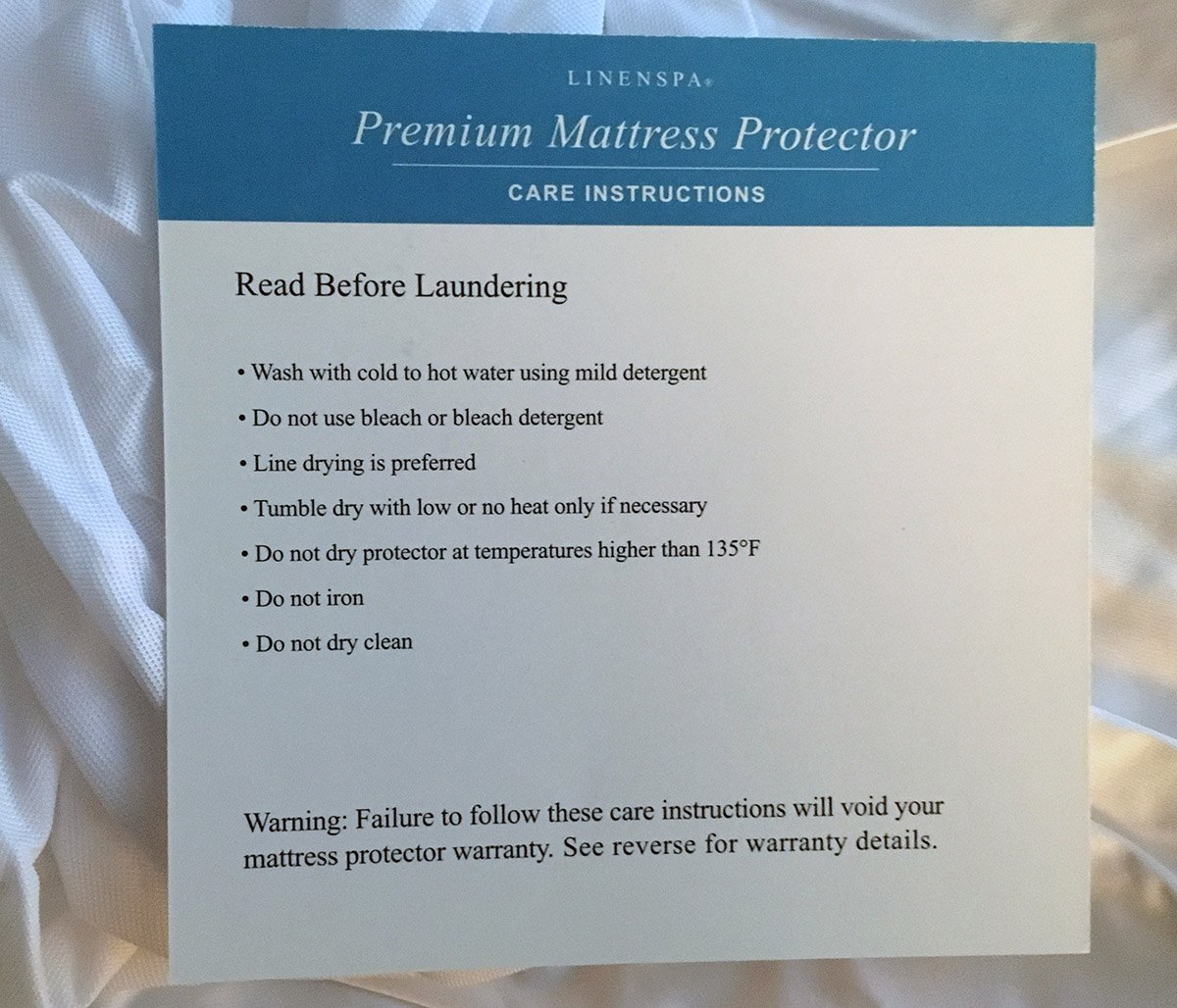 Linenspa Premium Mattress Protector
Summary
This affordable mattress protector is 100% waterproof, hypoallergenic and virtually noise free. I had a good experience with breathability although the overall fit was a little oversized. Would be an even better fit for thicker mattresses.
Price/Value
Linenspa sells their mattress protector – on their own website and on Amazon – for $18.39. Please note that it is labeled as the "Smooth Mattress Protector" on the Linenspa website.
According to both the Linenspa and Amazon, the protector regularly retails for $97.74. That is a huge discount and it makes me wonder if they really ever do sell it for full price.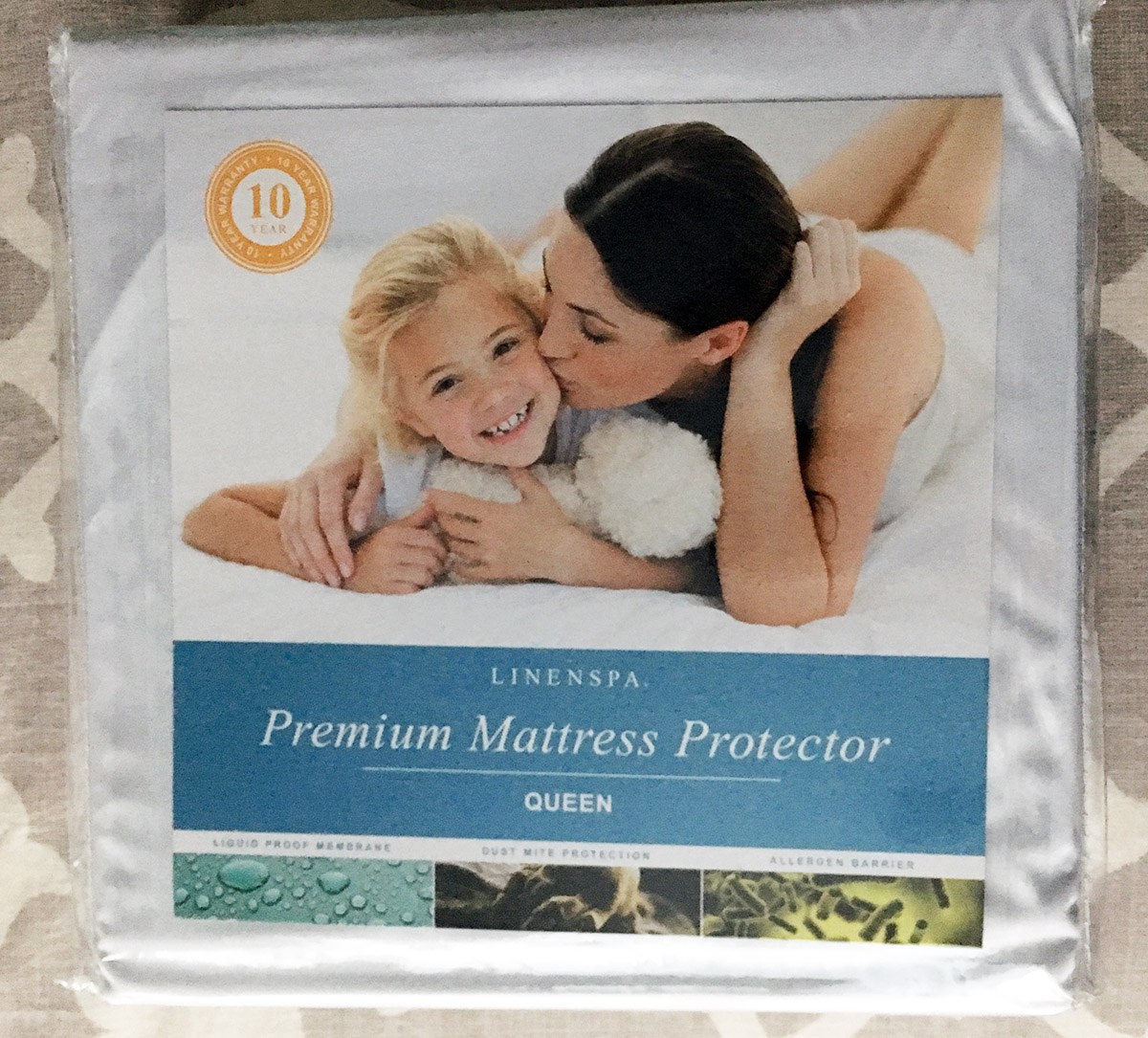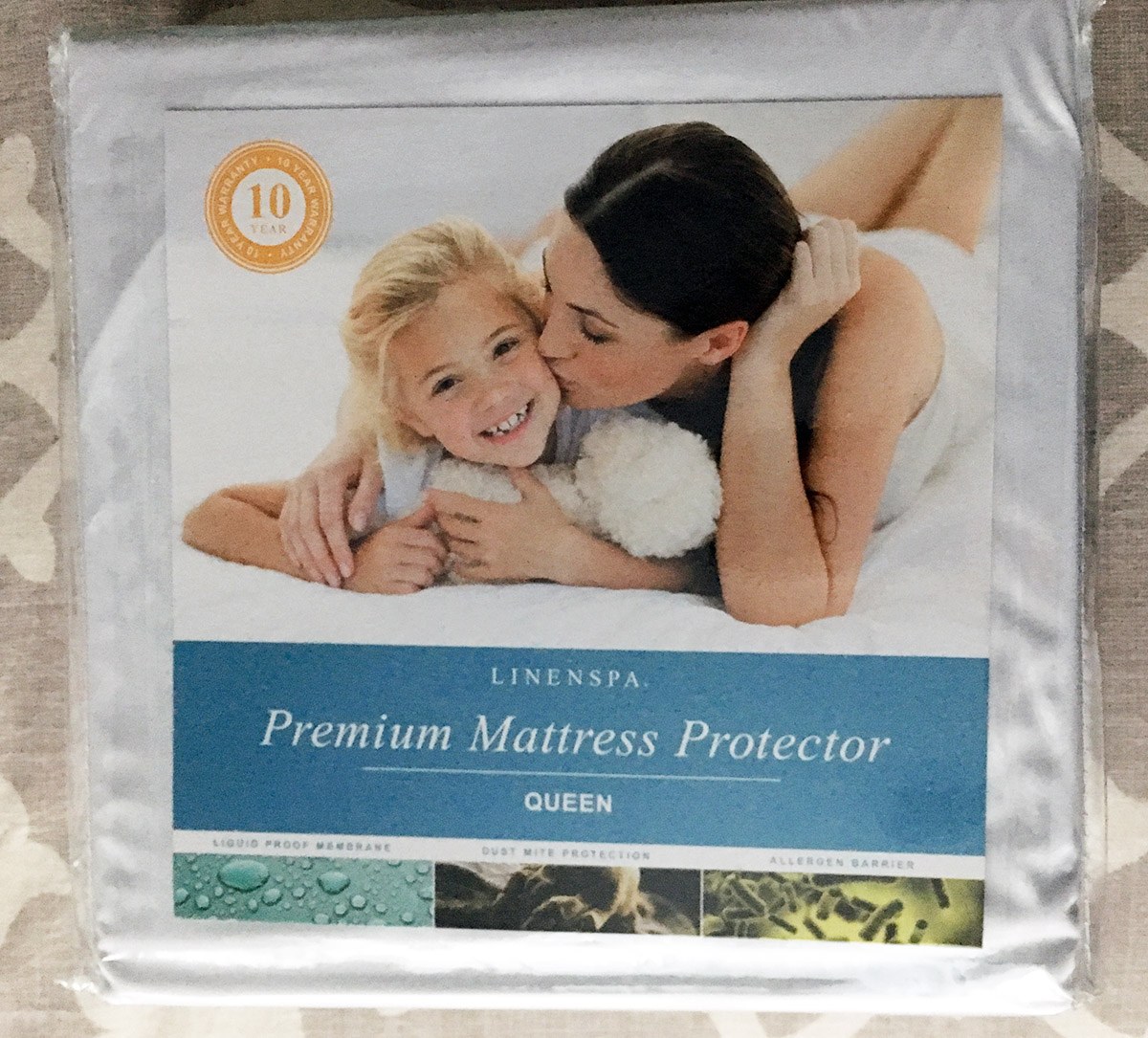 Either way, I think it is actually a good deal for less than $20. It is lightweight, soft and has no weird chemical smells.
It is fairly easy to care for (be sure to follow the instructions). It is not quilted or padded so it will not replace a mattress pad for additional comfort.
While it is waterproof on the surface, this is not an encasement mattress protector.
For those who are interested in something with more padding on the surface- that can also help control temperature – read our review of the Slumber Cloud Dry Line Mattress Protector.  Also, check out our best mattress protector picks.
Katie Golde
Katie previously managed the day to day operations of the Mattress Clarity news site and reviews sleep products in addition to writing and editing sleep news. She hails from Austin, where she lives with her growing family. She is a Certified Sleep Science Coach and has a master's degree in Journalism from Northwestern University and has a background in health and science content. Her work can be found in print and online publications like Discover Magazine, USA Today and The Huffington Post.