Editor's Note: Slumber Cloud no longer sells the Dry Line mattress protector. For another option, check out the Saatva Mattress Protector!
Slumber Cloud's Dry Line Mattress Protector is 100% waterproof and geared towards the individual who is looking to stabilize their body temperature and get a good night's sleep. Read on further for my full review and personal experience.
Key Features:
Price: $139.99 (Twin) – $189.99 (Cal King)
Sizes Available: Twin, Twin XL, Full, Queen, King, Cal King
100% waterproof mattress protection
Made with heat-managing Outlast® technology
98% polyester, 2% Lycra knit cover
100% polyester knit skirt
Fits mattresses up to 16 inches deep
Made in U.S.A
Easy care- machine washable, low tumble dry
Intended as an extra layer of protection against spills and moisture while helping to manager temperature swings throughout the night.
Return Policy/Warranty: All Slumber Cloud products come with a 30-Day satisfaction guarantee, as well as a 60-Day manufacturer's warranty.
Pros:
Top portion of the protector is waterproof
Soft top material
Good fit for thicker mattresses (can go up to 16-inches)
Good customer service. Received handwritten note with purchase
No "crinkle" noise or sound can be heard under bed sheets
Cons:
Fairly Expensive
Does not encapsulate the whole mattress
Not waterproof on the sides of the mattress
Extra/loose material on thinner mattresses
RELATED: Best Mattress Protectors
Who this is Ideal For:
People who have trouble regulating their body temperature while sleeping
People who want a waterproof mattress
People who want a risk-free money-back guarantee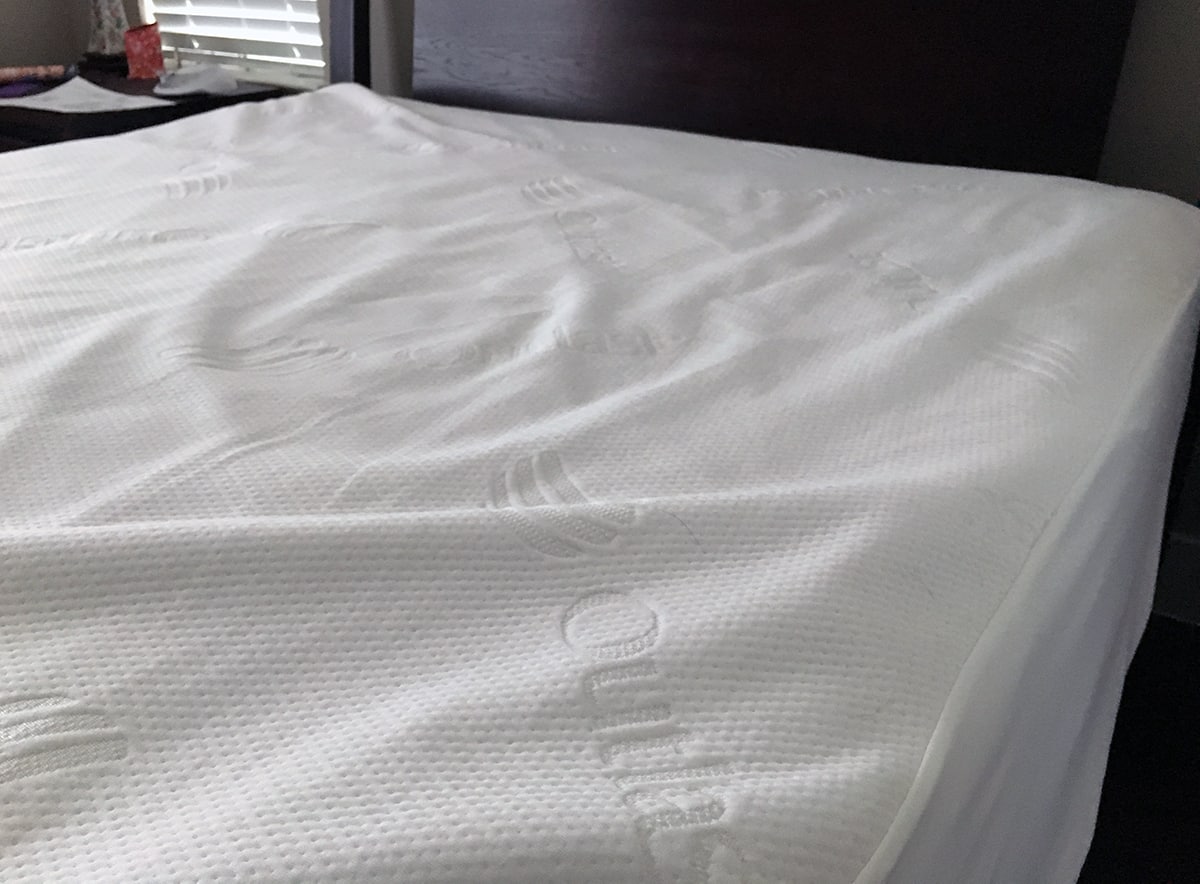 Customer Service:
I received handwritten note with purchase, a coupon and a packet of sleepy-time tea!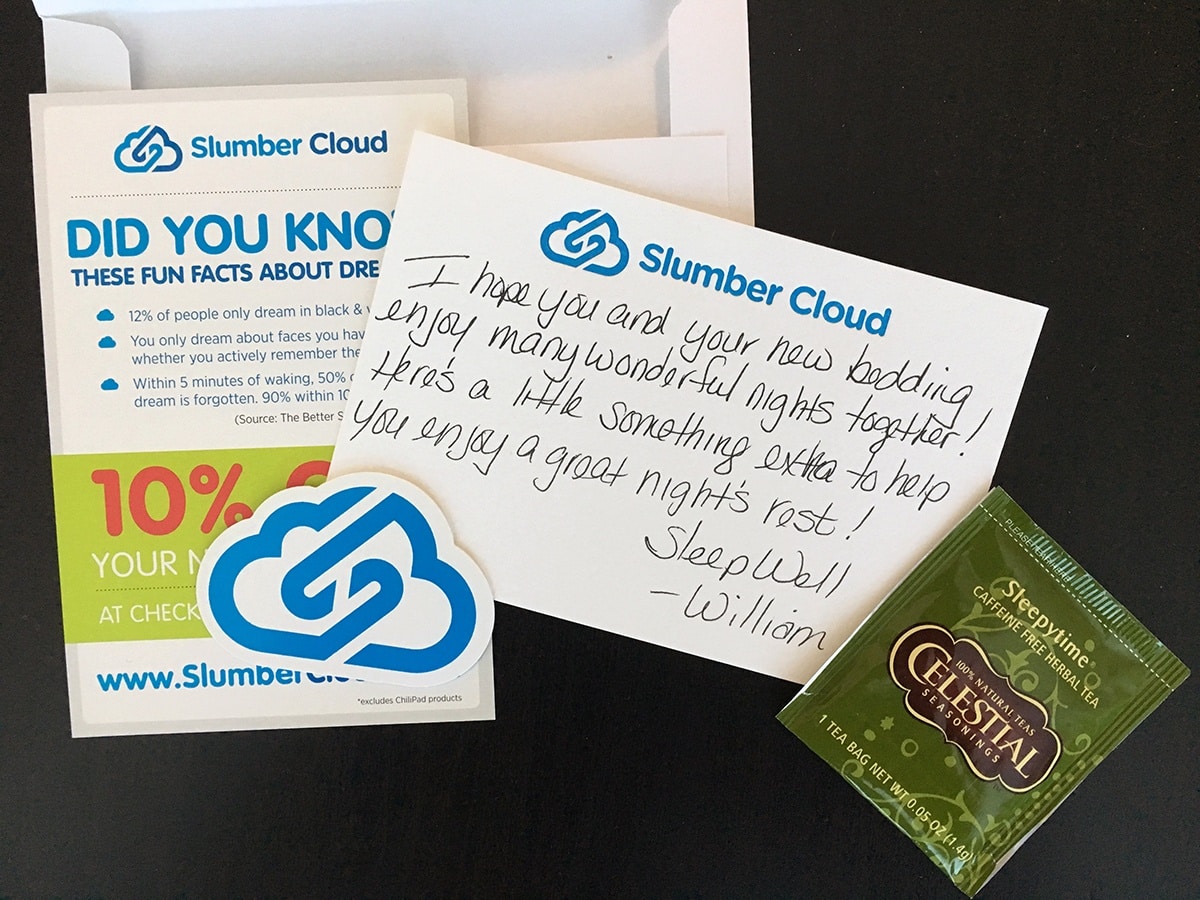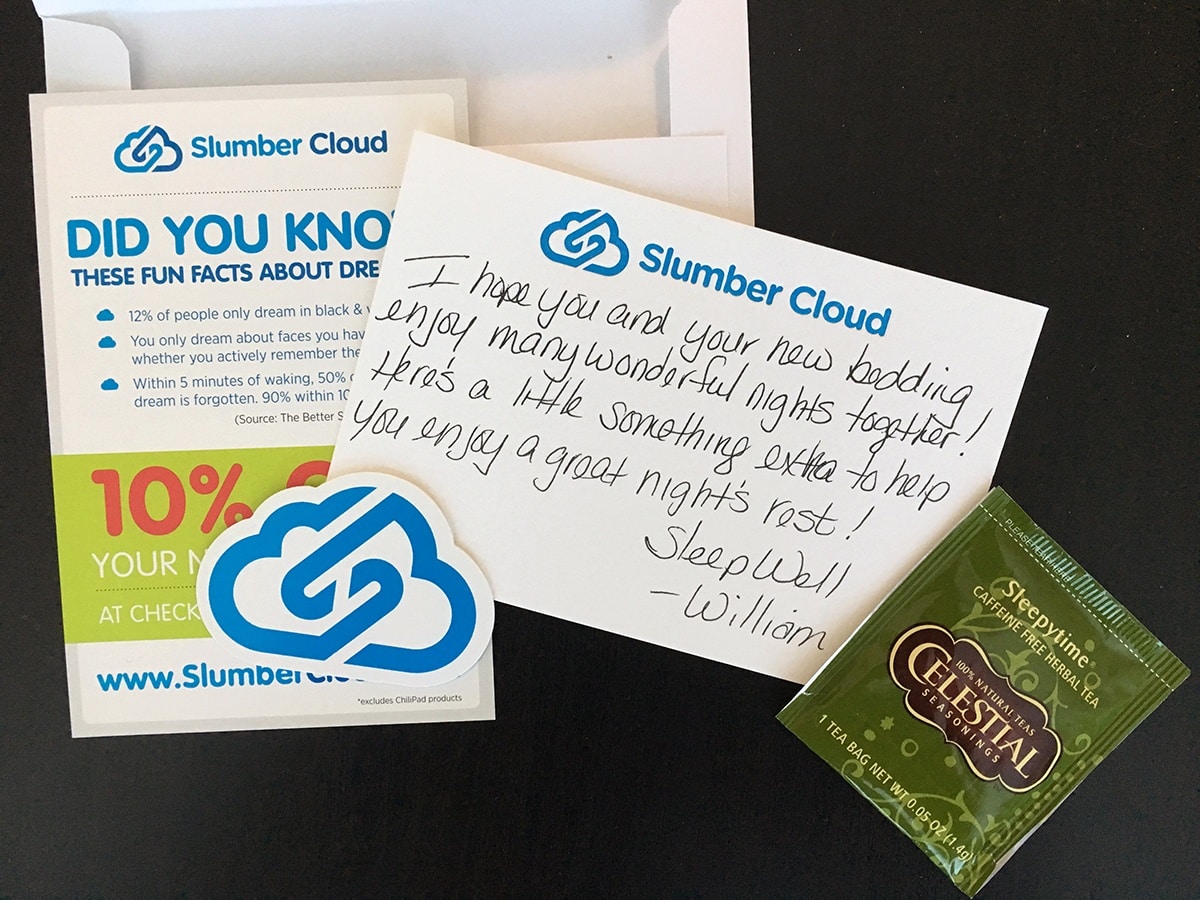 What is heat-managing Outlast Technology?
From the Slumber Cloud website, the Outlast Technology in the Dry Line mattress protector is described as, "a unique material that can absorb, store and release excess heat. As an individual's skin temperature increases, the technology will absorb that excess heat to help prevent overheating. The material will store the excess heat until the skin temperature begins to drop."
Construction
The Dry Line Mattress Protector feels dense and durable with its 98% polyester, 2% lycra knit waterproof cover fabric. It drapes on the mattress nicely and is heavy enough to naturally hold its place so it's not moving around on the bed.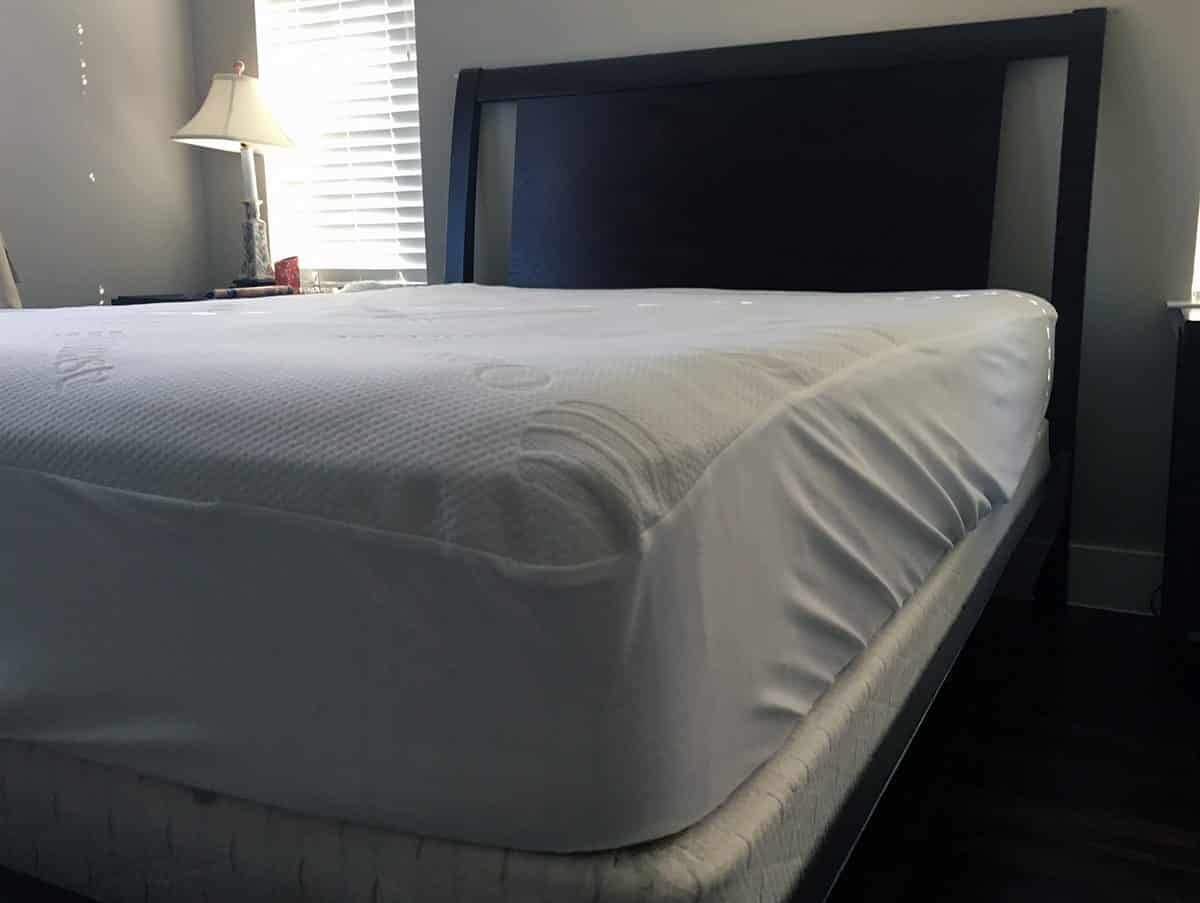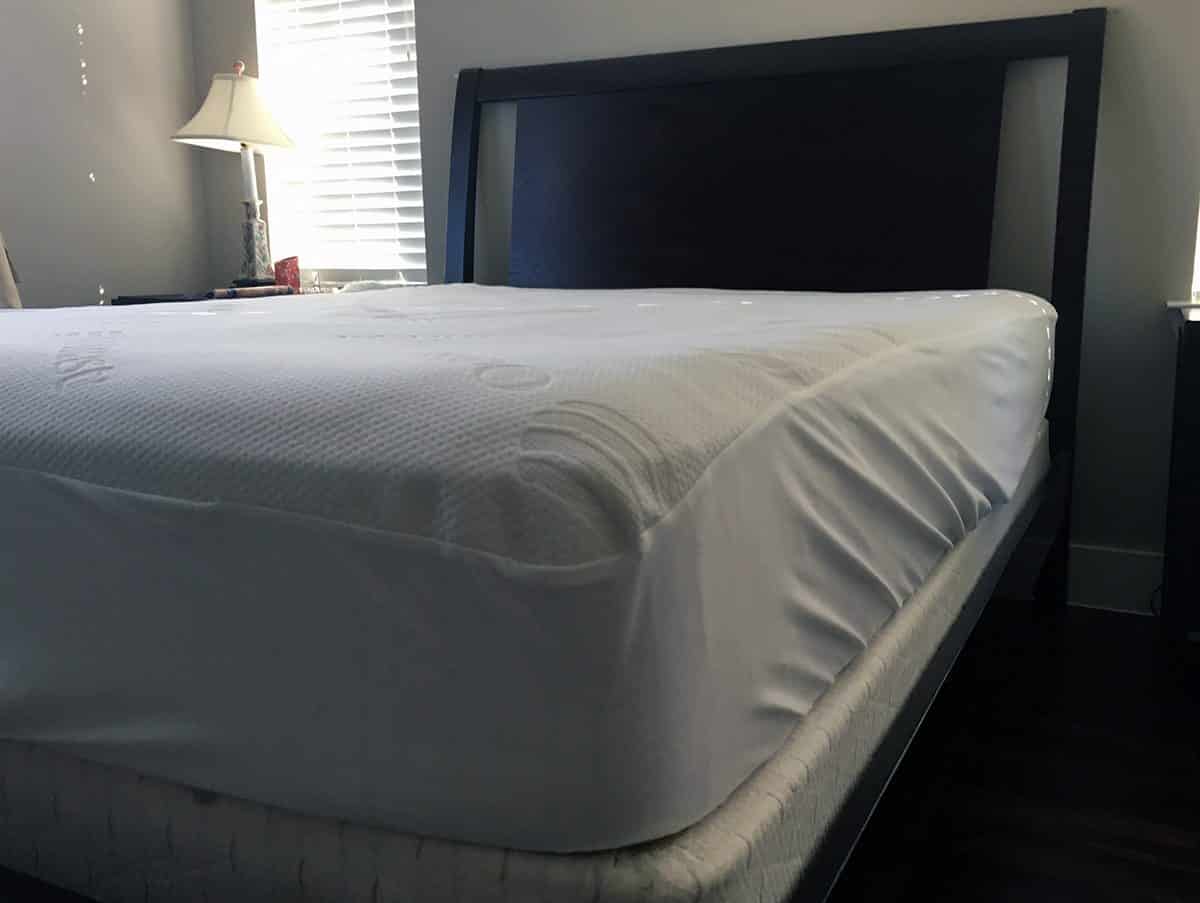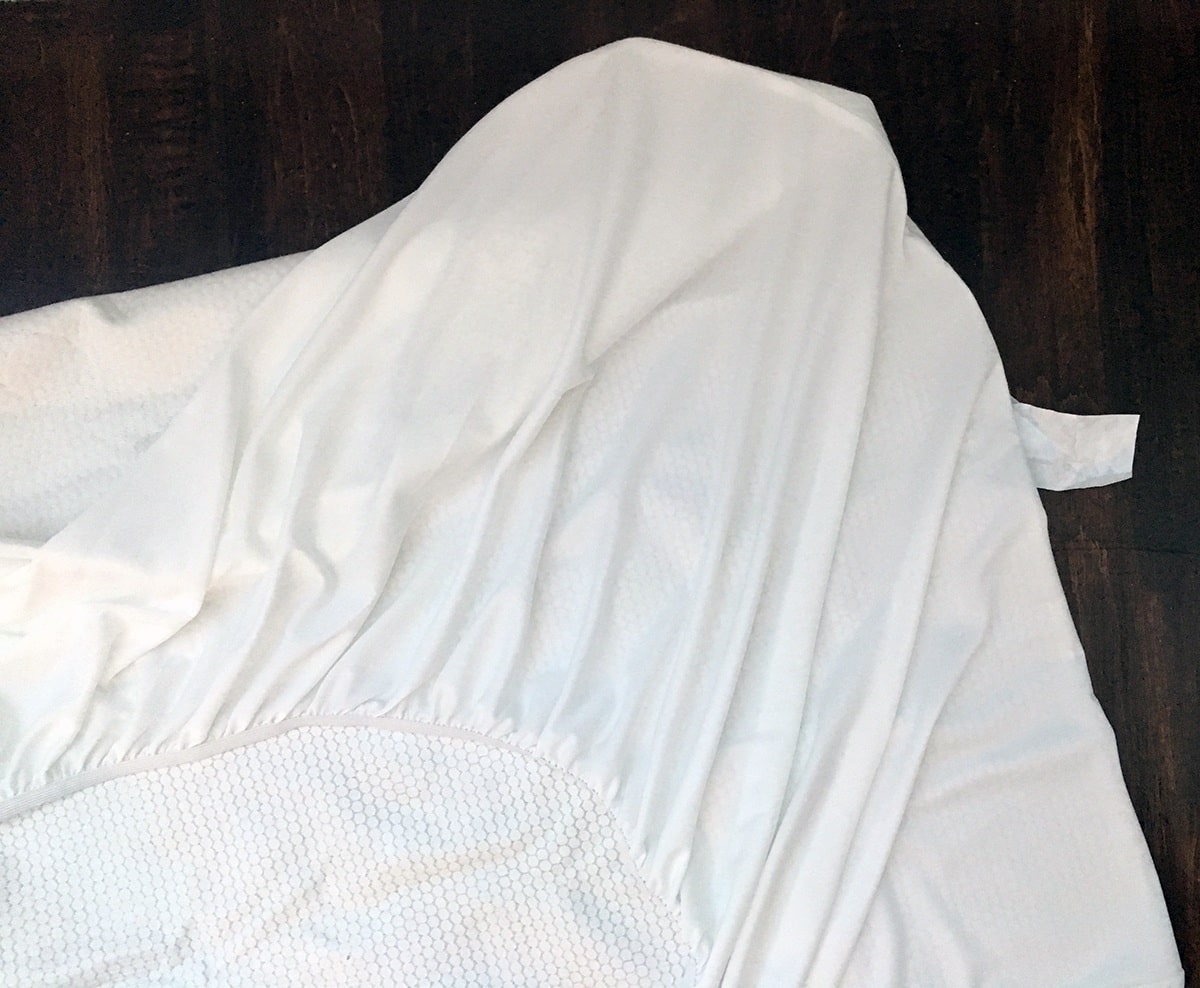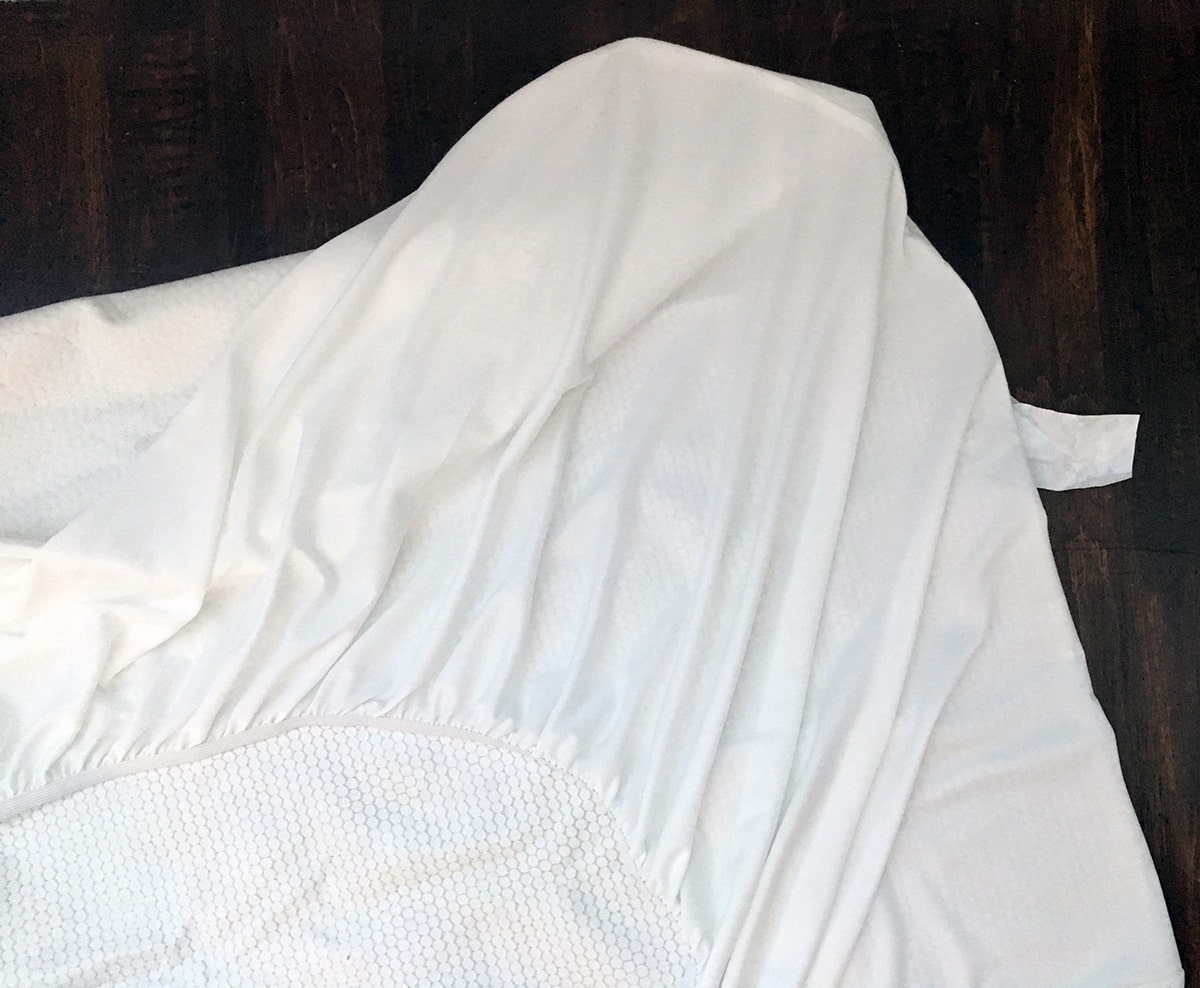 Waterproof Test
The top of the Dry Line mattress protector is said to be waterproof, so I decided to put this to the test.
I poured 6 ounces of water directly on it and let it sit for more two hours. After pulling up the protector and swiping my hand under the soaking protector I felt no moisture or dampness. It passed the waterproof test for me with flying colors.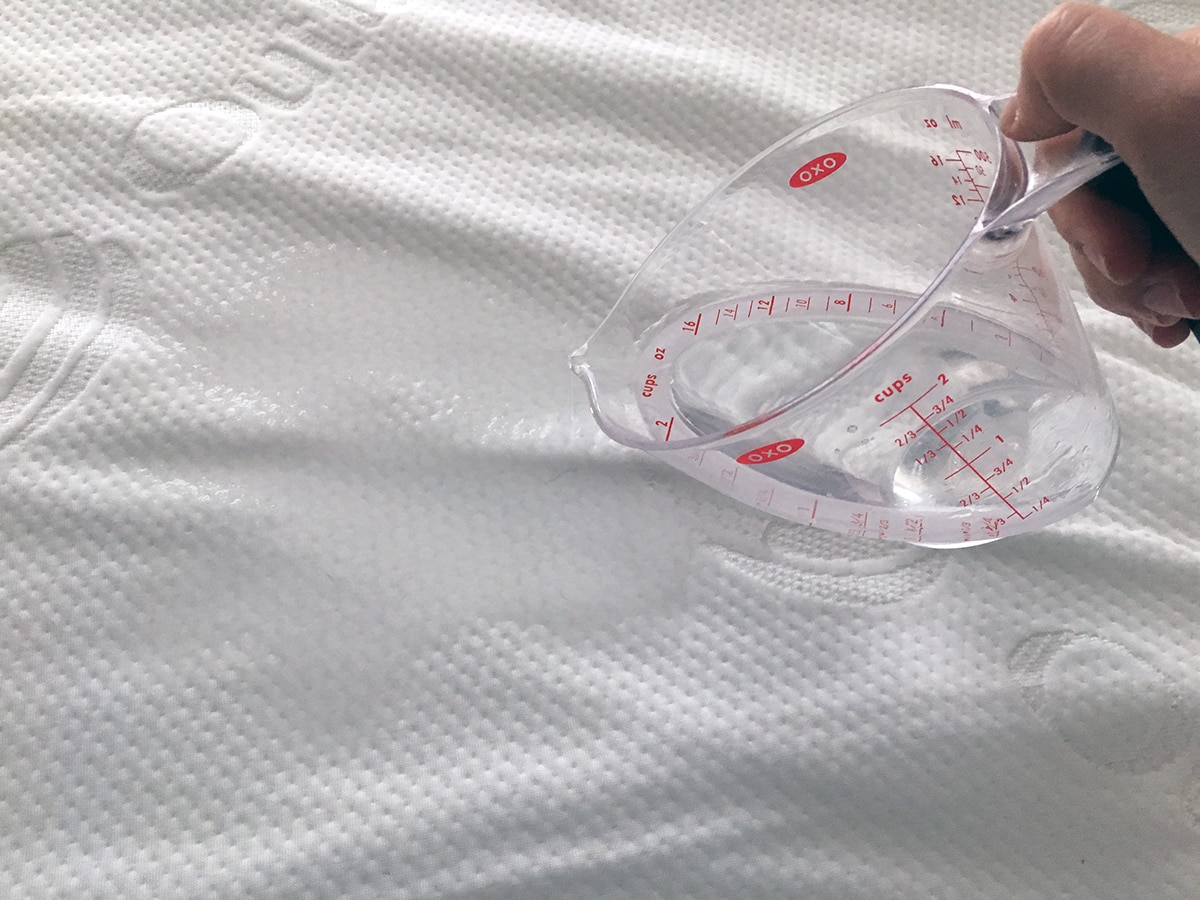 Keep in mind that the parts of the protector that cover the sides are not waterproof. If a spill/leak/accident happens on the top of the mattress protector – but close to the side or a corner – it could be absorbed by the side material and transferred onto the mattress.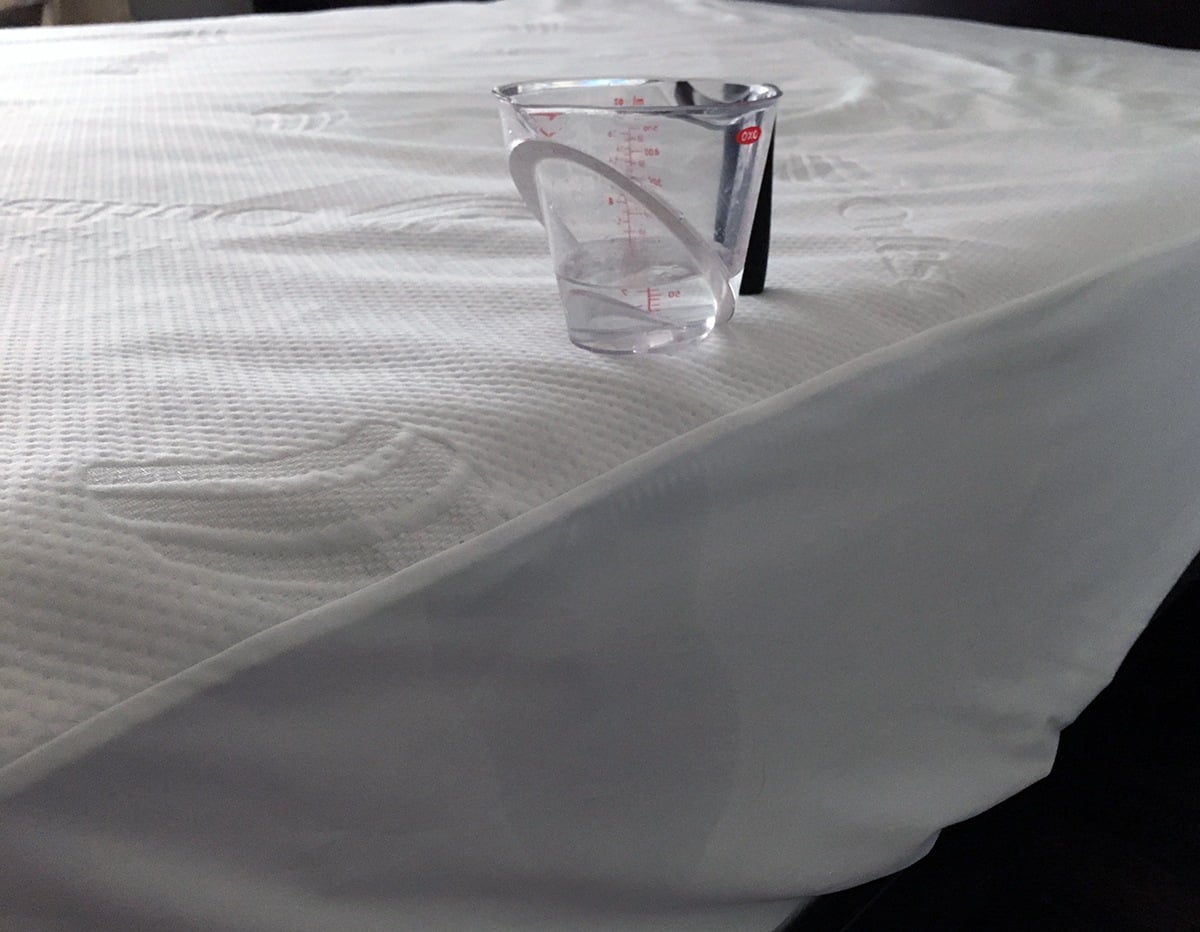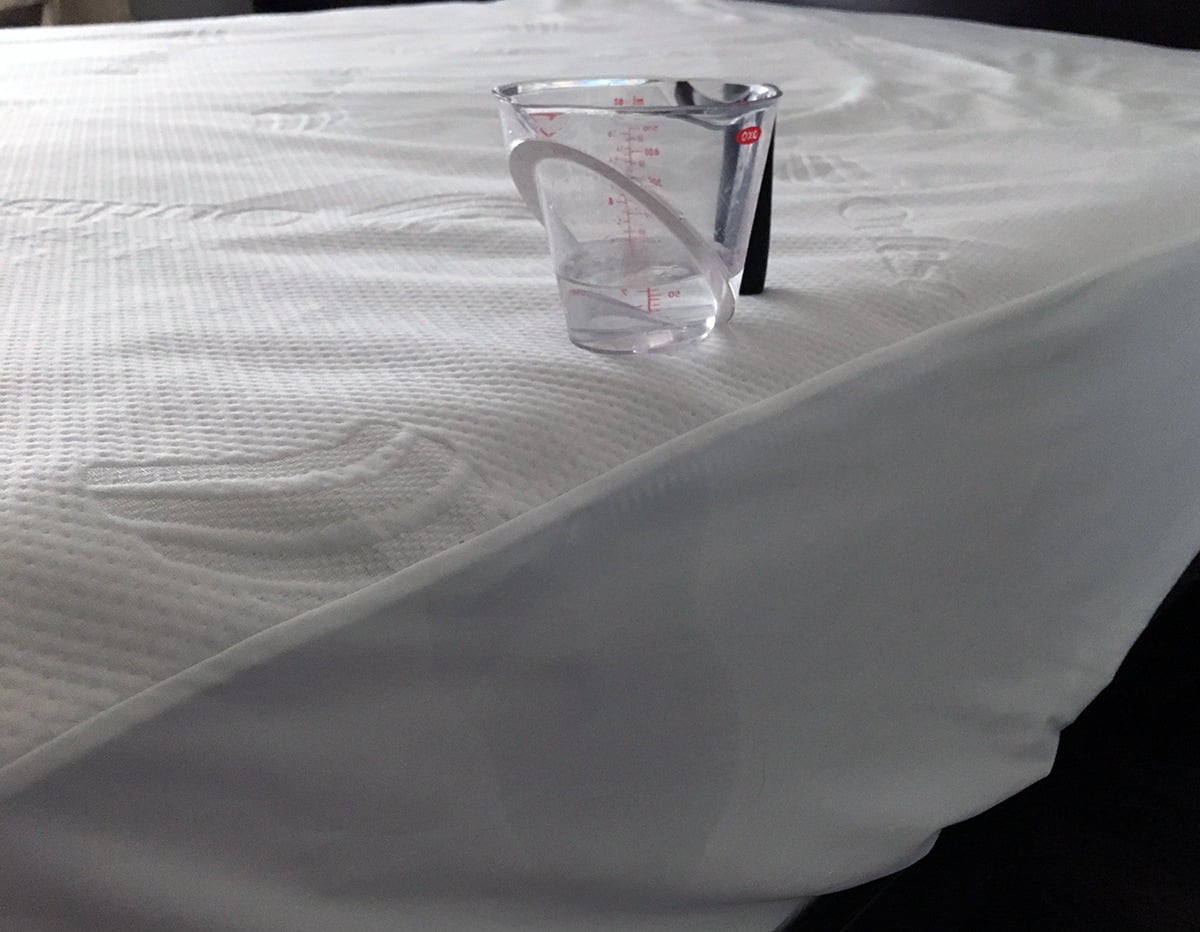 Heat-Management Experience
The Dry Line mattress is said to be geared towards individuals who "experience mild sleep discomfort and temperature swings."
I did my best to control the rest of my sleep environment when assessing the temperature controlling capabilities of this protector.
I set the same temperature at my house (73 Fahrenheit), wore the same pajamas (100% cotton long sleeve and long pants) and kept the same sheets on my bed (Brentwood Home Sonoma sheets).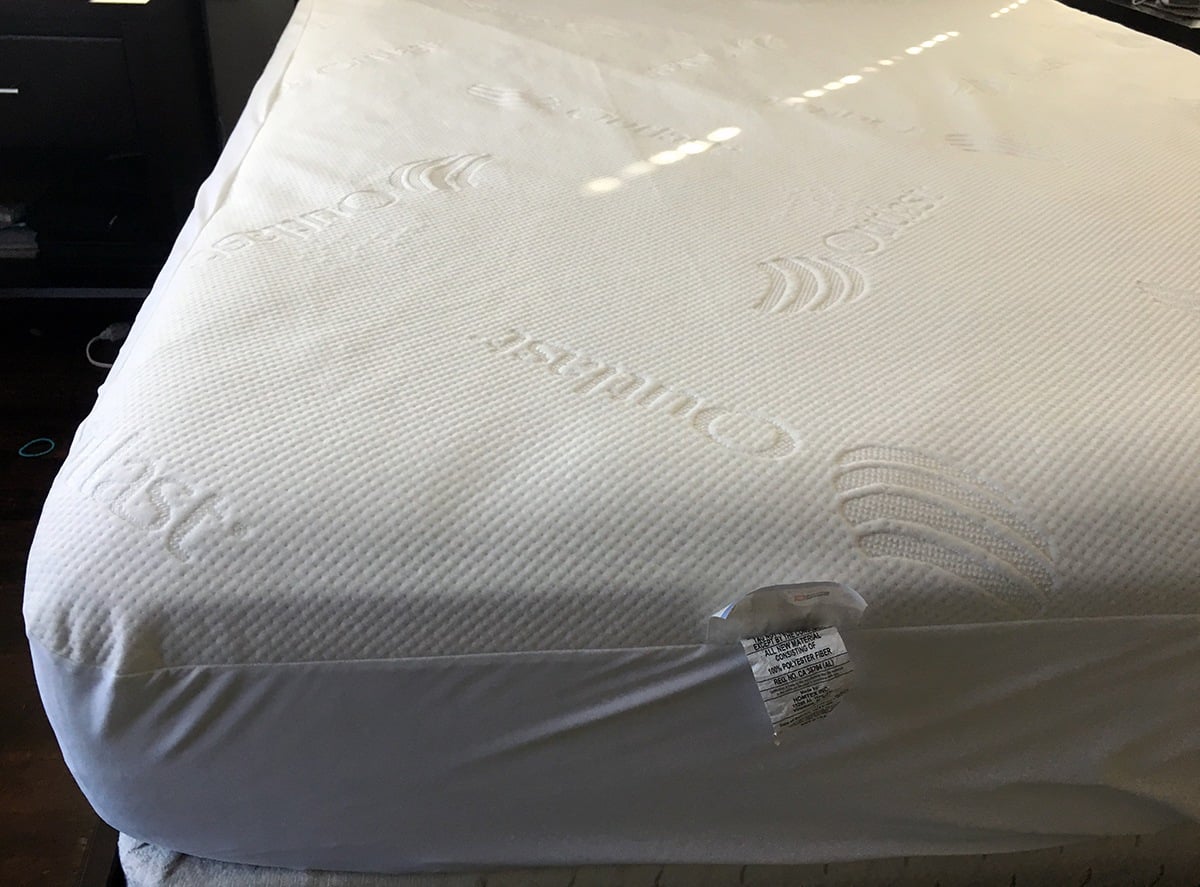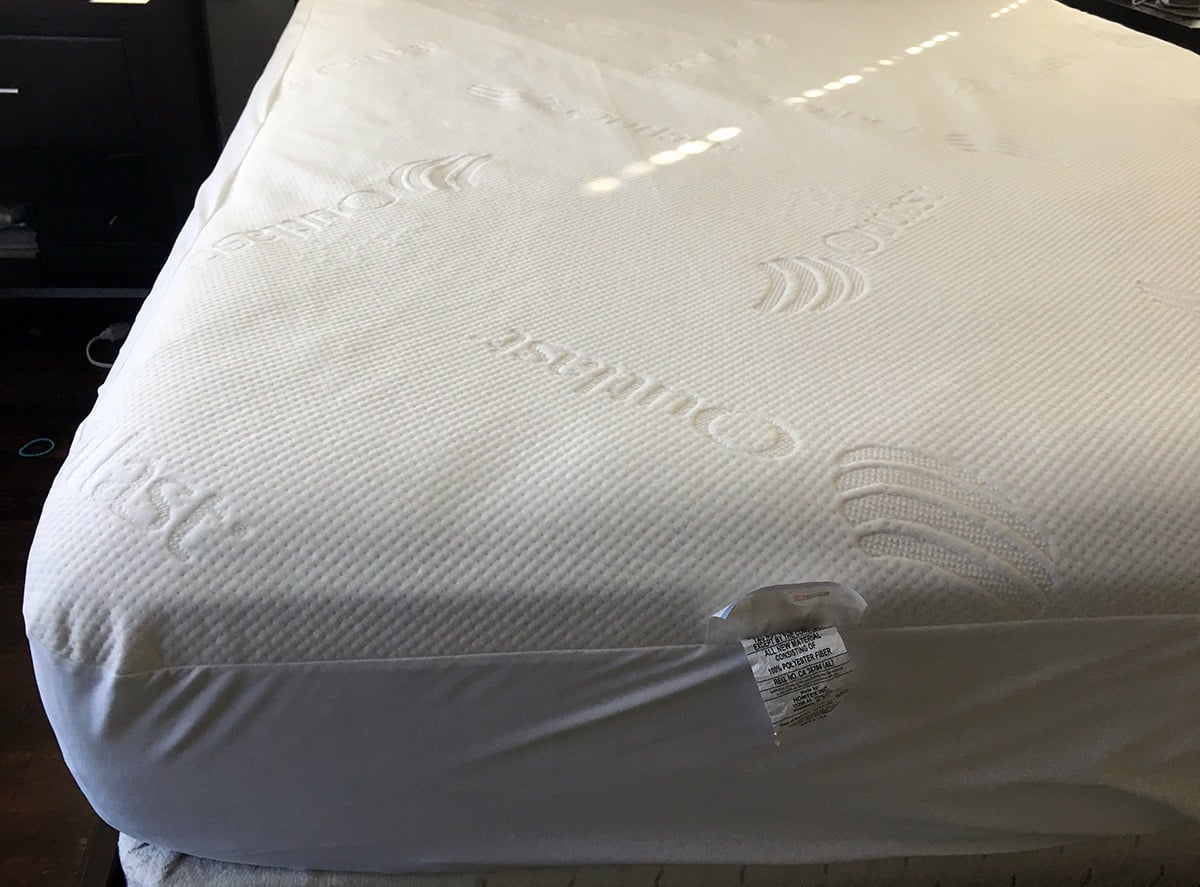 I slept with the mattress protector directly under my sheets – no mattress pad – for three nights.
Each night the bed felt cool, even to the point that I was a little chilly. But soon my body temperature acclimated and it became quite comfortable.
But I also woke up each night in various stages of being overheated. The first night I was drenched in sweat (sorry for the overshare).
The second and third nights I was not as sweaty, but definitely warm.
Overall, I did not feel like the Outlast Technology process was working for me with this mattress. It may have absorbed all my body heat at the beginning of the night, but then it almost must have released it all at the same time – making me hot and uncomfortable.

Slumber Cloud Dry Line Mattress Protector
Summary
Overall, the quality, construction, and waterproof capabilities of the Dry Line Mattress Protector make it a great option (for those with a bigger budget). The heat management system provided by the company's Outlast Technology may not be the best fit for everyone but the risk-free warranty may make it worth a try for those looking to stabilize their body temperature at night.
Price and Value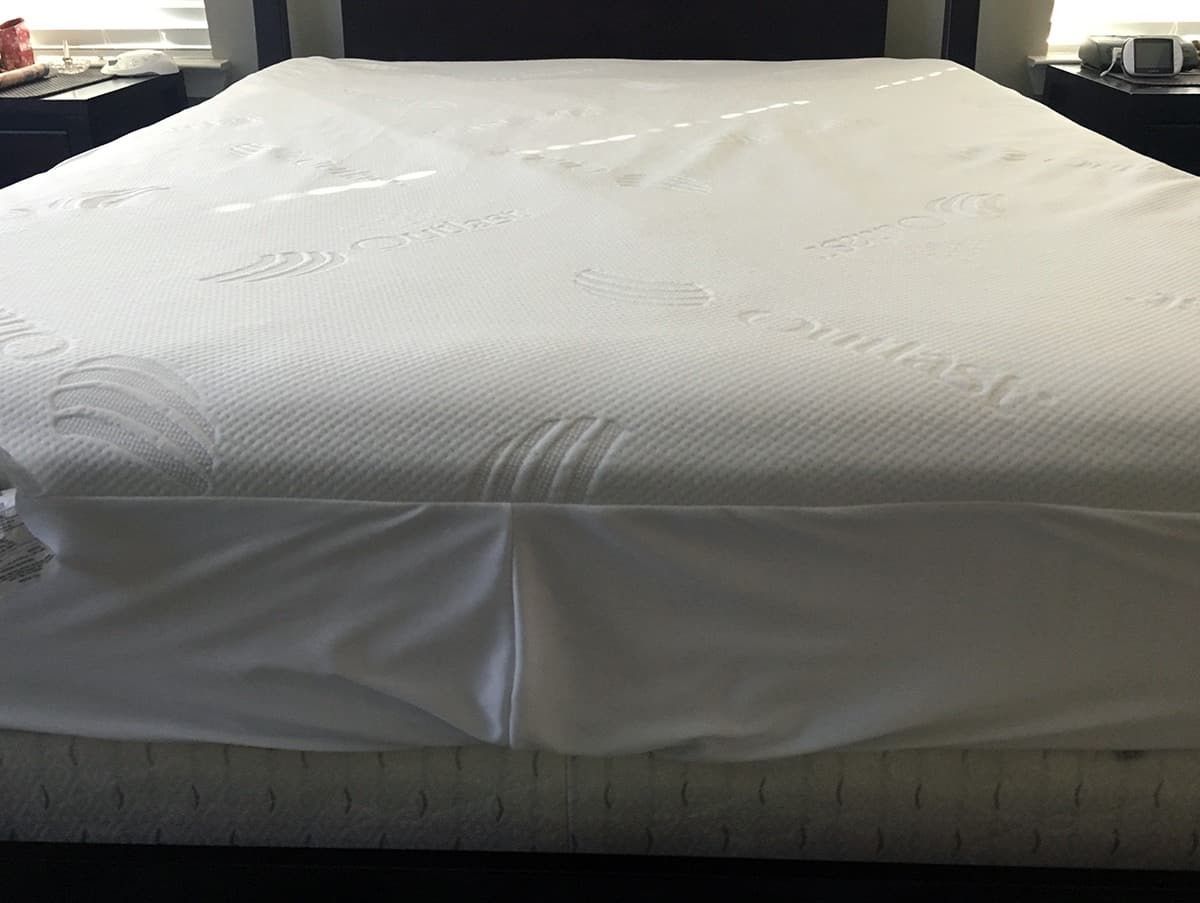 This mattress protector ranges from $139.99 for a Twin to $189.99 for a Cal King. This is definitely on the pricier side for mattress protectors – but it does promise a lot.
I think if people have serious body temperature swings, want something waterproof and have a thicker mattress, this mattress protector could be a potentially good fit.
I found the actual mattress top to be comfortable and reduced noise – that "crinkling" sound that often accompanies mattress protectors. I felt like the weight of the product was a nice quality and the construction seemed well done.
For those looking for something to simply lay on top of a mattress to make it more comfortable – like a mattress pad – this would not be an especially good fit. This is designed to be more of a protector than a pad.