Brentwood Home's Sonoma sheets are not only soft and durable but they're designed and manufactured with thought and care about the environment. The real question is, are they worth the price and can the sheets ever be truly wrinkle-free? Check out my video review and read on for my full written review.
Brentwood Home Sonoma Sheet Set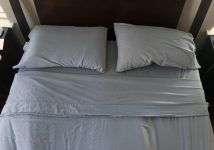 Brentwood Home's Sonoma sheets are not only soft and durable but they're designed and manufactured with thought and care about the environment.

Read Full Review
Key Features
Sheets are produced with a combination of organic, non-toxic, and natural materials; no chemical retardants, phthalates, ozone depleters, or heavy metals
Each is individually garment-washed by a local eco-friendly dye house (which means there may be slight variations in color)
Resistant to fading and shrinking
With every wash, the fabric blooms, becoming softer
Three available colors
Each Set Comes with 1 fitted sheet, 1 flat sheet, and 2 pillow covers
Queen Set Size:

Fitted Sheet: 60″ x 80″
Flat Sheet: 100″ x 111″
Pillow Cover: 20″ x 33″

Machine wash sheet bundle in cold water with like colors and tumble dry on low. Those line-drying the sheet bundle – keep it out of direct sunlight, so it won't fade; avoid bleach or other detergents that might strip the cotton of its dye.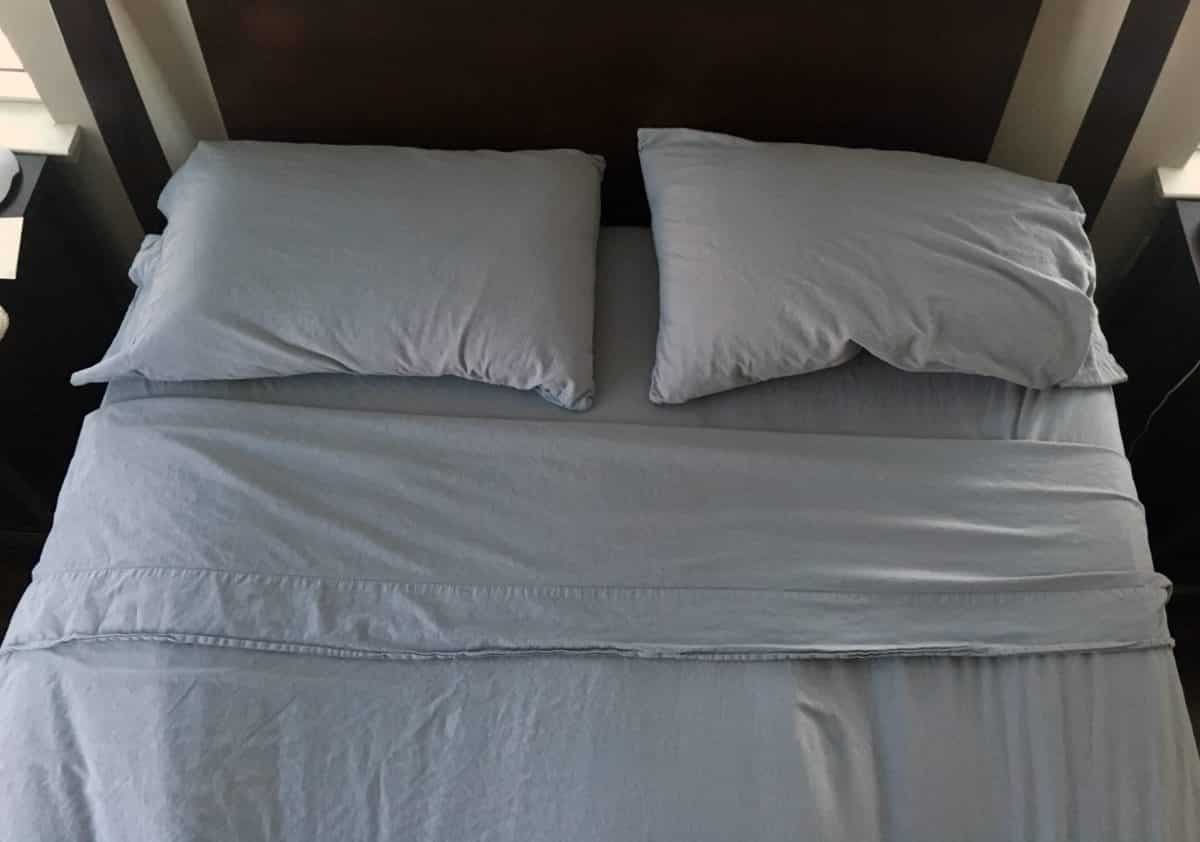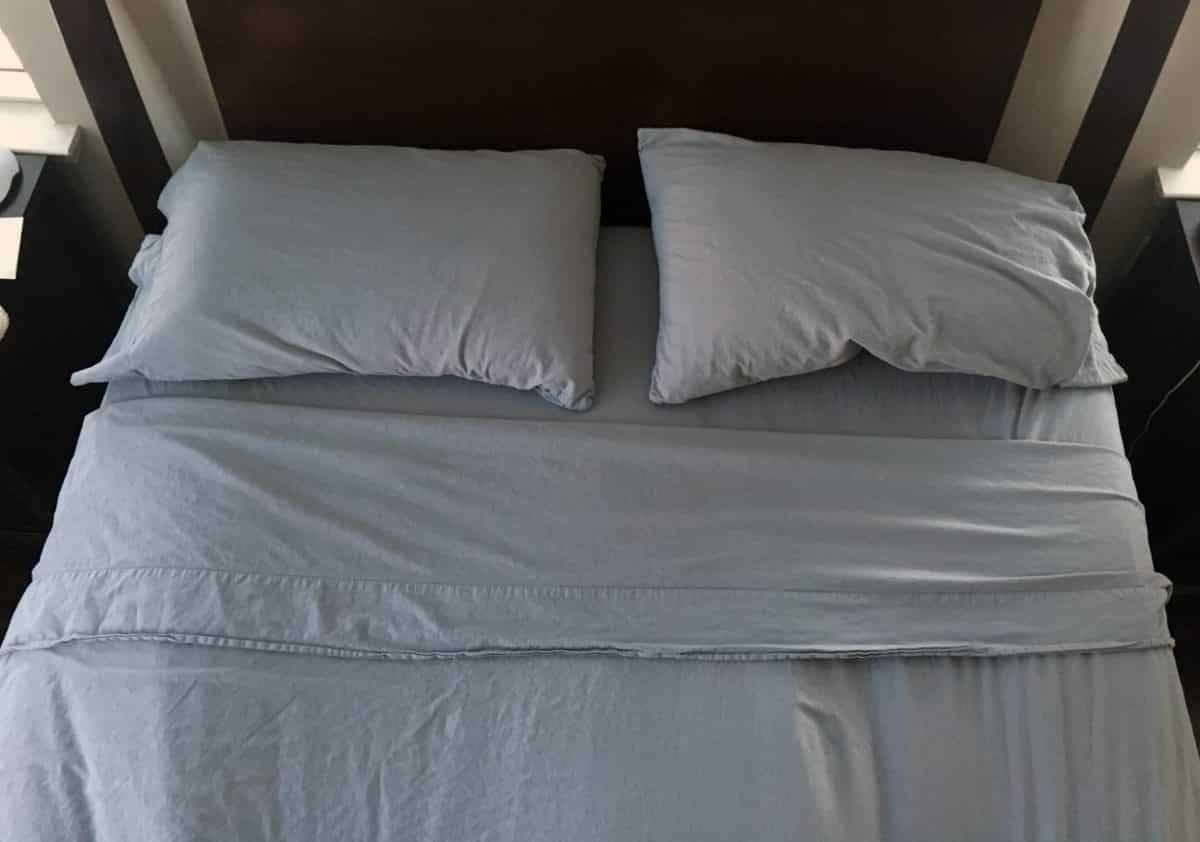 Who Makes It?
Brentwood Home has been designing and manufacturing sleep products like mattresses, pillows, and sheets for years  – the company prides itself on its ethical practices. They have dedicated time to researching and sourcing materials responsibly and working to be good stewards of the environment.
They primarily sell different types of mattresses – can check out the Gel 13' mattress review here – they  also sells one set of sheets, the Sonoma sheets, which I will be reviewing.
Pros
Soft, lightweight feel
Three lovely neutral color options
Simple care instructions
Durable
Fade-resistant
Cons
Prone to wrinkling easily
Each set of sheets may be slightly different in color than others; replacement of one or two parts of the bundle will prove difficult
Price – on the more expensive end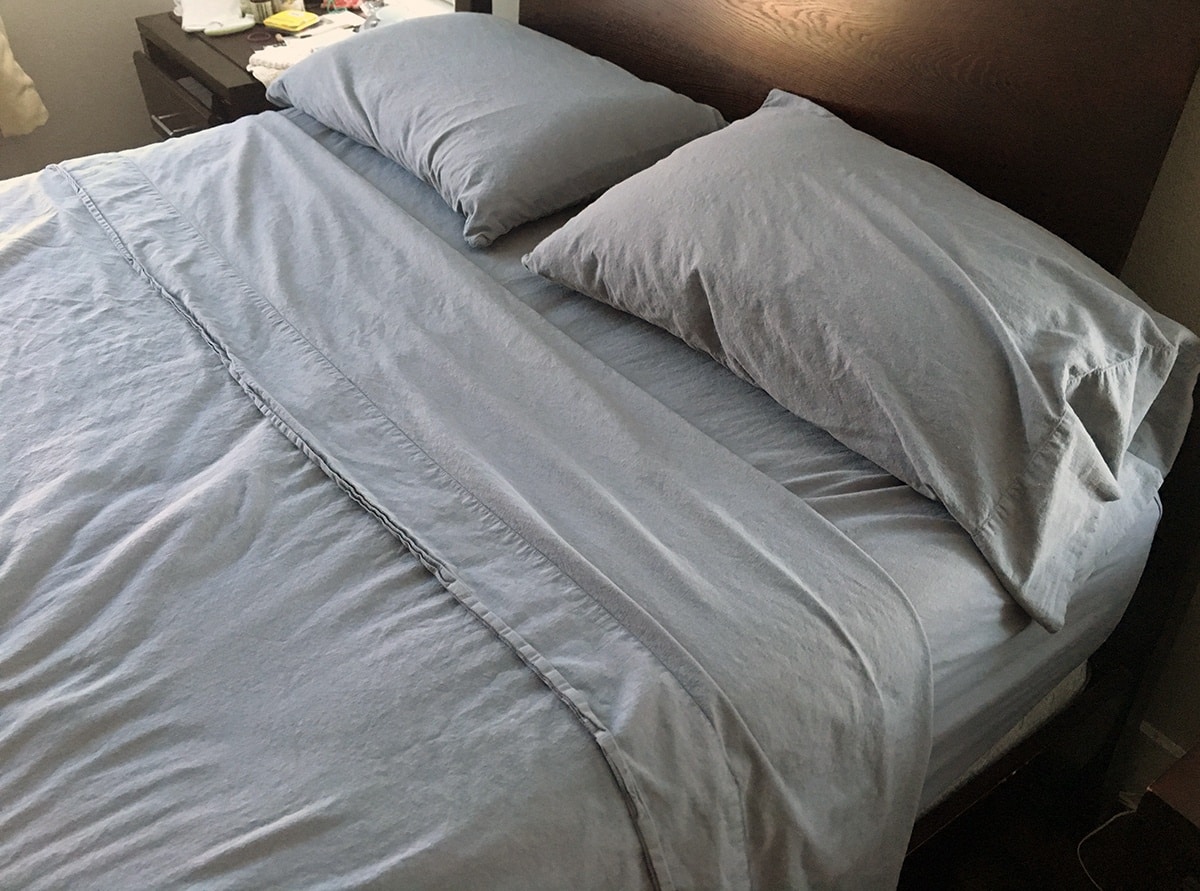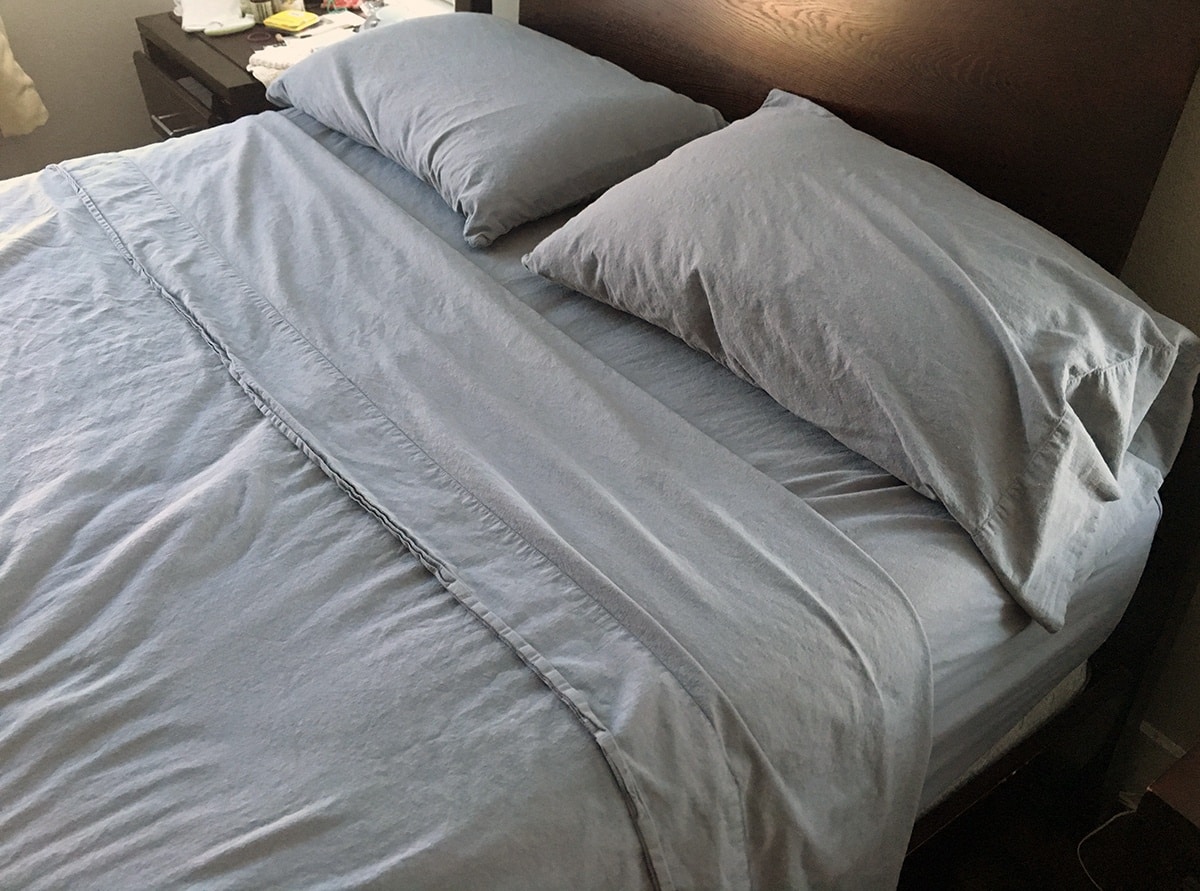 Brentwood Home Sonoma Sheet Set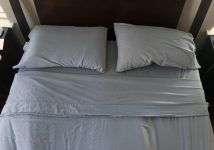 Brentwood Home's Sonoma sheets are not only soft and durable but they're designed and manufactured with thought and care about the environment.
Read Full Review
My Experience
Brentwood Home's Sonoma Sheets are made from 100% cotton – the fabric is woven in such a way that they feel almost worn-in and soft and comfortable right from the start.
I reviewed the Queen sheet set in the Slate color, a nice deep grey, and the sheets came in an adorable white bag, tied at the top with some ribbon. I can see this being a very Instagram-friendly gift for someone in need of a fresh set of sheets.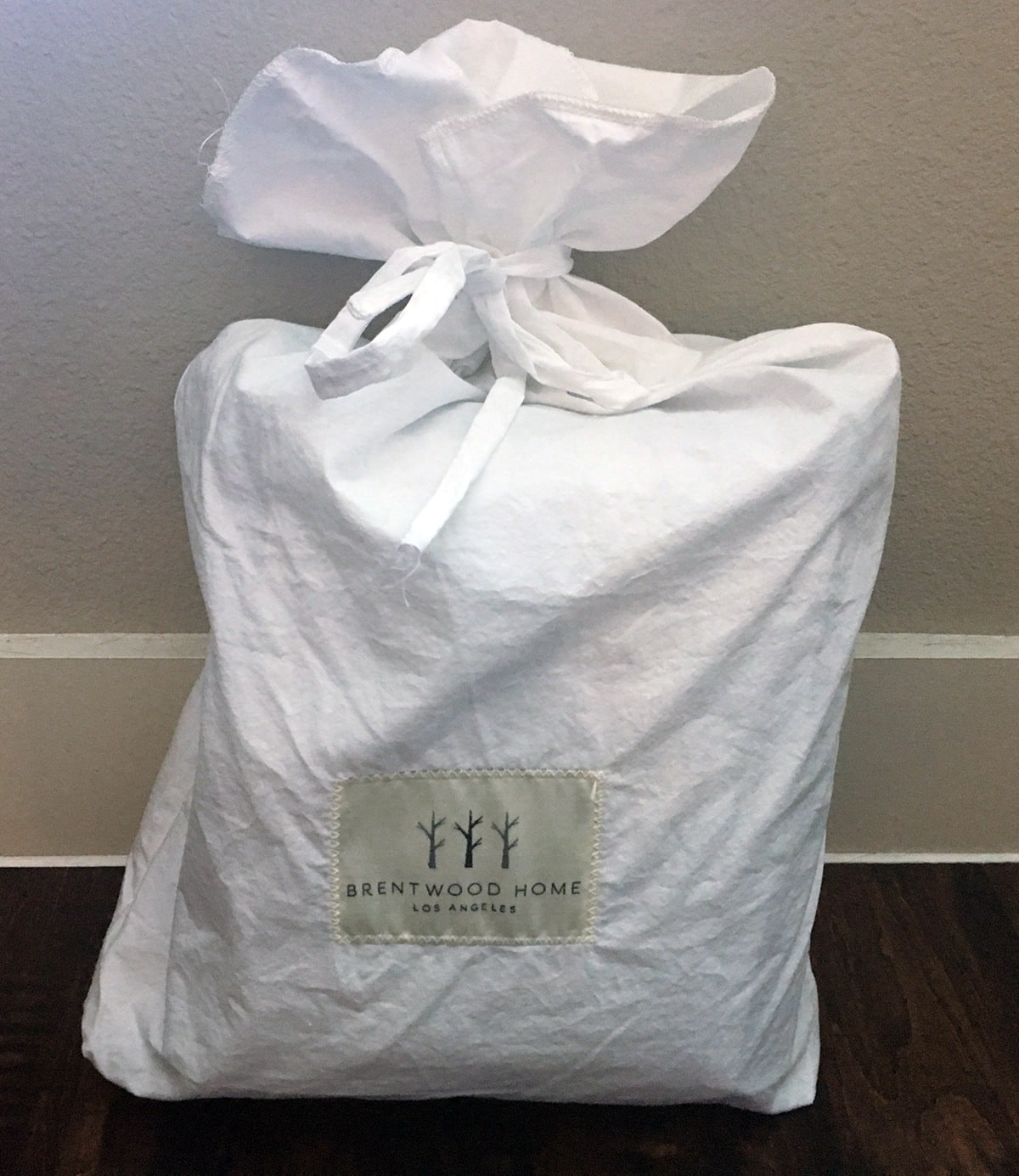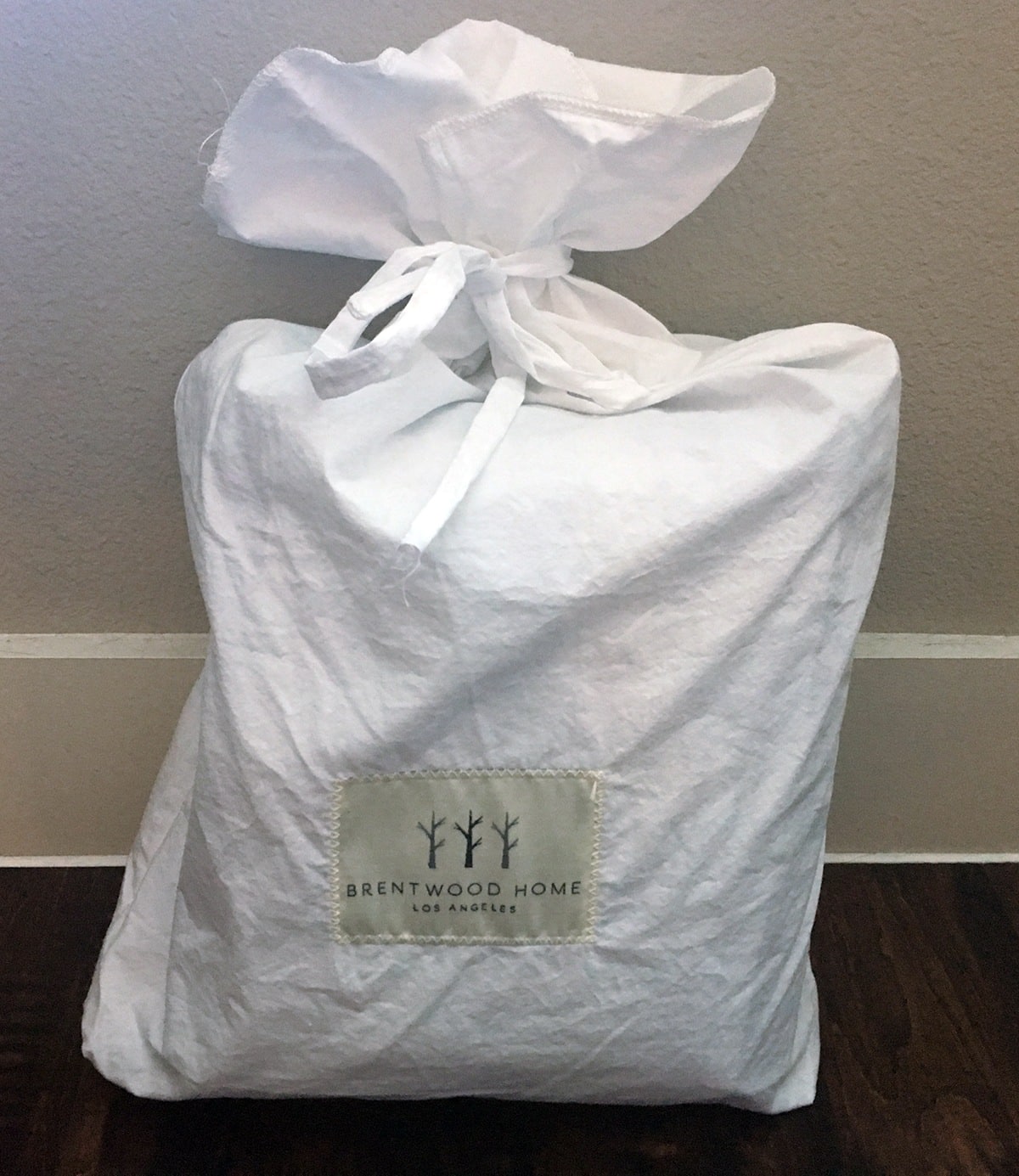 These cotton sheets offer a more noticeable texture than other cotton sheets – they almost feel like a type of linen sheets with their weave (but they're not called linen sheets). They are described as being "crisp-soft" on Brentwood Home's website, but I would disagree with the "crisp" description.
I machine washed my sheets in cold water on a gentle cycle with Seventh Generation detergent. When I pulled the sheets out of the wash they felt like a pile of wet t-shirts (which, I think, is a good thing!). Very soft.
After a low tumble dry, I draped the sheets on my bed. There was plenty of room on both sides and the fitted sheet fit well on my 10-inch mattress. It should be able to go up to 18 inches and with I think that's definitely do-able.
Brentwood Home's manufacturing process and dedication to reaching certain environmental standards is something that sets these sheets apart from many others.
The sheets are a special combination of cotton materials that are free from any chemicals and other potentially hazardous materials. They are made with organic and non-toxic materials so those who prioritize eco-friendly sheets can feel good about these.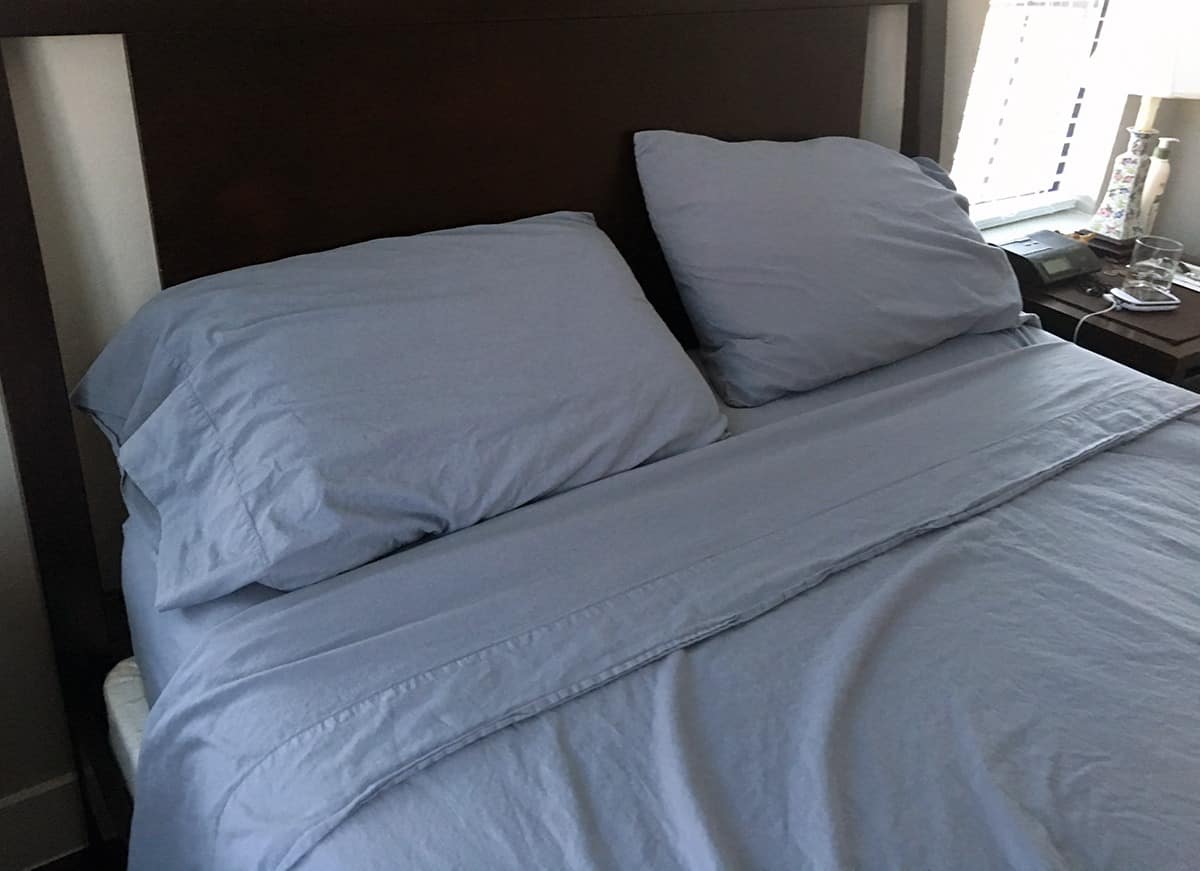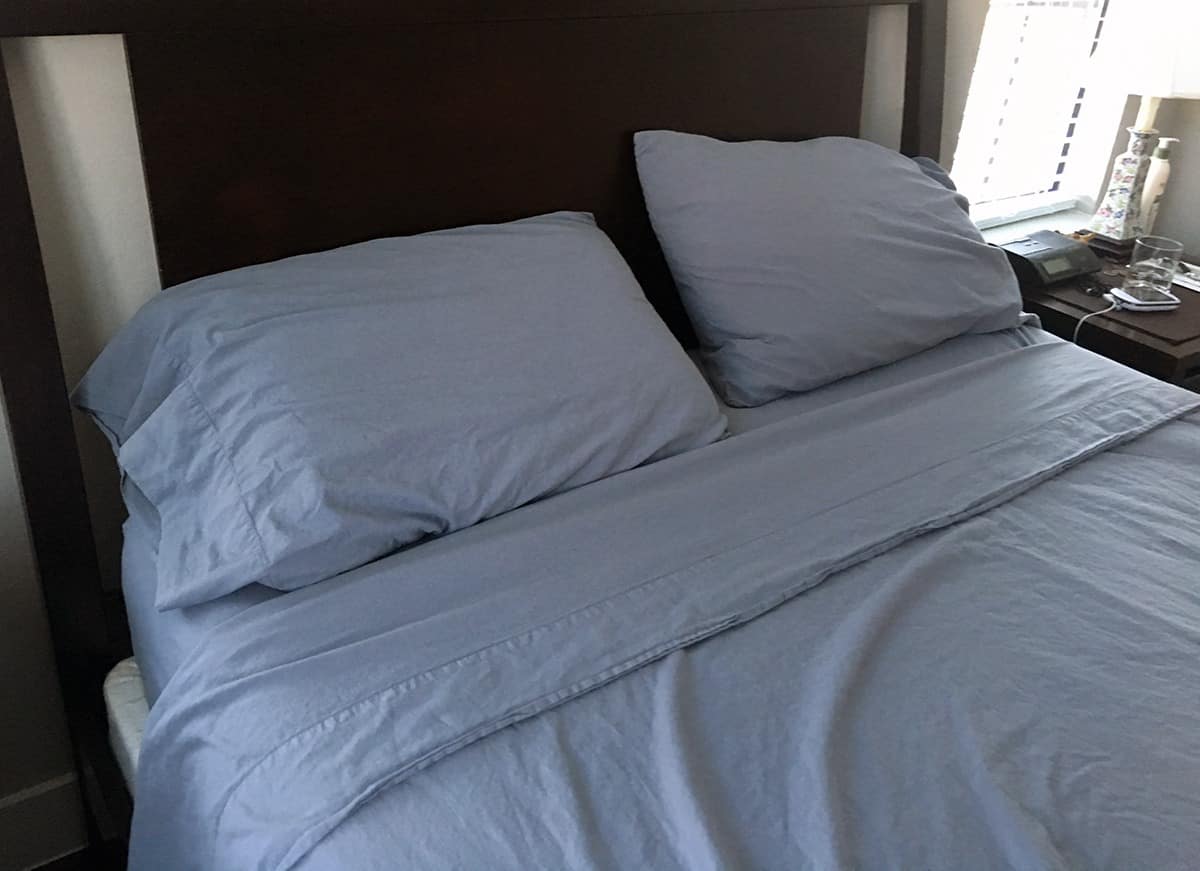 I think the materials used to create the fabric for these sheets is what gives it the unique texture that it has. As I mentioned before, when I first pulled the sheets out of their container, they felt like previously used sheets – very worn in and already soft.
Those looking for crisp, new, lightweight sheets may not find the Sonoma sheets to be the best match. Maybe it has something to do with the darker Slate color, but the sheets felt perfect for people who like a cold bedroom and want to snuggle and bury deep into their sheets and dive under their covers.
Like most cotton sheets, these tend to wrinkle naturally; I would suggest putting them on the bed when they are warm and fresh out of the dryer to reduce wrinkling.
In the natural light, the sheets have a little more blue in them than can be seen from the photos but regardless, I think the grey/blue color is very spa-like and relaxing.
Brentwood Home Sonoma Sheet Review
Summary
The Sonoma sheets by Brentwood Home combine softness and comfort with eco-friendly production. The sheets are designed by an environmentally conscious team and are intended to be fade resistant, shrink resistant and get softer with each wash. Be sure to wash gently in cold water with a low tumble dry and take out of the dryer quickly to avoid wrinkling.
Things To Consider Before Buying
There is no doubt that the sheet bundle is lightweight but that is not necessarily synonymous with crisp (a percale weave); these are not the same feel as classic hotel sheets. Rather, these sheets have a more worn-in and less structured feel, while still remaining 100% cotton.
The sheets come in a wide price range- a Queen set of Sonoma sheets cost $195.00 on Brentwood Home's website, which puts them towards the higher end of sheets (although they can certainly get more expensive). The value does match the quality – in my opinion  – and they're a good match for those who are environmentally focused and health-conscious.
Each set of sheets may be slightly different in color than others because they are washed at a local dye-house near Brentwood Home. That is cool and eco-friendly, but it means buying two sets in order to have a backup pillowcase or other sheets can become very difficult because of the lack of color-matching between the sets.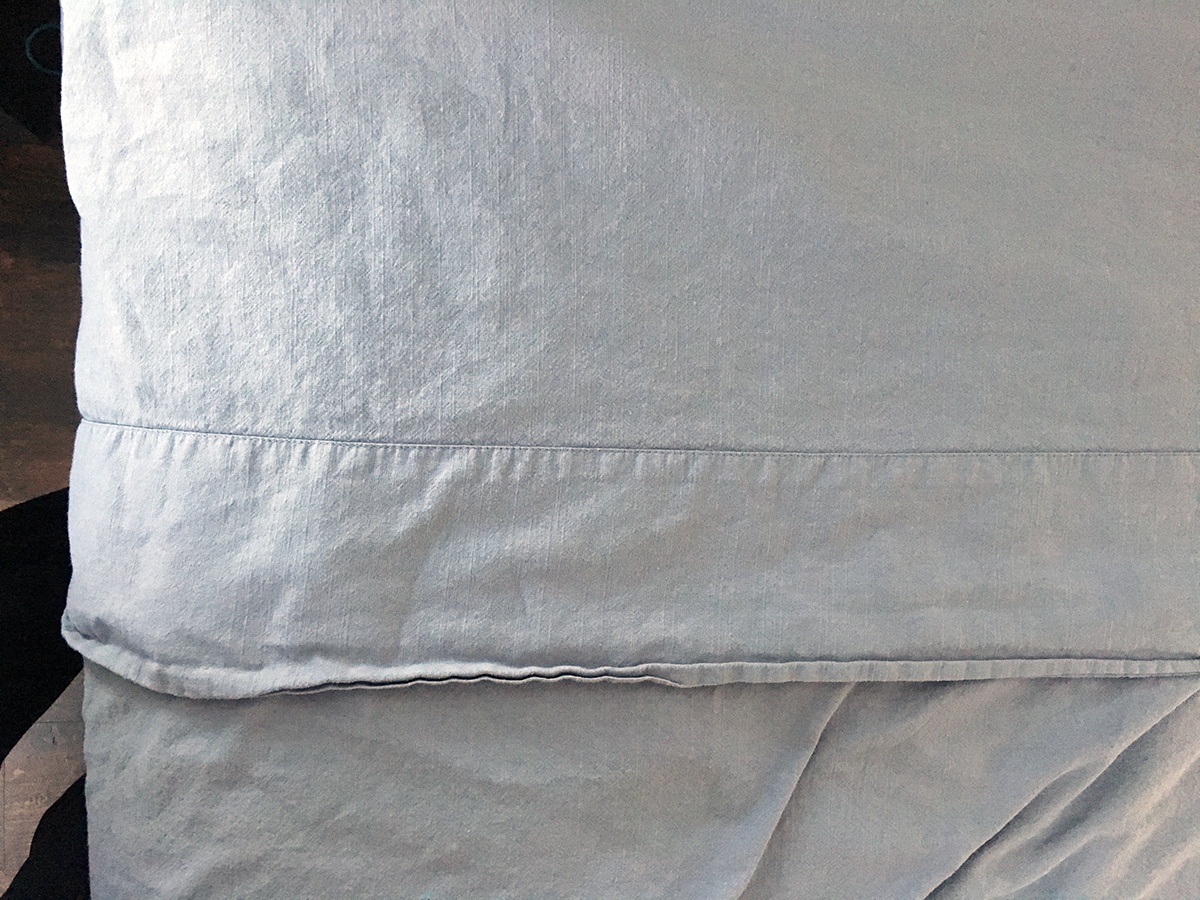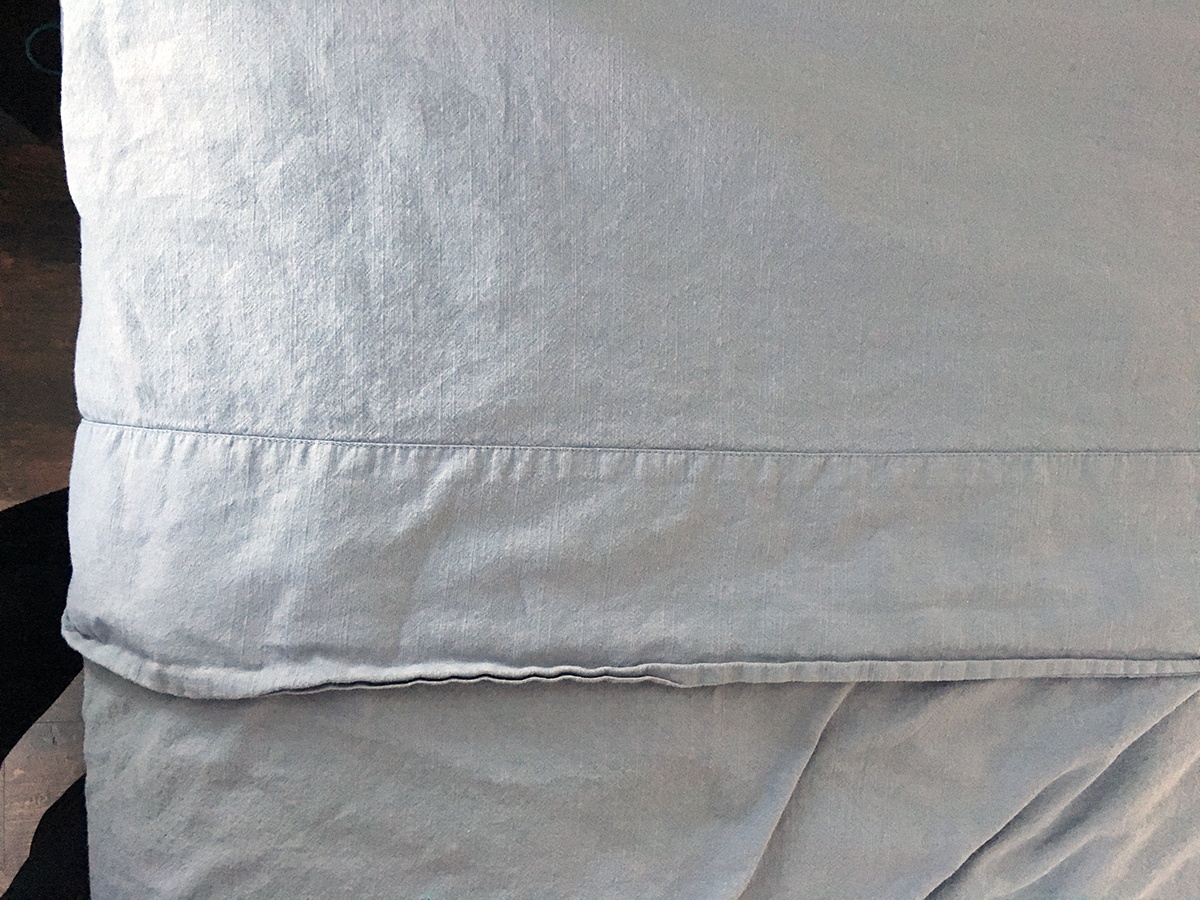 Price
As I mentioned above, the sheets retail for $195.00 for a Queen set; the same price for all three color options.
Based on my experience, I think these sheets are a fair price for their quality and value – especially since they're supposed to be fade-resistant, durable and get softer with each wash. Those who have their hearts set on a set of organic cotton sheets can also check out our review of the SOL Organics sheets as well (read the review here).
Katie Golde
Katie previously managed the day to day operations of the Mattress Clarity news site and reviews sleep products in addition to writing and editing sleep news. She hails from Austin, where she lives with her growing family. She is a Certified Sleep Science Coach and has a master's degree in Journalism from Northwestern University and has a background in health and science content. Her work can be found in print and online publications like Discover Magazine, USA Today and The Huffington Post.