I wanted to try out the Bamboo Gel 13″ because 1.) it looks like finally a quality foam mattress that could compete with Tuft & Needle at a lower price point and 2.) Brentwood Home has a solid reputation of making quality products.  I liked the mattress, but had a few complaints as well (see how the Bamboo Gel 13 compares HERE).  Watch my video review below for my initial thoughts.
EDITOR'S NOTE: The Brentwood Home Bamboo Gel 13″ Mattress is no longer available. See our best mattress page for some other great options!
You will like the Brentwood Home Bamboo Gel 13″ if…
You want great value – this mattress isn't the best memory foam mattress I've ever slept on, but for the price, it really stands out.  Brentwood Home is able to do this because they have their own factory and sell primarily online, passing on a lot of savings to the consumer.
You are a side or back sleeper – the mattress is a touch softer than average, making it a great option for side sleepers.  It feels great when laying on your back as well.
You want comfort AND support – the mattress has a fairly plush comfortable feeling on top, but when laying on it you quickly feel supported.  Overall great memory foam feel.
You don't want to sleep hot – many people avoid memory foam because it is known to sleep hot.  The Bamboo Gel is constructed to make sure this doesn't happen, and I had no problem with the mattress sleeping hot in my experience.
Click Here for 10% Off the Bamboo Gel 13 mattress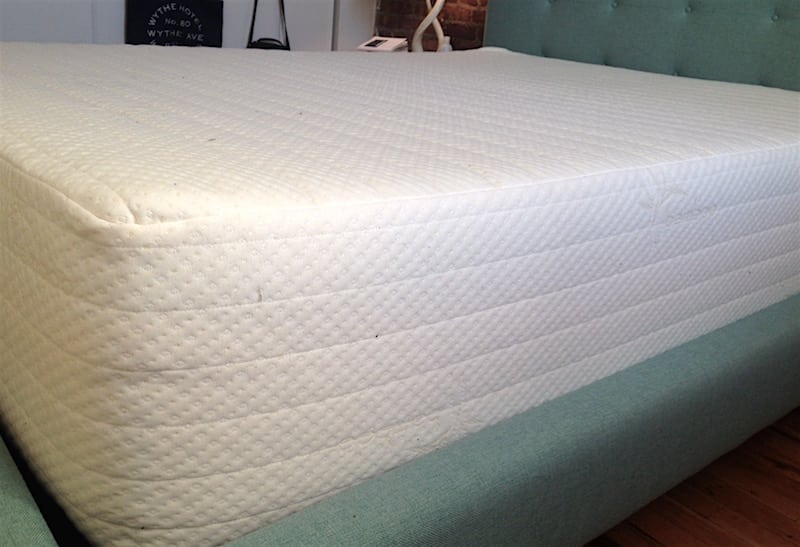 You may not like the Bamboo Gel 13″ mattress if…
You are looking for a luxury memory foam mattress – this Brentwood Home mattress is a good sleep and great value, but if you are willing to spend more, you can get a higher-end mattress.
You don't like memory foam – this may seem obvious, but many people who love strong brands (like Brentwood Home) end up buying a mattress type they don't really like because of the story behind it.  Great story, but if you don't like memory foam, this mattress won't change your mind.
Firmness and Feel
I rate the mattress a 6 or 6.5 out of 10 on the firmness scale. It felt great sleeping on my side and back, but not great when sleeping on my stomach.
Motion Transfer test
If you're sleeping with a partner, you'll want to think about motion transfer as part of your mattress purchase decision.  Memory foam typically performs very well during this test, and the Brentwood Home Bamboo Gel 13 is no exception.  See the test results below:
Construction
The most interesting part of this mattress is that it is manufactured in the USA, in the Brentwood Home factory in Los Angeles.  It has good quality memory foam mattress specs, including:
Bamboo cover – Brentwood Home went with bamboo because its a great natural fiber that is both soft and strong.  Bamboo isn't too common among covers I've reviewed, but after trying it I liked this cover much better than most of the cotton covers I have tried.
All-natural wool sleeping surface – wool is a good natural option to regulate temperature and act as a fire barrier
3.5 inches of gel memory foam – the primary comfort layer, this gives the benefit of a great comfort/support tradeoff.  The gel acts to keep the mattress from sleeping hot.
2 inches of ventilated support foam – acts as a transition layer between the comfort layer and base layer, providing additional ventilation as well.
7.5 inches of base foam – base foam is important for the support of a mattress, don't worry about specs too much for this one (I didn't see them provided on the Brentwood Home site).
For Back, Stomach, and Side Sleepers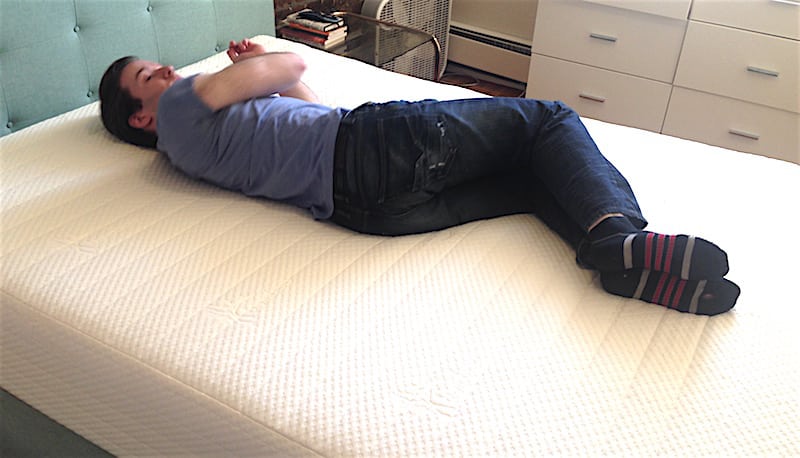 As I stated previously, the Bamboo Gel is a bit on the softer side, and I found it to be a great option when sleeping on my side.  I liked it when sleeping on my back as well, but I think it may be too soft for you if you sleep a lot on your stomach.
Other things to note
Made in the USA (Los Angeles)
They have a 120 night guarantee (return for a full refund within 120 days)
The Bamboo Gel memory foam also comes in 11 inch, 10 inch, 9 inch, and 7 inch models
Final Recommendation
Brentwood Home has a great reputation in the industry, and I can see why the Bamboo Gel 13″ is their most popular mattress.  It's a very good quality memory foam mattress at a really unbeatable price.  If you are looking for a memory foam with great value, I think you will be hard pressed to find something better in this price range.
Click for 10% off any Brentwood Home mattress or pillow
Brentwood Home Bamboo Gel 13 Mattress
Pros
Great value at lower price range
Made in USA
Great support/comfort tradeoff
Summary
Brentwood Home has a number of quality mattresses available, one of their most popular being the Bamboo Gel 13 inch. This mattress is not a luxury item, but for the price it really blows away anything similar that I have reviewed. If you have a low budget but want a quality memory foam mattress, I would definitely recommend a look at this mattress.
Return Policy/Warranty
4.9
Overall Sleep Experience
4