If you just got a new bed, and want to be extra careful about making sure it lasts as long as the warranty says, then a mattress protector can help out. They can fight dirt, dust, allergens, and repel water.
In this Saatva mattress protector review, I'll cover everything that makes this protector great. From its performance on repelling water, to if it stays quiet, I've tested everything. Keep reading to find out all the details!
Saatva Mattress Protector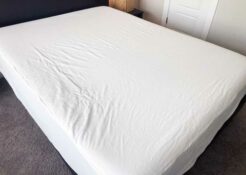 This organic cotton mattress protector feels soft to the touch and won't make noise under your sheets.
Mattress Clarity Score
5.00 / 5
Read Full Review
Saatva Mattress Protector Overview
Here at Mattress Clarity, we love a good Saatva mattress, like the Saatva Classic and the Loom & Leaf mattresses. But Saatva also makes a variety of high-quality bed accessories to make sure your mattress is ready for anything.
For those who want to keep their bed clean and protect it from any sort of accident, then the Saatva waterproof mattress protector is for you. Here's a quick overview:
Who Might Like the Saatva Mattress Protector?
Anyone looking for a quiet mattress protector
People who prefer cotton protectors
Who Might Not Like the Saatva Mattress Protector?
Shoppers on a budget
Anyone looking for a bed bug proof protector
Saatva Protector Video Review
Saatva Mattress Protector Performance
Let's jump right into the most important part: how the Saatva mattress protector performed.
Liquid Protection
With waterproof in the name, I'm happy to report that the Saatva protector is indeed waterproof! To test this out, I got a glass of water and spilled a good portion of it on the protector without a sheet on top.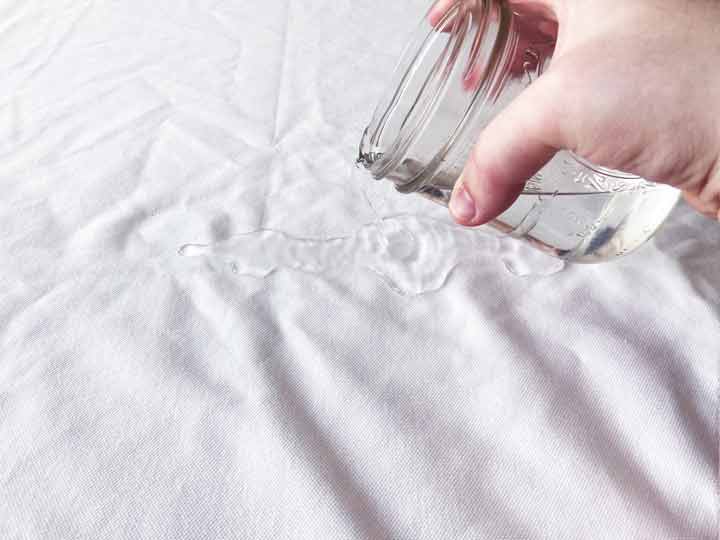 You could see the water pool around the top and collect into a puddle, which is common for water-repellent products. I let the water sit for a few minutes before drying. I pulled up the cover, and the mattress was still dry underneath!
Noise
Some protectors are made with plastic that can be loud and crinkly. While the Saatva protector is made of thick cotton and a thin polyurethane moisture barrier, this protector didn't make much noise, if any at all, while I slept with it.
Allergen, Dirt, Dust Protection
It can be a little difficult to fully test how well a protector fights allergens, dirt, and dust, as these tend to accumulate over time. But if you're worried about your mattress getting stained from accidents or spills, a protector is a good way to go.
And while Saatva doesn't list this as a hypoallergenic product, the company does mention protectors are good for those that live in humid climates that are worried about mold.
Breathability
Saatva ensured that this protector won't trap heat. It's made of breathable, moisture-wicking organic cotton. There are also many microperforations throughout the top of the protector to promote airflow. If you're a hot sleeper, this is a protector for you!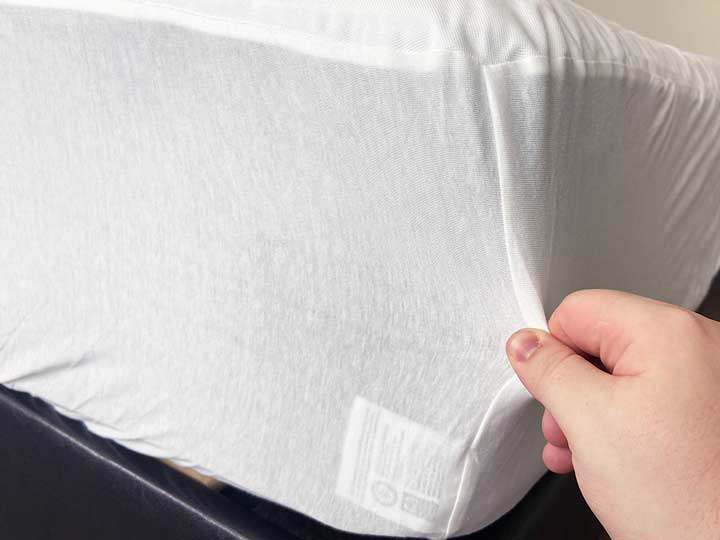 Care
The good news is that the protector is machine-washable! Saatva recommends washing with cold water on a gentle cycle, and then you can tumble dry on low heat. Do not use bleach.
Saatva Mattress Protector Construction
The materials that go into the Saatva mattress protector are organic, fair trade cotton, polyurethane and silicone.
The top and sides of this cover feature the cotton, which feels much softer than other protectors and mattress covers out there. Underneath the cotton, there's a thin layer of polyurethane which will help repel water.
To keep the protector on your bed, the elastic band is made of high-quality silicone. This protector can fit mattresses up to 16" tall!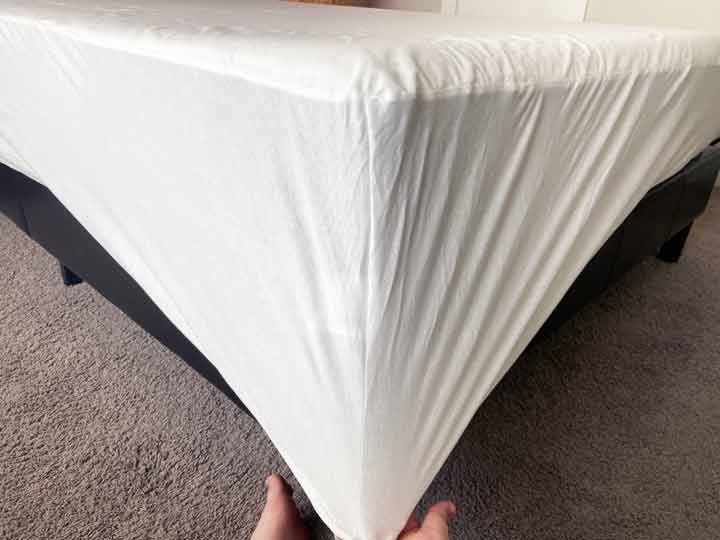 Saatva Mattress Protector Size & Prices
Take a look at our handy chart to get up-to-date pricing information on the Saatva waterproof mattress protector.
| | |
| --- | --- |
| Size | Price |
| Twin | $95 |
| Twin XL | $115 |
| Full | $125 |
| Queen | $175 |
| King | $195 |
| Cal King | $195 |
| Split King | $230 |
Saatva Mattress Protector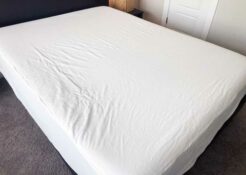 This organic cotton mattress protector feels soft to the touch and won't make noise under your sheets.
Mattress Clarity Score
5.00 / 5
Read Full Review
Sleeping on the Saatva Mattress Protector
Because the protector didn't add any additional cushioning to my bed, I was able to enjoy my mattress as it is. Though the top of the protector feels like a thick, canvas-like material, it didn't feel uncomfortable when I changed positions.
And I'm a hot sleeper, so even with breathable materials, I was curious about if this would cause my mattress to trap heat. But overall, I slept relatively cool!
Overall Rating
Take a look at our Mattress Clarity Score for the Saatva waterproof mattress protector.
Saatva Mattress Protector
Company Policies
Here's what you can expect when you make a purchase with Saatva.
Trial
Saatva offers a 45-day trial period for all of its bedding accessories. This gives you just a little over a month to decide if this is the right mattress protector for you.
Warranty
If you decide to keep your mattress protector, Saatva offers a 1-year limited warranty.
Return Policy
Saatva offers free shipping on orders, returns, and exchanges. You can make returns for a full refund, so long as you do it within the 45-day trial period.
How Does the Saatva Mattress Protector Compare to Other Mattress Protectors?
There are many different mattress protectors available, each with different materials, features, and price points. Let's see how the Saatva comforter stacks up against another mattress protector from Helix.
Saatva vs Helix
Helix is another popular mattress retailer that also sells accessories, like the Helix mattress protector. The main difference between these two protectors are the materials used to make them.
Saatva uses organic cotton while Helix uses polyester. While both of these protectors repel water, because cotton is a natural material it will do better for those with sensitive allergies, cotton is a naturally hypoallergenic material.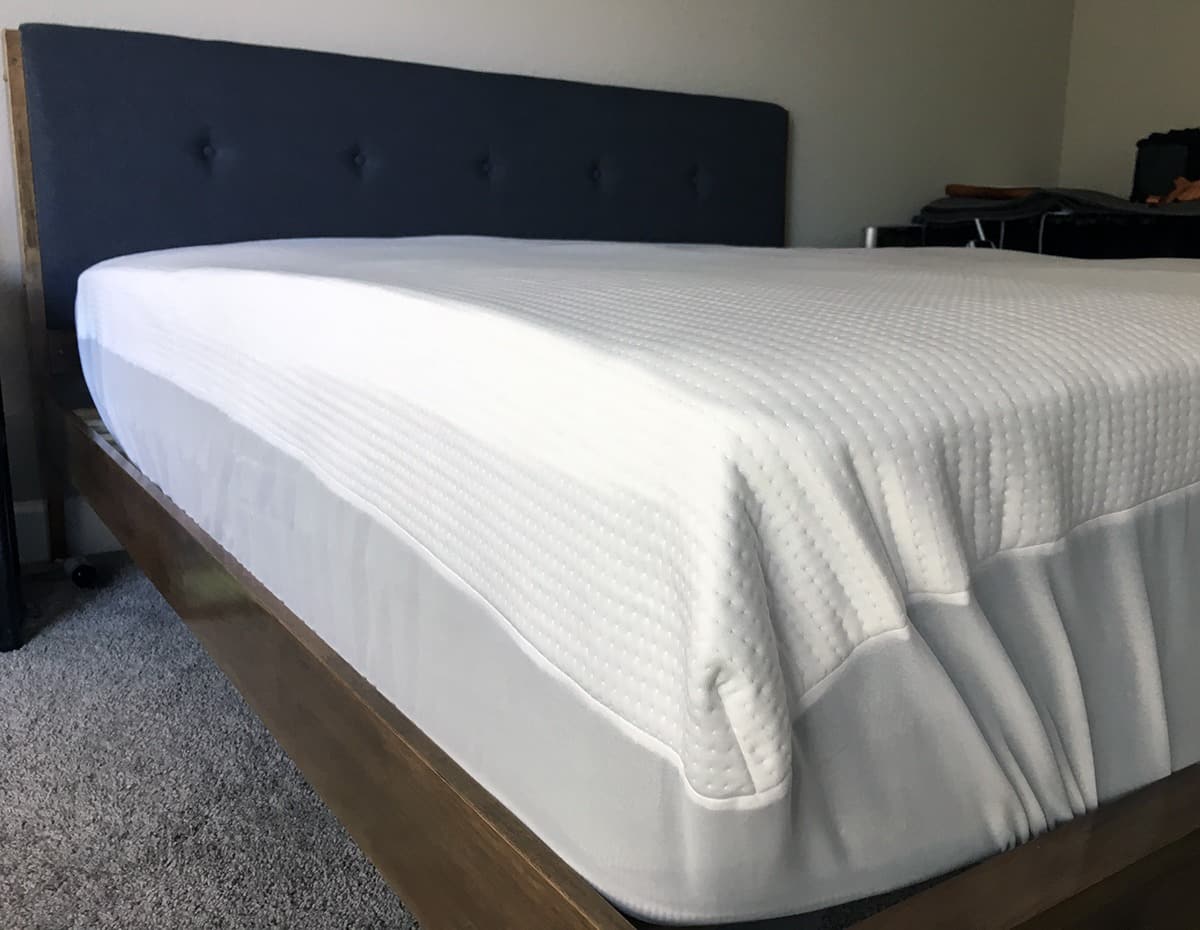 Polyester, while not totally hypoallergenic, is a more accessible and affordable material to use. This makes the Helix protector a better choice for shoppers on a budget.
Who should get the Saatva Waterproof Mattress Protector?
Anyone looking for an organic mattress protector
Who should get the Helix Mattress Protector?
Anyone looking for a budget friendly protector'
Read our Helix mattress protector review.
FAQs
Let's answer some frequently asked questions about the Saatva waterproof mattress protector.
Do waterproof mattress protectors make you hot?
Because some waterproof mattress protectors make use of materials such as plastic, polyester, or polyurethane, they aren't always the best at staying cool. These materials aren't very breathable.

But because Saatva utilizes natural, organic cotton, which is incredibly breathable on its own, this protector won't trap heat. And to further promote airflow, this protector's polyurethane layer has microperforations.
What's the difference between a mattress protector, a mattress pad, and a mattress topper?
It can be confusing to see each of these terms and not know what the difference is and which is right for you. Here's a quick breakdown of these three sleep products.

A protector can protect your mattress from liquids, dirt, allergens but won't add any additional comfort to your mattress. A mattress pad is similar to a protector in design, but adds a minimal amount of plushness to the top of your mattress.

A mattress topper tends to be a thick piece of foam that can be a slab of foam as is, or can have designs that allow you to attach it to your bed. Regardless, the main goal of a topper is to soften a firm mattress and provide pressure relief.

RELATED: Mattress Protector VS Mattress Pad
Tony Klespis
Tony is a staff writer at Mattress Clarity where he analyzes sleep products and appears in review videos. He earned a B.A in English from Sam Houston State University and a M.A in Mass Communication from Texas State University. When he isn't writing about sleep products, Tony loves to unwind with a good book or can be found playing Pokemon Go outside with his friends, or cuddling with his cat, Penguin. He's always down to try a new, local restaurant and try new foods.