Luna's Premium Mattress Protector is 100% waterproof and has a special cotton terry surface material intended to enhance breathability and comfort. This protector can be a great fit for the right type of person.
Luna Mattress Protector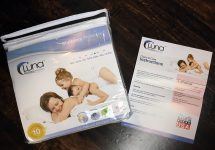 The Luna mattress protector helps keep your bed clean and dry.
Mattress Clarity Score
4.50 / 5
Read Full Review
Key Features
Waterproof surface
Hypoallergenic cotton terry surface fabric
Dust mite protector
Designed with Invisi-Lay (made with the intention that people will not feel it underneath the sheets)
Machine washable, tumble low dry heat
15 year warranty (if purchased after 11.29.2016)
Vinyl, PVC and Phthalate free
Variety of sizes – including a shorter Queen size designed for RV mattresses
Fits mattresses up to 18-inches thick
Made in the USA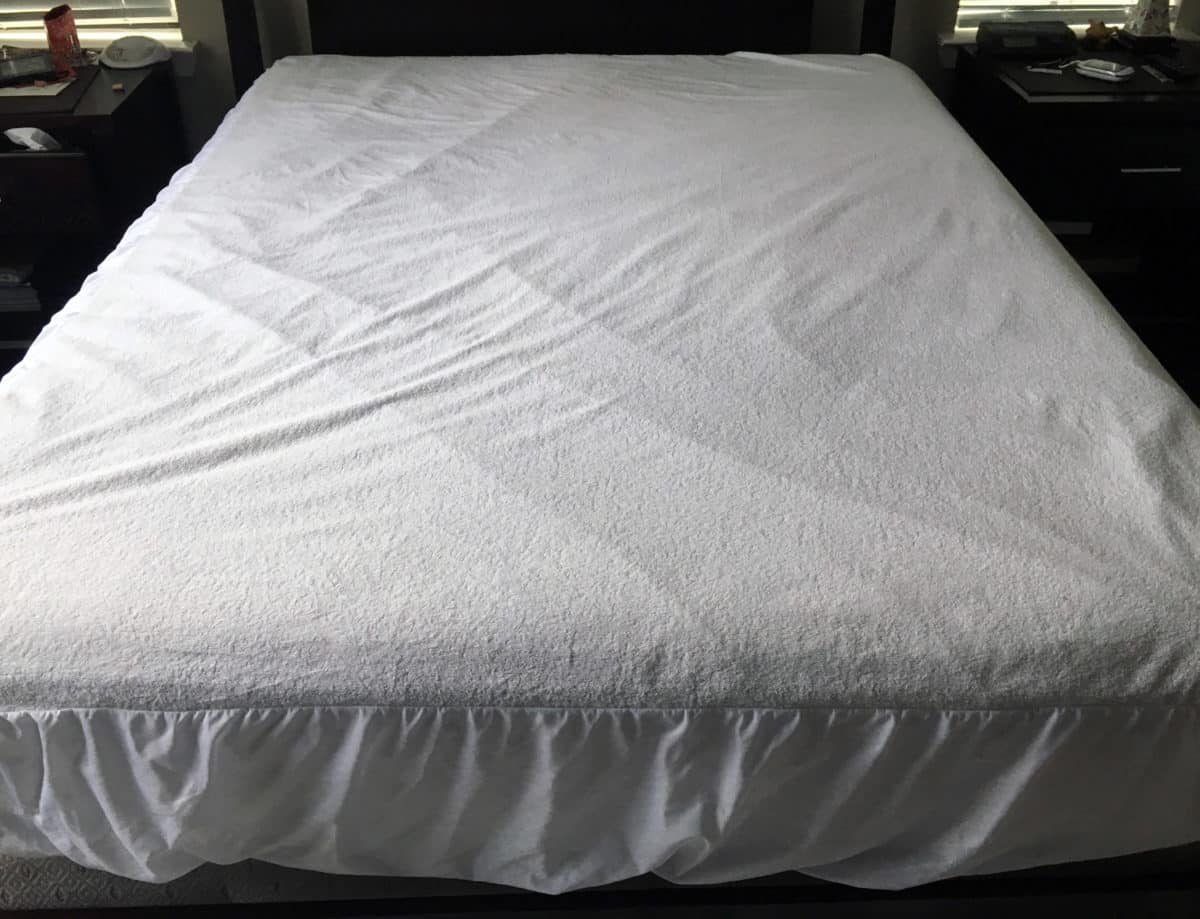 Pros
Machine washable and dryable
Waterproof
Vinyl, PVC and Phthalate free
Better fit for thicker mattresses
Reasonable price (see current pricing on Amazon)
Cons
Not a full encasement
Noise from protector can be heard underneath bed sheets
Cotton Terry material can be felt through thinner sheets
Extra material/oversized feel on 10-inch thick mattress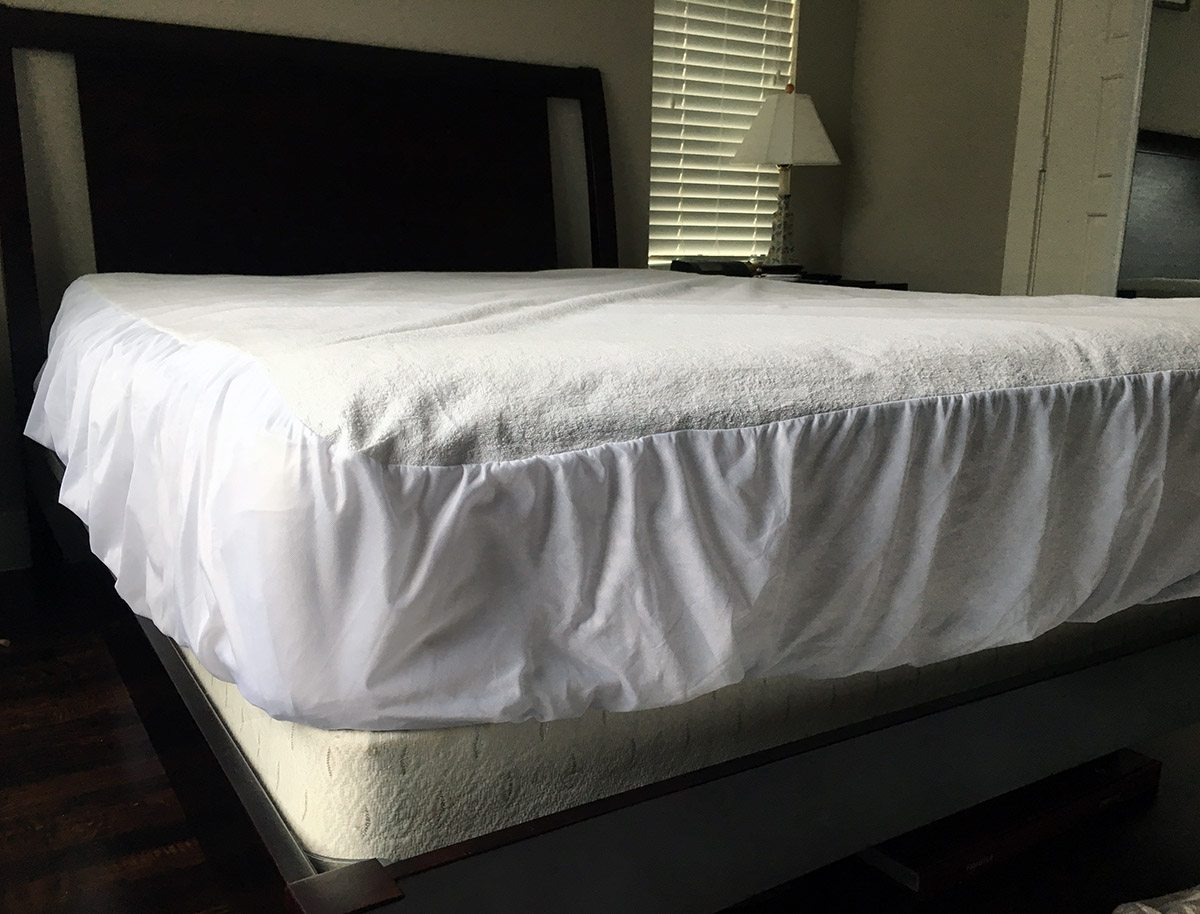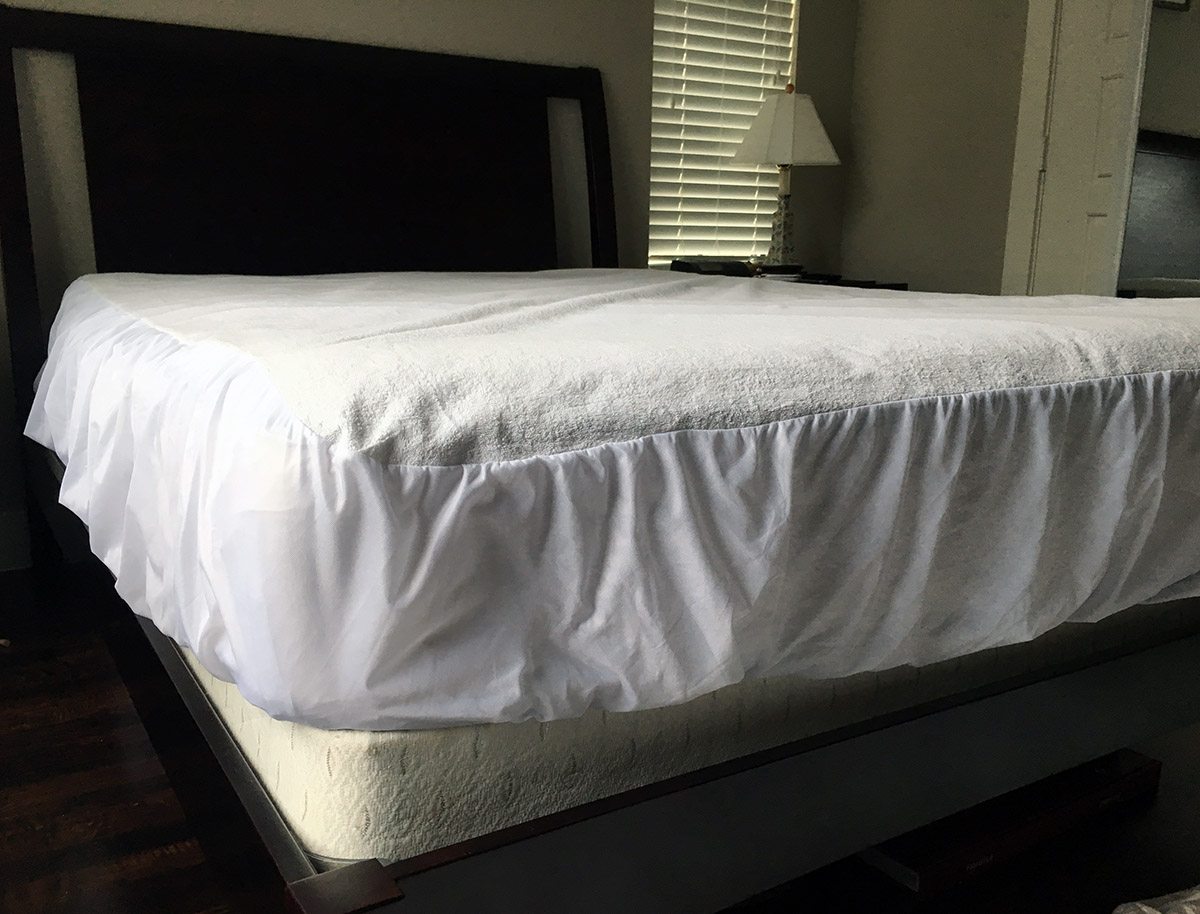 Care Instructions and Warranty
It is important to dry the mattress protector carefully so the waterproof properties stay intact and to keep the protector warranty valid.
The 15-year warranty on the mattress protector is for products purchased after November 29, 2016. All other products purchased before that date have a 10-year warranty.
The warranty covers " against manufacturing and fabric defects." Often, failing to follow care instructions carefully can void warranties.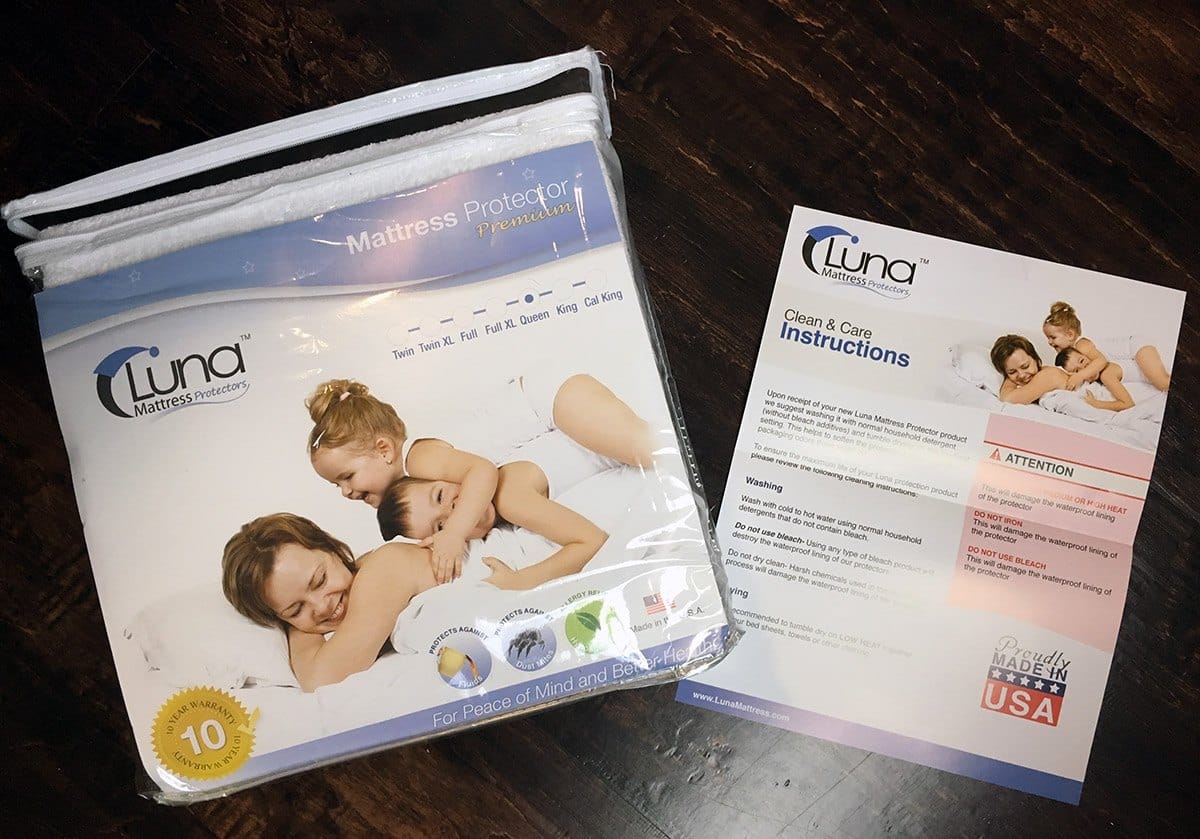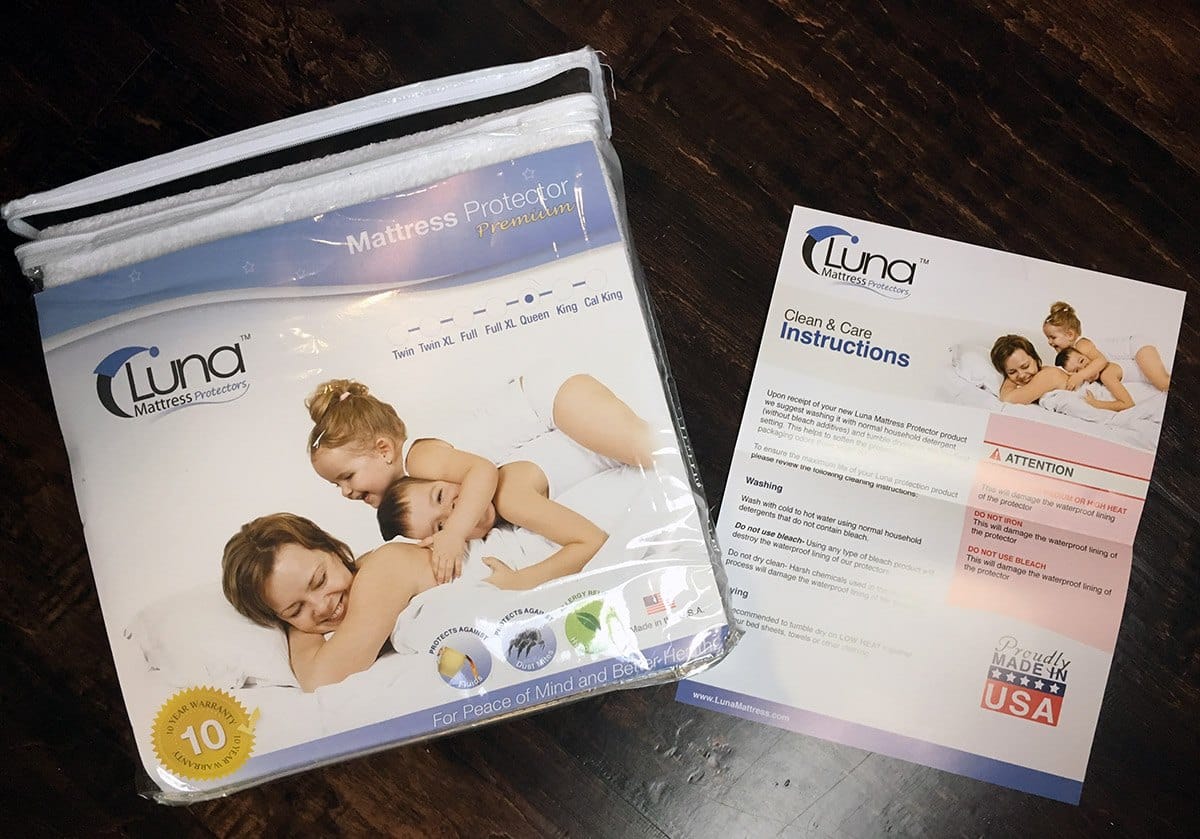 The warranty for Luna products does not go into detail in the same way Linenspa's warranty does, but it would be in everyone's best interest to follow the care instructions if they want to utilize the warranty.
It is best not to dry the protector on medium or high heat (tumble dry low is OK) or to iron it.
The full and detailed set of care instructions and warranty information are available here.
Cotton Terry Surface Material and Invisi-Lay Protection
The surface of the mattress protector is made from cotton terry – making it look (and feel) like the protector was sewn with a large piece of terry cloth.
According to Luna, this fabric is a premium material used on in high-end protectors and other products because of its complicated manufacturing process.
"Cotton terry is different from a woven cotton surface in that it has thousands of loops that allow air to pass through keeping the body cooler in the summer and warmer in the winter. Cotton terry also has an incredible ability to naturally absorb fluids and moisture. Its soft feel also makes it great for the skin and completely noiseless."
I had no major issues with breathability but was absolutely able to feel the texture of the cotton terry underneath my sheets.
It was not uncomfortable, but the protector was designed specifically with this fabric in mind as part of the company's Invisi-Lay Protection. On Luna's website, they say, "the surface of our mattress covers are designed not to interfere with the current feel of your mattress. "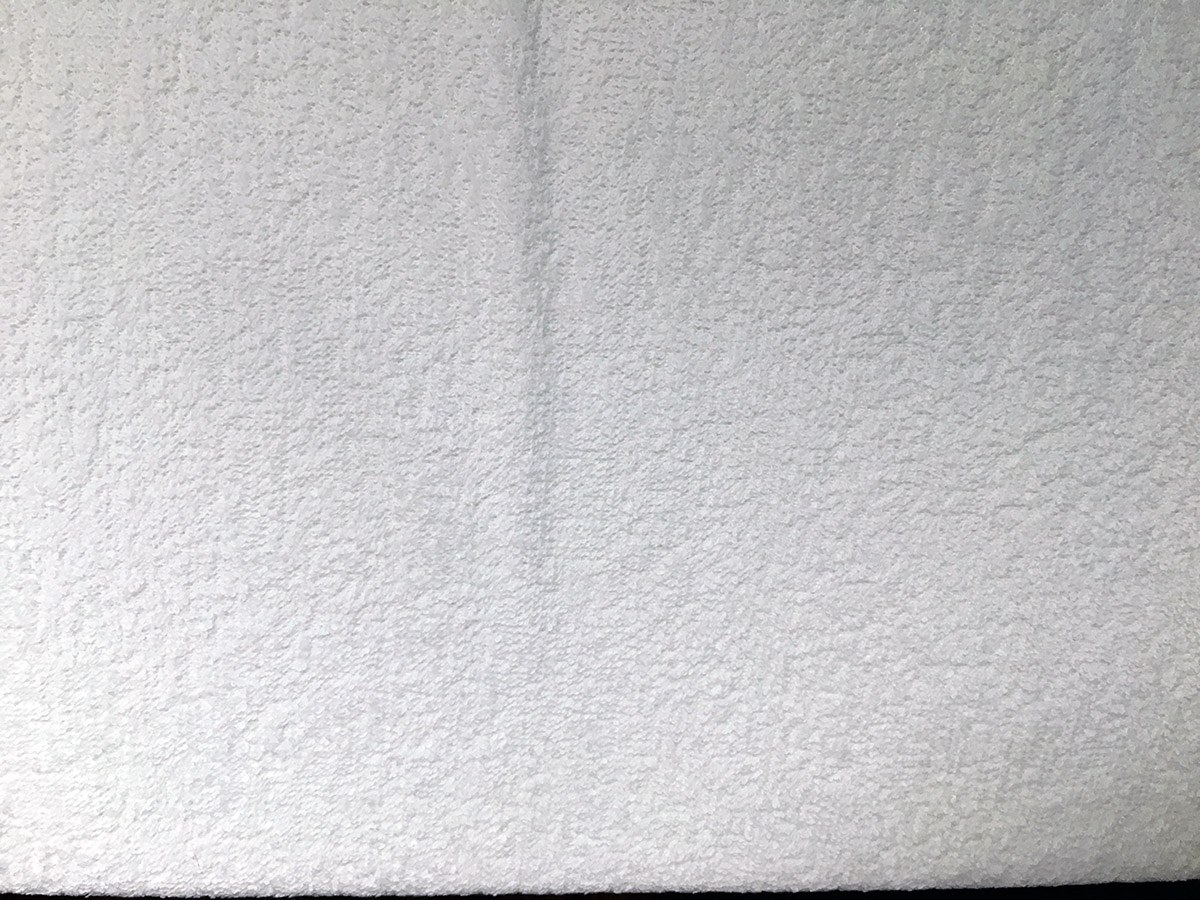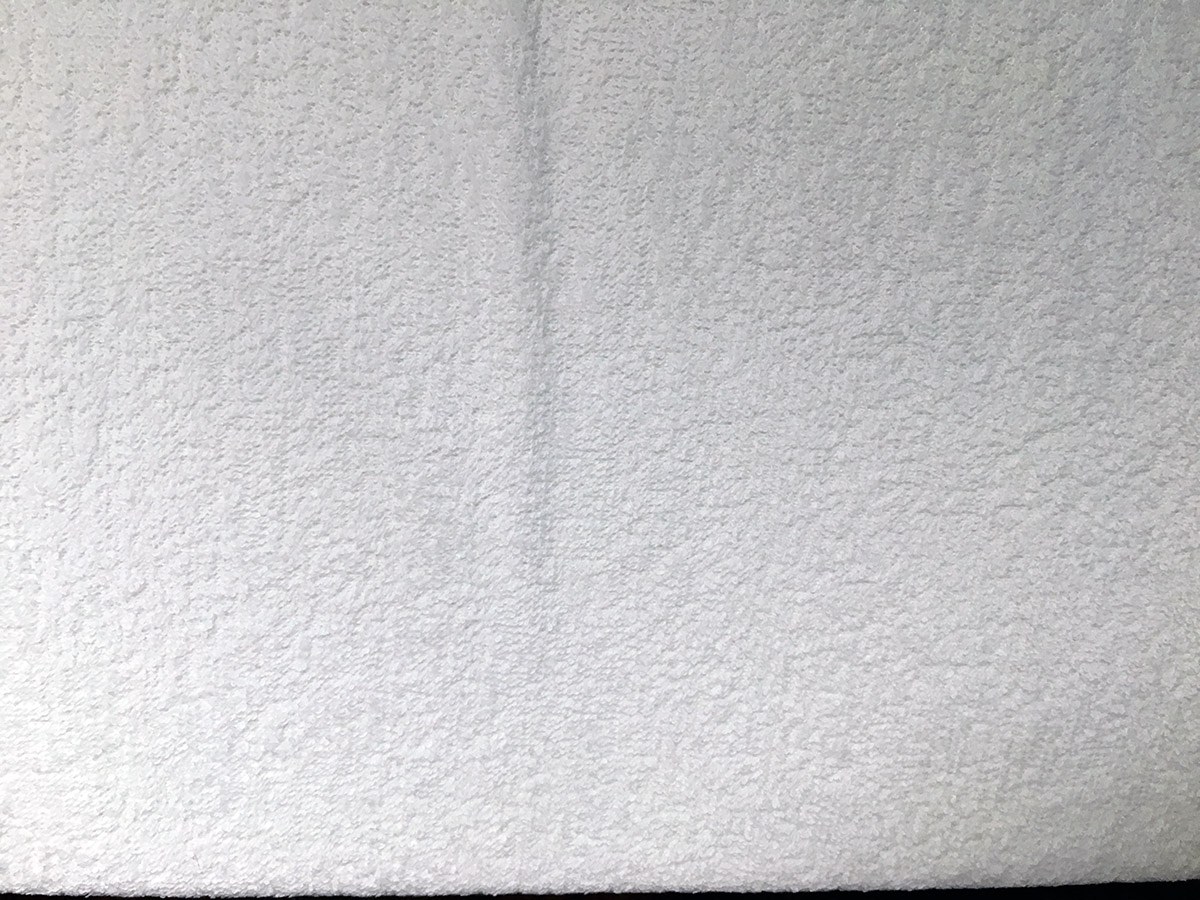 It was not invisible to me and definitely interfered with the feel of my mattress. I could very much feel a difference (although it wasn't necessarily uncomfortable).
I used my Bamboo Supply Co bamboo bed sheets over the protector. These sheets are thin and lightweight, which made it even easier to feel the protector underneath.
Waterproof Test
A big reason why people purchase waterproof mattress protectors is to help protect their mattress and their mattress warranty – which can often be made void by stains or water damage.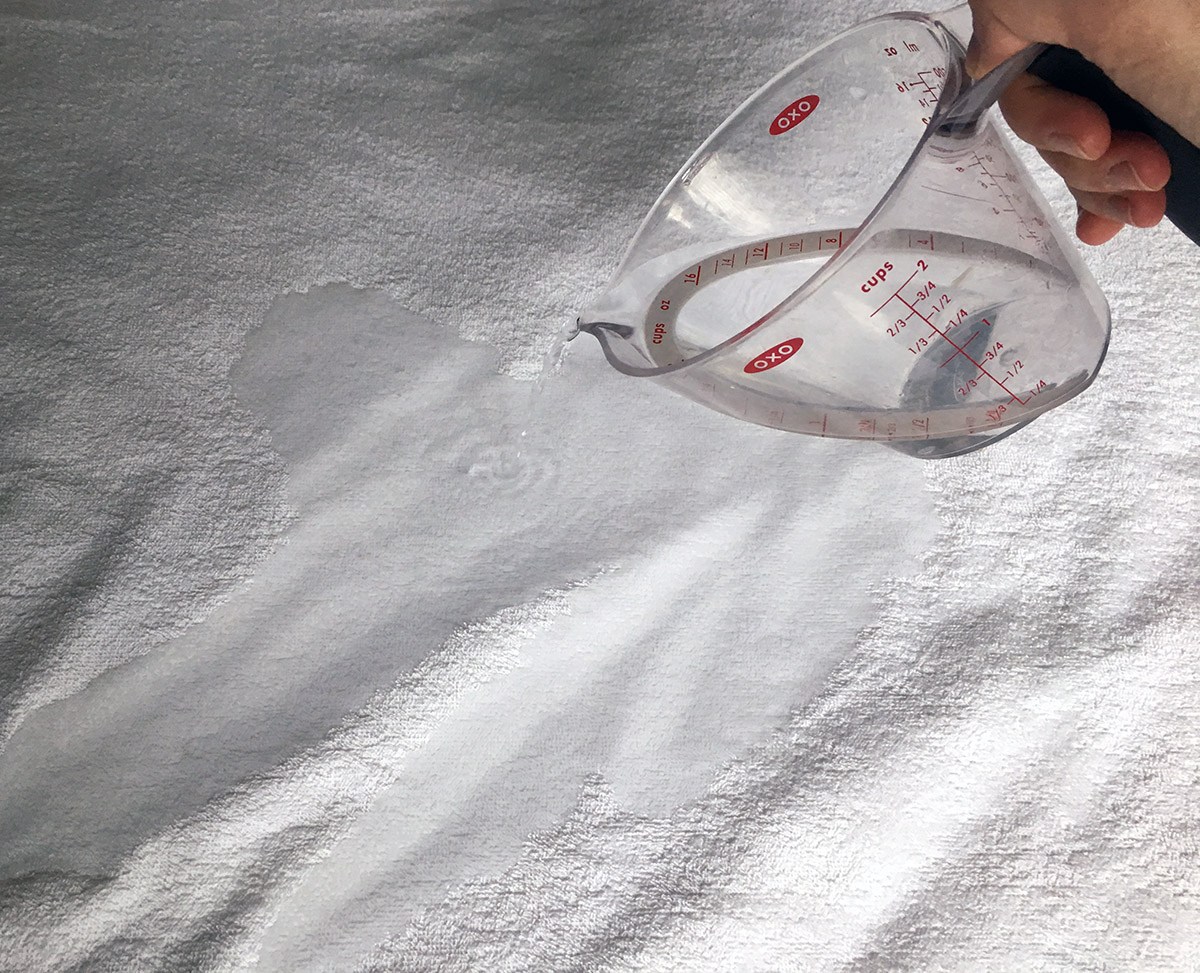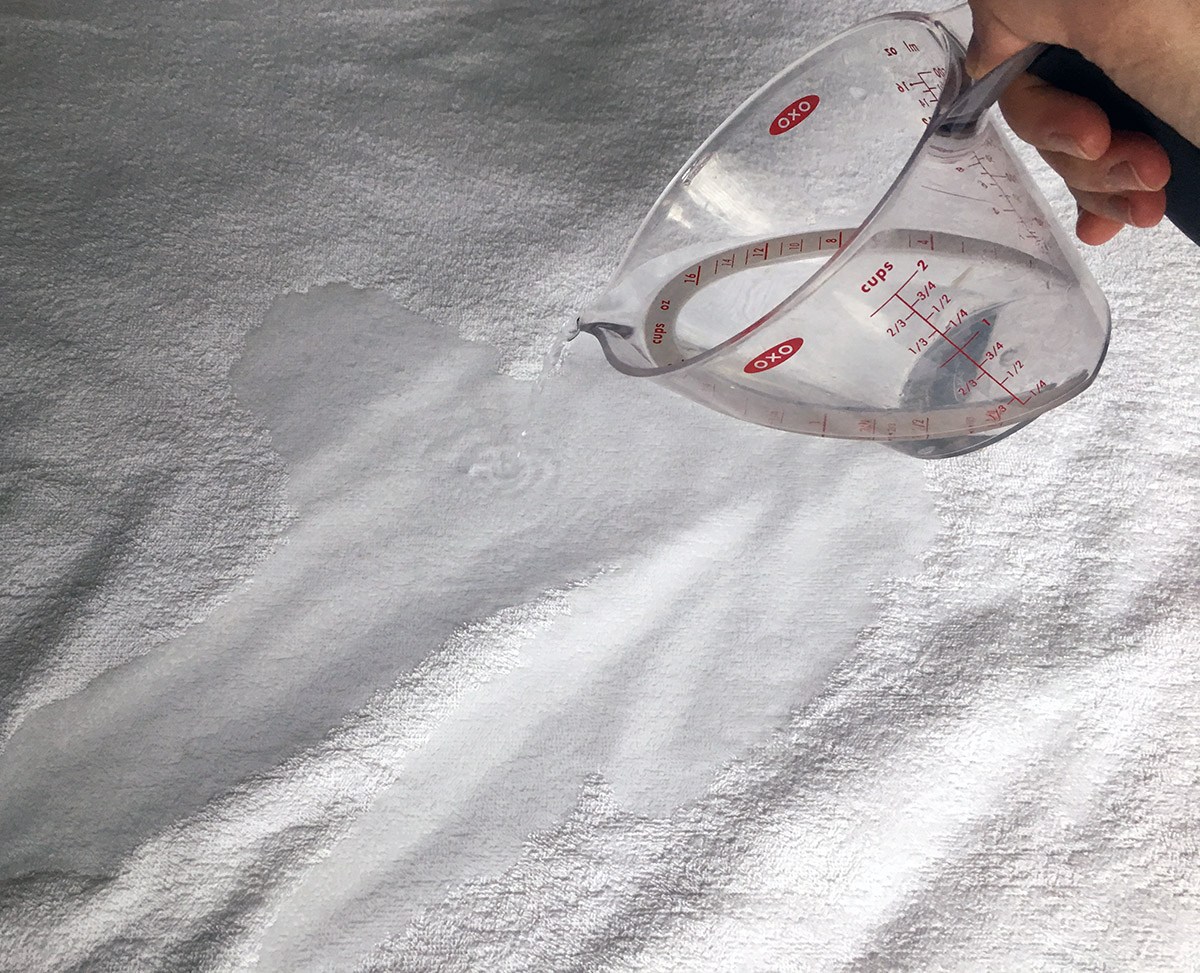 In an effort to mimic an accident or larger spill, I poured 10 ounces of water into the middle of my mattress. I put it in a somewhat concentrated area to see how much it could handle.
I let the water stay and soak into the terry cotton for about two hours. The cotton terry absorbed all of the water but I had no leakage and no dampness on the pad underneath.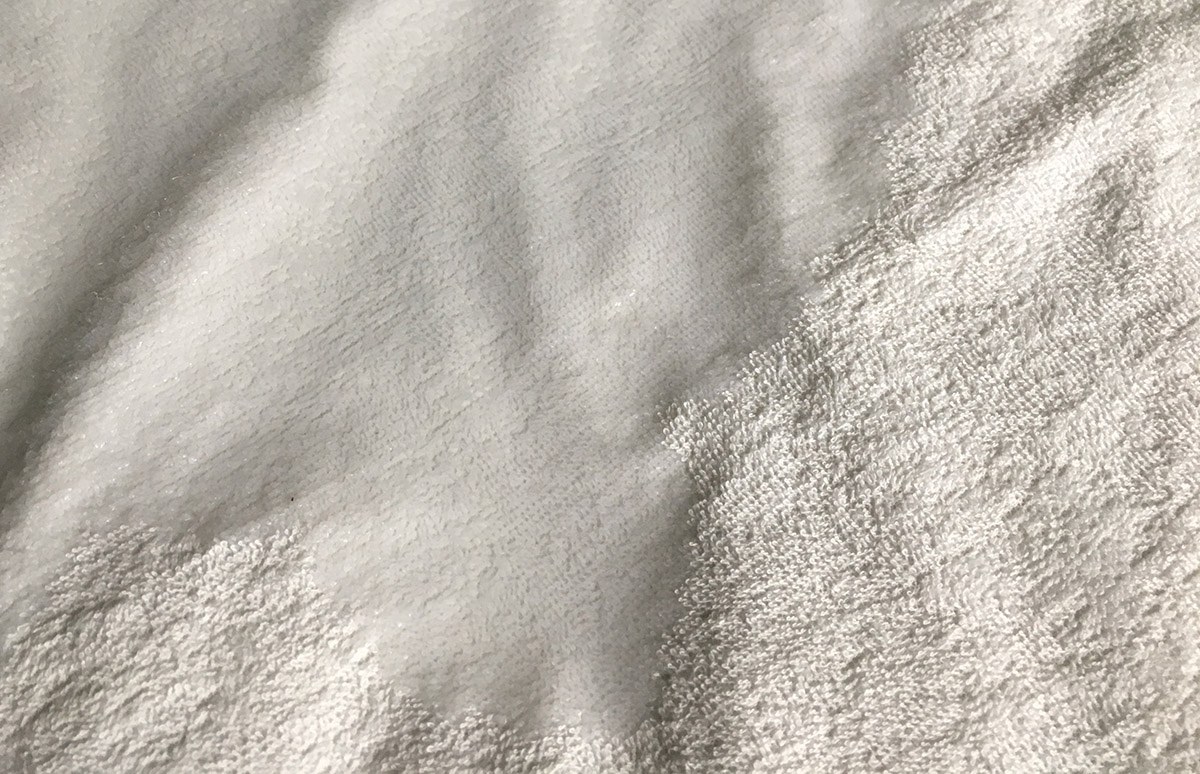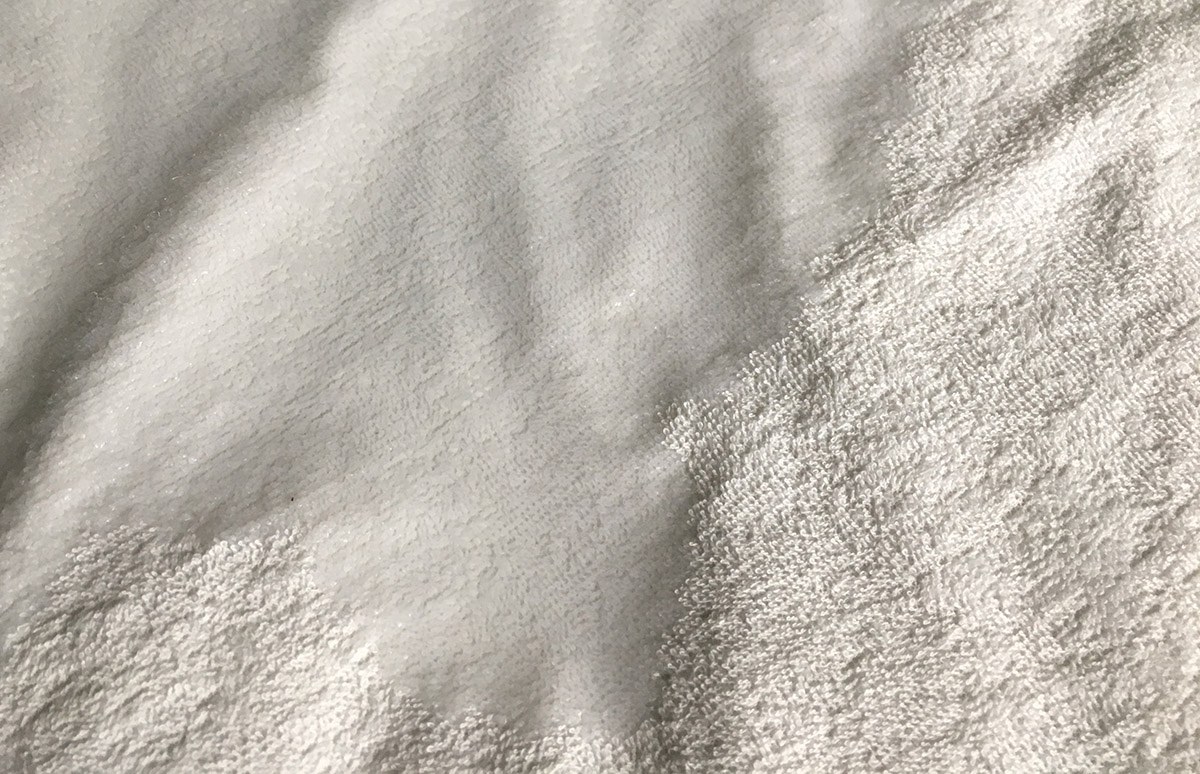 Vinyl-free
In the past few years, there has been a lot of attention around the toxicity of plastics, including PVC (also known as polyvinyl chloride or vinyl).
Products that contain vinyl or PVC – like mattress protectors and curtains – can release toxins into the air (often called off-gassing) that have negative health effects. This is especially concerning for babies or small children whose bodies are still developing.
RELATED: Are Vinyl Mattress Protectors Unsafe?
It is best to avoid using products made of PVC or Vinyl – especially for people with children.
It is not clear from the product description or the material provided in the packaging what exactly is used to create the waterproof membrane for this mattress protector.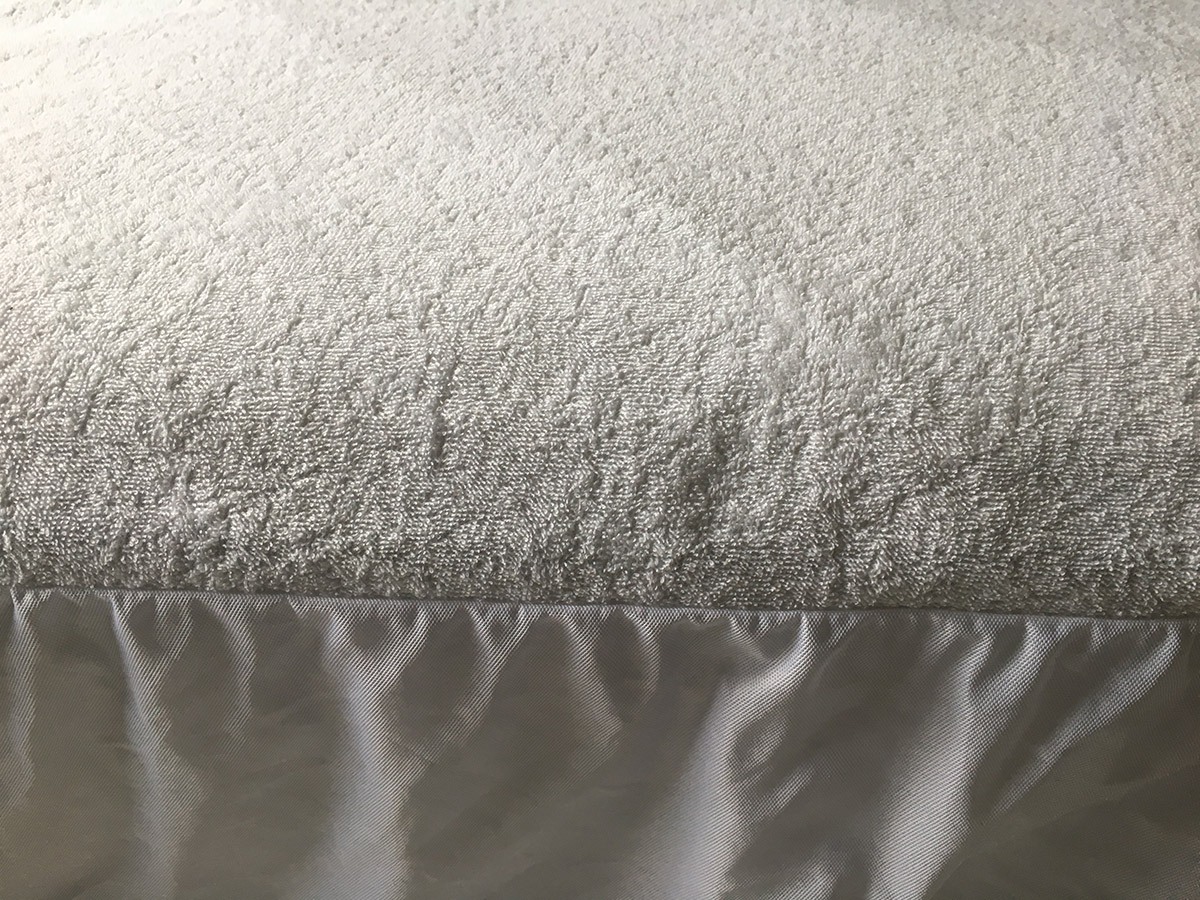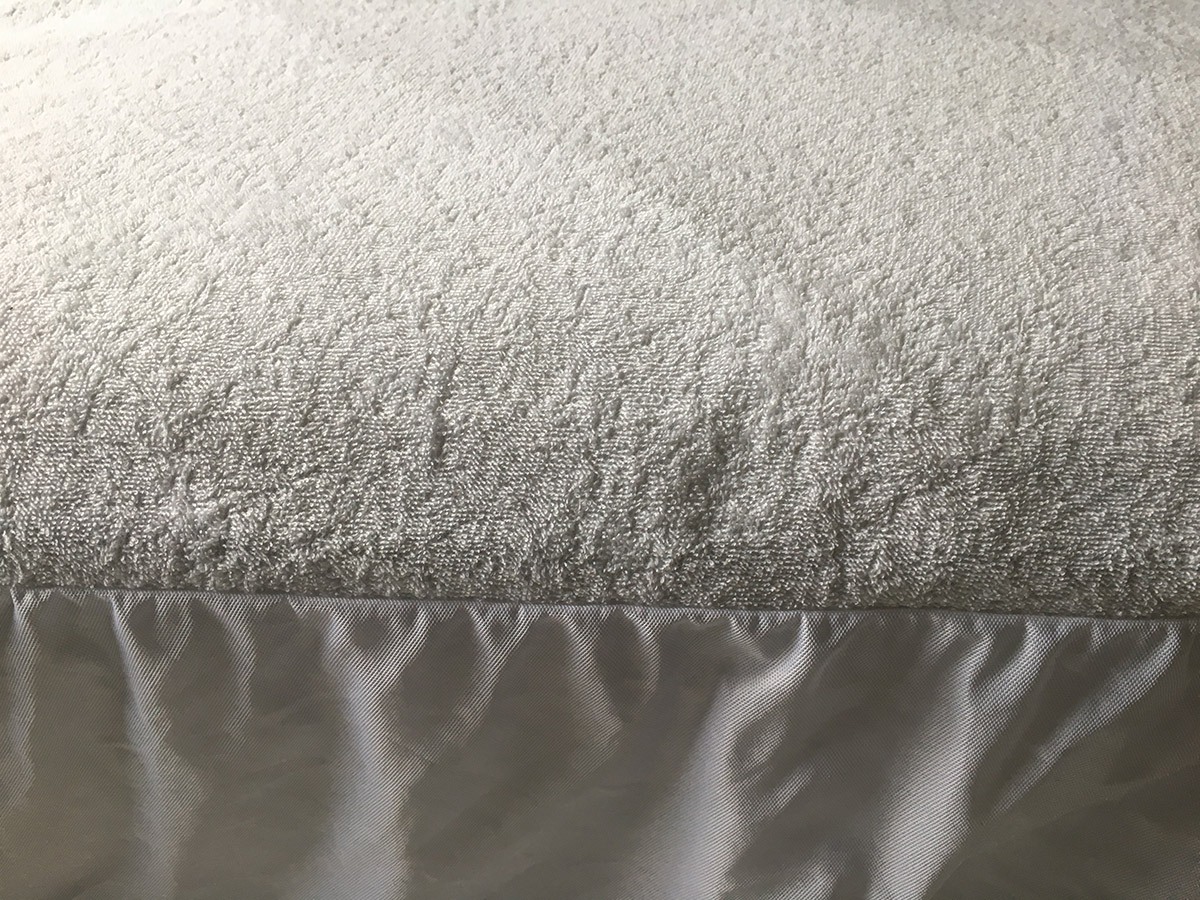 I reached out to the Customer Service team on Luna's website (via their chat feature) and no one was available to speak with me, so I left a message regarding the material used to make the protector waterproof.
Additional Considerations
In some reviews, people felt that the protector was too noisy underneath their sheets.


I have to agree about the noise or "crinkling" sound with this protector. Even with the softer terry cotton surface material, I still felt that the protector was noisy and could be heard rustling underneath my sheets.
Others found the chemical smell too heavy. The care instructions do suggest that people wash and dry the protector first to lose some of the smell.


I had no issues with any chemical smell, from when I first opened it to getting it on my bed. However, smells are not uncommon with bedding products that have waterproof properties.
Luna Premium Mattress Protector Review
Summary
Overall the mattress protector does a good job of keeping dust mites and water off your mattress. It is better suited for thicker mattresses as it felt oversized on my 10-inch mattress. I did not care for the cotton terry surface material because I could feel it under my bamboo bed sheets.
Price and Value
While prices vary, Amazon sells this mattress protector for around $35 for a Queen size at the moment.
They come in many sizes including Twin XL, RV Short Queen, and Cal King.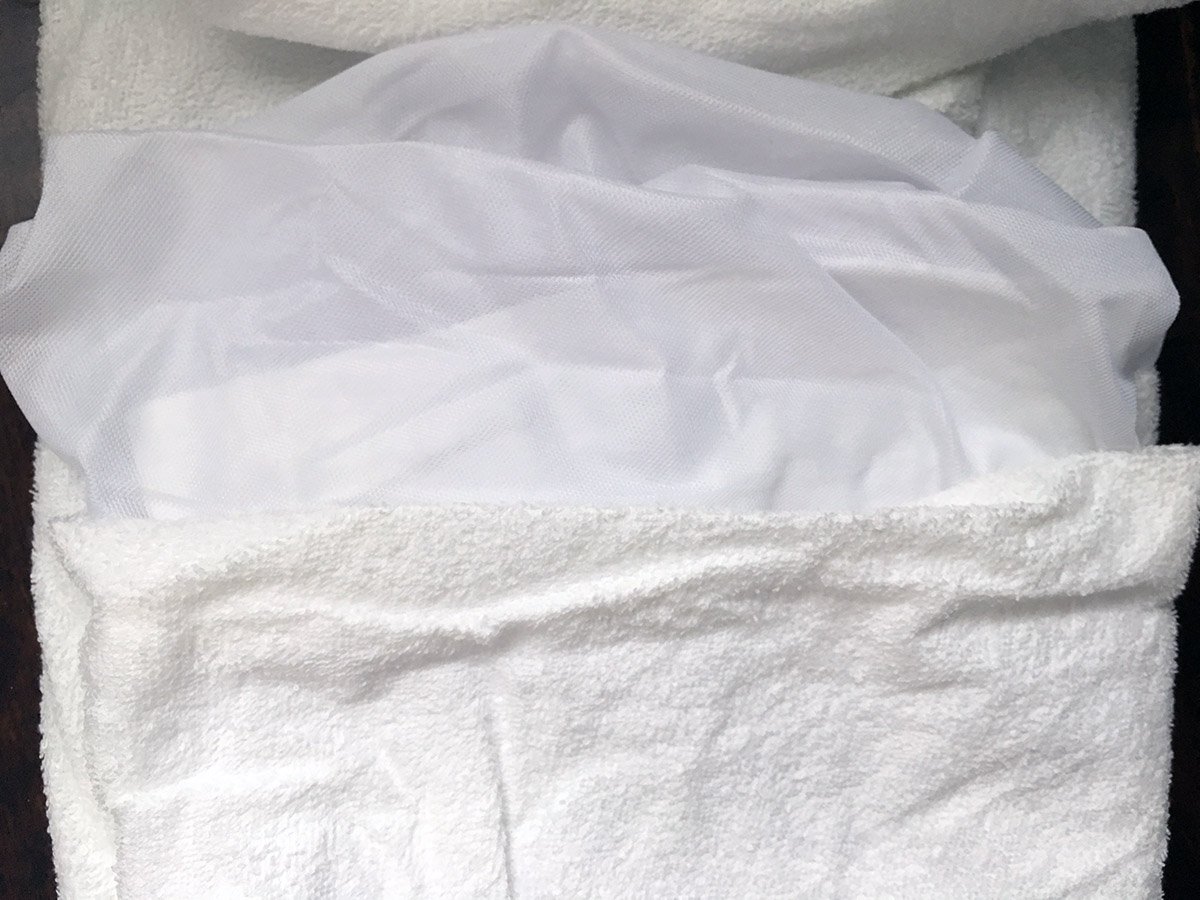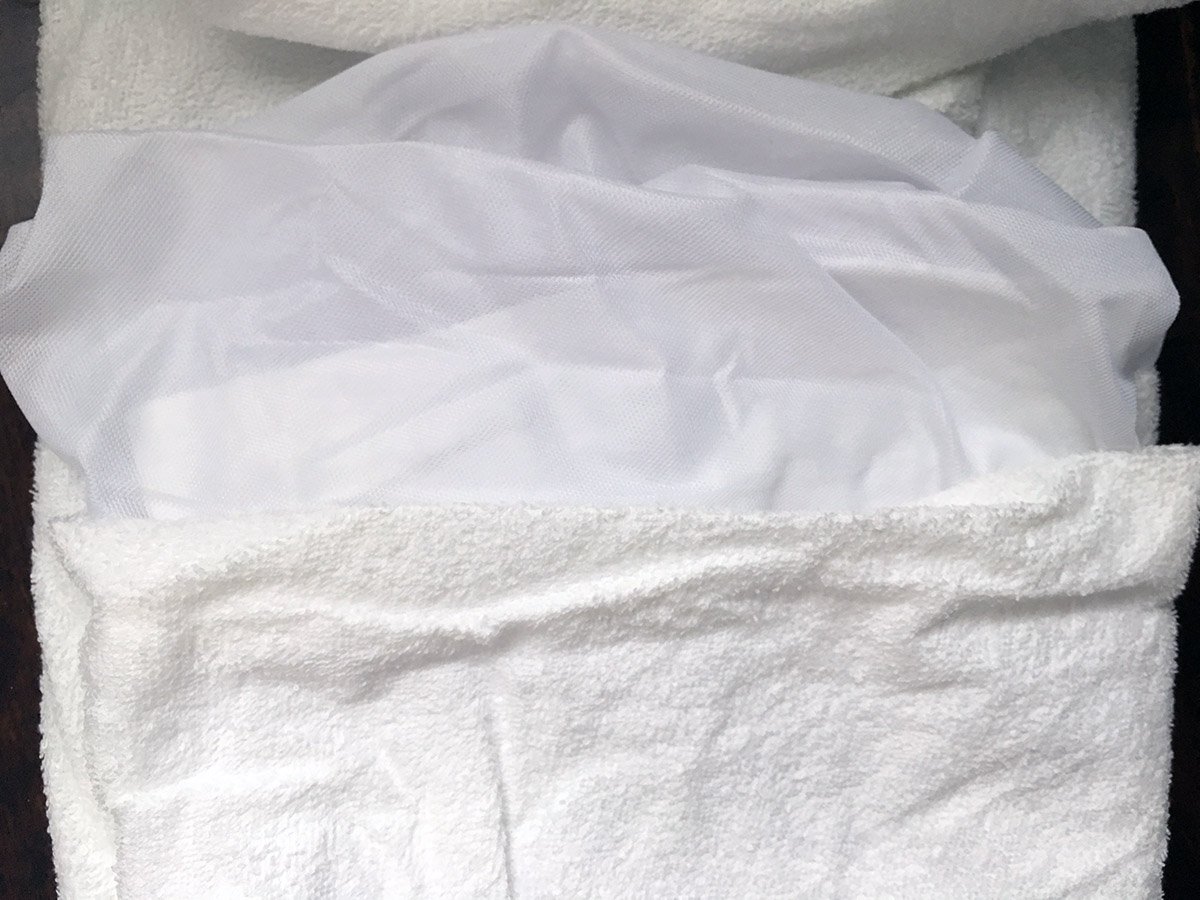 Luna Mattress Protector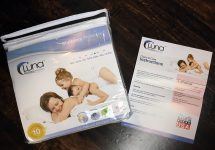 The Luna mattress protector helps keep your bed clean and dry.
Mattress Clarity Score
4.50 / 5
Read Full Review
Final Thoughts
Overall, the protector wasn't a good fit for me or my mattress. I did not care for the texture of the cotton terry under my bed sheets. I also felt that the protector is better suited for thicker mattresses, as it looked oversized on my 10-inch mattress.
It is easy to care for and comes with a long warranty. I would recommend it to individuals who want breathability and don't mind the cotton terry fabric.
Katie Golde
Katie previously managed the day to day operations of the Mattress Clarity news site and reviews sleep products in addition to writing and editing sleep news. She hails from Austin, where she lives with her growing family. She is a Certified Sleep Science Coach and has a master's degree in Journalism from Northwestern University and has a background in health and science content. Her work can be found in print and online publications like Discover Magazine, USA Today and The Huffington Post.