SafeRest's Premium Mattress Protector combines waterproof and allergen protection with cotton terry comfort. It could be the perfect protector, there's just one thing we'd consider changing.
SafeRest Premium Mattress Protector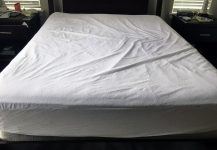 SafeRest's Premium Mattress Protector combines waterproof and allergen protection with cotton terry comfort.
Read Full Review
SafeRest Premium Mattress Protector Video Review
Key Features
Sizes available from Twin, Twin XL to Cal King
100% Waterproof: Protects perspiration, urine, and fluids
Hypoallergenic cotton terry surface and back coated with a breathable polyurethane membrane
Care: Machine washable hot or cold, tumble dry low heat
10-Year warranty
Phthalate, Vinyl and PVC-free
Fitted sheet style design with elastic band
200+ wash durability rating
Invisa-Shield Technology – will not change the feel of the mattress Noiseless
Fits mattresses up to 18-inches deep
SafeRest provides a video that highlights the features of their mattress protectors.
Pros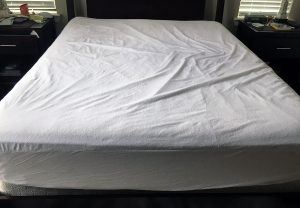 Cons
Waterproof only on mattress surface (not an encasement mattress)
Extra/loose fabric allow for movement
Noise from loose material
Care
As with most waterproof mattress protectors, it is important to make sure to wash the protector according to its specific directions. It is easy to mess up the membrane on the protector that affects the waterproof barrier if the dryer is set too hot.
RELATED: Best Mattress Protectors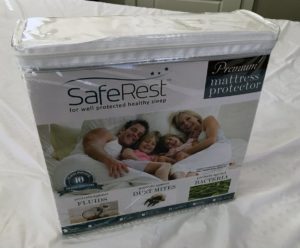 *SafeRest says: We recommend washing the protector before initial use to remove any packaging odors there might be.
Here is how SafeRest suggests the protector be maintained:
Washing:
Wash with cold to hot water using normal household detergents that do not contain bleach
Do not use bleach- Using any type of bleach product will destroy the waterproof lining of our protectors
Do not dry clean- Harsh chemicals used in dry cleaning will damage the waterproof lining of the protector
Drying:
It is recommended to tumble dry on low heat together with your bed sheets, towels or other clothing
Do not dry on high heat. This will damage the waterproof layer of the protector
Do not iron- This will damage the waterproof lining of the protector
It is very important not to dry the protector on high heat. This mistake will ruin your protector. Brown burn marks on the protector indicates that the product was dried on high heat or got stuck in the heating element of the dryer. This is not covered in the warranty. Please see washing instructions above.
Waterproof Test
To test the waterproof properties of the mattress protector, I poured 10 ounces of water in the middle of the protector in a concentrated area to mimic a large spill or accident.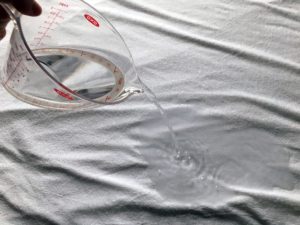 The cotton terry almost immediately absorbed the water. I waited two hours and had no dampness, moisture or any leaks onto the second mattress protector below my mattress.
The mattress protector passed the waterproof test for me. However, some reviewers had issues with liquids seeping through the protector and ruining the mattress.


Vinyl Free
In the past few years, there has been a lot of attention around the toxicity of plastics, including PVC (also known as polyvinyl chloride or vinyl).
Products that contain vinyl or PVC – like mattress protectors and curtains – can release toxins into the air (often called off-gassing) that have negative health effects. This is especially concerning for babies or small children whose bodies are still developing.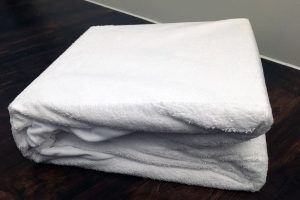 It is best to avoid using products made of PVC or Vinyl – especially for people with young children.
It appears that SafeRest's waterproof backing on its protector is made from polyurethane.
Additional Considerations
I was not able to feel the cotton terry material under my lightweight bamboo sheets.
I had a small issue with overall fit. The protector can fit mattresses up to 18-inches, so there may be extra material on thinner mattresses.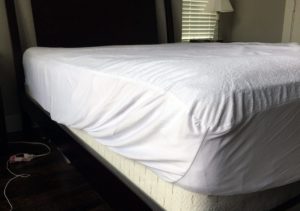 I have a 10-inch thick mattress and felt that there was extra material hanging over the sides of my mattress. It did allow for extra movement on the bed as well.
Other customers had trouble with the fit of the protector, too.


This extra movement did generate some crinkling or "noise" underneath the bamboo sheets. I think if the mattress protector fit my mattress better there would be less of a noise issue.
Other customers found issues with the noise from their protector, as well.


SafeRest Premium Mattress Protector
Price
Price does vary depending on where the protector is purchased. On SafeRest's website, the premium protector retails for $49.95 for a Twin all the way to $89.95 for a Cal King. The Queen size retails for $69.95 but it may be heavily discounted on retail sites like Amazon.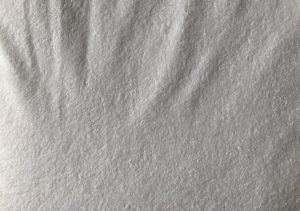 On Amazon, however, this protector ranges in price from $25 for a Twin to $35 for a California King, which makes it very affordable regardless of mattress size.
If a lower price is available (most likely on Amazon), then I think it is worth considering.
This protector comes with a 10-year warranty that does come with some conditions and exclusions which are worth reviewing. Do note that they offer a Classic Plus mattress protector and that has a 3-year warranty.
Katie Golde
Katie previously managed the day to day operations of the Mattress Clarity news site and reviews sleep products in addition to writing and editing sleep news. She hails from Austin, where she lives with her growing family. She is a Certified Sleep Science Coach and has a master's degree in Journalism from Northwestern University and has a background in health and science content. Her work can be found in print and online publications like Discover Magazine, USA Today and The Huffington Post.